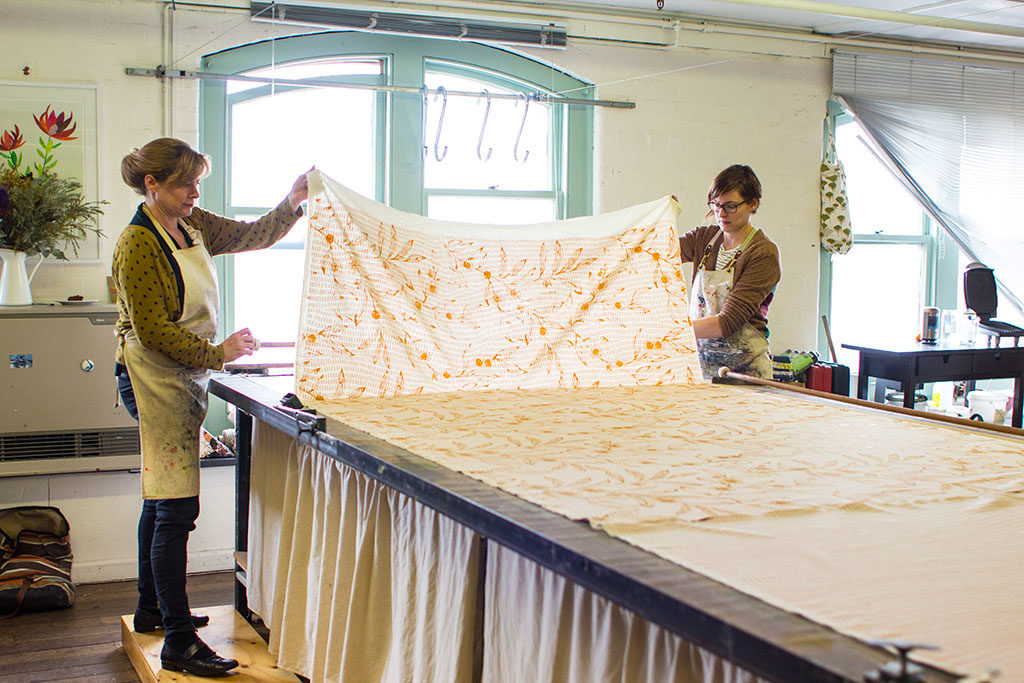 It's not often that you get to see fabric being printed, let alone printed by hand. The process of screen printing fabric by hand first came into commercial use in the 1930s, but was largely replaced in the 1960s with the more mechanized rotary screen printing process. Today, printing lengths of fabric with flat screens is a specialized process, and the resulting fabric has a very special quality.
To see this process for myself, I stopped by the Ink & Spindle textile studio on a recent trip to Melbourne, Australia. There, I met with owners Lara and Caitlin who showed me their process and explained how their designs evolve from a basic concept to the final fabric.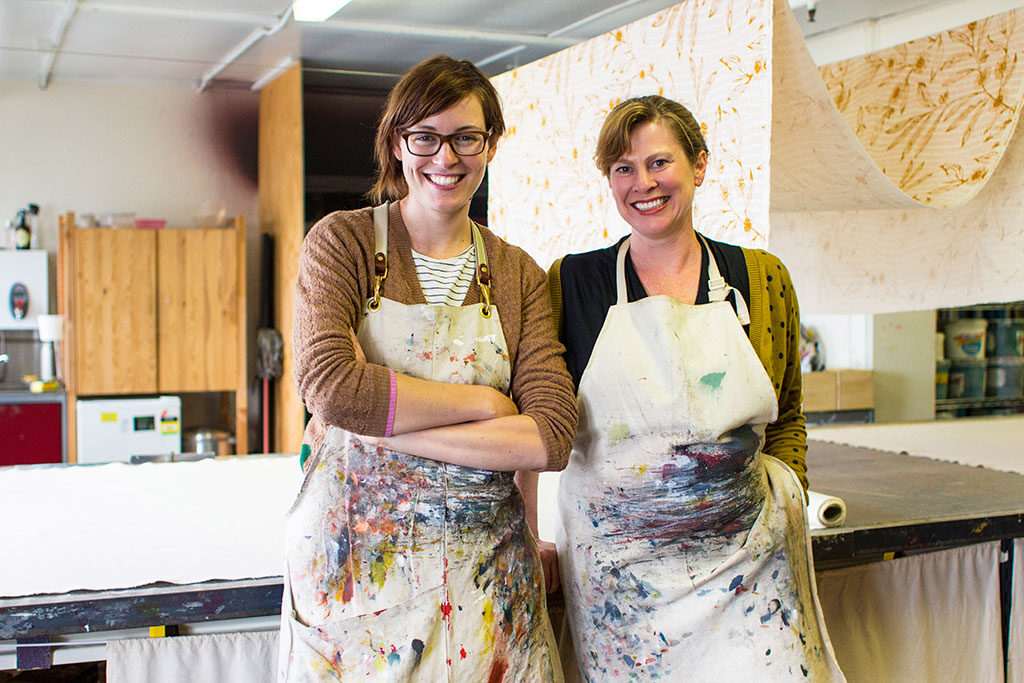 The owners and designers behind Ink & Spindle: Lara (left) and Caitlin (right).
Located in a large, shared industrial space, the Ink & Spindle studio feels part artist workshop and part cozy living room. Wearing ink-splattered work aprons and happy smiles, both Lara and Caitlin exude the serene confidence that comes from years of being working artists and business owners. Even when discussing the more chaotic and unpredictable aspects of running a studio while raising a family, they seem to approach their lives and work with a flexible, calm spirit.
You also sense that part of this spirit comes from the friendship between the two. The mythic image of the solo artist persists in our culture, and many people believe that true artistic practice is something that can only be done alone. But watching two women work together so seamlessly to create a single vision is a reminder of the power of creative collaboration.
After sharing a few laughs over cake and tea, the pair told me about their business, their designs, and how exactly they print all those yards of fabric.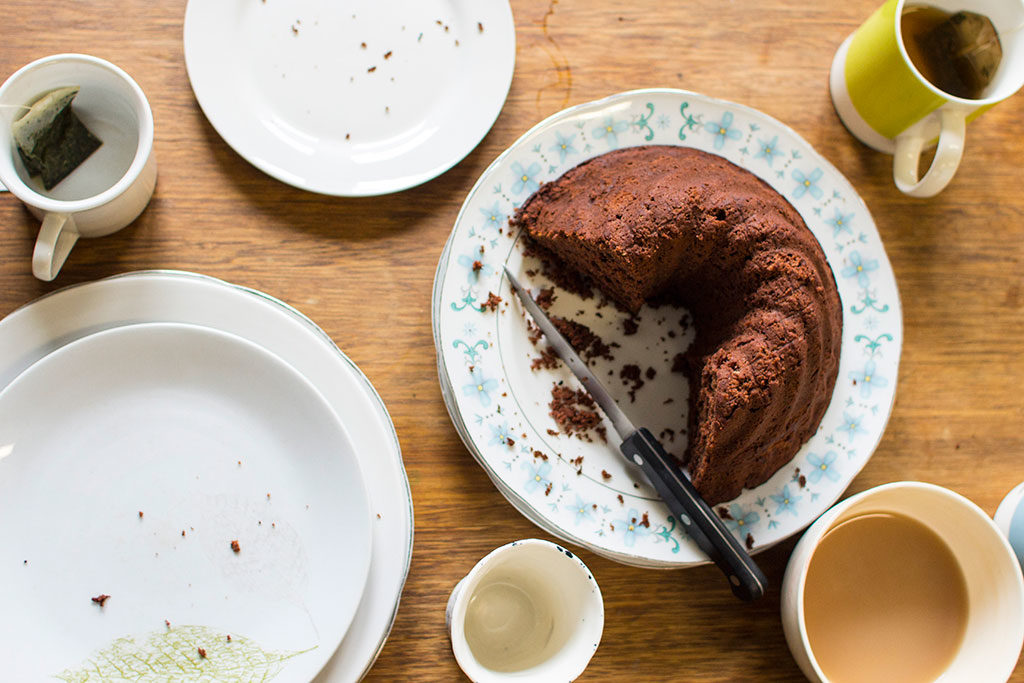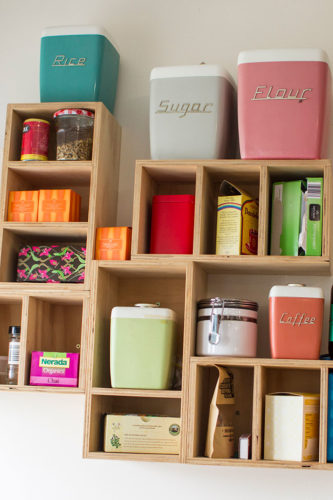 Ink & Spindle was started about eight years ago by Lara and her partner Tegan Rose. Lara was a designer with her own textile business, but she wasn't yet printing her own fabric. "It felt very removed from the actual hand process of printing, to just send off the file and get the fabric," she says. They had little control over things like quality or environmental impact, both of which were important to them.
So the women decided to do something crazy. They found a studio large enough to accommodate a 10-meter printing table and began printing their own fabrics in house, using organic cloth and the most eco-friendly inks they could find. All the fabrics are screen printed by hand on that same long table.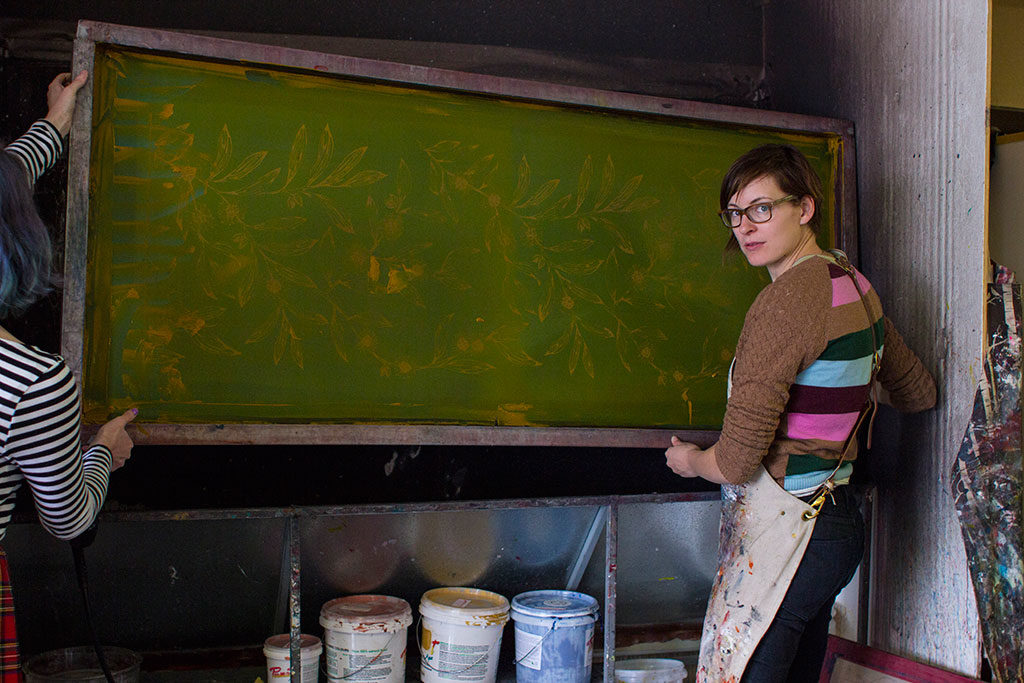 Lara cleans one of the large screens used to print fabric in their studio.
In 2014, co-owner Tegan left the business to travel the world, which is when Caitlin came on board. Lara says it was perfect timing, since she was also six months pregnant at the time. Caitlin was able to take over much of the business for that first year, and now the pair work together in their studio two or three days a week, and at home the rest of the week. They've created a work environment that is flexible enough to leave room for family, each working together to give the other the time she needs.
Developing an Aesthetic
The designs of Ink & Spindle fabric have evolved over the last eight years. In the beginning, the designs were rather simple and Japanese-influenced. At that time, they were mainly geared toward crafts and quilting.
Today, their designs are created with an eye toward interiors. Lara explains they found this niche because, while many places can do small scale textiles, printing meterage the way they do is far less common. Caitlin also studied interior design, contributing to this point of difference for the company. The pair says it takes confidence to "go out there and do big designs," and they've gradually developed that over time.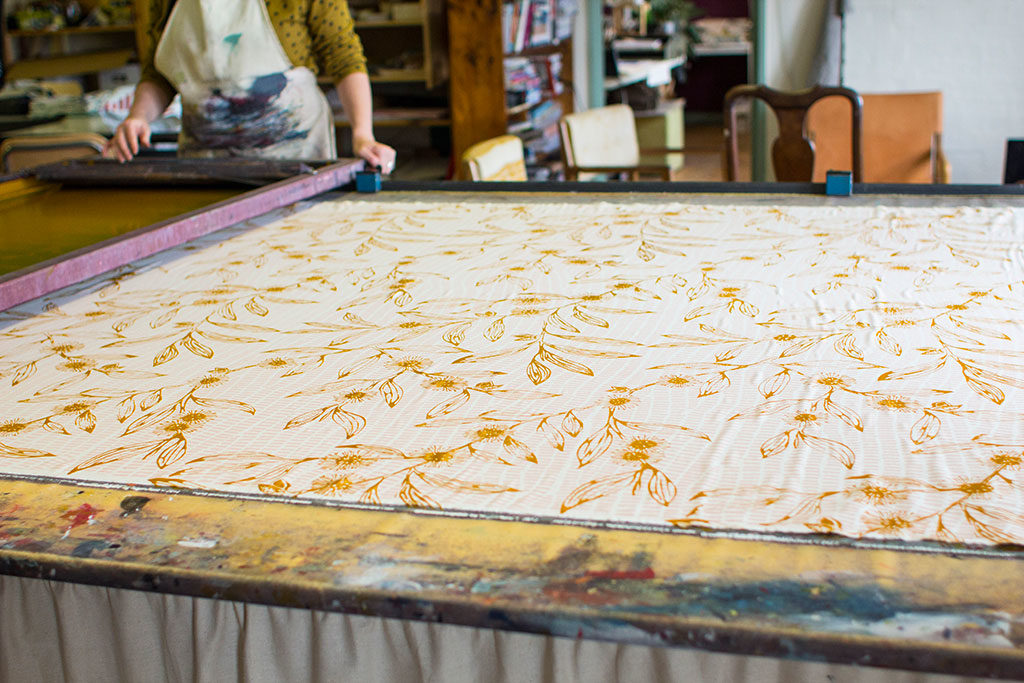 The Ink & Spindle process, aesthetic, and motif subjects all lend themselves to large scale fabric designs.
Today, their look is based around native Australian flora and fauna. The designs usually begin as a simple idea, such as a gum leaf design. They might wait for months or years before finding the perfect gum leaf to incorporate. Caitlin says, "Lots of designs that are halfway there just peter out. You lose the love, and then you go back to them. You have to have the enthusiasm for the design to continue through."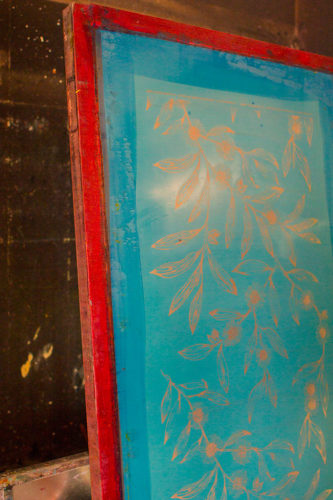 Caitlin remembers one particular design she wanted to do based around a fan palm. "I knew the leaf that I wanted, but I'm from Queensland and it doesn't grow down here. So Lara went to the zoo where they've got the butterfly enclosure. It's all warm and tropical and has the fan palm in there. So she got her husband to hold the baby while she's taking photos." Lara finally captured just the right fan palm for Caitlin.
Creating a Design
Some designs are then developed directly from photos, while others start as drawings or linocuts. They then bring these into Adobe Photoshop or Illustrator to create repeats of the motifs. A repeat is a seamless tile that can be printed over and over onto a surface to create a pattern over a larger area.
This repeat is then sent out to be printed onto film. This film is burned onto a screen coated in photo-sensitive emulsion. In essence, the screen is like a giant stencil of the original design. These screens are stored at the studio, sometimes for years. They can be used to print fabrics in different colorways for seasons to come.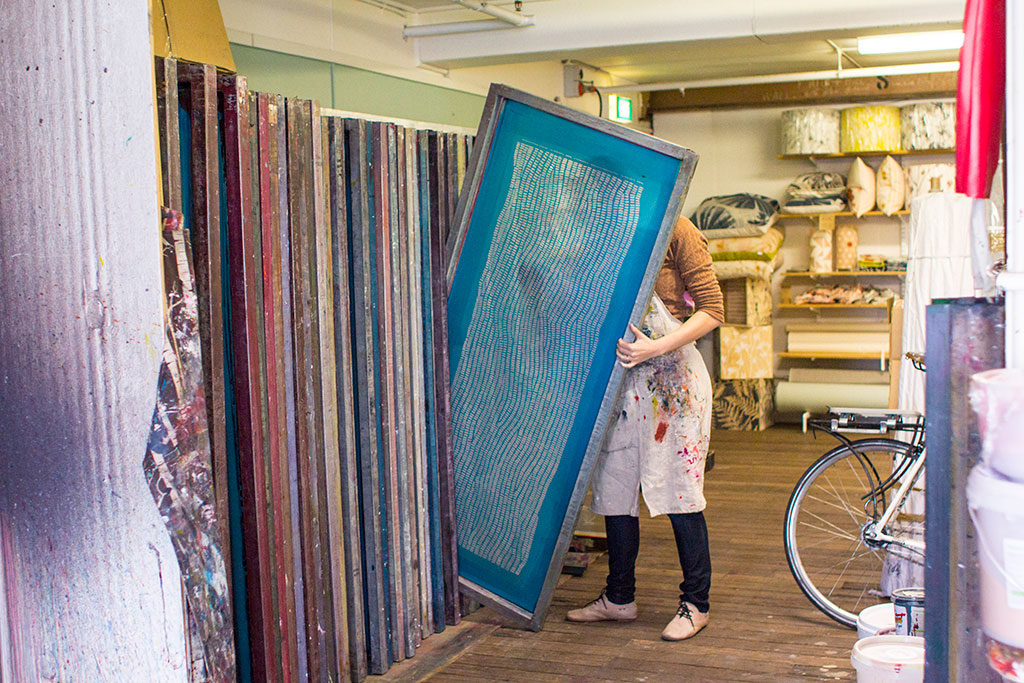 The Printing Process
The first step in printing is to find the right ink colors. Caitlin and Lara use a color tool on an iPad mounted near their ink storage to pick a colorway and create the ink recipe they need. They then use base colors to mix exactly the right shades. Just like a baking recipe, they measure out exact amounts of each base color to create their custom palette.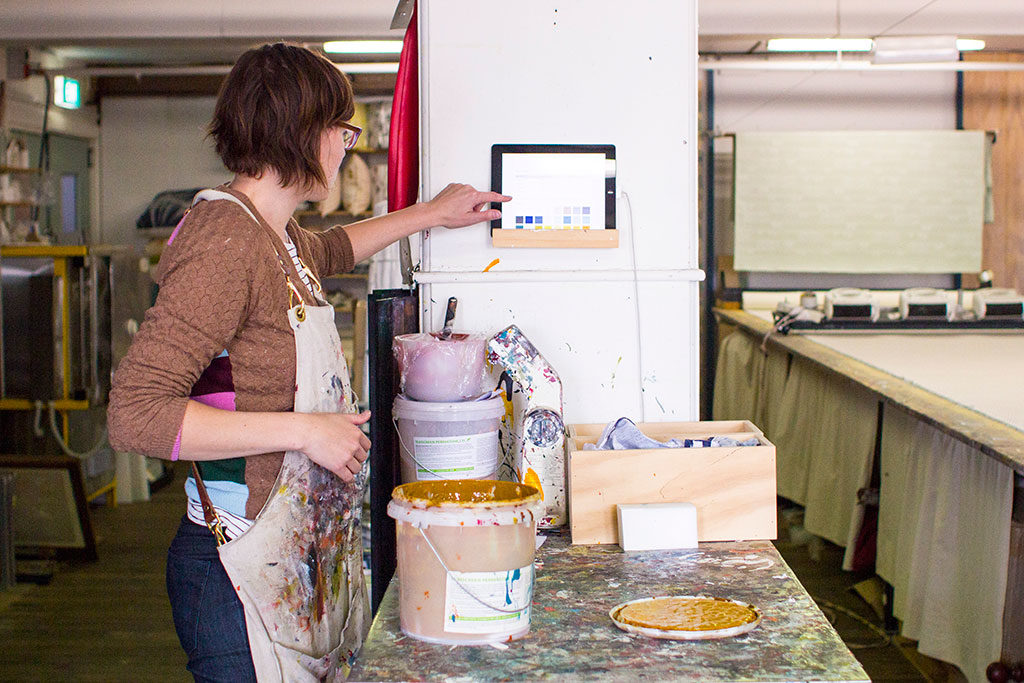 Because they are committed to sustainability, they use organic cloth and work to find the most environmentally friendly ink choice. The ink they use is water-based solvent-free. These inks are very saturated, and can look drastically different on various base cloths and in different types of light. For this reason, it's important that they test every ink before printing.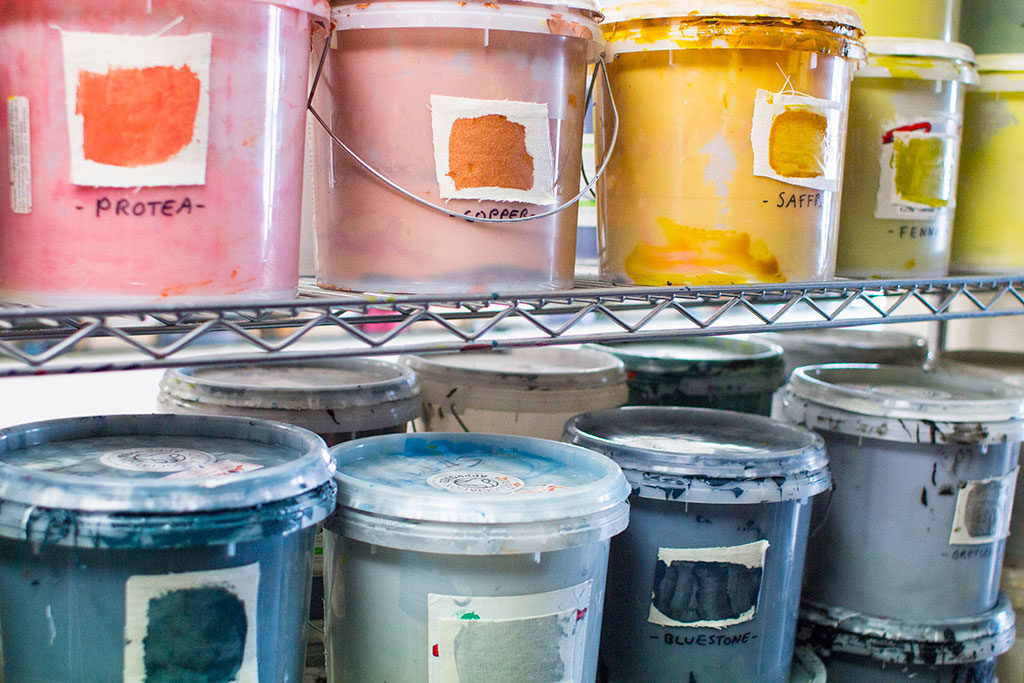 To print fabric, the base cloth is laid out on their 10-meter printing table. The screens are locked in place above the fabric, using measuring tapes on the table to precisely register the placement.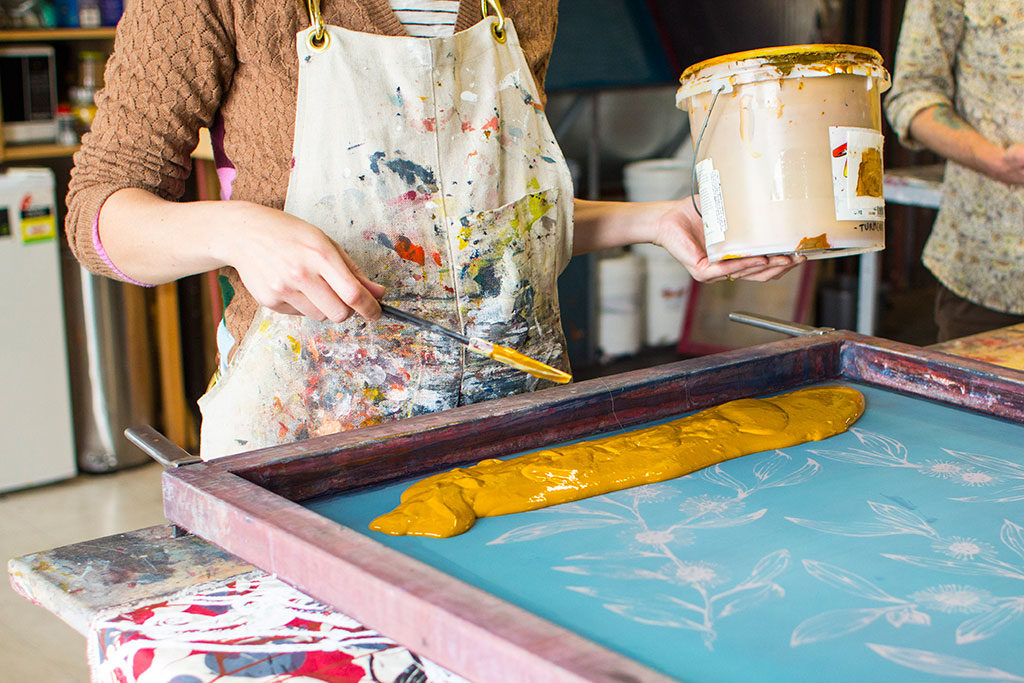 They apply ink to the screen and use a squeegee to pull the ink through, passing it from one to another across the table. It takes about three or four passes to print one repeat onto the fabric. As they pass the squeegee back and forth in consistent rhythm, you can see the familiarity and trust that goes into this kind of artistic partnership.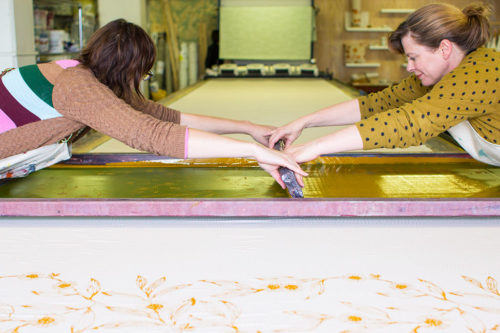 They begin by printing every other repeat. Doing this allows the initial designs to dry before going in to fill the gaps between repeats. They create designs in standard widths to make this process easier, and part of the design process is finding ways to disguise the clear line between each repeat.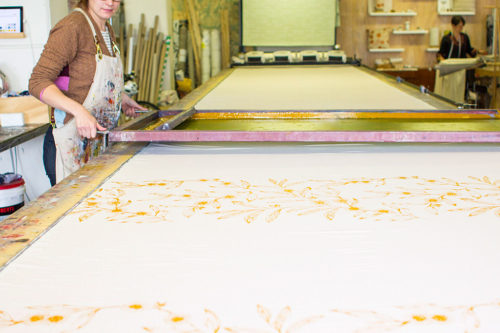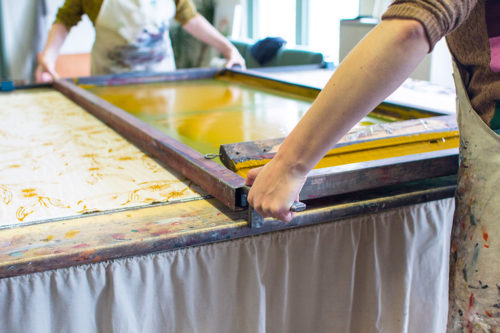 The fabric they used to demonstrate printing on my visit was a beautiful botanical design Caitlin created. It was originally done in pencil, and they wanted to maintain the fuzzy, imprecise quality of a pencil drawing within the final print. Lara says, "We didn't want it to be crisp and perfect. We learned early on that this process doesn't it lend itself well to being perfect, so we put a lot of texture into the artwork itself rather than demanding perfection."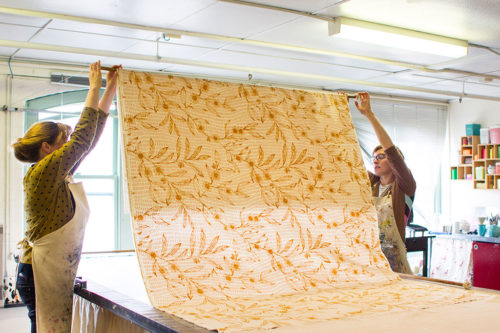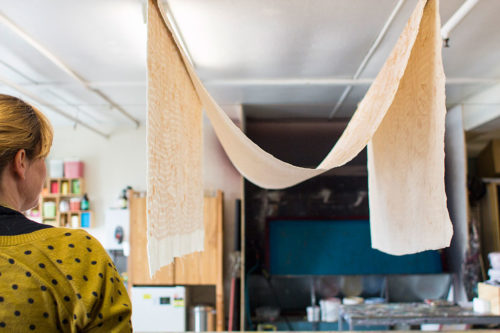 Finally, after all the repeats are finished, the length of fabric is hung above the table to dry. They use fans to speed up this process. Caitlin and Lara estimate that they print about 15 meters of fabric a day.
Designing in Context
This particular fabric was created for a special collaboration, and was going to be turned into limited edition food wraps. They often collaborate with other designers and small businesses to create fabric for specific products. Their fabric has been used for upholstered furniture, handbags, and they even showed me some beautiful printed plywood storage crates. They screen printed their designs directly onto sheets of plywood, just as they would print onto fabric. Another local maker then turned them into the final product.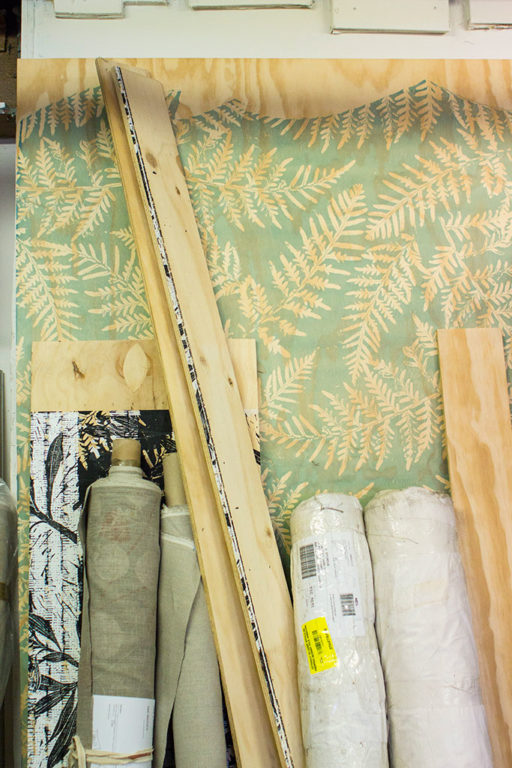 Sheets of plywood are printed on their table, just the way fabric is.
The plywood is then used to build beautiful storage crates.
But much of their customer base is made up of interior designers, or people who want to use the fabric to decorate their homes. While interior designers come directly to them for fabric, end users can easily order from their website with a low minimum purchase. They even offer a service that allows people to customize a fabric, choosing their own print, color, and base cloth, starting with a minimum of just two meters.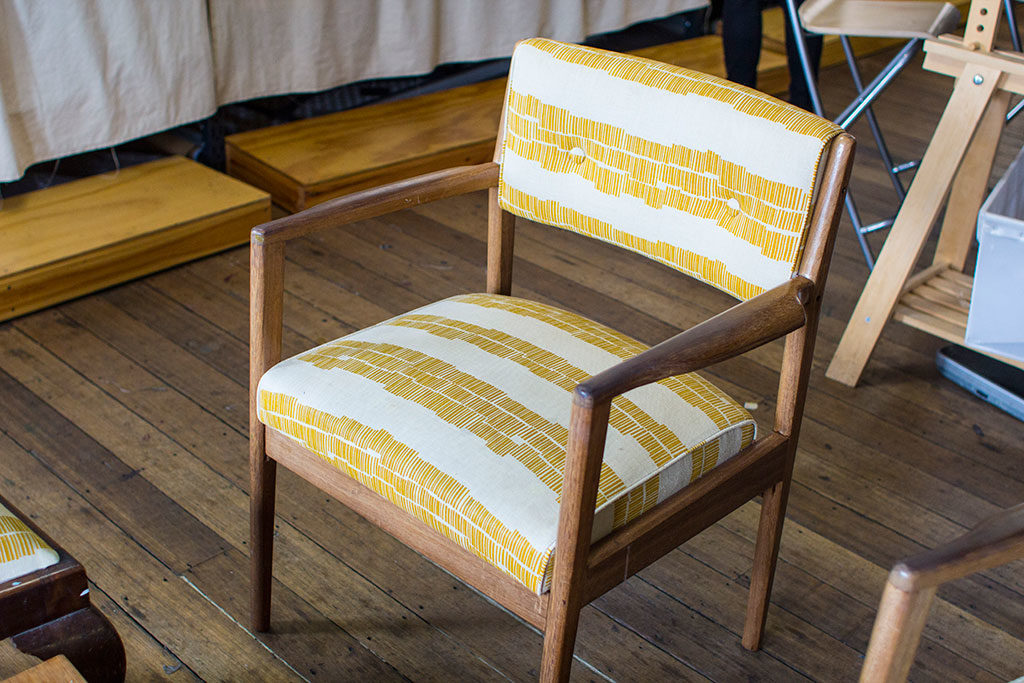 A chair in the Ink & Spindle studio, upholstered in their own fabric.
Apart from this, another part of their market has always been "people who just want to sew." These customers come up with all sorts of uses for their fabric, including bags, clothes, rugs, and quilts. Lara says that because they're so focused on creating the designs, they couldn't possibly imagine all the end uses for it. "Someone else comes along and transforms it into something completely different," she says. "It feels collaborative in a lot of ways." For those that don't want to sew, they even have their own small home wears range, made directly in their shop.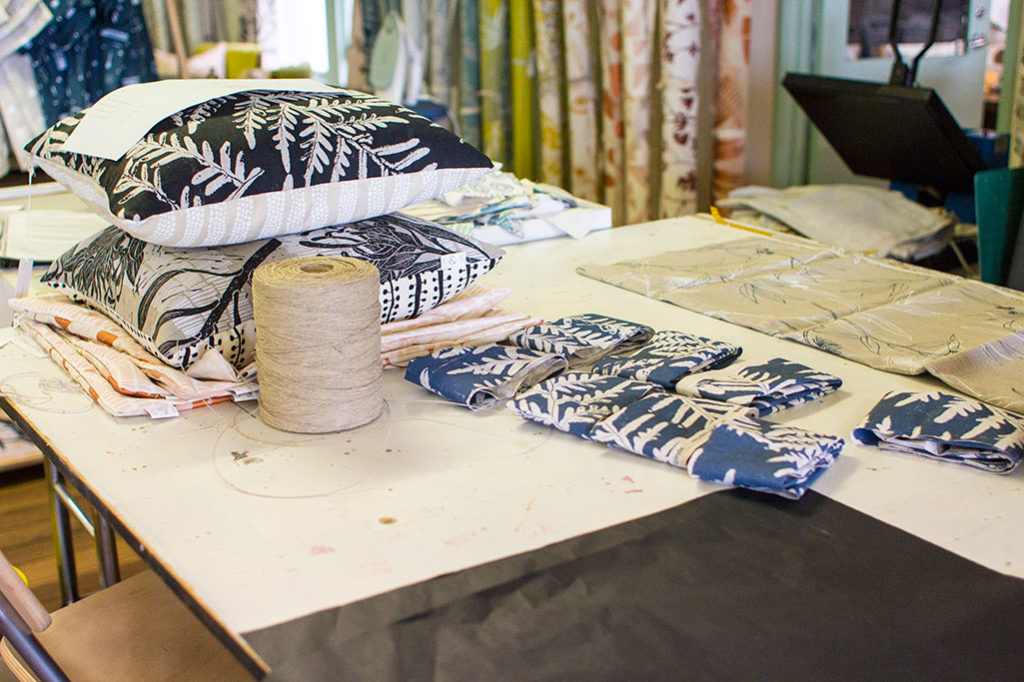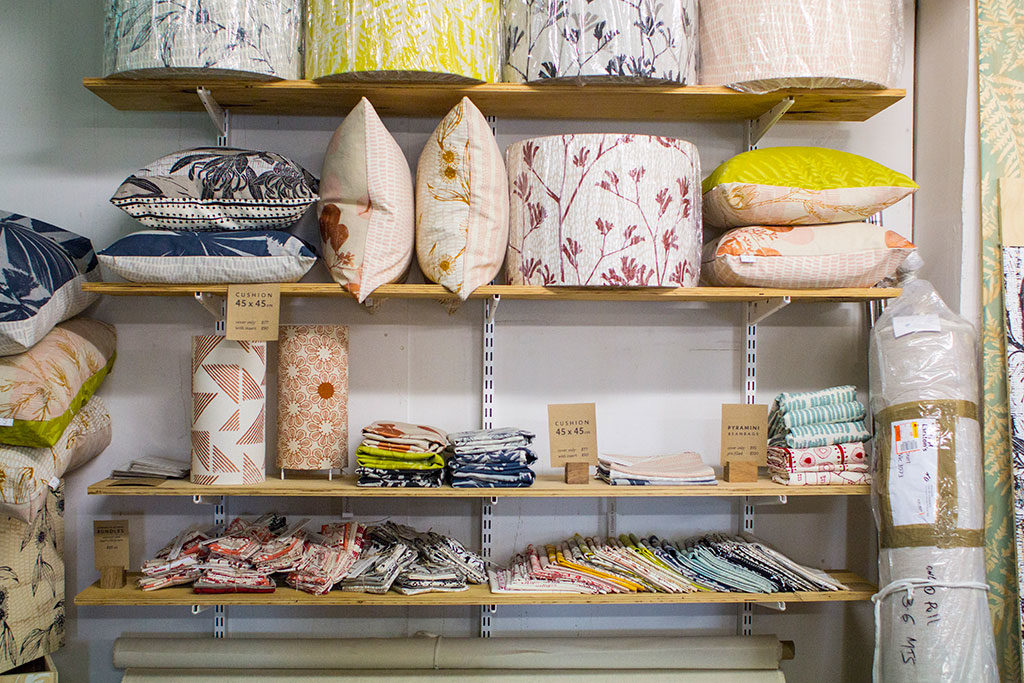 But creating fabric for other makers has always been an inherent part of their business, and continues in new ways. They've even released a collection with Cloud 9 fabric, made up of smaller scale designs on lighter fabrics. Because these were designed for the quilting community, it was necessary to create smaller designs that work better in quilts. They say they'd love to do more garment-weight fabrics in the future, too.
As you watch the pair work together to create fabric, you can sense the camaraderie that's necessary to create both this aesthetic and the actual physical goods together. As they pass the squeegee back and forth across the table, you can see the design take shape. You can also see what beautiful things women can create when they put their heads (and hands) together.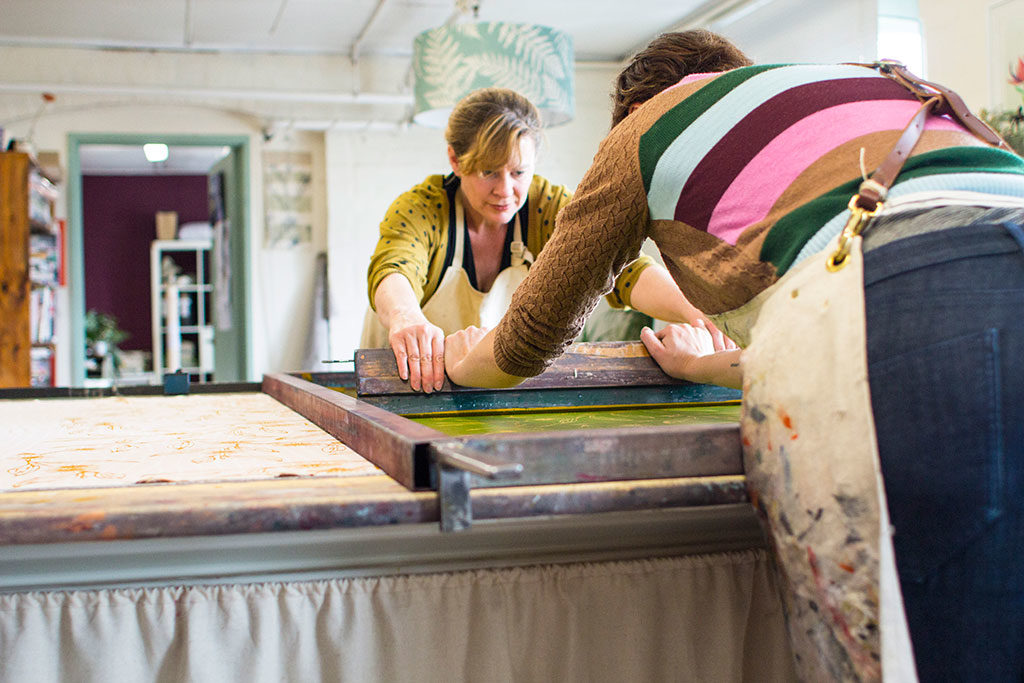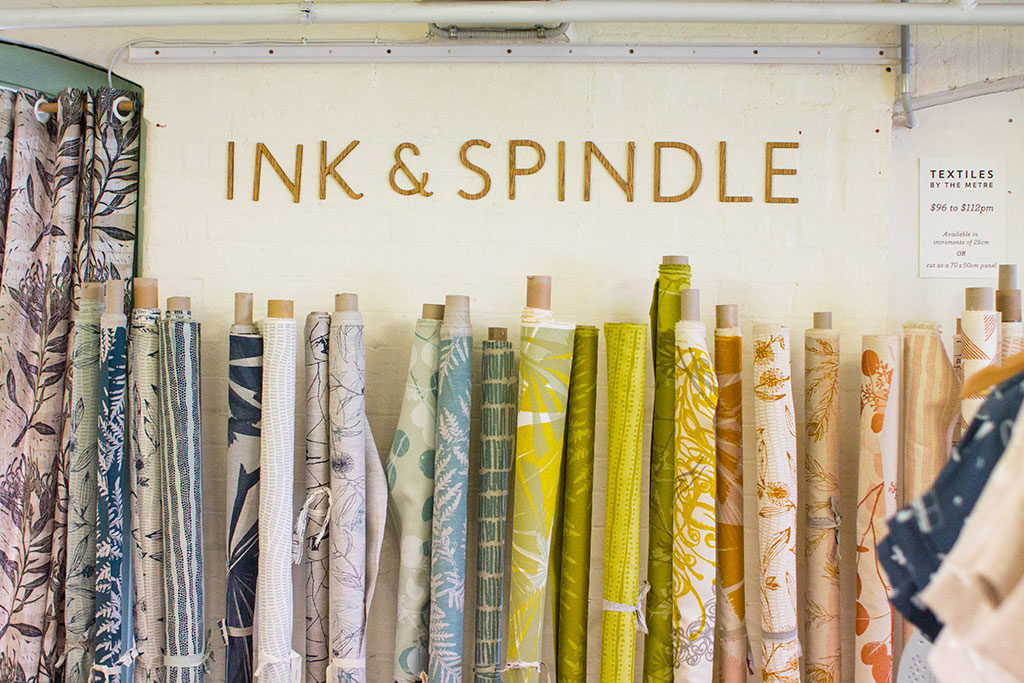 Join the Conversation
Sign in or become a Seamwork member to comment on this article.