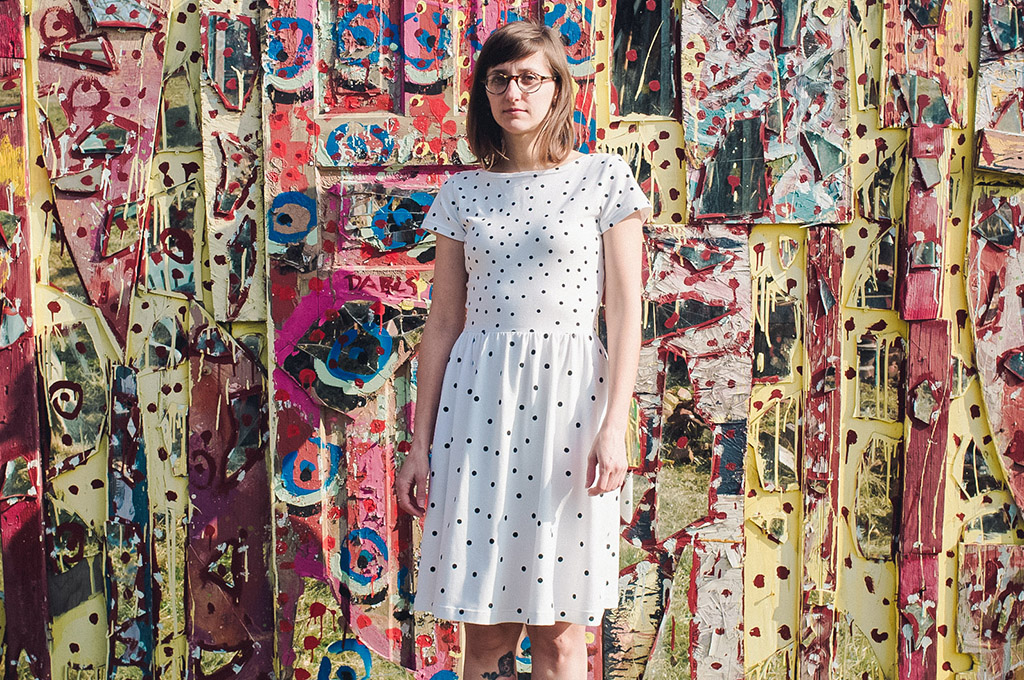 The author in a hand-printed jersey
Moneta
dress.
Printmaking has been a part of my life for nearly 15 years, beginning when I took a course in college and fell in love with the process. Since then I have been experimenting with various forms of printmaking, primarily screen printing. In the last two years, I've transitioned from printing single images on t-shirts to printing surface patterns of my own design onto paper and fabric.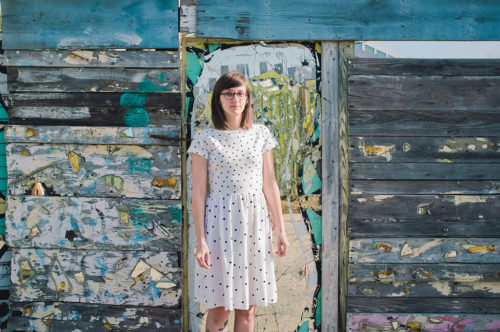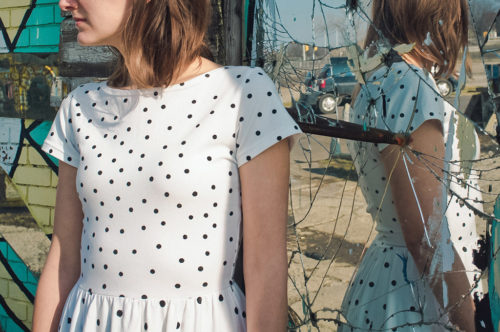 Printing a simple and classic polka dot pattern onto knit fabric is an easy way to further customize and personalize your garment sewing. You can get more mileage out of a fabric you like by printing a fun pattern onto it. Knit fabrics in a variety of solid colors are easy to find. For me, finding surface designs I like is more difficult. You can take control of your knit fabric options by printing a dot pattern onto the fabric yourself. To get started, all you need is a pencil with a fresh eraser and water­based screen printing ink for textiles.
If you've been interested in trying block printing, this a simple and inexpensive introduction to the same basic principles. In block printing, typically a carved piece of wood or linoleum is loaded with ink using a brayer and pressed onto fabric or paper to print. In this project, we will be using the eraser end of a pencil, coating it with ink, and pressing it onto the fabric to create our dot-based surface design. The most "exotic" supply you will need that you may not already have is screen printing ink, which can be easily found online and at most art supply stores.
Surface design printing projects can vary in complexity, and I like to have a few different techniques to choose from, depending on how I am feeling and what I want out of the project. Screen printing multi-color yardage where each color layer has to match up has great results but can be very difficult, so I like to have a project like this one to turn to when I am looking for something simple and quiet to meditate into. In this article, you'll learn how to use a common household object -- a pencil eraser -- as a printing tool to create a dot pattern on knit fabric with screen printing ink. You'll also learn how to choose a fabric best suited for this project, what kind of ink to look for and how to mix, and methods for heat setting and curing your printed fabric for durability.
Gather materials

Before you start, get your fabric, ink, and stamps together.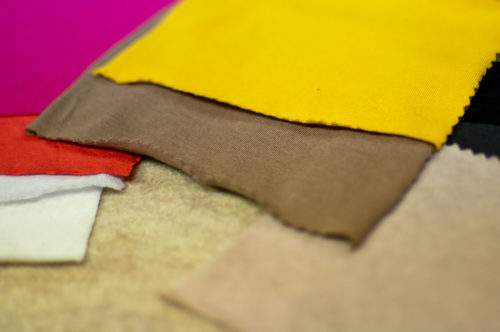 Check to see how much your fabric curls once it's cut.
Selecting & preparing fabric
For best results, a medium weight knit fabric – around 10 oz – is recommended for this project. If you thin your ink with water, a lighter­ weight knit would work as well. Choose a knit with a smooth surface, which is ideal for achieving an even layer of ink when printing. Make sure your knit fabric can withstand high heat, because the fabric will be heat set after printing, which ensures the ink won't wash out. You will also have an easier time printing if your fabric doesn't curl too much after it's cut. Fabric that lies flat and smooth on your workspace will be much easier to print.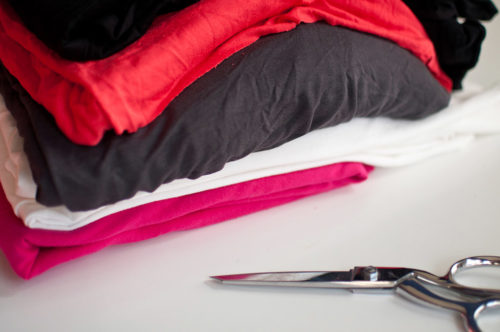 Purchase a little extra fabric for test prints.
When you have chosen your knit fabric, purchase a quarter­ yard extra so that you can make some test prints and experiment with different ink colors and dot patterns. If you are worried about making a mistake while printing, you many also want to get extra fabric. Pre­wash your knit fabric, as you should before sewing any project. Pre­washing prevents shrinkage after the garment is made, and rinses away any sizing and finishing chemicals on the fabric, which can affect printing results. Sizing can also affect how the fabric looks after heat setting, causing a yellow tint to appear on light fabrics.
Choosing ink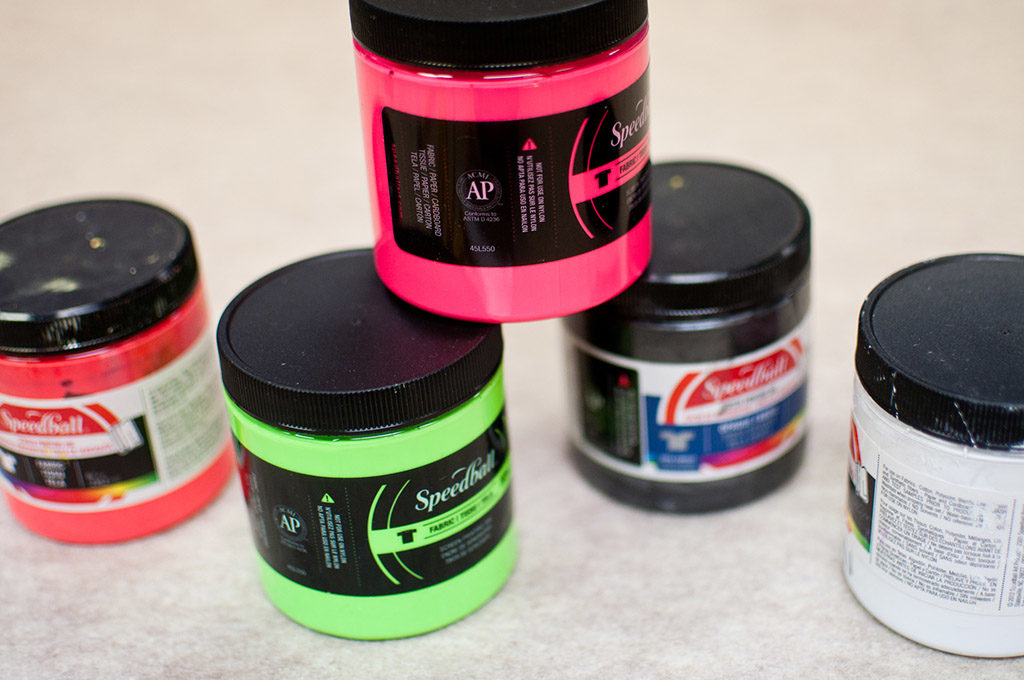 Screen printing ink is meant to adhere to fabric permanently and can be safely washed and worn for years.
Water­-based screen printing ink for textiles is recommended for this project because it cures and becomes permanent through a heat setting process, and will therefore create a longer ­lasting print. It's also affordable, accessible, and easily cleans up. Fabric paint would work for this project as well, but may not last as long, because it does not cure and only air dries. Plastisol is another type of screen printing ink for textiles that is solvent-­based. It is difficult to clean up, and will sit like plastic on top of the fabric. Plastisol is not recommended for this project!
Other things needed for this project:


Plastic cups or old jars for mixing ink


Rags for clean ­up


Old towel or piece of felt to cover your work surface


Light tack spray adhesive or double-­sided tape


Foam brush to create a "stamp pad" of ink


Newspaper or cardboard to catch drips and other messes



You can use colors straight out of the ink container, or mix your own. If you like to mix your own colors, a good starter kit would include cyan, magenta, yellow, black, and white (CMYK). You can mix almost any color with a CMYK kit. Color mixing is an art in itself. If you are new to mixing color, you may want to research first to avoid ending up with many shades of brown. The simplest way to begin color mixing is to start adding a color to white, and continue mixing from there.
This project does not require a large amount of ink. An 8 ounce container will be plenty to print one garment, leaving you with extra ink to print many more!
Collecting pencils
Gather up some pencils with fresh erasers – it is likely you will already have some lying around. You could also try jumbo pencils for larger polka dots, and triangular pencils to print a triangular shape. For irregular and organic shapes, you could try pencils with used erasers.
Make test prints
When you feel ready to start printing, try a few print variations to determine what type of design you might like. Use scraps to test before you commit.
Preparing for test prints
Before printing on your final garment pieces, cut a few swatches of your fabric to make test prints. Grab a few of your pencils and your ink. If you are mixing ink, use plastic cups or old jars for mixing colors. Begin mixing with small amounts of ink – you can add to it later if you are getting a shade you like. If you do create a color you like, you can save it for later use by covering the container with plastic wrap and a rubber band.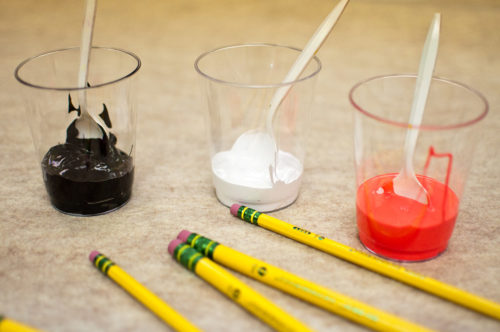 Try mixing your own colors in small quantities.
While mixing colors, keep in mind that water­-based ink does not always provide opaque coverage on your fabric and generally will dry lighter than it appears wet. The color of the fabric you print on may affect the final printed ink color, once the ink and fabric interact with each other. Black ink will provide the most opaque coverage on your fabric. If you want to work with lighter­ colored inks on dark fabric, you may want to consider using "high opacity" inks, or inks marked "opaque" on the label.
When you are ready to start printing, place a towel or piece of felt down on your work surface. This will go under your fabric, allowing more give under the pencil eraser when you print. Place your test swatches on top of the towel or felt, right side up. The fabric should stick to the towel or felt, but if you find the pieces lift as you print, you can use a light tack spray adhesive or double­sided tape to stick the fabric to your work surface.
Newspaper or cardboard can be used to catch drips and to set inky things on while you work. It's easy to make a mess while printing, but keeping things as clean as possible will make the process more enjoyable. The easiest way to keep your fabric clean is to make sure your hands do not have ink on them while you work.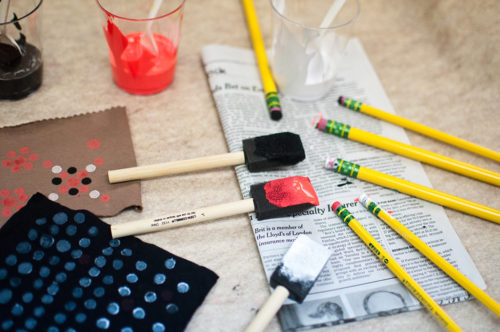 Foam brushes can help you ink your stamps.
Test printing
Dip the eraser end of the pencil into the surface of the ink and press it onto your test swatch of fabric. As you print, you will quickly get a feel for how much pressure to use when pressing the eraser onto your fabric. An even coating of ink on the eraser combined with good pressure will result in a crisp polka dot. Try thinning your ink with a teaspoon of water, and see how it changes the way the ink sits on the surface of the fabric.
A foam brush is a handy tool for this project – soak it with your ink and use it like a stamp pad when coating your pencil eraser with ink. Recoat your pencil eraser with every impression for crisp polka dots.
Experiment!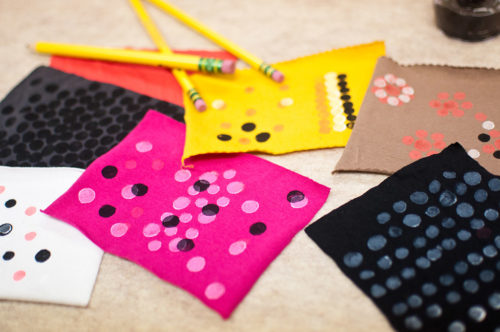 Experiment with swatches and a variety of dot patterns and colors.
Try printing different ink colors on your swatches and see which you like best on the fabric. Experiment with pressure while you print – more or less – and how it affects printing results. Try printing a color over a color. Play with different dot patterns in different ink colors, creating a kind of confetti. Mix an ink color a shade darker or lighter than your fabric for a monochromatic look. Think about the different parts of your garment. For a dress, what about jumbo­pencil dots on the skirt and standard ­pencil dots on the top? What happens to the dot pattern when pieces of your garment meet at the sleeve or waist? Does the pattern match, or turn into something else?
To help get your creative juices flowing, I've created a p​olka dot inspiration board on Pinterest.​
Cutting garment pieces

Next, it's time to cut your pieces from your fabric and print your dot pattern. Printing on pieces that you've already cut is the best way to go.

Cutting garment pieces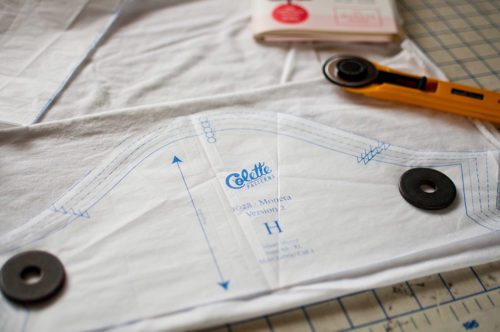 It's easiest to print on pre-cut garment pieces.
After you've finished your test prints and decided which ink color and what kind of dot pattern you want to print, it is time to cut your garment pattern pieces. Printing piece ­by­ piece is easier than printing yardage, which is cumbersome and can be difficult to manage, particularly in a small space.
For this project, I am using the Moneta sewing pattern – the simple elegance of the Moneta dress goes perfectly with softly printed dots. You'll be making a final garment that you've put a lot of time into, so be sure to use a sewing pattern you've tested, and that you know fits you well and that you love to wear. The great thing about using a knit in this project is that it will become a garment with everyday wearability. You can look forward to double ­compliments when you tell people you made the garment and​ ​printed the fabric yourself!
Printing
Lay out your cut garment fabric pieces on your work surface, in the same manner as your test swatches – on top of an old towel or piece of felt. Again, you can use light tack spray adhesive or double-­sided tape on the back of your pieces to keep them lying flat on the work surface. The fabric should stick to the work surface and not lift or cling to the pencil eraser while you are printing – this will create a cleaner dot.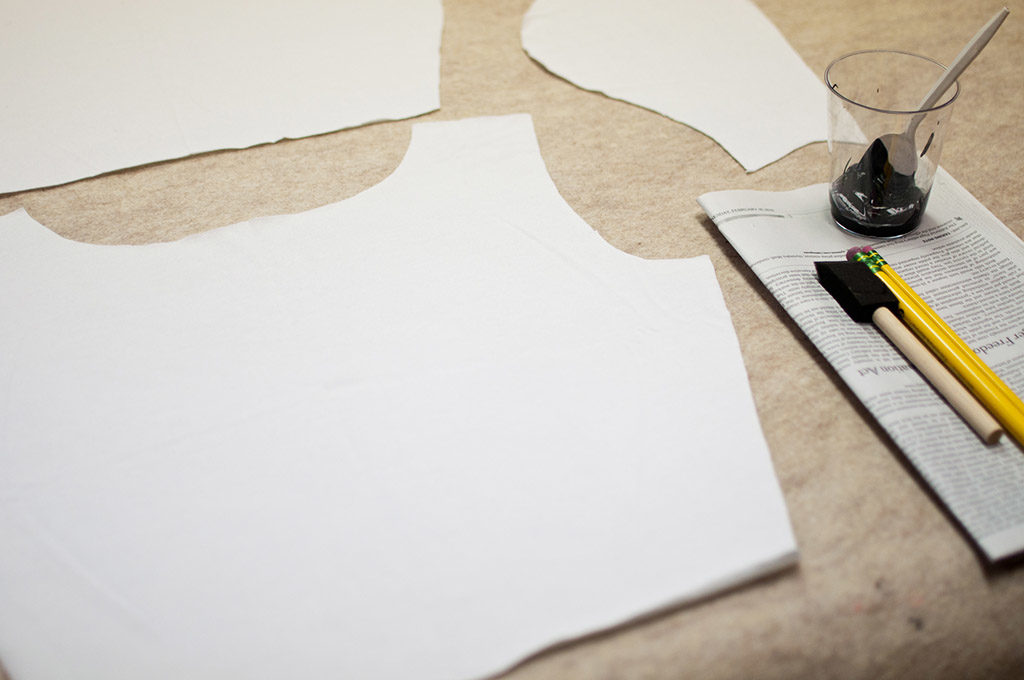 Use a surface that your fabric can easily cling to.
Get all of your tools and work surface ready for printing – your ink, pencils, foam brush, rag, and cardboard or newspaper should be within arm's reach.
Printing polka dots!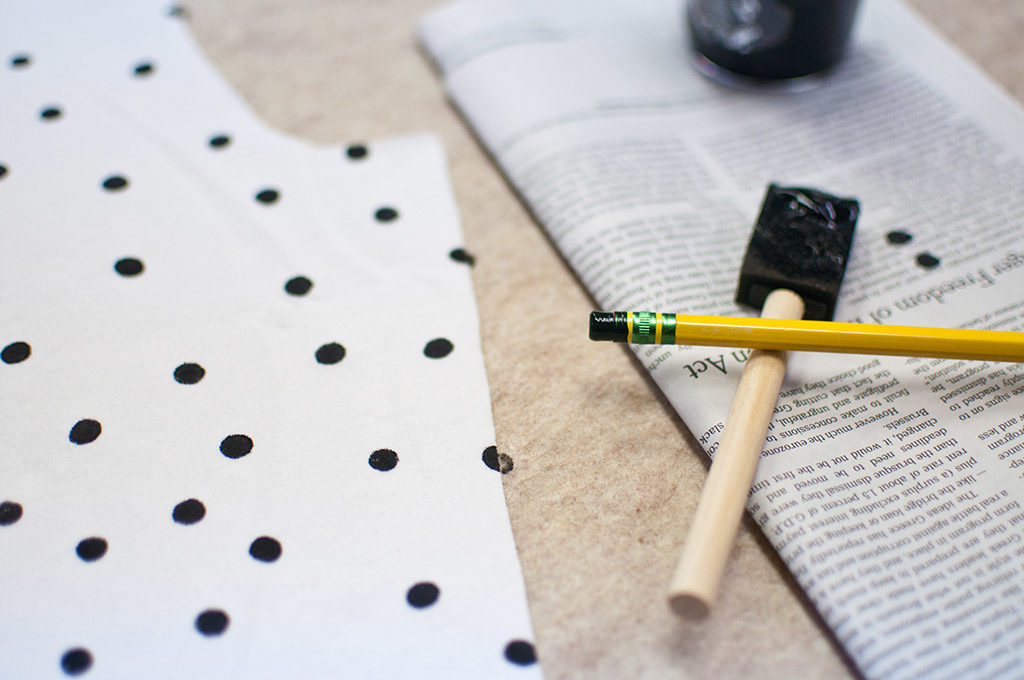 Print right to the edge of your fabric to avoid obvious gaps in your pattern.
You're now ready to print! Print your chosen dot pattern, based on your test swatches, by dipping the eraser end of the pencil into the ink and then onto your fabric pieces. If the ink starts to clump on the eraser, simply wipe with a rag. Continue until you've covered all of your pieces. Make sure you print to the cut edge of your garment pieces, so there isn't a gap in printing at the seams where the pieces will meet. You may even want to print over the cut edge in some places. I thought that I might leave the cut hem of my dress unfinished, so I was sure to print over the cut edge in some places.
The ink may soak through your fabric in some places, and that's okay. Water­based ink is generally fairly soft and shouldn't be too scratchy on your skin on the inside of your garment.
When you are done printing, clean­ up is easy – that's the great thing about using water-­based ink. Simply wash your tools with soap and water in the sink.
Heat set & cure
Once you've printed your fabric, it's time to set it. Heat setting your fabric means the print will last longer, so you can wash and wear your new garment over and over.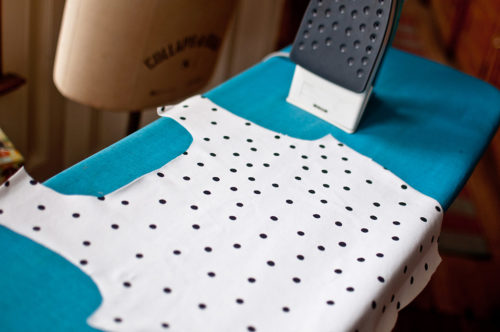 A regular iron will supply enough heat to set your print.
Heat setting
Once you've printed all of your fabric pieces, let them dry overnight. Set them on a table, the floor, or kitchen counter in a single layer to dry. After the ink is dry, set a household iron at the highest dry heat without steam that will not scorch the fabric. Using cloth or paper between the iron and printed fabric, iron on each side of each piece for 3 to 5 minutes while continuously moving the iron. This heat sets the ink, making it able to withstand washing. If you prefer a washed ­out look, you can instead put the fabric in the dryer on hot for 30 minutes to heat set, and the ink will soften with washing but not entirely wash out.
Curing
Once you've heat set your garment pieces, wait a week before washing to allow the ink to cure. Your pieces are now ready to be sewn into your next favorite garment!