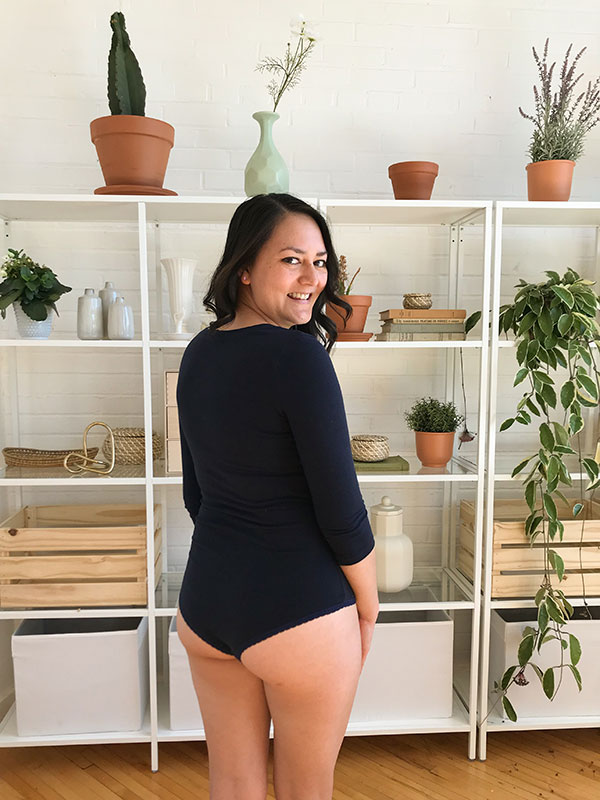 I'm a big fan of bodysuits—they pair so well with practically any bottoms in your closet. You really cannot beat the versatility. But I know a lot of us are not huge fans of the underwear lines that fold over elastic (FOE) causes at the leg openings. So here is my sewing secret for finishing the legs of any bodysuit (or pair of underwear) I make—I finish the hem with stretch lace rather than FOE.
On underwear this can be pretty easy; I simply just sew on the lace around the leg openings with a zigzag stitch. I typically don't even bother taking away seam allowance at the leg openings and the results have never bothered me. It gets tricky with a bodysuit like Orlando due to the snap placket on the gusset. Not to worry, I have put together a simple guide that involves a little math to make sure all of your gusset pieces will line up and sew together.
If you're interested in sewing with stretch lace, I recommend looking online for rolls of deadstock lace—I scored a roll of 50 yards of white 1/2" lace for $12! White lace can be versatile since it is the easiest color to dye. I purchased a bottle of RIT dye in the color navy to create this coordinating lace for my Orlando bodysuit.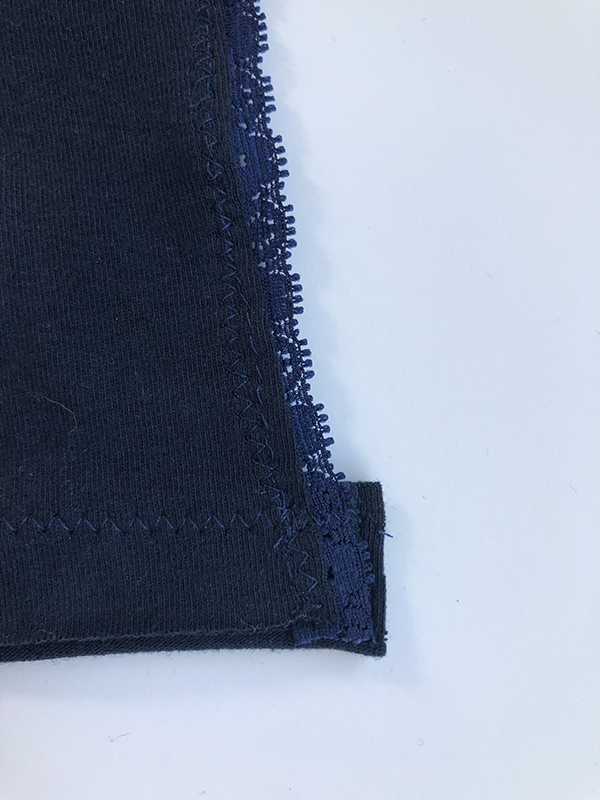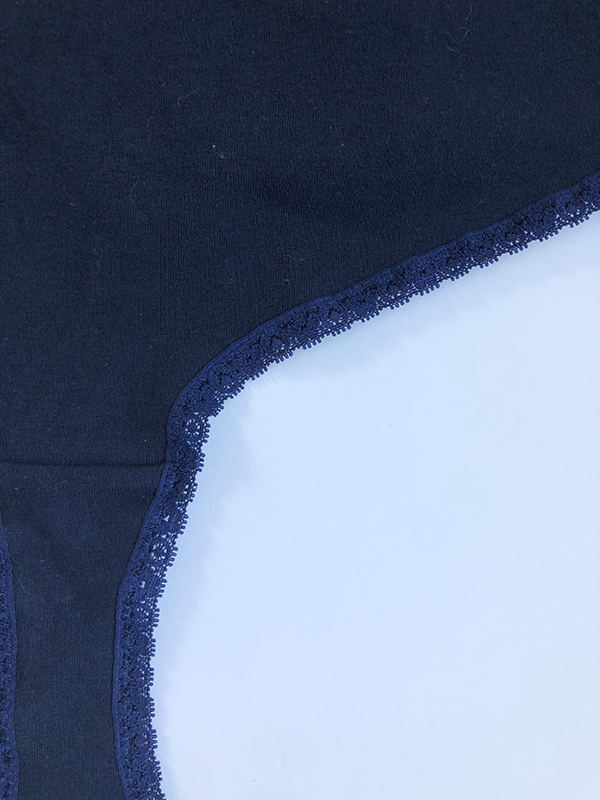 I recommend calculating your lace to need 1/4" seam allowance. Since my lace is 1/2" wide I'm going to take 1/4" off of my pattern. This will keep the gusset width the correct size for the snap placket pieces. If you made it into a mathematical formula it would look like this:
Lace width (for me it is 1/2") - 1/4" = How much to take off of your leg openings and gusset (for me that equals 1/4")
This illustration shows in red which parts of the pattern I'll be taking seam allowance from.
Keep in mind that using a narrower lace for a bodysuit is key, I would recommend nothing over 5/8" wide because you don't want your gusset to get too narrow!
Once you get to the step in the instructions to sew on the FOE, instead, line up your lace right side up on top of your leg opening (also right side up), overlapping the two by 1/4". Zigzag together. Continue with the instructions and install your snap placket.
It's that easy and it adds a really nice finish to your bodysuit or handmade underwear.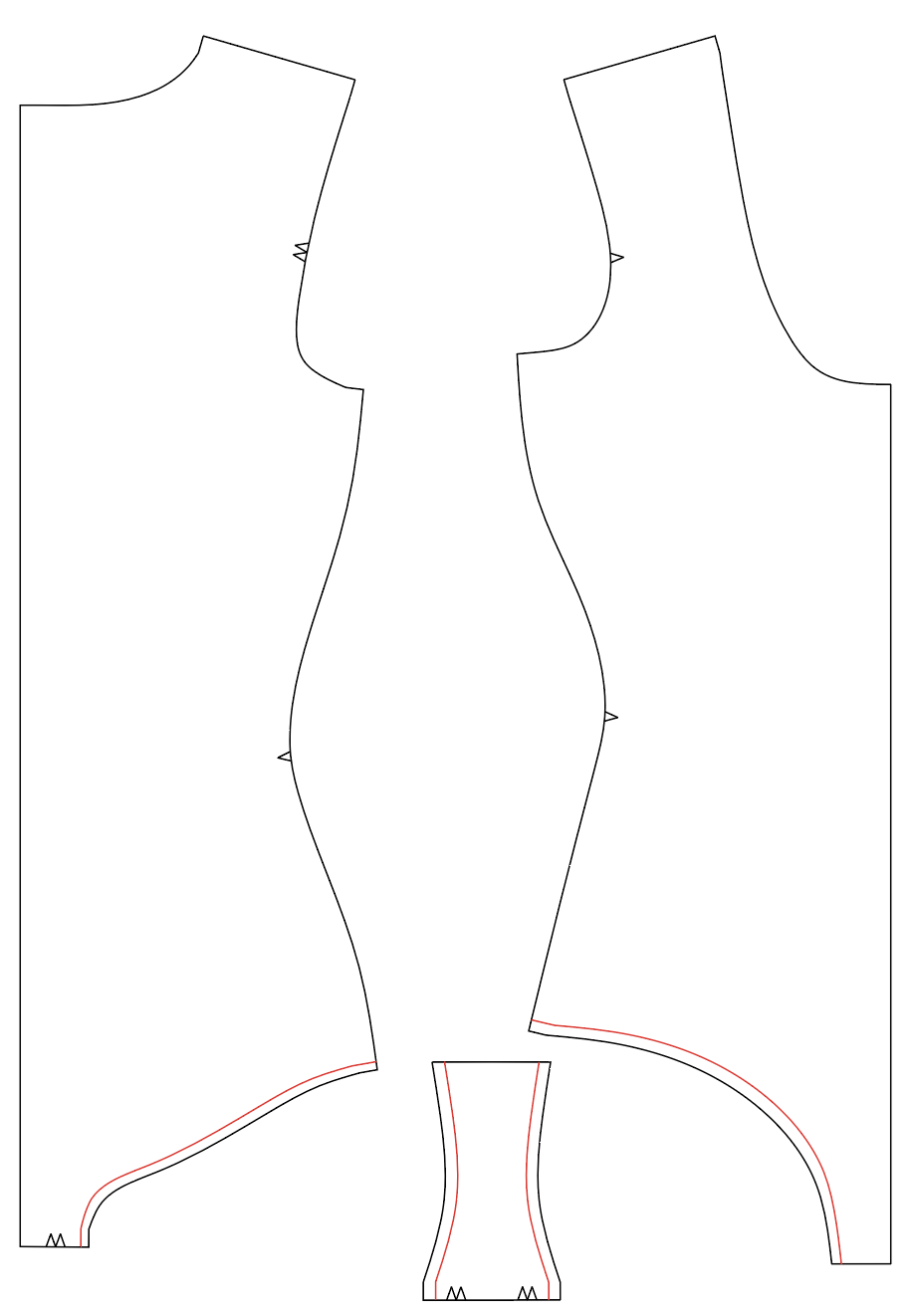 Join the Conversation
Sign in or become a Seamwork member to comment on this article.