If you're like most garment sewers, at some point you'll find yourself staring down at a sizeable pile of fabric scraps, wondering how to make a dent in your collection. Sure, you might look for colorblocking options in garments, use scraps for facings and pockets, and make children's clothing or quilts to whittle away the pile. At some point, though, you might ask yourself: what about lingerie?
Undergarments like bras and panties use very little fabric, so they're a natural way to use up small bits of fabric left over from another project. Who doesn't enjoy getting additional mileage out of a pretty piece of fabric, a favorite color or print, or a luxurious textile like silk? It's also a way to stretch your fabric budget to cover more garments. Pattern designer Zoe Edwards, whose panties drawer contains only handmade panties (much of it made from scraps), points out that cotton growing, processing, dyeing, and transportation are damaging to the environment:
"Sewists can limit the impact of our hobby on climate change and ecosystems by getting the most out of every piece of fabric we buy, right down to the scraps."
Lingerie also sees quite a bit of use, and it can be rewarding to make garments with a high wear–time investment ratio. It can be wild, cute, pretty, quirky, or sophisticated, which makes it the perfect way to play with different looks without worrying whether your print mixing or color combinations are perfectly "you," as few people will see it. Finally, for those nervous about making their own lingerie, scraps can cut down on the number of new materials sewists purchase for their first trial run or two. Just be aware that certain types of undergarments and fibers are easier to start with (more on that below).
Panties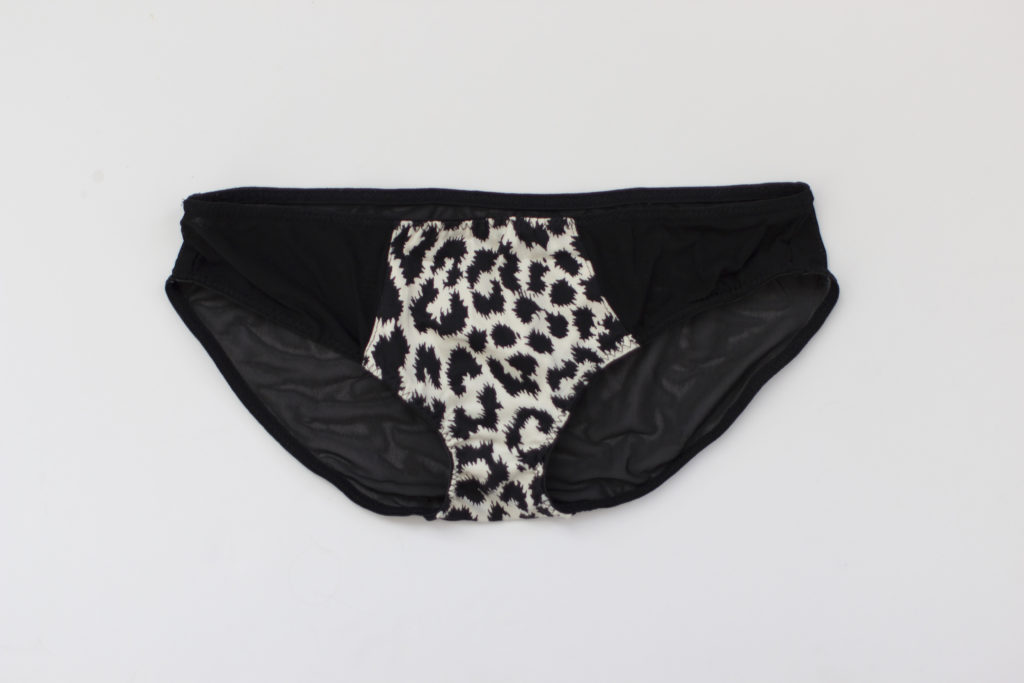 If you're just dipping your toe into lingerie-making waters, panties can be a great place to start. It's relatively quick to make, and once you are used to the construction method and lingerie elastic, a wearable item can be made in as little as half an hour. Zoe encourages beginners to pick a pattern and some scraps and jump right in, although you might want to save your favorite scraps until you have a couple pairs under your belt. "It really doesn't matter if the finish isn't perfect," she says. "Anyone that sees you in them is damned lucky to have the chance and won't notice any wonky stitching!"
Lingerie is worn close to the skin, so it's important to choose a fabric that feels good on the skin. Zoe likes to look for knit fabrics that make good t-shirts. "A cotton-based fabric will probably feel nicer against the skin and is great for sweat absorption, and some elastane/lycra/spandex content will make sure they are comfortable," she says.
Panties usually require some sort of elastic at the waistband and leg holes, and it can be handy to stock up on the types and colors that you like. If applying elastic to knits is intimidating, another possibility is to use a knit binding instead of elastic, which creates a finish similar to the one found on the necklines or hem bands of many popular knits patterns. Just be aware that the knit binding will sit differently than elastic, so make a test pair first.
Finally, some pattern pieces require larger scraps, but even if your scrap isn't the correct size, Zoe points out that you can use several scraps to make one pair. "Consider using contrasting knits for the front, back, and gusset for cool print combinations or color blocking," she says. Also, some styles include pattern pieces that are already split in some way—with side panels or a split front panel, for example—which can help with using up those smaller scraps. Some patterns even mix wovens and knits. As you experiment with different designs and fabrics, you will develop a portfolio of patterns that play well with the types of fabrics you sew with the most.
Bras
Bras are more complex than panties, both in terms of construction and materials. Amy Chapman, the designer behind the Watson Bra and a sewist, admits to experimenting with many weird fabrics in bras (she recommends scuba knit as a "genius bra fabric, by the way!"). She notes that bras often have a mix of fabrics that interplay with each other, usually a combination of stretch and non-stretch fabrics, which can make bra-making slightly trickier for the scraps-inclined.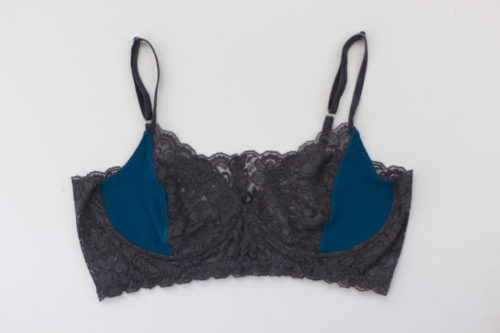 Combine fabric scraps and stretch lace to make gorgeous
soft bras.
The Florence bra
is a three hour project
that will help you bust scraps.
For beginning bra makers in particular, she recommends sticking with a pattern's fabric suggestions as much as possible to get a feel for how everything works together. "If you change the fabric type, stretch, recovery, weight, or the drape, you'll definitely change the fit of the bra," she says. Getting a sense of how the pattern was designed to fit or feel creates the familiarity and confidence to experiment.

Amy has suggestions for the different components of a bra. For the back bands, it's important that the fabric has perfect, snappy recovery. She primarily recommends powernet or stretch mesh-lined lace: "I've learned to do that from trying everything in bands! Jersey loses its hold so quickly, and stretch lace alone usually doesn't have enough stability—although there are exceptions; some laces are quite firm!"
Using scraps to make underwired bras can be trickier. "In my experience," Amy says, "supportive bras usually work best with specialty fabrics that I don't usually use in other clothing." This is because many underwired bras call for firm cup fabrics so as to offer greater support. If you do want to use your jersey scraps, she recommends using it to cover a foam cup in a wired bra, so that the foam provides support. This trick also works well with silk, for a hint of luxury.
There are many ways to stabilize a cup so that it won't stretch. In addition to using a foam cup, you can line the fabric with tricot, or interface it with fusible interfacing. Fusible interfacing can detach from fabrics that experience a lot of pull, so be sure to test out the interfacing on a scrap and stretching it around. In general, when playing around with scraps for bra making, it's always a good idea to test the stretch.
Looking to make your scraptastic lingerie even more eco-friendly?
Using up fabric scraps isn't the only way to lighten the eco-footprint of your undergarments. The ring and sliders, underwires, and even hook and eye from old bras can all be reused, depending how worn the materials are and how much unpicking you can stand. You can also remove and add cute trim from existing panties, like tiny buttons, bows, and lace embellishments to your handmade panties.

Old T-shirts can also be upcycled into panties, and it can be fun to incorporate the graphics from old band shirts, souvenirs, or commemorative shirts into the design. Shirts with little or no stretch should be made into a panty that is a size larger than what you'd normally make with stretchier knits.

A soft cotton T-shirt can make great crotch liners. One will go a long way!

Finally, some sewists use woven scraps, either cut on the grain or on the bias, but depending on the pattern and the fit, this can sometimes reveal drag lines or pull on the bias. The best thing to do is to experiment. Wear your test bra for a couple days, and go from there.
Pulling it All Together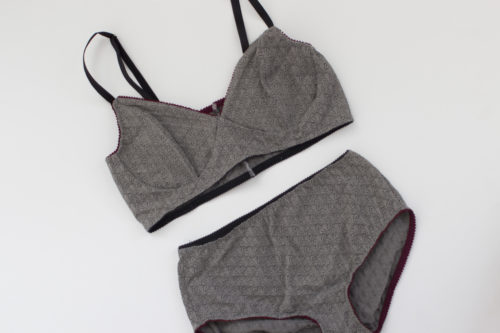 Make a matching set from the scraps of a favorite
so not a single piece goes to waste.


One of the challenges of making lingerie from scraps is achieving a cohesive look, especially if you like to have a matching bra and panty set. Lindy Thibodaux has used her experience in sewing, knitting, and dyeing to develop a specialty in creating color palettes, which came in handy when she began making scrap-busting lingerie.
"Because most bras are made with combinations of materials, I think the key to a successful lingerie project is in thoughtful pairings," she says. "It's difficult to accurately visualize the outcome, so my advice is to lay out your fabrics in a mock-up, prior to cutting, to get a general sense of how the combined materials play together." She also does a mock-up after she cuts her pieces, including straps, closure, and so on. "This really helps not only to fine-tune the details, but also to build my confidence, because I can actually see how it's going to come together!"
Lindy recommends first checking your pattern requirements and pulling all appropriate fabric scraps and trims together, then sorting the pile by color to begin seeing possibilities. To build a color palette, pick a main fabric as a starting point, which will dictate the color of the coordinating fabrics, laces, and trims. Forget about looking for a perfect match. Instead, use the color wheel and think about tonal ranges. Lindy says, "Pick your main color, then go for shades that are adjacent to it on the color wheel. And you can always use a darker tone or lighter tone of any of the colors you choose!" You can also use several shades of one color, like pink/fuchsia/wine or spring green/grass/forest, to create a set with an ombré flair.
Resources


Soft bra options include Florence and the Watson Bra. Note that you have the option of adding underwires to Florence.


Panty patterns include Zoe's pants/undies/knickers pattern and Geneva. Note that the third version of Geneva includes a split-seam front panel, perfect for using up small scraps.


For more about creating color palettes for undergarments, see myBratelier.


Another approach is to start with a favorite print, and then pull colors from that print to create a beautiful, unique set of undergarments. Lindy points out that the beauty of using your scraps, assuming they're leftovers from projects you made yourself, is that they're probably colors you already like. "I've found that, as long as you consistently choose colors you like, they will naturally work together—and they'll likely look good with the classic lingerie hues of black, white, and nude," she says.
Strategic use of elastic trim can be another way to create a cohesive look. Using the same trim in both the bra and panty creates visual continuity in the set, even if the two garments are made from fabrics that are different hues or prints. Sometimes it's possible to use the same fabric in the bra and panty, at least in part of each undergarment, which is another way to create a sense of cohesiveness. For example, in one set Lindy used a gray-and-black silk print in the bra, then found a panty pattern that called for bias-cut wovens, so that the silk could be incorporated into the panty as well. Other times, it might be possible to adapt the panty fabric for use in a bra by stabilizing the cups and bridge with non-stretch lining. A final option is to dye the elastics, lace, and fabric scraps.
Lingerie presents an endless array of possibilities for making the most of your scraps. It doesn't matter if you're new to sewing undergarments or already have a number of projects under your belt—there are numerous ways to squeeze one more garment out of a scrap of your favorite fabric. So grab those bits of fabric, elastic, and lace, and create some beautiful undergarments that will keep you smiling for months to come.
Join the Conversation
Sign in or become a Seamwork member to comment on this article.