We know it helps to see finished examples of Seamwork patterns made in different fabrics and on different body types. We're lucky to work with very talented models every month, but if we also share our finished projects, you'll get a better idea of how you can make the patterns fit your style and your body.
So read on to see what fabrics the Seamwork team picked for the Bobby and Carter dresses.
Taylor's Striped Carter Top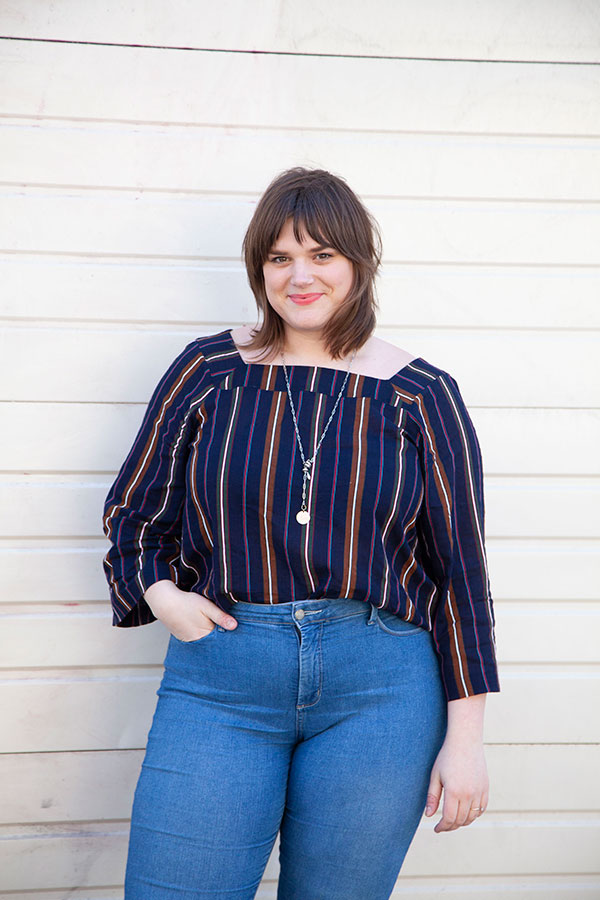 Her inspiration: "For the last year I've been eyeing all these cute tops that keep popping up throughout all the RTW brands I follow. I love the easy, breezy, flowy look they always exude. (Specific brands I'm referring to are Madewell, Hackwith Design House, Ace & Jig)"
Fabric: "Cotton Voile from Blackbird Fabrics. It's no longer available, but they have some other great options in their shop here."
Why she picked this fabric: "I love the varying stripes as well as the subdued yet bright color palette. It felt like a polished, casual type of fabric to use for the top I had envisioned."
Does this fabric work well for this project? "Definitely. It has enough body without it feeling too light, and it washes up so nicely."
Tips: "This is a lesson I will always be learning, but making a muslin is seriously the best possible route to go. I especially encourage it if you want to adjust the pattern's style a bit. I'm definitely more in the separates camp these days, so figuring out how to alter a pattern to fit my style is something I think about a lot."
Size: 16
Adjustments: "I started out by adjusting it to a top and tenting it out a bit more—similar to the Pattern Hackers tutorial. I really liked the look but thought the sleeves would be fun long, so after my muslin, I decided to keep the body of the dress the same but extend the sleeves to add that extra pizazz! The neckline stretched a bit when sewing, so I also sewed a little dart in each shoulder to keep it from feeling like it would slip too far down."
Measurements: Taylor's measurements are 44", 36", 49", and she is 5'7".
Haley's Bamboo Bobby Dress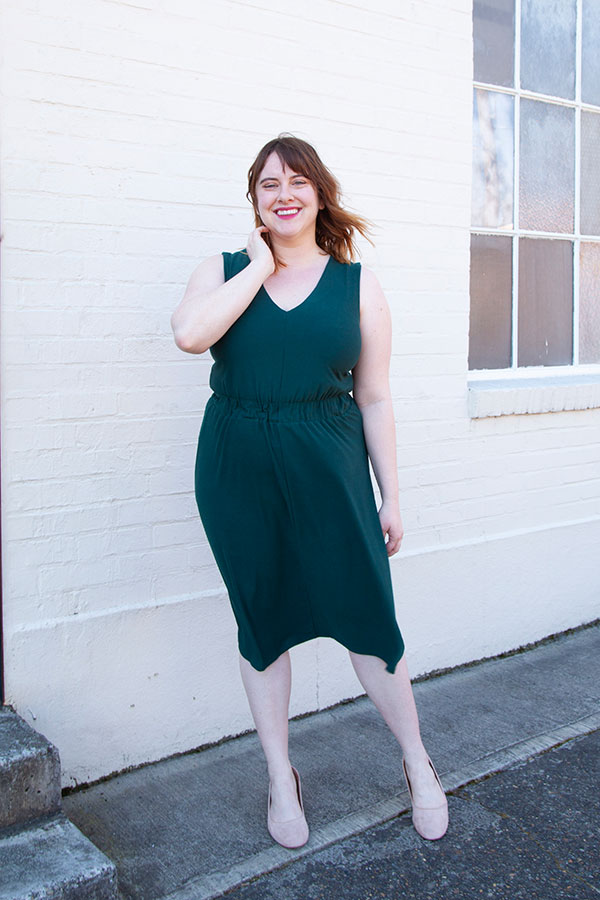 Her inspiration: "When I designed this pattern, I kept thinking about the Colette Moneta dress. I love that the Moneta dress is the perfect secret pajamas—it looks polished and pretty but is so comfortable and practical. I think that the thick elastic waistband, slightly blouson bodice, and A-line skirt makes this dress feel really fresh and modern.
When I was planning my own version of this dress, I knew I wanted to create a 'feel good dress' for the warmer spring and summer months. I love having a simple throw-on garment that instantly makes me feel put together."
Fabric: "I used the most amazing bamboo knit from Blackbird Fabrics."
Does this fabric work well for this project?
"I knew I wanted to choose something with a soft hand and plenty of drape. Originally I wanted to make this dress in a shade of red, but this rich green hue stole my heart.
I recommend this fabric for this project. It is slinky, so take your time and don't skip stabilizing the neckline. I also think this fabric would be great for lining the bodice of the Bobby dress if you chose a heavier-weight shell fabric."
Tips: "Stabilize! I used my pattern piece to create a 1" interfacing strip at the neckline and applied the interfacing to the front and back neckline on the outer shell and lining immediately after cutting to avoid any stretching."
Size: Size 12 graded to a 14 at the hips.
Adjustments: Shortened to accommodate her height.
Measurements: Haley's measurements are 42", 33", 45" and she is 5'2".
Meg's Maternity Duo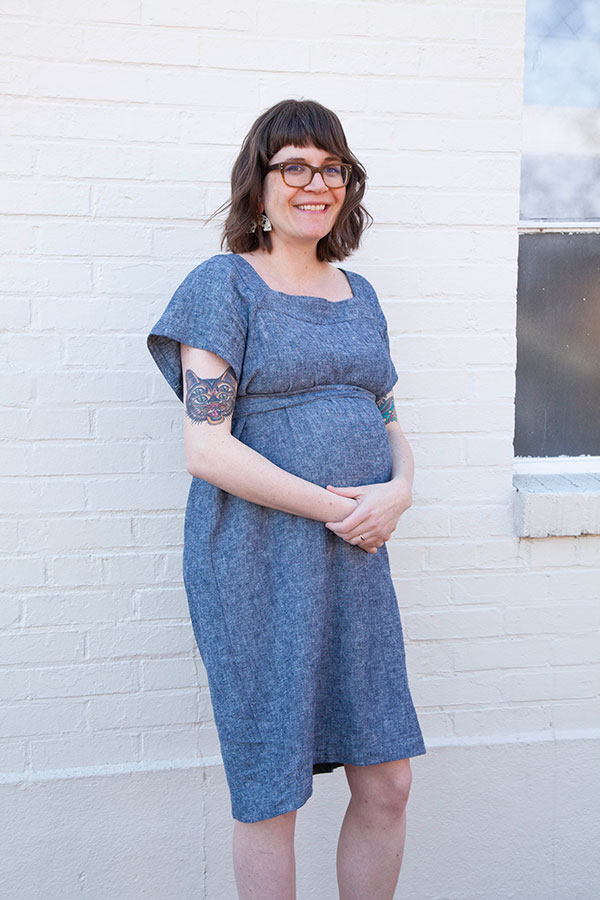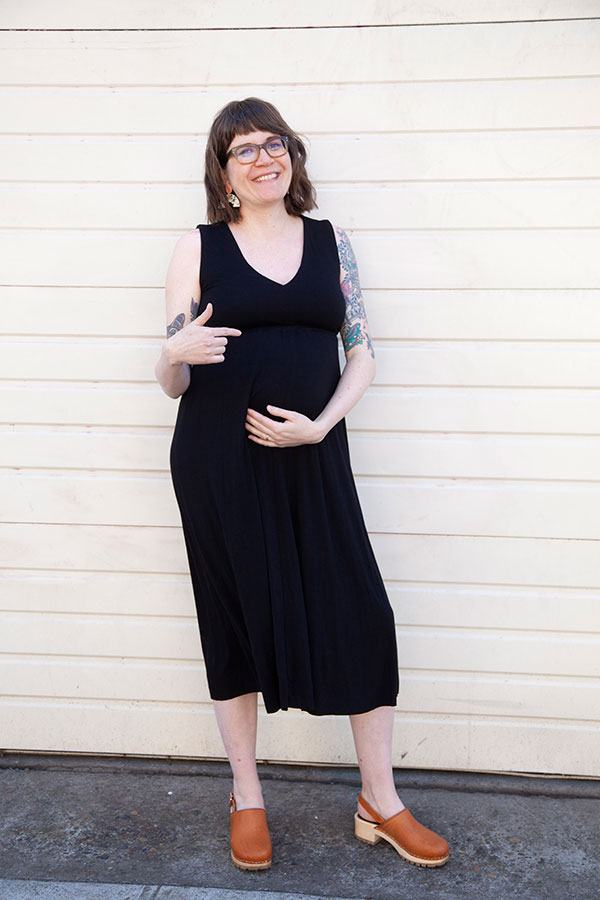 Her inspiration: "These are the first garments I've sewn since I found out I was pregnant. I had two goals for maternity sewing. 1. I knew I wanted to make things that I can continue to wear post-partum. 2. Comfort! When I saw Haley's designs for April, I put off all my sewing until now."
Fabric: "For the Carter dress, I used my all-time favorite fabric, Brussels Washer Linen from Robert Kaufman. It's the perfect blend of rayon and linen, and I picked up this shade from Stonemountain & Daughter Fabrics.
For the Bobby dress, I used a black rayon jersey from JoAnns. It was very affordable and surprisingly easy to sew."
Does this fabric work well for this project? "I have zero complaints about the Brussels linen—it's drapey, resists wrinkles, and is very comfortable. I did learn some lessons when making the Bobby dress. For my muslin, I used a rib knit with poor recovery. Big mistake! My neckline warped and the bodice didn't nicely hug my body. I think this dress will sew up best with softer knits that have a strong recovery. The rayon jersey was perfect."
Tips: "I am going to echo Haley's advice to stabilize. I stayed classy and put a sheet of tissue paper under my fabric while sewing the entire bodice for the Bobby dress. This is especially important since you will be understitching the bodice, so your fabric will go under your presser foot a few times. Since my knit was a rayon blend, I didn't want to risk scalding the fabric by using fusible interfacing or stabilizer, which is why I stuck with tissue paper."
Size: For the Bobby dress: Size 4 bodice and size 10 skirt. For the Carter dress: Size 6 bodice graded to a size 12 below the bust.
Quick-and-easy maternity adjustments: "I started by looking at the finished garment measurements to determine the amount of ease I wanted for each design. For the Bobby dress, I pinched 2" out of the shoulders and shortened the bodice 3" to create an empire fit. I used 1/2" elastic because I think the 2" elastic would have felt too restrictive on my stomach. I sized up for the skirt and added 4", to make up for the amount I took out of the bodice—and I definitely left the hem raw, because I need to pick and choose my sewing battles right now.
For the Carter dress, I wanted something transitional. I skipped the shirring, inspired by one of this month's pattern hacks and opted for a tie. I will wear the dress tied while at work, and undo that tie as soon as I get home so that I can relax in a comfy, loose-fitting dress. I plan to shirr the dress later this summer to cinch in the waist. It's like three dresses in one!"
Measurements: Meg's measurements are 37", 37", 40" and she is 5'6".
Robin's Bright Red Dress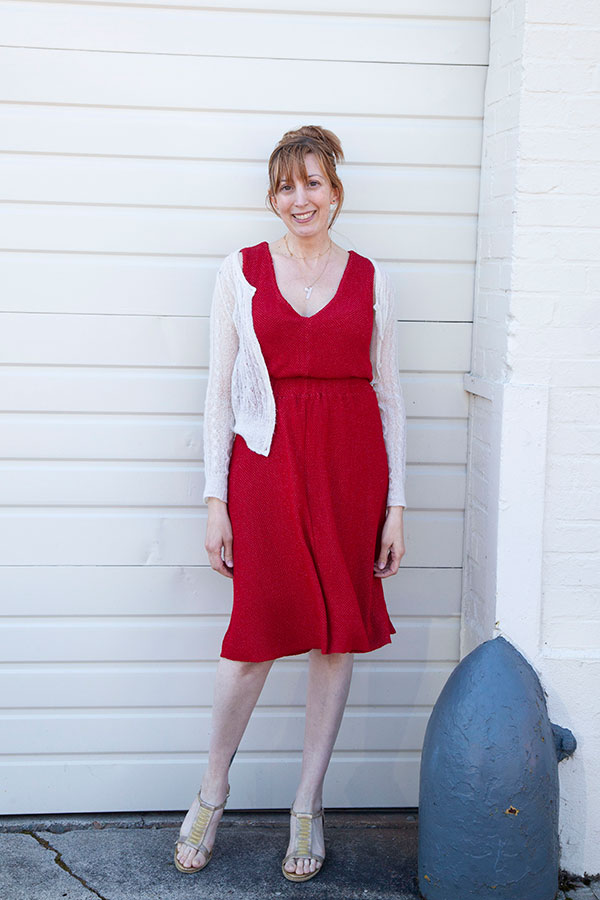 Her inspiration: "Warm Spring days, bright new flowers, and easy throw-on dresses."
Fabric: "Cotton and polyester 'scrunch' knit—that's not a technical term, I'm not really sure what to call it! I don't know that it would qualify as a pique, but it has elasticized threads running through it that scrunch up the fabric creating a lovely smocked effect."
Why she picked this fabric: "I was drawn by the color—it is the perfect shade of red. It also happens to be amazingly comfortable!"
Does this fabric work well for this project? "It is not a fabric for beginners or anyone who wants to whip up a quick sew. It required a lot of special handling—it needed to be relaxed before cutting, presser foot tension on my serger had to be reduced to practically nothing, and even then I lifted my presser foot every few inches to release any drag or stretch that had accumulated. I used a walking foot on my regular machine, and I reinforced many seams before sewing. I didn't hem it either—then the cut edge stays clean and it was preferable to possibly having a wavy hem."
Tips: "When working with difficult knits, it's imperative to save scraps and experiment with your machine settings and stitches. Don't be afraid to use interfacing to help reduce stretch, and consider leaving off the hem—many fabrics will not fray, and it isn't visible from afar."
Size made: 4 blended to a 6 at the waist.
Measurements: Robin's measurements are 35", 32", 37" and she is 5'4".
Wallis's Lace-Trimmed Dress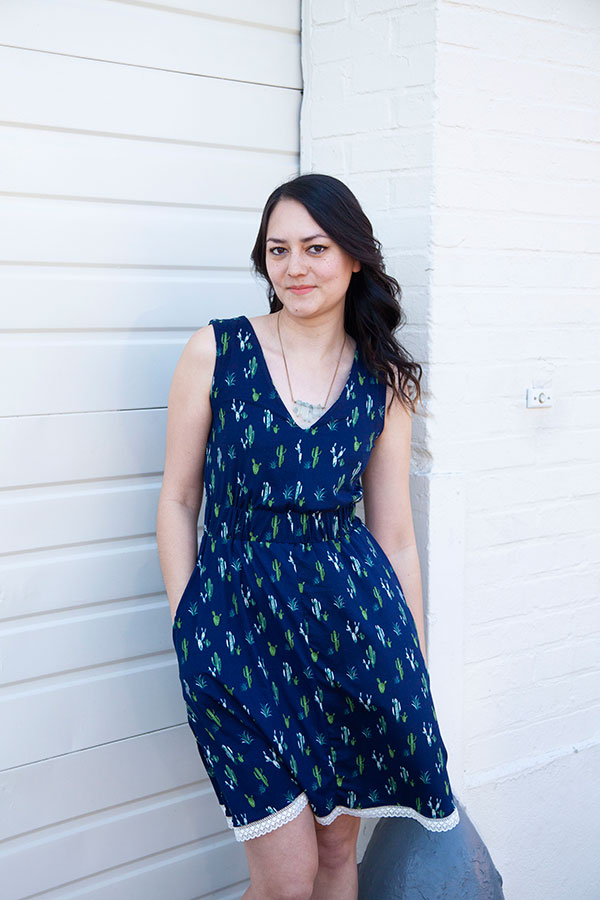 Fabric: Double brushed polyester and spandex from Cali Fabrics.
Does this fabric work well for this project?
"I've actually had this fabric in my stash for a while, but I've recently been working on sewing up versatile separates in solid neutrals. It has been a nice change to sew something out of a more fun fabric! I love the drape of double brushed poly, and I think it suits this pattern well, especially if you want to add the bonus flutter sleeve. Before I hemmed the dress, I tried it on to make adjustments, and I wasn't convinced of the length. I decided to add a fun trim to add some interest—it's a vintage lace I inherited along with my Grandmother's sewing collection."
Tips: "This is the first burrito method I've done, and I'm glad I finally wrapped my head around it—it took watching several YouTube videos to click."
Size: 0
Adjustments: Shortened by 7".
Measurements: Wallis's measurements are 33", 27", 37" and she is 5'4".
Chelsea's Gingham Bobby Dress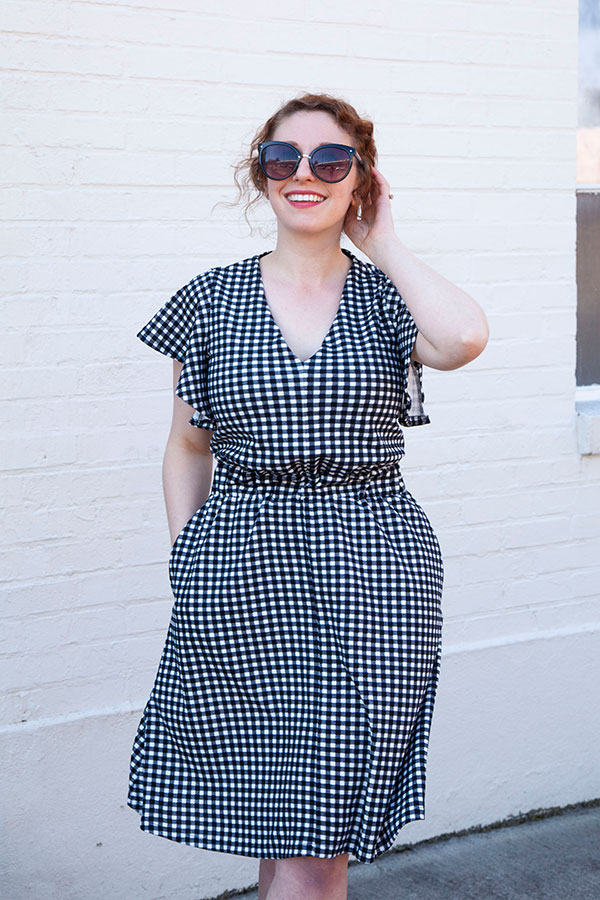 Her inspiration: "No real inspiration—I just always need more gingham in my life! Feels very spring-y."
Fabric: Liverpool double knit in gingham.
Did this fabric work well for this project? "Yeah! It didn't stretch out much, and it didn't slip around much. Lining up the gingham was very tedious, though."
Size: Chelsea made size 8 with the bonus flutter sleeves.
Adjustments: "I took off 1" from the bodice and 5" from the skirt."
Measurements: Chelsea's measurements are 38", 29", 39 1/2" and she is 5'2".