There is a powerful sense of community among people who sew—we share the same excitement when finishing a garment, run into the same questions about tricky sewing techniques, and we love to geek out over fabric. Seeing finished sewing projects can help get ideas flowing, so we are taking you inside a Seamworker's closet to talk about the joys of a handmade wardrobe.
Meet Jo! Jo is one of our Seamwork ambassadors, so she's been helping us out with some exciting upcoming projects. Living in London, Jo cleverly balances motherhood with her personal creativity.
Read her interview below to learn why Jo considers sewing to be an act of rebellion, especially following her journey into motherhood. She also reviews the Amber dress that she just completed for summer. Spoiler alert: it's a beautiful dress.
Jo's Style
What are three words that best describe your style?
Relaxed, colourful, quirky.
Who is your favorite sewing blogger or maker in the sewing community?
I've followed Gertie, Gretchen Hirsch, from the early days, and she isn't just a great teacher, she's always learning as well. Never stop learning! These days I also like Cookin' and Craftin' for pattern reviews, and House of Pinheiro for UK-based resources.
Tell us a bit about your sewing story! When did you first learn how to sew?
I learned from my Mom! She is an amazing quilter, and she taught me the basics when I was little. In high school I started making a few things for myself; I particularly remember this heinous minidress I made from a pair of thrifted men's trousers. Then I learned more about garment sewing working in the Theatre Department Costume Shop in college. I've also just picked things up over the years from pattern instructions and many, many errors. Despite sewing my whole life, I don't consider my skill set advanced. I still have a lot to learn.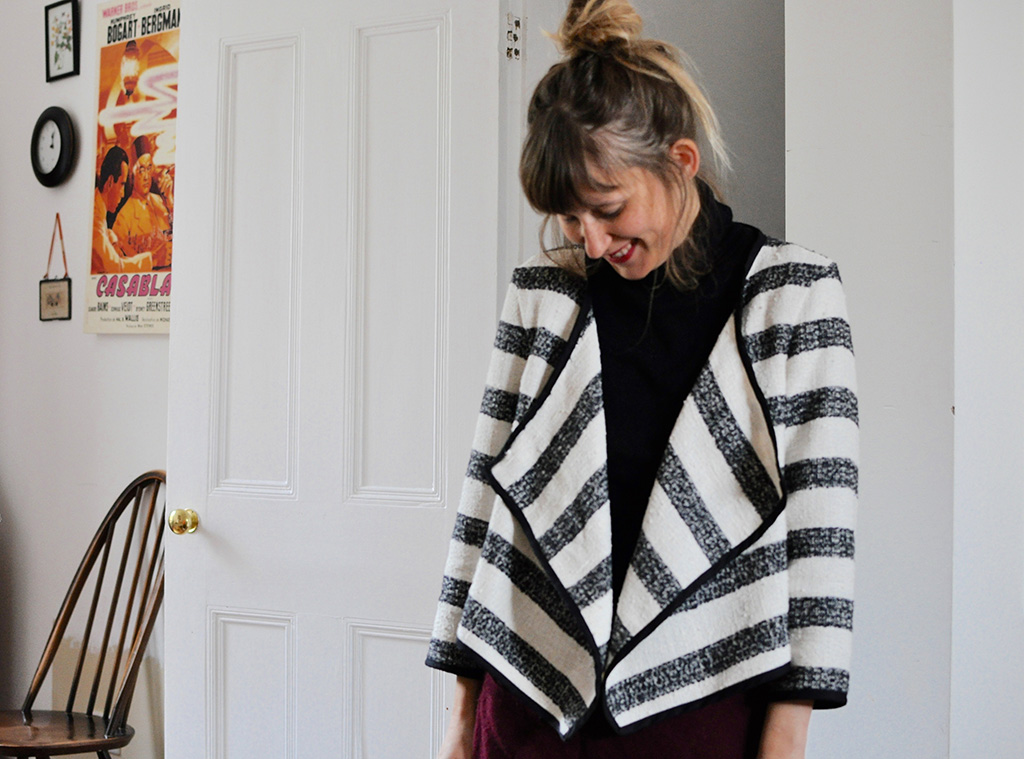 "In a consumer culture that exploits our insecurities (among other things), the practice of sewing your own clothing is incredibly powerful. It is nothing less than an act of rebellion."

Why is it important to you to sew your own wardrobe?
I got serious about it in the wake of a big lifestyle change. I had decided to leave my job as an actor's agent, which I loved, to hang out with my kids for a few years. So not only had my body changed, my day-to-day life was unrecognisable. My old clothes didn't fit, or didn't work, or I felt like I didn't have anywhere nice to wear them: it wasn't ideal. These were some of the best years of my life, why was I spending them in my worst clothes? I wanted clothes that were practical and comfortable, but also fun, joyful even. I wanted them to be ethically produced, well-made, and not cost a fortune. I wanted clothes for my life today, my body today, not yesterday or someday. I also urgently needed a creative outlet; something meditative and challenging, and completely outside of this all-consuming role as Mom. So, it's how I unwind, but it was an important part of accepting a changing identity. In a consumer culture that exploits our insecurities (among other things), the practice of sewing your own clothing is incredibly powerful. It is nothing less than an act of rebellion.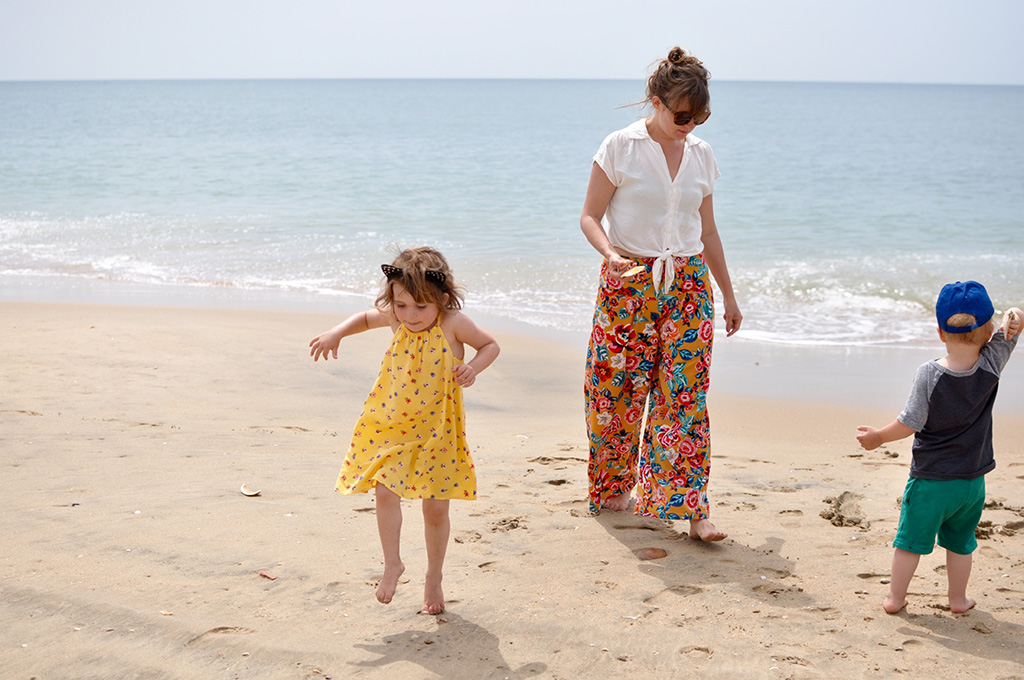 What's your biggest challenge while sewing? What do you do to overcome it?
Well, it certainly isn't perfectionism! I have a tendency to be both impatient and overconfident. I'm prone to skipping steps, improvising, and just jumping in with both feet when I really should stop and read the instructions. Simply slowing down to enjoy the whole process helps a lot. For example, I used to hate cutting, so I would rush through it as quickly as possible to get to the sewing. Now, I like to plan a couple projects ahead, put some music on and make an evening of it. Cutting nights are among my favourite nights now! Even PDF assembly is a good night in with an old movie and a glass of wine.
Do you have any advice for someone who is just learning how to sew?
Just get stuck in. You're smart, you can follow directions, and the stakes are simply not that high. Invest in quality tools when you can, but don't let a basic set-up hold you back either. You'd be amazed what you can achieve with just a starter machine and a seam-ripper. I'm still using a £99 machine I bought in 2006, and a little serger from a discount supermarket. Also, before you sew a stitch, learn to take accurate measurements. Take your measurements, then take them again.
Jo's Amber Dress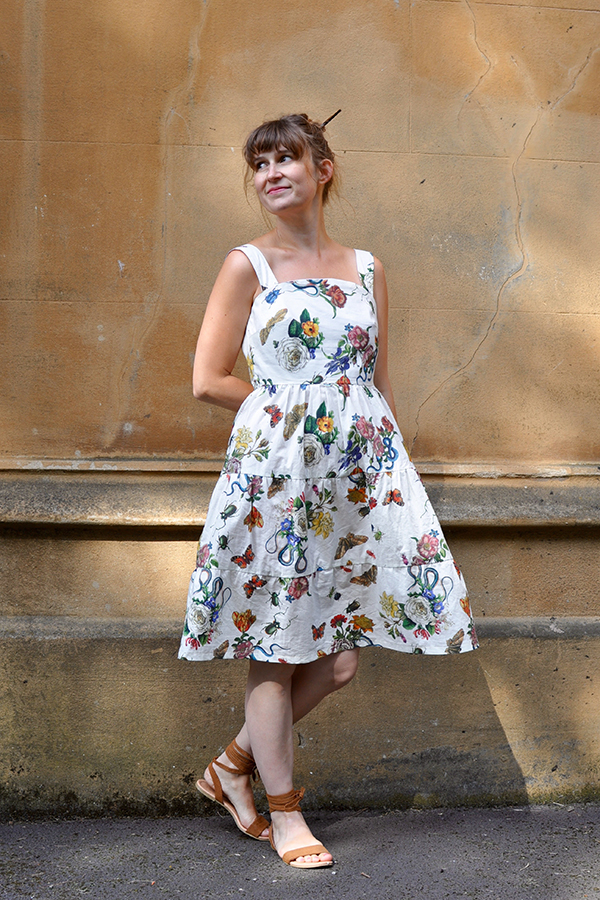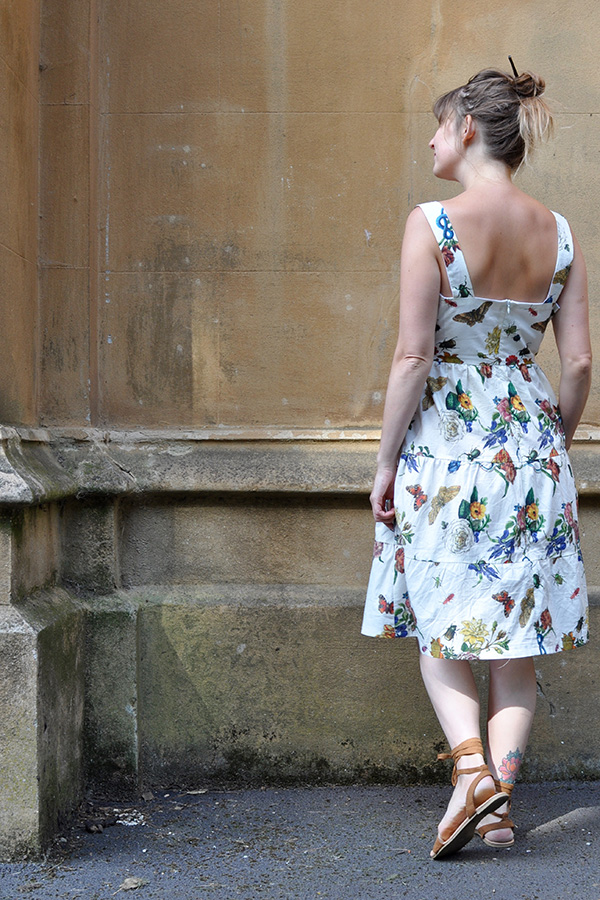 Fitting Tips and Modifications
I didn't make any style changes, just fitting adjustments. My measurements are 34-27-38, so I graded from a size 2 at the bust, to a 4 at the waist, to a 6 at the hip. I'm also quite short in the torso, so I shortened the bodice by 1''.
I'm really pleased with the fit I've achieved on my Amber, and with the lining which is hand-finished. It represents progress for me in terms of slow sewing, which is my long-term goal. Of course, now that I have the bodice just how I like it, I'm busy plotting hacks and variations for the straps and skirt. Never stop learning, right?
Tricky Steps
I did briefly get stuck making Amber, literally! I made a quick muslin of the bodice to check my fit adjustments, and I thought I would just wiggle into it rather than bother with a zipper. Ended up cutting my way out, but at least the fit was good!
Inspiration
Amber is a little different for me. I've never had a dress quite like it, but I think I will wear it a lot this summer with cropped cardigans or just sandals and a floppy sunhat.
Fabric
The Amber dress is made up in Cobra Corsage cotton lawn from Fabric Godmother. I love it in the white colorway, because from a distance it looks like a basic sweet floral, but up close it's a little edgier! It's very lightweight though, so to avoid a see-through situation, I decided to fully line the bodice using plain white cotton repurposed from one of my husband's old work shirts. If I were to make this dress again, I would aim for something very similar; I love the way the crispness of the cotton lawn works for the skirt tiers.
Jo's Monroe Pants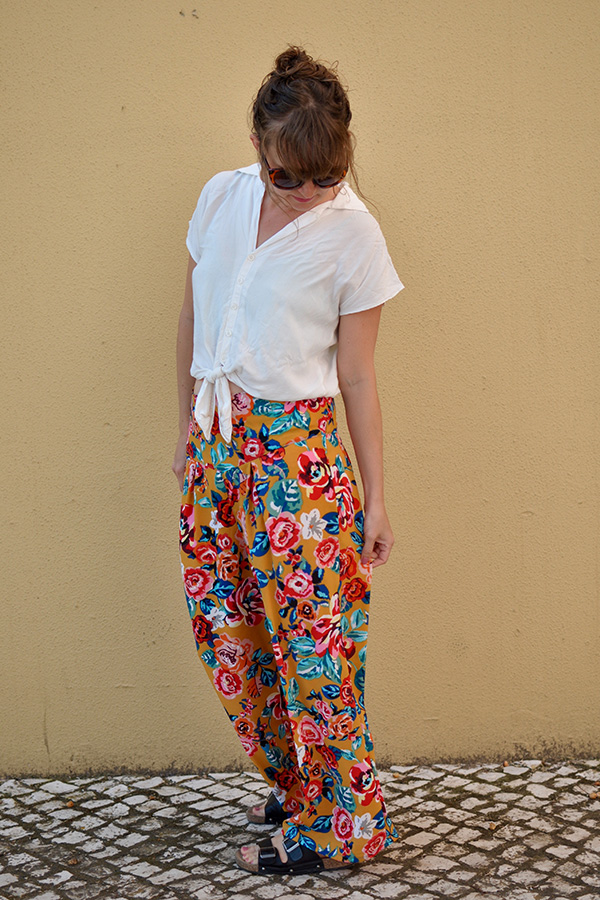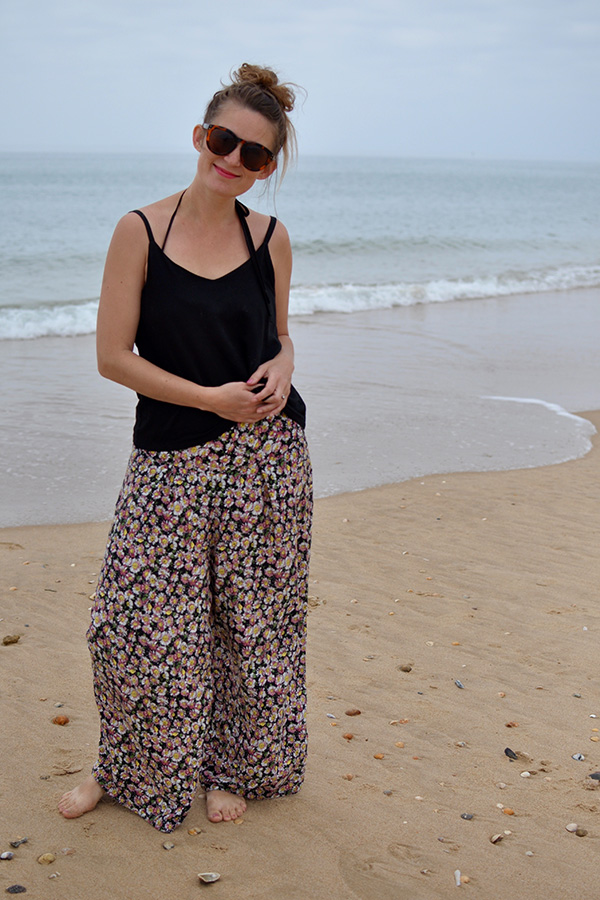 Fitting Tips and Modifications
With the Monroes, I wanted them simple, so I substituted an invisible zip for the snap placket, and omitted the belt and cuffs. I cut a straight size 6 based on my hip measurement.
Inspiration
The Monroe trousers were inspired by 1930's beach pyjamas, which sounds really specific, but I already knew that I loved loose wide-leg trousers for summer. I can't stop wearing them. Because they are both printed, I've been wearing them with plain tops, but I would like to make a solid pair in something like viscose twill to reverse the formula.
Fabric
I'm lucky to live in sunny South East London, so I buy a lot of my fabrics from a market stall in Lewisham (@maggiesfabricslondon) that often has great fashion industry remnants. Both of the trousers fabrics were simply picked up for stash. The daisy print is viscose challis, among my favourite fabrics to sew and wear, and the other is a poly-crepe. I'm trying to move away from synthetic fabrics, but I do think it works well here, especially to throw in a suitcase.
---
Thanks for taking us inside your closet, Jo! To see what else Jo is sewing, follow her on Instagram or visit her blog, The Unfinished Seamstress.
Join the Conversation
Sign in or become a Seamwork member to comment on this article.