Erin's long, black Winona dress.
Don't you love to look at finished versions of sewing patterns? Seeing what others made can really help get ideas flowing, so we're taking you inside a different Seamworker's closet each month to share inspiring finished projects and talk about the joys of a handmade wardrobe.
This month we're taking a peek into Erin's closet. Erin blogs over at Miss Crayola Creepy, where she shares all of her colorful sewing, quilting, and knitting projects. She loves bright, bold, fabric, and wears prints like a boss.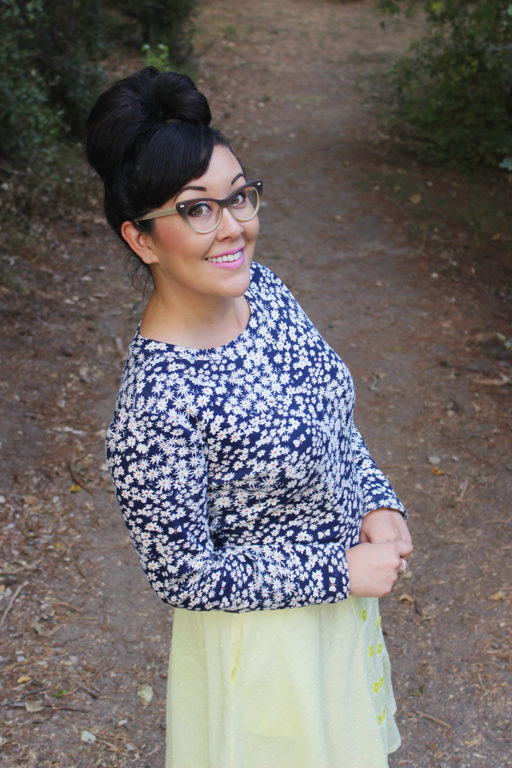 Erin's rocking a fun print on her Astoria sweater.
If your style matches Erin's, be sure to check out everything she makes on her blog and Instagram.
What Seamwork projects have you made?
Click the links to see all of Erin's projects!
- Winona
- Camden
- Kenedy
- Nantucket
- Weston
- Astoria
- Aberdeen
- Manila
- Oslo

Erin's Sewing Style
Erin's 3 Style Words:
— Modern
— Colorful
— Sixties
Favorite Sewing Tip:
"Recently I discovered that if you cut your thread at an angle—instead of straight across—it makes threading a needle so much easier. Total game changer for me."
Who is your fashion icon?
Edie Sedgwick is my all-time favorite fashion icon. I just adore her style and have been mimicking some of her looks—that is a nice way of saying "biting her style" haha!—for years now. Wesley Eisold is another person who inspires me. His all-black wardrobe is so minimal and classy to me.
Who is your favorite sewing blogger or fellow maker?
Rochelle from Lucky Lucille, Lladybird Lauren, Reana Louise, Kay and Dede from Picking Daisies in San Luis Obispo, Christine Haynes, Marie from A Stitching Odyssey, Sonja from Ginger Makes, LUKE Haynes, Jen from Grainline...the list could go on forever!


What is your favorite thing about sewing your own wardrobe?
I love the fact that I am making a unique garment that no one else has in their closet. I get to pick the fabric, the pattern, notions, everything! I am in full control and can create anything my mind dreams up. Not to be a total cheeseball, but the possibilities are truly endless.


Also, it's very rare that I purchase clothing from a store. I love knowing that I can make the clothing that I need and that I am not contributing to the fast fashion industry.

Why did you start to sew?
I started sewing in 2009. Even though I had never touched a sewing machine, I knew that it was something I needed in my life. My sweet husband bought me one as a Christmas gift. Spoiler: I haven't stopped sewing since.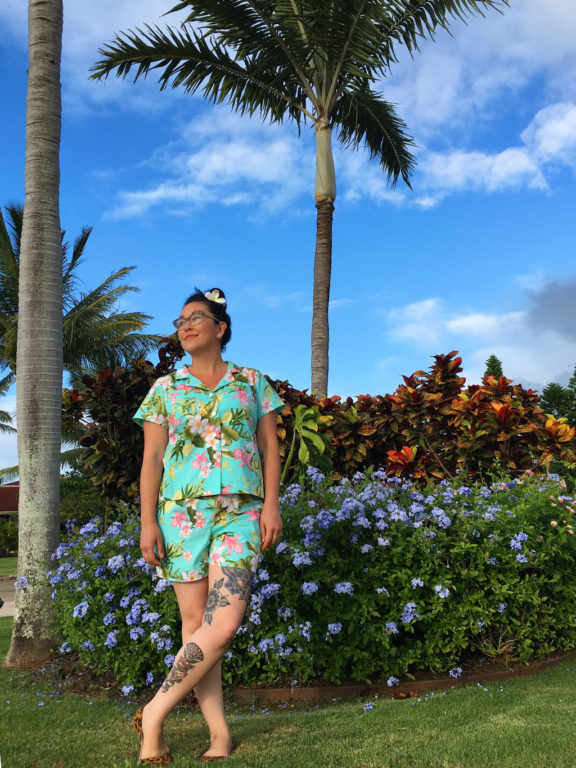 Erin picked a cool, Hawaiian print for her Weston shorts.
What is your biggest challenge when sewing your own wardrobe?
Fitting. Ugh! When I am sewing with a woven fabric I always try to make a muslin or a wearable muslin. Sometimes it takes a few of them to get the fit the way I like it. I always complain about making them, but in the end it is always worth the extra effort. Not once have I ever thought, "dang, making that muslin was a total mistake, never doing that again."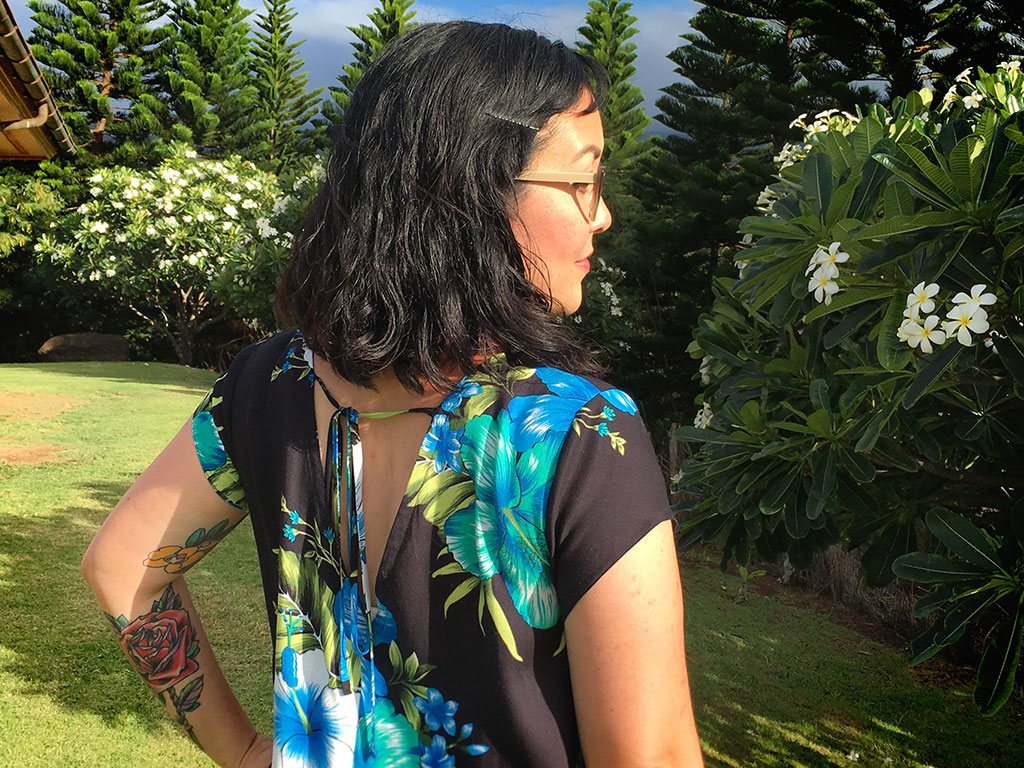 A tropical-themed Kenedy dress from her Maui vacation.
Favorite Drink:
"Wine. Wine time all the time."
Erin's sewing playlist:
American Nightmare, Culture Abuse, Tommy Dorsey, Cold Cave, Bob Dylan, Alkaline Trio, The Bronx, Single Mothers, The Smiths, and True Love.
How does Seamwork help you with wardrobe building?
Seamwork has helped me create a wardrobe of wearable basics that can easily be repeated and customized. Have you seen the cute petal cuffs on the Manila leggings? Or the back of the Kenedy dress? The cute details add a fun twist to patterns that actually get made and worn.

What is your favorite Seamwork project so far?
When it comes to my most favorite piece, I would have to go with the Oslo cardigan. I have made two of them and they are real workhorses in my wardrobe. My most satisfying make though, is the Camden cape. I could not be more proud of the end result.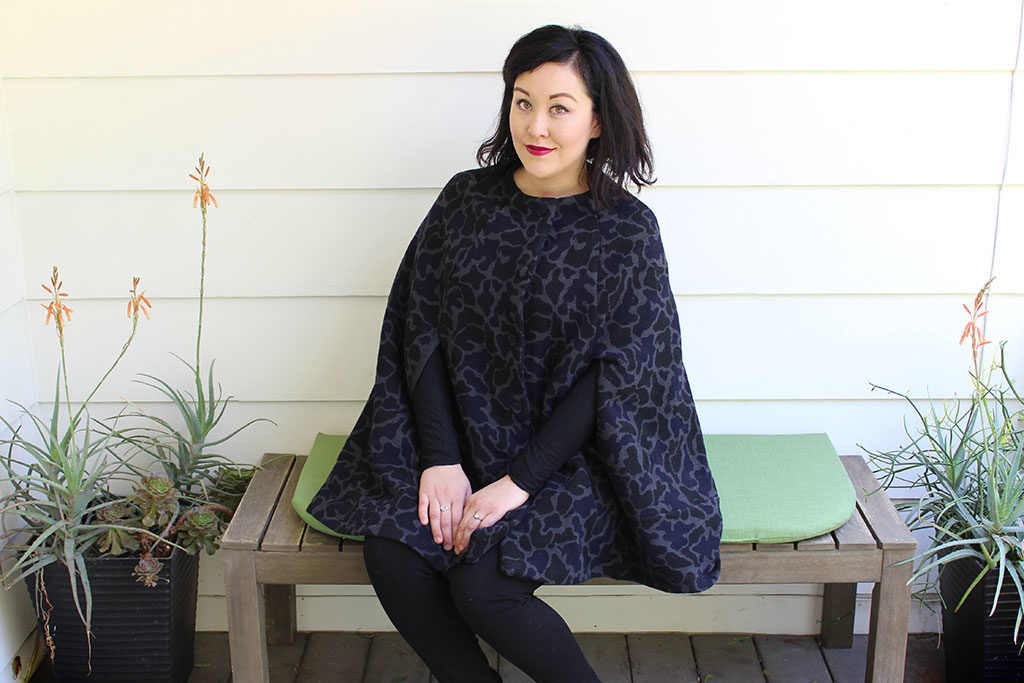 Erin's always picking the best prints, this time on the Camden cape.
Have you hacked or modified any Seamwork patterns?
Yes, on the Camden cape I added bound buttonholes and fabric-covered buttons. It took the cape to another level, if I do say so myself.


What Seamwork project will you make next?
Mesa, I'm coming for you.

Does your style match Erin's? Be sure to check out everything she makes on her blog and Instagram.
Do you have a few finished Seamwork makes in your closet? If you would like to have your makes featured in an upcoming issue of Seamwork, head over to our submissions site and answer the questions for Seamworker's Closet!
Join the Conversation
Sign in or become a Seamwork member to comment on this article.