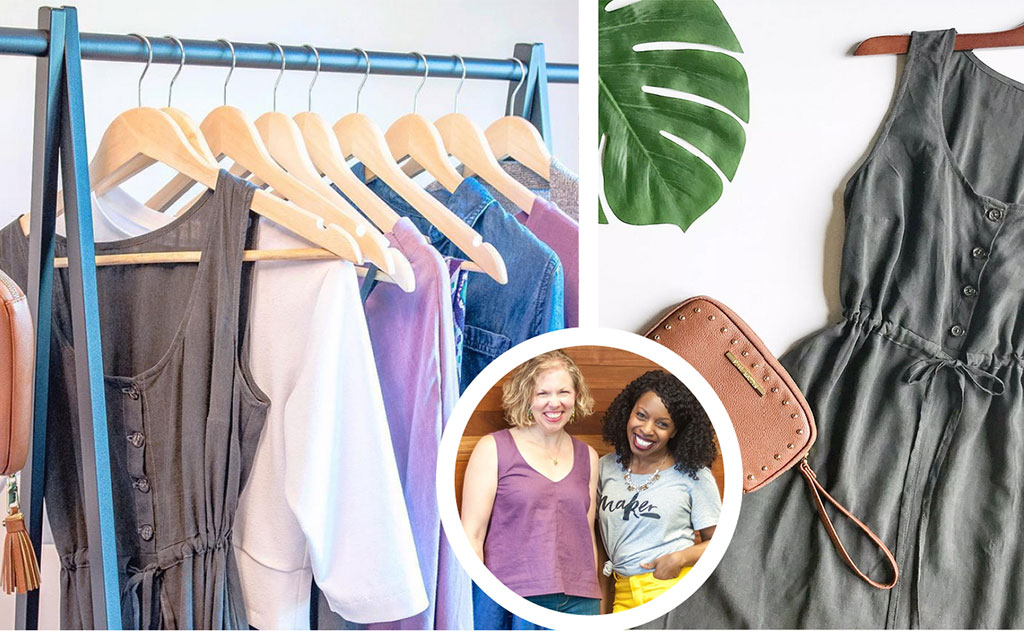 After joining a capsule wardrobe Facebook group, two sewists—Katie and Mac—connected online and quickly became sewing pals. Then one day, Mac accidentally butt-dialed Katie, and the duo's sewing lives changed forever.
"There was one time, it must have been early summer, when Mac randomly butt-dialed me on Facebook Messenger," Katie reflects while giggling. "I had no idea you could even do that! All of a sudden I was sitting at work...and someone is calling me on Facebook Messenger? I picked up the phone, 'Hello...? Mac?'"
Mac laughs, "I butt-video-dialed her!" and the two online friends unexpectedly chatted face-to-face over their phones for the first time, but not the last.
Katie lives near Kansas City, and Mac lives near Washington DC, and at the time, they each had their own blogs. "Mac traveled for work and had a work trip to KC. We met for lunch, started talking about a collab, maybe a blog series or something."
The phone conversations continued until Mac said, "Let's just start a new blog together." Ten minutes later, they decided on the name, "Let's grab some sewing names. 'Sewing.' 'Stitch.' What things do we do? We sew, we alter our clothes, and we like style. How do we get those things into one name?"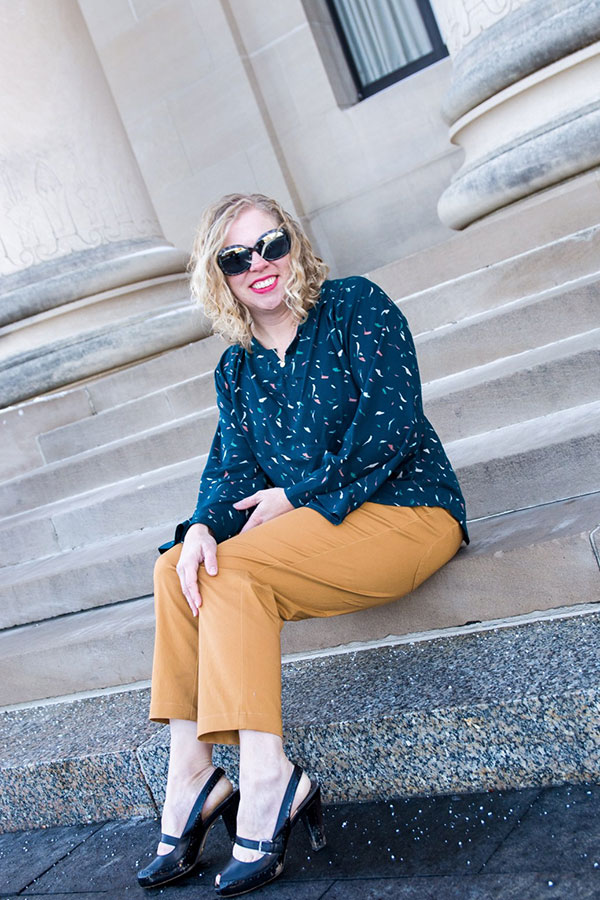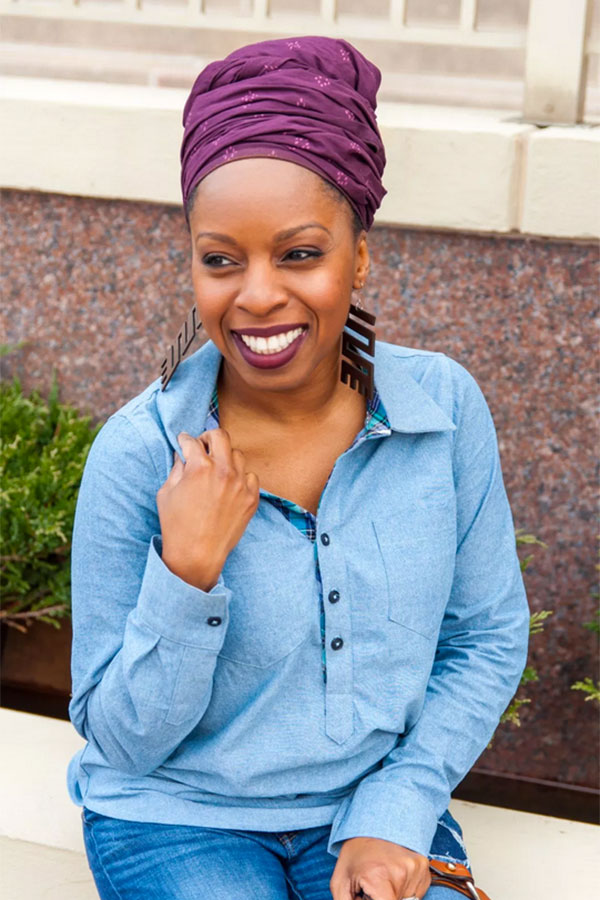 They named their new joint sewing project Sew Altered Style—which now has thousands of followers worldwide thanks to their blog, Facebook group for fitting support, and strong presence in the sewing community on Instagram. After that fateful phone call, they purchased the domain to Sew Altered Style, and it all began.
Empowering You to Sew
There are two strong qualities that Katie and Mac share, which make their collective endeavors so cohesive. First, a smart business strategy—thanks to Mac's business background and Katie's legal background—helps them stay organized, motivated, and productive. But there's something more—a shared frame of reference as busy, working moms, who are passionate about making space for their personal creativity.
Their shared belief that sewing empowers women is what drives Sew Altered Style's mission statement: "We are building a community of passionate makers on the road to pushing the boundaries of their skillsets and wardrobes."
Katie and Mac aren't sure that their collaboration would work without their shared reference as mothers who work full time, support their families, run this project, and balance time for their own creativity.
"We're both working moms with fairly intense day jobs," Mac explains. "There's this mix of a creative outlet and how you carve out space for yourself. It's something we both idenfity with. Our approach to our craft was very similar—we were both blogging, and we thought it would be more efficient to work together than to work on our own."
Katie continues, "I think it also really helps that we understand where each other are coming from. I get that there are days when Mac is dealing with her kids and has had a busy day at work. I get that maybe she is exhausted and sometimes we just can't. I just came off a very demanding time—a federal jury trial. She understands that I couldn't do anything. So she was willing to just pick it up and go."
They talk a lot about prioritizing, openly and regularly. They talk about where to prioritize their presence, especially on various platforms, and they talk about what type of content goes on each. Katie says, "We don't feel that we have to have content that has to go every place. We have a certain kind that goes on our blog, Instagram, Facebook, etc. It helps to feel like we don't have to share everywhere."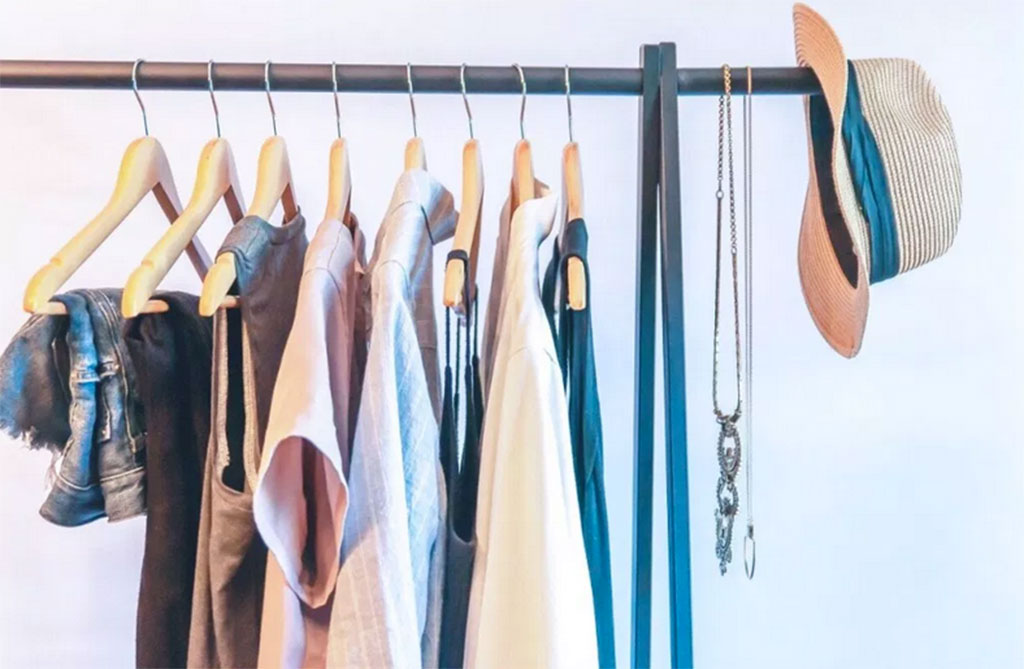 Mac's business background often reinforces their processes. "Two things. One—We have a planning call every Friday. Sometimes life gets in the way. It allows us to reprioritize and share the load. Two—split specialization. We don't do the same thing. The one thing we split is Instagram stories because we feel like it's important for our audience to connect to each of us."
Katie picks up this thought without skipping a beat. "I do Pinterest, Mac does our Instagram feed. I do Facebook and more back-end support. One thing that helps is that we don't have a giant ego, where we have to be the center. I will be the first one to admit that there are certain things that are not my strengths, and I am more than willing to step back and let her do the things she is good at. And vice versa."
Mac agrees. "It's the thing that makes it come together. No ego. The goal is getting the thing done, supporting each other. If I start something and I can't finish, I can go to Katie and see if she can. If she can't, we reprioritize. Good communication and coordination—which is amazing. We are really lucky," [she laughs.], "We share sewing jokes."
Expert Tips for Sewing When You're Really, Really Busy
Set aside 20 minutes for a couple of seams: "In general, I am a night-time sewer," says Katie. "I sew after my kids go to bed, and I will try to squeeze in 20 minutes here and there. We carpool for school, so when I send them out the door at 7:50 am, I can take 30 minutes downstairs and work on something. I have tried to adopt the idea of stitching in little bits whenever I can. If I have 20 minutes and sew two seams, that's two sewn seams I didn't have yesterday!"
Recognize when you need a break: Katie goes through seasons and phases with her sewing. "I know and accept that. There are periods in my life where I don't have time for anything creative. Then there are times when I do have more time."
Rely on others: Mac turns to her family and the sewing community to stay grounded and motivated, "My Instagram husband is amazing! We go to random places to take photos, and I can't decide if he likes it or hates it [she laughs.]" And if you need help documenting your sewing, check out these Top Photo Tips to Create a Beautiful Sewing Portfolio on their blog.
Prioritize: "I have to be super clear about my time and what I prioritize," Mac says. "When I prioritize, it gets done. No matter what I have to do, it gets done."
"Everyone Can Have Clothes That Fit."
"Our guiding principle is 'everyone can have clothes that fit.' That is what we are trying to communicate," says Katie. "Everyone looks good when your clothes fit." This idea also came from the capsule wardrobe Facebook group where Katie and Mac met—the group emphasized the power that comes through a good fit.
For a project like Sew Altered Style to work, you need a community, just like the sewing community needs projects like Sew Altered Style. "We have a wide range of skill levels within our community," says Mac. "It's great because it puts us both in the position of learner and teacher. There is so much to still learn—you can continue to grow while supporting others in growth. For us, sewing is a passion. It's not just a hobby. It's really nice to connect with other people who share that same passion. The fact that you know what that journey feels like, from starting to really feel like you are hitting your stride to being able to get things to fit you in a way that gives you the biggest confidence boost possible."

You can continue to grow while supporting others in growth. For us, sewing is a passion. It's not just a hobby. It's really nice to connect with other people who share that same passion.

The online community that formed around sewing is also what helped deepen Katie's passion for making, "When I started sewing seven and a half years ago...that was the first time in my adult life that I felt like I found my people...it was the first time in many years that I had felt a connection to other women who shared similar passions. It helped draw me in, and it's what kept me there. It's an opening and welcoming place. A lot of people find their tribe in the sewing community, and it's a weird, unique thing that we are spread all over the world."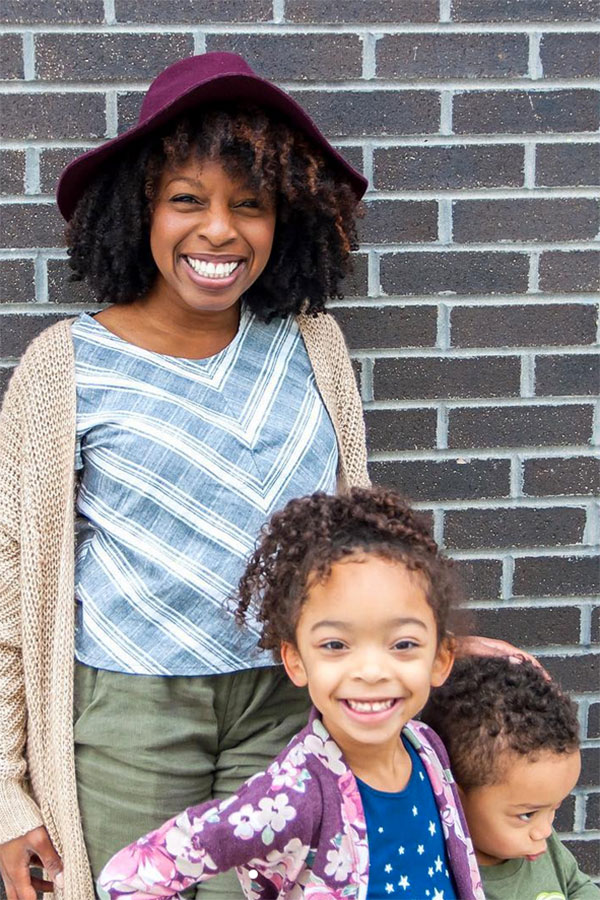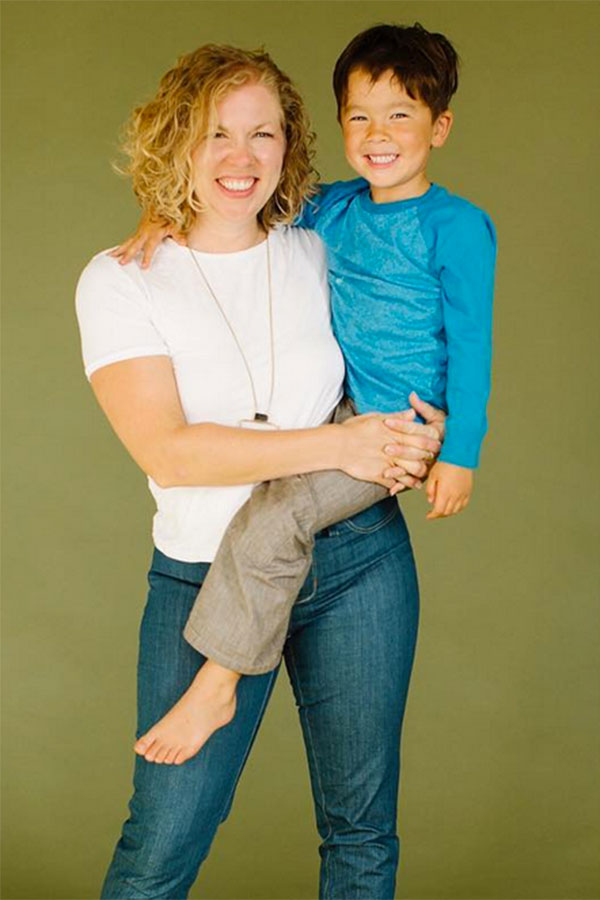 The Future of Sew Altered Style
Katie and Mac are excited to tease an upcoming project for Sew Altered Style: designing sewing patterns! They are finishing up their first design and working on expanding the size range and, to stay true to their mission, achieving a fit that makes you feel good. Keep an eye out for more later this spring or summer.
Mac also recently began another project along with a few other makers on Instagram—MJ and Sam. The Instagram account @meetmakersofcolor, started in January and already has over 8,000 followers. The Instagram account introduces you to makers of color across the globe and celebrates their work in sewing and fiber arts. This project aims to encourage cross-cultural dialogue and uplift BIPOC in creative communities.
"It's a newer venture but close to heart. We know there's a need for it, and we want to be able to do it justice and find out what is most appropriate in an Instagram space versus what requires a different space. It's important work and we feel very honored do it."
Helen and Caroline from the Love to Sew podcast recently interviewed Mac about this new project, so be sure to listen to that interview here.
These two creative women constantly pay attention to the conversations happening in the sewing community, and they will continue to pivot and experiment to find new ways to empower you to sew. Sew Altered Style works seamlessly across various platforms, and if you ever forget why, Katie reveals that it's all in their name. "Sewing, altering—you can do it. It's not that scary. And when your clothes fit, you will look stylish!" Hence, Sew Altered Style.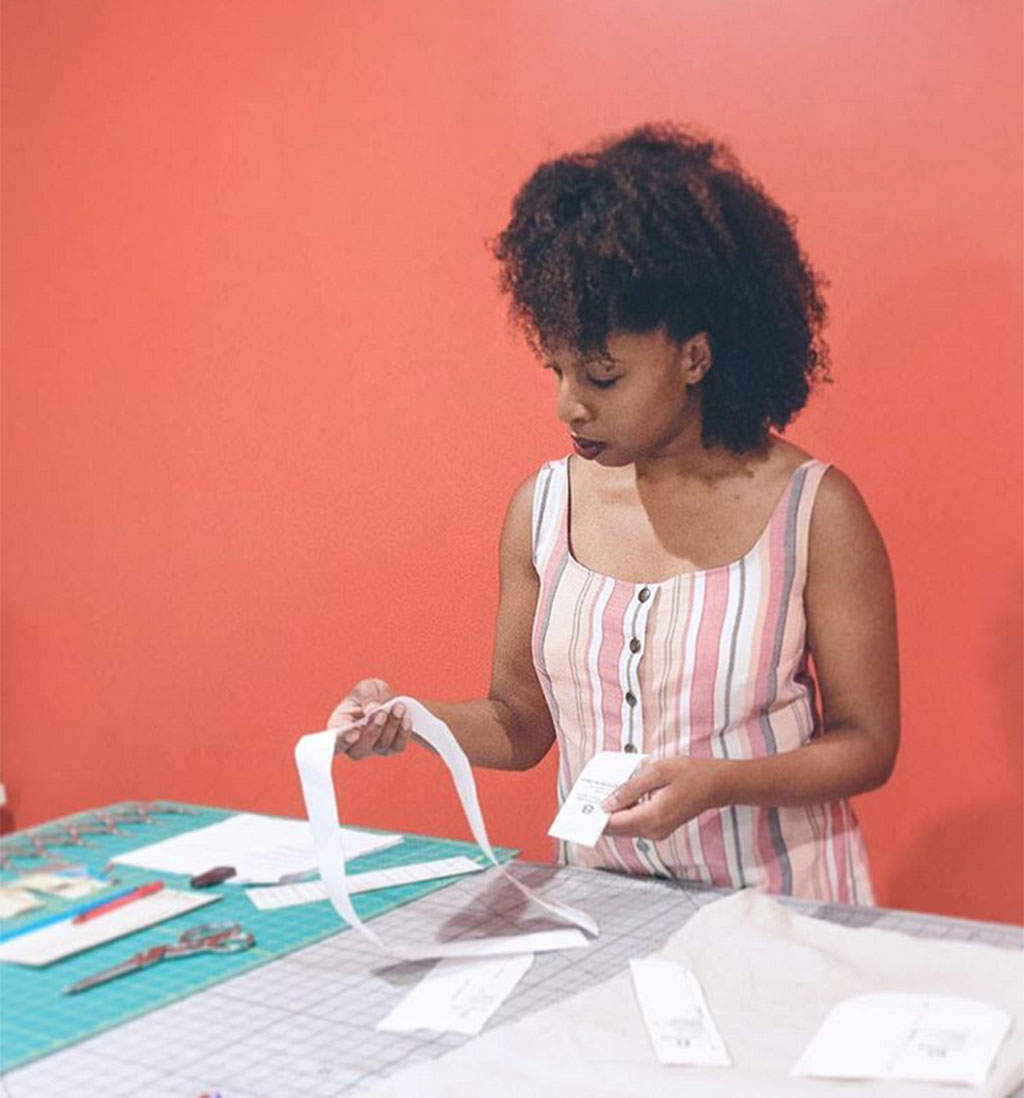 Get Empowered with Sew Altered Style
Join the Conversation
Sign in or become a Seamwork member to comment on this article.