Clear eyesight and sewing are two things that go hand in hand. Imagine threading a needle or sewing with an accurate seam allowance while trying to look through dirty, wavy carnival glass. It's hard for me to believe that I used to sew like that. It's even more difficult for me to understand how I created the garments that I did and not have them turn out looking like a hot mess.
I have a degenerative corneal eye disease called keratoconus. It's a marginally rare condition that I've likely had most of my life, but I wasn't diagnosed until I was in college. Learning that I had keratoconus (or KC as we call it) was a phenomenal event for me, as I had no understanding of what it was, and I pictured myself going blind. My cornea is cone-shaped, whereas a normal eye is round. This affects the way light enters my eye, giving me not only very blurry eyesight, but also double vision and light sensitivity. It's difficult to illustrate how the world looks with KC, but the best way for me to describe it is to picture trying to see through an ice-covered, fogged-up windshield at sunrise.
Following my diagnosis with KC, I met with several specialists and I was fitted with small RGP (rigid gas permeable) contact lenses. I never got used to these lenses as they were uncomfortable and I was unable to wear them for long periods of time. I wore glasses instead, which gave me "okay" vision, but as a typical Taurus, I was stubborn about wearing my irritating contact lenses. One of my eyes had considerably better vision than the other, which compensated for my "bad" eye, making me think that my eyesight wasn't really as bad as it was.
About three years ago, I noticed that it was getting increasingly difficult to see and that my "good" eye was almost as blurry as my "bad" eye. I had to squint to see and with squinting came terrible headaches. It was hard for me to enjoy life, especially outside as my photosensitivity limited my time in the sunlight. I tried to wear my old contact lenses, but they literally fell out of my eyes and my glasses no longer worked. Somehow, I still sewed through this time. I blogged and took photos, even though I could hardly see. Just trying to look at a bright computer screen or attempting to smile without squinting was a challenge. I couldn't read the small print in a book or watch TV without squinting continuously. I honestly have no idea how I cut out patterns or sewed a straight line, much less how I traced out a pattern following a "roadmap" from a pattern magazine.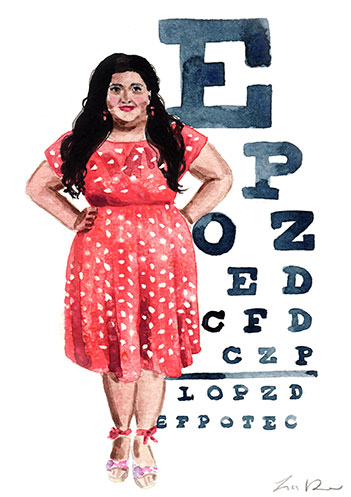 I decided it was time to do something about my eyesight. My previous eye specialists were 1,600 miles away in another state, so I began a six-month journey to find a new eye doctor and a solution. My childhood optometrist was unhelpful, so after several phone calls I had an appointment with an ophthalmologist. I was referred to another specialist who tested me to be part of a clinical trial for corneal cross-linking. Unfortunately, my KC had progressed too much to be eligible for that procedure and I was facing cornea transplant surgery in both of my eyes. I asked if I had any other options and was referred yet again, but this time I received some good news, as my new optometrist at UC Davis was able to help me.
This was an emotional time for me. I often cried about losing my sight. The uncertainty of my future was depressing. I could not have made it through this period without the support of my husband and an online keratoconus community. Thinking back, it still brings tears to my eyes. You really don't know how important your sight is until it's gone.
Thankfully, there was a light at the end of the tunnel. My wonderful new eye doctor fitted me with Jupiter scleral lenses. Scleral lenses are like ocular prosthetics that vault over my corneas and mask my eye irregularities, in essence mimicking healthy eyes. At the time, there were only about 20 doctors in the world who were trained to fit these lenses (there are now many more). My optometrist was initially uncertain if my eyes could be a candidate for scleral lenses as my KC is in its advanced stage and was the most severe that she had seen.
Fortunately, she was able to fit me and give me my eyesight back. The day that I tried on the scleral lenses for the first time was life-changing. I could see clearly for the first time in many years. It's hard to explain in words how wonderful this feeling was. I mean, I could SEE.
If a piece of plastic could be a savior, my scleral lenses were for me. This was a new chapter of my life. I saw the world clearly again. I noticed the grimy cracks in the sidewalks and saw the tiny blades of grass in the lawn. Seeing my face for the first time without a built-in filter was a bit of a shock as I could now see in HD. I was like a child absorbing everything around me like I was seeing for the first time. I could drive and read books and watch TV. I could see without halos and double vision. It was a revelation to me, as this is how most everyone saw the world, and I had been missing out on it for so long. I felt so blessed to be a part of it again.
With my eyesight regained I began sewing with a new spurt of energy. My love for sewing was revived as I could cut out patterns more quickly and sew better and faster. Sewing was no longer a chore and I was free from the horrible headaches that came from squinting and concentrating. I could easily change the thread on my serger and match up plaids like a boss. I started doing embroidery and beadwork again and tried my hand at heirloom techniques. I cut and altered patterns and traced out and graded my vintage patterns. I began hand sewing more of my clothing, using couture finishes, and learned how to make a sloper. These were all things that were almost impossible with my poor eyesight. I could really enjoy the sewing process and love the act of creating without the restrictions from my eye disease.
My scleral lenses have given me a new love and appreciation for life and for myself. Whether I'm sewing black thread on black fabric, perfecting winged eyeliner, or reveling in the architecture of a historic site, I know how fortunate I am. I will never take for granted the ability to thread a needle, as there was a time when I couldn't do so.
Join the Conversation
Sign in or become a Seamwork member to comment on this article.