One of the best parts of a classic style is that it can be reinvented and restyled a million different ways. The Kenzie pleated skirt is no exception. A simple fabric choice can completely transform this pattern from a structured classic to an airy dream skirt. Wallis' crepe Kenzie skirt is a reminder of the power of fabric.
Read on to learn more about her version of the Kenzie skirt. Plus, get some tricks and tips on how to create polished pleats even in a lightweight fabric.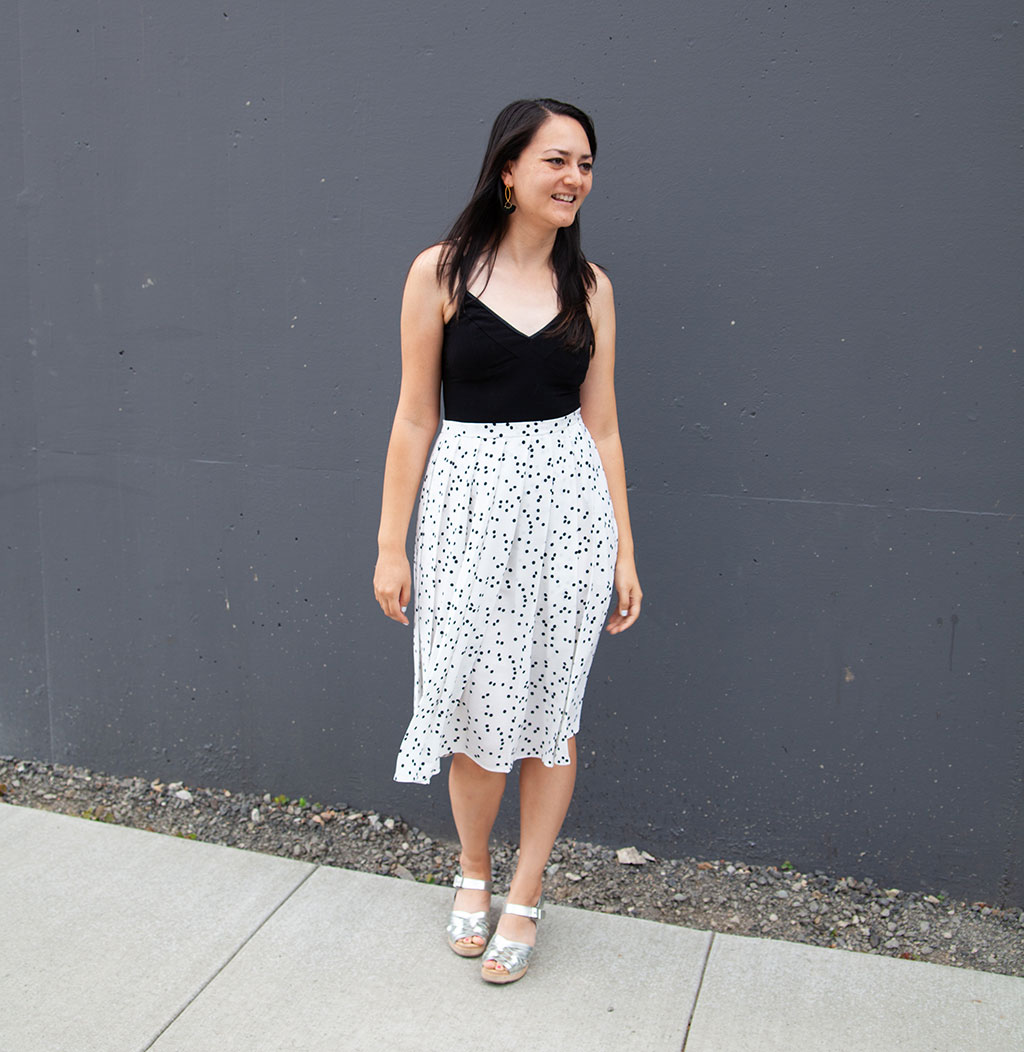 What was your inspiration for this project?
I'm not really into traditional pleated skirts; they remind me a little too much of prep school or cheerleaders. I happened to see a mesh pleated skirt online and became obsessed with the idea of using a flowy, drapey, sheer fabric. The material you make a garment in can completely transform the look and feel.
What fabric did you use?
I used a polka dot polyester crepe from fabric.com.
Why did you pick this fabric? Did it work well?
I wanted something sheer, drapey, and pretty, but was hesitant to use a super finicky fabric like silk or chiffon. Crepe seemed like a workable alternative to get the look I wanted, but with fabric I felt I could control.
Do you have any sewing or fitting tips to share?
This is arguably the most challenging garment I have sewn to date, mostly because of the fabric I chose. I'm usually a "get things done as quickly as possible" kind of person, but I really took my time with this skirt. I left myself plenty of time before the shoot date to finish. If you're taking on a big project, break the steps up over several days. I cut one day, completed the first few steps another, then completed final steps another day.
It took me well over an hour alone just to press all of the pleats, and I allowed myself some small imperfections. I only marked the top and bottom of the pleats because I didn't want to have to get the entire skirt wet to erase markings. The truth is, you're probably the only person in the room who will notice your pleats are not 100% even. Especially since the fabric I chose has a lot of movement and is not going to be crisp at any point). I highly recommend marking the different sized circles on the pattern in different colors. I marked the large circles in blue and the small circles in pink while cutting, and it was such a game-changer when it came time to press the pleats!
Measurements and modifications made:
My waist is 27," and my hips are 37". I made a straight size 4 with no modifications.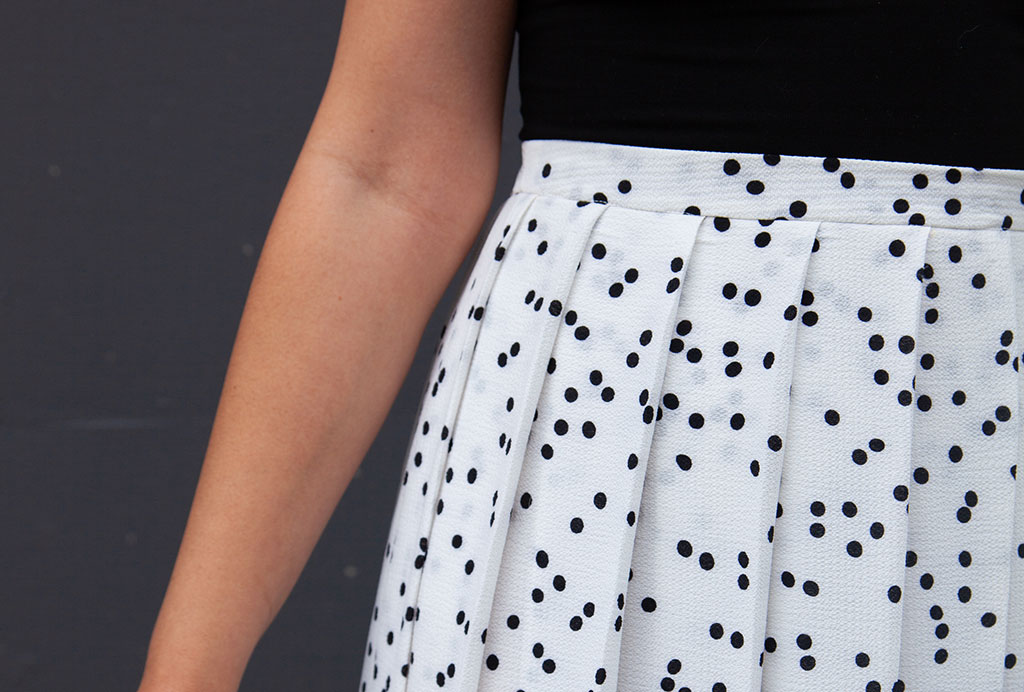 Wallis' Pleat Tips
Need a little help pleating and sewing your lightweight fabric? Wallis has got you covered with a few tips.


Be very careful with your iron settings and test pressing on scraps first. You want to pleat your fabric using the hottest setting the fiber content can tolerate but testing a scrap will help you avoid scorching.


Always use a new small needle when working with lightweight fabric. Creating pleats requires basting, and you'll want a fresh needle to avoid scarring your material.


Take the extra time to staystitch in the beginning, so your waistband doesn't stretch out.


Glass head pins are extremely helpful when pressing the pleats in place since you can press right over them. I left mine in until it was time to baste all of the pleats in place.


Embrace imperfections⁠! Like I mentioned if your pleats are not 100% even no one else in the room will notice. It's OK not to be perfect⁠—especially since sewists tend to be perfectionists.


You will save yourself a lot of time and grief if you don't mark the entire pleat⁠. It can be challenging to remove the marks from a delicate fabric, especially if you don't use a water-soluble marking tool. If you feel comfortable just mark the pleats at the waist and hem then wing it!


If you're getting frustrated with the zipper, hand baste it first or just completely sew it by hand. Wonder Tape can also be beneficial when installing zippers on lightweight fabric.


Need more help?


We have even more resources to get you ready to sewn your breezy Kenzie skirt.
Getting acquainted with pleats will help you feel confident.


Learn some tricks and tips for sewing with silk.


Sew sheer fabric like a pro.


Add an easy lining to your sheer skirt.


Join the Conversation
Sign in or become a Seamwork member to comment on this article.