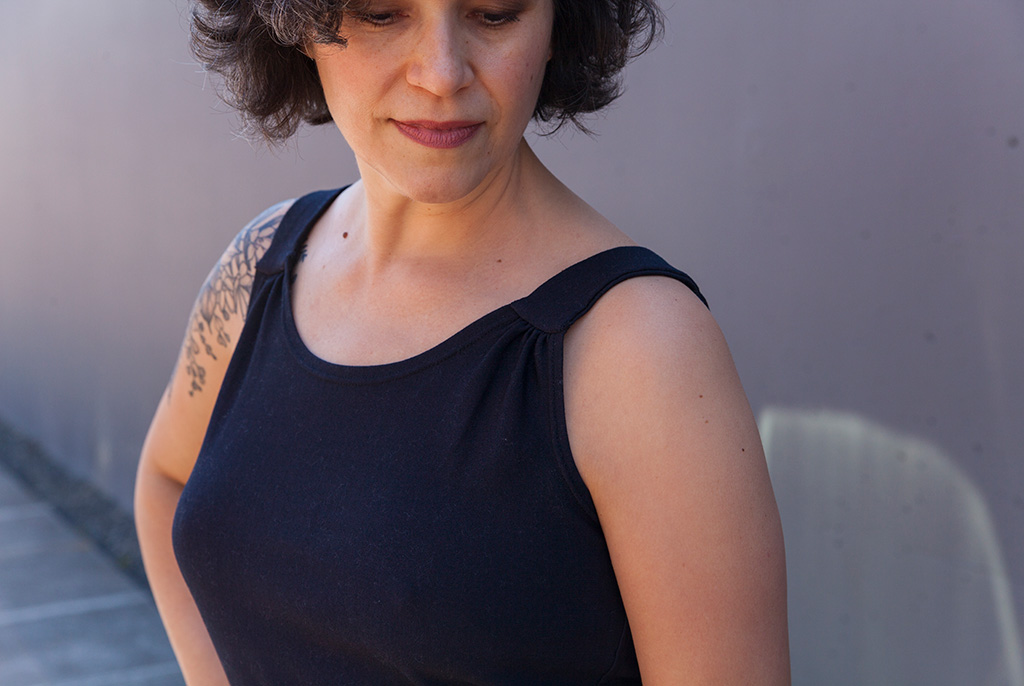 Denise Archer has style. She carries herself with style, has an eye for classic details, expertly wears statement jewelry and thrifted silk scarves, and she chooses her words as carefully as she chooses fabric. She started sewing at 15 for two reasons: "One: I didn't want to wear what anyone else was wearing. And two: It was a way to be creative and feel like I was saving money for the family...even if I wasn't," she laughs.
A lover of all things vintage, Denise has sewn through her teenage years, through her breast cancer diagnosis, bilateral mastectomy, and reconstructive surgeries, and now she continues to sew with the same enthusiasm she had when she picked up her first project.
Denise thrifted a dress and made this jacket in 1988 when she was 17 years old.
Learning to Sew
Denise used to take solo trips to the fabric store as a teenager, "I started trying things out on my mom's old Singer treadle machine," and the hobby followed her through college and traveling the world, from Tokyo to France.
Denise sewing like it's 1999. (It was 1999.)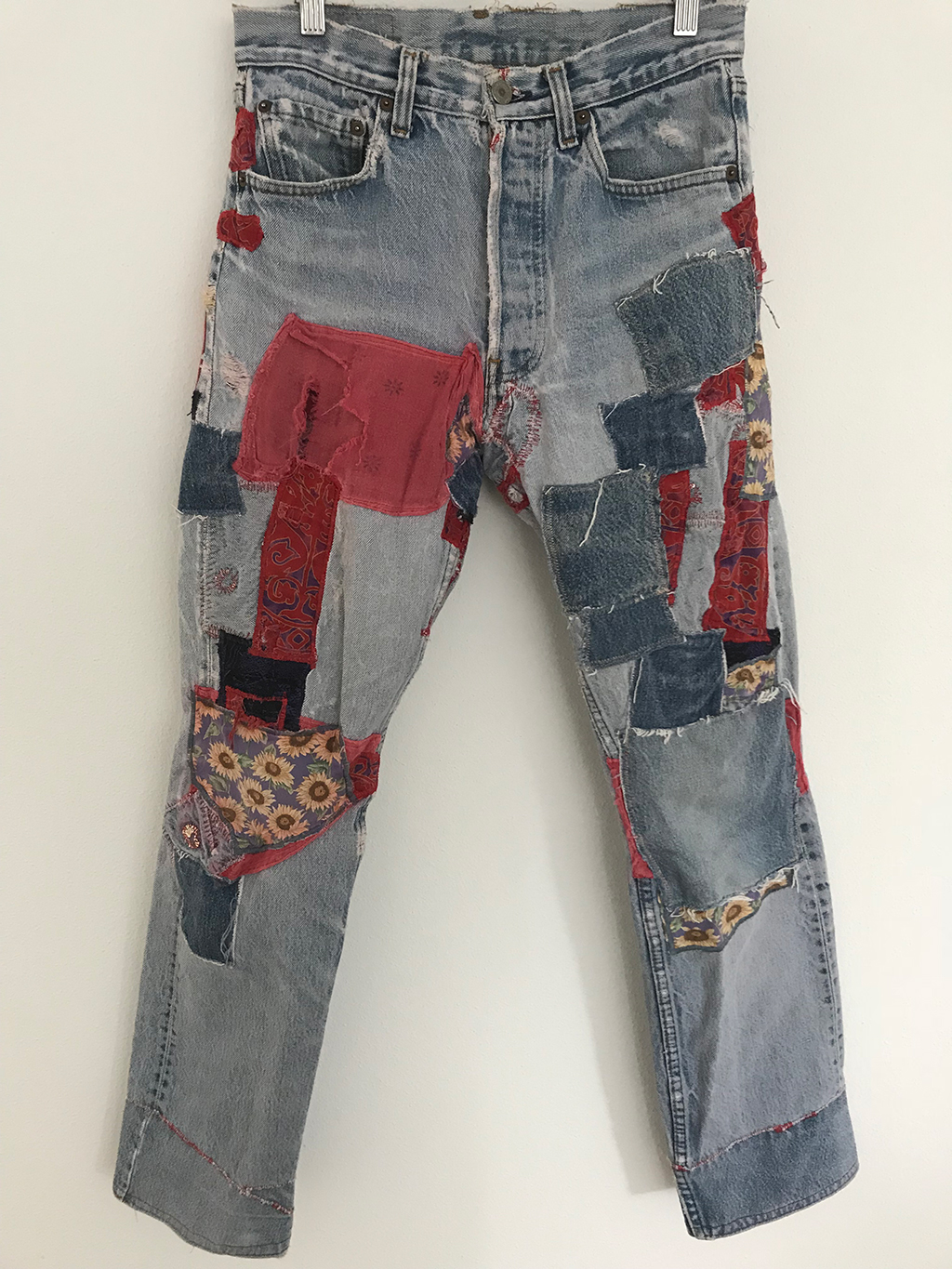 "Even when I was studying in France, students asked me to patch their jeans. I had to borrow my French neighbor's sewing machine."
"In college, everyone knew me by my patched Levi's...Soon friends were asking me to patch their jeans. Other students offered to pay me. I had a group of engineering guys who wanted me to patch their jeans. They were practical jokesters, so I messed up one of their jeans for fun; I sewed a neon flower on the crotch, a kiss mark on the butt."
She landed a job sewing clothes right before she graduated college. It was the 90s in Portland—a special time for fashion—and she worked in a boutique, making a mixture of clothes that included micro mini skirts sewn from leftover polyester and satin from the 70s and decorated bullet bras from the 50s, made for Halloween costumes.
The job improved her sewing skills on a technical level, "I still think about the humming of those machines, like how mechanics listen to the purring of a car engine. There's something very soothing about it." But Denise didn't get to practice the intricate details that sewing can offer, which led her to take a slower approach to sewing as she moved to a job in the non-profit sector. She even refused to purchase a serger, preferring felled or French seams or a satisfying Hong Kong finish.
It's no surprise that Denise also made her own wedding dress, sewing hundreds of beads by hand.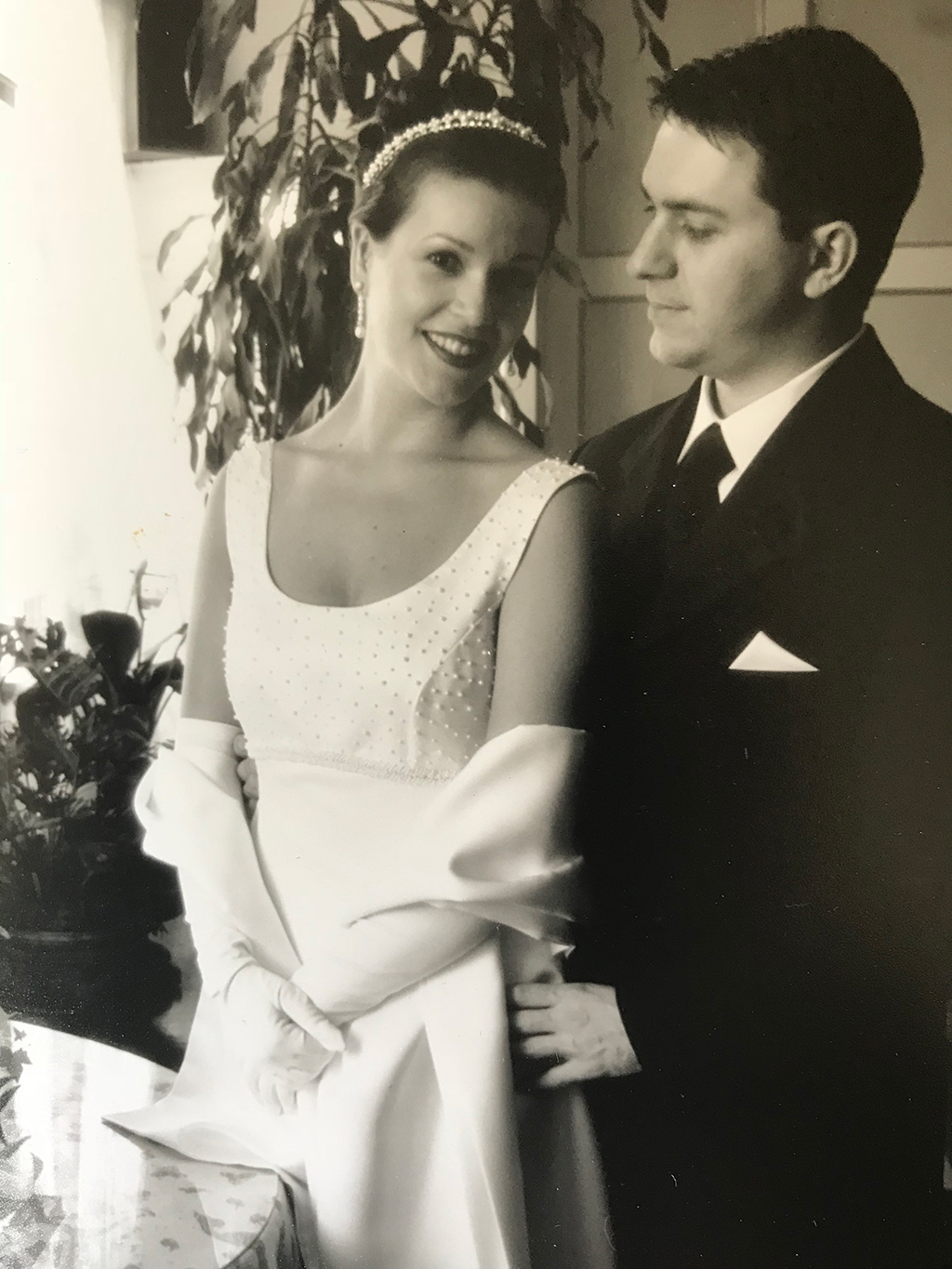 A handmade wedding dress (and matching accessories).
Sewing as Healing
In 2016, Denise was diagnosed with breast cancer. While her chemotherapy has ended, her experience transformed into anxiety about a very real danger of her cancer returning, "I don't know what my body is going to do."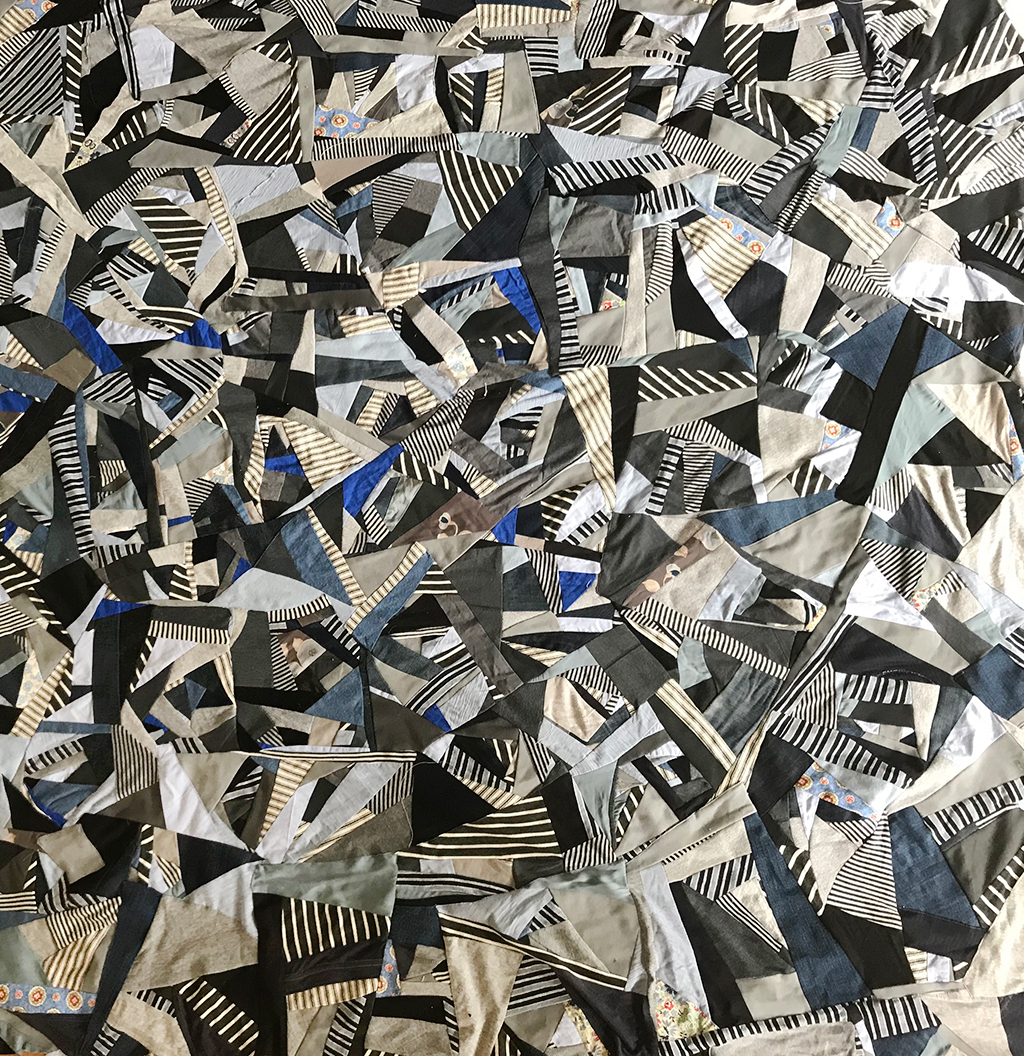 From Denise's "chemo tunnels" came this quilt top,
pieced together as she fought to stave off nausea and
anxiety following a treatment.
So Denise is waiting. Waiting to see how her body changes with medically forced menopause, a bilateral mastectomy, and the fear and anxiety that follows a fight with cancer. While she waits, she is mostly sewing with easy fabrics, especially knits. She elected to have reconstructive surgery, her once DD cup now approximately a B. And no, she hasn't yet tackled a small bust adjustment, another advantage to working with knits.
"Sewing was instrumental while I was going through chemotherapy," she says. "I couldn't think. I didn't want to listen to music or listen to podcasts," she says, "Your body is very noisy during chemo."
So how did she escape that noise? "The hum of the sewing machine!" she exclaims. "It was soothing. I could forget about nausea and the fact that I had cancer...It distracted me from the vibrations in my body." While Denise's sewing room became imprinted with feelings of nausea, she knew she had to push through it, and the only way to do that was to sew. "My whole job was to get to the machine and stitch."
The four to seven days following each chemotherapy treatment left her in a "chemo tunnel," and she would go straight to her sewing room and stitch. The hum of the sewing machine allowed her to focus on the stitching, rather than pain, nausea, or anxiety. "It was survival. I needed to disappear, and I could do that in the sewing room."
Her first project after her cancer diagnosis didn't start out as a project at all. As she attempted to distract her body and mind, she grabbed pieces of fabric from her stash, quickly organized them into piles by color, and then stitched them together. They eventually became a quilt top, which she plans to finish binding at a later date.
"Sewing has saved me. This hobby I started when I was 15."

It was survival. I needed to disappear, and I could do that in the sewing room.

She's Still Sewing
Denise regularly sews Seamwork projects, many of which she shares on Instagram. When asked to describe her style, she eschewed common style-themed words, "I think of people every time I cut into fabric...Georgia O'Keeffe, Audrey Hepburn, Jackie O, and George Sand."
Speaking of other makers in the sewing community, Denise finds inspiration from all kinds of projects, their imperfections, and their successes. She watches what others make to find something in every project that could be a takeaway, "Everyone has that stroke of genius in them."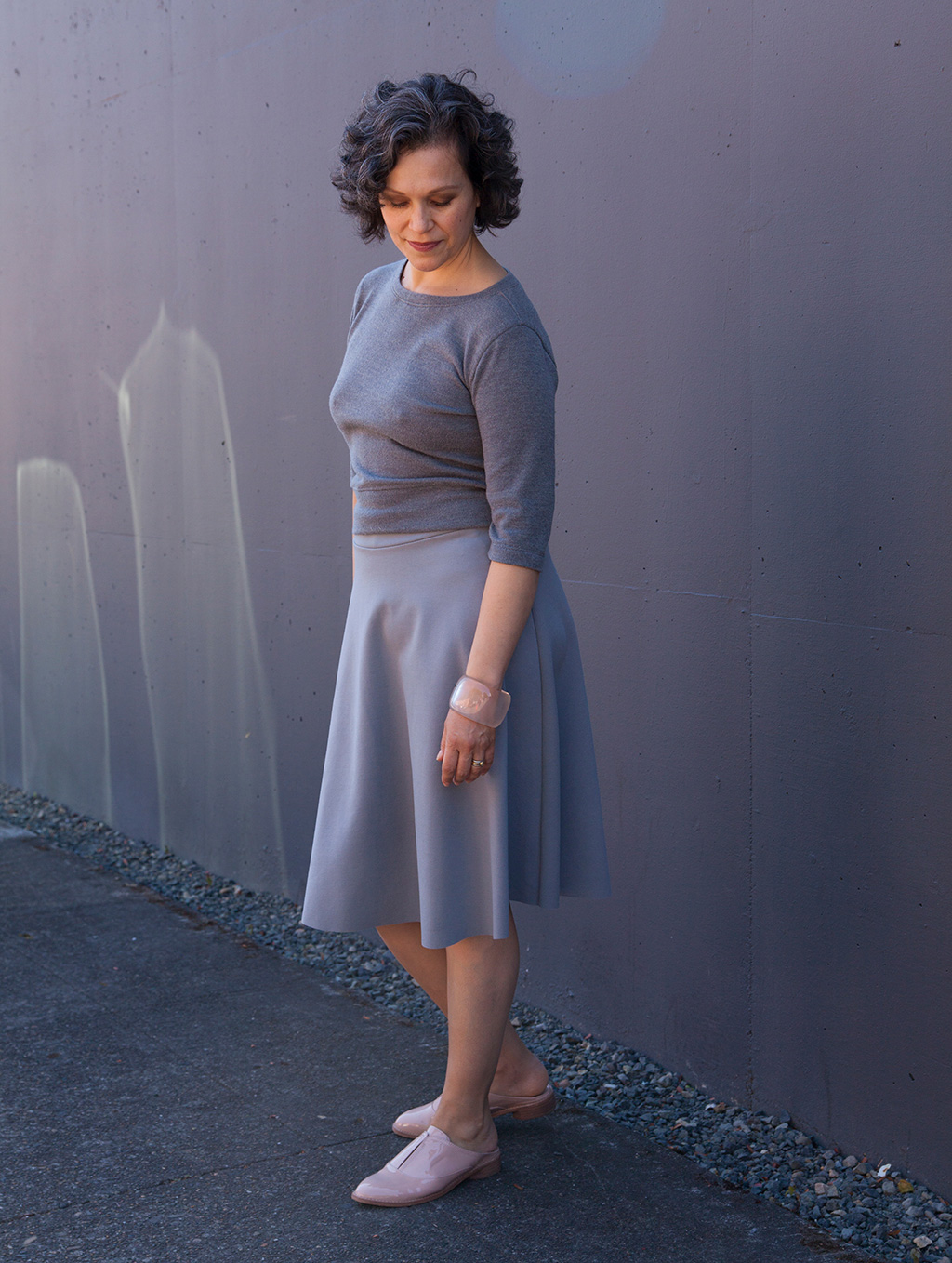 Denise is wearing the Margo skirt and Astoria top. You'll notice here's no hem on her knit skirt, "If the fabric has a great drape, why mess with it?"
At 47—which means 32 years of sewing experience—Denise is delighted to share her thoughts about the craft. For those just learning to sew, she advises, "There is no democracy in the sewing room. You need to be the boss of your own fabric...You tell it what to do, and you will leap forward in your sewing abilities!"

There is no democracy in the sewing room. You need to be the boss of your own fabric.

For those of us who have sewn for a long time, perhaps also using sewing to heal from pain, Denise urges you to take your time and find joy in all the steps, even sewing by hand, "Slow down. Trust the process. Enjoy the process and try something new."
When Denise's body decides what it will do post-treatment, and after she cuts her now-curly "chemo hair" so it can grow back straight, this might mean sewing a corset. Or tailored menswear details that she enjoys. Or fitted bodices. Since sewing remains so closely connected to the body, Denise has some advice for women, their breasts, and their bodies: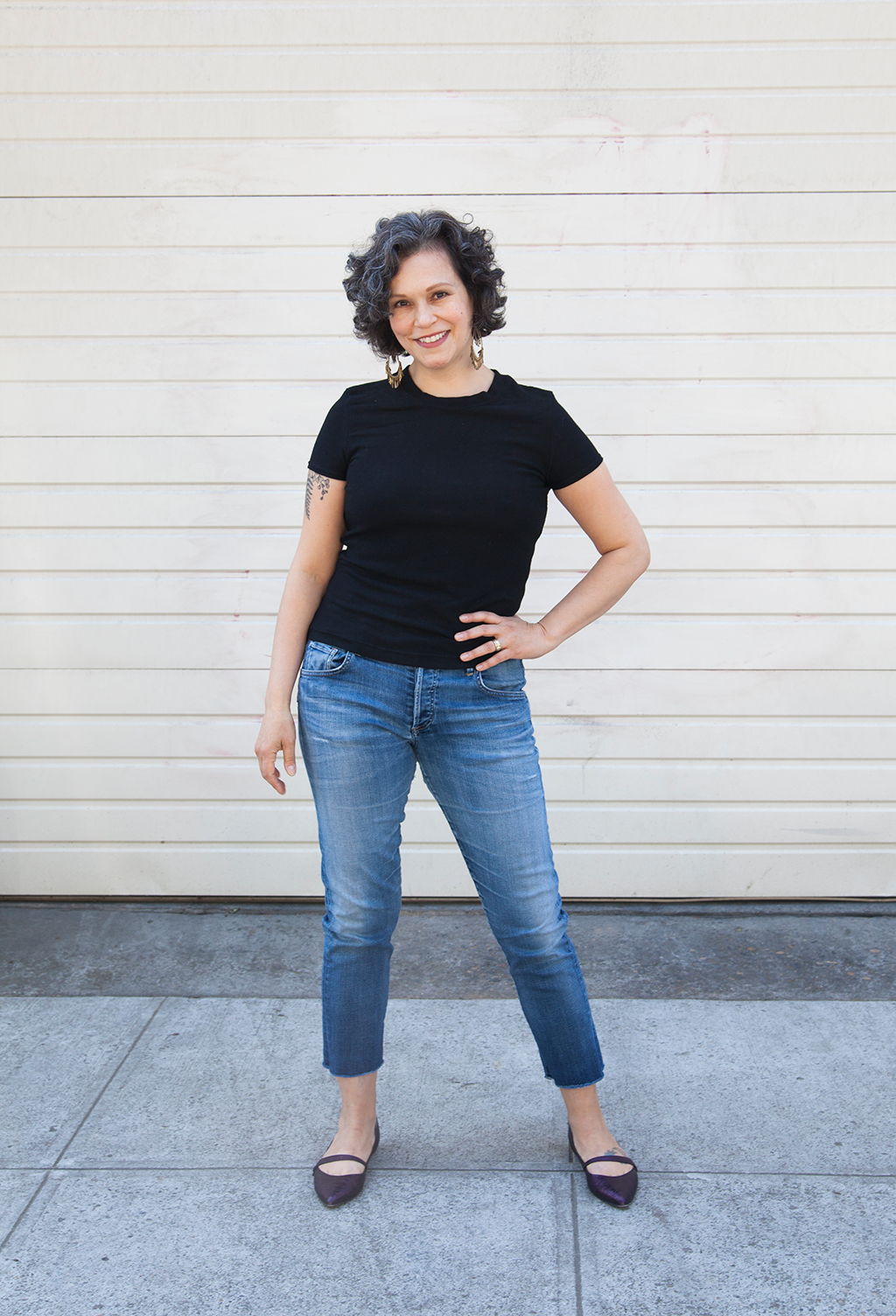 Denise is wearing her Alice T-shirt and her single pair of jeans, which she is wearing down to their bones. She insists that "Clothing has a soul" the more you wear it. Her earrings are from her mother's belly-dancing days in the 70s—many years ago, she raided her mother's jewelry collection and never returned it, but the jewelry is now treasured.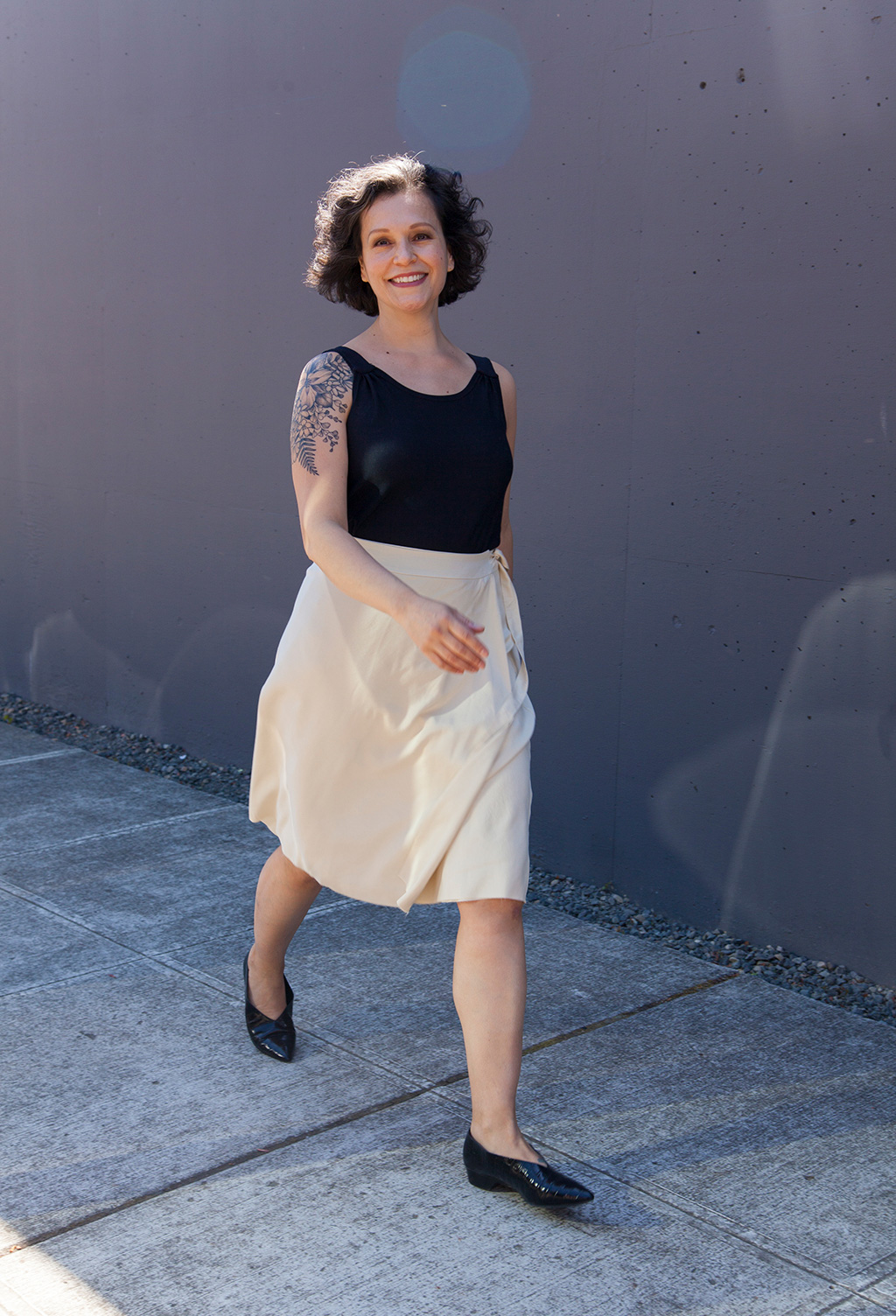 Denise is wearing her Laura skirt and Aurora top. She sewed the top with fabric from her stash and sewed the silk after her friend found a bolt of it in her mother's basement.
"Our bodies are always changing. Embrace the change—it means you're older and still here. Celebrate your body's health. Currently, there's this trend that we need to be happy with every inch of our bodies. Like world peace, it's idealistic, but if you can achieve this, fabulous. However, many are left feeling guilty that they dislike certain areas of their bodies. Dissatisfaction is a perfectly normal feeling...People can still be happy and proud even if they're not completely satisfied with everything in their lives. That's more important than reaching the ideal."