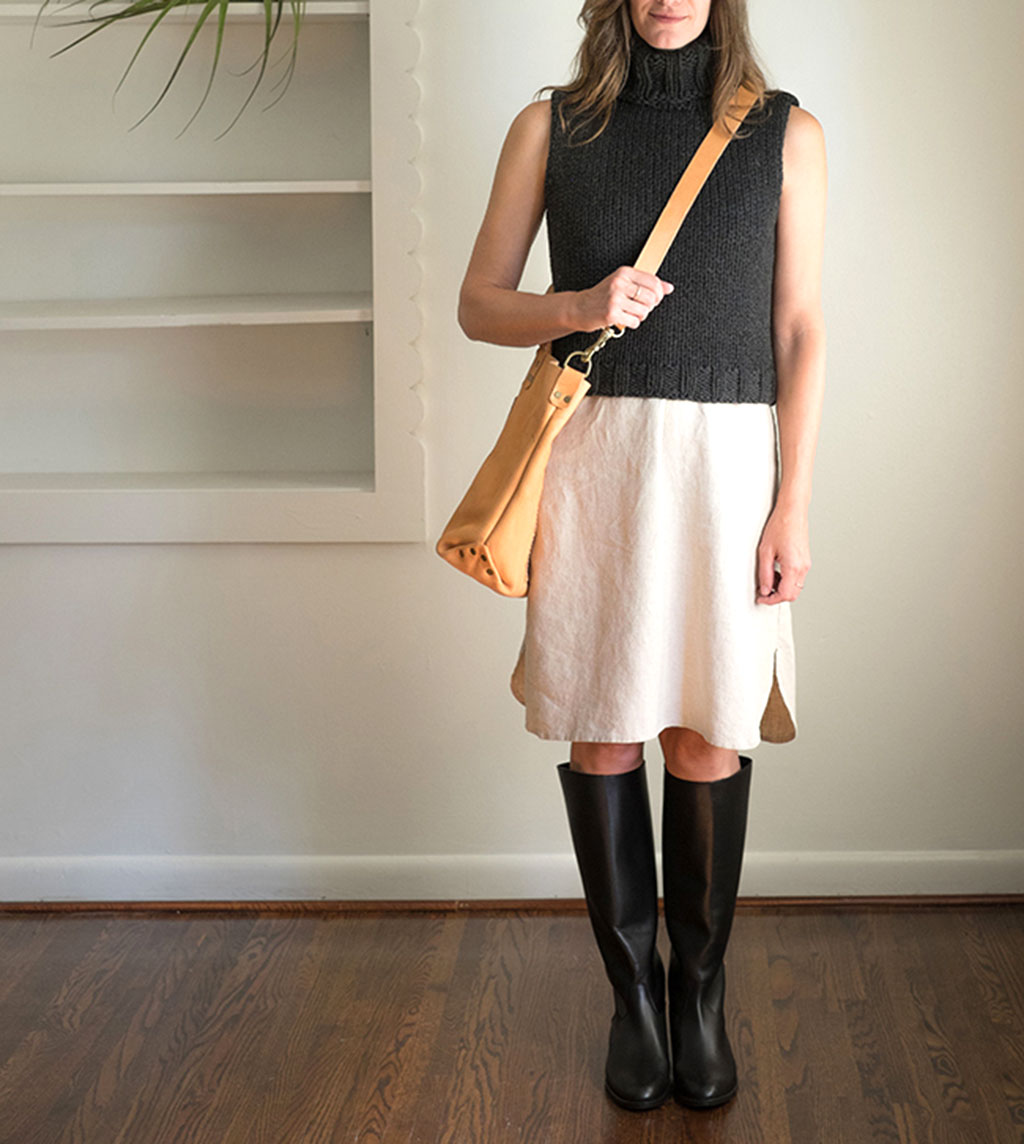 Photo taken by Karen Cadigan.
Hanging is my closet, haphazardly tossed over a hanger, is a mustard yellow cardigan. It is missing three out of five buttons, with cuffs stretched past the point of no return and lint pills scattered across the sleeves. Purchased in 2007, the sweater has traveled near and far with me. I still remember taking it to the front register, having waited until the price was marked down, excitedly trying it on with my cut-offs and spaghetti-strap camisole, confident that this would transform my college uniform to something more appropriate for the office I worked in on breaks from class. Often, as I prepped for moves as a military wife, I considered tossing it in the giveaway pile, or even the trash pile, but never quite committed. There were no holes. It still looked cute and elevated my new homemaker uniform of leggings and a dress (or at least in my mind it did).
I was reminded of this cardigan when I first stumbled upon Slow Fashion October last fall. For the entire month of October, Karen Templer of Fringe Association initiated a conversation about what it means to have a more ethical wardrobe. Participating in Slow Fashion October challenged me to slow down and enjoy the process of sewing a garment, not just the outcome. It taught me the importance of sourcing ethical fabrics and garments. In this article, I'll introduce Slow Fashion October and provide a list of resources for incorporating slow fashion into your wardrobe.
Introducing Slow Fashion October
"Garments with long lives and legacies, that's what I crave," Karen Templer announced on her blog at the beginning of October 2015. Thrilled, I read through each thoughtful piece written by Templer throughout the month as sewing, knitting, thrifting, and prolonging clothing was celebrated. The obvious care Templer puts into each piece of her wardrobe goes far deeper than fashion or even comfort. When I called her for a chat about Slow Fashion October, she graciously took the time to share her thoughts on sustainable fashion with me, stressing that the movement is "not specific to handmade clothing at all—it's a conversation among anybody who's interested in having a more ethical wardrobe."

Garments with long lives and legacies, that's what I crave.

Last year, Templer broke the month of October down into weekly themes, encouraging participants to reflect on their wardrobes and how they might further incorporate slow fashion principles into their day-to-day lives. This year, Templer plans to continue pushing the conversation forward, including connecting makers with more companies focused on quality and ethics.
As for me, exploring the Slow Fashion October tag (#slowfashionoctober) on Instagram produced a wealth of beautifully curated inspiration. My wardrobe started taking on meaning as the month went on, memories attaching to my favorite pieces. A dress I crafted slowly, darts carefully transferred and the impromptu pleated neckline; the softest Japanese sweater knit I splurged on for a special occasion; or a simple tank top self-drafted to make use of my favorite fabric. These memories are just one way I've begun to reevaluate my own wardrobe and how slow fashion might reshape what I wear, make, and mend on a daily basis.
Sourcing Ethical Fabric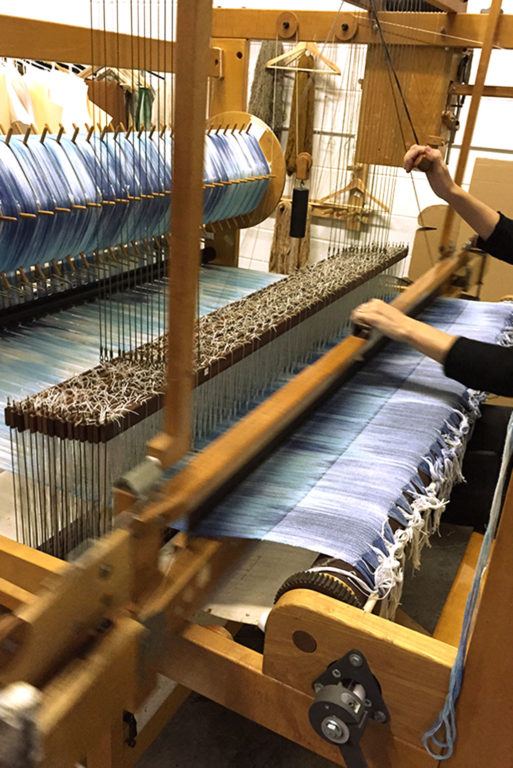 Karen visited the studio of Allison Volek-Shelton of Shutters
and Shuttles to get an inside look at the process of weaving.
Slow Fashion October reminded me that cutting and stitching our own clothing definitely removes a lot of potential for unfair treatment attached to fashion, but what about the fabric itself? To answer this question, I turned to Sonja Gingerich of Brooklyn, NY, who founded Hell Gate Fabrics in order to give sewists more ethical and sustainable options. Even as interest in ethical fashion has boomed, the ethical fabric options for the home sewist remain underrepresented. With her store, Gingerich hoped to broaden those choices.
"The big thing was I started to learn more about the garment industry and think more about that make clothing and what is involved with that," she said. "Ethical fashion is accessible to anyone at any skill level, it just takes a little sleuth work to determine the origins of your sewing materials."
Part of my participation in Slow Fashion October last year involved reaching out to a few well-known fabric companies, out of curiosity, to ask if they followed any fair trade guidelines. Art Gallery Fabrics was kind enough to respond, stating that their mills follow labor laws and are visited yearly to ensure standards are met. While the other two companies did not respond, websites' About Us sections often show a company's transparency (or lack of transparency) in the area of labor laws. The fair trade movement continues to gain momentum in mainstream fashion as more people start to adapt a quality over quantity mentality. You can contribute to this shift by reaching out to fabric companies, starting a conversation with your local fabric store, or swapping information with fellow sewists.
Calculating the True Cost of Fashion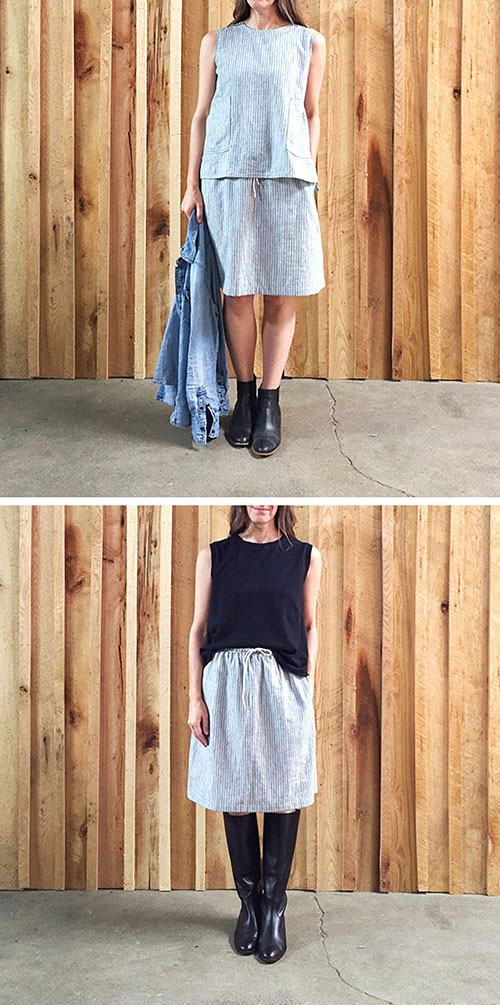 A slow wardrobe means leaving little to waste.
This Seneca skirt was made using the remaining yardage
from a tank top (also pictured).
While ethical clothing has become a trending topic in recent years, thank goodness, let's take a minute to do some sewing math. Imagine you plan to make a Moneta dress with a nice jersey knit fabric. So factor in about $16 for the pattern and $15/yard for the fabric; that would already be $45. Add about 2–3 hours to whip up a shirt with quality construction and all hems complete. Add $10/hour on to the price tag, totaling our imaginary dress at $75.
Now imagine buying a similar dress at a department store, looking for a deal under $40. Clearly, bargain clothing must skip at least part of that equation. Maybe they skimp on the fabric or maybe they skimp on paying the worker a fair wage.
The sustainable fashion movement, including the annual Slow Fashion October, aims to educate seamstresses, knitters, menders, and consumers on the issues around mainstream fashion, including the often unfair wages paid to garment workers in third world countries by clothing lines who seek to churn out clothing as fast as possible.
Myriad resources are available to dive deeper into the conversation of ethical and sustainable clothing. Start with Elizabeth L. Cline's Overdressed: The Shockingly High Cost of Cheap Fashion, or peruse the blog Dress Well Do Good for resources, ideas, and inspiration this October.
Participating in or just observing Slow Fashion October can spark ideas, share resources, and continue an important conversation, giving deeper meaning to our wardrobes. Where we crave stability, we can give new life to used clothing through mending. Where we crave change and all things new, we can take time to find ethically-created materials or ready-to-wear items. Where we look to make the world a better place, we can encourage our favorite brands to participate in fair trade with a quick email.
Resources
Crafting an ethical wardrobe can feel overwhelming. Here are a few tips to get you started:


Do your homework. Search the web for fair trade resources, and keep tabs with Templer's #slowfashionoctober this year as she shares more resources and ideas.


Keep making your own clothes! Beginners can start with basic tees, and with practice can achieve expert level—a cozy Neenah Dress, perhaps?


Check out #visiblemending on Instagram and be inspired to hold on to your thrift store pile a little bit longer. While our culture leans more toward over-consumption, Slow Fashion October encourages the practice of mindfully prolonging garments instead of replacing before necessary. Sashiko mending, a Japanese practice involving simple yet striking embroidery on torn fabric, is a growing visible mending trend.


Work within your lifestyle and ability to advocate for human rights. As Templer pointed out, smart choices can mean vintage, a clothing swap with friends, or even local small-batch. Imagine holding a clothing swap at a local venue, an evening of treats and perusing clothing with no price tags!


Limit new purchases; although not everyone can afford a completely fair trade wardrobe, we can all take small steps toward protecting our planet's resources and people.


Slow down. Often I find myself rushing to cut fabric, winging it on the instructions in hopes of having a wearable garment by tomorrow morning. Taking the time to cut properly, pressing seams, and measuring carefully will only add care into a wardrobe, not to mention minimizing the risk of wasting fabric on a hasty project gone wrong. Enjoy and appreciate your craft.