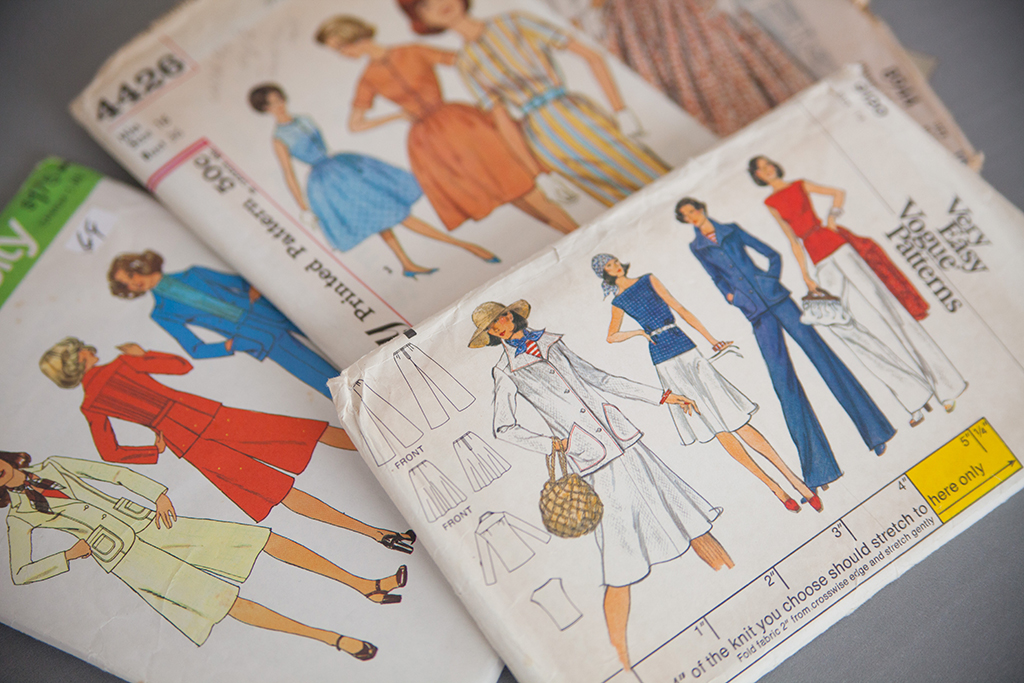 A natural byproduct of slow sewing is a pared-down wardrobe. Yet many sewists love vintage garments and sewing patterns, which can be challenging to incorporate into a minimal wardrobe. A lean wardrobe requires weeding out pieces that don't play well with others. Vintage styles often only coordinate with a specific type of blouse, skirt, sweater, slacks, etc.
Vintage styles can also be quite distinctive, making it difficult to keep them in frequent rotation. Is there a way to reliably bring some vintage flair into your everyday look, without wandering into costume territory and still staying true to the mantra, "less is more?"
I've found that most vintage styles fall into one (or more!) of the following categories: vintage silhouette, vintage hem length, vintage fabric (color, print, substrate), and vintage details.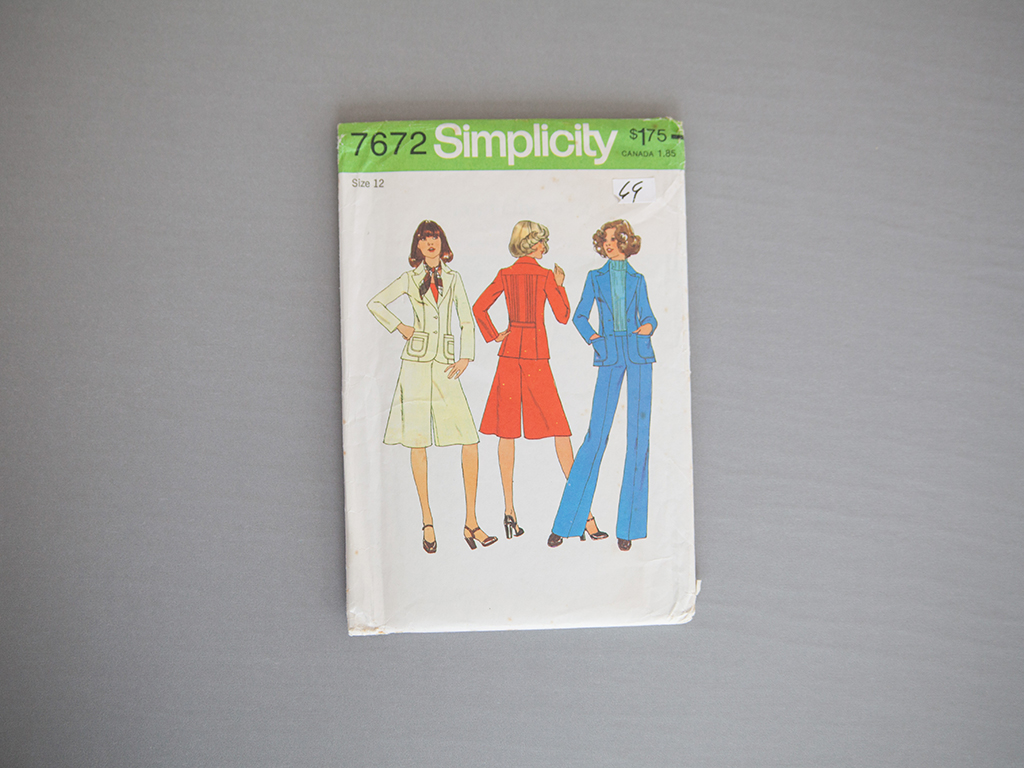 A 1970s jacket can be rocketed into the modern age by simply reducing the width of the lapel.
My solution to staying true to my wardrobe values is to identify the one or two components that grab me the most. Vintage clothing is so distinctive because all of these components carry an old-time flair, so by borrowing just one or two vintage elements you can create a garment that speaks to a bygone era without feeling as though you stepped through a time machine.
By sewing modern clothing that carries a whiff of vintage sophistication, you can create a pared-down wardrobe that is stylish, interesting, and cohesive. This article will only cover silhouette and hem length. For ideas on incorporating vintage details, check out this article.
Silhouette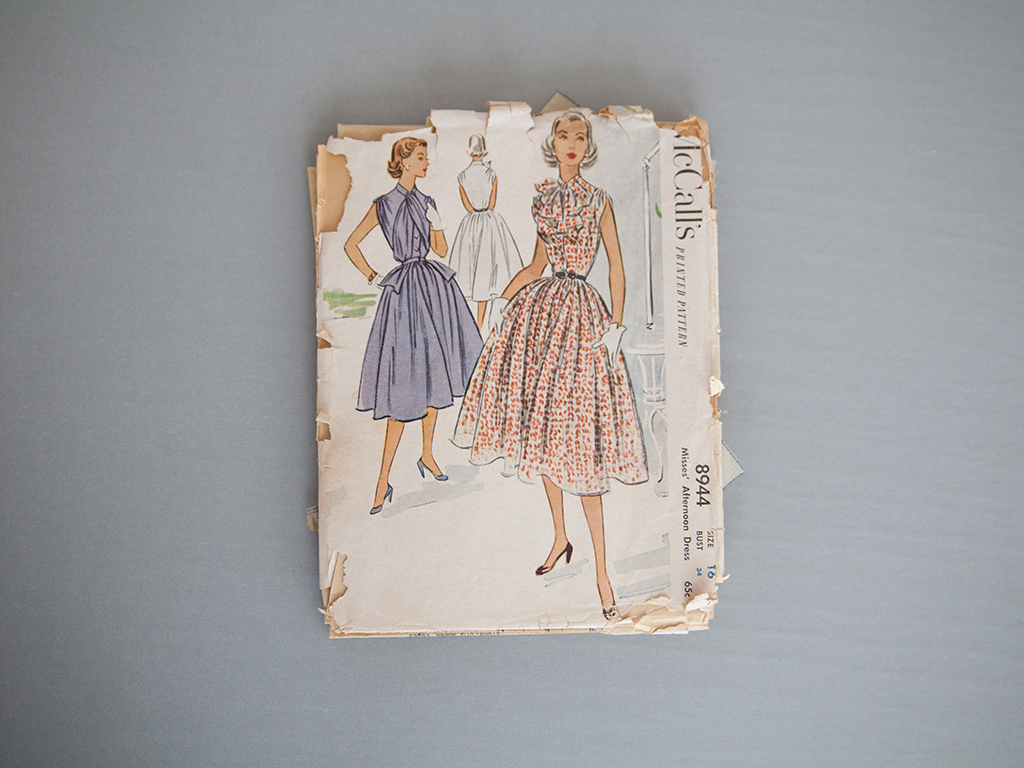 Dresses of the 1950s feature a very distinct silhouette. This can be minimized by choosing a fabric with plenty of drape or by removing fullness from the skirt pattern prior to cutting.
Silhouette is one of the most noticeable ways clothes change from decade to decade. Think of the drop-waisted dresses of the 1920s, the fitted bodices and full skirts of the 1950s, or the fantastically flared bell-bottoms of the 1970s. Looking back to older silhouettes can be one way to add a touch of retro glamor, especially if the rest of the garment speaks to today's sensibilities.
The recent resurgence of fit-and-flare dresses is a great example of this. The general overall silhouette is a nod to the 1950s, but made up in today's colors and prints and with updated hemlines. As a sewist with full control over your finished dress, you can push this one step further than RTW, incorporating a special detail or two, or using a 1950s-inspired print.
When playing with silhouette, ask yourself: what is it about this garment's silhouette that most calls to me? Is it the sweep of the pant legs? The degree of flare from waistline to skirt hem? Evaluate whether you can use this silhouette as-is, or whether it might read too costume-y. You may love the heavily shoulder-padded look of 1940s blazers on Katherine Hepburn but decide to tone down your version for everyday wear.
When using the silhouette as-is, one approach is to eliminate the distinctive details from a vintage pattern. This lets you keep one distinctive element—silhouette—while avoiding an over-the-top look. If you love those details just as much as the silhouette, experiment with just using one or two of them.
Another approach is to note the key measurements that make up silhouette—waist-to-hem ratio, amount of ease, hem circumference, etc.—and transfer those specifics to another pattern. Try transferring the key measurements from your inspiration pattern to a tried and true pattern. This could mean widening a skirt, cropping and flaring the sleeves, or removing ease.
If the vintage silhouette seems too costume-y, look for ways to bridge the difference between today's trends and yesterday's look. A circle skirt can be swapped out for a three-quarters circle skirt or half-circle skirt. Try narrowing the flare on a pair of pants—even taking an inch from the front and back leg can make a difference. Look for ways to stay true to the spirit of your inspiration garment while toning things down slightly.
Hem Length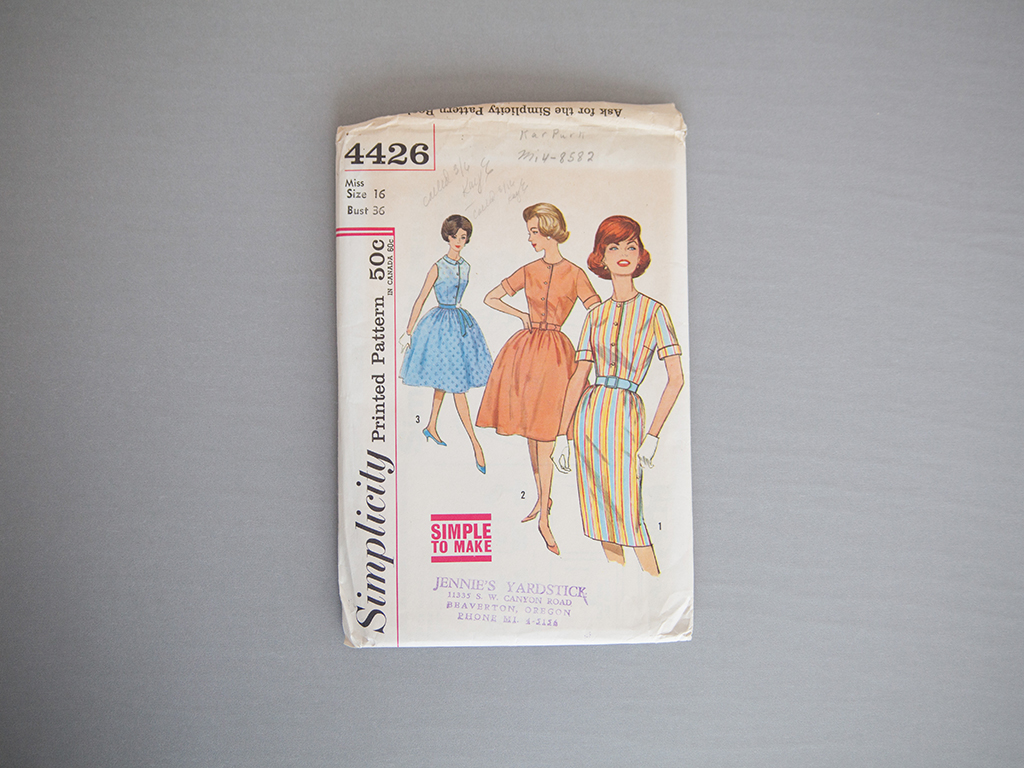 Update this classic 1950s design by lengthening to a midi and using a modern print or a subtle chambray.
Hem lengths have risen and fallen through the decades and are an easy modification for evoking the mood of a past era. A new hem length can also create a new vibe. I like to think of it as two patterns for the price of one! Again, ask yourself whether you want to stay true to the exact hemline of your inspiration garment or if you want to tweak it slightly to better fit in with your overall look. A midi dress that's cut 2 – 3" below the knee is elegant but easier to pull off—and mix and match—than one that ends 2 – 3" above the ankle.
One approach is to simply raise or lower the hemline on a modern pattern. Frequently this is done using the lengthen/shorten markings provided in the pattern. If you're making substantial changes in length, just using the lengthen/shorten markings may change the shape of the garment, as you'll only be adjusting the length in one spot. In that case, you can maintain the overall proportions of the garment by lengthening or shortening in multiple places. Common places to lengthen or shorten include: above the hipline, between the hipline and the knee, and below the knee.
Also, if you're making substantial length changes to a skirt or dress, be sure to check that you can still walk in it! A kick pleat or vent might be in order, or you may want to flare the pattern pieces to an appropriate circumference.
If the pattern has eye-catching details (likely what drew you in the first place), you'll want to make sure changing the length doesn't affect the overall balance of the garment too much. Again, you may want to lengthen or shorten in multiple places. For example, if you're working with a 1940s skirt that has knife pleats, consider removing some of the length from both above and below the knife pleats. Also take some time to think about how the rest of the garment might be affected. You may want to narrow waistbands, cuffs, lapels, collars, yokes, or bibs to keep everything in proportion.
Choosing to sew one's clothing is all about prioritization. Prioritizing creativity, prioritizing time for a hobby, prioritizing the importance of knowing where one's clothes come from and how they're made, and lastly prioritizing which garments to bring into your life and why. Vintage-inspired clothing and a minimal wardrobe don't have to be mutually exclusive. By prioritizing which retro elements to evoke, you can have a closet that's varied, fun, and filled with favorites.
Join the Conversation
Sign in or become a Seamwork member to comment on this article.