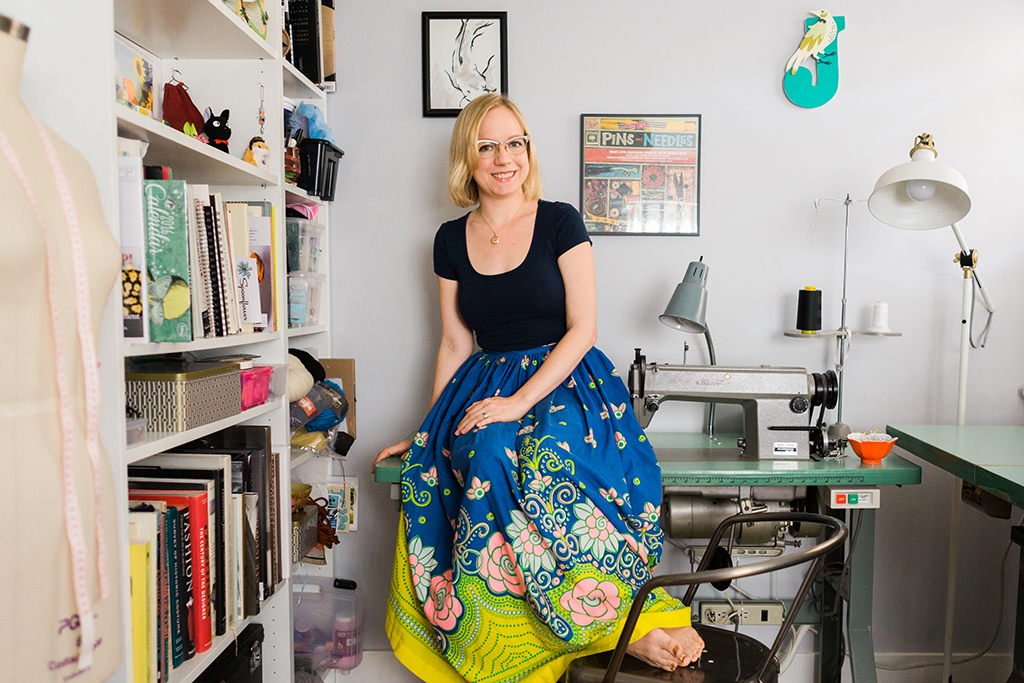 Photo by Brittany Kalaj Margulieux
Have you ever watched a movie and wondered how the costumes were made, where Superman got his cape, or if Cinderella's dress was really assembled by her faithful mice? We may not be fairy godmothers, but hidden away in Los Angeles behind secret doors are the seamstresses, patternmakers and tailors of the Motion Picture Costumers Union, Local 705. We bring costume designers' sketches to life for the big and small screen. This is not a career that comes to mind for most people and I couldn't believe my ears when I heard I could sew for film! It took some hard work to get here and I have learned so much along the way. Take a step behind the scenes with me and I'll give you a peek at my world.
How it all began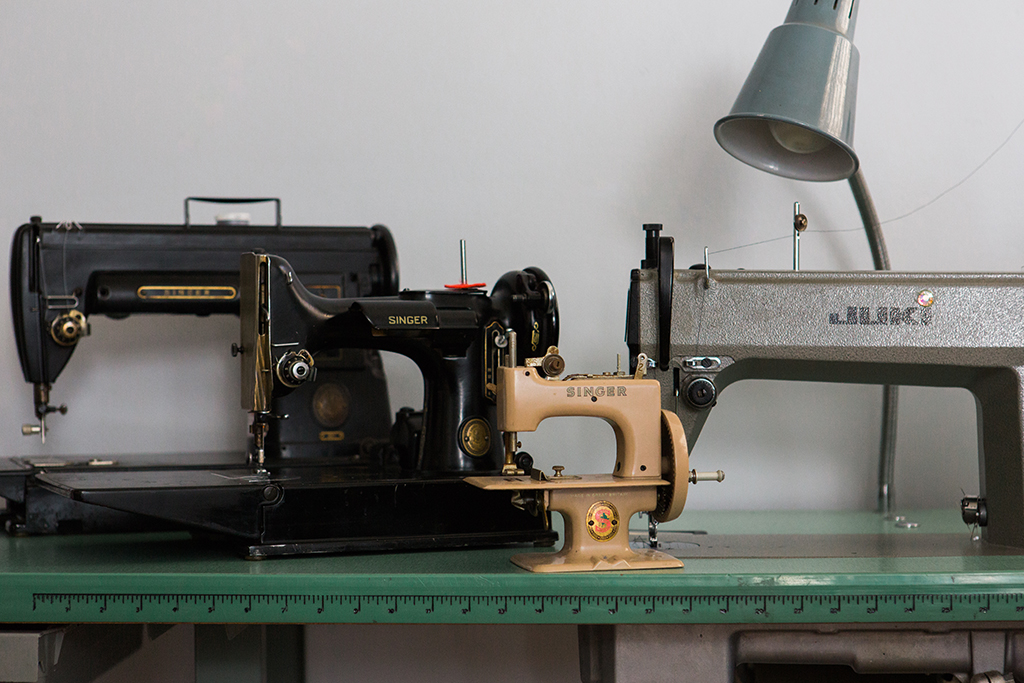 Photo by Brittany Kalaj Margulieux
I've sewn since I was a little girl—sitting on the floor of my grandmother's sewing room, pulling bright colored buttons and threads from her sewing kit. Most of my childhood was spent with a needle in hand until I finally convinced my parents to buy me a sewing machine for my twelfth birthday. With the speed and ease of a sewing machine my passion took full flight. I would beg my parents to take me shopping for fabrics, notions, and patterns. But I wasn't making pretty little day dresses, I was entering the world of costume making. Pirates, fairies and ladies of Henry VIII's court were part of my visions. I cut petticoats out of thrift shop wedding dresses and made corset boning out of sprung steel from the hardware store—whatever it took to make my next creation. When I enrolled at Booker High School of Visual and Performing Arts, I even wore my costumes in public.
I started cosplaying at anime and science fiction conventions, making costumes inspired by my favorite characters. Cosplay taught me problem solving skills and forced me to work with new and unfamiliar materials. Making an item that could be worn all day and be recognized as a beloved character was new and challenging. I learned more from my failures than my successes, but when the costume did work, it was gratifying. I started making costumes for friends and began exploring sewing for other people, especially men. It was a tough learning process because some people were very picky. The hard work was always worth the seam ripping, frustration, and the tears, and I discovered that I liked sewing for others more than for myself.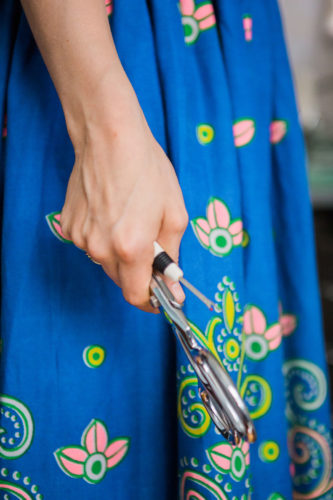 Photo by Brittany Kalaj Margulieux
Through all of this, I was never sure how I was going to apply my love of making costumes. Fashion school was a possibility, but I was a fantasy girl. When my teacher recommended me for an internship at our local repertory theater the door to my future career opened. I found there were a few college programs for costuming and applied to and attended Virginia Commonwealth University's Theater Costume Technology Program. Later, I transferred to the California Institute of the Arts Costume Design Program to finish my degree near the film industry. Near the end of my time at CalArts, I sought out a union costume house for an internship and my journey into the union costume world began.
Local 705 Motion Picture Costumers Union
The first thing to know about my job is that I'm not a costume designer. There are two costume-related unions in Hollywood: Motion Picture Costumers Union (Local 705) and the Costume Designers Guild (Local 892). The Costume Designers Guild is the home of designers, their assistants and costume illustrators. The Motion Picture Costumers Union encompasses every other costume-related profession. There are two divisions in the Costumers Union: Custom Made and Finished Costumers. Finished Costumers itself has several job classes which range from supervisors who run the department, shoppers that help the costume designer buy clothing and supplies, to on-set costumers.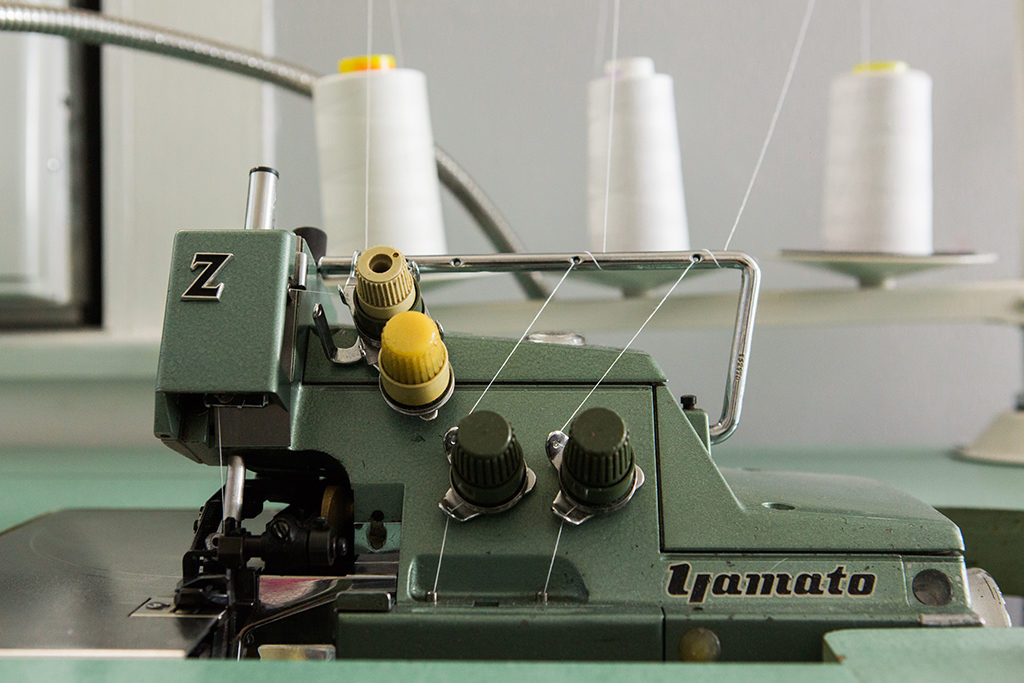 Photo by Brittany Kalaj Margulieux
In the custom made world, we have tailors, fabric dyers and painters, as well as specialty folk who make armor for your favorite superheroes, and my home, Women's Custom Made. Don't let the name deceive you, we build garments for both genders. My job title is Cutter Fitter. I make patterns, conduct fittings, sew, and can direct a team of stitchers. My job in a nutshell is to work with the costume designer to make their designs come to life—be that on a set with purchased clothing that I alter or working in a sewing shop making costumes from scratch. I also have a home studio that I build costumes in if needed. Sometimes there is no room on a set, or an emergency alteration needs to be done overnight. My studio is equipped with an industrial sewing machine, an overlock machine, and a large cutting table. I've been building my shop up for years, collecting machines, notions, and sewing supplies to get almost any job done. It is a joy to walk into my own sewing oasis for the day to work on challenging projects.

If all has gone well and the scene hasn't been cut or changed (which happens a lot) the garment—a collaboration between the costume designer, myself, and a whole team of costumers—gets to walk onto the set. The lights are on, the camera rolls, and then it's, "Action!" My work is done and with some luck I'll get to see it on the big screen in several months.

Doing alterations is very common, but my passion is creating custom clothing. When I'm manufacturing a custom garment I receive a sketch and a breakdown of the character and the scene from the costume designer. It is very important to know what the actor or actress is doing in the custom item I make. If she is lounging on a sofa, how does the designer want the fabric to drape? If she is running through the streets in the same dress next scene, I need to make sure it can take the stress of action, move with her, and not be tripped upon. Often heavy action requires a stunt double, or several exact multiples of the same garment. That means I'm making two or more copies of the same dress and fitting it for different actresses or actions. For example if the character needs to fly, I have to make room under the dress for a flight harness. If the actor gets bloody she needs multiple dresses that can be covered in gore. Once I've gathered all the information and study the sketch I go about making the garment much the same as any seamstress would. I draft or drape the pattern, then cut a muslin mock-up for the first fitting with the actor.
The stars, they're just like us
A big part of my job is interacting with actors. Fitting clothing and making custom outfits for anyone is a very personal experience. In a television or film fitting, it is even more so. There are several people in the room—the costume designer runs the fitting of their design, a costumer who helps me take notes, a custom-made person like myself and often the actor's personal assistant. It's very important the team and I make the actor feel comfortable. Making sure they have the appropriate under garments, or that the outfit isn't too tight or revealing for their personal comfort levels. Building that trust with the talent and the team is critical. After the fitting it's time to make adjustments to my pattern and cut the garment in the chosen fabric. After I've sewn the garment to about ninety-percent completion we have another fitting. Final adjustments are made, photos are taken to show the production, and I finish the piece. If all has gone well and the scene hasn't been cut or changed (which happens a lot) the garment—a collaboration between the costume designer, myself, and a whole team of costumers—gets to walk onto the set. The lights are on, the camera rolls, and then it's, "Action!" My work is done and with some luck I'll get to see it on the big screen in several months.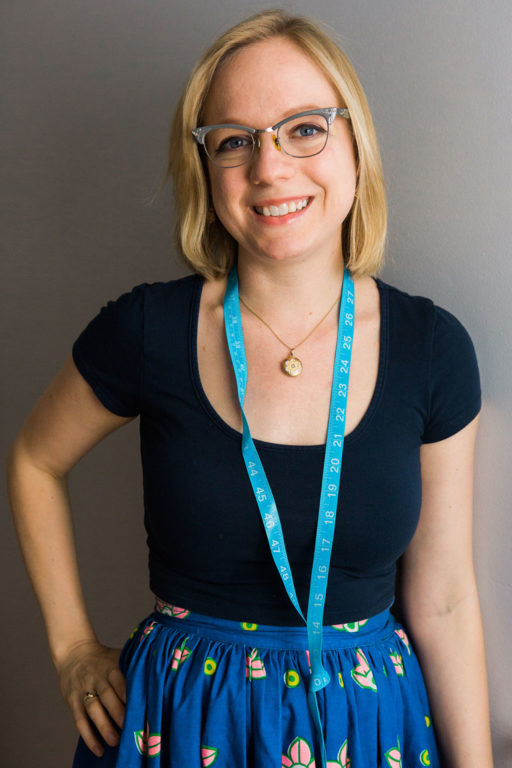 Photo by Brittany Kalaj Margulieux
It's a dream come true to be working in film. Every day is a new adventure, a new challenge and often a new shooting location. One of my first mentors warned me that sewing for film is a "gypsy life" and it really is. A project may only last for a month or if it's a TV show perhaps six months. When I'm between projects, I'll help out for the day on film sets all over the city. This is called day playing. I love the process and wouldn't have it any other way. From the little girl sitting on the floor hand sewing doll clothing to having my own home studio filled with industrial sewing machines and fabric, it's been a journey following my passion all the way to becoming a Hollywood seamstress.
Join the Conversation
Sign in or become a Seamwork member to comment on this article.