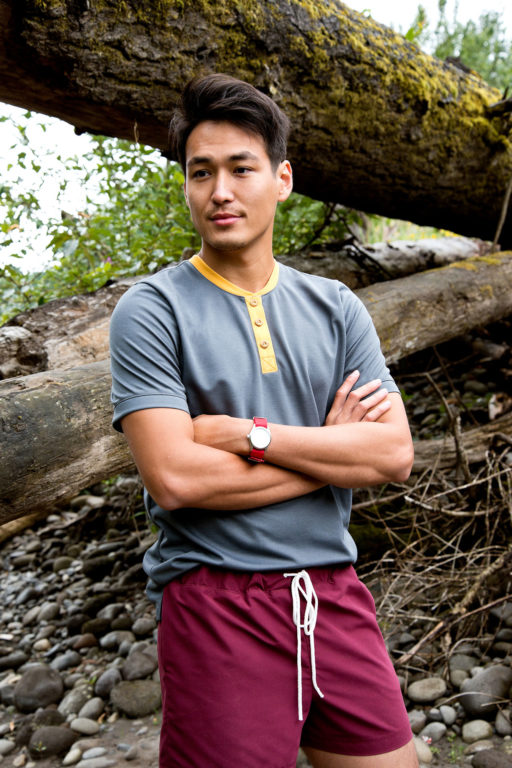 This month, we're going to teach you about swimwear fabrics for the Harrington shorts, and medium or heavy weight knits for the Eugene tee. We'll help you pick out the best fabrics for this month's projects—and explain why—so you can become a fabric expert.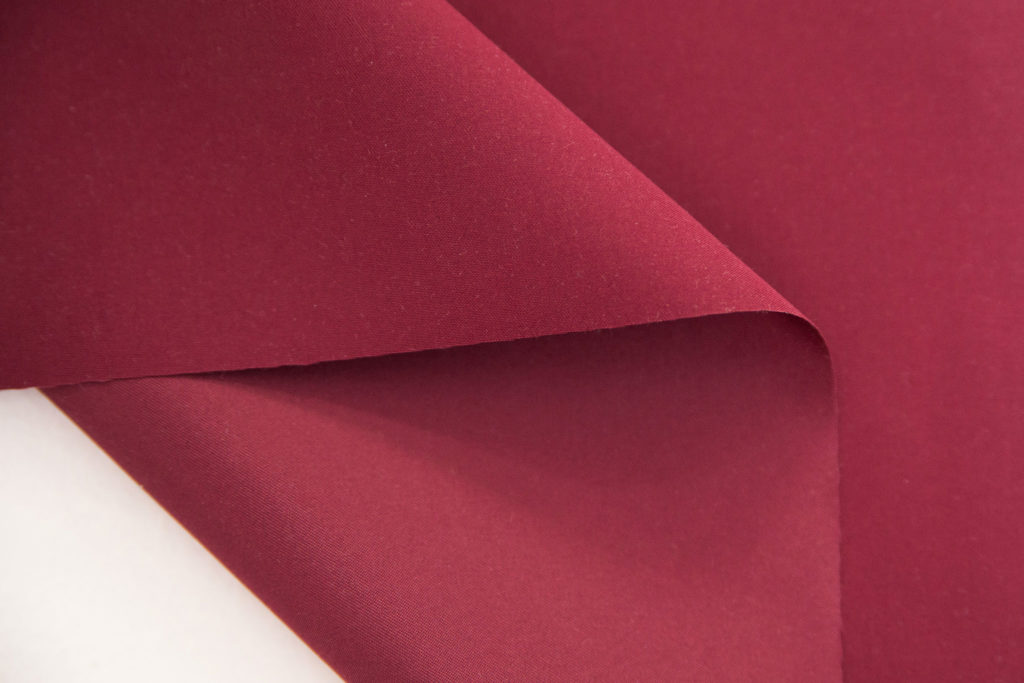 This version of Harrington was sewn in
Burgundy Polyester Microfiber
.
Harrington
Harrington can be made in linen or other mid weight wovens for a smart, casual look, but these shorts are meant for the water! Here's everything you need to pick the perfect fabric for a swimwear version of Harrington.
The Best Swimwear Fabric for Harrington:
Microfiber Polyester: This synthetic dries quickly, is soft to the touch, and is easier to source than other fabrics. The red shorts in this month's issue are made from microfiber.
PBT Polyester: It also dries more quickly than regular polyester and it's lightweight, two important qualities for swim trunks. Look for non-stretch versions.
Nylon: If your fabric is not polyester, nylon should make up the majority of the fiber content. It's water resistant and strong, with a silky texture. You can also look for nylon/polyester blends.
Ripstop Nylon: Resistant to tearing or ripping, ripstop nylon is also used for parachutes and hot air balloons, so you know it will hold up in the pool! You can find it in a variety of weights and textures.
Fabrics to Avoid:
Acetate: No acetate! It gets gross with water.
Lycra: Sometimes you want stretch in a fabric, but not if you want to stay afloat in swim trunks.
Tips for sewing:
Use a microtex needle for ripstop nylon and microfiber. You have to commit to each stitch, because the needle will leave a permanent hole.
More swatches
Eugene
Eugene requires a medium weight or double knit, but you can use your lightweight woven scraps to reinforce the yoke on the back of the shirt. For more on working with double knits, see our guide from issue 2.
The best knits for Eugene:
Ponte: This tightly-woven, double knit is heavier than jersey, more resistant to wrinkles, and stable enough to insert the placket for Eugene. It has less stretch to maintain shape, and is usually made of a polyester, rayon and spandex blend.
Interlock: Another stable double knit, this fabric is made of two layers of jersey.
Rib Knit: This knit features ridges on both sides of the fabric, due to alternating rows of stitches. Lighter than ponte, it can also be used as a decorative contrast for cuffs and neckbands, to get that RTW look.
French Terry: A soft knit that is heavier than jersey but more forgiving than sweatshirt knits, French terry has loops on the wrong side, and is smooth on the right side. It's very comfortable and helps wick moisture in the hotter months.
Fabrics to avoid
Jersey: Cotton jersey knits will be too stretchy and thin for Eugene's placket and yoke.
Rayon or bamboo: These fabrics are too thin and lack the stability needed for Eugene.
Sweatshirt knit: Check the spandex content, as this fabric may not have enough stretch to pull over your head. Go for French terry if in doubt!
Tips for sewing
Medium weight knits are a treat to sew, because they do not curl as much as jersey. Start with a ballpoint needle and a zigzag stitch and check out the guide to working with double knits here.
More swatches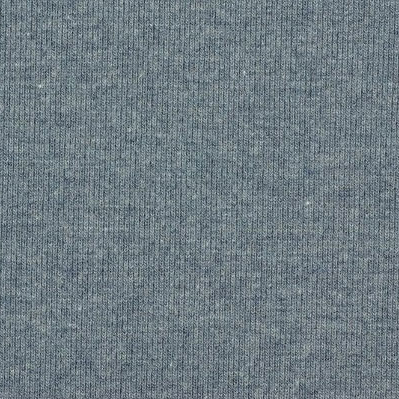 Cuff Rib in Denim Blue Marl: from Backstitch is perfect for cuffs, neckbands, and plackets, £16.00/meter.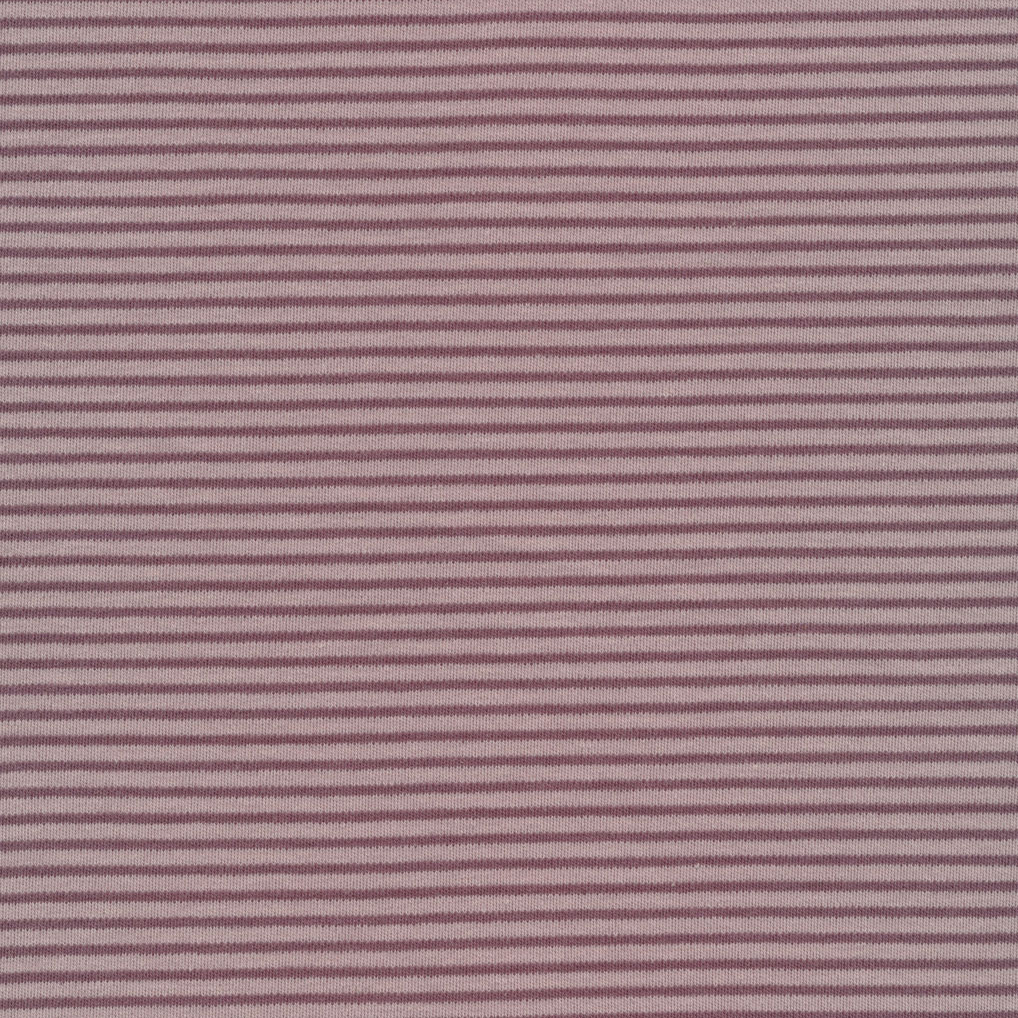 Stripes in Brown: from Imagine Gnats is an organic interlock knit with warm brown tones, $14.50/yard.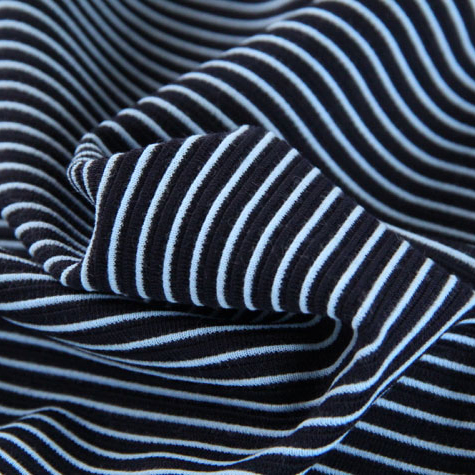 Luto Ribbed Pointe Roma: from Fabric Godmother is a ponte weight ribbed knit with light blue stripes, £11.00/meter.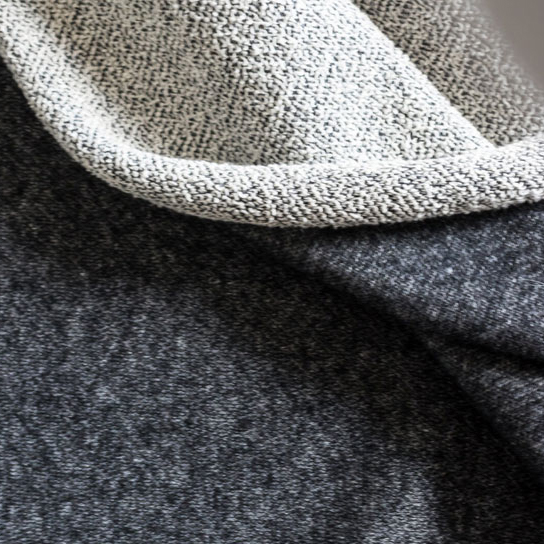 Heathered Gray French Terry: from Finch Knitting + Sewing Studio is a luscious French terry that would make a very comfortable Eugene! $18.00/yard.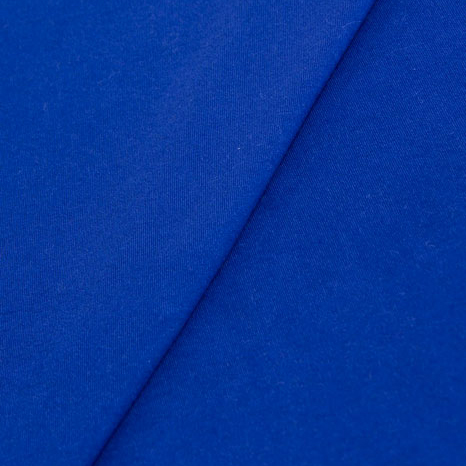 Cotton Interlock: from Thread Theory comes in two shades of blue, and they sell matching ribbing as well, $18.00/CAD.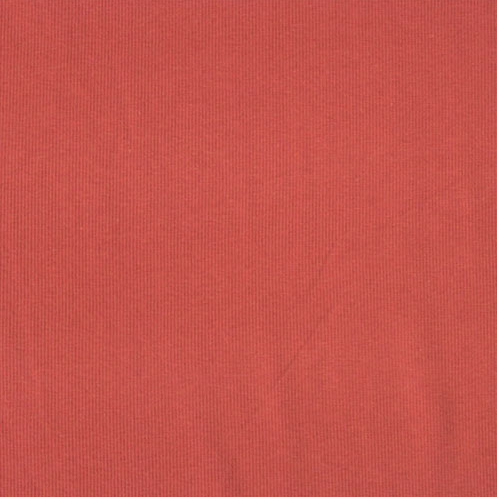 Deep Coral Cotton Ribbing: from Girl Charlee is a great color for Eugene, $6.50/yard.
Join the Conversation
Sign in or become a Seamwork member to comment on this article.