If you've ever tried to refold a tissue paper pattern back into its original envelope, you know that storing sewing patterns can be a little awkward. If you've collected dozens (or more likely, hundreds) of digital patterns, finding an effective storage method for your printed patterns will save you time and stress in the future.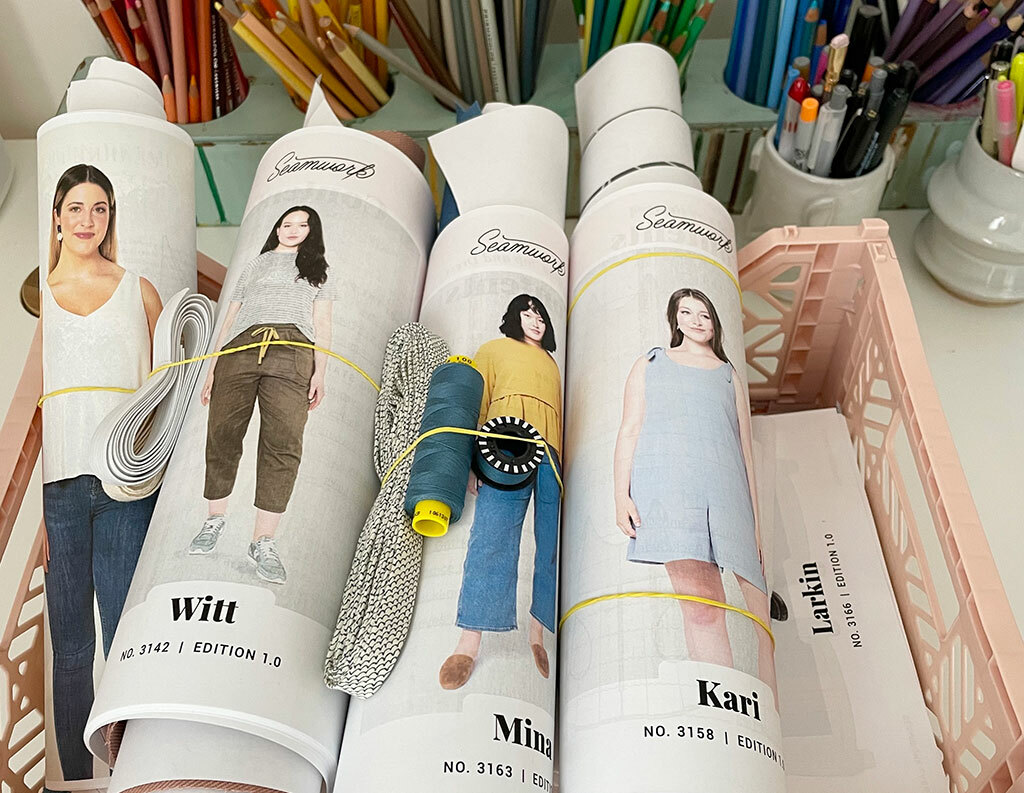 There are only a few ways to store a bunch of pieces of paper. We asked the Seamwork Community about their favorite ways to store printed digital patterns. So here are some Seamworker-approved ideas for storing your patterns rolled up, folded, or hanging.
Rolled-up
If you like to print patterns at a copy shop and trace off your size, it can be easy to store your patterns rolled up, labeled, and secured with a rubber band.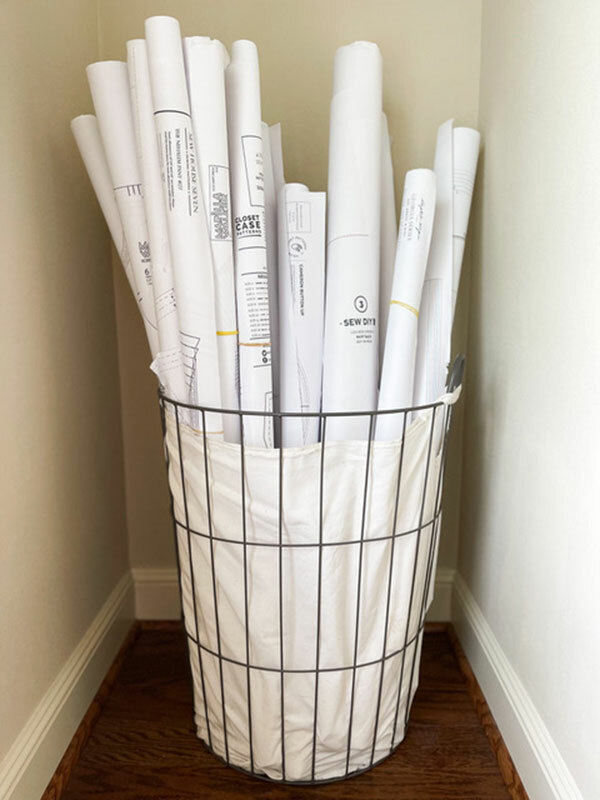 Ideas for storing rolled-up patterns:


Laundry bins


Wrapping paper containers


Wire baskets


Tall boxes or baskets


Buckets


Tips:


Print the pattern cover or flats and roll them around the pattern pieces so you can easily find what you need.


Create a label out of an empty paper towel roll or toilet paper roll. Cut the roll open lengthwise and wrap it around the pattern to secure all the pieces.


Use color-coded stickers on the outside of each roll to differentiate between garment types.


Only store your uncut patterns this way, and once you cut out all the pieces, pick a storage method below.


Folded-up
There are a few approaches to folding up your digital patterns for storage. First, think about the most accessible storage materials for you to reach, organize, and put away.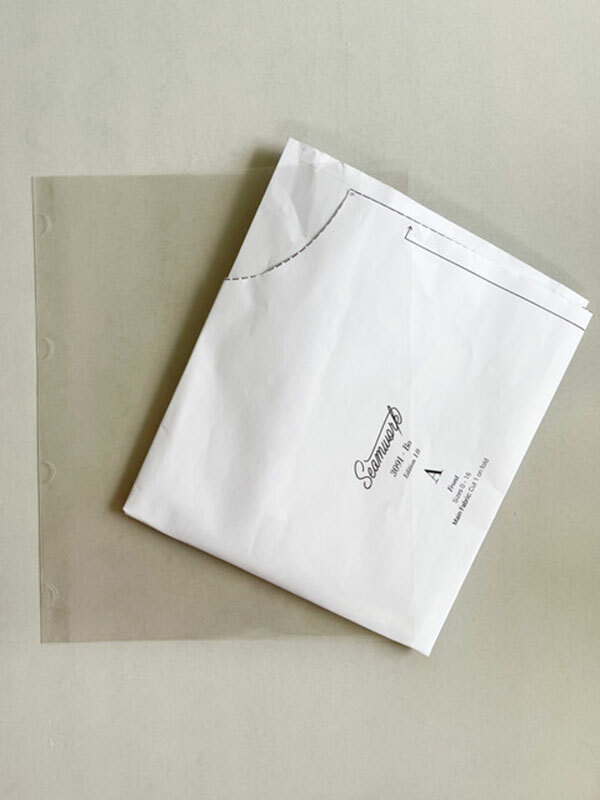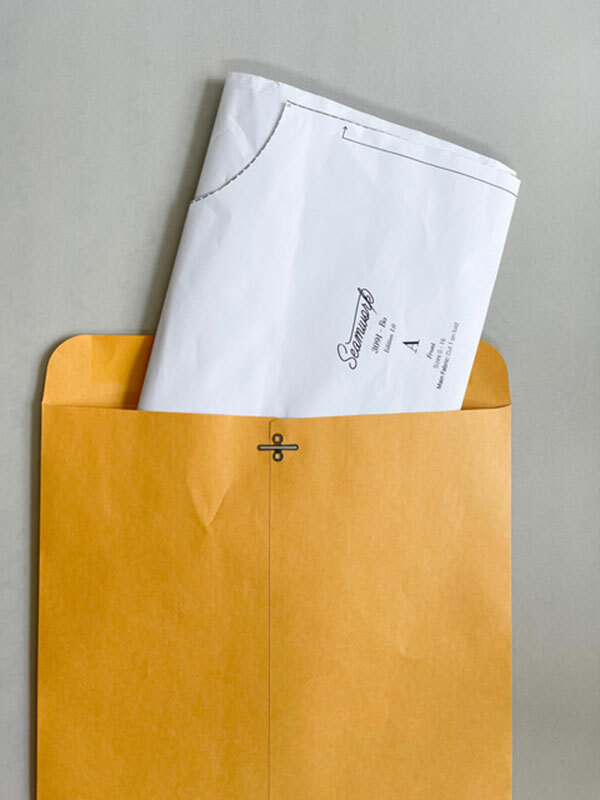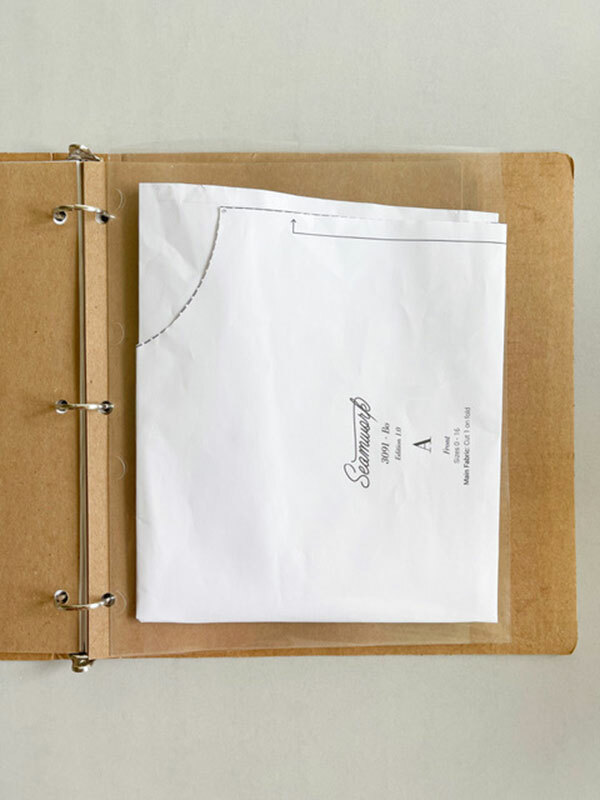 Three-ring binders. Use sheet protectors to store the folded-up pattern pieces, and print the cover or pattern flats to put on top, so it is visible at a glance. Use a different binder for each garment type or make one for knits and another for wovens.




Envelope files. You can also fold the pieces and store them in translucent envelope files or 9X12 envelopes with clasp closures. Unlike sheet protectors, these close on top to keep all your pieces secure. Using a Kraft envelope, you can print the cover page or pattern flats and tape them to the front.




Concertina files: If you sew many patterns with smaller pieces, like lingerie or kid's clothing, a concertina file is a space-saver.




Manila folders. Treat your pattern storage like classic office documents and store them in manila folders divided alphabetically or by garment type. You can then tuck these folders away in a file box or file cabinet.




Ziplock bags. You can buy project bags specifically made to store sewing projects, but sometimes a ziplock bag will do the same thing.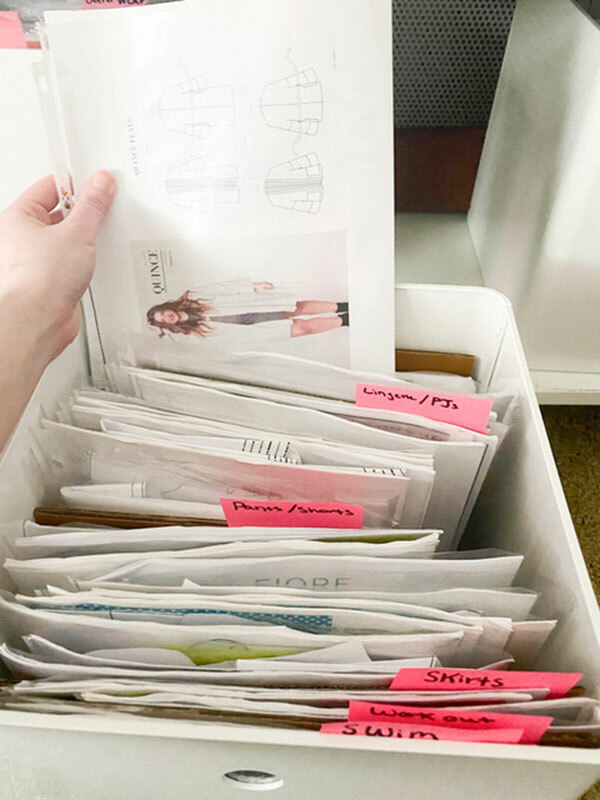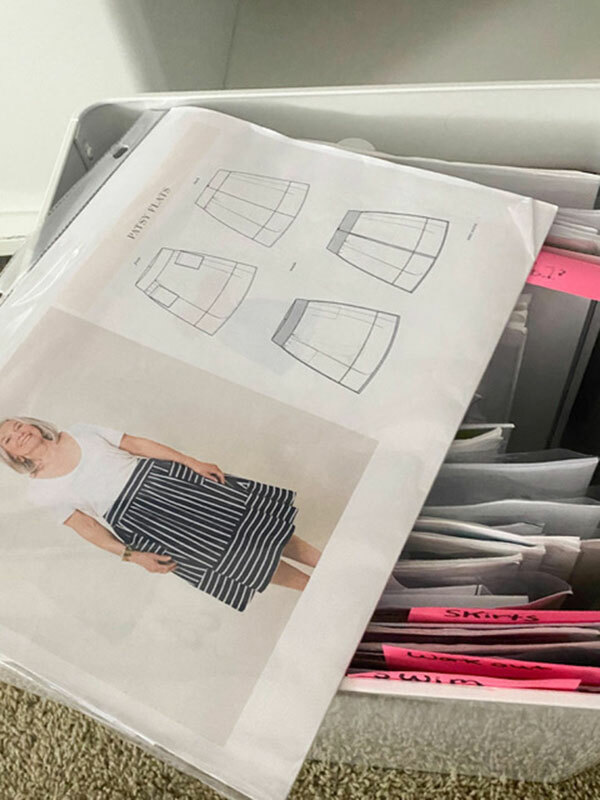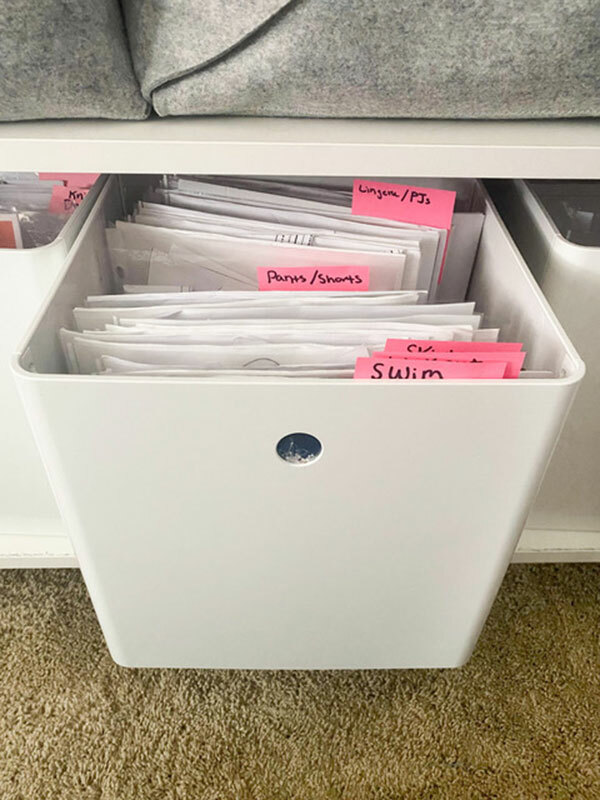 Once you've picked a storage method for individual patterns, you have to take it up another level. How can you store all these binders, envelopes, or bags?


In file boxes (clear ones are nice) or file cabinets


If you have an ottoman that has secret storage, fill it with your patterns


Shoeboxes


Record crates


Magazine files


Suitcases that zip (especially if you find a cute vintage one you can leave out on display)


Hanging
With a few more tools or a creative DIY approach, you can hang your patterns. You'll often see racks of patterns in a designer's studio, and this set-up works for home sewing rooms as well.



Pattern hooks: Hanging your patterns on pattern hooks is one of the most space-efficient options. It helps to have a large hole punch (like a rabbit punch) to string all your pieces together. This method works really well if you prefer to trace your favorite patterns to cardstock.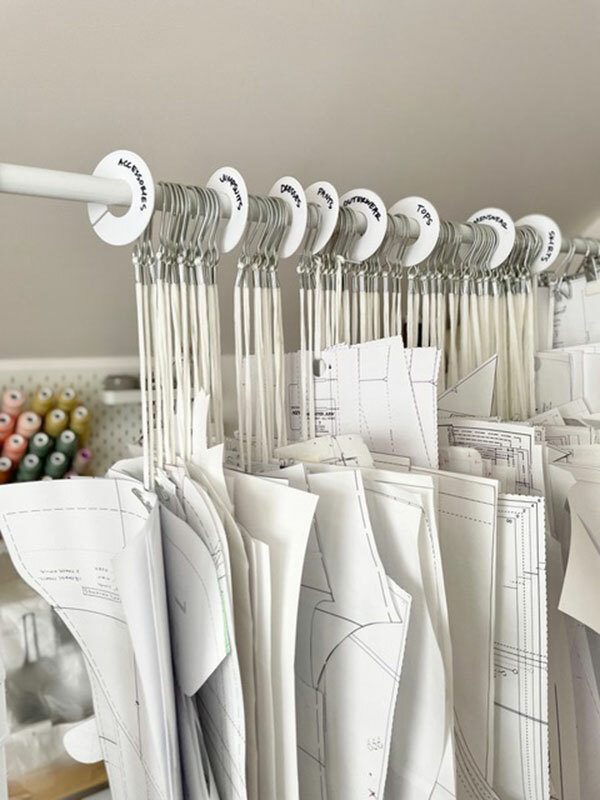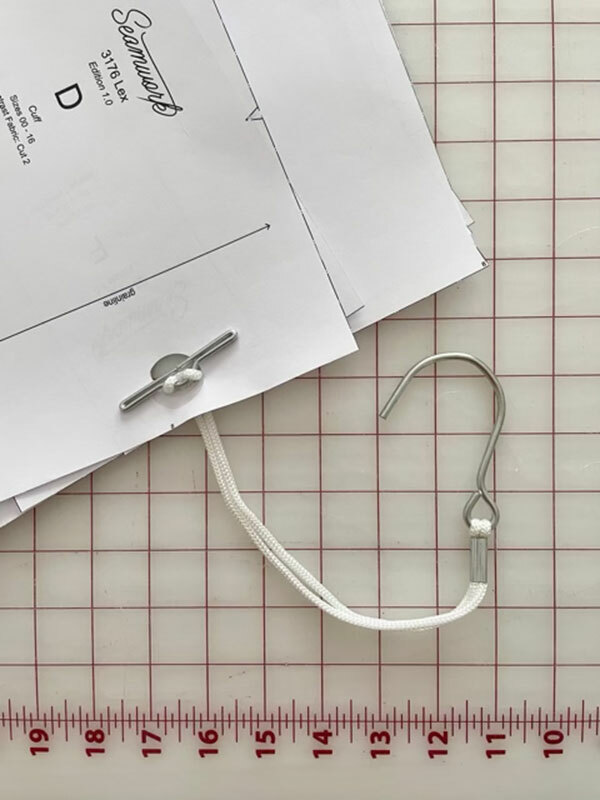 Hang them using pant hangers: If you don't want to invest in pattern hooks and a hole punch, use regular pant hangers. You can keep smaller pieces in a bag, sheet protector, or envelope and clip that on the hanger.


If you choose to hang your patterns, where is the best place to hang them all?


A stand-alone garment rack is ideal if you have a large sewing space (you can also DIY a garment rack with a tension rod)


Hanging them in a closet works best if you want them to be out of sight


If you want to keep them safe and out of the way, get a wardrobe box for your basement. They have a rod inside and will keep your patterns away from dust and pests.


More Tips for Storing Digital Patterns


Organize your patterns in a way that makes sense to you. Here are some ideas: by garment type, wovens, and knits, tried-and-true favorites, by pattern company, or seasonally.


Clear out your patterns now and then. It's is easiest to keep a digital record of all your printed patterns. You can use online tools like Pinterest, Asana, Trello, or your Notes app to track the patterns you've printed and cut.


Once you print a digital pattern, change the file name on your computer to have "-printed" at the end, so you know at a glance if you have printed it already.


Hang your current project (or the patterns in your immediate sewing queue) somewhere in your sewing space, either on a hanger or a binder clip hanging from a pegboard or corkboard. Then you can reference it quickly if you need to retrace any markings.


Use binder clips or paperclips to keep little pattern pieces clipped together


If your paper pattern pieces have big creases after being folded in storage, you can use an iron on a low setting (with the steam turned off) to press them flat


Store your patterns with notes, like any fit changes you would make next time, fabric ideas, or hacks


Love the article? Pin it for later.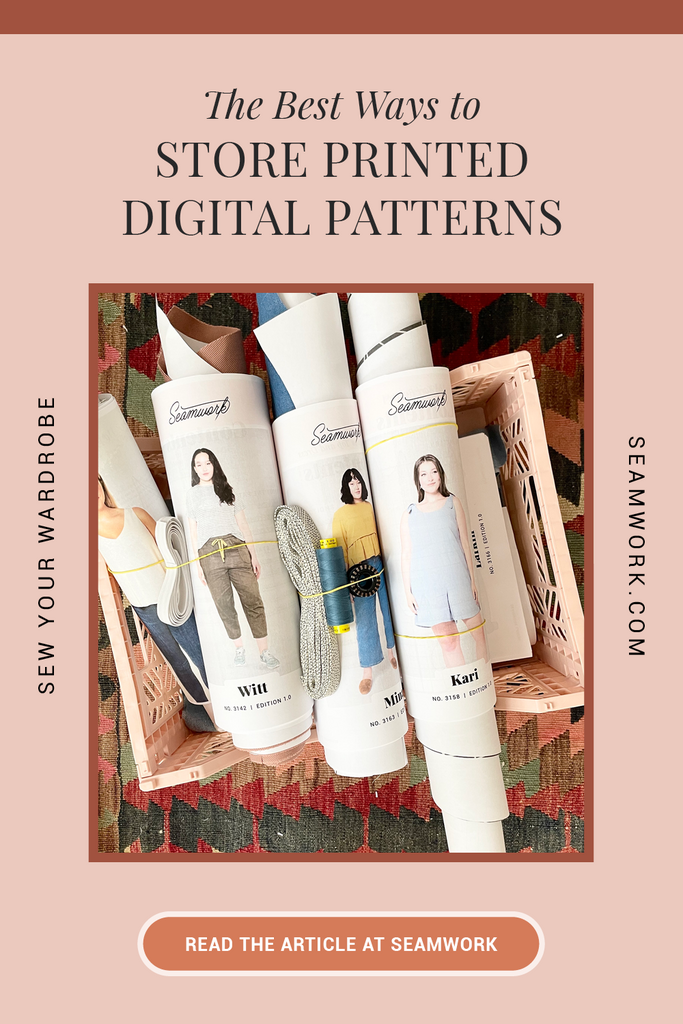 Join the Conversation
Sign in or become a Seamwork member to comment on this article.