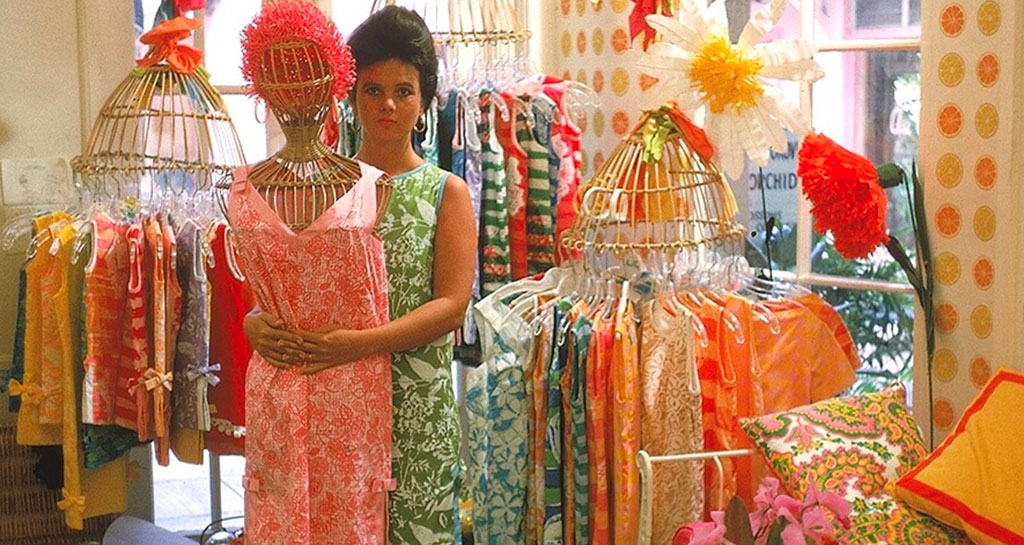 In 1959, Lilly Pulitzer was running a roadside citrus stand, the most Floridian of all businesses. Bright citrus juice stains were ruining her clothes; so, according to legend, she had a sleeveless shift dress made in screamingly bright colors so that the stains would blend in. Her dresses were more popular than her juice, and, well, a fashion brand was born.
Now more widely known as a series of patterns put on phone cases, wallets, and personal planners, Lilly Pulitzer was once known as an exclusive couture brand—dressing everyone from Jackie Kennedy to my own paternal grandmother—in bright, dreamy fabrics that successfully marketed the fantasy of America's sunshine state.
This combination of beach vacations, sunshine, and couture happened while Key West was sitting on the doorstep of nuclear war. So what does this intersection of fantasy, fashion, and economic collapse look like? You can see it reflected in Lilly Pulitzer's designs and the tropical themes of Key West Hand Print Fabric.
---
Branding a Carefree Florida Aesthetic
Lilly Pulitzer was plying her citrus trade in Palm Beach, but when she decided to make her carefree Florida aesthetic into a brand, she flew further south to Key West. A tropical island three hours south of Miami, connected to the mainland by a series of extended bridges, Key West has always sat at an intersection of fantasy and reality. It's a refuge for "Conchs," born Key West Citizens, and "freshwater Conchs" alike.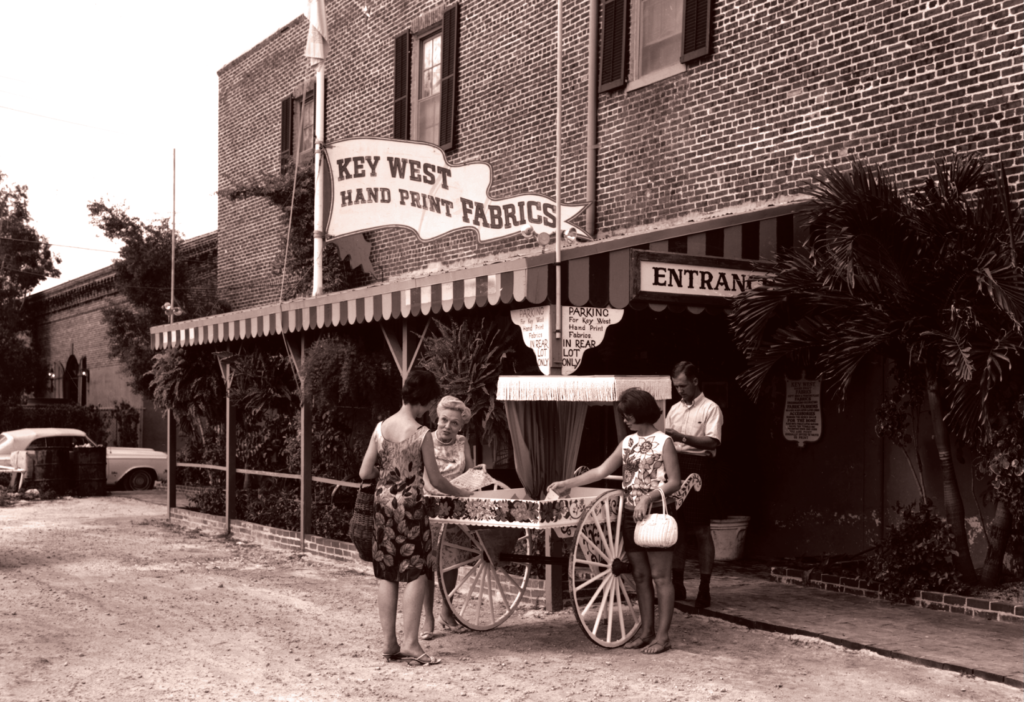 Key West Hand Print Fabrics was founded by freshwater Conchs. Peter Pell and Jim Russell were retired Broadway professionals, and their designer, Suzie Zuzek, married into a Conch family. All of them—Pulitzer included—were drawn from New York to Florida by the idea of sunny days and bright juice stains, warm beaches, and strange animals.

The creative collaborations between the fabric company and Pulitzer were all about an enticing fantasy, the way Florida, to outsiders, often feels like a dream world made real.

Upon discovering Key West Hand Print in 1962, Pulitzer bought their fabrics exclusively for the next fifteen years. The creative collaborations between the fabric company and Pulitzer were all about an enticing fantasy, the way Florida, to outsiders, often feels like a dream world made real. Suzie Zuzek, a fan of unicorns and mermaids, found in Key West the inspiration to make highly saturated, dreamlike designs based less on the reality of Florida than what that reality felt like to its newcomers.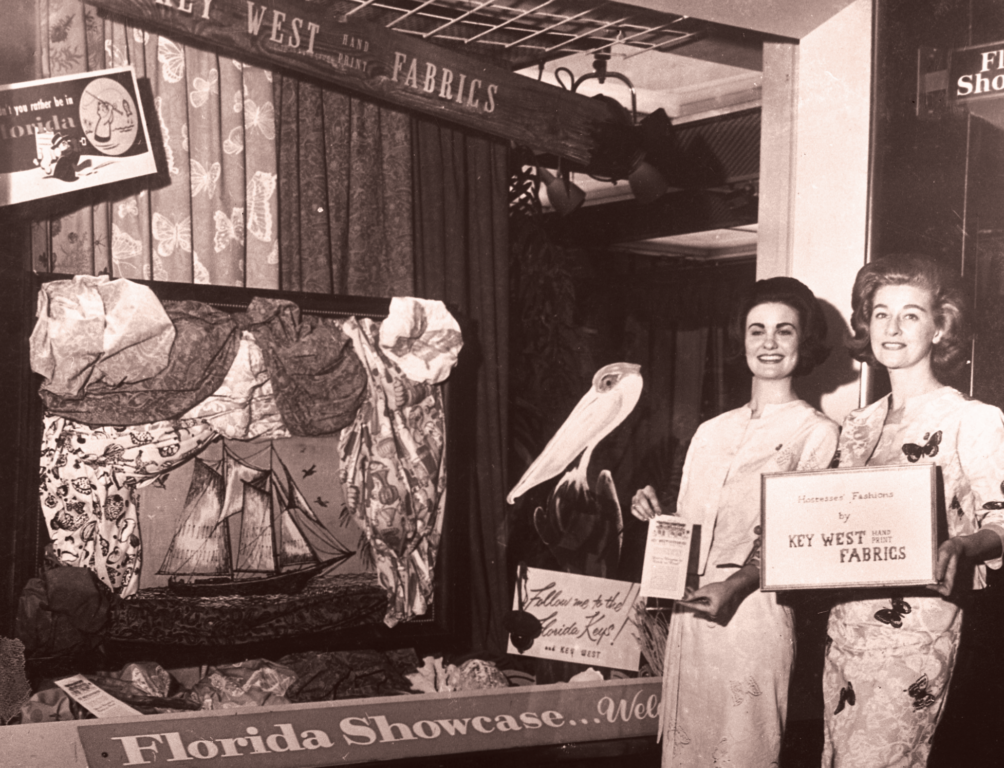 ---
Dreamy Fabrics and the Cuban Missile Crisis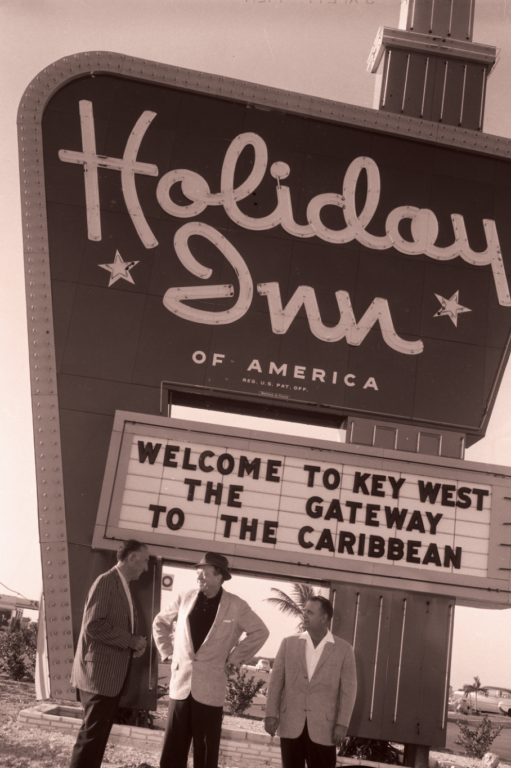 Following World War II, veterans of the Pacific theater—battles fought in the waters and islands of the Pacific Ocean—brought back souvenirs and memories that spurred a renewed interest in tropical locales. Following the war, Americans had unprecedented wealth, technological innovations, and better working conditions, finally making the idea of an exotic vacation possible for the average person. Hawaii was the ideal, but Florida quickly rose to prominence; after all, you could get there by car.
Key West was part of that tourism boom—briefly. Called the "gateway to the Caribbean," the Key West of the 1950s boasted $10 flights to Havana, Cuba, as well as a daily ferry boat. But in February 1962, the Cuban Embargo came down, halting all trade between the US and Cuba. By October of that year, the Cuban Missile Crisis began, with the Soviets setting up ballistic missile facilities in Cuba. This escalating conflict between the United States and the Soviet Union meant that, by July 1962, American citizens could no longer travel to Cuba.
Stories told in Florida are often stories of opposites: after all, we are famous both for cuddly manatees as well as our terrifying alligators. In October of 1962, Key West Hand Print was no doubt experiencing the whiplash of producing hundreds of yards of Pulitzer's couture Florida fantasy, all while their own lives were less fantastical. It was even worse for others on the island. The Cuban Embargo, overfishing, and an algae outbreak that decimated the sea sponge population all further depressed the Key West economy—but Key West Hand Print Fabrics was still selling a tropical fantasy.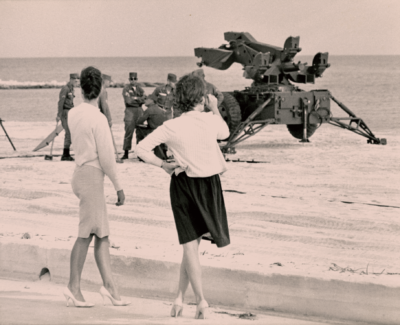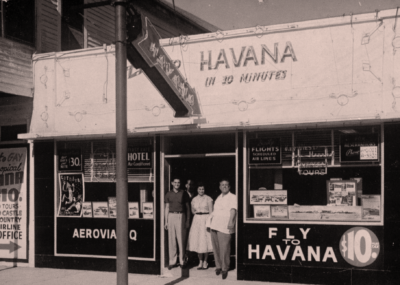 ---
Turning Happiness and Sunshine into Couture
The fabrics Key West Hand Print Fabrics produced were about translating a feeling into fashion, about making happiness and sunshine into couture. Vintage-inspired pattern maker Gretchen Hirsch often talks about sewing vintage styles as "sewing the fantasy;" when we sew, we can make exactly what we want to see, create the clothes we've always dreamed of. In a similar way, these saturated fabrics sought to make a fantasy real for people, to make the feeling of summer waves and sea turtles into a fashion statement.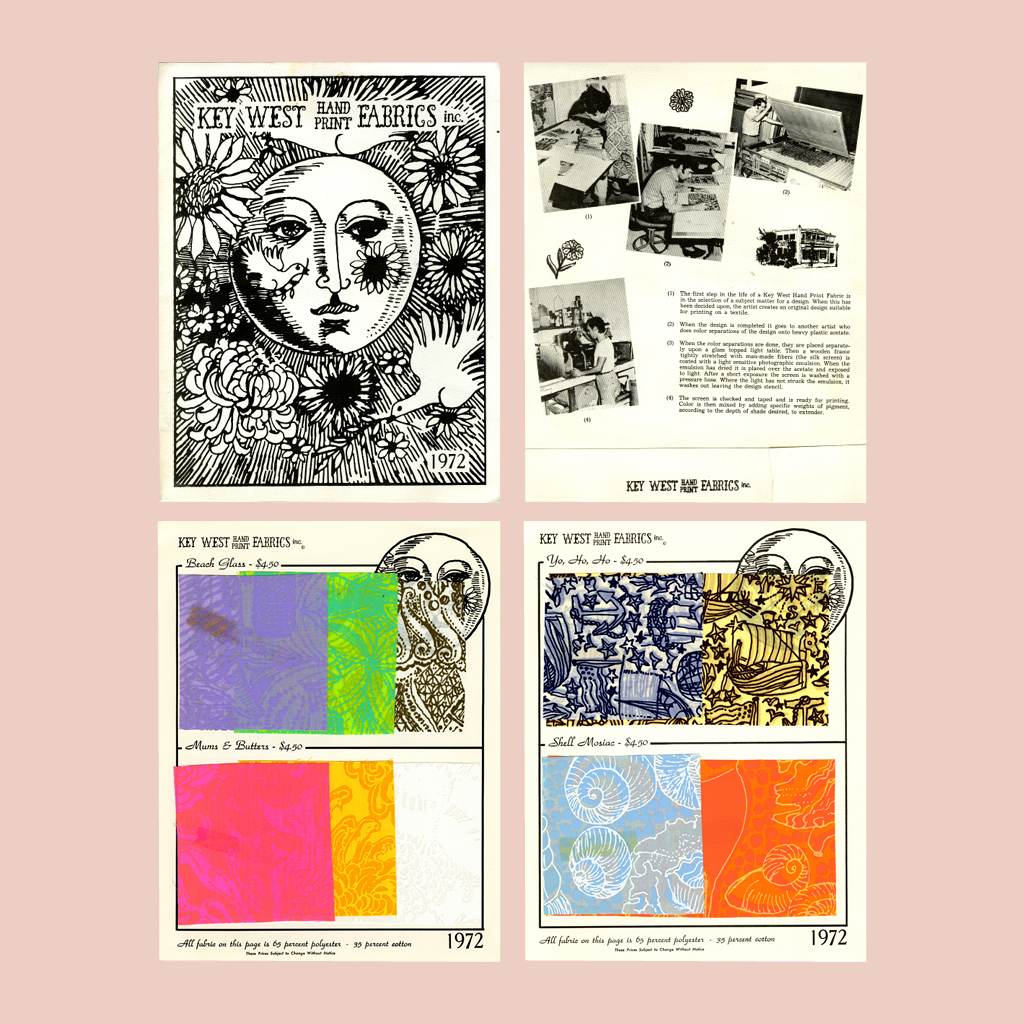 Throughout the lifetime of the iconic "Lilly" dress, it remained machine-washable, loose-fitting, and sleeveless, reflecting its practical roots as a piece of work clothing for Pulitzer's juice stand. The designer continued to work with the same bright colors and tropical themes inspired by Key West Hand Print Fabrics until her death in 2013—and they still endure in her brand's designs today.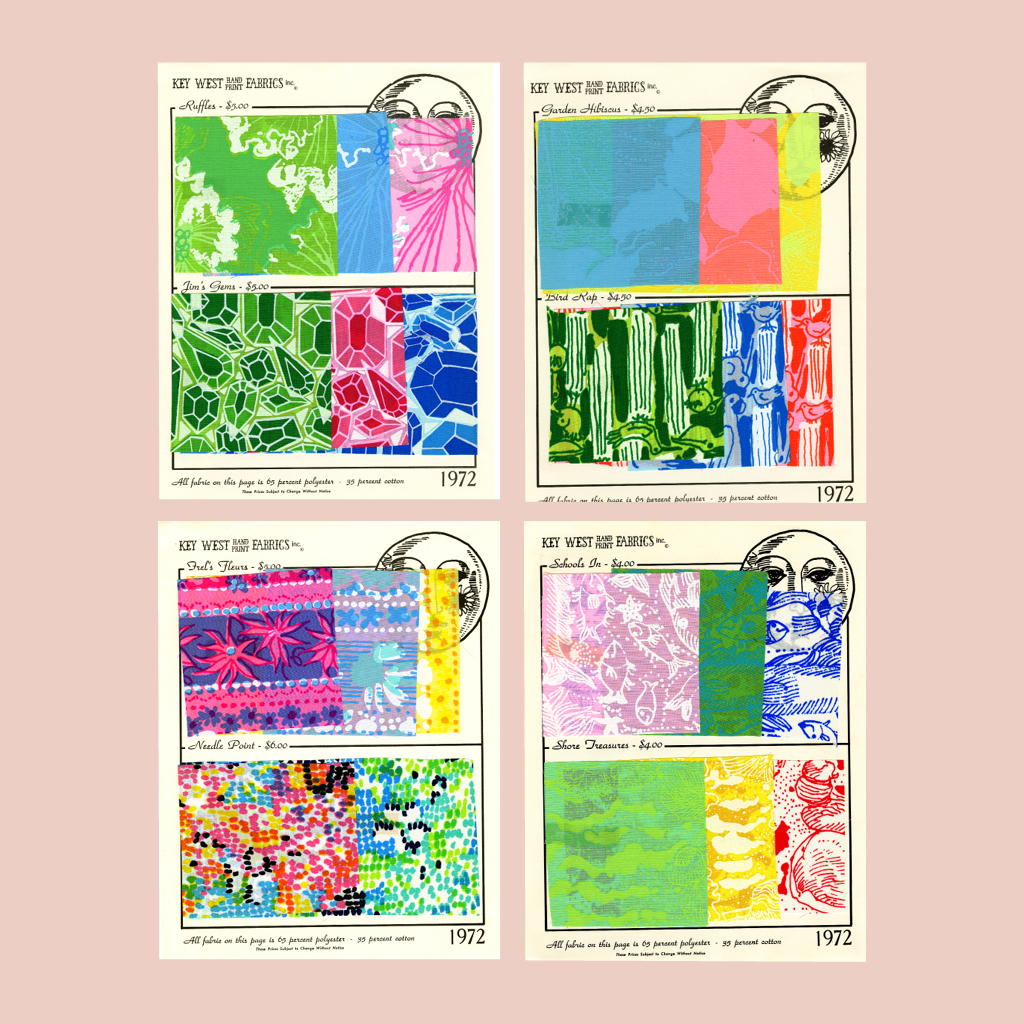 A whimsical response to a practical problem, the resort-wear market enabled these fabrics to find their voice. For many, a vacation—or a lifetime stay—in Florida means being able to relax, something reflected very literally in Key West Hand Print Fabrics. As Jimmy Buffett would put it, "changes in latitude, changes in attitude" allowed Pulitzer's brand to push back against the popular structured and tailored styles of the 1960s, and introduce bold, playful colors to more sedate wardrobes. At the intersection of fantasy and reality, these fabrics brought Florida's sunny ideal to the rest of America.
Join the Conversation
Sign in or become a Seamwork member to comment on this article.