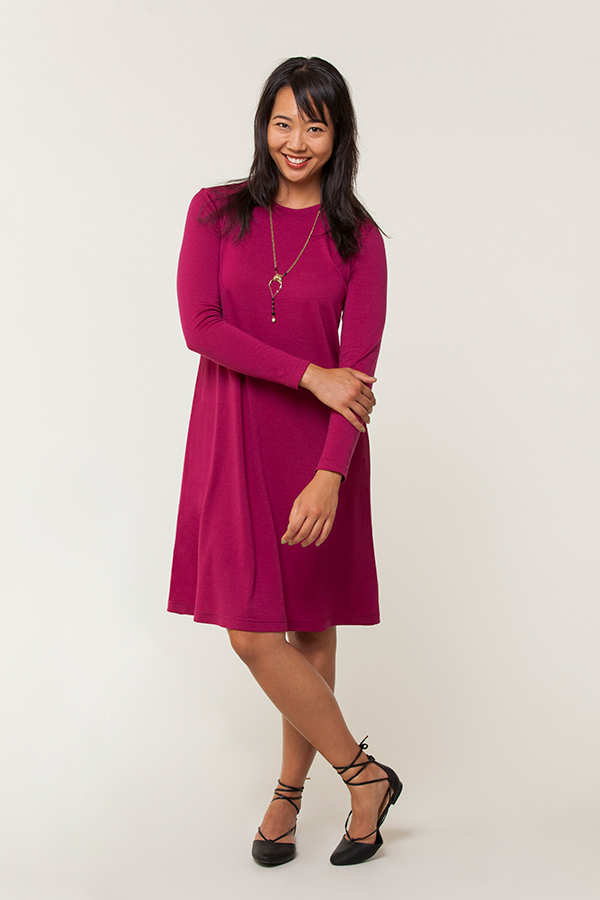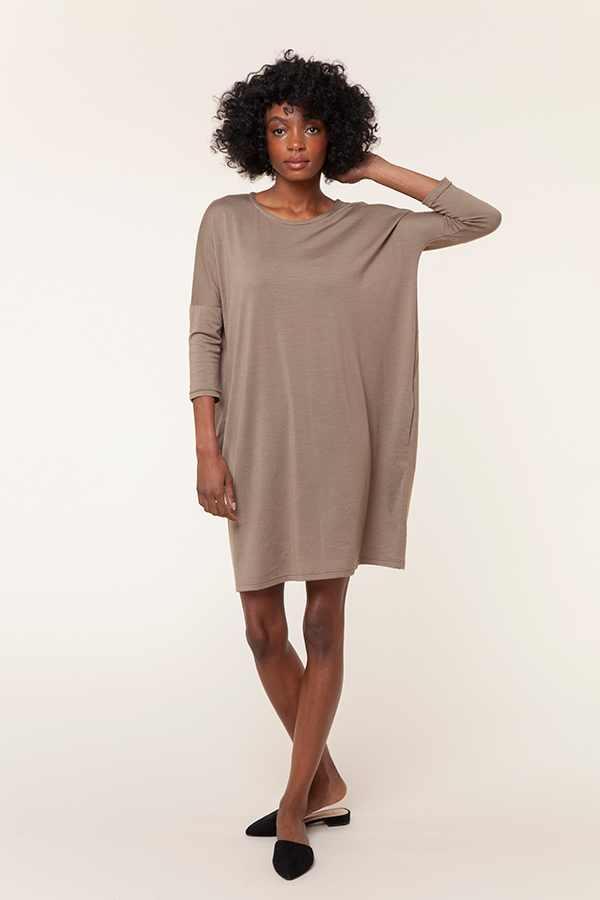 The Piedra and Tacara dresses, sewn with merino jersey from The Fabric Store.
Have you ever sewn with merino wool? We've used this fabric for a bunch of Seamwork samples, including this month's Tacara dress. Since merino jersey is ideal for the Tacara pattern, we worked with the merino experts at The Fabric Store in New Zealand to learn more about this iconic wool. In this feature, they will explain why merino jersey is unique, share tips for sewing and garment care, and link to some fun DIY projects that use merino wool.
Tell us about merino. Why's it so great? Why do you have so many kinds?
 
We love merino for so many reasons! Merino is one of the world's oldest breeds of sheep, which thrives in cooler, harsher climates. As a result of these conditions, the sheep's wool has a very fine micron—the diameter of the fibre—which keeps the lucky sheep extra toasty and warm during the cooler winter months.
Considering its extremely fine micron, merino wool is a resilient fibre—an excellent alternative to cashmere, as it is super soft while still being machine washable! Merino fibre is hypoallergenic, flame resistant, breathable and moisture-wicking, making it suitable for so many uses and all seasons, particularly babies and anyone with sensitive skin. Merino fibre is also a fully renewable resource which is recyclable and 100% biodegradable at the end of its life cycle.
Merino is one of the only raw materials that New Zealand produces for textiles, so is a bit of a national icon for us! Whilst it has recently become appreciated around the world by both the fashion and sporting communities, we have been wearing it, sewing it and loving it for over 15 years!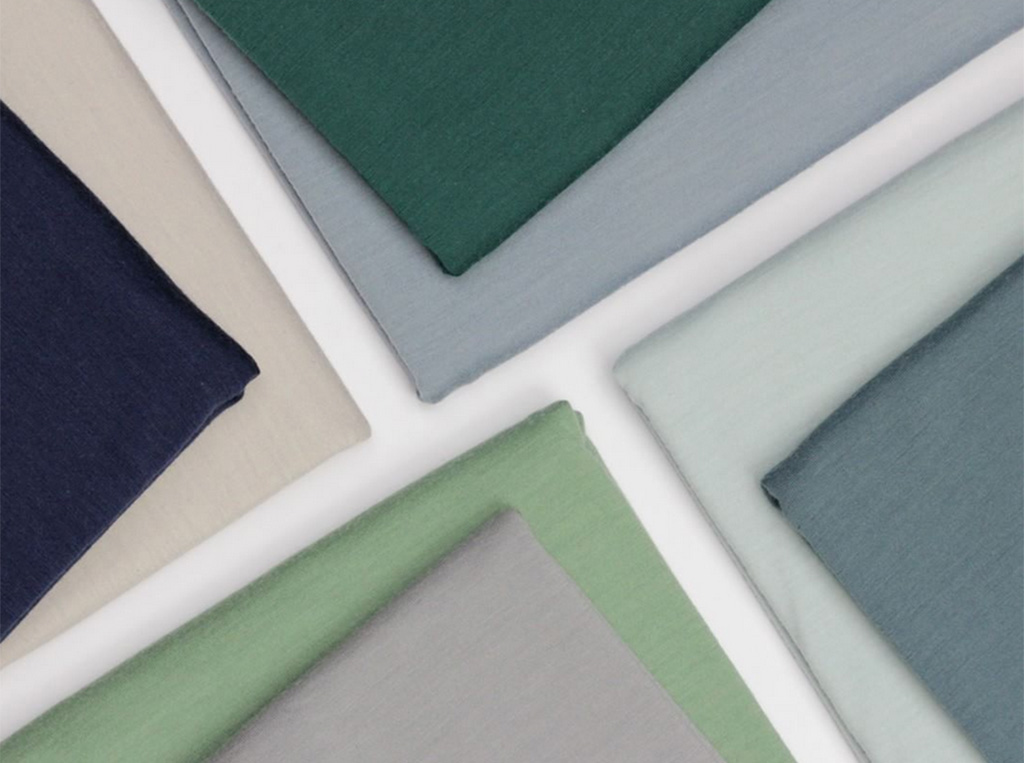 Can you tell us about all the different types of merino knits? What distinguishes them?
 
Weight/micron, knit type, and composition are the basic variations you will find across merino knit ranges. Not all merino fabric is created equally, however—some manufacturers use cheap yarn which does not last, something that is very tricky for a consumer to spot. At The Fabric Store, we source only a high-quality fibre, which is what makes our merino so popular!
 
Weight and Micron: Merino is measured in GSM like other jersey fabric, and it comes in a variety of weights. Lighter weights can be used for spring and summer garments as well as layering, and heavier weights like a ponte or fleece are great for keeping warm in cooler weather! The micron of the fibre is one of the factors that affects the feeling of softness against the skin, as well as the price of the fabric produced. The lower the micron number, the finer the fabric will be and the more expensive it is to produce.
 
Knit types: There is a huge range of knit styles commonly available in merino including ribs, single jerseys, ponte, fleece and loopback sweatshirting.
 
Composition: You used to only be able to buy 100% merino or merino/lycra blends, but new technology and customer demand have bought on a large range of variations in composition in the last few years.
The activewear industry loves the polyester and nylon blends as they are more abrasion resistant and fast drying, and the cotton and rayon blends are suited well to a warmer climate. 
Merino is one of the only raw materials that New Zealand produces for textiles, so is a bit of a national icon for us!
 
What projects are best suited for merino knit?
 
We love using lighter weight merino jersey or ribs for undergarments and layering pieces like turtlenecks. Heavyweight merino fabrics such as fleece, terry, sweatshirting, and ponte are ideal for cooler weather, or for creating fashion pieces with more structure such as boxy jumpers or panelled dresses.
Merino wool often has the stereotype of only being good for cold weather, however thanks to its unique thermal properties and variation in weights and blends, it is actually ideal for all seasons! Merino wool fibres have a natural crimp, which traps air and acts as a fantastic insulator, while its moisture-wicking properties draw sweat away from the skin, keeping you dry and comfortable in summer. Merino is also great natural alternative to classic activewear fabrics that tend to get sweaty and trap odour.
 
Are there any special tips for sewing with merino?
 
Sewing merino is easy, even for a beginner with little experience! As opposed to cotton knits and synthetic knits, merino is stable and holds its shape really well, making it a great option for first-timers.
The natural elasticity and ease of the merino fibre allow for beautifully smooth and well-finished seams and hems. Because knitted fabrics move and stretch with our bodies, we need to treat them quite differently than woven fabrics and use slightly different sewing techniques and equipment.
We recommend using a serger with a ballpoint machine needle to avoid damaging knit fabric while sewing.
How do you care for merino jersey?
 
One of the great things about merino wool jersey is that it can be machine washed! Although hand washing is always preferable when possible, as it places less stress on the garment, merino can generally be washed on a gentle cycle—as long as you follow a few simple rules.


Use a gentle, wool-specific soap


Wash on your most delicate cycle


Avoid fabric softeners


And always dry your merino flat and in the shade.


We put together a super handy Merino Guide to answer all your merino questions, which you can find on our blog here.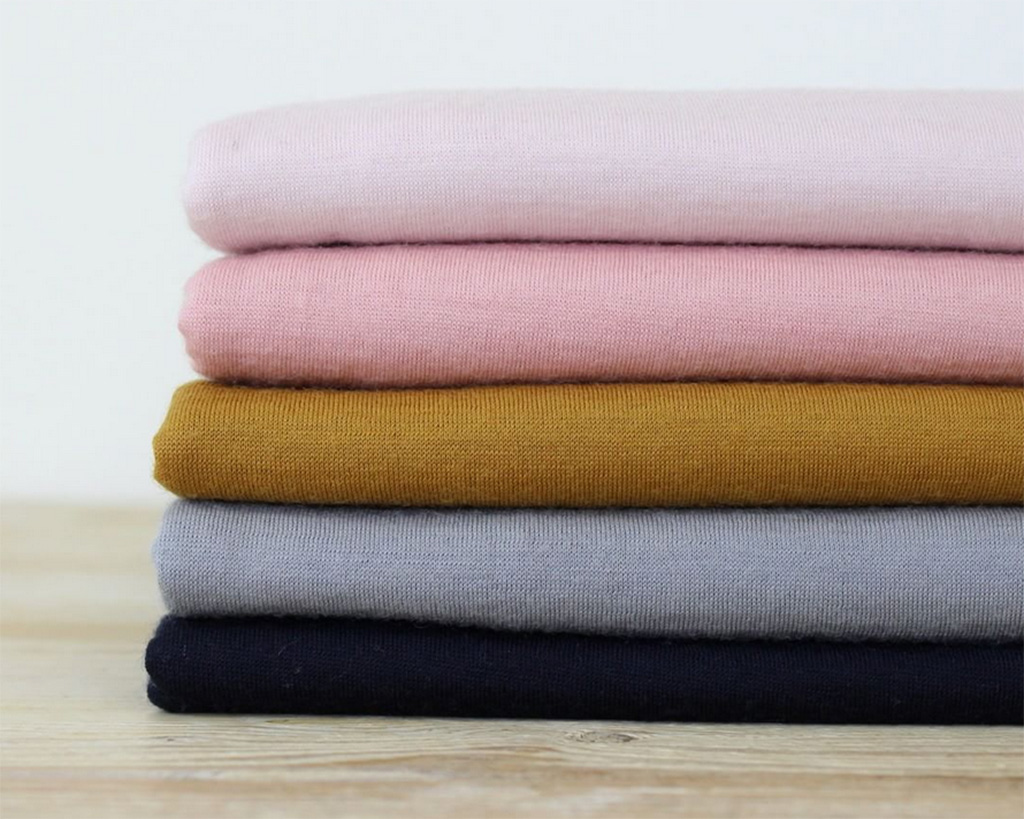 How The Fabric Store Works
    
Your shop is a wonderland of substrates—linen and silk in addition to your signature merino wool. How do you determine what types of fabric to carry?
 
Our bricks and mortar stores have been operating for some time now, so we have a strong personal aesthetic that we shop for, whilst always trying to source as many natural fibres as possible (because we love them!).
 
We buy most of our stock as designer ends, and so our range is also influenced by what fabrics are in being used in designer fashion. Our online collection is a little more curated as some fabrics don't translate well onto screen and it also takes a bit of time to get new styles uploaded, so we have to be selective as to what to add.
What are some of your favourite fabrics—other than merino—in stock right now?
 
Everything linen! If you follow us on social media you might have noticed that we are pretty in love with linen these days. As well as being super easy to sew, linen fabric has a lovely earthy feel, starting off crisp but softening beautifully in time with wash and wear. It's the perfect fabric for transitioning seasons with ease!
 
Ethically-sourced fabric is important for your shop. Is it difficult to find sources for fabric that are transparent about their practices? How do you source your fabric? Do you have particular requirements it must meet?
 
The majority of the fabrics that we source are deadstock items which means that they are end of line, mill overruns, cancelled orders or designer excess fabrics. These are fabrics that are deemed a waste product in the fashion Industry and would otherwise possibly end up in landfill.
 
We are very proud to source our premium merino from a long-established New Zealand based company who have recently re-located their knitting mill to their new facility in Vietnam. Unfortunately, all New Zealand merino knitting mills have closed down over the last few years as New Zealand is not a central enough location for the mills to operate in service of the international market.
All of the merino that we get knitted from this mill comes with a MAPP guarantee, and they are also a Bluesign system partner. The MAPP guarantee ensures environmental, economic sustainability & animal welfare. MAPP merino is produced in "free-range" farming systems which are animal and environmentally friendly and produce superb quality merino.  A strict no mulesing policy is followed, and the well-being of the sheep is a high priority. Strict guidelines are followed throughout the entire manufacturing process to ensure environmental responsibility and the use of sustainable processes.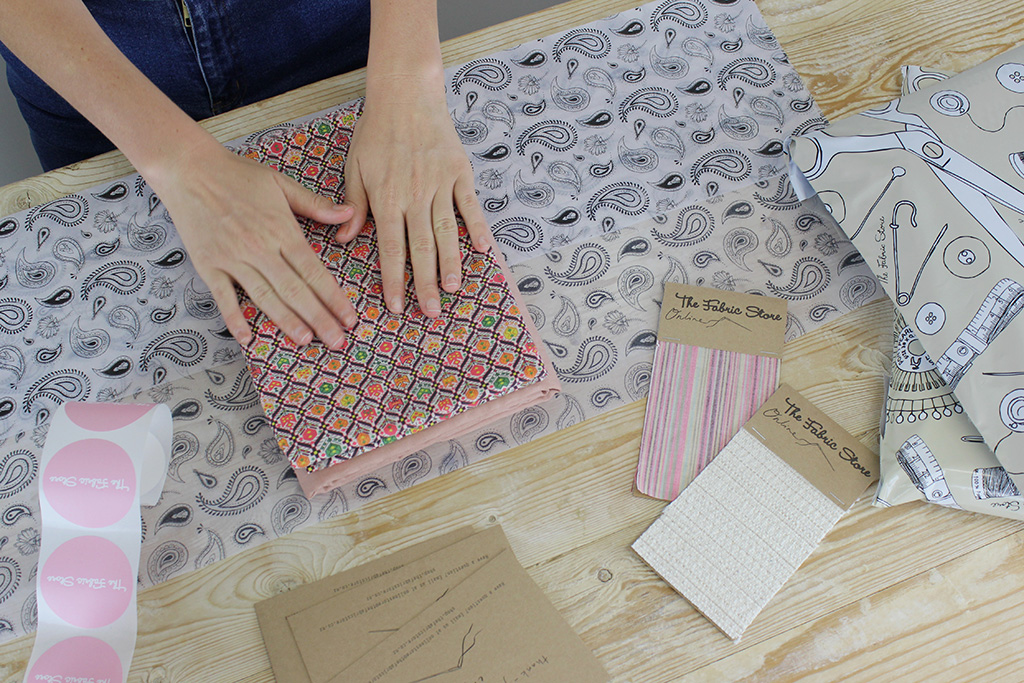 Need more merino in your life?
DIY merino projects and tutorials
The Fabric Store Team
    
Tell us a little about your team! You're all recognizable and active on social media. Is everyone who works for The Fabric Store in love with fabric?
Yes, it is definitely a prerequisite for any employee to love fabric and fashion! All of our staff have either studied fashion or been self-taught in the industry, and we pride ourselves in being able to provide a high level of customer service because of this. Social media has been a natural (and exciting!) extension of the business to showcase this talent in our teams and as we find the time we are also working on some new projects…watch this space!
You recently had to close your Los Angeles store, and the sewing world shed many tears. What plans do you have for the future, especially with making sure your fabric can reach the worldwide sewing community?
 
It was heartbreaking closing that store! We have been working on updating the International Online Store so that it is easier to navigate, with additional features and we are working on carrying a larger range of fabrics.
All orders over $200 NZD receive FREE Express Shipping with DHL, meaning you will have your fabrics within 2 - 4 days after placing your order from most places in the world!
 
Join the Conversation
Sign in or become a Seamwork member to comment on this article.