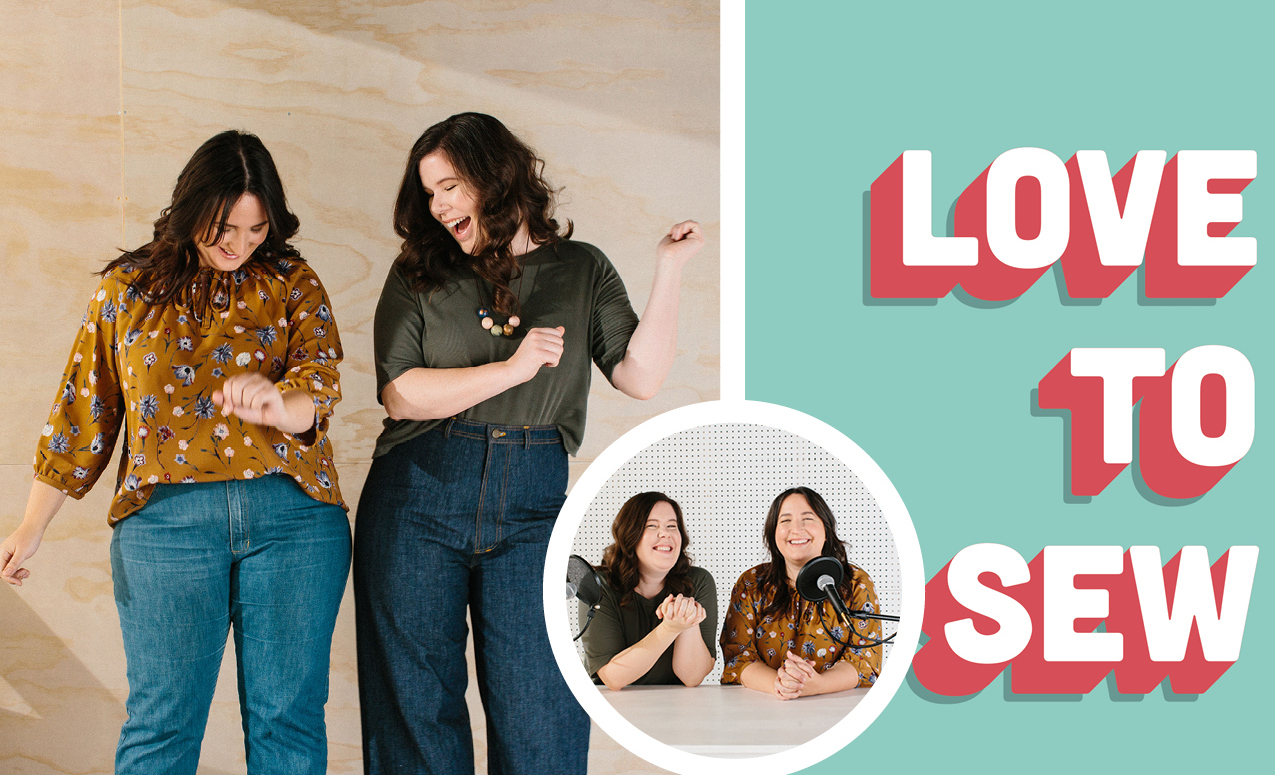 What do you listen to while you sew? You might blast your favorite playlist, keep it dialed to a local radio station, or use a television series to keep you company. But it seems like lately, podcasts are playing in sewing rooms across the world--and chances are, Love To Sew is one of them
The duo behind the Love To Sew Podcast is Helen Wilkinson and Caroline Somos, and, in addition to sewing their own wardrobes, they take the time to deliver you a fresh podcast every week. This podcast covers everything about sewing, from interviews with some of your favorite makers, like Marcy Harriell and Katie from What Katie Sews, to patternmakers like Jen from Grainline and Tilly, to thoughtful pieces about all the nuances of sewing, like the financials of sewing, sewing swimwear, and the social aspects of sewing, like inclusivity and representation, and sustainability. And don't miss the interview with our very own Sarai Mitnick.
You might recognize Caroline and Helen from their additional sewing endeavors, as Caroline owns Blackbird Fabrics, a well-curated and well-loved online fabric shop, and Helen runs Helen's Closet, with finished versions of her patterns popping up all over Instagram.
By the time an episode of Love to Sew reaches our ears, it's edited, packaged up, and ready for streaming--but what about all the work it took to make that happen? What does it take to release a new podcast every week? Read on to find out.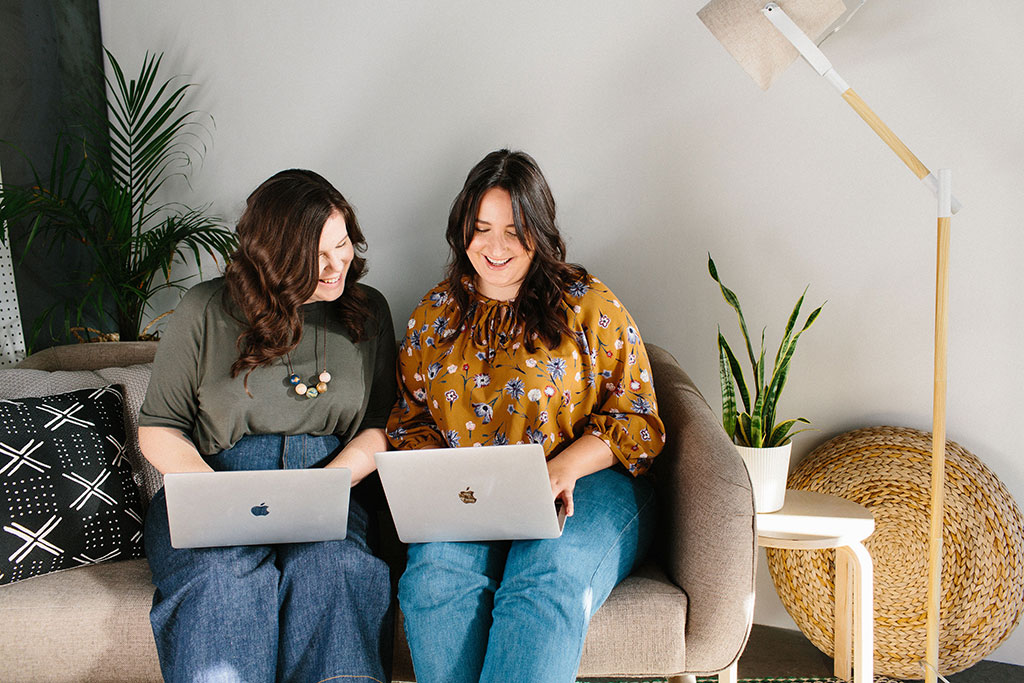 What's in an Interview
Tell us how this podcast came to be! What connected you to each other, and how did the idea first come up?
C: We met on Instagram! We both live in Vancouver, BC, and Helen was making amazing things with my fabrics and sharing them on her blog. I definitely had a girl crush, so when she messaged me and asked me if I wanted to meet up, it was an easy yes!
H: I actually had a dream about Caroline before we met up, where we went to a concert together. I decided to put that in my email when I reached out to her about meeting up and thankfully she wasn't too creeped out by it! In hindsight, I may have come on a tad strong…
C: I thought it was hilarious! We both love podcasts and had talked about the lack of garment sewing ones, so after a year of hanging out, I asked Helen (on a total whim!) if she would be interested in co-hosting a sewing podcast with me. She immediately said yes, and the rest is history!
There's probably a joke in here somewhere about interviewing you about interviewing, so let's start there. How do you go about selecting your interview questions? What does each episode look like before you sit down with your guest?
C: We have a few questions that we ask each guest – like how and when they learned to sew, and what led them to where they are in their sewing journey. Aside from that, we do research on the guest and try to shape the interview based on what we think our listeners will want to hear about!
H: We each have dedicated roles for the show, and I am in charge of 'episode prep'. This essentially means scouring our guests' websites and Instagram feeds for anything that sparks a question or topics that they seem to gravitate towards. If we are feeling nervous for an interview, I will write out fully formed questions so that we can read them if needed, but in general, things flow organically and the list is just there to keep the conversation moving. I give our guests a point-form version of this list with general talking points so that they feel prepared. Once the prep is done, Caroline adds to it and we always meet one hour before the interviews to go over the list and talk through everything.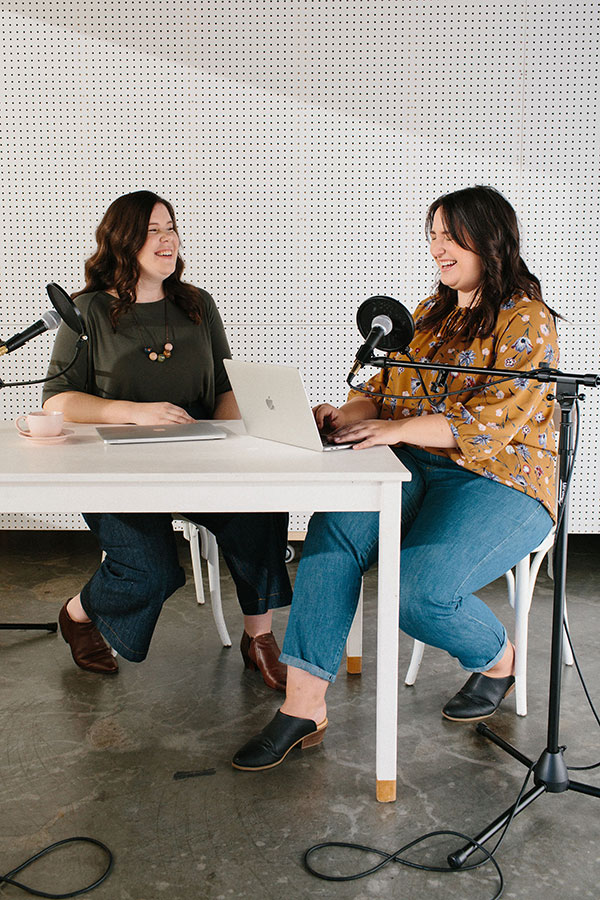 Do you start with an idea about who you want to interview, or do you start with an idea for a topic and then find the right guest?
H: When we first started the show it was more about interviewing people we loved in the community. We were not looking for a topic per-se, we were just so excited to chat with all the amazing creatives and boss ladies that we look up to! Now that we are in our second year, we have been approaching things from an idea or topic first and finding a good fit for the interview. This opens up the possibilities a bit more and we are hoping to have a broad range of interview topics on the show in the new year.
Is podcasting glamorous? What do you think would surprise listeners most about the process?
H: I'd love to say that we always dress impeccably and go to our recording studio where we sit under dim-light and speak softly into our high-tech equipment, but the truth is, we are often in our everyday wear and even our pajamas!
C: Ha! Glamourous? Not really. But it's super fun! We edit the show, so we try not to worry too much about being perfect when we're recording. The prep for an episode can take hours, between the initial outline, to reviewing it together and editing it down. Even with all the prep, we mess up, have super awkward moments, cry, laugh until we cry… After we record an episode, our producer Sam goes in and works his magic to make it all seamless. Thank you, Sam! 

H: I think our listeners would be most surprised to hear that collectively we spend about 50 hours per week on the show. It sounds crazy, right? The podcast is so integrated into our daily lives that we don't even notice the time going by!
The Art of Conversation
Your episodes are full of laughter. Even though some of your subjects are serious, what's the importance of laughter for this project?
H: We love this question! People need more joy and lightness in their life and we are glad to be a source for that. We didn't decide to make the show that way, but we bring out laughter in each other, so it was impossible to avoid. Laughter comes out of us when we are happy, excited, nervous, or even sad, so the show has all kinds of giggles.
C: You will definitely hear a lot of laughing on the show, but we also feel it's important not to shy away from the deep, emotional topics. It's through those discussions that we have really connected with the community on a level we never expected. We try to balance the two because we want to be a podcast that you can both laugh and cry to!  


Talking about sewing is obviously really fun. But is it also difficult to talk about such a visual practice? How do you frame your questions to capture all of the visual aspects of sewing?
H: Our listeners know that we awkwardly describe sewing techniques all the time! We use our show notes on our website as support for our listeners. They have somewhere they can go to follow up on resources, see photos, and learn more about the subjects we discuss on the show.
What effects have you seen your podcast have on the sewing community? What's been the response from listeners so far?
H: The feedback and stories that we get from our listeners are incredible! We love hearing that our show feels like sitting down to sew with friends and that the podcast has made them feel more connected to the community. We have had emails about grief, illness, joy, and friendship, and we love that our listeners feel they can open up to us and share their sewing journeys.
C: Some of our ideas on the show (like the #citysews hashtag) have allowed listeners to connect and form relationships in person. We love the idea of bringing the community together in such a tangible way!
H: This podcast has highlighted what we already knew about sewing people, they truly are the best!
What podcasts do you both listen to?
H: Stop Podcasting Yourself, Being Boss, 99% Invisible
C: Happier, Crime Writers On and A Date With Dateline!
Who would be your dream interview--dead, alive, sewing or non-sewing. Why?
C: It used to be Gretchen Rubin because we both look up to her and love her podcast, but we just interviewed her, so now we need someone new!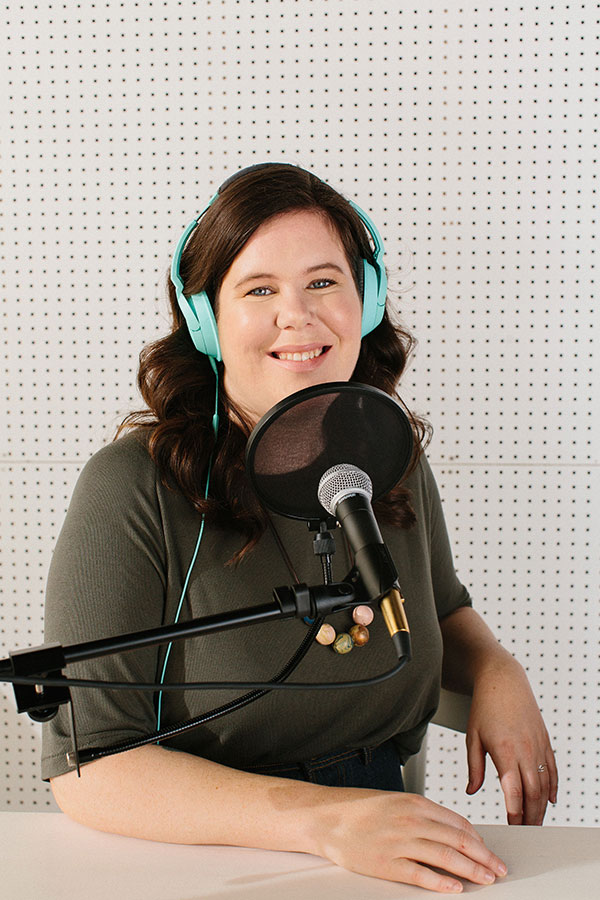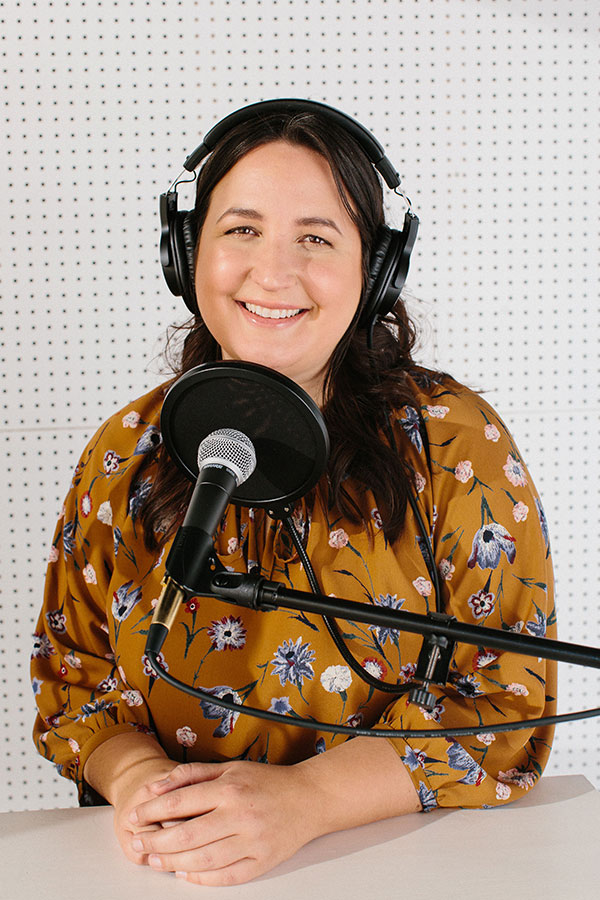 Friends Who Sew
How has your work on the podcast changed how you each feel about your own sewing?
C: I used to feel guilty about not sewing enough, not sharing enough, not growing my skills enough. But on the show, we encourage our listeners to ditch the guilt, sew at their own pace, and not compare themselves to others! I've learned to take my own advice and not be so hard on myself. Sewing is supposed to be fun, after all!
H: We always tell our listeners that 'you can do anything'. You don't need to wait for permission to go from 'beginner' to 'advanced beginner', you just go for it! Saying that over and over again has bolstered my own confidence in my sewing ability, and it has trickled into many other areas of my life as well. You will only know how to do something once you have tried.
You each have some other big sewing commitments. Caroline, you run Blackbird Fabrics, and Helen, you run Helen's Closet. How do you juggle the responsibilities for each of your own businesses alongside this project?
C: I'm not going to pretend to have this figured out – because I don't! Juggling two things you are super passionate about is a challenge, but I also see it as a gift. This podcast has allowed both of our businesses to grow beyond our expectations! We are so grateful and we want to pay it forward by giving the show everything we've got.
H: I try to take it in stride but there are certainly days where I feel like I can't possibly do it all. Getting the opportunity to talk with so many amazing fellow entrepreneurs has been integral to me embracing the ups and downs that come along with running a business.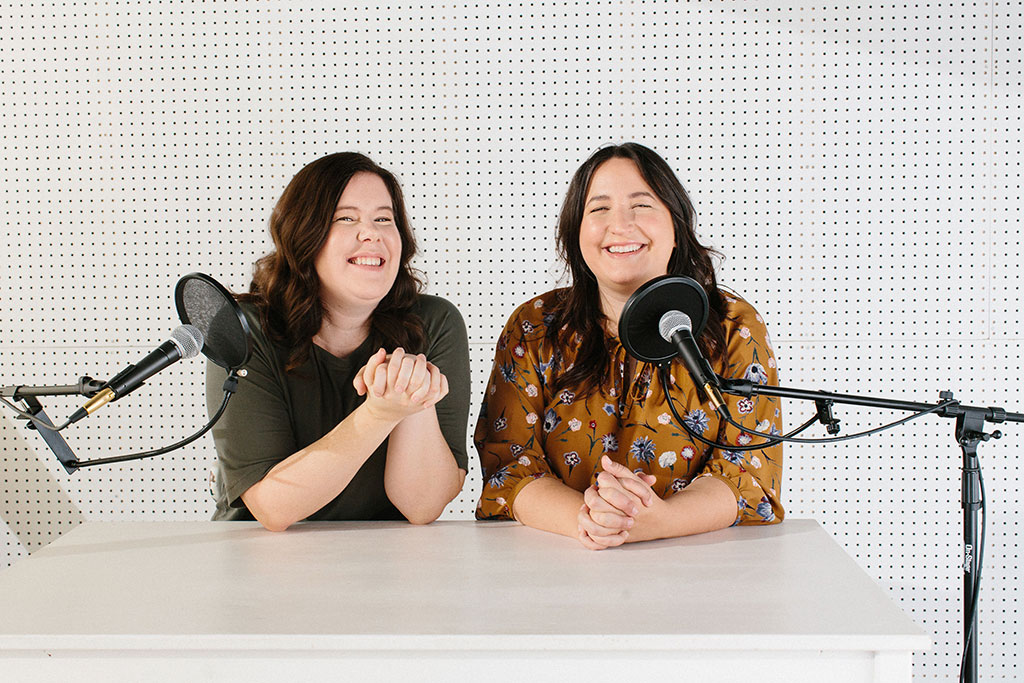 How do you keep your friendship and working relationship strong?
C: Communication is key! And separating work and play as much as possible. We realized this early on and started a Slack channel for the podcast. Now all podcast communication happens there, and texting is just for regular friend stuff. We have travelled together a few times for sewing related things, and that's another great way for us to spend quality time together and focus on our friendship. We also have "sewing days" almost monthly where we get together and just sew for a day with friends. Even with all of that, the lines do get blurred, and that's okay. We are both really passionate about this project so it's natural for it to trickle into every part of our lives.
H: We really get along well, and I think that comes across in the show. We aren't faking the giggles, friendly teasing, or heartfelt support for each other. We aren't different off the air, but we do try to be mindful of each other's time and space. We are equally committed to making the podcast and it has made our friendship that much stronger!
Your website is great. Who else is on your team? Who else makes this happen?
C: Helen designed and built the website! She is a bad-ass! For the first year it was just Helen and me, but a few months ago (thanks to our Patreon supporters!) we were able to hire Sam, Helen's partner, as our producer. Now he takes care of editing the show, scheduling it for release, our show notes, and he is our sponsorship coordinator. Having him on our team has been amazing because it has freed us up to spend a bit more time on our businesses, and on the bigger picture podcast stuff. We would love to expand our team in the future and we hope to continue to grow!
   
Join the Conversation
Sign in or become a Seamwork member to comment on this article.