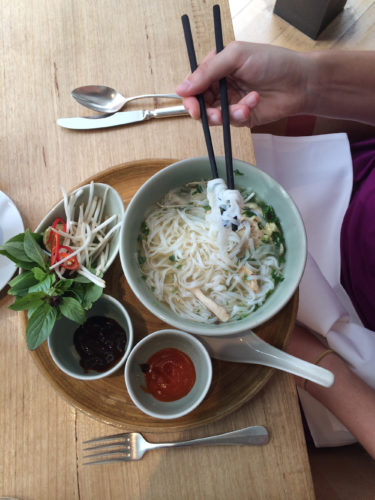 Don't be afraid to set off the beaten path to
discover an authentic experience.
Ho Chi Minh City—or Saigon as it was once known and still is by locals—is the largest city in Vietnam, and the first port of call for many visitors to the country. If you're a sewist, you're in for a treat. While the city is best known for making made-to-measure silk suits while people wait, if you want to buy fabric to sew your own creations, there's an abundance of places to shop. You'll just have to deal with shopkeepers who are a little confused that you'll be sewing it yourself!
Whether you have an afternoon or several days, it's possible to put together an itinerary that combines sightseeing, amazing food, a trendy coffee scene, and crafty shopping. The city center has a large tourist district, centered around the streets of Đồng Khởi, which is very upscale and features names like Burberry and Louis Vuitton, and Lê Lợi, home to the famous Bến Thành market, which is teeming with tchotchkes and tourists alike. However, it's worthwhile to get off the beaten track to escape the crowds and find a more authentic experience.
Fabric Shopping Tips


When it comes to fabric shopping, be prepared. First, none of the stores have visible prices, so you'll need to be ready to chat to the storeowner and potentially negotiate. The owners don't always speak English, but they'll be happy to indicate prices to you on paper or a calculator.


Second, bring cash! The more upmarket stores usually have credit card machines, but the smaller stalls at markets probably won't.


Finally, try not to get overwhelmed. There's a huge selection available, so sometimes it's good to browse then take a break with a coffee and come back later.



There are the three main fabric-shopping districts, together with places to go for a coffee or lunch, and other sights in the area. If you don't have much time, you can walk around the central district easily in an afternoon, but if you have a more relaxed itinerary and you feel adventurous, you should also do the 30 minute walk up to Tân Định, then jump in a taxi and visit Cholon.
Lý Tự Trọng area, District 1
The area around the street Lý Tự Trọng is filled with made-to-measure tailors and upscale silk shops. If you're looking for local silks in sophisticated patterns and colors, this is the place to come. Of course, you'll pay for the privilege. This is the most expensive area for fabric shopping with the highest quality fabrics. However, it's still relatively affordable for many tourists, and worth visiting to make a special purchase.
Stores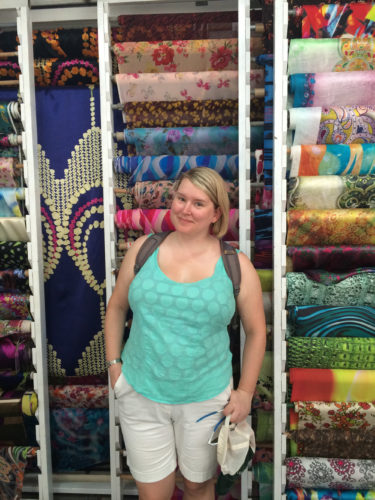 Toan Tinh offers a wide array of beautifully
printed fabric.
Toan Tinh (180 Lý Tự Trọng) has three floors of printed and solid silks and chiffons, arranged very attractively in racks that cover the walls of the store. The prints are mostly modern and to die for!
Nhat Nguyet (28 Ter Mạc Đĩnh Chi) has upscale silks including stretch satin prints and ombre chiffon.
Huong Fabrics (57 Thu Khoa Huan) is tucked in behind the Bến Thành market, and sells fine cottons, silks, and satin.
Exhausted after all your shopping? Head to ID Café (23 Thủ Khoa Huân) a cozy café with amazing vintage décor for a Vietnamese coffee (be sure to have it in the traditional style with condensed milk for a sweet treat) and chicken and pork Bánh mì.
The central district is teeming with sightseeing spots such as the world famous War Remnants Museum (28 Võ Văn Tần) and Reunification Palace (135 Nam Kỳ Khởi Nghĩa), but if you want to try something a little different, check out Cycloresto (16 Đặng Trần Côn), which offers cooking classes and street food tours in cyclos (Vietnamese rickshaws).
Tân Định market area, District 1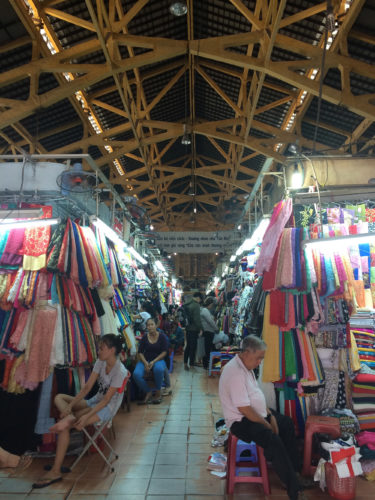 Lace and other fabric offering inside
Tan Dinh market.
A little north of the center along Hai Bà Trưng street is the Tân Định market (300 Hai Bà Trưng Street ), a traditional local market that sells fresh food, groceries, trinkets, and lots and lots of fabric. You won't see many tourists here, and local seamstresses buying for their clients surround you.
Stores
Wander into the main Tân Định market building and you'll be faced with huge stacks of fabric in narrow alleyways, each stall minded by its owner. There is a wide range of fabrics, but knits (mostly synthetic), cotton, and lace prevail. If you see something you like, make sure you browse around as lots of stalls have similar fabrics with minor variations.
Along Hai Bà Trưng (concentrated between the intersections with Bà Lê Chân and Nguyễn Hữu Cầu) there is a strip of stores with more specialty fabrics. Some are on bolts and others are in shorter lengths on hangers, but all are available to be cut to your specification. There are lots more polyester knits, but you'll also find fun fabrics like ombre gingham, floral chambray, and whimsical voiles. One thing to look out for in particular are the printed chiffons, which are used to make the traditional Vietnamese Ao Dai, a tight fitting silk tunic over loose trousers. There is an incredible range available in every print possible from tropical fruits to English villages.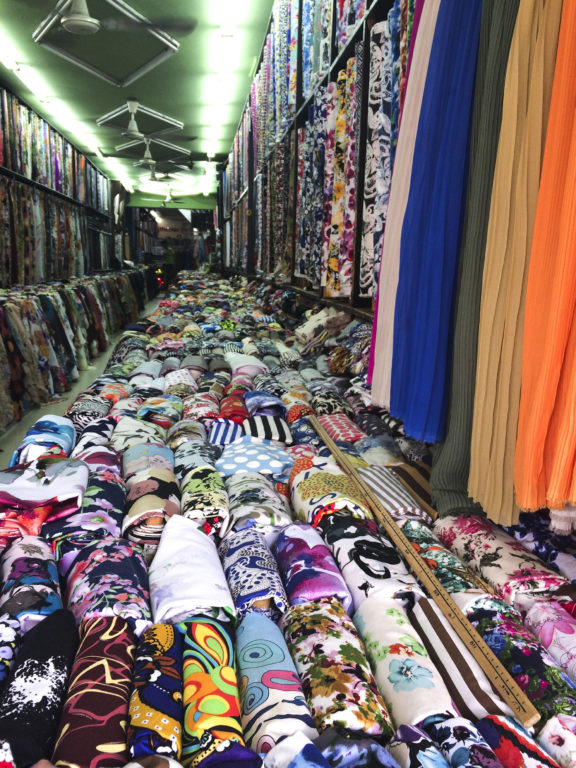 A look inside a store at Hai Ba Trung.
Take a break at the Heverly Coffee Shop (5f Trần Nhật Duật), a vegetarian café with trendy interior decorations and a large smoothie selection. Need some lunch? If you're feeling adventurous, grab something from one of the food vendors at the market, but if you're in the mood for a treat check out Cục Gạch Quán(10 Đặng Tất), a French colonial house converted into a restaurant by an architect, which serves upscale Vietnamese "home" cuisine like grilled shrimp on sugarcane and fried bananas.
Cholon, District 5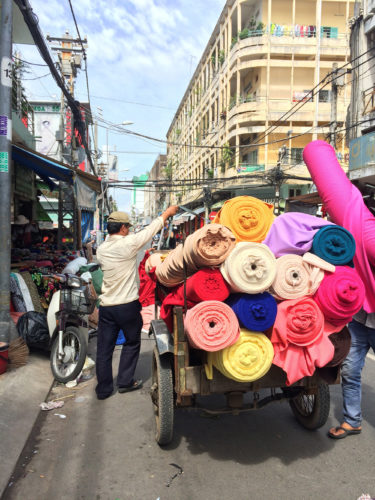 Vendors loading fabric outside a store in Cholon.
Southwest of the city center is Cholon, the Chinatown district which was immortalized in Graham Green's novel, The Quiet American. There are many Chinese and French colonial buildings, and it's where you'll find the fabric wholesale area of HCMC. It's a bustling and somewhat chaotic area and you'll have to dodge the crazy traffic, but you may just uncover a special fabric. The heart of Cholon is the Bình Tây market, which gives the name to the district ("big market"), and there is a warren of streets, alleyways, and covered fabric markets in the area.
Stores
Bình Tây (57 Tháp Mười) trade market spreads over 17,000 square meters, and houses thousands of stalls and a food court selling bun, pho and everything in between. The fabric area starts on the right as you walk in, and it's a bit overwhelming, but if you're determined to find something interesting, it will reward the persistent!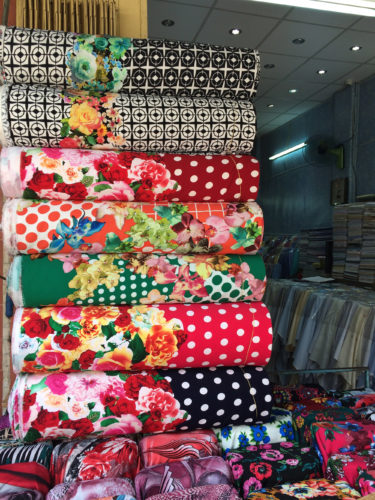 Stacks of fabric fill stores in Cholon.
A five minute, hair-raising walk from the market, the wholesale garment district is mostly concentrated around Trần Hưng Đạo street, between Học Lạc street and Châu Văn Liêm street. You'll see people rolling and unrolling bolts of fabric on the street, hand-drawn carts piled high with pontes, and more floral knits than you ever thought possible. Many of the stores have internal courtyards where you can slip through tight aisles to view more stores. Everything is available from tweed and wool to chiffon, but you'll need to use your touch to determine fabric quality (the fabrics are generally lower quality here), and you'll need to be ready to haggle.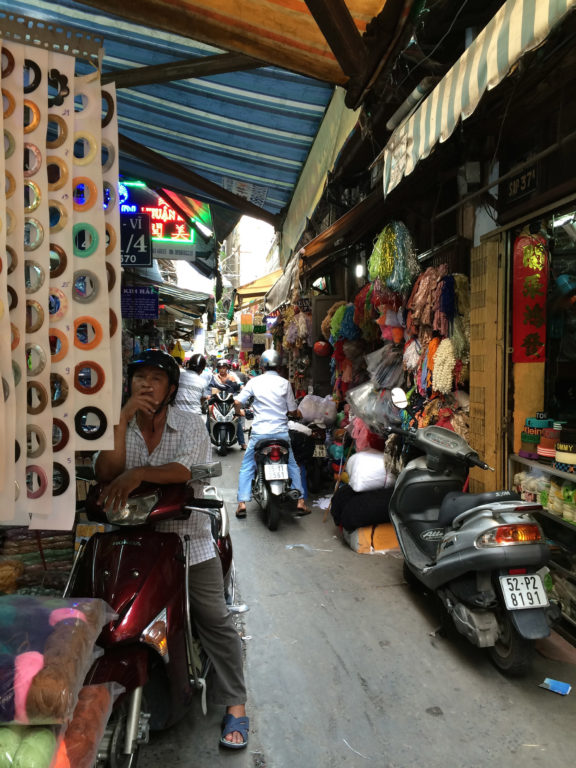 Motorcyclists zoom through Tống Duy Tân (Haberdashers Alley)
Make sure to take a detour down the alleyway Tống Duy Tân, known as "Haberdashers Alley," and reminiscent of Diagon Alley from Harry Potter! The incredibly narrow alley is jam-packed with vendors, from millions of buttons to toggles, trims and every notion under the sun. It's not for the faint of heart, but it's an unmissable experience.
You'll probably need a break after the hustle and bustle of Cholon, so head to Quan Am Buddhist pagoda on Lão Tử street. It's the oldest pagoda in the city and one of the best, with intricate carvings, incense, and a garden with a pond. There are plenty of roadside vendors as well as the food court in the market.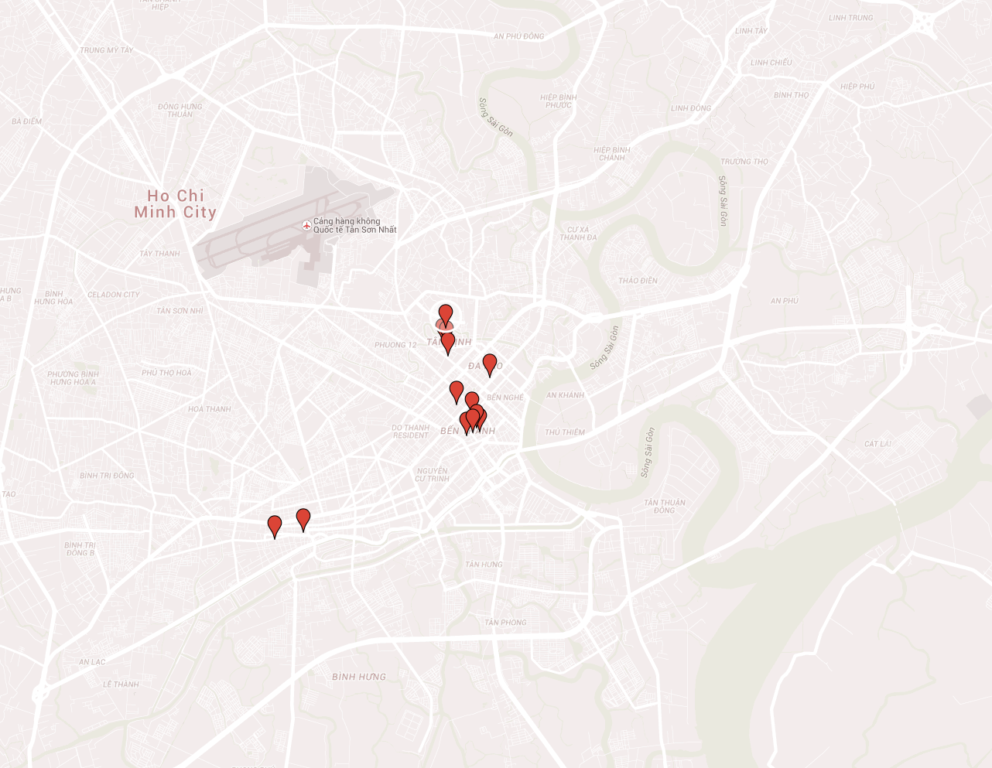 Click to view a map
of the sights Jenny recommends.
Title photograph by Alan Doyle.

Join the Conversation
Sign in or become a Seamwork member to comment on this article.