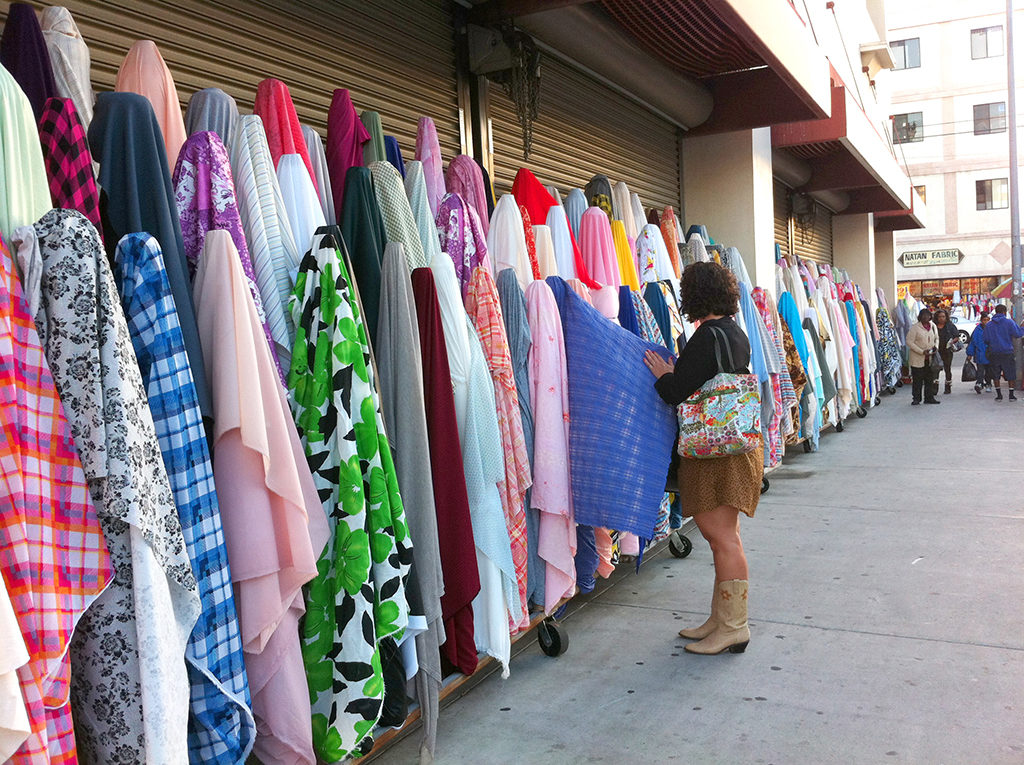 When I first moved to Los Angeles (LA), California I hated it. It's the kind of place that most people don't fully appreciate at first glance, and after over a decade of living in LA, I now know why. The reason LA is hard to get to know is because there isn't a "main part" of the city, or one single site that outshines all the rest. Many of our sites are lovely, though some barely live up to the hype, and this can lead a visitor to be disappointed and misunderstand our complex city.
What I love about LA is exactly all that makes others baffled by it -- there are nooks and crannies to discover in the most unassuming places and all the shiny and flash is really not where the real LA is at all. It's in the unexpected strip mall, or down a secret alley, or it's the place that doesn't even have a sign out front. You have to "know" things to know things in LA, and that takes time.
Lucky for you though, I'm going to give you some of my favorite tips and secret spots that I frequent on a regular basis. It is important to note though, this is a very big city, with millions of people and millions of shops and sites to discover, so this is by no means a travel guide of LA. Trust me, I could write a whole lot more! Rather this is a snapshot into the things I love as a seamstress, and things I think you might love too!
Downtown Los Angeles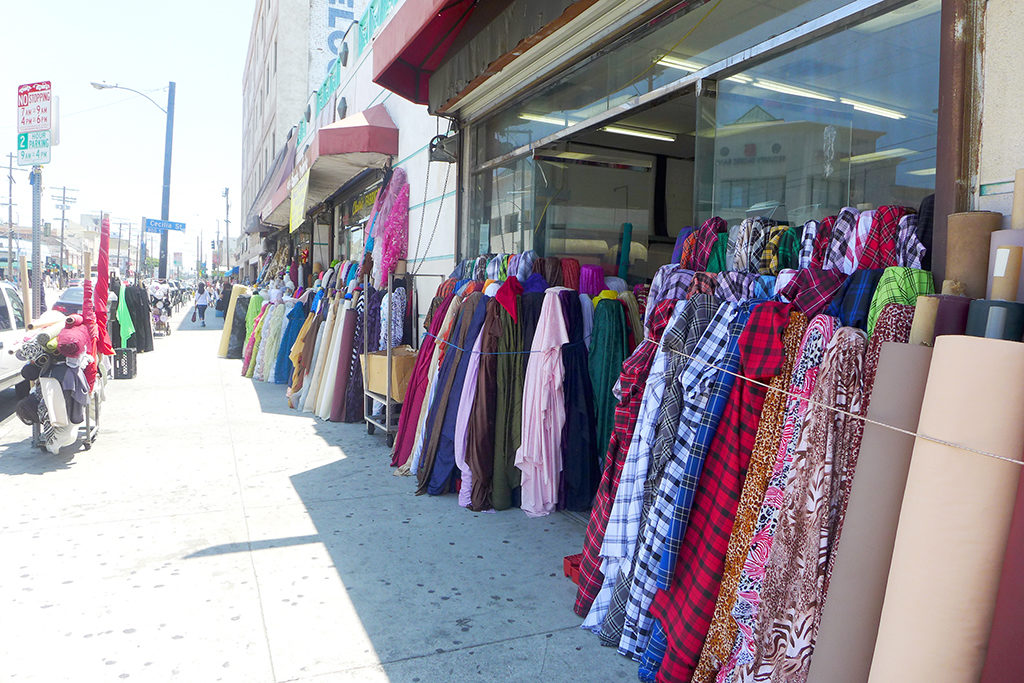 Enjoy the thrill of the search at LA's garment district.
The first place most sewers visit when coming to LA is downtown. There are many pockets and neighborhoods within downtown LA, but for those of us that sew, the most exciting is the "garment district," also known as the "fashion district". Within this area are a mix of sections as well: the fabric district, the bead and trim district, Santee Alley, the flower district, and the wholesale showrooms. The wholesale area is essentially a group of tall buildings with brand showrooms; Santee Alley is full of cheap knock-offs; and the flower and bead and trim areas are exactly as they sound. The part you probably are most interested in is the fabric district.
This is unlike any other fabric district I've ever seen in any other city -- even New York -- as there are blocks and blocks of fabric stores, one after the other. There are two types of shops in the fabric district: the discount jobber and the regular retail seller. If you don't know what a jobber is, it is someone that buys surplus fabric from manufacturers. There is more garment manufacturing in LA than in any other city in the United States, so of course there is a ton of leftover fabric. I am not going to mention any specific shops within this category that you should go to; rather you should visit all of them with the mindset of a thrift store. Digging will be required, and you should have a keen eye on the quality, as they will tell you it's silk or cotton even if it's not. Take a lighter with you and burn it to be sure! Plant yourself at the corner of 9th and Maple in downtown LA, and there are jobber stores as far as you can see!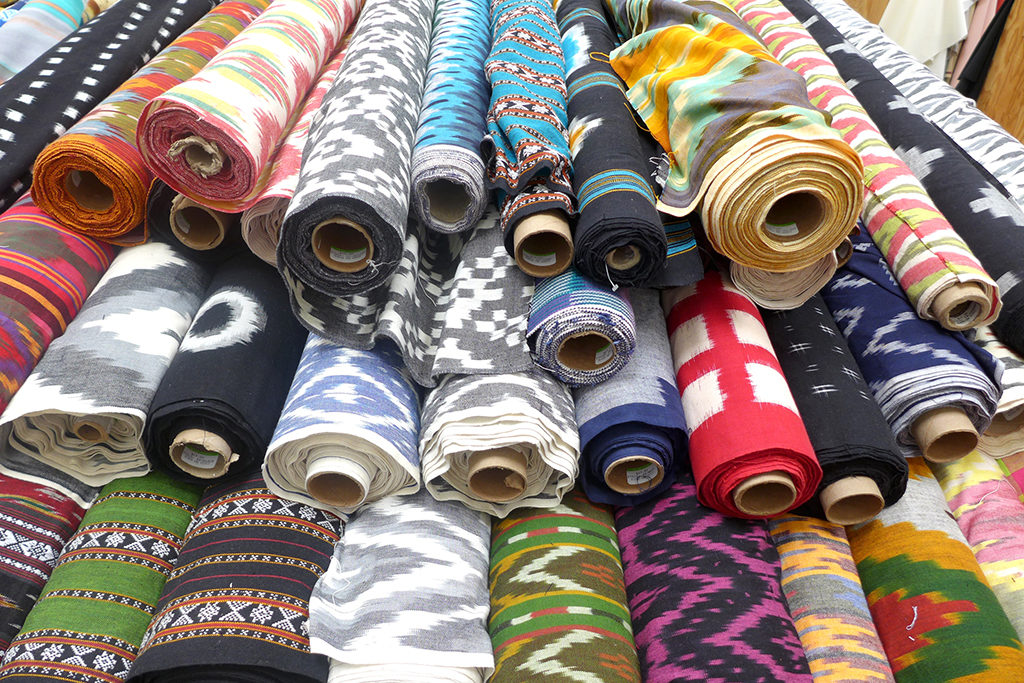 Insider tip: Michael Levine always has a wonderful selection of exotic ikats and mudcloth.
In the regular retail arena, there is really one big name downtown that everyone visits, myself included: Michael Levine. If you buy fabric online, you may have shopped from them without even knowing it. Their online name is Low Price Fabric, which sounds much tackier than it is in real life. Michael Levine has three stores, all on the same block. One carries home décor fabrics, and the shop above that is the Michael Levine Loft, where fabric is piled on shelves and in cardboard boxes and sold by the pound. Great for digging for treasures! Their main store carries tons of quality jobber fabrics from high-end designers, as well as the full-range of quilting cottons, and everything in between. They also have a huge trim and notions section, and even a large selection of yarn and leather hides. It's a one-stop shop for sure. And they have a rarity downtown: their own parking lot!
Also in the fashion district is one of my favorite notions shops, Golden Sewing and Cutting. This shop has a really impressive collection of sewing machine feet, zippers, pins, and they even carry patternmaking supplies and industrial machines.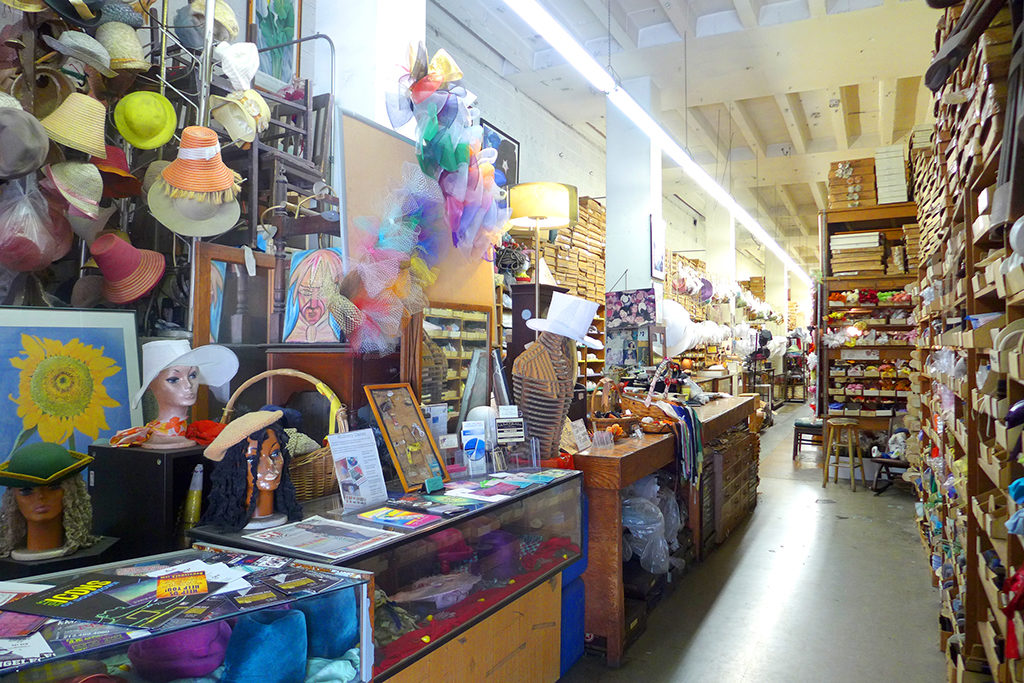 California Millinery offers an impressive collection of vintage trims and findings.
Outside of the actual fashion district but still close by are some other hidden stores one should absolutely seek out when nearby. The first is California Millinery Supply. This shop is a gem in the most unassuming location, and that's because it's been there since 1939 when the neighborhood likely looked a little different. Walking into this store is like walking into a time capsule, filled with old boxes overflowing with vintage trims, ribbons, and silk flowers. If you are into hat making, they stock loads of buckram forms and all the practical things as well as the fancy vintage flair.
Nearby is another hidden goldmine, especially if fine woolens and suiting fabrics is your thing. The fantastic B. Black & Sons has been in downtown LA since 1922 and still supplies the finest wool and cashmere fabrics to home sewers and custom tailors alike.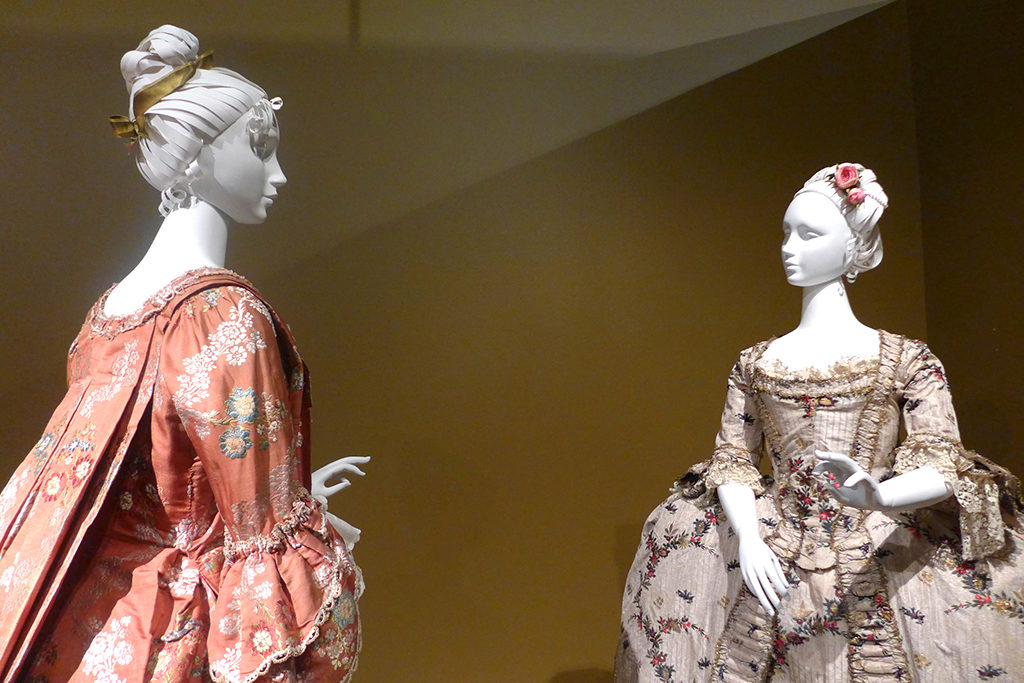 The FIDM museum offers exhibits for costume and sewing sewing enthusiasts.
While you're downtown, there are some quality cultural sites to take in as well. The Fashion Institute of Design & Merchandising (FIDM) has a small free museum with rotating exhibitions, usually costume-based. They also have a nice little gift shop too, and it's all set in a small but lovely garden park in downtown LA. They also have another store on campus that is a bit random, but worth stopping into if you're nearby. Most of the shop is filled with seconds from mall stores, but they also have a small area packed with bolts of fabric. These are donated by designers and can range from very ordinary to supreme. During one trip, I picked up a garbage bag full of high-end knits from Rock & Republic for a mere $2 a yard. Other times I leave empty handed, so you just never know!
Other museums downtown are the soon-to-be-opened Broad Museum and two outposts of the Museum of Contemporary Art (MOCA). The main MOCA location is on Grand Avenue and their second location, The Geffen Contemporary at MOCA, is in the heart of Little Tokyo. If visiting the Little Tokyo venue, it's a must to also pop into the huge Kinokuniya Bookstore. Their department of sewing, DIY, fiber and paper art books is huge; and their collection of pens, pencils, and notebooks is one of my favorites in the city.
If you're hungry, Little Tokyo has a wealth of Japanese food options, and downtown LA has really improved over the last decade too. It used to be a food wasteland, but the newly opened Ace Hotel and the Standard Hotel both have hip restaurants and poolside bars, as well as lodging if you're visiting from out of town.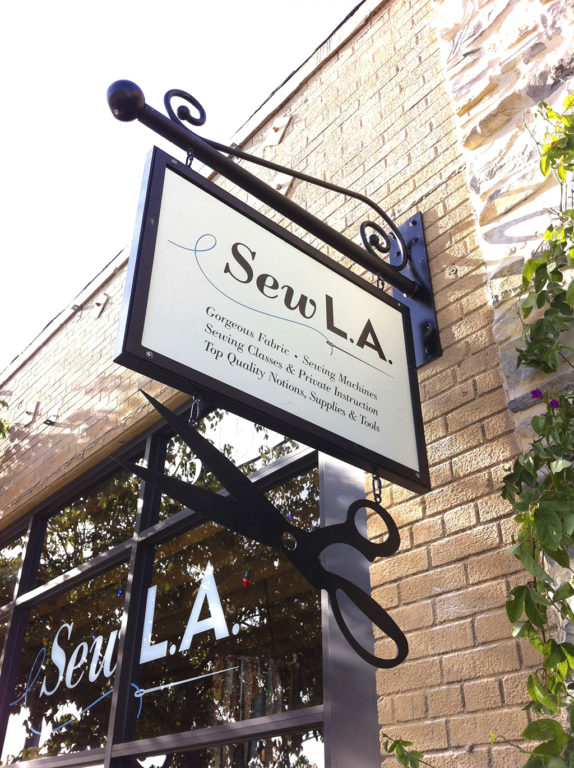 Sew LA offers high quality sewing and fiber arts classes.
East Side
North and east of downtown LA is the "east side" of the city, with the Atwater Village, Echo Park, Silver Lake, and surrounding neighborhoods. These are nice neighborhoods, each with their own "main drag" area full of places to shop, eat, and drink. Atwater Village has one of my favorite spots in the city, Sew LA. Now I might be biased in saying that they have some of the best sewing and fiber arts classes in the city, since I'm one of their teachers, but I dare say it's true!
Sew LA will be closing its doors at the end of October, help send them off with a bang by taking one of their excellent sewing classes while you are in town.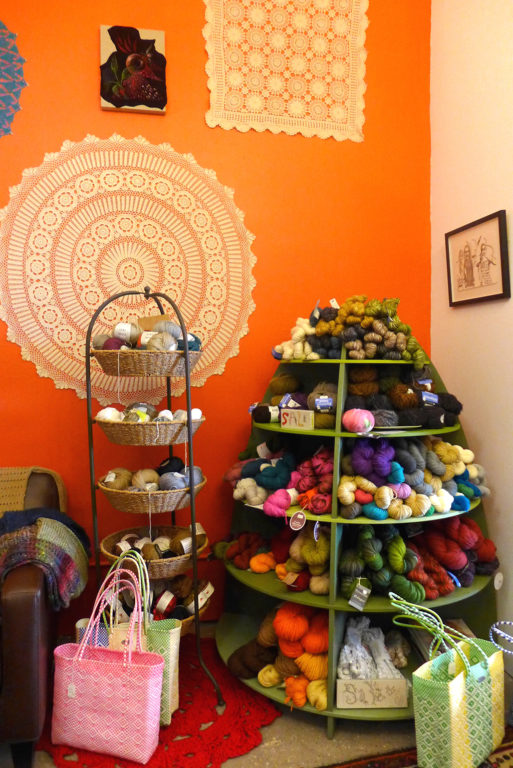 Get your yarn fix at the Little Knittery.
Along Glendale Boulevard in Atwater Village is another east side gem, The Little Knittery. Here you will find a shop dedicated to all-things yarn and fibers, and they host classes as well. I've found some beautiful wools here that I've used in weavings, and their selection is always impressive.
Also along Glendale Boulevard in the main three-block-long section of Atwater Village, you will find high-quality handmade goods at Individual Medley, as well as used media at Jacknife Records & Tapes. There's also good eating here too, my favorites being newly-opened Dune and the always-amazing Proof Bakery.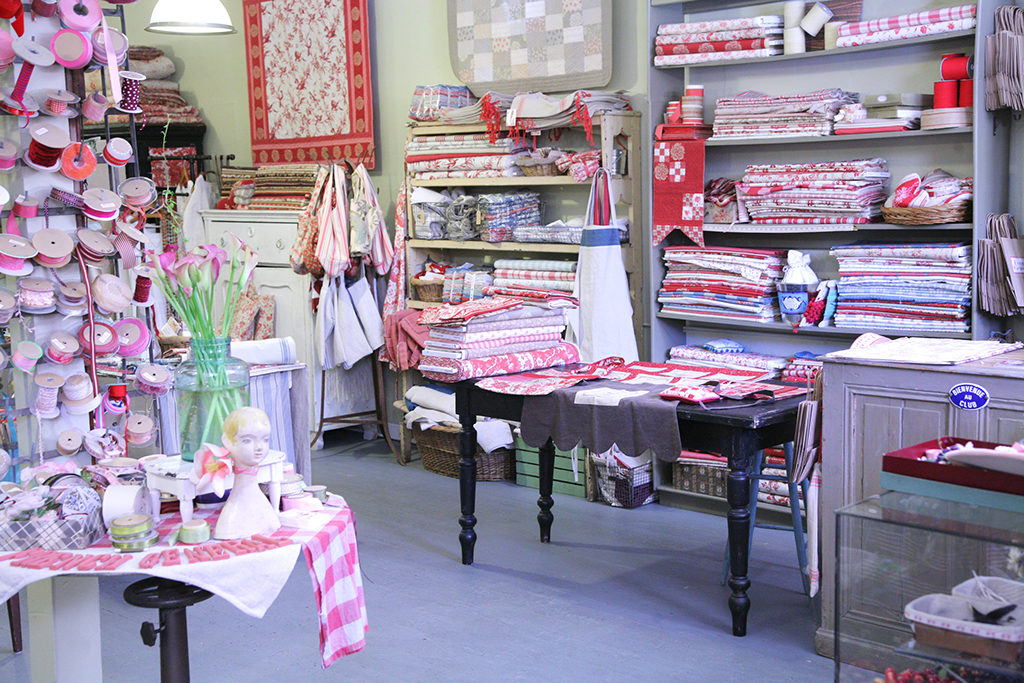 French General has a well curated selection of french themed craft goods, and gifts.
Near Atwater Village, set apart on its own, is the lush and lovely French General. Everything in this little shop has one overarching theme, vintage France, with fabrics, trims, notions, and really wonderful classes as well.
Mid-City
Working your way west from the east side you soon come to the midway point between the beach and downtown LA, otherwise known as Mid-City, which is actually the neighborhood I live in.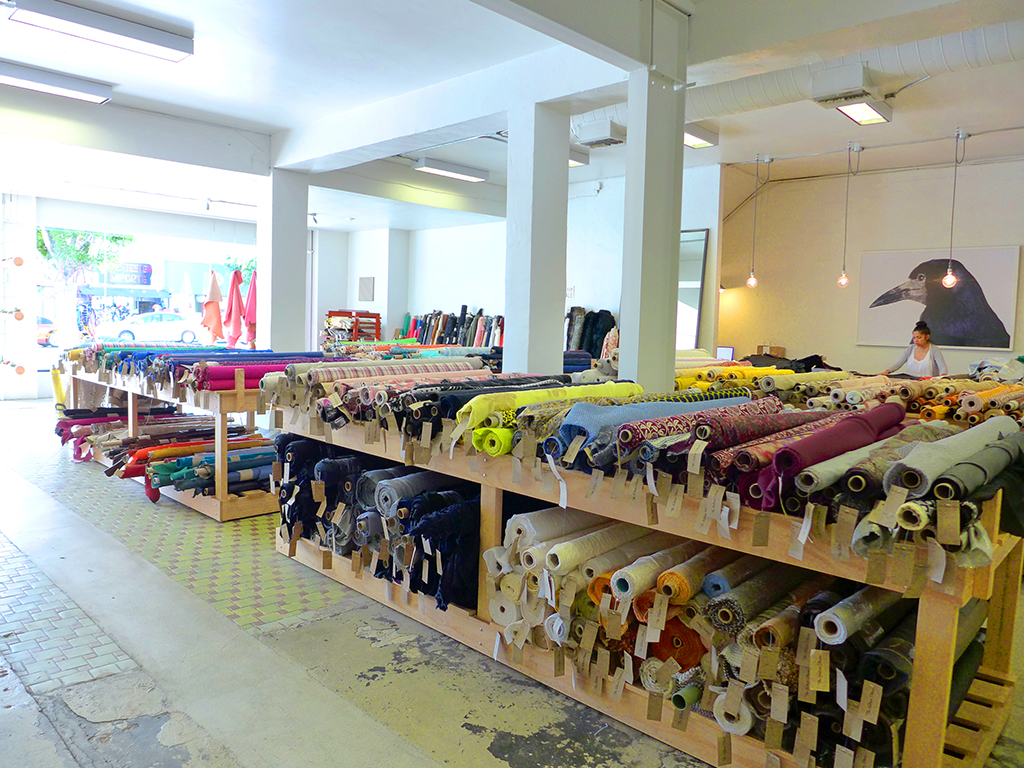 The Fabric Store is a fabric lover's paradise.
One of the many things I love about my neighborhood is that there are a lot of fabric stores in it! Not as many as downtown LA, but it's the most concentrated area of large shops with quality fabrics. The first place I usually go for buying fabric in the city is The Fabric Store. In their beautifully minimal space, you will find all kinds of fibers: knits, woolens, PVC, scuba, leather, silk, rayon, linen, and more. It's perfectly curated with just the right amount of everything. All the garments on my website are made with fabrics from this store.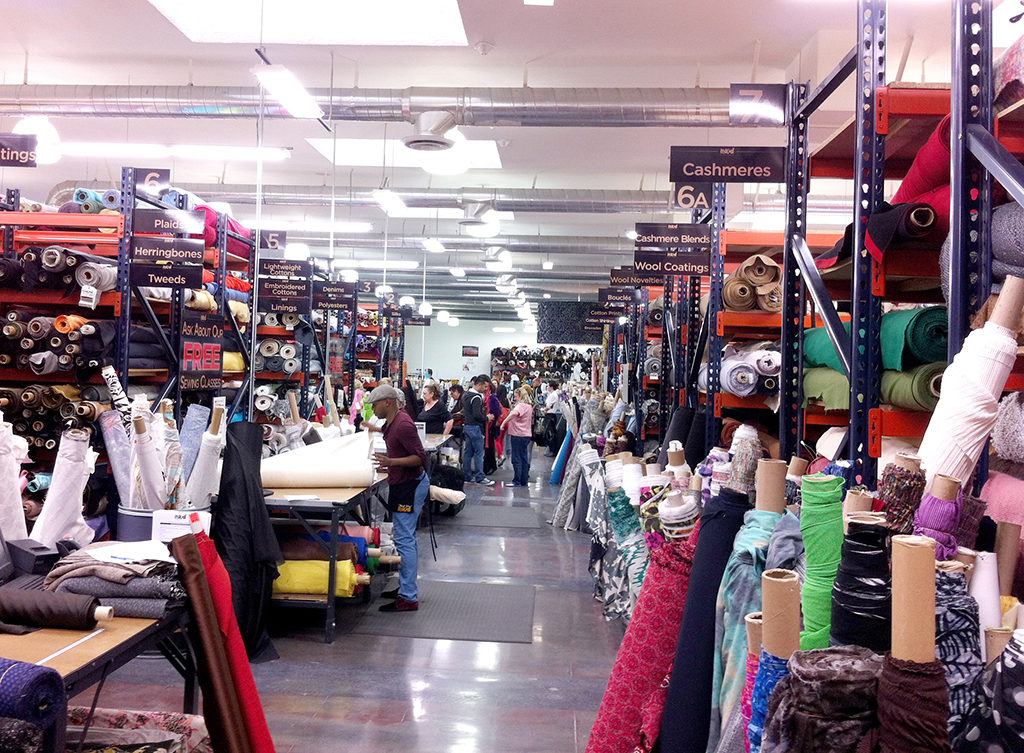 It is easy to spend hours browsing the massive inventory at Mood.
Just down the road is the famous Mood Fabrics, as seen on Project Runway. This of course is their LA location, which is actually bigger than their New York store. They opened this location a couple of years ago, and it is simply gigantic and borderline overwhelming. Come here with a list or you might leave with way more than you bargained for! Mood stocks pretty much everything you can imagine: wool, linen, tons of designer silks, buttons, trims, and a giant wall of printed and solid knits.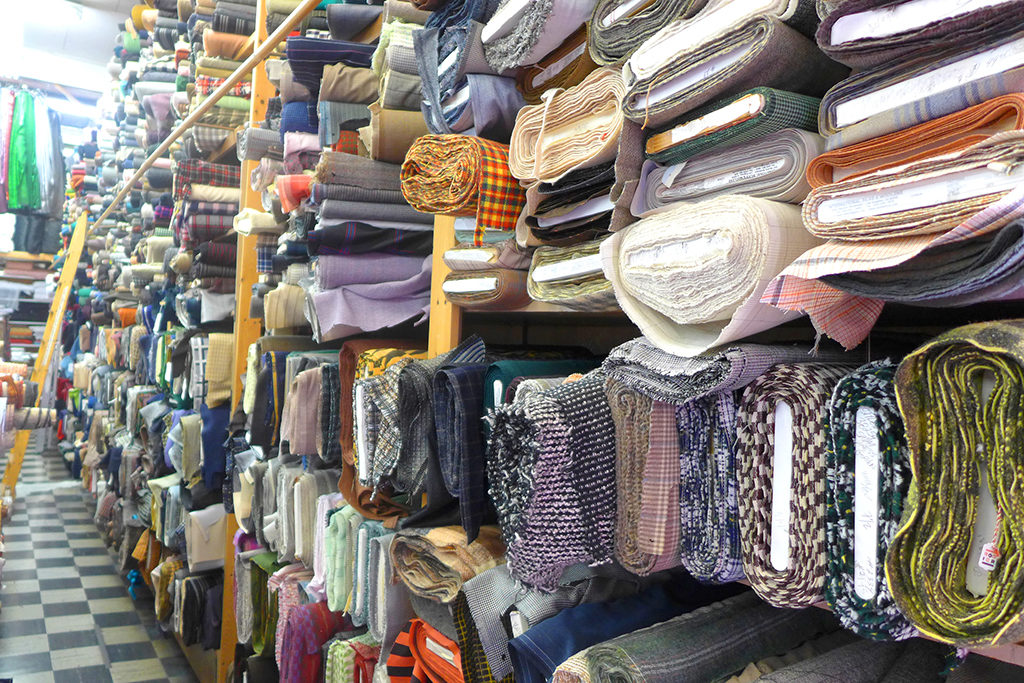 ISW offers a huge inventory of designer fabric.
Slightly west of these two shops is the equally huge International Silks and Woolens, or ISW. Much like Mood, this shop has an insane amount of fabrics that will leave you spinning! One main difference though is that aside from their home décor department, Mood's inventory is largely jobber fabrics, where ISW carries both jobber fabrics and all those quilting cottons you know and love.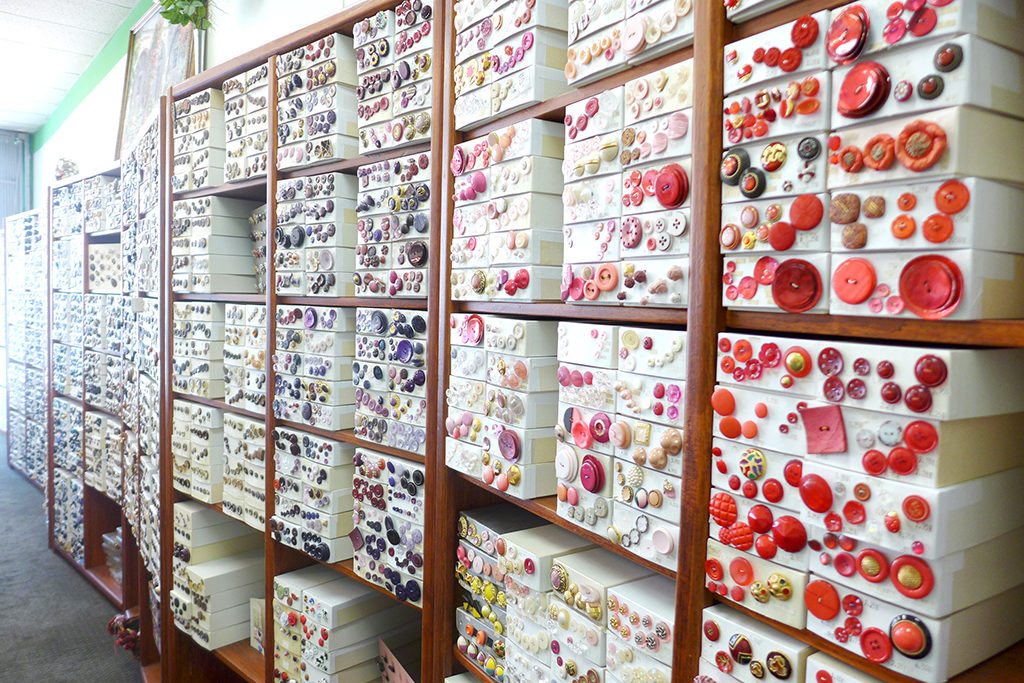 Having trouble finding just the right button? The Button Store probably has just what you are looking for!
Hidden in plain site among a stretch of non-sewing related retail shops is a little secret spot, The Button Store. In this small shop, they only carry and sell one thing–buttons! New, vintage, fancy, ordinary, and everything in between, they have an impressive selection of buttons that surely will suit any project you're working on.
When in Mid-City and searching for inspiration, there is a cluster of museums and parks in one main stretch, all walking distance of each other. Within a few blocks of Wilshire and Fairfax Boulevards is the Los Angeles County Museum of Art (LACMA), the La Brea Tar Pits and Museum, the Craft and Folk Art Museum, the Petersen's Auto Museum, and the Academy Museum of Motion Pictures opening in 2017. And if you're hungry, there is always a long line up of food trucks in front of LAMCA with all kinds of interesting choices!
West Los Angeles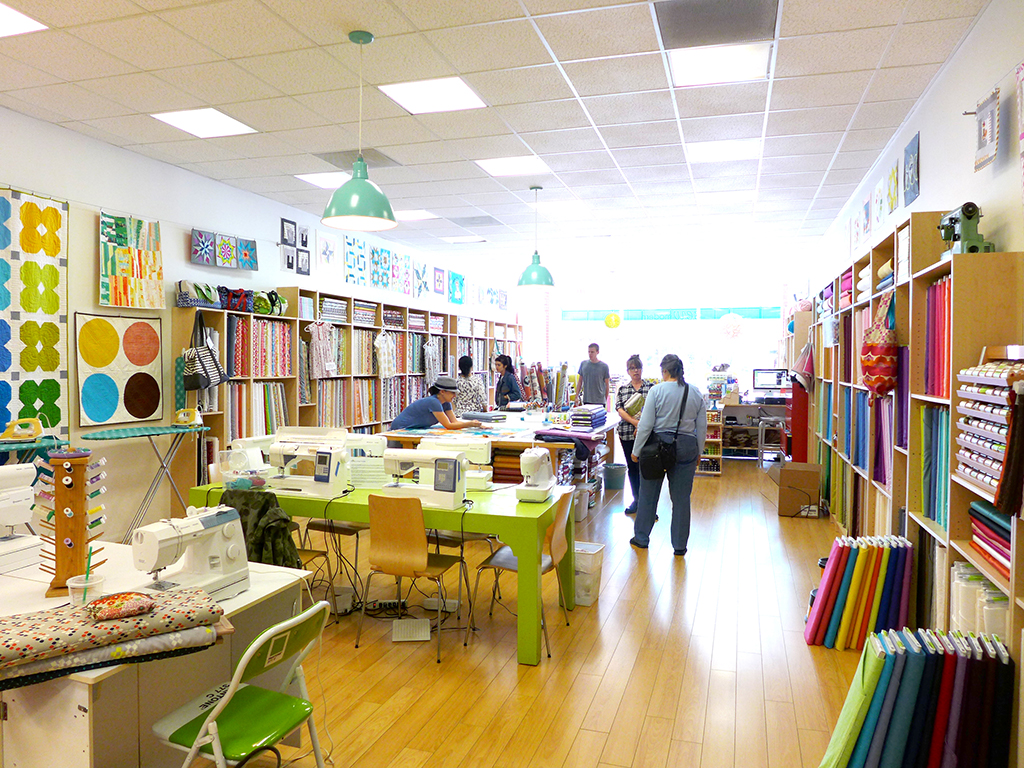 Sew Modern is the place to shop if you are a quilter.
Moving further west from Mid-City you will reach west Los Angeles. This area has a less defined main area, but there are fantastic spots to visit in this part of town. The first is Sew Modern, the most dedicated quilting shop in the city, which is also home to the LA Modern Quilt Guild meetings. Here you will find every quilting cotton that you can imagine, as well as a nice selection of patterns, notions, and classes. They even have a long-arm quilting machine! A must for any quilter.
Nearby is F&S, where you will find a home décor store and across the street a store with all kinds of fabrics. I found the loveliest selection of vintage tie fabrics here once, but they also have a diverse inventory of quality garment fabrics as well.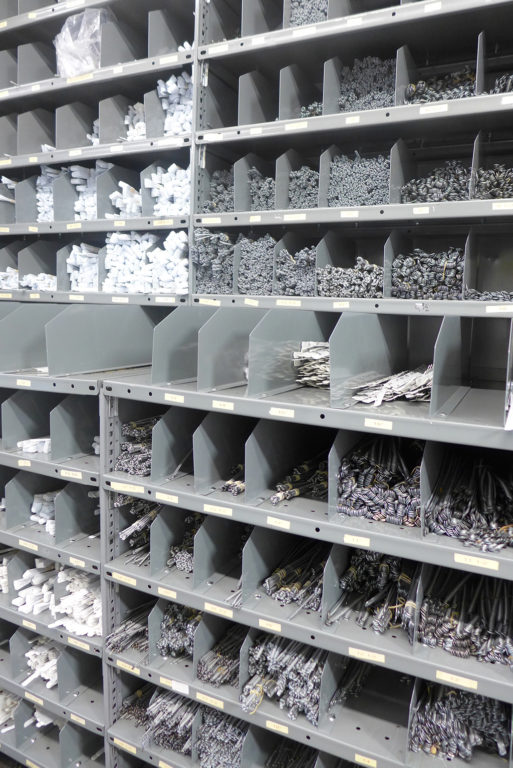 Richard the Thread carries metal boning and busks for
high quality corsets.
Slightly south of these shops is a spot that I think even some locals don't know about, which is the amazing store, Richard the Thread. In this shop, which is more like a warehouse hiding behind a cute storefront, you will find anything and everything you need for making corsets. Metal boning, trims, and all kinds of hardware for custom corsets is all they carry, making it an amazing resource.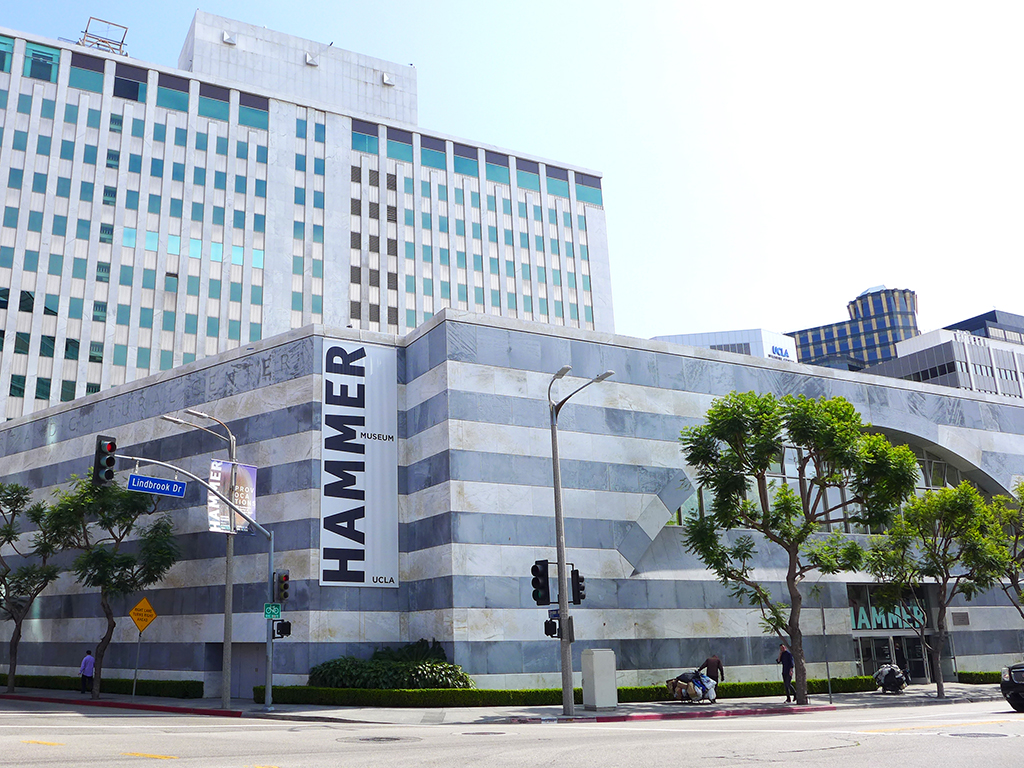 My main go-to cultural resource in west LA is the lovely Hammer Museum. Run by the University of California, Los Angeles, this museum is always full of interesting exhibitions, and it's always free! Their gift shop is superb as well, so be ready to take home some museum swag!
Further West
If you've made it all the way from downtown LA to the west side, and feel like venturing for an adventure, there's one more spot that's in the far outskirts, but totally worth going if you can get there. Momen + is an unassuming shop in a strip mall in Torrance that is full of all things Japan. Here you will discover Japanese fabrics and sewing books, as well as some non-Japanese items too. If traditional Japanese fabrics are your thing, you absolutely should venture southwest to this lovely store.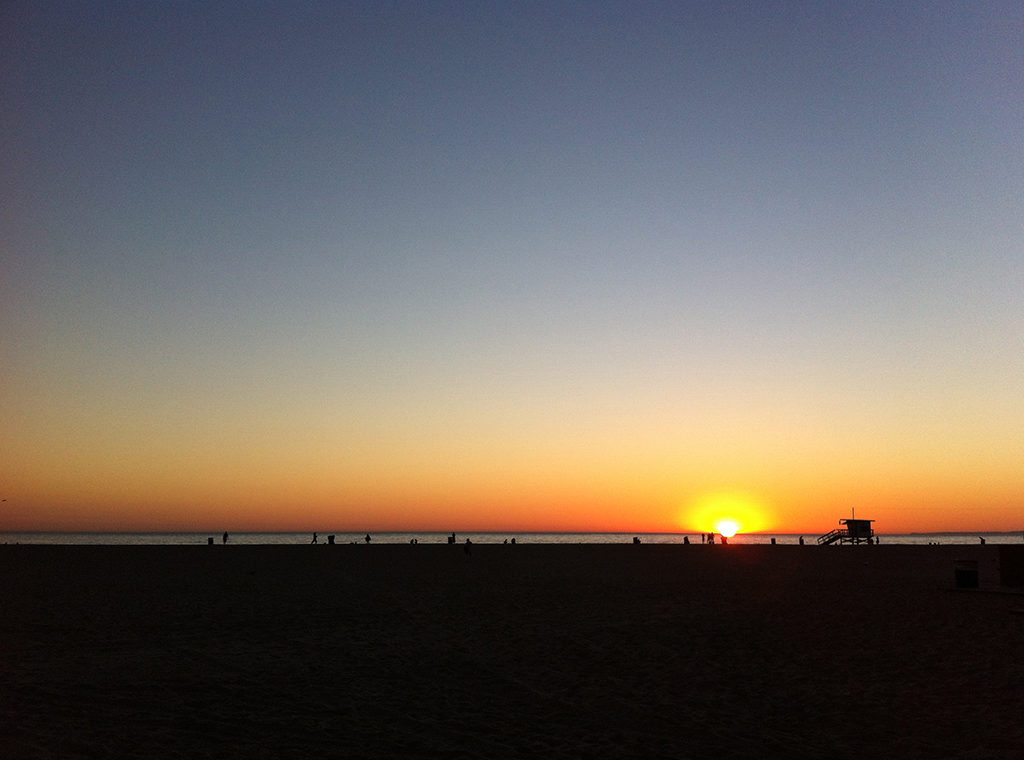 End your day by watching the sunset on one of LA's iconic beaches.
And of course, once you've spent all your money on fabrics and trims, there's always the famous West Coast beach to rest your weary head! Venice Beach and Santa Monica Beach are always bustling with activities and nearly every day ends with a picture-perfect sunset, a wonderful end to any day.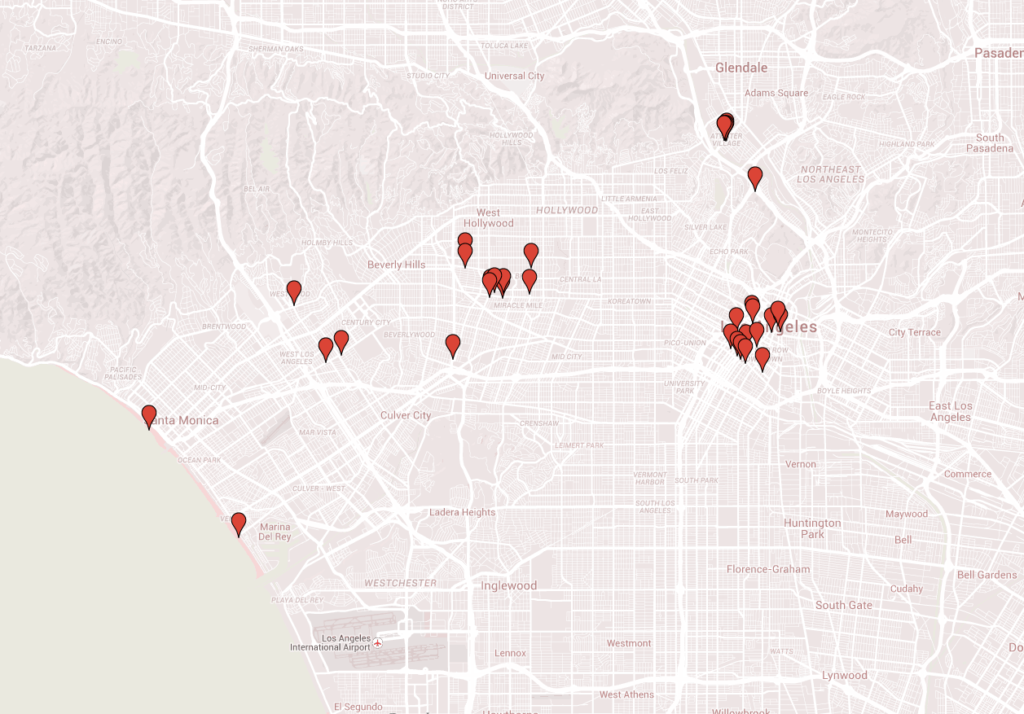 Click to view an interactive map
of the sites and shops Christine recommends.
Join the Conversation
Sign in or become a Seamwork member to comment on this article.