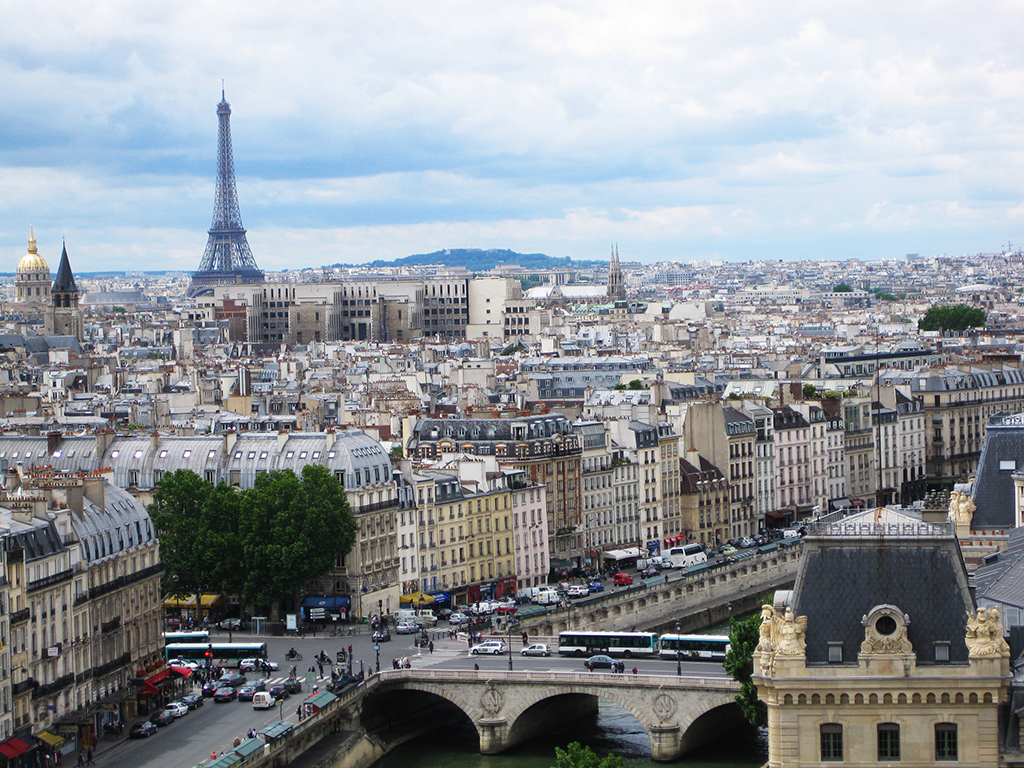 Paris is one of the most beautiful cities on earth, overflowing with inspiration at every turn. It is one of the few places I've ever been that actually lives up to the hype, which is impressive, when you consider the hype is pretty high. But all those things you've heard are true–it's beautiful, romantic, historical, and inspirational. Once you've been there, you ache to return as soon as possible.
I dreamed about going to Paris my whole life, the borderline unhealthy obsession starting as a little kid. I finally went for the first time in my late 30s, and since then, I've returned annually for a four to seven week dose of Parisian goodness.
Paris is the fashion capital of the world, so you can imagine that there are some quality fabric stores in this amazing city! There are also a ton of places to get fashion and design inspiration, as well as quality museums, historic sites, and more. Like with any city, you can live there a lifetime and not see it all, so in this city guide, please note that these are my personal favorites and not an expansive citywide tourist guide. Even with all of these gems, there are still more wonderful places to find!
18th Arrondissement
Paris has an actual fabric district, which is just to the east of the Sacré-Cœur in Montmartre, and it is where a lot of people go first when hunting for fabric in the city. Here you will find a wide range of shops, from stores selling all kinds of random fabrics in bulk, to finer retailers with organized departments. Locally this area is referred to as Marché Saint-Pierre, but that is also the name of one of the area's main shops as well. Marché Saint-Pierre, also known as Dreyfus, is a six-story shop with departments for home décor fabrics, quilting cottons, linens, and more. You can also pick up home décor add-ons, like pillow inserts, accessories for making drapes, and French linen towel fabrics by the roll.
Next door to Dreyfus is Tissus Reine, another six-story shop with a really nice selection, including loads of fancy garment making fabrics, Liberty lawn cottons, and high-end wools. Tissus Reine is one of the few spots in the city that has a huge pattern department as well, where you can buy all the Big Four pattern companies, Burda, and more.
Coupon
One word you will see in many of these shops is "coupon." This is a conjugation of the French verb "couper," which translates to "cut" or "cut off" in English. In French, this is the word for a small cut, or remnant, though here you will find that a "coupon" is typically around three yards—much larger than what most consider a remnant size.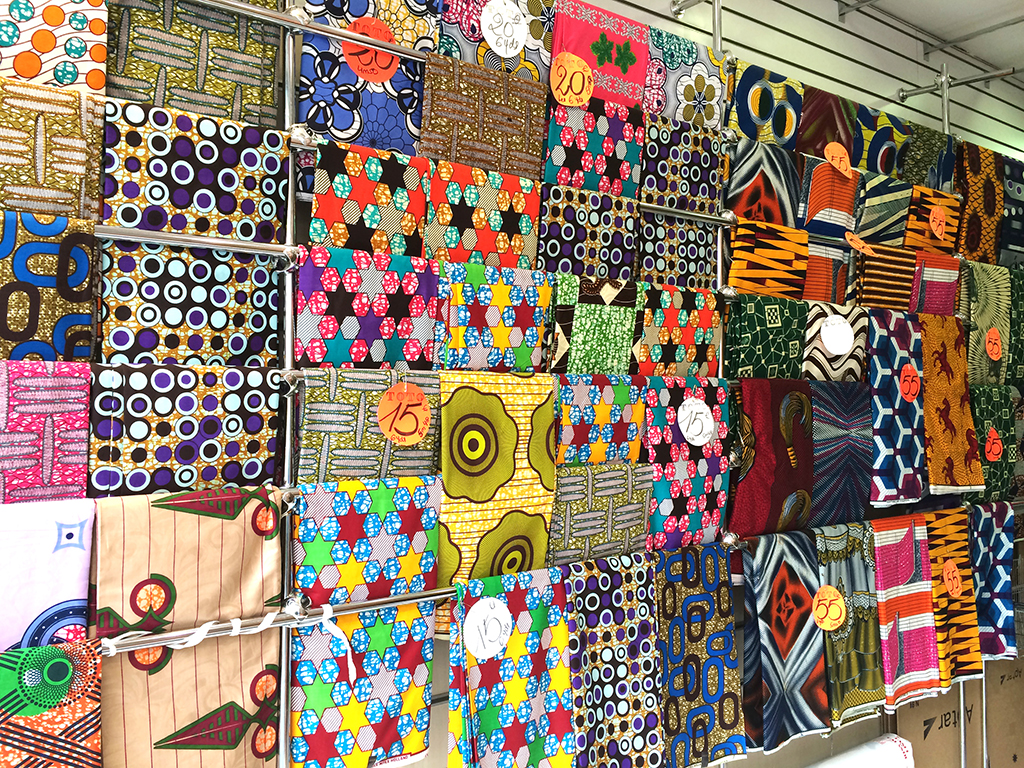 Stock up on gorgeous waxed African-printed fabric at Toto.
I love people watching in Paris and seeing all the African men and women wearing head-to-toe outfits made of waxed African-printed fabric. On my trip to Paris last year, I was tipped off by Roisin, of the blog Dolly Clacket, on where to buy these fabrics in Paris. Per her suggestion, I visited Toto and came out with some gorgeous authentic waxed African cotton. They have many shops in Paris, both in the 18th arrondissement and beyond.
When in Montmartre, the main cultural tourist site to see is the Sacré-Cœur, a gorgeous Roman Catholic Basilica built between 1875–1914. This hill is the highest point in all of Paris, resulting in stunning views from the steps in front of the church. Just to the east of Sacré-Cœur is the Cimetière de Montmartre, which opened in 1825, and has rows and rows of beautiful graves for both the famous and ordinary, tightly packed-in hilly paths where cats are often found wandering and keeping the peace. It's important to be respectful in all the churches and cemeteries in the city, as they are still functioning, sacred places, and you will often stumble upon someone praying or mourning for a loved one.
11th Arrondissement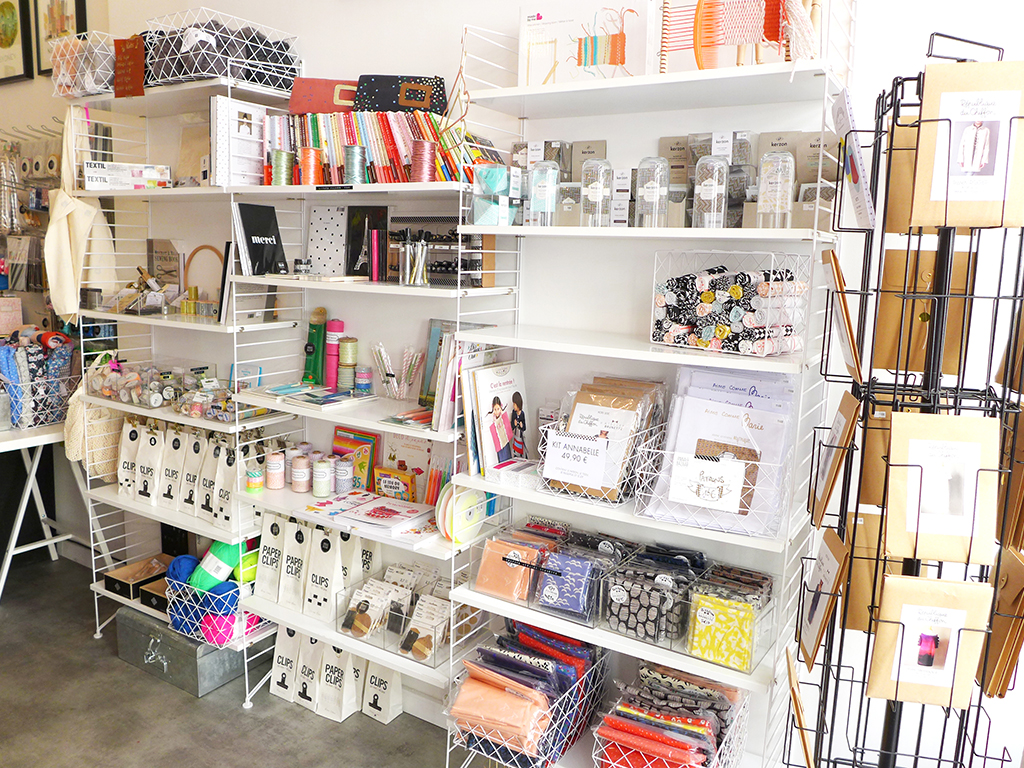 Anna Ka Bazaar is an inspiring shop filled with cute fabrics and paper goods.
Making your way southeast into Paris, you will reach the 11th arrondissement. Here you'll find the shop I go to just as I arrive and just before I leave on every trip: the lovely Anna Ka Bazaar. Run by the nicest husband and wife team, not only does Anna Ka Bazaar carry cute fabrics, notions, trims, patterns, and more, they also have their own line of fabrics under the name Atelier Brunette. They have impeccable taste and all their stock is perfect—not too crazy and not too bland. They are also in the middle of a massive expansion, moving from the 4th to the 11th Arondissement, adding loads more sewing, knitting, and crochet supplies, and adding on a large classroom for workshops of all kinds!
The new addition to the neighborhood is the large Maison Cousu. In this light-filled space, there is a nice selection of fabrics ranging from home décor weight, to quilt cottons, cotton voile, and laminated cottons. They also stock a nice amount of trims, notions, tools, books, and all kinds of knitting and crochet supplies. In the lower level is a small but efficient workshop space, where I spotted the cutest little French girls sewing up skirts for themselves. So adorable!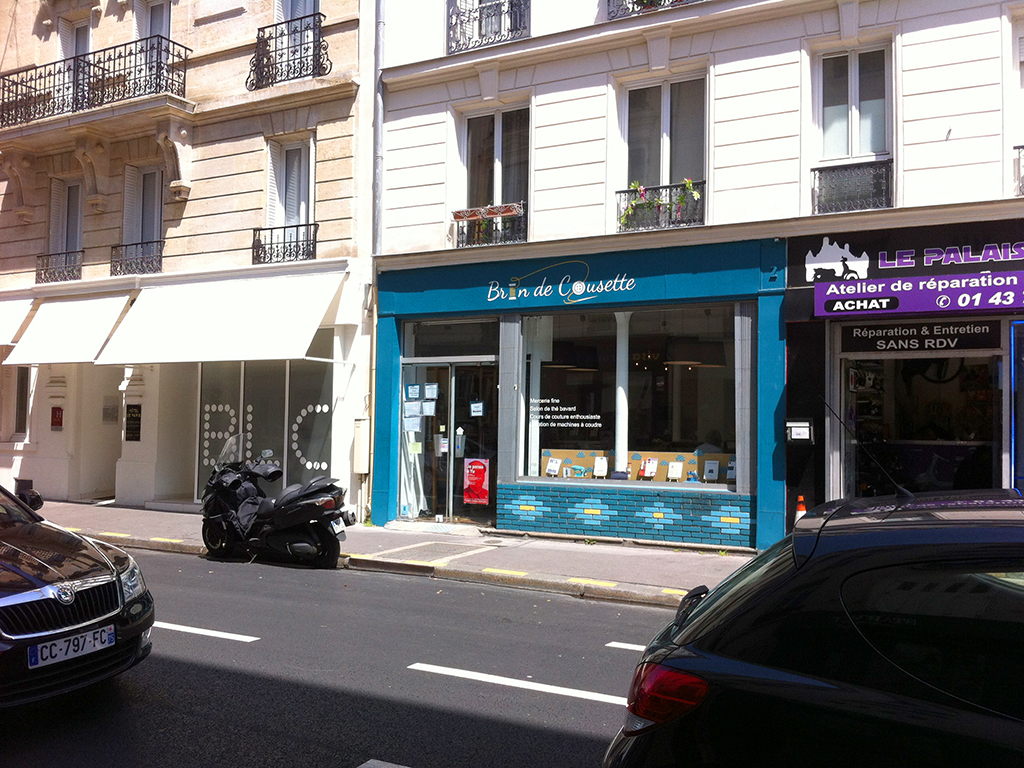 Brin de Cousette is a small shop that packs a punch with its curated selection.
Another space in the 11th that also has a workshop space is Brin de Cousette. Their retail space is small, but I always manage to find some fabrics to take home, and they have one of the nicest selections of indie patterns in Paris as well. On top of their retail and workshop spaces, they have a couple of tables and chairs where you can relax over a cup of tea and a piece of cake.
If you are wandering the 11th and need some lunch, one of my go-to spots in the neighborhood is East Side Burgers. Vegetarian eating can be a rarity in Paris, though it's getting much better, and sometimes you just need a veggie burger and fries! East Side makes all their burger patties by hand, and they carry vegan options as well.
12th Arrondissement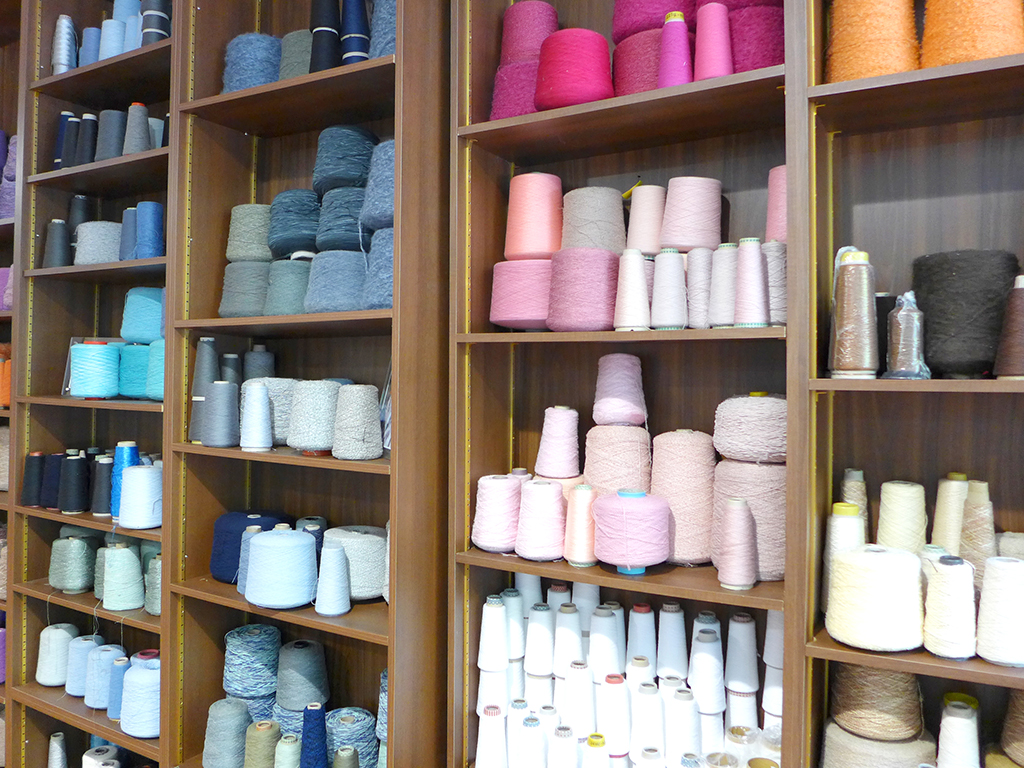 Gorgeous yarn used to create beautiful woven designs.
I had heard about the shop Malhia Kent a few years ago, but it wasn't until this year's vacation that I went in to see what they had. Holy cow! All I can say is that it pretty much blew me away! Malhia Kent weaves all their own fabrics, for their own line of ready-to-wear garments, and for high-end designers as well. The fabrics range from the most elegant solids to the most bizarre neons, woven with plastic, leather, fringe, and more! It's an incredibly unique place. The prices are surprisingly decent for what you're getting, and if you can get there during the soldes (biannual city-wide sales), you can get an even better price.
Directly above Malhia Kent's store is one of my favorite sites in all of Paris: the Coulée Verte, also known as the Promenade Plantée. The original inspiration for New York's High Line, the Coulée Verte is a 2.9-mile elevated stretch of abandoned train line. It is now one of the loveliest walks in the city, and at the end you can walk a few more blocks and end up at the Bois du Vincennes, a 2,459-acre park on the east side of Paris, complete with a castle and a lake with its own island and row boats for rent.
4th Arrondissement
Making your way west from the 12th, you will next encounter the 4th arrondissement, which is the heart of the Marais. There isn't much fabric to be had here, but the adorable Petit Pan is worth going out of your way to visit. Petit Pan has multiple retail locations in Paris, where they sell ready-to-wear clothing and home décor items, and they also have one mercerie shop, which is jam-packed with fun, brightly colored cottons and laminated cottons. They produce all their own fabrics and carry a large collection of pre-made trims like bias binding.
The Marais is the Jewish neighborhood, and home to the best falafel in the city. Some touristy things live up to the hype and some don't. Thankfully, L'As du Fallafel is worth all the praise it gets, and is worth standing in the long line to eat. Save yourself a few euros and eat yours in the street instead of inside, then thank me later!
You wouldn't expect a department store to carry DIY goods or power tools and lumber, but such is the case of the famous Bazar de l'Hötel de Ville. Known locally as the BHV and founded in the 1800s across the street from the Hötel de Ville (Paris' City Hall), this giant department store has an upper floor with a whole section featuring embroidery, knitting, crochet, and some sewing supplies. In the basement, you'll find hardware, including lumber and more. This is a great resource if you find yourself needing wood in the heart of Paris!
3rd Arrondissement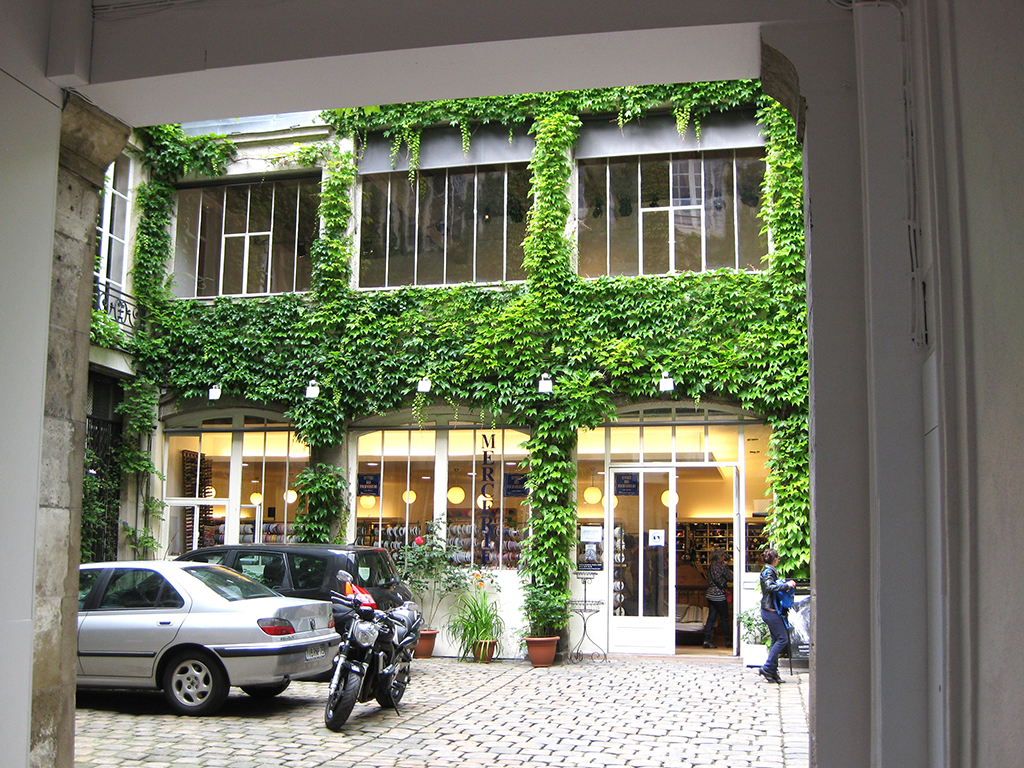 The Mercerie Parisienne is tucked away in a quaint courtyard.
Just north to the 4th is the 3rd arrondissement. This part of Paris was untouched by Barron Housemann's attempt to widen the city streets, so it's just a maze of delightful tiny streets, with one cute boutique after another. It's easy to get lost and miss what you're looking for, but it's especially hard when you're looking for a shop that's hidden behind an archway in a courtyard! This is the case for the adorable Entrée des Fournisseurs, also known as La Mercerie Parisienne. Once you finally find the shop, you will be rewarded with quality cottons, including Liberty lawns, as well as one of the finest collections of trims in the city.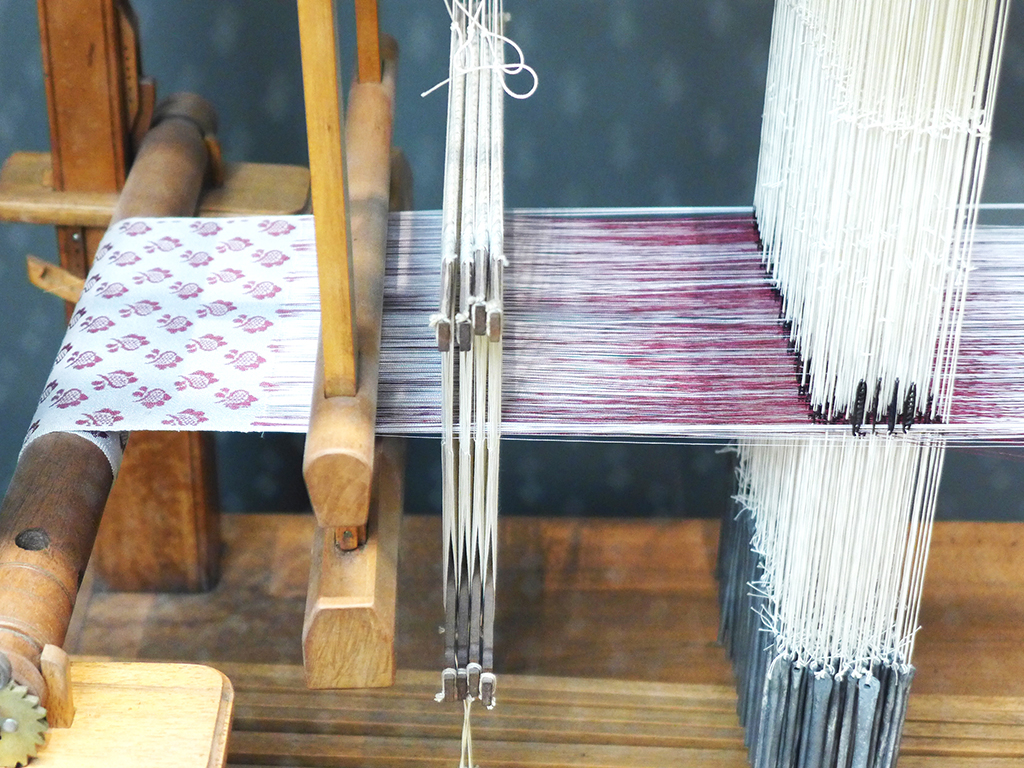 Marvel at the intricate process of weaving jacquard fabric at Musée des Arts et Métiers.
On the north end of the 3rd is a truly unique museum, the Musée des Arts et Métiers. Founded in 1794 as a home to preserve the tools of scientific advancement, this museum has everything from old planes to the very first film camera ever used, and more. For sewers like us, I found the section on looms, including a whole area dedicated to Joseph Marie Jacquard, as well as early knitting machines utterly fascinating. Admission is free on Thursday evenings from 6–9:30 pm!
1st Arrondissement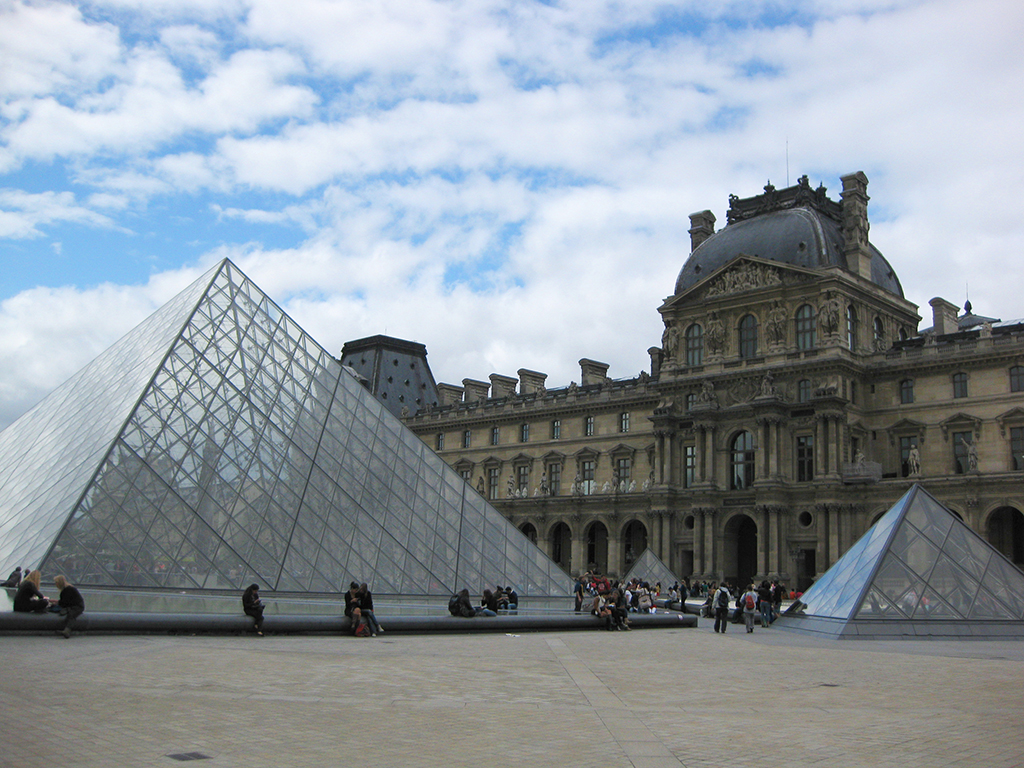 The Louvre is a must-see when visiting Paris.
Heading west from the 4th is the 1st, where some of the biggest tourist spots are found. But just because they are touristy, doesn't mean they aren't worth visiting. The Musée du Louvre is one of the biggest museums I've ever been to. I have visited multiple times and have not seen even a sliver of what this space has to offer. There is truly something for everyone here. One of my favorite sites is the apartments of Napoleon III, where you can see just how grand and opulent a space he lived in.
Next to the Louvre is the Musée des Arts Décoratifs, a large museum dedicated to decorative art and design. The museum has both rotating exhibitions, often dedicated to fashion, as well as a lovely permanent collection of furniture design, ceramics, graphic design, and product design. Even if I don't spend much time in the museum on each trip, I always go out of my way to visit their large and lovely gift shop, which has a huge collection of books, as well as gifts to take home.
If you need a rest after these museums, the Louvre's Jardin des Tuileries provide tons of shaded space for relaxing and picnicking. There are a few restaurants mixed into the gardens, and at certain times of the year, there are amusement rides too!
Also in the 1st is one of my favorite fabric stores in all of Paris:
La Droguerie
. This delightful shop doesn't actually have that much fabric, but what they do have is the finest curated group of high-quality cottons, linens, and rayons, as well as a huge department of yarn, trims, buttons, beads, and more. They are always busy, so be patient if you need help, and they will give you their undivided attention when it's your turn.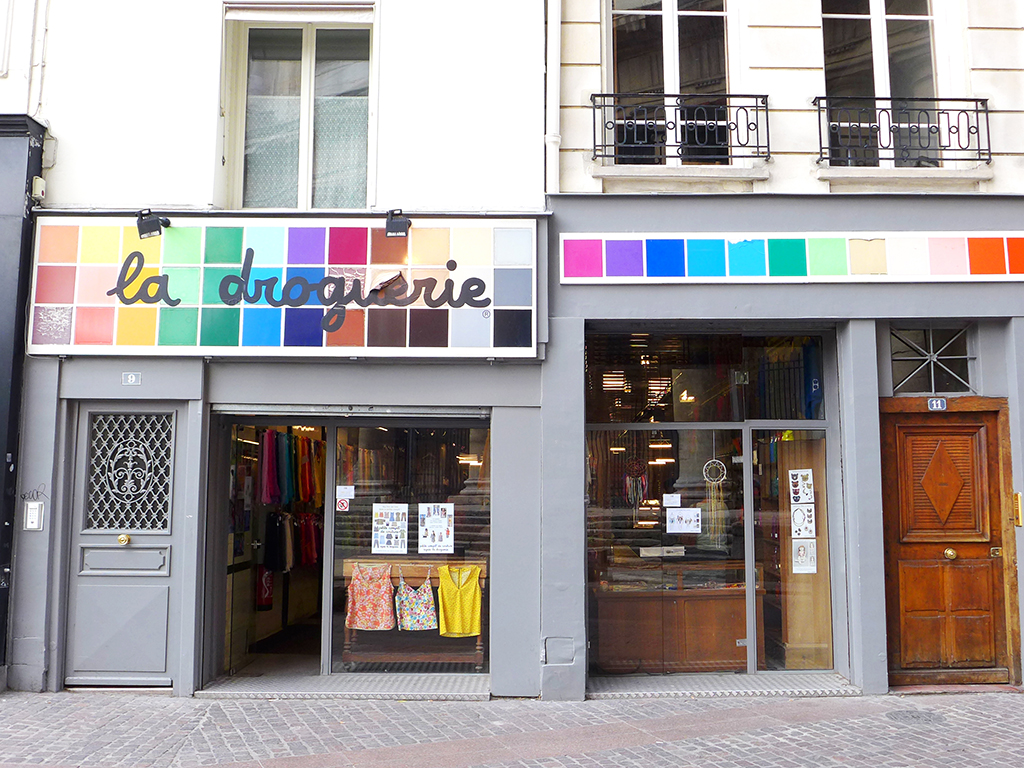 Check out the modest but beautifully curated collection of fabric at La Drougerie.
2nd Arrondissement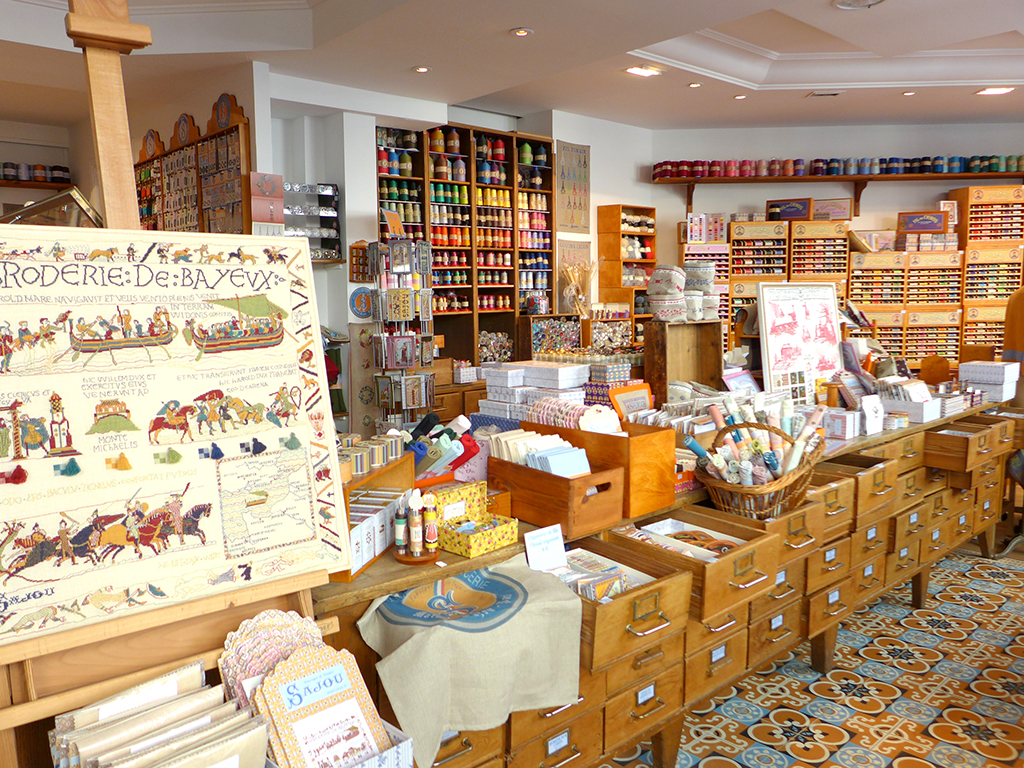 Warmth radiates from every cozy corner of Sajou.
In the heart of Paris in the 2nd is a nice cluster of fabric stores. There are a number of stores to visit here, but my favorites are Sajou, Ultramod, and Lil Weasel. Sajou is classic and old school in the most wonderful way. The shop is filled with goodies in warm, wooden boxes, and there are delicate details on everything. Sometimes after so many modern fabric stores, this can feel like a breath of fresh air. There is only a small selection of fabrics here, but you will undoubtedly take home some of the cute trim sorters, vintage-looking needle cases, and floss and patterns to make little Eiffel Tower embroideries for your home.
Hiding in a classic Parisian passage is the two-shop store of Lil Weasel. Across the "street" in the passage are the two stores—one dedicated to all things knitting and crochet, the other for all things related to sewing. In the sewing shop, there is a nice amount of fabric, mostly all quilting cotton and lawn, as well as quality trims, and some of the popular indie pattern designers as well. When you put the two shops together, there's a lot to see here and a must-stop on your trip!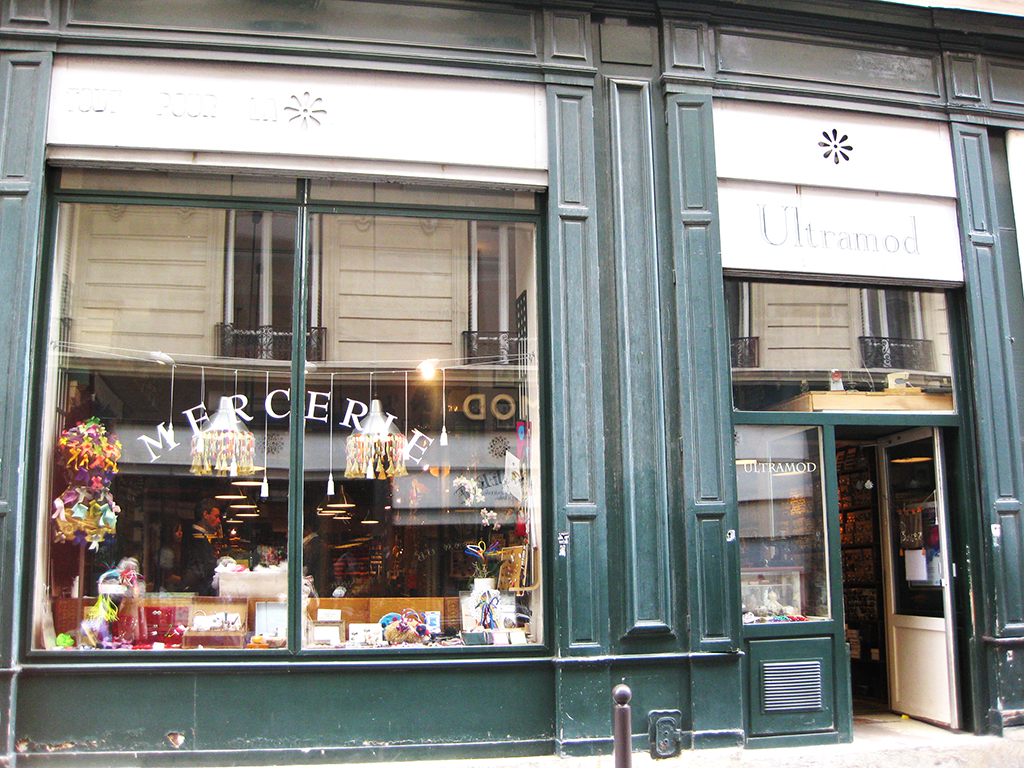 Ultramod offers a plethora of trims and notions.
Ultramod is just down the road and is a classic mercerie. No fabrics to be found here, but vintage trims and buttons as far as you can see! This place will have you convinced in no time that you need tons of trims, ribbons, tassels, and buttons, because everything is just so beautiful. Seriously, I never use trims, yet I somehow always leave this place with a big bag of stuff!
16th Arrondissement
Winding around the Seine, just across the river from the Eiffel Tower is a delightful center for inspiration. The Palais Galliera formally called the Musée de la Mode de la Ville de Paris, is Paris' main fashion museum. Having recently completed a multi-year renovation, they are again open to show off their impressive permanent collection. When I was recently in Paris, I caught the Jeanne Lanvin retrospective, which was breathtaking. Note that because of the fragility of their collection, they are only open for exhibitions and their permanent collection is not on display between shows.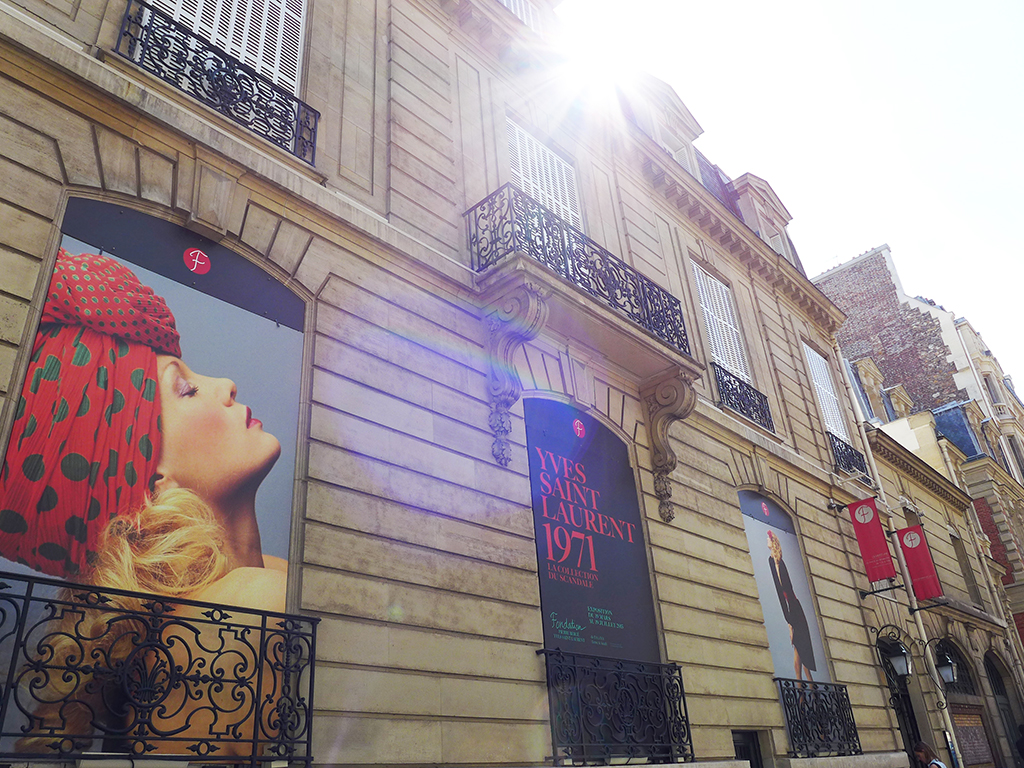 Around the corner from the Palais Galliera is the Fondation Pierre Bergé, Yves Saint Laurent. At this foundation, they do many things, but their rotating exhibitions would be of most interest to a sewer visiting Paris. I visited their Yves Saint Laurent 1971 La Collection Scandale show and it was by far the best fashion exhibition I saw in years. The foundation also hosts private tours of Yves' studio and their home in Morocco, should you find yourself there!
If you are hungry in this neighborhood, directly across the street from the Palais Galliera are side-by-side museums, both with multiple restaurant options. The Palais de Tokyo and the Paris Museum of Modern Art, which is free to enter, both house modern and contemporary art collections. And as their restaurants are across the Seine from the Eiffel Tower, you can count on some pretty good views while dining.
14th Arrondissement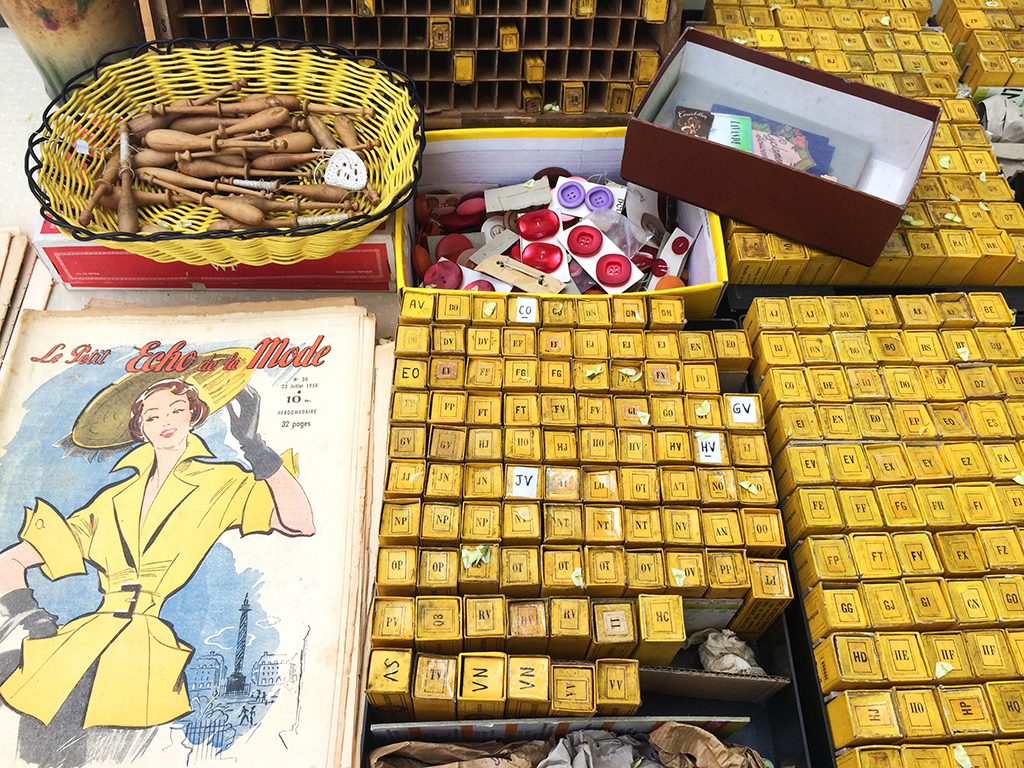 Be inspired by vintage fashion magazines at Parc Georges-Brassens.
It wouldn't be a trip to Paris without going to a flea market or a brocante! Most guides will direct you to the Marché aux Puces de Saint-Ouen on the north end of the city, as it claims to be the biggest flea market in all of Europe. But I much prefer the less professional and more homespun Marché aux Puces de la Porte de Vanves, on the south end of Paris. The vendors are really kind and have a temporary set up with folding tables and such, as they have to set up and break down every Saturday and Sunday. I always find tons of quality buttons, trims, and vintage patterns to take home here, and sometimes fabric as well, though that is much harder to find.
If you've spent the time getting all the way down to Porte de Vanves, do yourself a favor and also pop over to the Marché du Livre Ancien et d'Occasion, a vintage and used book market that takes place every weekend in the covered halls at Parc Georges-Brassens. I always end up taking home some vintage fashion magazines, which are so pretty that it doesn't matter if I can hardly read them.
Addresses:
Anna Ka Bazaar – 16 rue Keller, Paris, 75011
Bazar de l'Hötel de Ville – 36 rue de la Verrerie, Paris, 75004
Brin de Cousette – 2 rue Richard Lenoir, Paris, 75011
Cimetière de Montmartre – 20 Avenue Rachel, Paris, 75018
Coulée Verte – avenue Ledru-Rollin and avenue Daumesnil, Paris, 75012
East Side Burgers – 60 Boulevard Voltaire, Paris, 75011
Entrée des Fournisseurs – 8 rue des Francs Bourgeois, Paris, 75003
Fondation Pierre Bergé, Yves Saint Laurent – 3 rue Léonce Reynaud, Paris, 75116
Jardin des Tuileries – 113 rue de Rivoli, Paris, 75001
L'As du Fallafel – 32-34 Rue des Rosiers, Paris, 75004
La Droguerie – 9 et 11 rue du Jour, Paris, 75001
Lil Weasel – 1 Passage du Grand Cerf, Paris, 75002
Maison Cousu – 25 boulevard Voltaire, Paris, 75011
Malhia Kent – 19 avenue Dausmesnil, Paris, 75012
Marché aux Puces de la Porte de Vanves – avenue Marc Sangnier and avenue Georges Lafenestre, Paris,75014
Marché aux Puces de Saint-Ouen – 138/140 Rue des Rosiers, Saint-Ouen, 93400
Marché du Livre Ancien et d'Occasion – rue Brancion and rue des Morillons, Paris, 75015
Marche Saint Pierre – 2 rue Charles Nodier, Paris, 75018
Marché Saint-Pierre (Dreyfus) – 2 rue Charles Nodier, Paris, 75018
Musée des Arts Décoratifs – 107 rue de Rivoli, Paris, 75001
Musée des Arts et Métiers – 60 rue Réaumur, Paris, 75003
Musée du Louvre – rue de Rivoli and rue du Louvre, Paris, 75001
Palais de Tokyo – 13 avenue du Président Wilson, Paris, 75116
Palais Galliera – 10 avenue Pierre 1er de Serbie, rue de Galliera, Paris, 75116
Paris Museum of Modern Art – 11 avenue du Président Wilson, Paris, 75116
Petit Pan – 39 Rue François Miron, Paris, 75004
Sacré-Cœur – 35 rue du Chevalier de la Barre, Paris, 75018
Sajou – 47 rue du Caire, Paris, 75002
Tissus Reine – 3 et 5 Place St Pierre, Paris, 75018
Toto – Multiple Paris locations, Paris
Ultramod – 4 rue de Choiseul, Paris, 75002
Join the Conversation
Sign in or become a Seamwork member to comment on this article.