If you want a unique fabric, yarn, and notion shopping trip, it would be hard to beat a visit to Tokyo. It's a veritable wonderland of unusual and beautiful supplies for sewists, and the attention to detail is spectacular. Whatever you're into, you're bound to find it here—and probably plenty of things you've never seen before, too. It's certainly not cheap, but it's definitely worth saving up for. If you only have one day, head to Nippori Town, but if you have more time it's worth getting out and exploring the more hidden gems.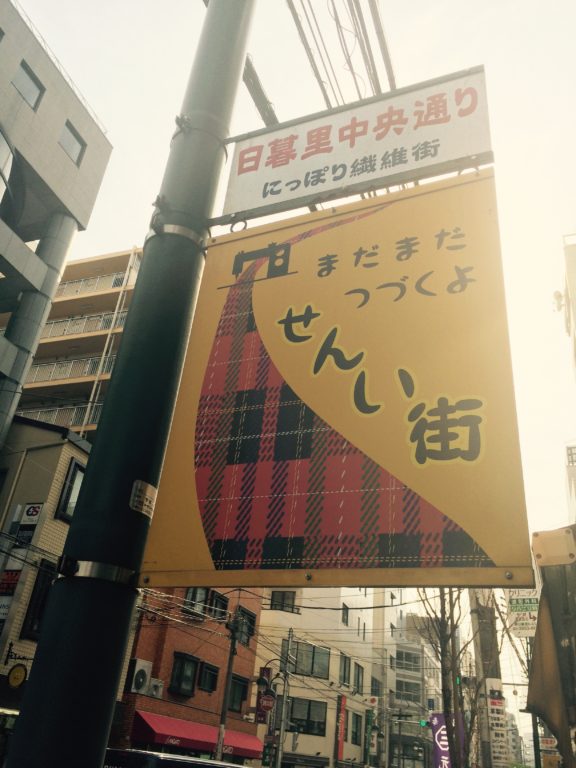 Fabric Stores
Nippori Town is the fabric district of Tokyo, and it's located north-east of the city center. It's easy to get there on the Yamanote Line train to the Nippori town stop (plus, all the public transportation signs are in English!), and once you arrive there are signs pointing you in the right direction. When you exit the platform, cross the street and bear slightly right, and you're there.
Nippori is home to over 80 stores, with most clustered on Nippori Chuo Dori and the cross streets. You can check out a comprehensive map in English here. There is a wide range of stores, from the exquisitely curated and high end, to the dark, chaotic stores where you can spend hours digging for fabric jewels.
Tomato
(Nippori Chuo Dori, multiple locations)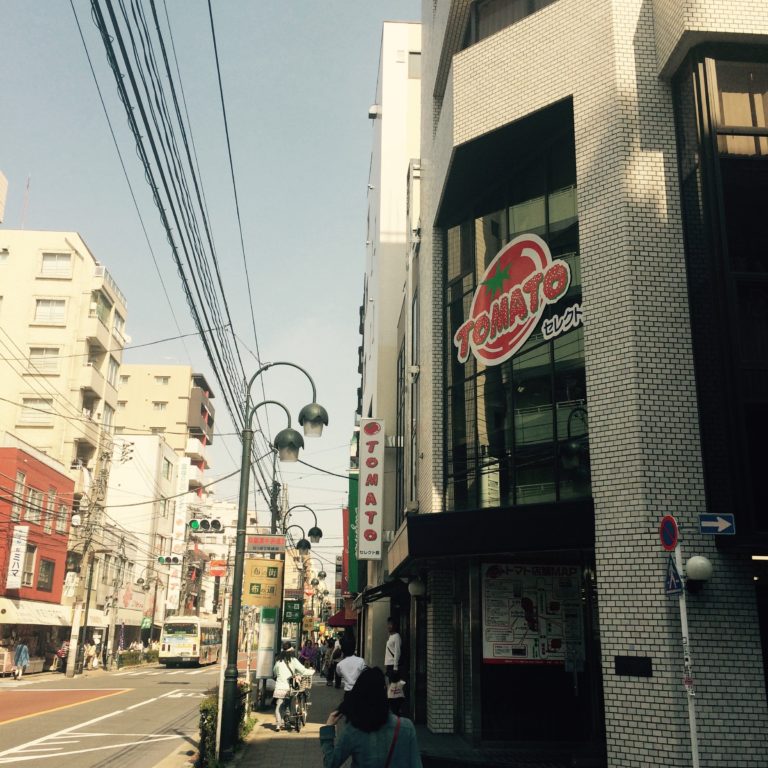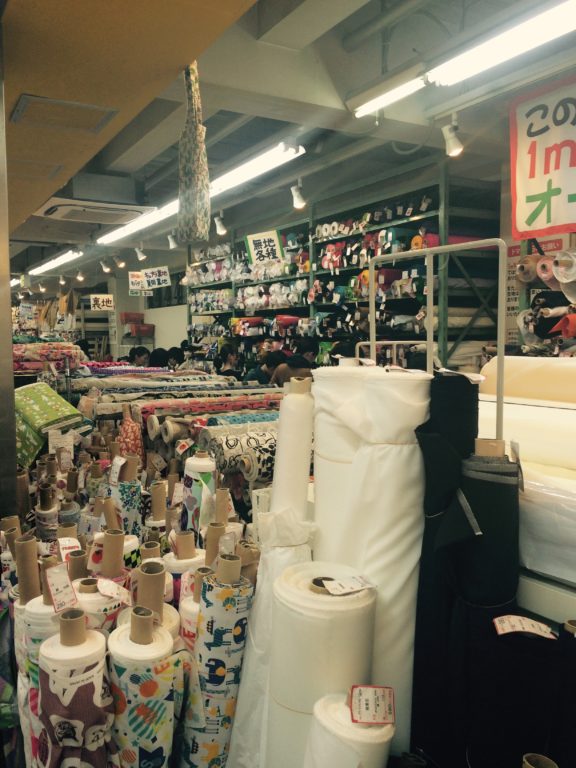 Nippori's iconic store is Tomato—which actually is five stores all next to each other. As you walk up the street from the station, you'll first find the upscale garment fabric shop Tomato on the right—pop in for lovely printed silks, unusual laces and laser-cut fabrics, and a wide range of shirting. Next is the upholstery and home dec store, and then on the left of the street you'll find another three stores, including the main five-story building, which is the gem. It's worth exploring the whole thing from top to bottom.
On the ground floor, there is an extensive range of novelty cotton and linen prints, as well as their famous 100 Yen wall, which is constantly surrounded by bargain-hunters. Going up through the building you'll find a floor dedicated to knits, including lovely terry and sweater knits that are hard to find in the US & Europe, silks, novelty fabrics, and the full catalog of Japanese designers like Nani Iro and Kokka, including unusual fabrics like pre-quilted double gauze. There is a range of styles but if you like modern, bold graphic prints, you're definitely in luck. In terms of buying, you need to get your fabric cut and paid for separately on each floor—look for the sign on the floor that shows you where to line up, and an employee will come and cut your yardage.
La Musee Buttons
(just off Nippori Chuo Dori)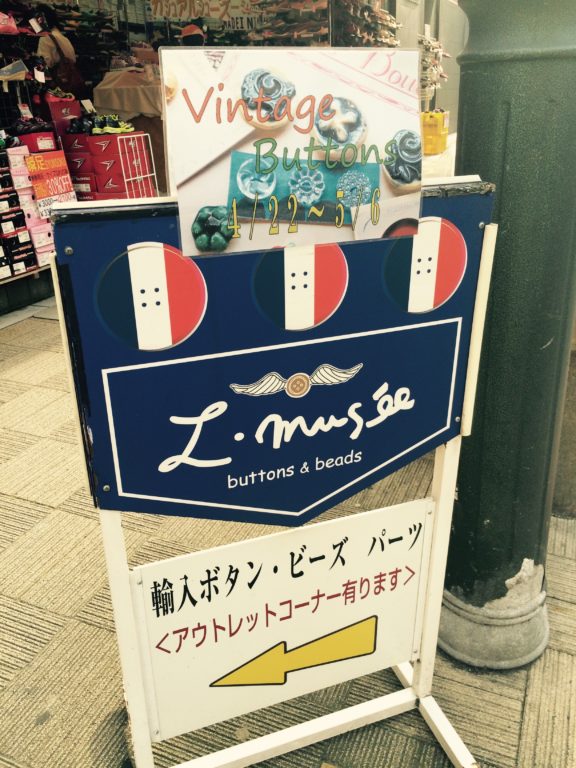 This super cute vintage button store is modeled on a Parisian boutique with an Amelie-in-Tokyo vibe (the soundtrack is probably on their stereo). It's a not-to-miss if you like unusual and cute buttons, and there's an almost overwhelming choice crammed into a tiny space. They also have other notions like cute trims and brooches.
Bunka Fashion College
(3-22-1, Yoyogi,Shibuya-ku,Tokyo ,151-8522 )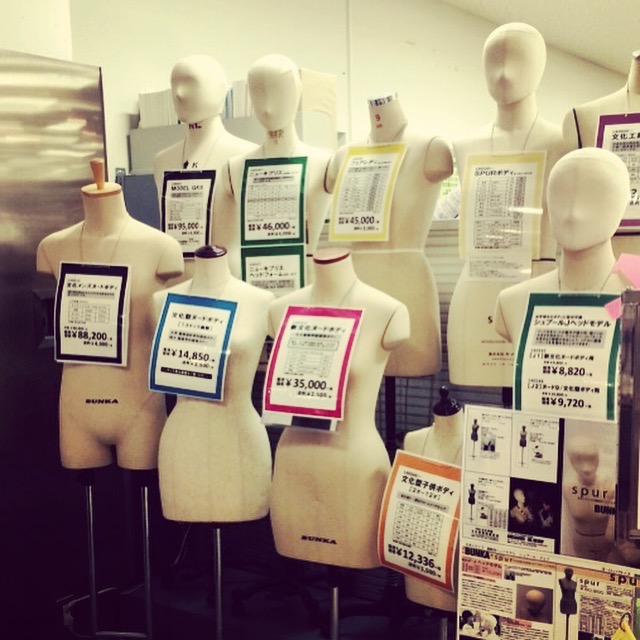 Bunka is the leading fashion school of Japan, and it has several stores and a museum that are open to the public. It's located in a huge skyscraper near Shinjuku station, and you can visit weekdays from 9am–5pm. Check out their three stores for notions, fabric, and books—they have really high quality products, from menswear wools to the famous Bunka mannequins (which are re-designed every year using the measurements of the incoming student class) and world-renowned rulers (apparently their armscye curve is famous!).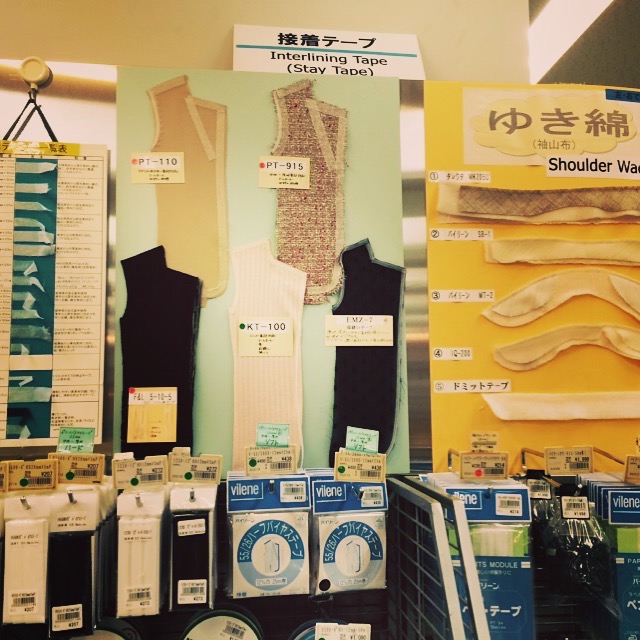 The bookstore has a wide range of sewing magazines and books, and while almost all are in Japanese the beautiful illustrations and photographs make them tempting purchases. To find the stores, you need to enter the main lobby, turn right and go down the stairs to the basement level. Continue through to the back of the building and you'll come to the café—the shops are clustered around the edge. Stop in after your shopping for a coffee and taiyaki (fish-shaped red bean cake) and enjoy watching the fashion students in all their finest outfits. Next to the main entrance you'll find a separate door to the museum, which has a small permanent collection of historic garments and a regular rotation of visiting shows.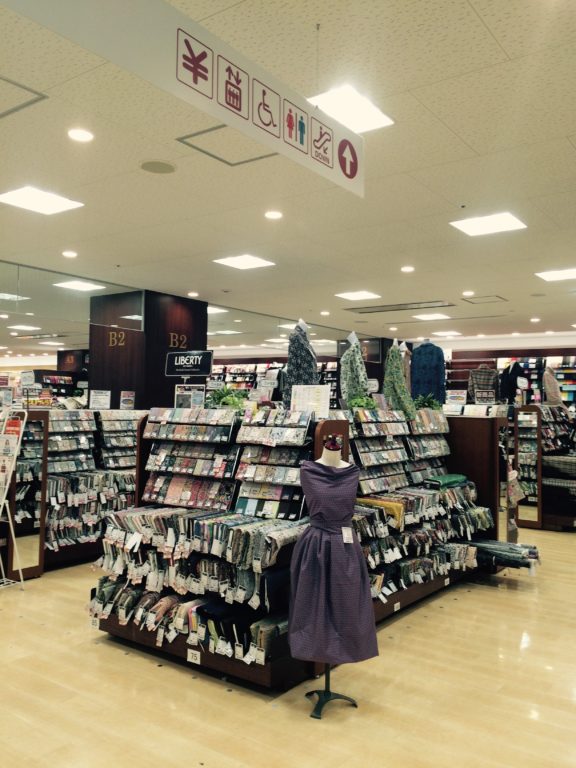 This is a chain of beautiful stores that have a huge selection of Liberty prints (including limited editions only found in Japan, with Hello Kittys hidden among the flowers), many garment-weight cottons, and a massive array of notions. There are also many other craft supplies available; everything you need for knitting, needle-felting, leatherwork, stained glass making, and more. There are multiple locations:


Kamata, 20 minutes by train from Tokyo Station: Tokyu Kamata Station South Exit, 8-23-5 Nishi Kamata, Ota-ku, Tokyo 144-8660


Shinjuku, in the Takashimaya department store: Shinjuku JR Station New South Exit, 5-24-2 Sendagaya, Takashimaya Times Square 11F, Shibuya-ku, Tokyo 151-8580


Kichijoji, in the OIOI department store above the station: Kichijoji Station Park Exit (South Exit) 1-7-1 Kichijoji Minamicho, Marui 7F & 8F, Musashino-shi, Tokyo 180-0003


Ginza, 5-7-10 Ginza, New Melsa Ginza 5-chome 5th floor, Chuo-ku, Tokyo 104-0061


Okadaya
(3-23-17 Shinjuku, Shinjuku-ku, Tokyo)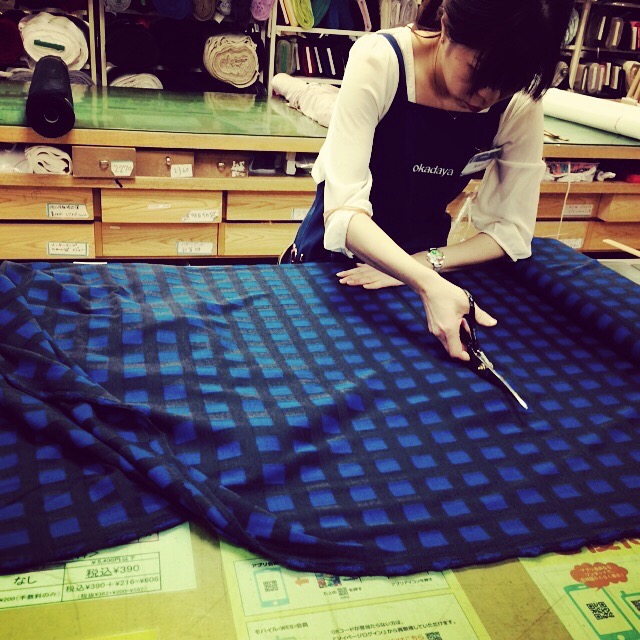 This is another wonderful multi-story fabric and craft store located in Shinjuku. There are two buildings: one for fabric, and one for all other crafts. This store is particularly great for sweater and quilted knits, novelty fabrics, and special occasion fabrics, though it is relatively pricey. It's behind Shinjuku station, just north of the Lumine Est northern entrance—the door to the fabric store is hidden in an alley, so be persistent and you'll find it!
& Stripe
(Meguro-ku, Tokyo Gohongi 2-13-1 Urban Phoenix 2F)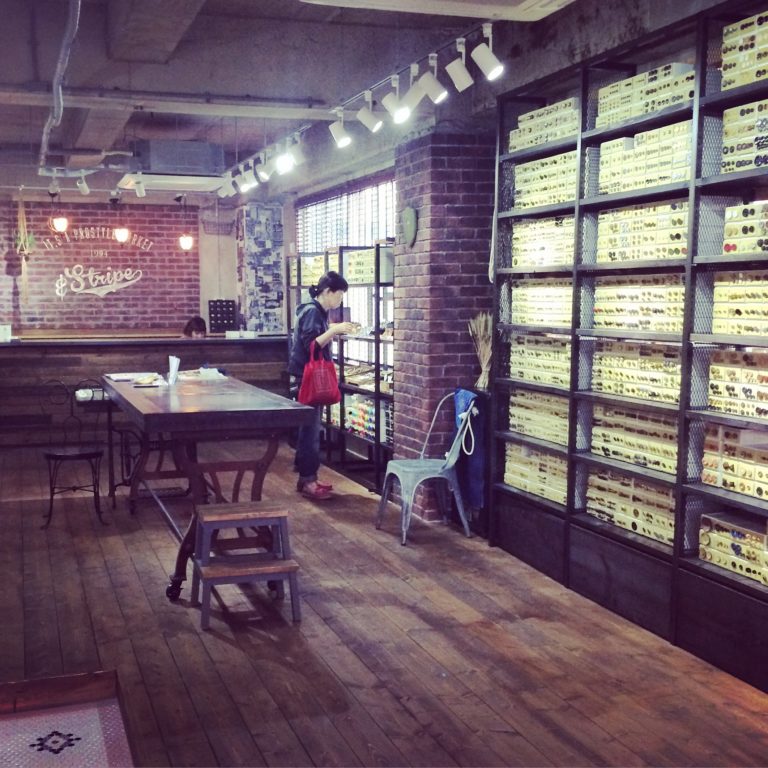 Located on a side street near Yutenji Station, this is a super hipster location for buttons, zippers, and selected notions. Aside from being a beautiful store, they have thousands of really unusual buttons, some made in-house and some imported. They're famous for their five-holed buttons that can be attached in a star formation, as an anchor, and in many other ways! It's a bit out of the way, in a residential suburb, but worth a trip if you're a button fanatic.
Craft Stores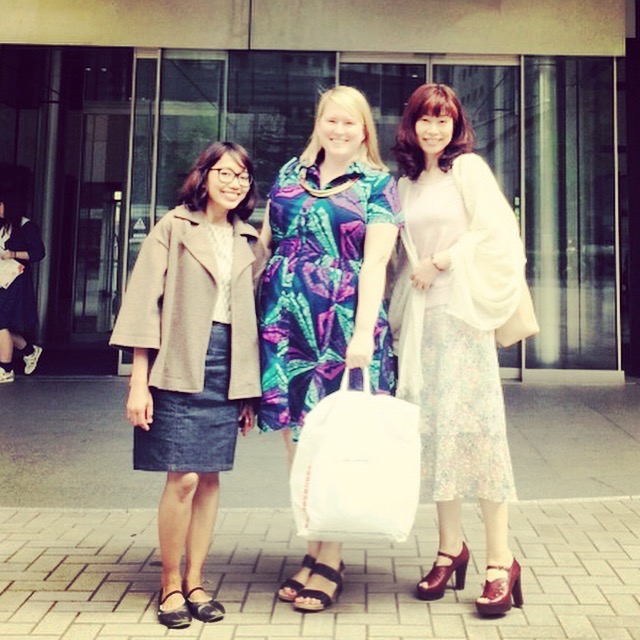 Jenny Rushmore
with fellow sewing bloggers
Novita
and
Yoshimi
.
While many of the fabric stores listed above also have craft sections, the true mecca for non-sewing crafty types in Tokyo is Tokyu Hands. This chain has multi-level department stores dedicated to activities from gardening to leather working, embroidery, cooking, paper crafts, and more. There are over a dozen locations in Tokyo, with the two largest at Shibuya (12-18 Udagawa-cho, Shibuya-ku) and Shinjuku (Times Square Building 2-8F, 5-24-2 Sendagaya, Shibuya-ku).
Wrapple
Shibuya PARCO Part 1 4th Floor, 15-1 Udagawa-cho, Shibuya-ku
Are you obsessed with wrapping things beautifully? Then Wrapple is a no-miss. Located on the fourth floor of the PARCO building, it's dedicated to DIY wrapping, with an array of paper, ribbons, boxes, washi tape, and the ever-present food-shaped plastic containers. If you want a bento box shaped like a duck, this is the place for you.
Other resources
If you're interested in crafts beyond sewing and knitting, or if you're interested in exploring other less well-known stores and neighborhoods, check out the Tokyo Craft Guide, written by Miss Matatabi. There's free info on Nippori Town and Shibuya, and a downloadable eBook to other areas that is well worth the investment.
Join the Conversation
Sign in or become a Seamwork member to comment on this article.