Me-Made-May (MMM) was the first challenge I participated in after launching my blog, and it was instrumental in my personal shift towards making more of my clothes. What makes MMM compelling is the way it challenges sewists not only to make garments, but also to actually wear them in our real lives—and so to consider how our handmade wardrobes relate to consumption, self-image, and how we present ourselves to the world.
MMM creator Zoe Edwards of the blog So, Zo… kindly agreed to answer my questions about how the challenge started, how it has evolved, and how her perspective has changed since becoming a mother.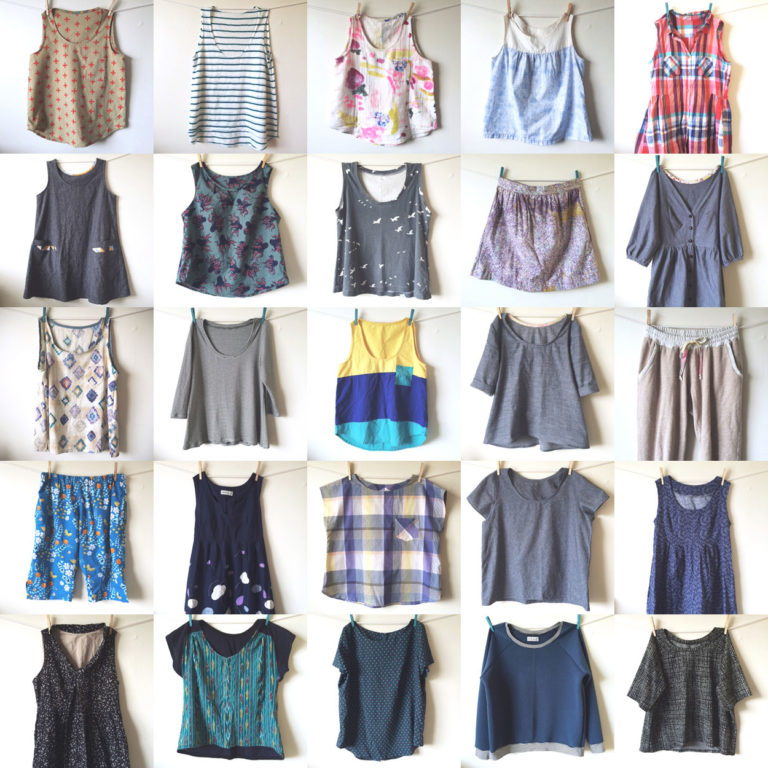 A MMM wardrobe by
Cherie
.
Q: How did you first come up with the idea for MMM? And how did you decide to make it a group challenge?
A: Well, the whole thing started back in 2010. I was living in Barcelona, Spain, at the time and had been getting more and more into making my own clothing and thinking about the meaning and motivations behind creating a handmade wardrobe. I wanted to test myself and see how far I could rely on the items I had made, plus it gave me a push to try different types of garments that I'd never tackled before, like undies and a coat.
I first attempted the challenge as a solo endeavor in March of that year. It was fun, informative, but mostly COLD! I wanted to try it again during a warmer month, so I decided on May and mentioned it on my blog to see if anyone else was interested in trying something similar. My own personal pledge was to wear only me-made things, aside from bras, tights, socks and shoes, but I left it open for anyone else taking part to set their own specific pledge and have done so ever since.
I thought that perhaps a handful of people might be interested, but about 80 people decided to take part in some form or other! I was really shocked, and every challenge since has gained more and more participants, with last year's seeing about 600!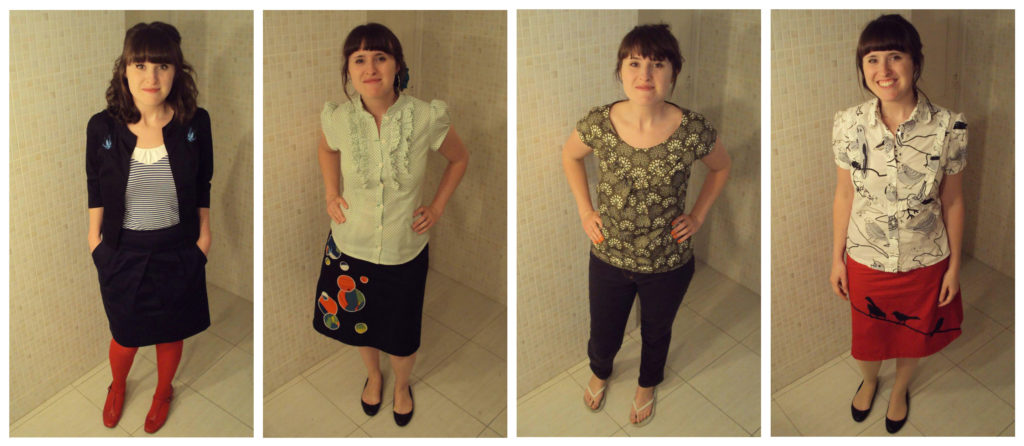 A few of Zoe's MMM outfits from 2010.
Q: How have the challenge and the community around it evolved? 
A: The challenge has a more developed sense of community now, which has been possible thanks to new and expanding social media platforms.
An annual Flickr group was one of the first additions, we've tried (and abandoned) Facebook groups/pages, and have embraced hashtags on Pinterest, Twitter, and Instagram as a way to communicate, share, and comment on each other's and our own experiences of the challenge.
I also organize sewing-related giveaways to celebrate each week of May.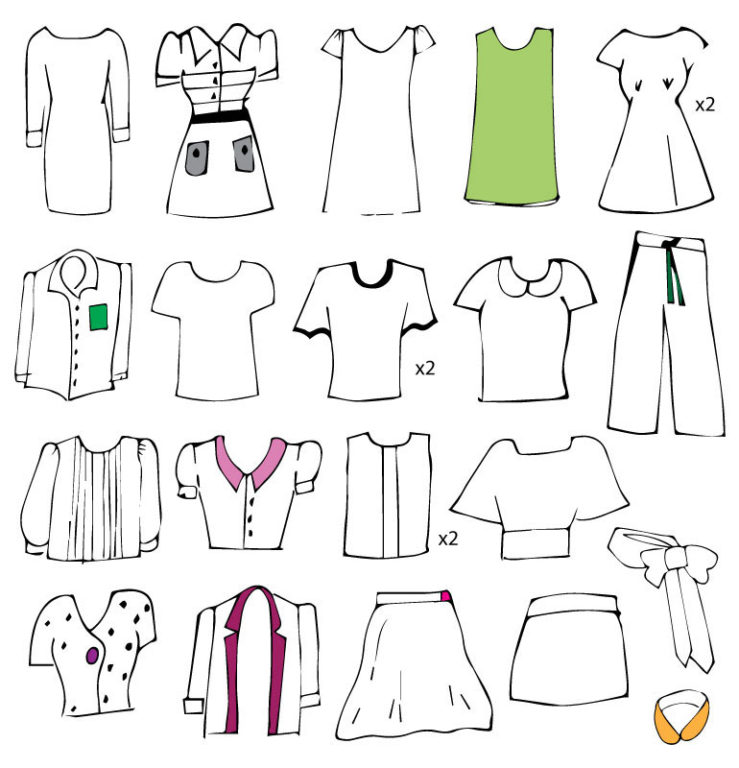 An illustrated wardrobe from MMM'14
by Charlotte of
English Girl at Home
.
Q: One of my favorite things about MMM is the sense of community I get from seeing other sewists wearing their makes in real life. What do you find inspiring or motivating about all the other people who have joined in?
A: What I have really loved is the many lovely comments and messages I have received or read on the Flickr group discussions and on people's individual blogs about the many ways participants enjoyed and benefitted from taking part.
There are the obvious ones of course, about finding holes in their self-made wardrobes, and working out what colors look better on them than others. There are ones that I never expected, like re-discovering lost enjoyment in getting dressed each day, and improved body image (which may have been achieved by the non-compulsory-but-popular activity of taking daily or weekly photos to document their challenge).
Even people who have been making their own clothes for many years take away a lesson (or ten!) about themselves and their relationship with their handmade clothing, and possibly even their creativity. 
Q: What are some other things that creating and participating in this challenge has taught you?
A: If I ever have a chance to forget it, MMM reminds me every year just how genuinely lovely and supportive the online sewing community is! I ADORE the fact that people from all corners of the globe are communicating about our shared interests and passions, and inspiring and motivating each other. MMM has taught me that the online sewing community is a home of sorts, both for myself and for many others. 
Q: I found it admirable that even after your baby girl was born, you made it a priority to keep MMM going.  Do you have any thoughts on how having a child has impacted your priorities, and/or keeping the thread of your own creative work alive during that time?
A: I'm sure that everyone who has a child experiences a shift in what is and is no longer important to them. And even though the time I had to participate in sewing, the online sewing community, and blogging was greatly reduced, I felt I needed it in my life more than ever. Everyone who sews clothing probably has a slightly different collection of motivations for doing so. After having my daughter (and I'm increasingly feeling this now that she is an energetic, and sometimes destructive, toddler) I felt I clung to sewing as something I could do that didn't almost immediately get undone! Those piles of clean laundry quickly became dirty again, the tidy pile of toys and books were strewn across the floor again in a heartbeat, and the dinner you just cooked either got eaten or smeared over the highchair. However, if I made a piece of jersey into a t-shirt, it remained a t-shirt!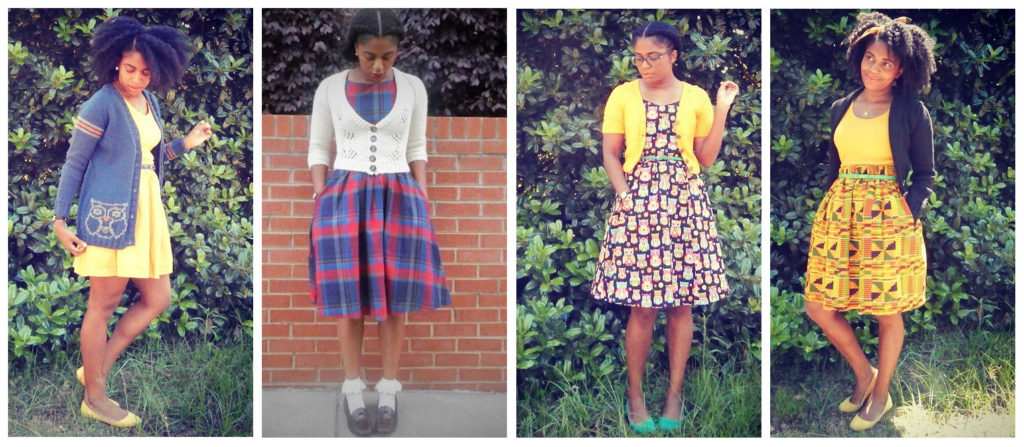 Some daily looks from MMM'15 by
Constance
.
Also, although many parents sometimes feel guilty for admitting this, having a baby/young child is insanely repetitive and often very boring. Even though you don't get to do a fraction of the sewing that you used to pre-kids, keeping your creative brain alive by mulling over sewing plans or plotting the next stage in the construction of a garment can provide an inner life when your actual day involves six rounds of washing up and another trip to the play park.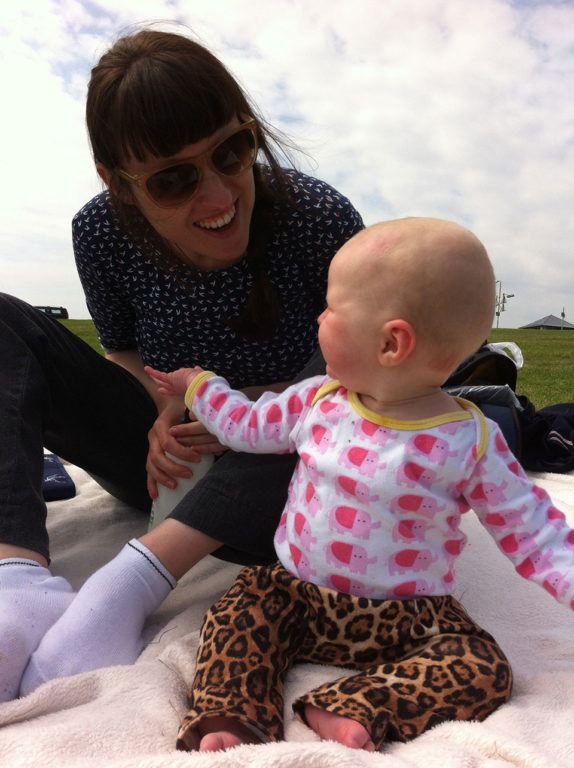 Zoe and her daughter enjoying a
picnic in Zoe-made clothes during MMM'14.
However, increasingly I am finding that motherhood and sewing are getting interwoven. Sewing projects intended for my daughter excite me just as much as making something for myself, and often even more so. There's a real freedom when they are small and have few sartorial opinions! Plus you get to do things like appliquéing leather rabbit shapes and trying to make a rainbow from a patchwork of scraps that are (arguably) super fun but otherwise probably wouldn't have any use in my life! 
I'm sure I'm not alone in being inspired by Me-Made-May, and by Zoe's dedication to what's important to her, whether it's sustainability, a handmade wardrobe, or raising her daughter. She stressed that this challenge is for anyone and everyone who wants to participate, whether you have one self-made garment to wear or 50. Whether you feel like posting a picture of your outfit every day, or never taking a single snap, you can create your own pledge. Follow along with this year's challenge on So, Zo… and using the hashtag #mmmay16 on social media. It's bound to be as fun and thought provoking as ever!
Join the Conversation
Sign in or become a Seamwork member to comment on this article.