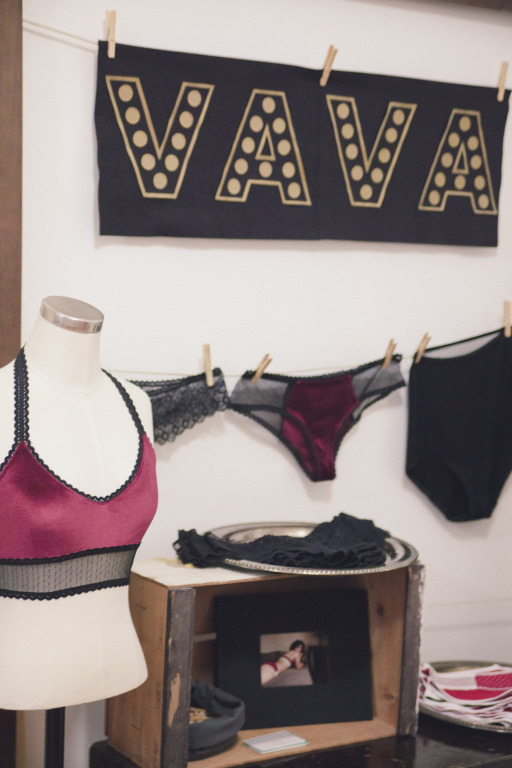 Alyssa Woods began VAVA lingerie for the same reason many designers begin their lines: she couldn't find the kinds of garments she wanted in shops. In her case, what she wanted was ethically produced, sustainable lingerie that fit well and would be available season after season. When this proved difficult to buy, she decided to do it herself.
Sustainability is a guiding value for the designer, but not an easy one to live by in the world of lingerie, where synthetic fabrics and elastics are supreme. She's learned to make pragmatic choices based on what's available, combining natural and synthetic fibers to achieve a more sustainable product that still maintains its function. Here, Alyssa shares her tips and resources for buying sustainably when making your own lingerie.
Tell me about your line. How long have you been in business? What got you interested in lingerie?
I opened VAVA last June, after many months of prototyping, giving away lingerie to my friends while working out the kinks in my designs and sizing. Like most of my sewing projects, my interest in making lingerie grew largely from my desire for things that I couldn't find in stores. I wanted lingerie made in the US in styles that were racier than what I was finding.
I also didn't see any reason for styles to change as rapidly as they do. I had a few pair of panties that I loved the cut of, but would never be able to find again. Especially in lingerie, which is less trend sensitive than other apparel and which you rarely have the option to try on, I wanted to be able to reorder the cuts I liked in different materials rather than taking a gamble on fit every time I purchased something new.
Offering the options that I desired to other women was really compelling, and in lingerie I saw an opportunity to put something new on the market that wasn't currently available, and to contribute to a growing field of ethically conscious design and manufacturing.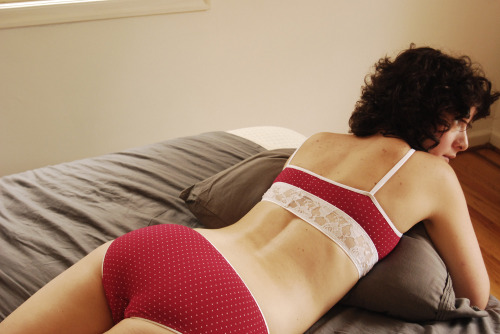 Bralette and panties set
constructed from bamboo jersey
and stretch lace.
How would you describe your designs?
I find unbridled self-confidence the single most attractive attribute a woman (or person) can have. I design for women who already feel sexy and confident, and want their everyday underwear to reflect this. There's a wealth of "special occasion" lingerie out there — and who doesn't love a good costume? — but I wanted to bring the overt seduction of these styles to pieces that can be worn all the time.
My lingerie is meant to compliment the body as it is, and to be comfortable enough to wear on a hike, to run errands, or all day at work. I hope that my designs reflect women who are sexy but not defined by their sexuality; its always there, just under the surface, but doesn't hinder or overwhelm the rest of their lives.
What was your background before starting the line?
I actually went to college for philosophy. Afterwards, I spent several years moving around and trying to figure out where I might like to fit into the world. I was thinking a lot about where the stuff of our everyday lives comes from, and where it winds up once we've used it.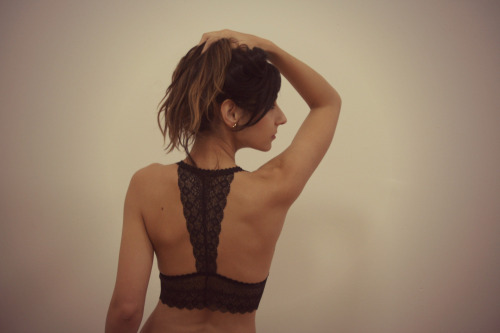 Wide stretch lace trim can be cut and used to form interesting
details, like this
VAVA racerback.
I loved sewing and knitting, and found immense gratification in creating those items which I most tended to covet in the world. So I started doing custom sewing for friends and signed up for classes in sewing construction, patternmaking, and fibers at a local sewing school called Portland Sewing. Portland Sewing isn't accredited, but I didn't really feel I needed another piece of paper with my name on it; I just wanted the skills and the information. It was a great way to go; I spent infinitely less time and money than I would have attending a fashion design institute, and came out with the skills I needed to pursue my areas of interest. Additionally, because teaching there isn't a full time gig, my instructors had actual industry jobs and all of the insights that come along with it.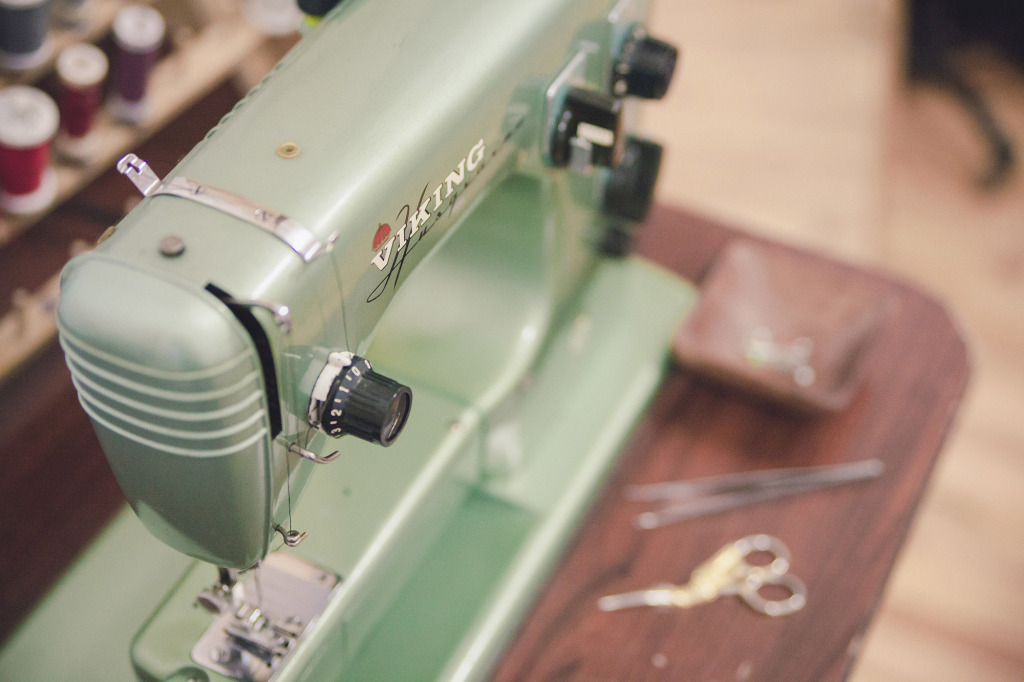 Alyssa's equipment includes a vintage Viking sewing machine, which she describes as a "workhorse".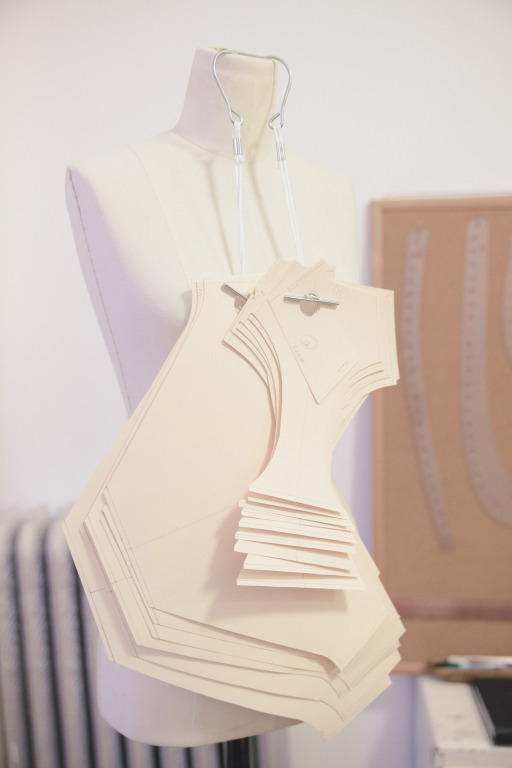 What made you interested in using sustainable fibers?
I really wanted two things out of my work: to support myself doing something that I loved and to feel that my ventures had more positive than negative repercussions on the world around me. So offering materials that do the least damage was an obvious choice.
That being said, at least half of my materials are in no way sustainable: stretch laces are almost always synthetic, and elastane (lycra/spandex), which lends stretch to all of the knits that I use as well as to trim elastics, is petroleum based. In fact, I almost shied away from lingerie because it's so heavily reliant on synthetic materials. But this felt like kind of a cop-out, especially as I wasn't going to stop wearing lacy lingerie with a stretchy modern fit. So I buy, use, and offer whatever I can find, and hope that better materials and manufacturing practices continue to develop.
I wanted to feel that my ventures had more positive than negative repercussions on the world around me.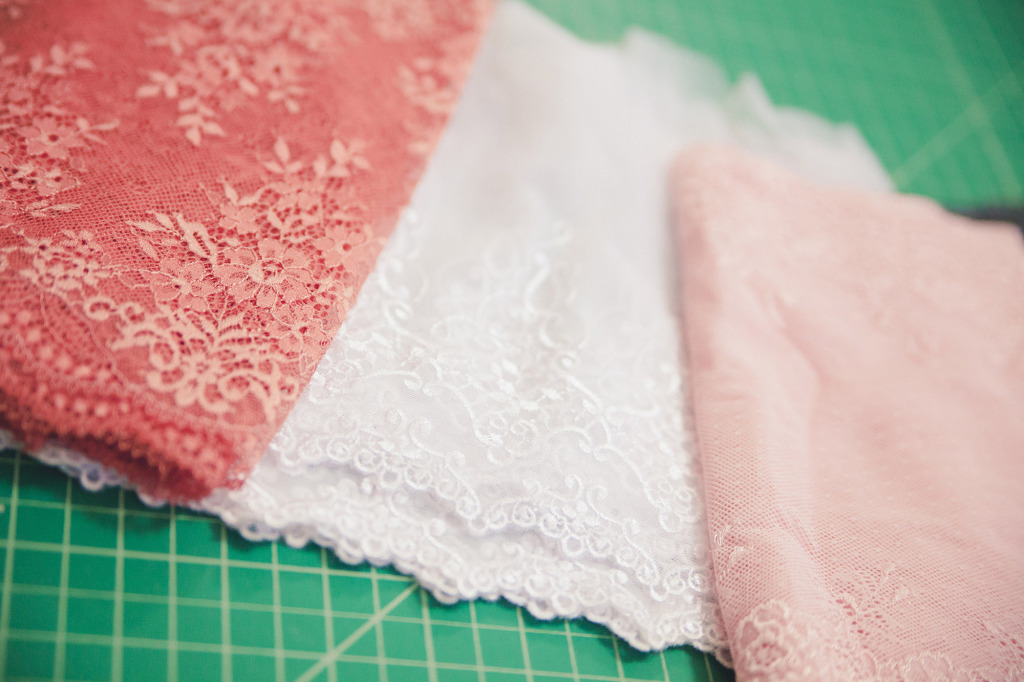 Stretch laces are among the materials that do not currently have sustainable alternatives.
How do you balance the desire for sustainability with the process of design? How do you choose the right fabric for a particular style?
There are basically two kinds of materials I work with: basic jersey knits, which can be found in a variety of naturally derived fibers, and stretch laces, sheers, elastics, and similar trims, which I have only found in synthetic materials.
I only use naturally derived knits, because I see no reason to use a polyester fabric if something comparable is available in organic cotton or even bamboo. The options in this category are increasing rapidly and I've found enough enticing designs that I never really venture outside the "eco-friendly" section of retailers.
I do sometimes have a choice between two options that each provide different benefits, and in some cases I've left it to the customer to decide what their preference is. For instance, anywhere that I use a plain black knit, both tencel and an organic cotton/soy blend are given as options.
The tencel is a natural-synthetic, and as such has more synthetic properties: a silkier feel and a deeper, more colorfast black; synthetics and natural-synthetics are dyed during their creation, so the color is actually bonded to the material. The organic cotton is soft but not as fluid as a synthetic, has a more natural feel and look, and a stronger stretch retention so that it provides better support for say, the cups of a bralette. The knits I use do generally contain about 5% elastane, which provides a nice snug fit all day long, so that pieces fit as well at the end of the night as they did when you put them on.
For all of the other materials, which is basically any material that makes lingerie look like lingerie, eco-conscious options simply aren't on the market yet. While its true that almost anything with stretch is going to rely somewhat on elastane, much of the fiber for stretch laces, mesh, and sheers could be derived from natural-synthetics like bamboo or tencel/lyocell, or from recycled synthetics.
I see no reason to use a polyester fabric if something comparable is available in organic cotton or even bamboo.
My guess would be that this is simply an issue of market demand. There needs to be a large company commissioning textiles made of these materials, willing to front the cost of testing and producing a large batch, and consumers willing to pay a bit more for the end products. I would love to someday be able to work directly with textile mills to produce these kinds of fabrics, to make them available to both my customers and to home sewers.
There is another rather wonderful way in which sustainability is linked to design, beyond materials choice, and that is in longevity. I try to design pieces that are aesthetically enduring, that won't seem outdated in a year, and that are well constructed out of quality materials. Part of moving towards a more sustainable model has to be a change in our approach to production and consumption, because even the most "eco-friendly" materials require immense amounts of resources to produce.
What factors go into determining a particular fiber's sustainability?
There are essentially three categories of fibers: naturals, synthetics, and natural-synthetics. Natural fibers, like cotton, hemp, linen, silk, and wool, are spun into thread or yarn directly from plant or animal matter. The primary concerns with these fibers are water usage, both in growing and processing and, especially with conventionally grown cotton, chemical pesticides used in the growing process.
Synthetics are chemically created fibers, generally derived from petroleum; they're basically cooked up in a pot and then extruded through tiny holes to make long fibers, much like a play dough mold. The sustainability issues of these fibers are obvious: petroleum is a non-renewable resource and it's processing releases chemicals that do serious damage to the environment. However, synthetics can often be recycled, and we have an astounding amount of already existent synthetic material in the world that could be put to that end. We're already turning old plastic bottles into fleece, and there are probably endless untapped options for turning our landfill waste into usable fibers.
The third category, and the one that I find most exciting, is natural-synthetics, like rayon, bamboo, soy, and tencel/lyocell. These materials are derived from natural sources but cannot be directly processed into textile fibers. Instead, they are chemically broken down and then processed in essentially the same way as traditional synthetics. Concerns here are somewhat about the renewability of the raw materials, but moreover the chemicals used to process them. This can make finding accurate information about the impact of a particular fabric quite difficult, because it largely depends on the practices of the production mill and how responsibly they dispose of their chemical waste.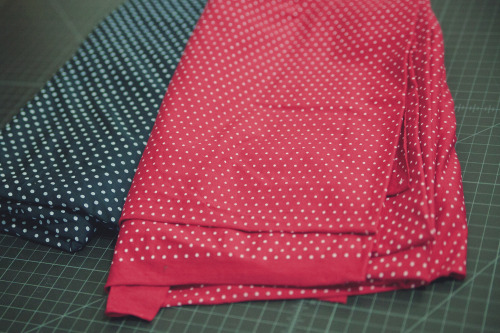 These polka dot jersey fabrics are made from bamboo, a natural-synthetic (also sometimes called semi-synthetic) with a silky feel.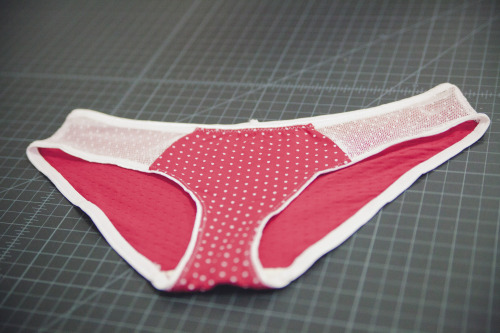 Bamboo jersey can be used for panties like these. Make sure it has added spandex for recovery.
Many natural synthetics have gotten a falsely generous reputation for sustainability for this reason. For example, bamboo, which seems all the rage right now, sometimes uses very harsh chemicals in its production. That being said, it is a step up from petroleum, and processes can be improved. Tencel (trademarked by Lenzing) or lyocell (the generic name for this fiber), which is made from eucalyptus trees, uses less harsh chemicals in its production, and Lenzing has developed a production process that is 99% closed loop, which means the chemicals are contained and reused.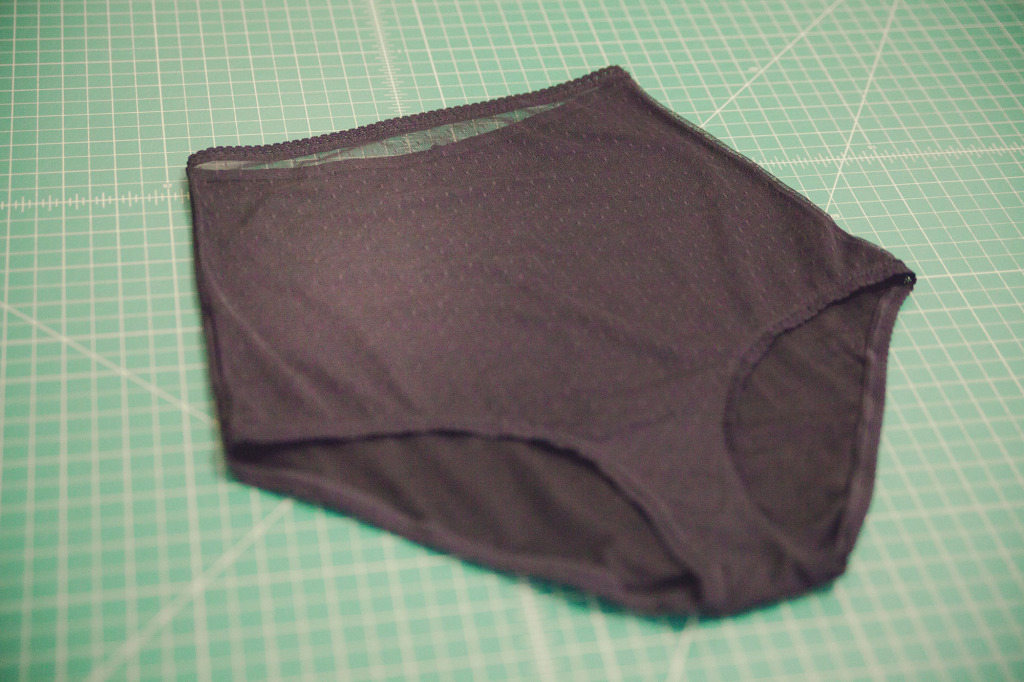 For these high-waisted panties, tencel is combined with a synthetic mesh.
What fibers would you recommend for the home sewer looking to sew lingerie with sustainable fibers? What terms should she search for?
Organic cotton with a bit of stretch works well, and can be purchased from Organic Cotton Plus. That shop and Fabric.com also stock 100% organic cotton, which is great for lining panties. I have found one source for tencel with 5% elastane, which really is necessary as 100% tencel has so much drape that it will droop by the end of the day. StitchedFabric, a small fabric boutique selling via Etsy, regularly stocks this in black and it really is a beautiful, soft, and luxurious fabric.
Fabric.com also now stocks a huge variety of 95% Bamboo 5% Elastane fabrics. For sewing things like camisoles and tap pants (more sleepwear style lingerie), woven fabric options are plentiful in organic cotton, hemp, silk, and some lovely blends of these. Check out the "Voile, Batiste, and Whisper" section of Organic Cotton Plus as well as the "Sateen" and "Voile" selection at Honeybegood. Additionally, both lightweight woven and knit fabrics in 100% tencel or lyocell have a lovely drape and work beautifully for sleepwear projects.
When searching, it's probably best to know what materials you're looking for and search for these fibers specifically. I've found that, unfortunately, a search for the term "eco-friendly" or anything like it will yield more or less unfiltered results, as many sellers have begun to include these terms in their keyword lists to catch the attention of buyers, whether or not their materials have any actual claim to ecological concerns.
Are there any other resources you could recommend for home sewers looking to learn more about fiber sustainability?
The Materials Sustainability Index is a cool resource to check out. It's a cradle to grave assessment system for the impact of different fibers, originally developed by Nike to aid their designers and developers. There are a lot of factors that go into determining the impact of different materials, and the MSI breaks down each assessment into chemical, energy, water/land, and waste components, so that you can understand just what the issues are with each fiber.
Also take a look at the materials information on Patagonia's website, as well as interviews with their staff on fiber sustainability. They're more committed to the development of eco-friendly materials than any other entity (commercial or otherwise) that I can think of, and they have the resources to really study impact and to implement new processes and materials production. They were the first company to introduce recycled polyester fleece, and have recently introduced the first plant-based wetsuits to the market.
If a company hopes to still be thriving in 50 years, sustainability must be a concern.
It may seem odd to look to large companies to provide information on fiber sustainability; one might think that they would skew the information towards cheaper materials that help their profit margin, but if a company hopes to still be thriving in 50 years, sustainability must be a concern. Also, these folks are fiber experts: they have a technical understanding of fiber production and properties as well as the industry contacts to research and fully understand impact, and to do something about it.
Sustainable Fabric Resources

Join the Conversation
Sign in or become a Seamwork member to comment on this article.