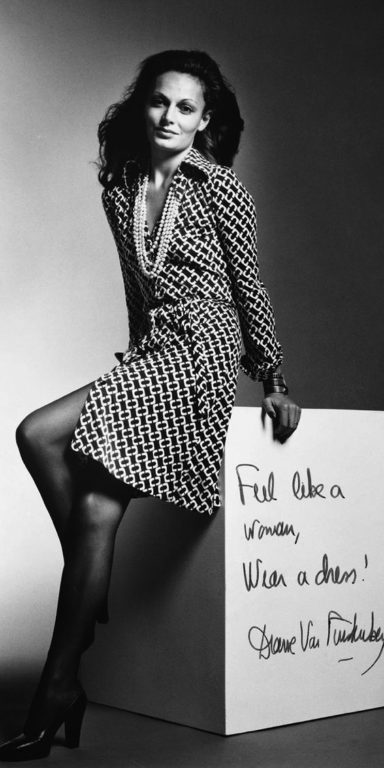 Diane von Furstenberg with her favorite saying,
"Feel like a woman, wear a dress!"
A dark room houses a squadron of mannequins standing at attention, uniformed in an eye-popping display of black and white Op-art print dresses. This veritable army of fashion stares stoically into the distance, gazing at the giant black and white chain-link print that surrounds them. A formidable group, the mannequins stand casually, but with an air of self-assurance, as if they are going to step off their propped legs and head out to a business meeting. Instead, they stay still, waiting for the crowds to come to them—waiting for the stares, the whispers, and adulation. It is the fortieth anniversary of Diane von Furstenberg's wrap dress, and they are dressed for the party.
The meteoric success of the wrap dress in 1974 rocketed von Furstenberg to international fame. Not that she started totally at the bottom—she was already a darling of the society pages as New York's newest resident princess. But, while she may have come to the United States bearing a title, she also came with a suitcase of dress samples in hand, and a determination to be a financially independent woman. Within a few years, she achieved that goal, plus a few extra million, garnering a Newsweek cover story which described her as "the most marketable woman since Coco Chanel."
The comparison between von Furstenberg and Chanel is an apt one. Both women built international fashion brands in an industry dominated by male designers. They each understood what their contemporary audience needed in their wardrobe. And, most interestingly, they both cemented their name in the fashion industry by designing iconic dresses made from knit jersey.
Chanel designed the little black dress in 1926. Von Furstenberg designed the wrap dress, in its most popular form, in 1974. Two very different dresses designed for two very different times. And while fashion continues to evolve, these two designs have endured. Their continued relevance may be attributed to their wearability—after all, these are both highly flattering styles on many sizes and shapes of women. But there is also a history told in the color and cut of these dresses, one of independence and modernity, attributes that seem to come straight from their designers.
The Iconic Little Black Dress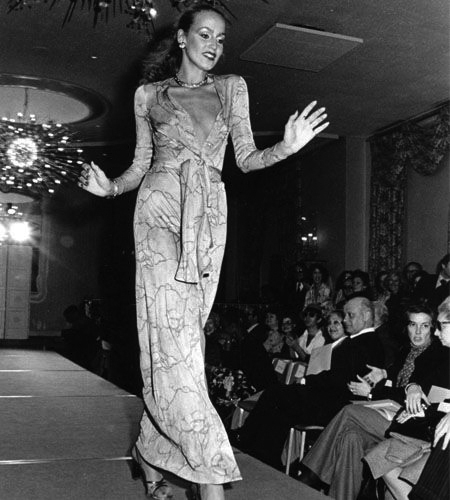 Jerry Hall models one of the first wrap dresses.
Classic. Timeless. Elegant. The little black dress has topped every wardrobe-staple list from magazines, would-be stylists, and influencers for nearly a century. Its magic doesn't seem to be tied just to the garment's design. After all, little black dresses can be short, long, modest, or revealing. Nor does color necessarily make it stand out as a garment, though black is almost always an elegant choice. The underlying magic of the little black dress, or LBD, as we know it today, is its inherent portrayal of power. And in 1926, for the first time, women were grabbing a piece of that power for themselves.
For decades, nay, centuries, women had been dressed in constricting fashions. Corsets, panniers, hobble skirts—trend after trend of encumbering garments. But as the first wave of feminism took hold during the turn of the century, young women began rejecting those garments. Gabrielle Chanel was one of those women. She preferred clothing she could move in, and would often wear trousers or uncorseted dresses, a predilection she incorporated in her garment designs. While Chanel was not the only designer to show un-corseted garments, her 1913 jersey sportswear collection is often considered the nail in the corset's coffin.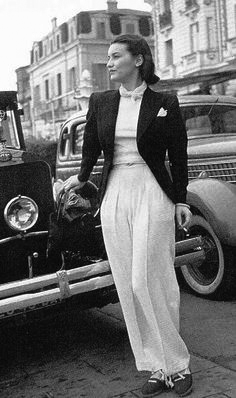 Chanel wearing her
version of menswear.
Thirteen years later, the flapper generation was in full swing and, sartorially, women were uncovering more than they ever had before. Socially, huge changes had been made; in many countries, suffragettes had fought for and won the right to vote, and though options were limited, more women were entering the workforce. Chanel herself continued to embody the prototypical modern woman. She was now an internationally known designer, and the public was eager for news of the business dealings and romantic entanglements of the enigmatic Coco Chanel.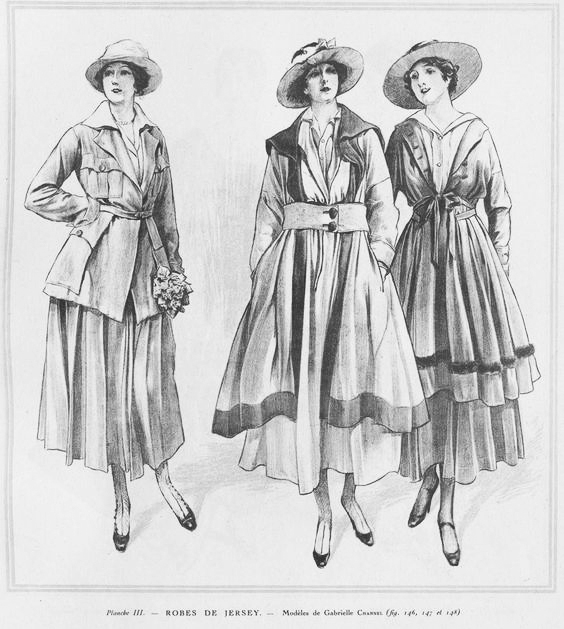 Illustrations of Chanel's jersey knit collection.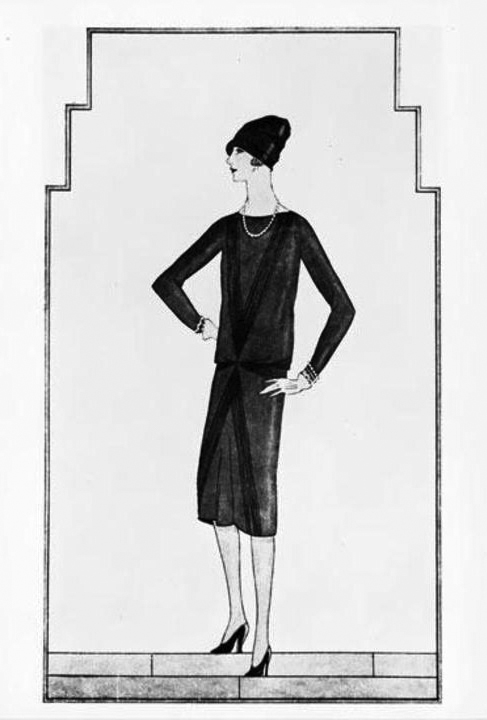 The first little black dress designed
by Chanel and shown in American
Vogue
.
It may have been the sheer accessibility of Chanel's first little black dress that inspired American Vogue to dub it an "instant classic." While the color of the straight-cut, calf-length dress was somewhat shocking, as black was mainly worn for mourning, the simple decoration made the design attainable for all social classes. And, when made in Chanel's signature jersey knit fabric, the drape of the garment flattered most women's figures.
Jersey Girls
Before Chanel got a hold of jersey knit, it was manufactured out of wool and mainly used for undergarments. In a time when traditional outerwear fabrics were scarce because of World War I, Chanel saw an opportunity to make use of the little-known material, and her customers were delighted by how comfortable and flattering the fabric was.
Almost fifty years later, a young Diane von Furstenberg found herself working at Angelo Ferretti's garment production company in Italy. Ferretti mainly produced scarves, T-shirts, and nightgowns, using jersey knit that he manufactured. At the time, jersey knit was still an anomaly in fashion. Some major designers, like Madame Gres and Halston, took advantage of the fabric's soft hand and beautiful drape, but for the most part, it had been ignored by the fashion industry.
Von Furstenberg shadowed Ferretti, learning all about producing, dyeing, and finishing jersey knit. She also began designing wild prints for Ferretti's T-shirts, a precursor to the colorful, graphic prints she later became known for. As she worked more with jersey she realized that there was an opportunity in the fashion market for a line of casual, yet sexy jersey dresses. At night she would steal down to Ferretti's basement to work with the patternmaker on her own line of dresses.
By this time, fiber technology had advanced, and jersey was woven out of a variety of different materials including silk, rayon, cotton, and acrylic. This fabric was a far cry from Chanel's thick wool jersey—it was silky and skimmed the body. The first set of designs that von Furstenberg took with her as she left Ferretti's factory and moved to New York included a T-shirt dress, tunic and pants, a long shirtdress, and a tent dress—garments that flowed around a woman's body and moved with her.
Unwrapping von Furstenberg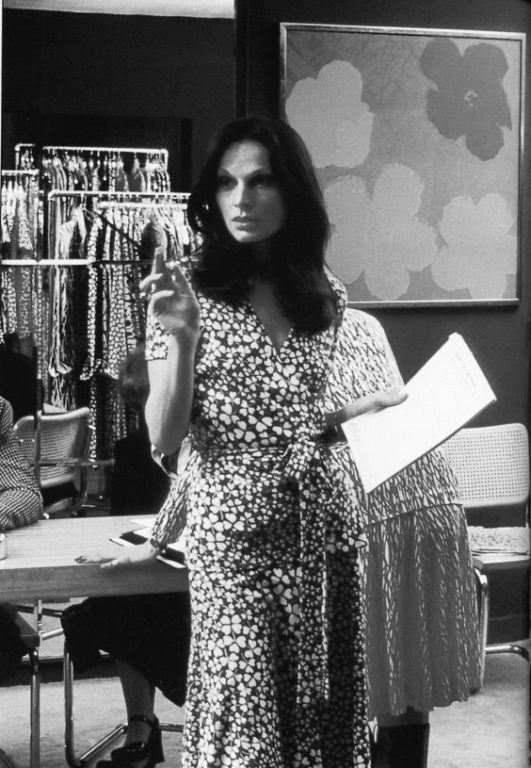 Von Furstenberg in her office.
The newly married Princess Diane von Furstenberg sailed into New York in 1969, a prince on her arm and 100 dress samples to shop to wholesalers. She spent her days selling to stores, overseeing production, and shipping product—all while juggling family life with her newborn baby. At night the von Furstenbergs would hit the town, spending their evenings at Studio 54 and landing on magazine covers across the country. Like Chanel before her, who best marketed her designs by wearing them, von Furstenberg was her own best advertising. In photo after photo she appeared, all cheekbones and glamour, wearing her simple knit dresses in bold prints.
Just as the little black dress debuted at a pivotal time during the first wave of feminism, the wrap dress debuted during the second. For the modern woman in 1974, here was a dress that you could wear to work and out at night. It was accessible, comfortable, and sexy. And just as Vogue had declared the LBD an instant classic, it quickly jumped on the wrap dress bandwagon.
In 1976, Newsweek highlighted the newly single mother-of-two's flourishing business with an article and cover photo featuring von Furstenberg in a green and white print wrap. Women around the country lined up to meet von Furstenberg as she traveled from store to store, preaching her mantra of beauty and confidence. The wrap dress became a symbol of von Furstenberg herself—independent, powerful and glamorous.
DVF: The Legacy
In an industry where most famous fashion designers are men, it is telling that two of the most enduring garment designs for women were designed by women. Von Furstenberg and Chanel understood what women wanted from their clothing because they wanted it themselves. Glamour and comfort, accessibility and independence.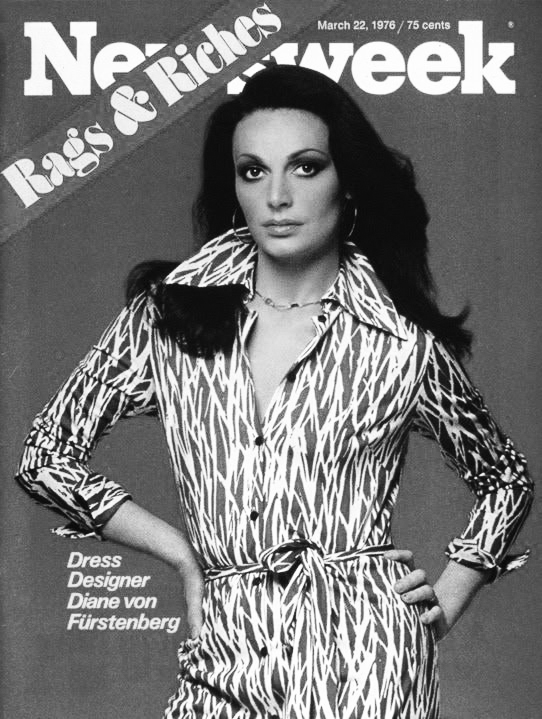 In March 1976, von Furstenberg was profiled by
Newsweek
.
In 2014 the fashion world celebrated the 40th anniversary of Diane von Furstenberg's wrap dress with an exhibit at the Los Angeles County Museum of Art. The exhibit, entitled "Journey of A Dress," gave von Furstenberg the chance to celebrate the design that will forever be considered her legacy to the fashion world. "This is the first time that I ever honored the wrap dress, and she did so much for me," von Furstenberg confessed at the opening party. "She made me famous. She paid for all of my bills. And tonight we celebrate the wrap dress."
Von Furstenberg continues to create. She has molded her name into a legacy brand now known as DVF. "I just want to keep doing what I am doing," von Furstenberg says. "Continue to be true to myself, and to keep creating fashion that will become a woman's best friend." For her, design isn't just about clothing; it's about confidence. "I hope I leave a legacy behind, and the legacy is about celebrating freedom, empowering women, and selling confidence." Like Chanel before her, the wrap dress will likely keep von Furstenberg's name in our fashion lexicon well into the 21st century.
Join the Conversation
Sign in or become a Seamwork member to comment on this article.