Want to hear a fun sewing metaphor? Your sewing practice is like a house. Once you've built it and moved in, you can decorate it how you'd like, pour yourself a cup of hot tea, get into comfy clothes, and unwind in your own personalized creative space.
In case you haven't noticed, here at Seamwork, we love to sew. And we've been helping thousands of creative people worldwide learn how to sew and fall in love with this entire process, from the first awkward stitch to the perfect welt pocket.
So we developed a framework for growing your sewing practice with the ultimate goal of making your sewing more fun. We stepped back to look at sewing on all levels. How can you encapsulate such an intricate creative practice in a simple, approachable way? It turns out that the perfect metaphor for this framework is a house. We call the framework Sewing by Design, and it has five components:
See how it looks like a house? You're a creative person, so you probably appreciate a good visual metaphor.
As we take a holiday break to wrap up 2022, we're re-airing a popular series from the Seamwork Radio podcast that originally aired earlier this summer. In the series, Sarai and Haley break down each step in the Sewing by Design framework.
We've been talking about this framework for less than a year. It's kind of new to Seamwork, so you might not have heard of Sewing by Design yet. But we think it will help make your sewing practice even more fun.
Over the next few weeks, you'll read an article (or listen to the podcast re-run) about a layer in this framework. So stay tuned next week as you learn how to lay your foundation.
As you tour this little sewing house, we'd love to hear from you. Does the Sewing by Design framework resonate with you? Have you run into any questions? Or have you planned any really special additions to your own little sewing house? Drop us a note or post in the Community, and let us know what you think.
Love the article? Pin it for later.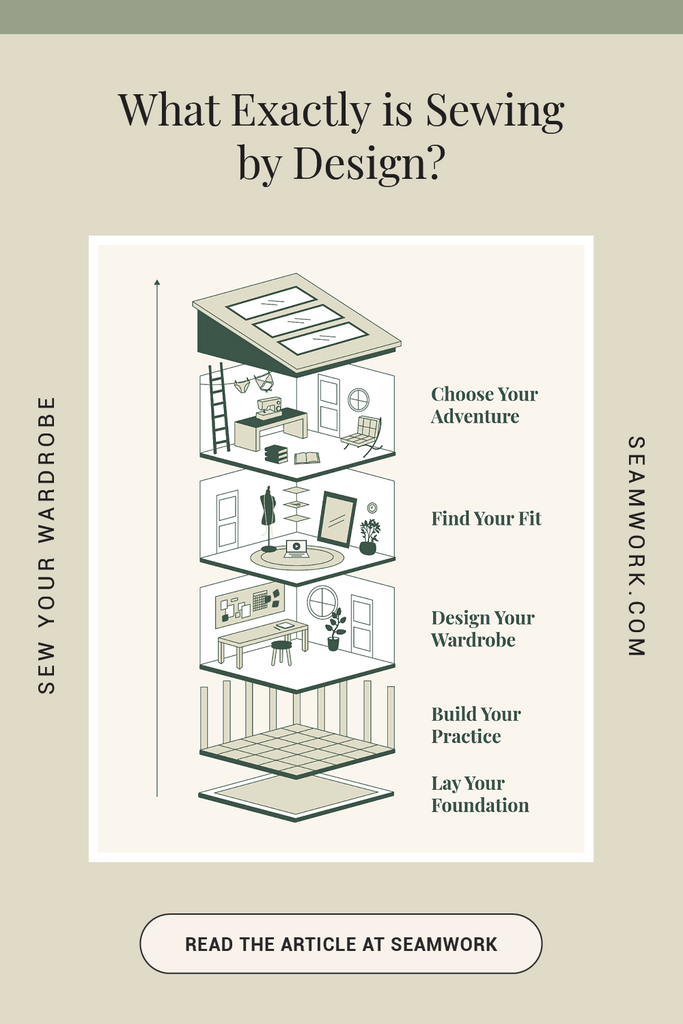 Join the Conversation
Sign in or become a Seamwork member to comment on this article.