When your hobby starts to feel like work, it can be disheartening and frustrating. You feel like a kid getting extra homework assigned over summer vacation.
It's frustrating to lose the joy and fulfillment that your hobby used to bring, and it can be hard to know how to get that feeling back.
But Sarai and Haley are here with 6 totally approachable tips for what to do when your sewing (or any other creative hobby) starts to feel like work.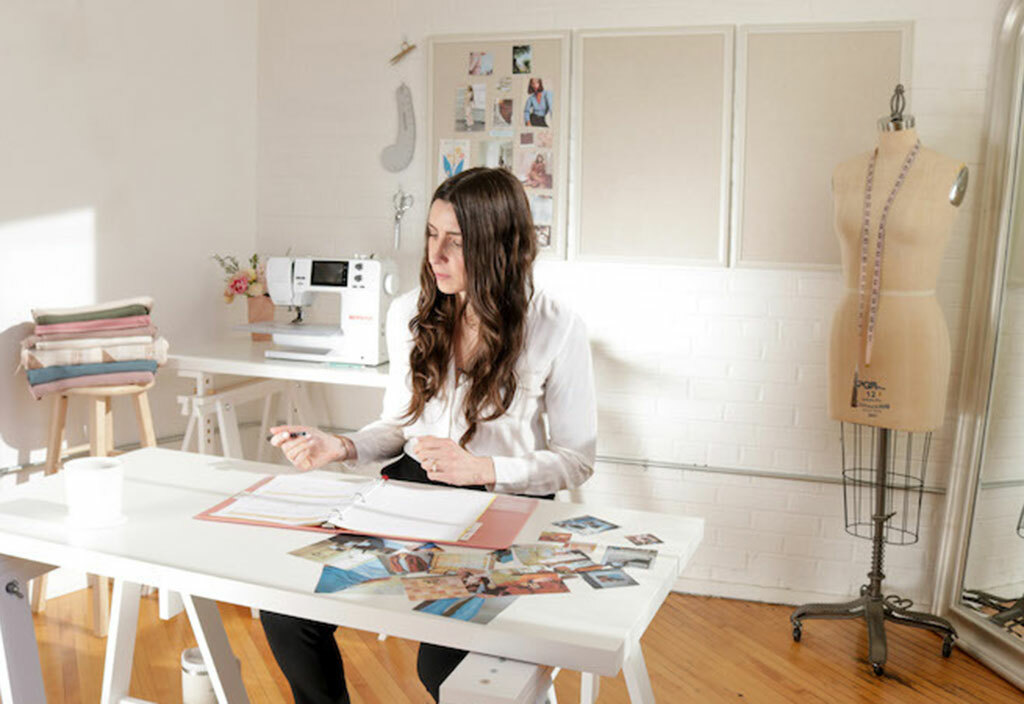 Below are the show notes for this podcast episode a summary of what's covered, followed by a full transcript.
First, examine why your hobby feels like a chore
If your hobby starts to feel like a chore, it helps to reflect on why this might be happening because it might not have anything to do with sewing. For example, you may be too busy right now, or you have a lot of things going on in your life.
Once you've noted why you might be feeling this way, and it seems like your sewing might actually be to blame, there are a bunch of ways you can rediscover your joy. Here are 6 of them.
6 tips for falling in love with sewing again



Create a new space or ritual for your sewing. If having a messy space makes you feel overwhelmed, you can find some ideas in How to Revolutionize Your Sewing Space, episode 131 of the Seamwork Radio podcast. And if adjusting your creative habits might help, listen to How to Build a Sewing Ritual, episode 133 of the podcast.



Explore niche sewing so you can feel like a beginner again. There's a magical sparkle that beginners have, and it all comes from the thrill of learning something new. And there's always something new to learn with sewing! Practice some niche sewing, like making lingerie, tailoring, sewing a swimsuit, or perfecting shirtmaking.



Explore adjacent hobbies so you can bring something new to your sewing. Fiber arts are rich with options. Try dyeing, embroidery, quilting, or other fabric manipulation. Then you're still working in the realm of sewing.



Play fashion designer for a while. Work on daydreaming and planning instead of actually doing the work of sewing for a little bit. This might refresh everything for you.



Treat yourself to something special. You could buy a new tool or take a class—or get yourself a few yards of nice fabric. You can also plan some time with friends to sew or do something crafty, which can help reinvigorate you.



Take a break when you feel like you need it. There's nothing wrong with taking a little break and returning when you're ready. This might seem obvious, so here is a tip within a tip. Set a timed break. Tell yourself you won't sew for a week or a month and then intentionally come back to the idea of sewing. Does it feel different? Do you feel the itch to get back on your machine? If not, keep your distance until things shift.


Sarai
You. I'm Sarai.
Haley
And I'm Haley.
Sarai
And this is Seamwork Radio. Welcome back to Seamwork Radio, where we share practical ideas for building a creative process so you can sew with intention and joy.
Today we're talking about what happens when your hobby starts to feel like work, and we're going to cover why fun hobbies sometimes start to feel like a chore, what to do when you first notice this happening, and lots of tips for making sewing feel fun again.
All right, so we will start with our icebreaker for today, Haley. It is: tell me about your most recent sewing fail.
Haley
This isn't, like, absolute fail, but this was a failure to recognize myself, and so I'll get into it.
Recently, I was making a Madhu top, and the fabric I was using had this really cool selvage. It was like a neon lemony color. I was in the office cutting it out, and I think a few people saw it, and they're like, that's so cool. You got to find a way to incorporate it. And I was like, yeah, I do. I really do. So Areta our sample sewer was like, you should sew it, like, piping into the raglan seam, and I was like, that is a killer idea. I'm totally doing that. And so I did. I sew the sleeves in with the piping. I try it on before I attach all the elastic and facings and stuff, and I was like, I hate wearing fluorescent colors.
Why did I? When I look at the fabric and the beautiful selvage, I'm like, that is so cool, but I hate wearing them. And I immediately had to rip it all out, and of course, I'd serged the seams already, and it was just, like, so annoying. I only had an hour to sew that weekend, and I spent the entire hour just picking it out.
But I'm glad I took the time to do it, and I'm glad I actually tried it on before I sewed the facings on, because it would have been so much more annoying, but it was kind of like a failure to recognize my own personal taste and style as opposed to what subjectively seems cool.
Sarai
Yeah. What other people might like might be different from what you like. It's okay to have different tastes from other people.
Haley
It's just like a "duh Haley" kind of a moment.
Sarai
Yeah, I think we all have those.
Haley
What about you? What was your most recent sewing fail?
Sarai
I haven't had any recent sewing fails that I can think of, but I did have a recent knitting fail, which is—longtime listeners might know that I've been working on a sweater for like, six months plus, and I finally finished it, and I went to try it on. So it's a raglan sleeve sweater, and it's knit in the round all in one piece, so you don't attach the sleeves at the end. It's all knit together.
I finished it, and I went to try it on, and so it's done in a half fisherman's rib, which, if you're not familiar with it's, kind of like a thick rib texture. But when you go to block it, which is the process of washing it right after you make it so it gets the correct shape. It stretches a lot, the fisherman rib and half fisherman rib stretches a lot. So I tried it on, and the sleeves are so long.
They are really long, and I'm really debating whether I want to so it's got kind of a balloon sleeve a little bit. It's like a flared not flared, like a balloon sleeve, and then with a tighter cuff so I can just push them up, and it's just extra volume in the sleeve.
I can't decide if it looked dumb or not having that much extra volume. So I don't know whether I want to rip it out because the sleeves are shaped, so I'd have to rip it them out, like, halfway up the arm again, and I don't know if I really want to do that. So I'm just kind of like—it's just sitting there. I haven't even worn it yet, and it's really pretty. Like, the color is beautiful, the wool is beautiful, and I'm just sort of like, what do I do now?
Haley
Wear it tomorrow and then decide.
Sarai
Yeah, maybe I will. It's going to be cold tomorrow. I could wear it. Yeah, so don't feel great about that, but I'll figure it out one way or another.
Well, that was a little bit of a bummer.
Haley
But you know what? I'd like to acknowledge that our sewing fields were raglan sleeve themed, not to discourage anyone from sewing a raglan sleeve, but also that both of our fails have solutions.
Sarai
They do.
Haley
Whether we like the solutions or not, they do have solutions.
Sarai
Thank you for the positive spin, Haley. I appreciate you.
Haley
There's usually a solution.
Sarai
Yeah, well, if you have an icebreaker for a future episode, whether it's a depressing one or not, you can leave it for us. If you're a member, just go to seamwork.com/go/icebreakers and leave it there. And we'll probably use it on a future episode because we love hearing your icebreakers.
All right, so we're going to talk about when your hobby starts to feel like work, which is something that I definitely struggle with and have a lot to say about. So I'm excited to talk about this today.
With any new hobby that you fall in love with, there's this honeymoon phase, and you really see everything through these kind of rose tinted glasses, and everything feels fun and fresh. But the longer you do a hobby, the easier it is to treat it like it's your job and lose the joy in making your projects. And it all just feels kind of like something you should be doing or it's just something you do rather than something that really brings you a lot of joy.
And I think we can both speak to this because both Haley and I love sewing and are very passionate about it, but it's also our literal jobs.
We do it for work. We think about it all the time. We're working on it all the time. That kind of brings a whole different lens to it. But I think even if sewing is completely unrelated to your job, because it is a creative hobby and all creative hobbies require some amount of work, I think this can affect everybody.
So has this happened to you, Haley? Do you feel like sometimes sewing just feels like work?
Haley
Oh, for sure. And I think that's natural, whether or not sewing is your actual work or not. But I think when you have a career that is in sewing, it's definitely prone to happen. And I've kind of accepted it as just a thing that happens in my life that I kind of, like, cycle in and out of. Try not to have too much judgment about it.
What about you? Has it happened to you?
Sarai
Oh, yeah, definitely. So I think it's really interesting because for me, in terms of doing it for a very long time, I did not actually sew for work. I sewed for fun for myself. I thought about sewing a lot. I wrote about sewing a lot. But the actual sewing process was not part of my job.
My job was running the company and coming up with ideas and working with everybody and all the other things that I do. But in the last year or so, I've been spending more time on our YouTube channel making videos for that. And especially lately, I'm doing a lot of sewing projects for the YouTube channel, which means actually documenting my sewing at home. And so sewing has become part of my job again.
And the interesting thing about that is, and I think the part that will resonate with everybody that all of you who don't sew for a living is that I really don't feel like it's, maybe it's just because I don't do that much of it for work. I'm not like sewing every day for work, but I don't really feel like that part has affected how I see sewing, and it has equally felt like a chore and felt like work at times where I was not doing it as part of my job.
And I really feel like the times in my life where I've just had other things going on, like, mentally, have affected it a lot more than whether it's actually part of my work or not.
So that's kind of where I am. I went through this whole period of it was probably almost a year where I barely did any sewing, and it was just because of other stuff I had going on. It didn't have anything to do with work. So at least not directly. It might have in terms of just being busy and that kind of thing. But that's kind of how it is for me anyway.
Haley
Yeah, I find that it's more likely to drain my creative energy if I'm working on things that I'm not necessarily really excited about in my work. So an example of that would be like when I was teaching sewing and I would teach a pajama pants class every single week and I'm like I'm sewing all the time, but I'm like sewing something that's not very exciting to me. It's the same four seams over and over again and I felt like that dragged down my creativity more.
But when my work-work is projects that I'm creatively excited about and projects that I had a hand in choosing, they weren't dictated to me. I think that that helps a lot too. That's kind of something I've noticed in myself.
Sarai
That's a really good point because one of the things I've noticed is that I'm more excited about sewing when I'm really excited about other hobbies as well. And I think they do kind of feed off each other. So when I'm finding the time and—I think there are a lot of factors in here, typically this is because I have more time to do them, so I'm not feeling as stressed out. But if I'm really excited about my other hobbies, like writing and knitting, for example, gardening, all the other things that I like to do, there's like this carryover effect where everything feels full of possibilities and I think there's a lot of creative cross fertilization with ideas as well. So I think that's a really interesting point too.
Haley
So what are some of the symptoms that you experience when you have started to kind of like workify your hobbies?
Sarai
This is something, I mean, this is something that I experience a lot and I write about this in my personal newsletter quite a bit.
I do have a tendency to turn everything into a to-do list and really should myself a lot. I linked this article in my newsletter this week. You're probably listening to this a few weeks in the future, but that was called something about the downsides of self-discipline. And I am a very self-disciplined person and I think there are a lot of downsides to that.
I think one of them is just being very internally regimented and harsh with yourself. And I think that's something that I experience, and I think the way that translates into my hobbies is that I turn them into "I must do this thing, and I must do it to the degree that I have committed to myself that I will do it. And I must do it on these days, because I said I would do it on these days." And that kind of thing, that kind of thinking. And when I start to notice that I have to pull back and consciously think, okay, there's this part of me that's really pushing me really hard, but there are other parts of me that recognize that this is a problem and that I don't need to behave this way.
What about you?
Haley
I think that the symptoms for me are just kind of like a general boredom or apathy towards my hobby. I tend to just avoid it. I think in its simplest form, that's really what's happening when I'm turning it into a chore instead of the joy that it should be.
Sarai
Yeah, that's another one. I feel that too. I start to avoid things that I normally enjoy when I start to get like that. So on one hand, I'm chastising myself into doing it. On the other, I'm like avoiding it.
Haley
Yeah, totally. There's no winning.
Have you done anything in your day-to-day at work or otherwise to prevent sewing from feeling like a to-do for your job?
Sarai
Yes, I do think that there are things that I do. It's really important to me that I keep enjoying it. It's really important to me that I enjoy the process of doing it for work. So for example, this is mainly in the context of making videos right now because that's when I do it for work, and it's really important to me that that still feels fun.
And the good thing is I love making videos. I think it's really fun and really creative. So that part of it is there's a natural fit there. But at the same time I try to be really conscientious about it becoming not fun. So I make sure that even though we have kind of a schedule for the videos, we keep it pretty loose. We can kind of shift things around really easily. So I don't have these hard deadlines where I have to get this project done by this certain date so we can put it up on YouTube.
It's more like I'm going to do these projects in the next couple of months and we'll fit them in where we fit them in and it relieves a lot of pressure.
And I think you can do that when it's not your job, also. You can just make sure that you're not setting some kind of arbitrary deadlines and schedule for yourself that you don't really need. I think that's the big one for me because I think having arbitrary deadlines for my projects is just like a total joy-killer for me.
What about you?
Haley
Well, I think that in terms of what I do at work to not taint my feelings for my sewing hobby is that I do—a lot of the kind of content that I make at Seamwork is educational. It's a sewalong, it's a tutorial. And the fact of the matter is that sometimes I have to make something and it's not necessarily something I want to wear or I'm excited to make for myself. And I try to be really real with myself about that.
So if I don't need that garment in my life, then I make sure that I'm just making it in the smallest size so it's taking up the least amount of fabric and resources. Or I make it for the sample closet that a model can wear.
I try not to have this expectation that I'm making it for myself and I have to love it. I do do that sometimes, but I feel like that really helps with creating that division and that balance. Another thing that I do that I think may be more applicable to a lot of listeners is that I have kind of like a different ritual for when I'm sewing for myself at home.
I'm a lot slower and more intentional about it. I'll put on a show or play music. I try to make it into this fun sensory experience and do everything I can to not treat it like work. And that really, really helps me.
Sarai
I totally agree with that. That's so important.
Well, I want to talk about some tips for you, but before we get into kind of the tips for enjoying sewing, more specifically, I wanted to talk a little bit about preventative care and some of the kind of larger context around these feelings because it's something that I definitely struggle with.
I think it's just important to recognize when you start to feel this way. So if you are starting to feel like—sometimes it's just okay, sewing kind of feels like a chore right now and I don't really want to do it and that's fine. We go through periods and maybe just don't do it for a while. That's easy.
But sometimes it's part of a larger issue where you just don't feel like doing anything that you enjoy. And I go through that from time to time and it's usually because it's a sign of something else that I'm struggling with. And this could just be I'm really busy, or it could be something like serious going on in my life, or there could be a lot of things, but oftentimes it's a sign that there's like a larger thing I need to address.
And for me, when I start to experience a lot of anxiety, that's when all of my hobbies start to feel really not fun. And I do have more of those avoidant behaviors.
So I just wanted to throw that out there because you can use this as a signal for a larger issue if you get that way too. If you notice that tendency in yourself, there's a lot of different solutions to that that aren't necessarily sewing-related. You might need somebody to talk to or you might need to find ways to slow down your life a little. Or there's lots of different things that could be going on, but I just wanted to throw that out there because I definitely feel you on that if you're one of those folks who gets that way. So that's the first thing. It's just recognizing it, I think.
But I wanted to talk a little bit about if it's more that you just need to kind of refresh your love for sewing, and this could be a part of that larger issue or separate from it.
So the first thing is talking about learning to fall in love with your hobby again. And I think there are a lot of ways you can do this.
One thing you can do is maybe create a new or a different ritual around your experience of sewing.
So we have an episode that we released recently, episode 133, that has some ideas for creating a ritual around sewing. And I think this can be really, really helpful for just getting yourself into the mood of having fun and enjoyment while you're actually doing the sewing. And I know that can be really helpful for me to just signal to my brain, okay, this is the time to have fun, to relax, to do something creative, shut out the cares of the world instead of this is something that I told myself I would do today and I have 2 hours and so I will do it.
The next thing I find really helpful is to reset my sewing space. I don't know how you feel about this, Haley. I feel very influenced by my environment. If if everything feels out of control of my environment, you know, messiness is one part of it, or maybe it just feels uninspiring or just feels kind of like dull or whatever it is for you, that can really affect my interest in doing it.
So if you feel that way, and you might be more apt to do something if your space is fun and enjoyable to be in. So we have an episode on this too, so you could listen to episode 131, which is all about how to revolutionize your sewing space.
And then we also have a free download called A Guide to Setting Up Your Sewing Space. We can link that in the show notes as well, but it's a free download, and it's really helpful.
So those are some ideas for helping you to kind of reinvigorate your love for your hobby again on a really day-to-day level.
The next one is to explore some niche sewing. I think this can be really helpful because it allows you to kind of start all over and be a beginner again. It's something maybe you haven't done before or haven't done much of. It's this thing that's kind of like semi-new, so you already know how to sew, but you might not know how to sew, for example, lingerie, or you might not know how to sew a swimsuit or something like that. So something that's a little bit more niche can kind of reinvigorate that beginner spark again and give you this fresh perspective that you can bring to other projects as well.
So if you're interested in that, you can listen to episode 69 for some ideas about niche sewing. We throw out a lot of different types of niche sewing that you can try. If you're starting to feel like maybe you just need something new to give you that spark again.
Another thing you can do is to explore some adjacent hobbies. So you could try some other fiber-based hobbies like embroidery. That's something that I'm working on right now that I'm just absolutely loving right now. Dyeing, quilting, refashioning, upcycling, that kind of thing.
All of those are related to sewing. They can be taken into your sewing, used in your sewing, but offer kind of a fresh perspective and something new that you can do that you might not have done before, you might not have done much of before.
I think that's really cool because it can really lend new dimension to all your projects and make it feel fun again. And I think it's a good reminder that there's a whole wide world of fiber art out there that you can explore. And it's bonus points if you can bring it into your regular sewing as well. That can be really fun.
Haley
Totally. Multimedia sewing.
Sarai
Yeah.
Haley
All right, well, those were all really great ones, and I have a few more to add. The first one that I'm going to add is to play designer for a while. So maybe taking a little break from the physical act of sewing and take some time to plan your sewing, you can do something like Design Your Wardrobe, which is a program that we have that helps you plan a capsule wardrobe that runs two times a year as like a group course. But you can do it self-guided at any time. And it's really fun and really creatively energizing.
If that's not your vibe, if you like to just kind of freestyle it, you can totally spend some time just imagining your dream wardrobe. It doesn't even have to be something you totally plan on acting on. I think spending some time in that dreaming phase can be really energizing, and I might be biased as a designer, but I think that it's really just vital for the creative process to spend a lot of time daydreaming.
And creating an exciting new plan for yourself might make you feel a little bit more inspired to get going on your next sewing project and make it feel a little less like a chore.
The next idea is to treat yourself to something special. It could be a class or a group experience, be a new tool. If you're feeling like a big spender, it could be a new machine. You don't have to be a big spender. You go to the thrift store, get yourself a machine, or get yours tuned up. It could even be a really nice cut of fabric.
And you can also treat yourself without spending any money as well. You can go on a nice fabric window-shopping exploration. Maybe give your partner your wallet before you go into the fabric store.
Because every time I go in and I'm like, I'm not going to buy anything, I do. Yeah, a little window shopping.
You can also just schedule a nice special day to sew with friends or it doesn't even have to do with sewing. You can go wear your favorite me-made garment and have a picnic with your friends. I think that would be really lovely. Spend some time talking about your sewing and your plans.
Sarai
I think another fun tool just to throw this out there is to get some new presser feet. I think that can be really fun because it's kind of a new way to use the machine you already have and it might inspire you to try some new techniques. So that's one of the things I like to spend a little money on that doesn't cost a lot, but can really make me feel like I'm having fun again.
Haley
Totally. I love that one. That's a good treat yourself moment.
And then the last tip that I have is don't be afraid to just take a break. If you need a break, you're allowed to step away from your hobby if you want to. And sometimes it's really what you need to fall in love with it again.
One tip I have is to be intentional about your break. So you can put a time limit on it or you can set a goal or do something else like gardening. It could be like an exercise class. It can be to finish a book. And then that gives you a way to kind of like a limit so that you know in the future you're going to come back to it.

And even if you're not feeling totally ready, I would encourage you to, if you've given it a month, maybe test the waters, maybe sew something tried and true or make something simple for your house that just is really low stakes and just see how it makes you feel.
Sarai
I think that's a good one too. Just when it comes to taking a break is maybe focusing on maybe make some pillows or make a little zipper pouch or some organizational stuff for your house, or some tea towels. Those are the kinds of projects I tend to put off because they seem too simple. But it can be when you're not really feeling it, like you just don't feel like putting a lot of work into something or a lot of energy into something. Those can be the perfect projects.
Haley
That's me and scrunchies. Go watch my scrunchie video.
Sarai
It's really good scrunchie video. Yeah, that's a good way to use scraps, too.
Haley
Totally.
Sarai
All right, well, I'm going to recap the tips for you today before we sign off. So, the tips that we had for you today if your hobby is starting to feel it kind of a chore, first of all, is the preventative care and recognizing when you're starting to feel that way and maybe just investigating if that's something that's a symptom of a problem that you're having rather than the problem itself. It might not have anything to do with sewing. It might just be that you are too busy right now or whatever is going on in your life. That's something to just maybe be aware of. I find that to be a really good signal for me.
The next tip is to learn to fall in love with your hobby again, maybe create a new space around it or a new ritual around it. I think those are both really good techniques for making it fun for yourself again
Exploring niche sewing so you can feel like a beginner again.
Exploring adjacent hobbies so you can bring something new to your sewing.
Play designer for a while, work on daydreaming and planning instead of actually doing the work of sewing for a little bit.
Treat yourself to something special, like a new tool or a class or some nice fabric or some time with friends to sew, and those things can help reinvigorate you.
And to take a break when you feel like you need it. There's nothing wrong with taking a little bit of a break and coming back when you're ready. So those are our tips for you today. If you're starting to feel like sewing or any other hobby or anything else that you normally enjoy in your life is starting to feel like just one more thing you're supposed to be doing.
So what's your big takeaway from this one, Haley?
Haley
I think my big takeaway is kind of an acknowledgment of how far I've come in this. This used to be a real pain point for me in my life, and I think that, as of now—that is subject to change—that it's something that I have, like, a healthier relationship with. And all of these tips we listed are like, tools that I have in my toolbox that I actively use to make sure that my time sewing is just spent joyfully.
Sarai
Yeah, that's a good one. I think for me, my big takeaway, and I think this comes through in a lot of the tips, is just to be gentle with yourself. And when you notice yourself putting pressure on yourself for various reasons, then to use that as a time to just step back and remember the things that you enjoy in your life and why you enjoy them and to return to that.
And there are various techniques to do that, but I think the first step is always going to be recognition and the importance of doing things just for the fun of it and just because you love it.
So that's my big takeaway.
All right, well, Haley mentioned Design Your Wardrobe, and one of the things that I think is really helpful when people do design your wardrobe is to really think about their personal style. And we have a Style Workshop, which is a free PDF that walks you through ten different exercises to help you identify your core style, and it's free for Seamwork members, and it's a really great process to go through before you tackle Design Your Wardrobe or any other wardrobe planning process that you use.
And it's free for all Seamwork members. And if you want to join Seamwork, remember that podcast listeners get 50% off an unlimited membership at seamwork.com/go/podcast 50.
And if you liked this episode, please leave us a review. We would love that. We have a review today we wanted to share from So in Love 53 says inspired, and she said, "Great tips and tricks that inspire me to build a capsule wardrobe. Thanks for the awesome content."
Thank you so much for writing that. And if you would like to leave us a review and a five star rating and or a five star rating, you don't have to leave us a review. We would love that. You can do that on your podcast platform of choice, whether that's Apple Podcasts or Stitcher or Spotify or wherever you happen to be listening to this right now, it really helps other people to discover the podcast, and we want to keep making it. So please leave us a review. All right?
And you can also follow us on YouTube at Seamwork video. We love making videos over there. Haley and I are in almost all the videos that you'll see posted up there, and it's a lot of fun to make them, and I think hopefully a lot of fun to watch them, too.
And that's it for us this week. I'm Sarai.
Haley
And I'm Haley.
Sarai
And this is Seamwork Radio.
Join the Conversation
Sign in or become a Seamwork member to comment on this article.