Sometimes when you're picking out a sewing pattern to make, you can feel a bit like Goldilocks. You don't want something that's too hard to sew, but you also don't want to get bored and never learn new things. You want to find a pattern that feels just right.
There are two reasons why it's hard to learn new sewing skills. First, it's hard to know what projects to choose to advance your skills in a reasonable way. You have to find patterns that will stretch your abilities, so you feel accomplished but won't be too challenging so that you feel discouraged. It's a tricky balance.
There's another reason why it might be hard to pick up new skills. You don't want to mess up a project that you care about. You're trying to learn a new skill at the same time that you try to make it look nice. It's like a musician learning to play an instrument on stage. However, you also don't want to make something you don't care about, or you might not have enough motivation to keep going.
Here's a method for learning new sewing skills.
How to Learn New Sewing Skills

Find projects with 1-3 new skills in them. After 3 new skills, the projects get less fun to make (and when you're learning new things, it helps if they're fun). So how do you identify new skills in a pattern? Study the flats, read the description carefully, and look at the supplies list to see if it requires any new notions or tools.

Make a list of all the things in the pattern that are new to you. For example, maybe it has darts, set-in sleeves, and a zipper. Or maybe there is topstitching, a facing, welt pockets, or buttons.

Identify where you will need more resources or research. If a technique is challenging to you, it's probably not your fault. You just need the right tool or the right technique. So you'll want to identify those places where you need either a tool or a technique. In some cases, you may even need both.

Sew a practice sample. Treat learning a new skill like making a muslin to test the fit of a garment. For example, sew three invisible zippers on some scrap fabric. This practice will reveal if you need more support or additional tools.

Take notes when you're done. Jot down what you learned, ideas for how to make it easier next time, or just a reminder to slow down. For example, if you sewed your practice invisible zippers and found that they were crooked, make a note to use more pins to stabilize it as you sew or try hand-basting to stabilize it first.
Follow these steps, and you can learn something new with almost any pattern you make. If you want to hear about more examples, listen to episode 95 of the Seamwork Radio podcast. Sarai and Haley discuss the best way to learn new sewing skills, project by project. They talk about why it's hard to pick the best projects that challenge you without frustrating you, how to identify the skills you need, and their favorite method for learning new skills with hands-on learning.
Love the article? Pin it for later.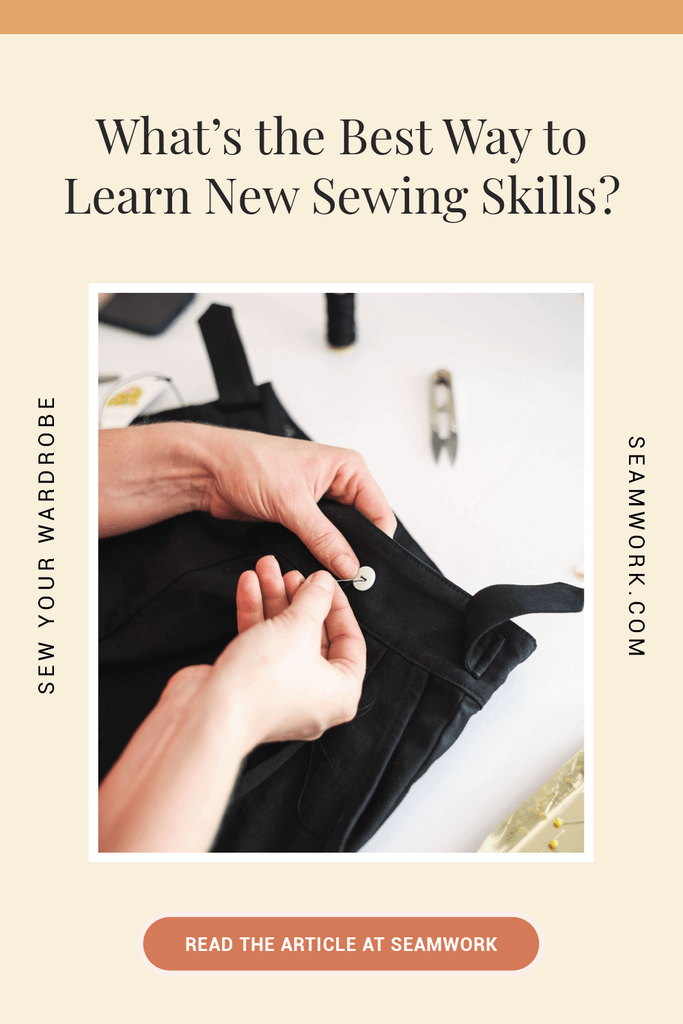 Join the Conversation
Sign in or become a Seamwork member to comment on this article.