If you are new to sewing with knits, double knit is a great starting point. Double knit fabrics are more stable and don't roll as much as their lighter weight friends, making them easy to sew with. They are also a great choice when you want a crisp, structured look while still maintaining the stretch and comfort of a knit fabric. You can make a variety of beautiful garments to wear year around using double knits.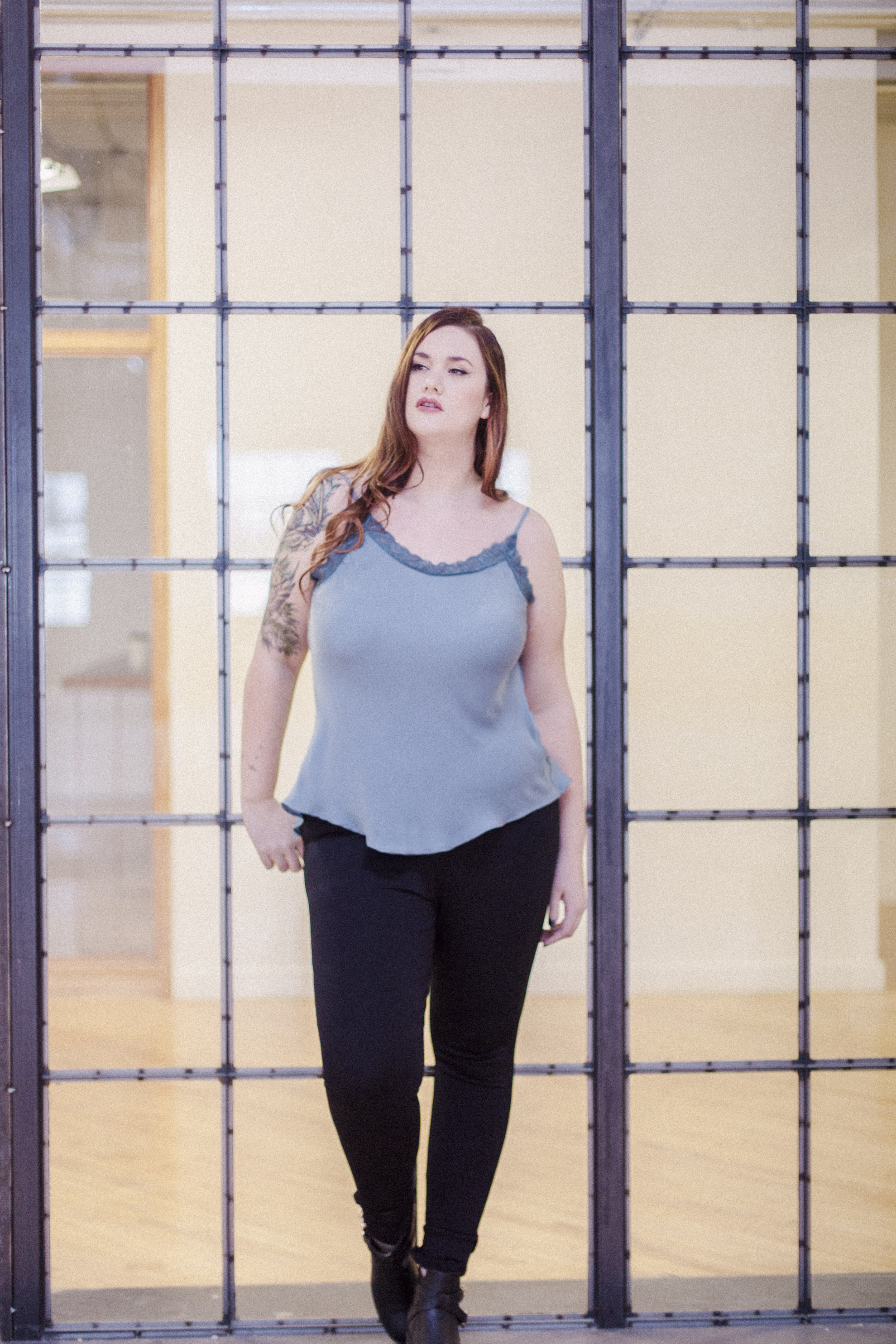 The Manila leggings
from this month's issue made in Ponte di Roma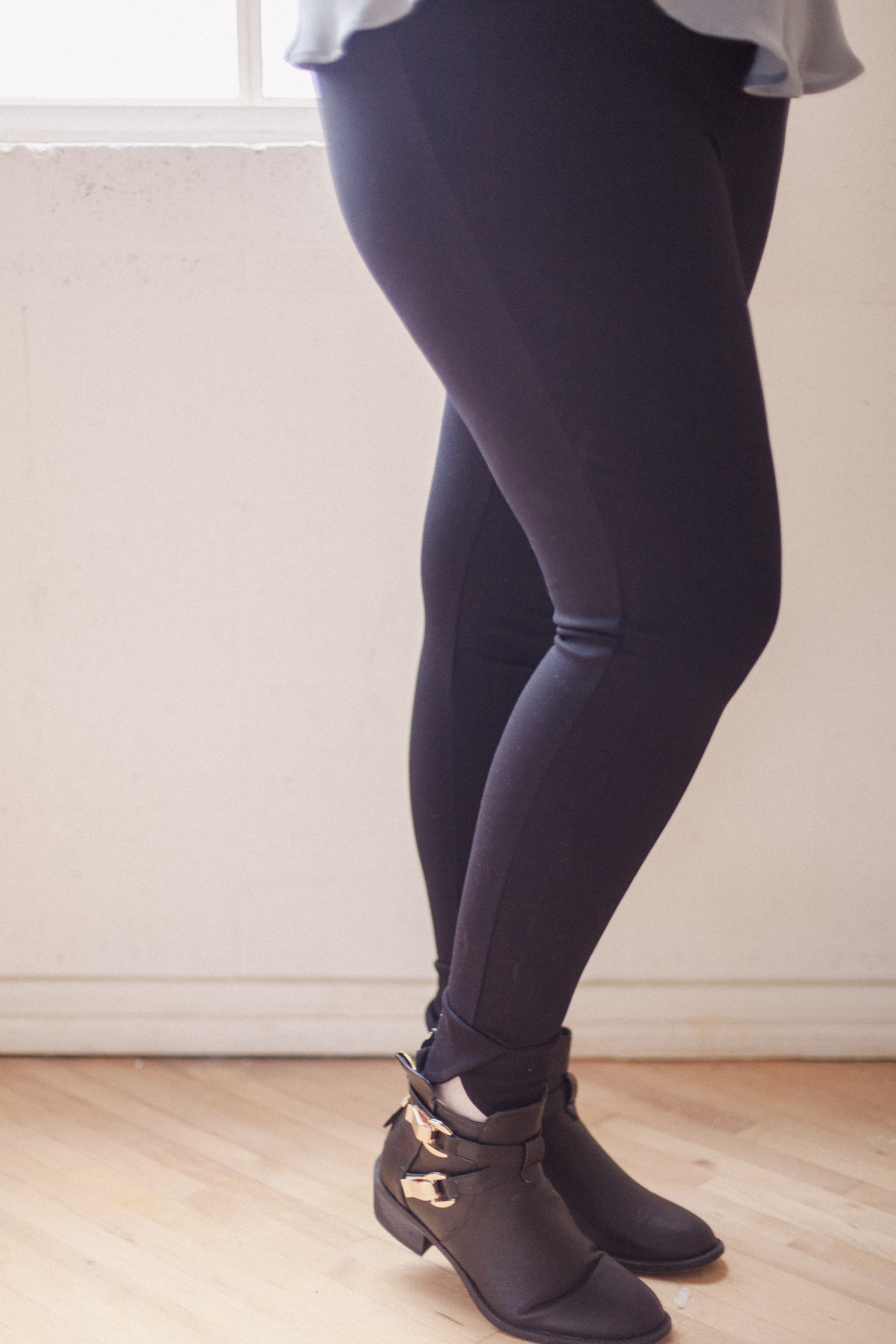 Double knit gives
The Manila leggings
added structure and body.
If you lived through the 1970s (or are a fan of that era of fashions), you may think of double knits as the low-quality, stiff, 100% polyester of yesterday; but the double knits then and now are quite different. Today, double knit textiles in that sort of low quality are mainly reserved for things like cheer apparel, or heavy duty uniform pants like a police officer might wear. Most fabric stores cater instead to sewists making jackets, dresses, trousers, and tops out of finer quality knits than those of the past, which means you'll find wonderful choices made from a variety of fibers.
What is double knit?
The unusual structure of a double knit fabric gives it many benefits over either woven fabric or other types of knits.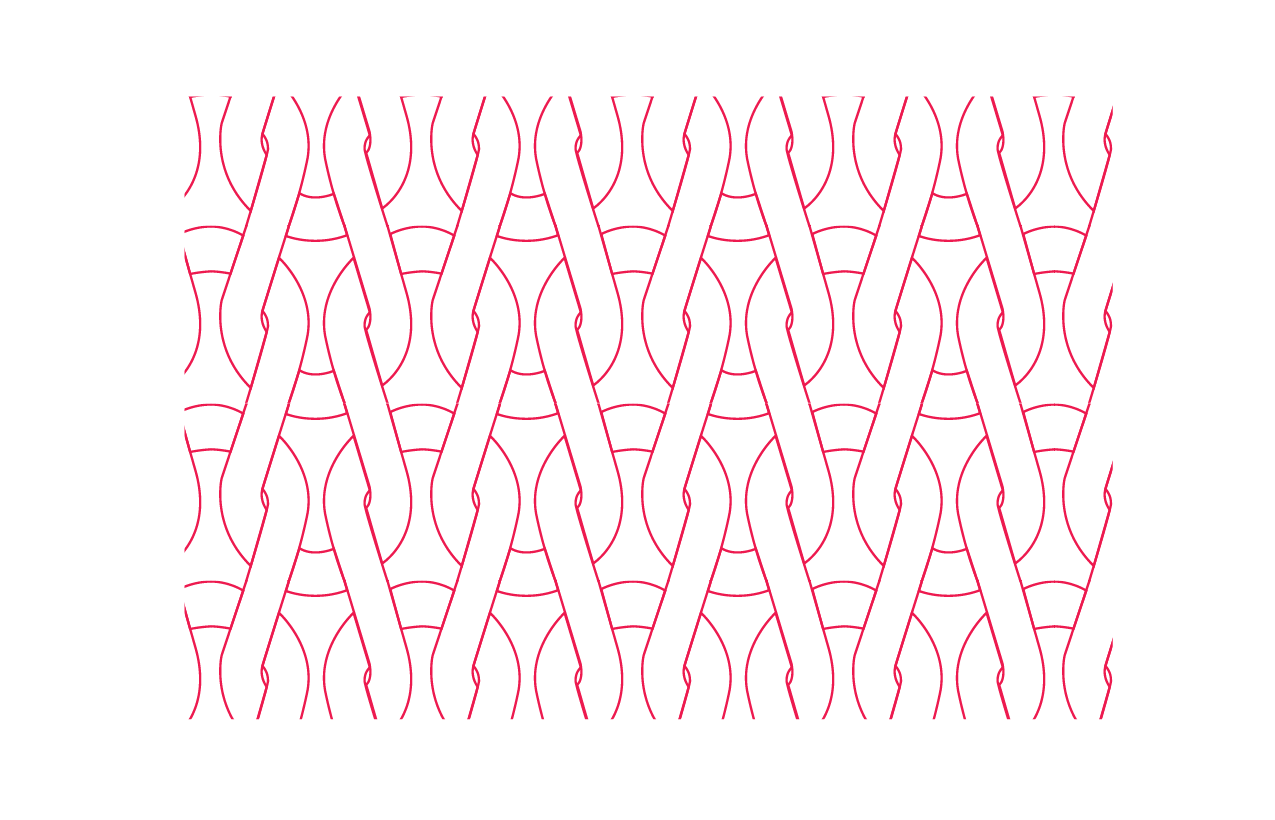 This basic single knit structure is similar to what you might see on a plain hand knit sweater.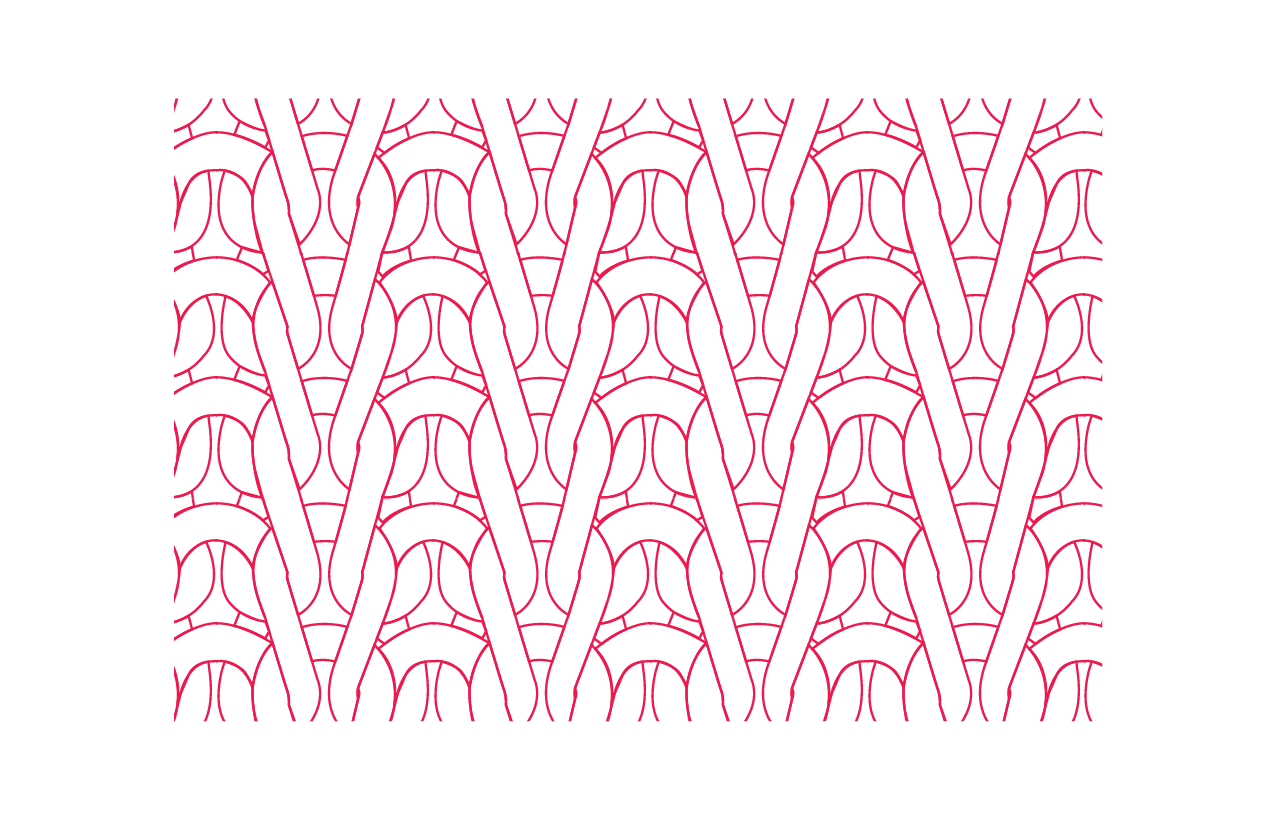 A double knit is created by knitting two layers of fabric together with multiple sets of needles.
Structure
The structure of a knit fabric can be plain and simple, or extremely complex and interesting. Let's start with a basic knit structure. Think of a hand knit sweater. Yarn is used to create loops that form a face side and a back side, or knit and purl side of the fabric.
Double knit is literally just that, the structure is doubly knit. This weft knit fabric is created with two sets of needles and more strands of yarn than a single knit. The layers of fabric are knit together as they are formed. When finished, the fabric has two faces or knit sides, and the back or purl side is actually interlocked together.
When to use a double knit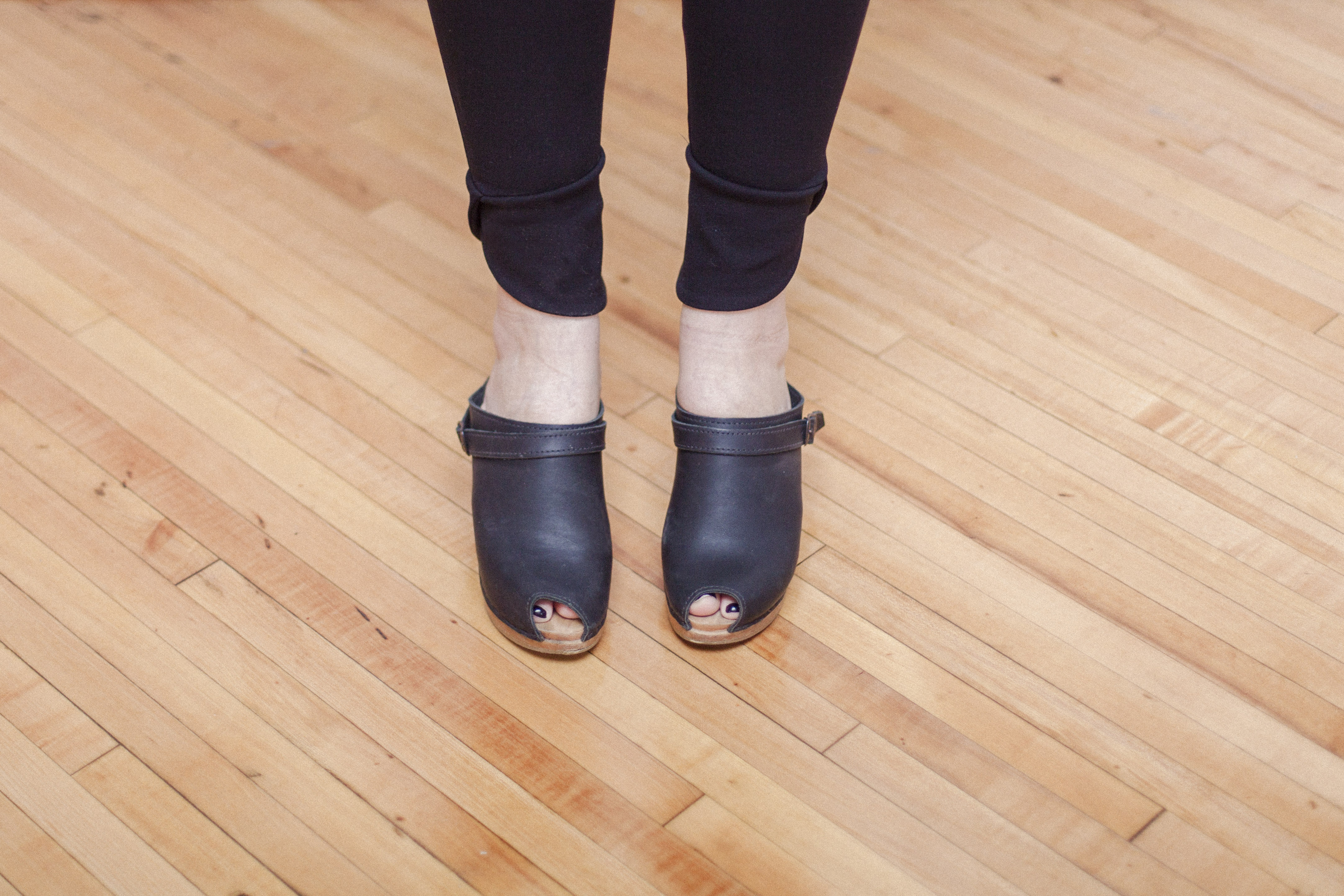 Double knits give rigidity and shape to the cuffs of the
Manila leggings
.
Double knits tend to be firmer and more stable than other types of knits. This makes them easier to sew with, but also less stretchy. Holding a double knit, you'll notice that the fabric feels firm and thick. This structure is ideal for fabrics that will be used for bottoms, in garments that need durability, or when you want a heavier drape and hand of fabric for any type of garment.
Check for Stretch
If you're not sure whether your double knit has enough stretch for your pattern, take these steps:


Find the finished garment measurement on your pattern for a crucial area where the pattern is fitted, such as the bust or hips.


Measure this length on your intended fabric.


Stretch this length of fabric to see if it will fit comfortably around your body.



As a designer, the main reason I enjoy working with double knits is the ease of handling when sewing and cutting. They are fantastic to sew with and have a lot of body compared to other knits. This makes them a good knit fabric to start with, and if you are an experienced knits sewist, they are even easier. Due to their structure, rolling is rare, which is a common frustration with some lighter weight fabrics.
Along with being easy to sew, they are also a great overall fabric choice. They don't wrinkle much, and a quick steam can fix them right up when you're traveling. The density of the fabric is great for more body skimming garments, and can often hide lines from foundation garments or undergarments. They are my go to for skirts, like the Colette Patterns Mabel.
Some patterns ask for double knit or a heavy knit specifically. If your pattern simply calls for a stretch knit, check to make sure that your double knit will have enough stretch to work. Some patterns provide a stretch gauge or recommended percentage of stretch. If not, check the finished garment measurements to see how much negative ease the pattern has. Negative ease is how much smaller the finished garment is from the intended body measurements (see sidebar).
If you have a tried and true woven pattern, or a pattern that asks for a stretch woven, this would be a great project to try out a double knit. In the past few years, many ready to wear brands have been using double knits liberally in blazers, dresses and pants. They are comfortable and wear well, so going double knit can be a natural choice. Double knits also can look as dressy as a woven. See the tips below to learn how to swap a double knit for a woven fabric.
Types of double knit
Double your fabric


Some double knits are even created with different colors or patterns on each side. If there is a noticeable difference between one side and the other, it can be fun to be creative and do color blocking with this. Your garment may look like you have picked two fabrics to use, instead of just one.


When you shop for knits, you will encounter many different names for various types of double knits. Your fabric store might use terms such as "double knit," "ponte knit," "roma knit," "jersey," or others. It's also possible to see all heavier weight knits grouped under "ponte," or just "double knit." Let's demystify some of those terms.

First, "double knit" is the broad term for knits that are created with the structure described above. Any knit that is created in this manner can be called a double knit. There are a wide variety of double knits, including double pique, double jacquard, double jersey, and more. When it comes to double knits, common terms that you may come across are interlock jersey, Ponte di Roma, or just ponte.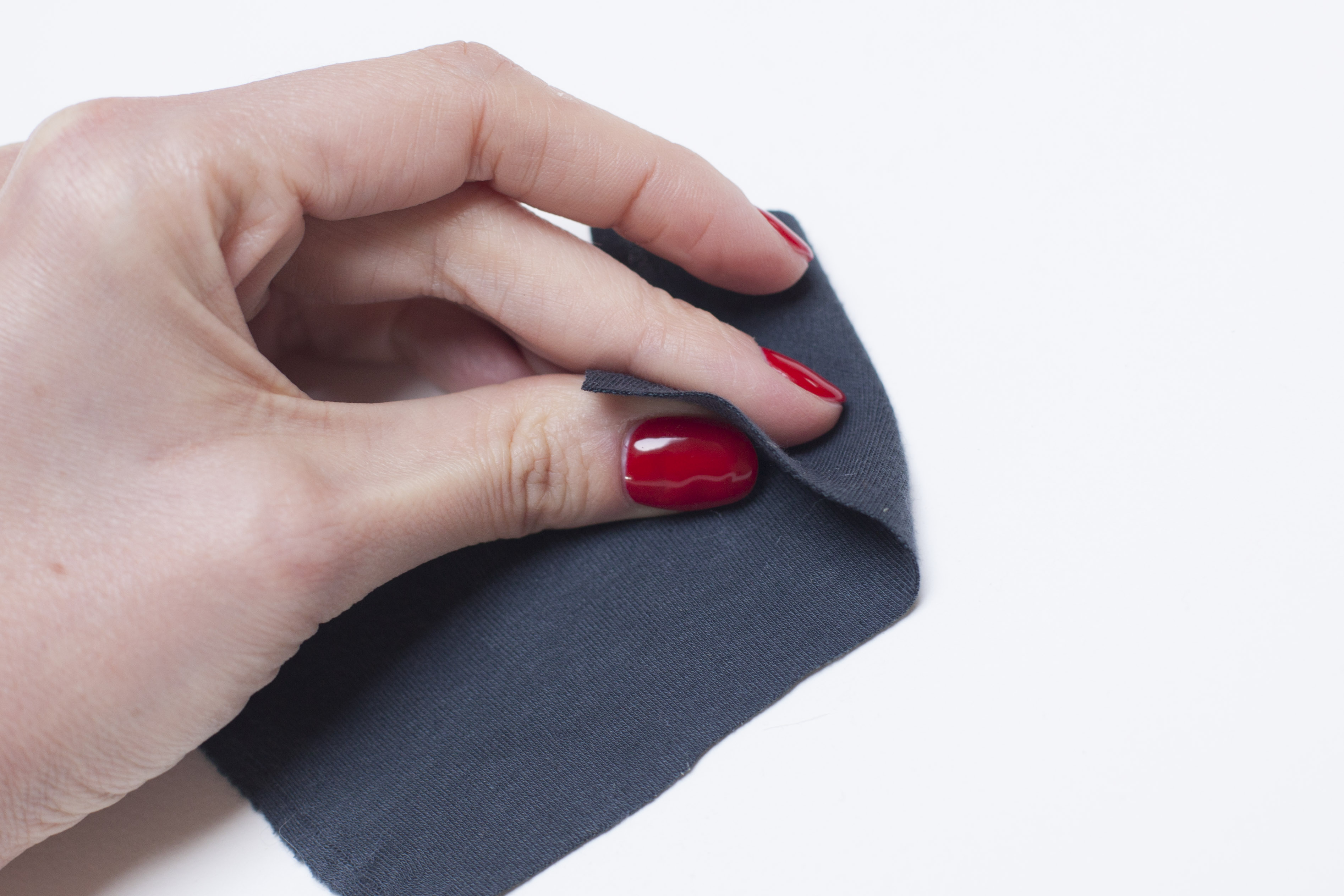 Interlock is a type of double knit fabric made with two layers of jersey.
Interlock jersey is in fact a double jersey, with a smooth surface on each side. The wales of the fabric on each side are alternated, with the back loops knitted together. This means both sides of an interlock will look the same. Again, interlock refers to the structure of the double knit.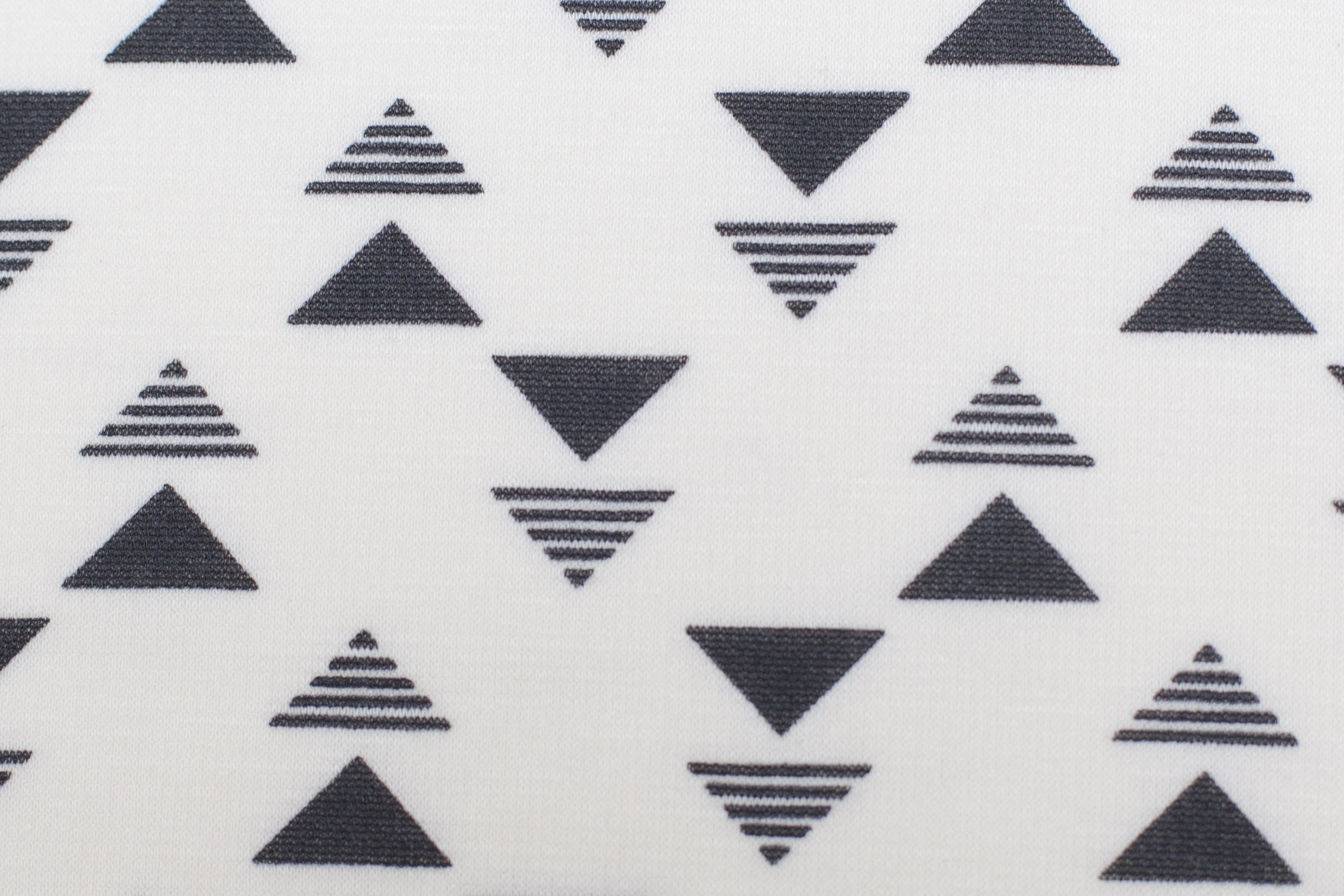 Look for a slight horizontal ribbing to determine if your fabric is ponte.
Ponte di Roma is a type of interlock fabric, and is sometimes referred to simply as ponte. The characteristics of ponte are that it is thick and firm, with a slight horizontally ribbed appearance when you look closely. Often, spandex is included in ponte to give it more stretch.
Shopping for double knit

Knowing what to look for and the marks of quality will help you pick out the perfect knit.

If you have not purchased double knit before, I would highly advise shopping in person if you are able. You'll learn what you like and what you do not like after feeling and stretching the fabrics.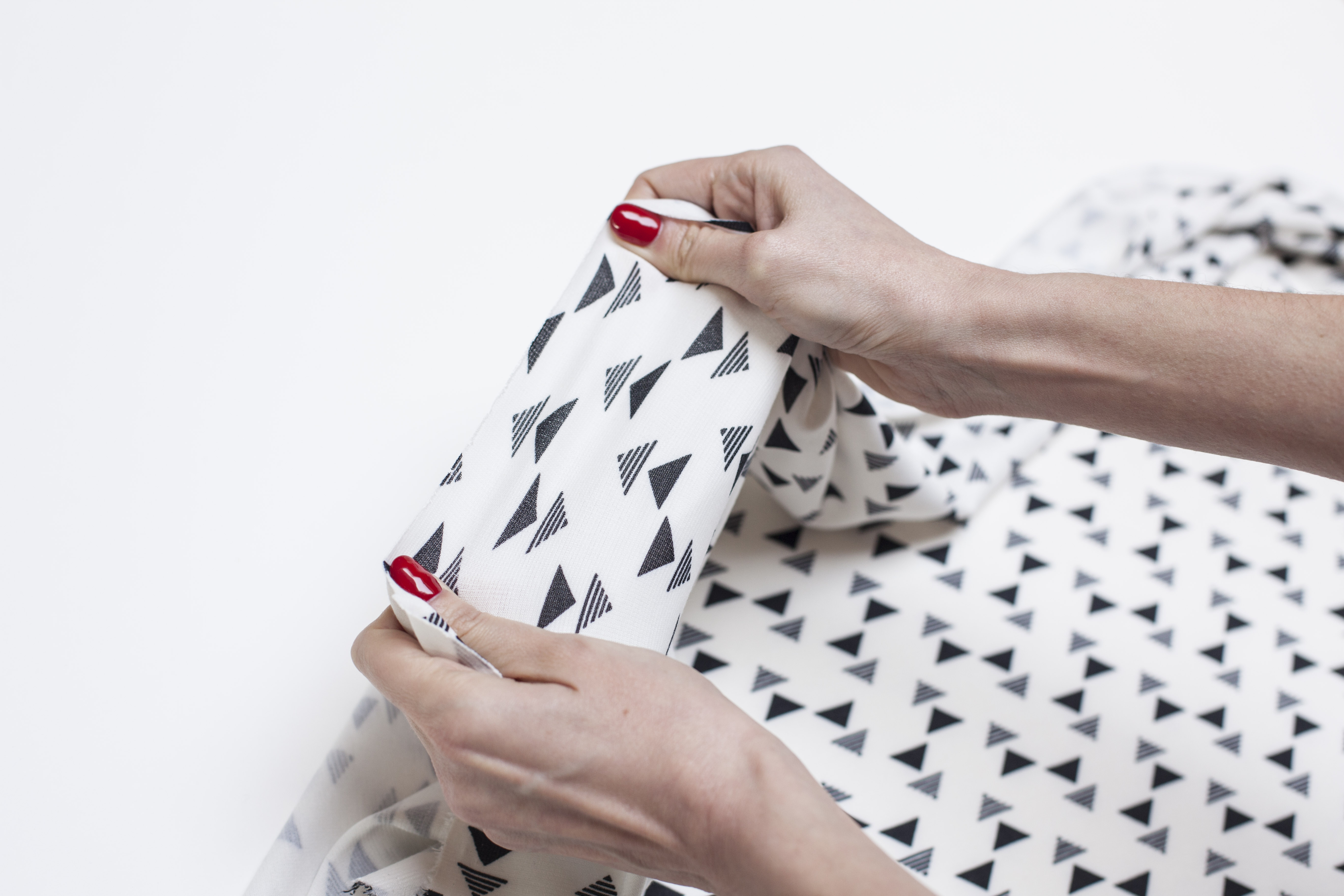 Check how stretchy your fabric is before purchasing.
Stretch
If you find one you like the feel and look of, check out the stretch. I always like to know what I am committing to with my vertical (up and down) and horizontal (side to side) stretch. If you are doing a project where you are swapping a knit for a rigid woven, select something with minimal vertical stretch. On the other hand, if you are doing a wiggle skirt, find as much vertical and horizontal stretch as you can, so the skirt moves with you.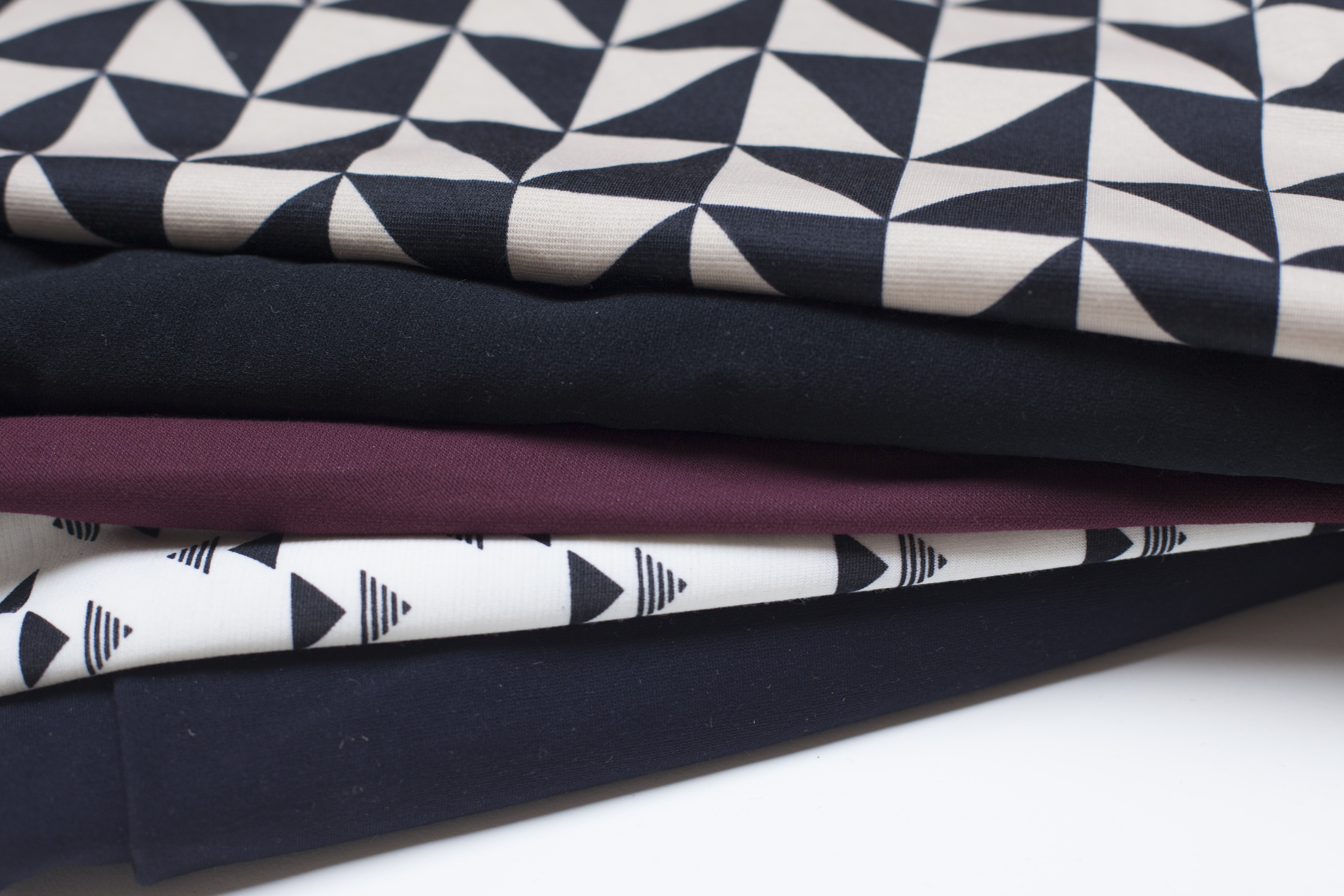 Double knit fabrics can be purchased in several different weights.
Weight
Double knit or sweater knit?

If you encounter a heavy knit fabric where you can easily see the structure, this type may qualify as a sweater knit. These are single yarn knits with a single face. They are often made with thicker yarns, and have quite a bit of texture. While fun to work with, they do not have the same properties as the more structured knits we are discussing here.


Double knit fabrics come in a variety of weights. Even a specific double knit fabric such as Ponte di Roma is available in light, medium, and bottom weights. Lightweight versions work well for dresses and tops where you want some drape, medium weights are perfect for more structured pieces, and bottom weights work well both for bottoms or for jackets.
Hand
If you are shopping in person, you have the ability to check out the hand feel of each fabric. Regardless of the name or content of the fabric, I always go with my gut reaction to hand feel. Do you like the texture? Is the weight nice? Can you imagine yourself wearing it in a garment? Did you just fall in love with the print or knit structure? Sometimes I get it in my head that I don't want a certain type of knit, but then going by touch I may end up buying that type anyway.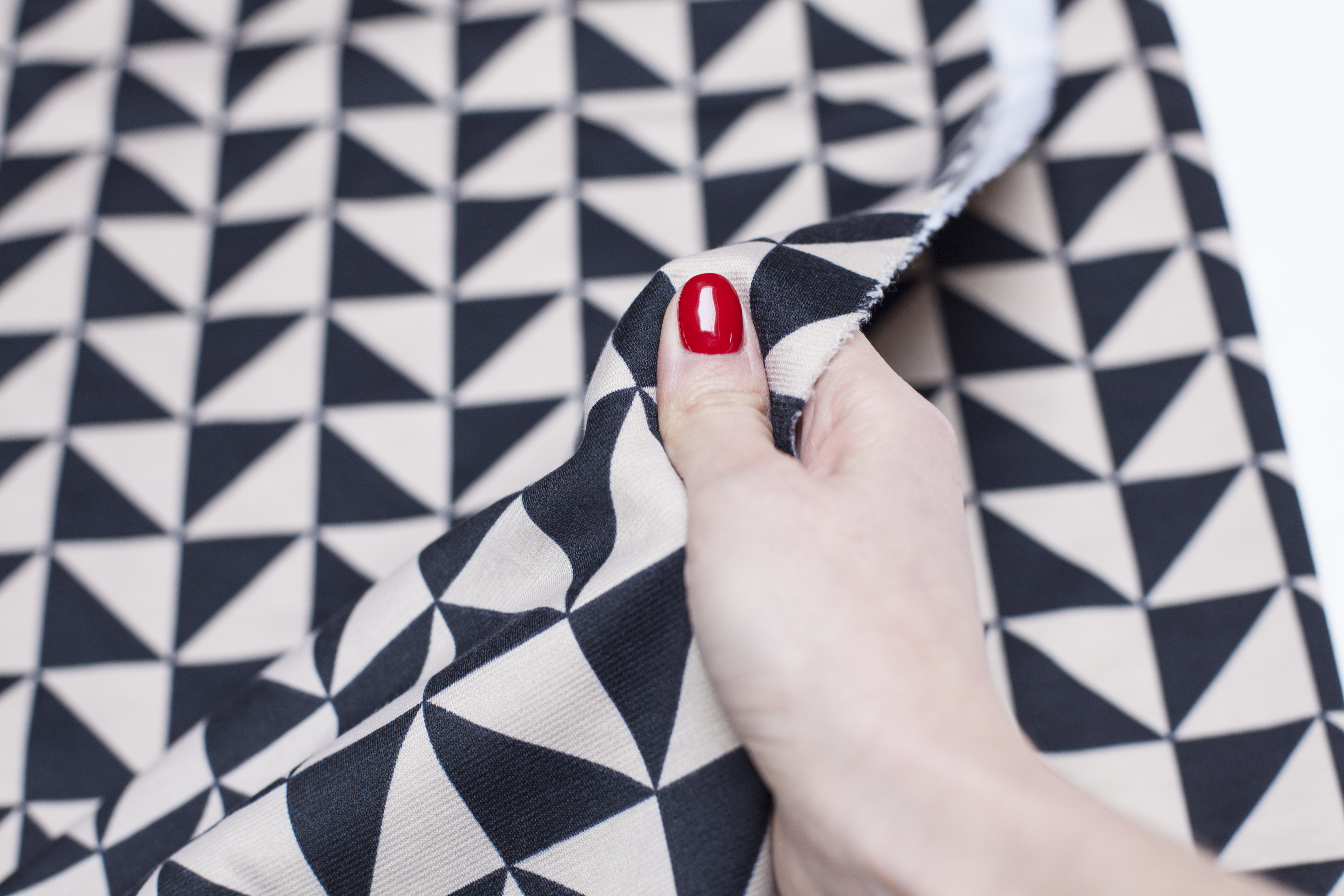 Feel the hand of the fabric for yourself.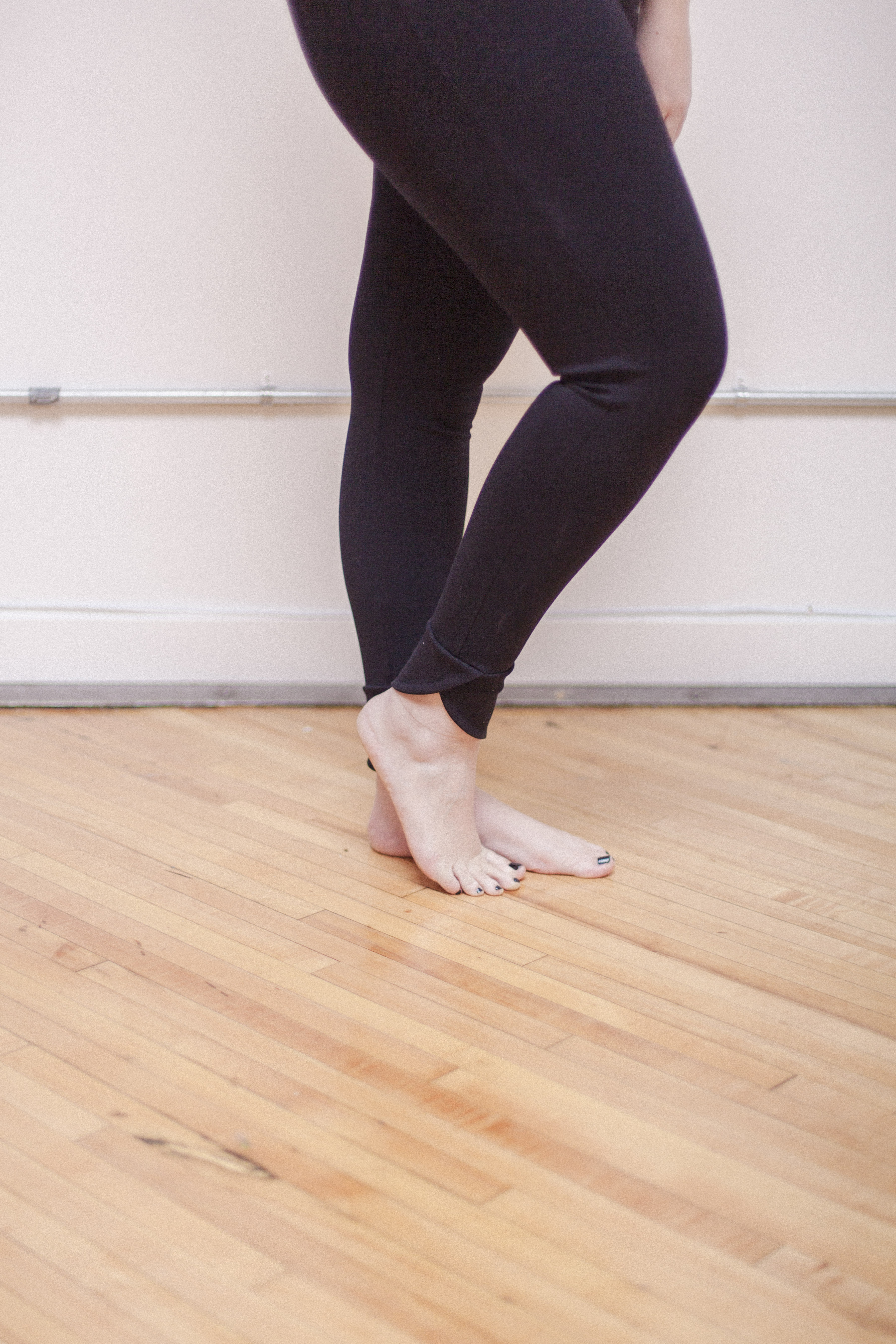 These leggings were made with a
rayon/nylon/spandex blend that combines
positive qualities from each of these fibers.
Content
You will find everything from single fiber content to fabric with 4 or more fibers. I even once purchased a fabric that was 7% metal, for a gold metallic thread in a houndstooth design! With ponte, the most common fibers you will find are rayon, polyester, nylon, and spandex.
Most sewists have personal preferences about fiber. For my part, I'm not a huge fan of polyester. I don't like wearing it, and I don't find it wears as well as something made from rayon. On the flip side, rayon will shrink. For these kinds of reasons, blends of a few different fibers are great, because the good and bad qualities can be balanced. Let it come down to your personal preference.
When looking at fiber content, determine if you would like Spandex or not for your project. Spandex is also known by the brand name Lycra, or generically as elastane. I'm a fan of having a little in everything for extra movement. But if you know you do not like this, try to find a blend that does not have it, or look for a single fiber fabric. The higher the spandex, the more stretch you will have.
Quality
Get up close and personal with the fabric you may be buying and working with. If you look at it flat, can you see little fibers?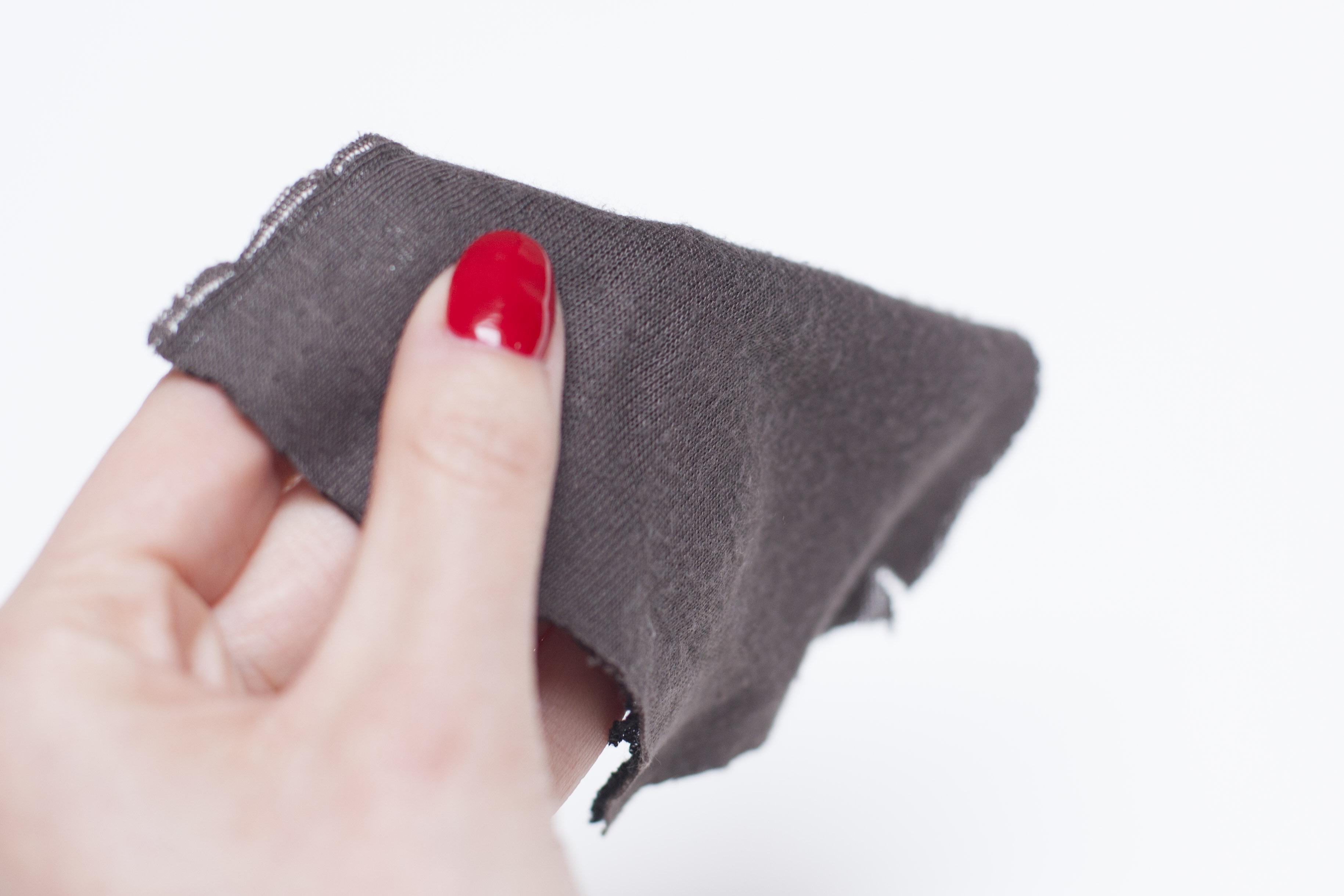 Pilling is often visible once fabric has suffered some abrasion.
If you look at any fabric and see this, your pilling will be high long term. Pilling will occur after washing, or anywhere that may have abrasion, such as the underarm of the sleeve. If you see this on a natural fiber, it may not necessarily be a sign of poor quality. If you are looking at a synthetic fiber such as polyester, I would run screaming.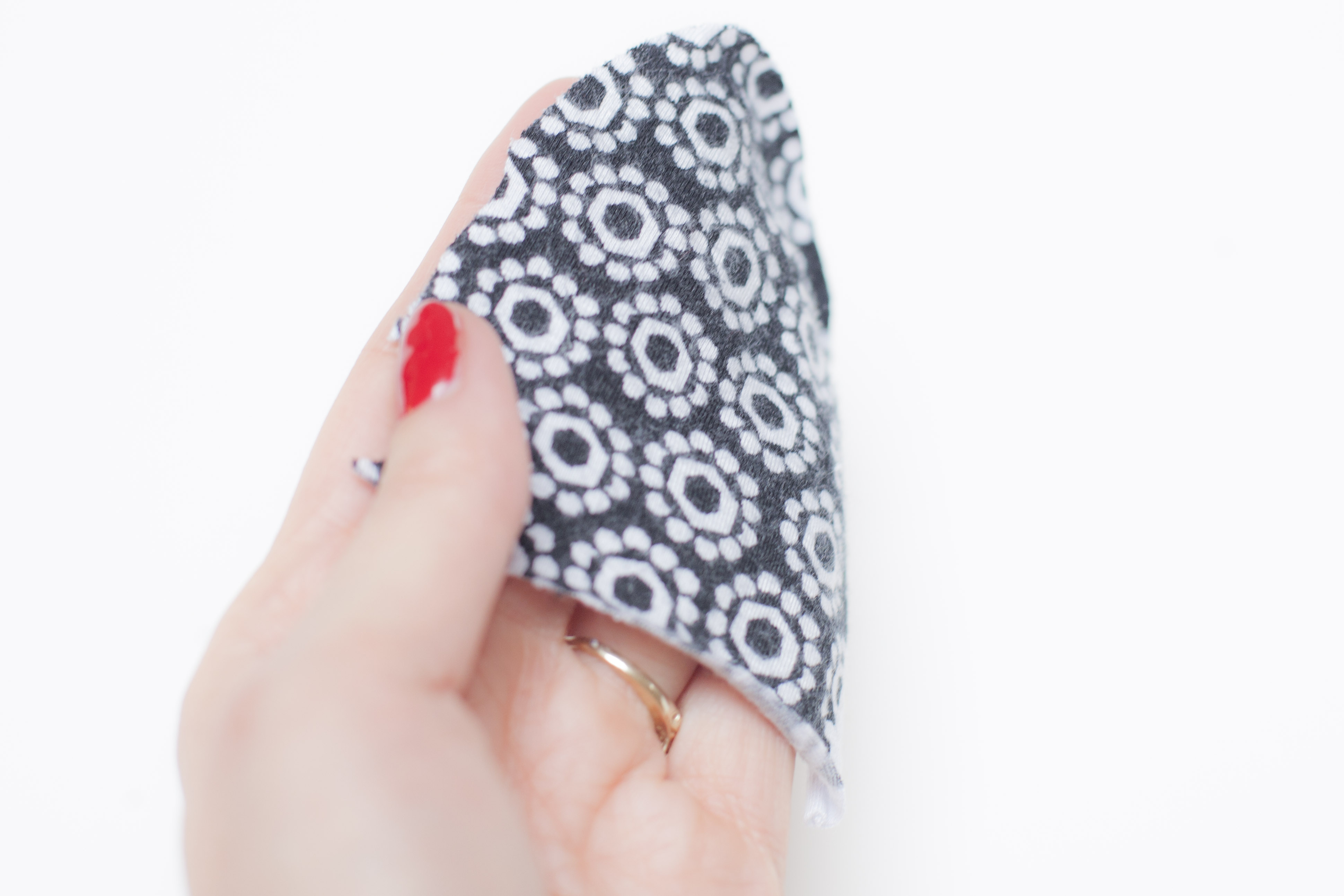 This fabric is printed in a dark color on a white base. The mixed color of the pills makes them much more visible on a black surface.
Also look out for fabrics with a print on a white base. Not only does the face of the fabric pill, but it will also pill lighter, as it also traps undyed parts in the pills. The pills will stand out even more.
When in doubt, do a wash test before committing. Nothing is worse than creating a lovely garment, only to have it look terrible after a few washes. I beat my fabric up as much as possible when testing it before making my garment, just to know what I'm getting myself into. Most times when something feels dreamy, and is of fine quality, your finished garment will be as well. I have some double knit garments I have purchased from ready to wear lines, as well as many garments I have made myself, that have been in my closet for several years with no signs of stopping.
Sewing with Double Knits
Double knits make sewing easy, providing the best of the worlds of knits and wovens.
Prewash
When it's time to start sewing, you can treat this fabric much like any other. Prewash, if you haven't already tested it out. There is no need to block this fabric. With this type of knit, prewashing will put the fabric in its final state before cutting.
Cutting
If the garment you have selected has a larger seam allowance, I would suggest adjusting your seam allowance no larger than 3/8 or 1/4 inch if you can manage. You want to avoid bulk at the seams, and you will most likely not be able to bust your seams open and press them to stay. You may also keep the original seam allowance and trim down during or after sewing. Dressmaking shears or pinking shears work just fine.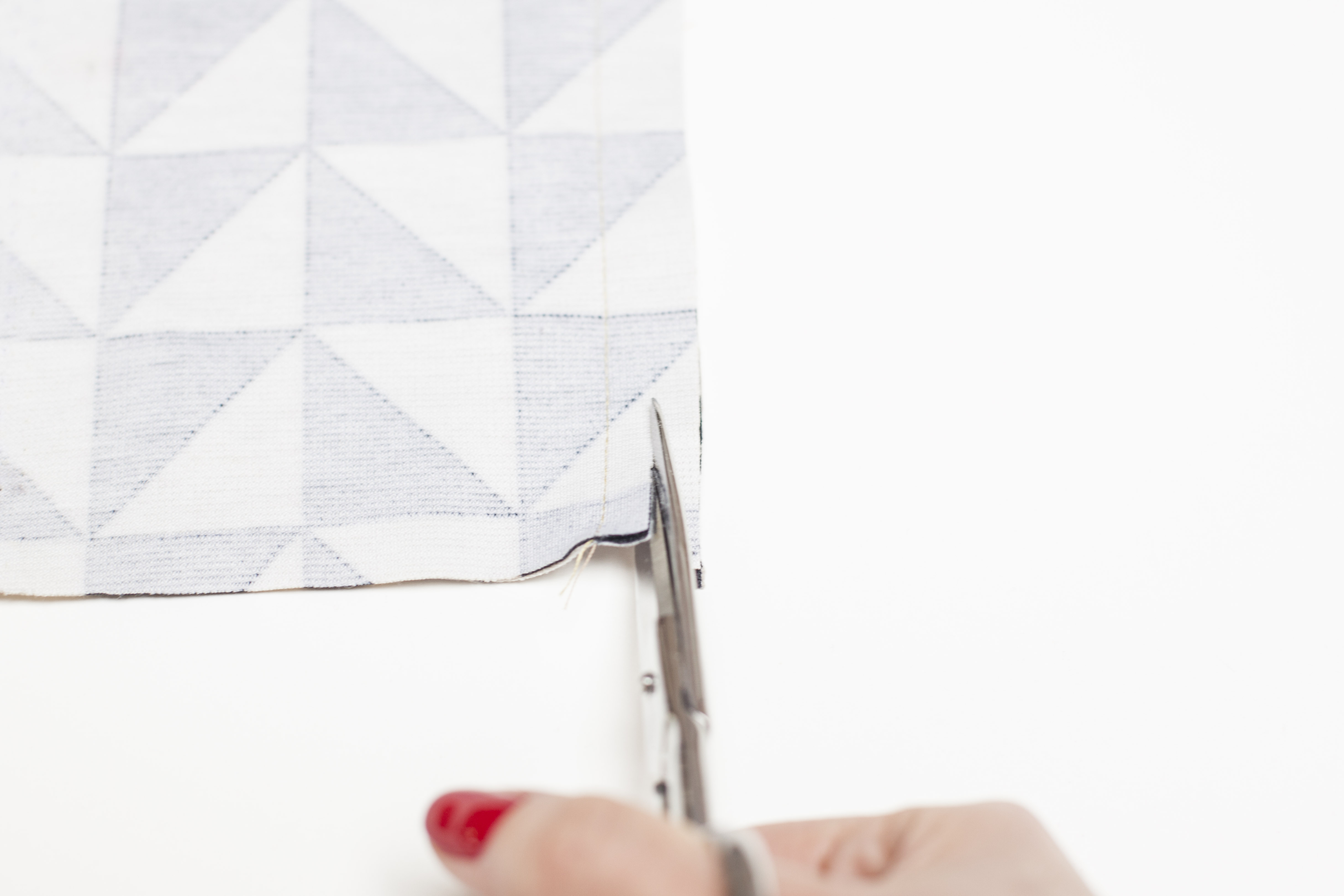 Trim your seam allowances to 3/8 inch or less.
Stitching
Since this fabric is knit, sewing with a serger is ideal but not necessary. If you are working on a regular machine, the good news is that this fabric is unlikely to unravel and fray. And because the fabric is very firm, it doesn't require the stretch of a serger's stitches to perform.
If you don't have a serger, use a straight stitch or a very narrow (0.2mm) zigzag stitch to sew. Always test sew a seam on a scrap of fabric. Pull to stretch the seam in all directions and check for popping. If your stitches pop, increase the width of the zigzag.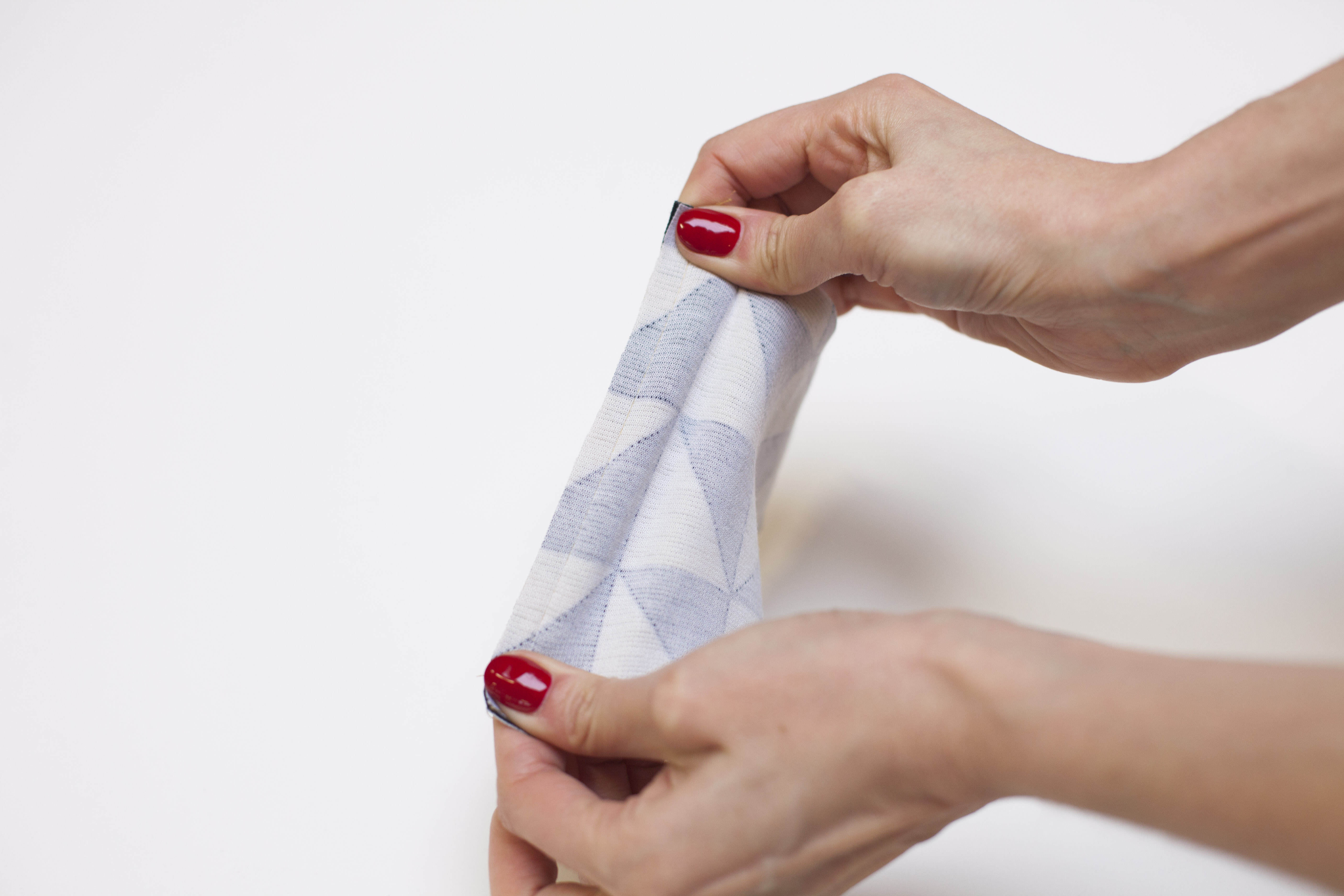 It's possible to use a straight stitch with some double knits, but be sure to test the stitching by stretching a stitch sample first.
Tips for swapping double knit for woven



Patterns that call for a stretch woven fabric with 2-3% spandex often make perfect projects for double knits.


Eliminate any zippers unless they are decorative or absolutely necessary to get the garment on and off.


If your pattern calls for a facing, use a less bulky knit for the facing portion. Add a knit interfacing to the facing if you need more structure.


Keep seam allowances small. Either reduce the seam allowance to 1/4 to 3/8 inch on the pattern, or trim the seams down as you sew.


Eliminate bulk in darts by trimming away the "meat" of the dart after sewing.


Fit the pattern as you go to determine if you'd like the style to be closer fitted.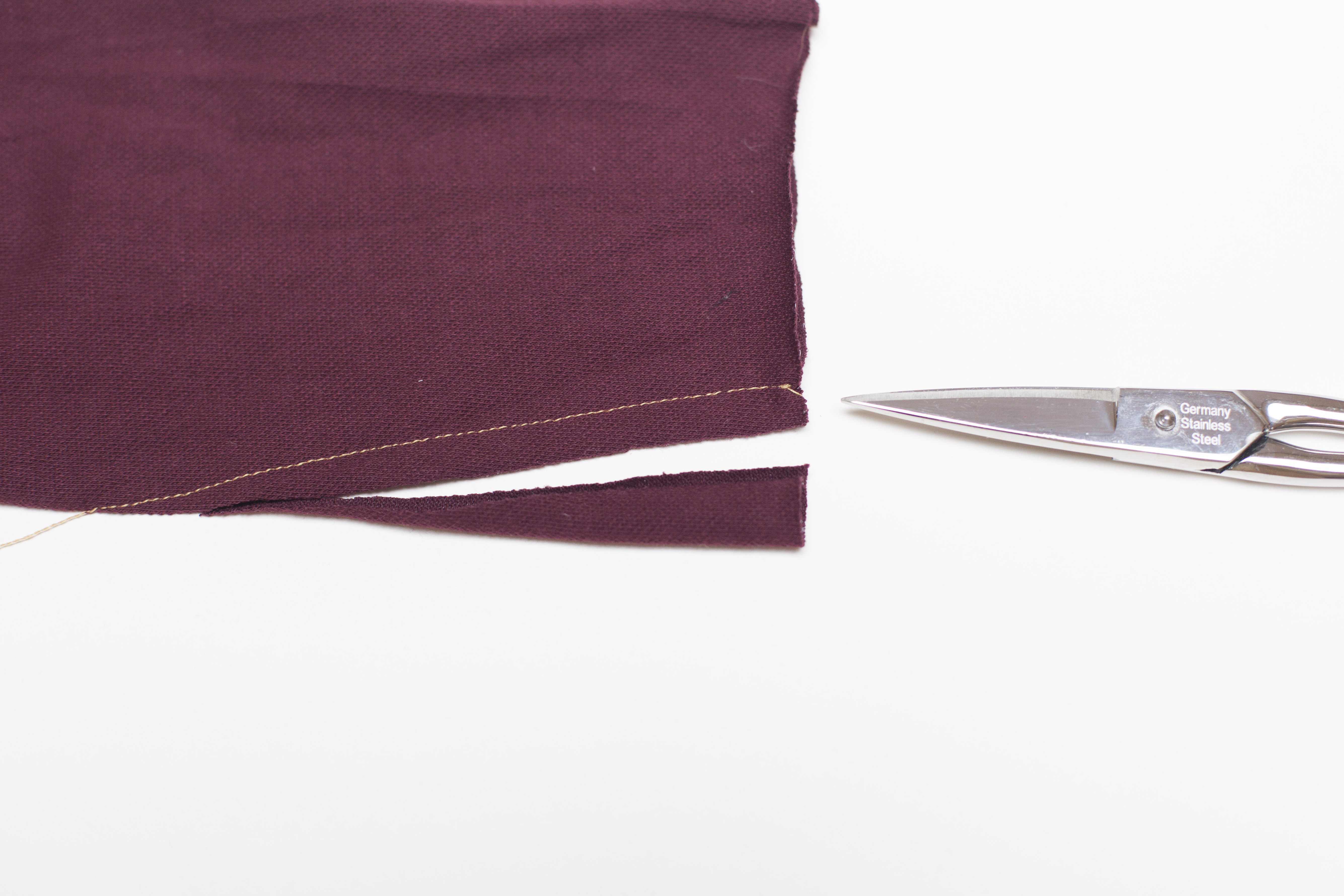 Eliminate bulk by trimming away the inside of darts.
Eliminate bulk
The only complaint that I hear about sewing with double knits is that they are bulky due to the density of the fabric. Again, make sure that any seam allowances are reduced to 1/4 inch or 3/8 inch.
If you are swapping a double knit in a pattern made for woven, you may need to update your dart construction. To reduce bulk, add a seam allowance within the sew line of your dart, and use your serger to sew it. If you are sewing without a serger, trim away the inside of the dart. Reducing the "meat" of the dart will eliminate excess bulk in some places.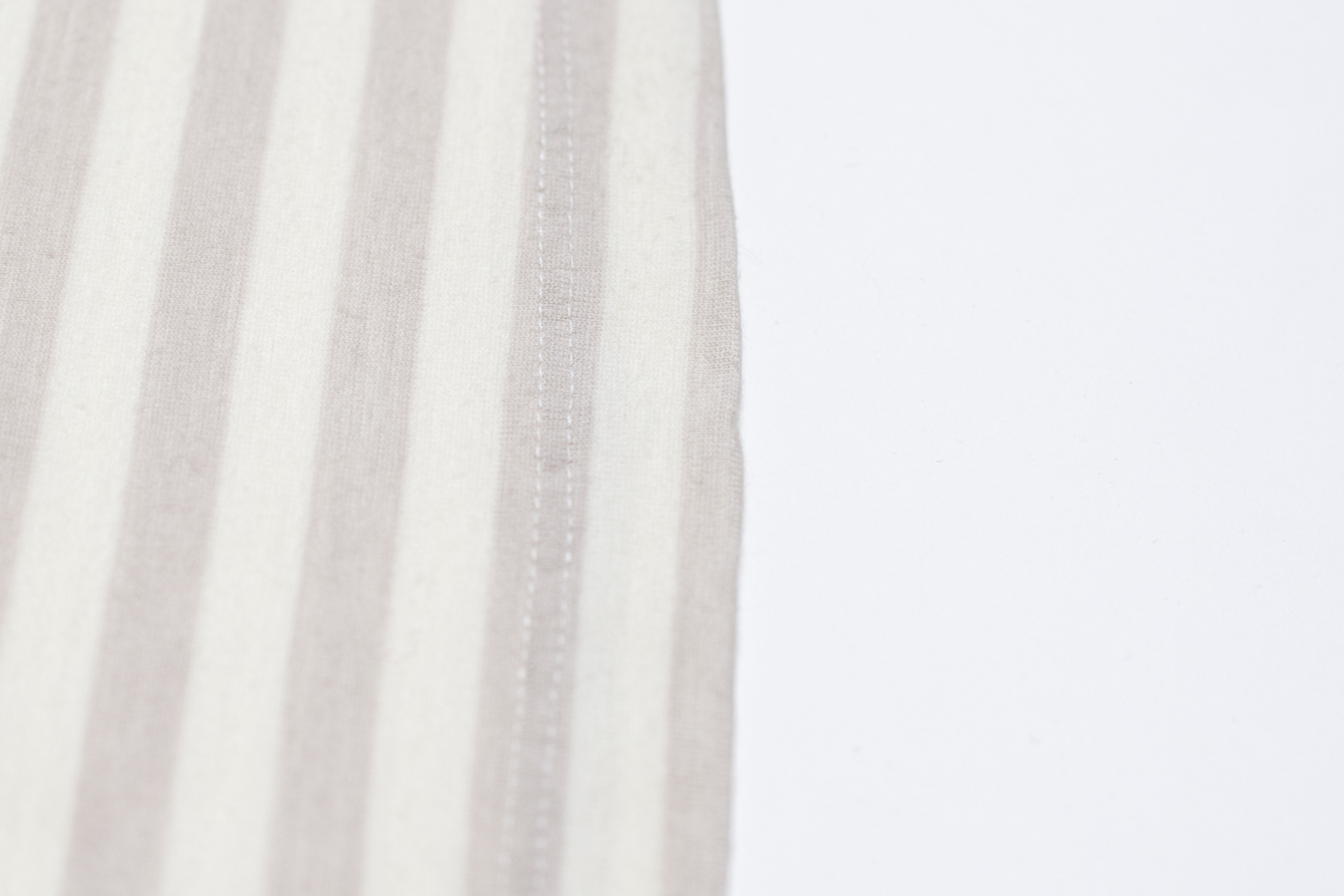 A twin needle hem or a coverstitch machine provides an easy finish.
Hem
When it is time to hem, you can use a variety of methods. If your hem is not tight and doesn't need to stretch a great deal, a simple single turned hem will work. For stretchier hems, use a coverstitch machine or a twin needle on your standard machine.
My favorite type of hem for this fabric is a blind hem, which you can do either with your machine or by hand. It provides a very clean look on the outside and stretches well.
Resources for double knit fabric

Join the Conversation
Sign in or become a Seamwork member to comment on this article.