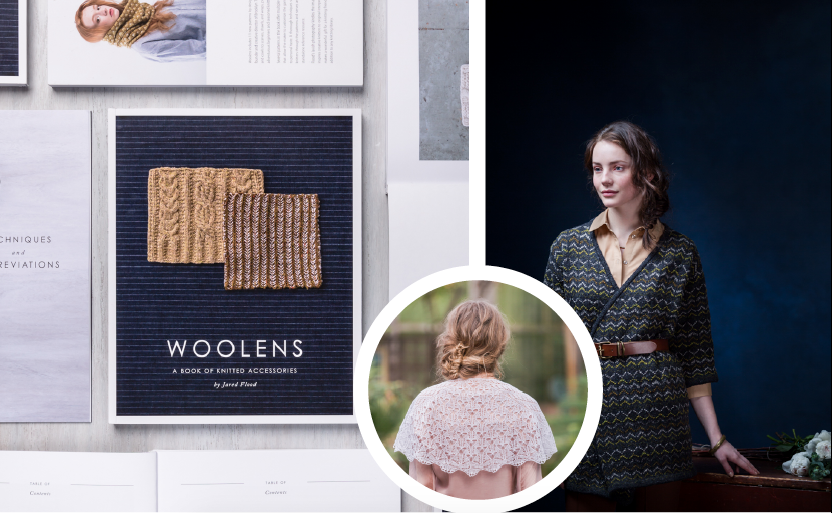 Here at Seamwork HQ, we recently learned a valuable lesson—it's really important to get to know your neighbors, especially if your neighbors happen to be Brooklyn Tweed.
In what became an exciting "trading workspaces" experience, Seamwork HQ visited Brooklyn Tweed HQ, and as our sewing and knitting worlds collided, one thing became very clear: we all love to make stuff.
If you love to sew, you might also love to knit. So read on to see what we learned from the creative team at Brooklyn Tweed.
All About the Yarn
Before we launch into the compelling similarities and differences between knitting and sewing as crafts, here is what makes Brooklyn Tweed's yarn so unique. Founded in 2010 by Jared Flood—a knitting and textile enthusiast who had a vision of yarn sourced here in the United States—Brooklyn Tweed now produces entirely American-made yarn. This team of knitters takes knitting seriously. They aren't just producing wool—they're building a genuine appreciation for textiles and the craft as a whole.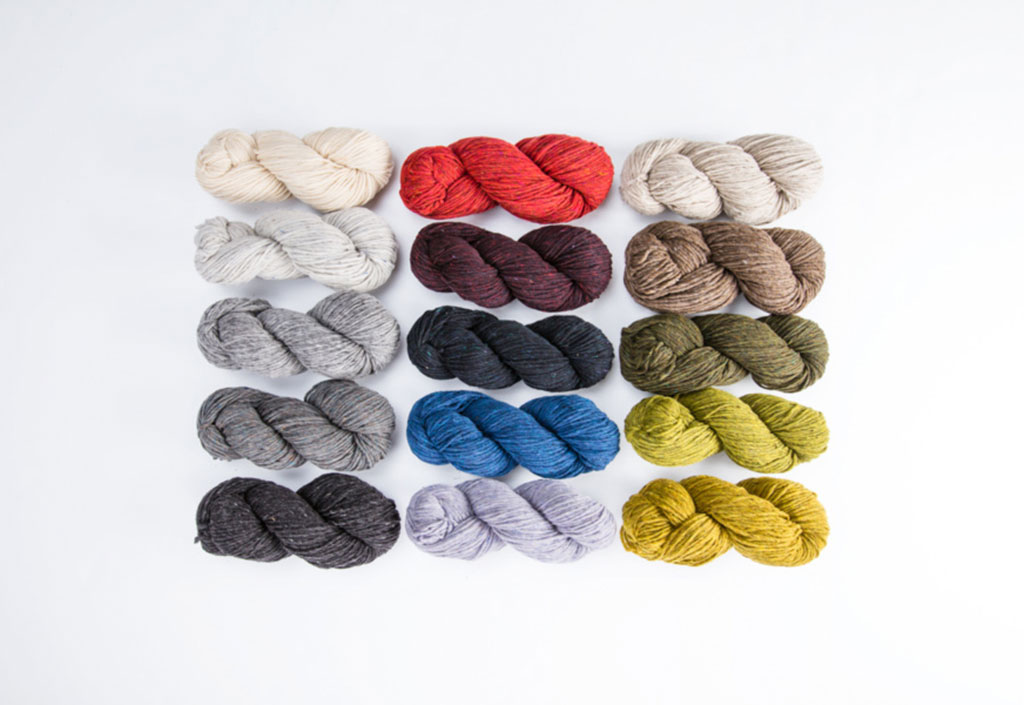 "Our yarns are developed, sourced, and produced 100% in the United States," says Christina Rondepierre, a marketing manager for Brooklyn Tweed who is an avid knitter who enjoys sewing by hand. "Our first yarn, Shelter, was the culmination of Jared Flood's dream to create homegrown yarns that would preserve, support and sustain the tradition of U.S. textile production. Since then we have remained committed to supporting the local textile industry in the United States."
Jared's dream to create his own supply chain worked, and now the demand for a transparent wool production process has grown. The lesson learned is that creating a market for domestically sourced wool has the power to influence suppliers, so make your voice heard.
From Sheep to Skein
Brooklyn Tweed offers breed-specific yarn, sourced from a single breed of sheep who live in a specific location. So while other yarn companies might visit a textile mill with a checklist of wool characteristics they want, Brooklyn Tweed goes right to the person who cares for the sheep. And when sheep are integral to your livelihood, you work hard to make sure the sheep stay happy. Brooklyn Tweed works no more than one person away from the source, knowing nearly everyone by name.
You can track their production process on their website in their feature "From Sheep to Skein." It follows the journey of their product from springtime shearing on the farm, to cleaning in Texas, dyeing in Pennsylvania, spinning in New Hampshire, and back to Portland for delivery to you. It's really fun to see how a sheep's fleece transforms into a colorful skein!
By Makers, For Makers
We asked the Brooklyn Tweed team—most of whom also love to sew—about the connections and differences between sewing and knitting. Since we were all able to nerd out about fabric and wool for hours on end, what other similarities are there between the two crafts?
We All Love Textiles
The biggest thing that knitters and sewists have in common is a love for textiles—be it fabric, yarn, batting, bias tape, and all the other tools you need to work with textiles. One big difference is that knitters spend a lot more time with their textiles because they are actually creating them.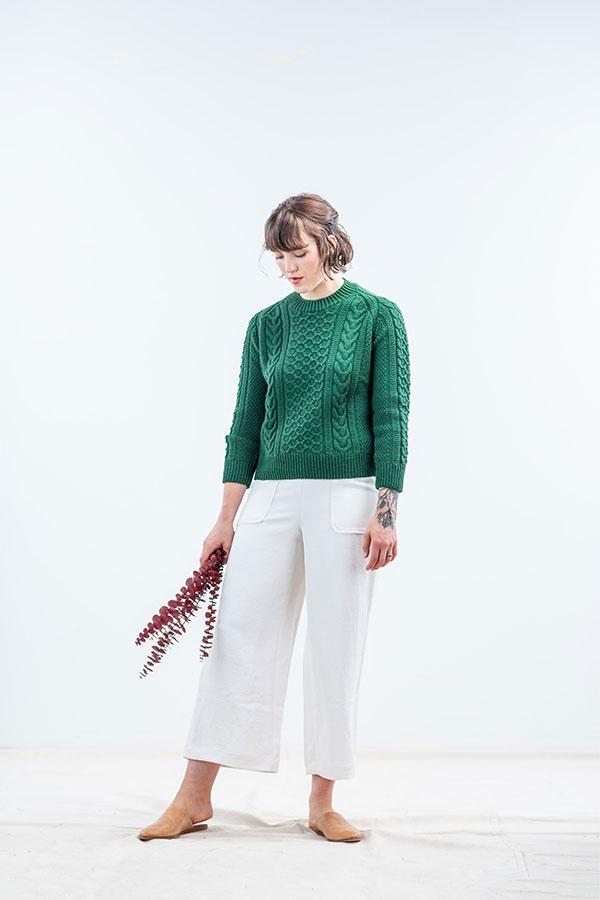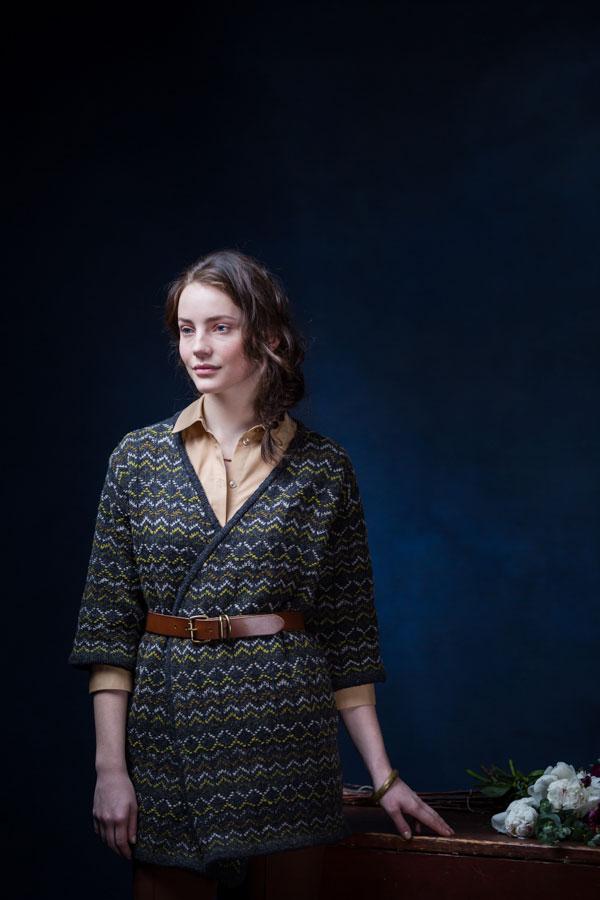 "All of us at BT love wool yarn regardless of its provenance, it's a miracle fiber after all, but we hold a special place in our hearts for wool yarns that are breed-specific," says Jaime Maccarthy, the force behind customer and community relations at Brooklyn Tweed.
"When knitting with a breed-specific yarn you're getting to experience the unique characteristics of that breed's fleece, not a homogenized version of what it should be. Take the Targhee sheep for example; Targhee are a uniquely American breed of sheep and produce a dense, soft, and durable fleece. When I knit with our Arbor yarn, which is made from Targhee fleece, the fabric I produce from the yarn is also dense, soft, and durable. Just the same with any of our other breed-specific yarns, when I knit with them I don't just end up with a wool sweater, I get a garment that is either lofty or dense, soft or rustic, durable or delicate, a garment that is a perfect portrait of the sheep it came from."

Brooklyn Tweed's Yarn—A Snapshot
Here's a visual of the BT woolen yarn production process. It starts as undyed fleece—straight from the sheep, gets dyed with base colors, goes to a carder to blend the fiber into batt, is cut into slivers, twisted and plied together, and is delivered as a skein.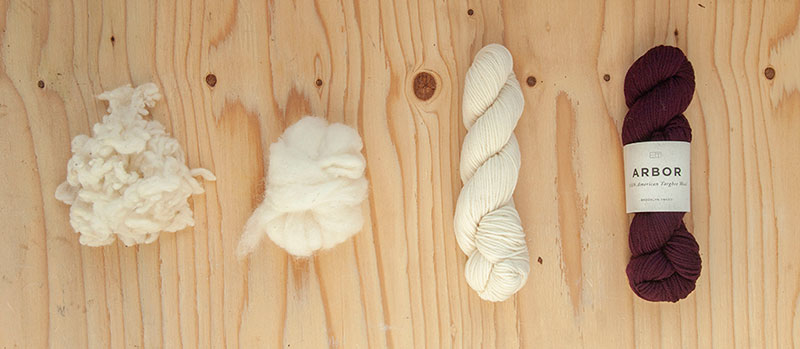 The process for their worsted-spun yarns is a little different, as the yarn is cut into slivers and then turned into roving, to open up the fibers. "Our worsted-spun yarns—Vale, Peerie and Arbor—are dyed in the skein. After the wool has been spun into yarn, it is dip-dyed in large vats that have been prepared with the particular colors dye formula," says Christina.
We Love to Create Garments
Whether you knit or sew, the outcome is a handmade piece of clothing—and we all know how special that feels to make and to wear. "As a sewist and a knitter, the parallels that I see, and encounter regularly, between these two crafts are that both sewing and knitting require the maker to have a general understanding of anatomy as well as an ability to take raw materials and mold them into a 3-dimensional—hopefully wearable!—shape," says Jamie.
"Knitting and sewing engage different parts of my brain, and I can't imagine I'm alone in this; when sewing, I find that I need to be really focused on what I'm doing otherwise I could potentially injure myself or ruin my fabric, but when I knit I can just zone out because I'm the machine that's creating the garment and the fabric there's not really anything outside of my body that I need to have an awareness of—except for my knitting needles, but at this point those just feel like extensions of my hands."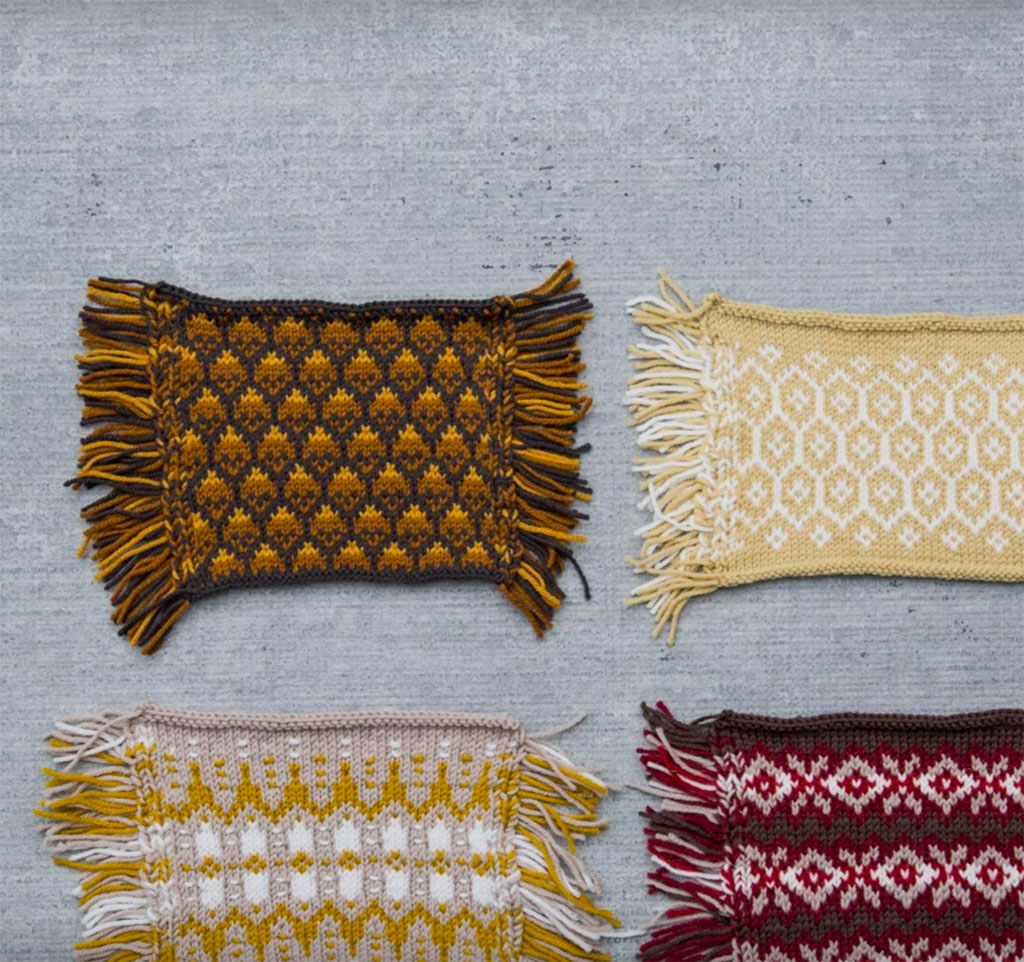 Want to Learn How to Knit?
If you want to add some knitted garments to your handmade wardrobe, we asked the BT team for some quick tips for knitting newbies. Sometimes it's hard to start a new craft when you've mastered another one. It's frustrating to start all over again as a beginner!
"I'd say, take advantage of all the resources that have been created and put out there by fellow knitters and makers, whether it's video tutorials or popping by local yarn stores to knit and learn in a group. We're all so passionate about our craft—you'd be hard-pressed to find someone who won't eagerly offer help and support," says Korina Woo, marketing coordinator for Brooklyn Tweed, who knits, and—you guessed it—sews.
"More importantly though, don't be so hard on yourself and your work as you learn, and know that your first projects may not be perfect. In fact, the same case applies even when you're more experienced! Practice really is key and the act of continued and dedicated making itself accumulates—no effort is wasted."
Expert Knitting Tips from the BT Team



Finish 1-2 quick projects to scratch that beginner's itch. This will tame the sense of immediacy you feel when you learn a new craft.



Make something that you really feel strongly about, using materials and colors that prompt you to pick up your needles. This will help you stay motivated to finish your project.



Use your sewing knowledge to analyze silhouettes. When you are picking out a pattern, imagine the shape of the garment on your body, or sketch it on a croquis. Even better, find a trunk show and try on a sample.



Budget to make an intricate project. After you get a sense of the time and cost, create space in your plans and budget for a larger project that you'll treasure for years.



Choose timeless projects. Learn to plan a few seasons ahead and think outside of fast fashion. If you're going to spend that much time with a project, you want it to last.



Respond to color. Let your instinct for color help you pick out yarn.



Remember, you can always use a seam ripper on your sewing projects, and you can always unravel your knitting projects. If you don't like it, unravel!


In addition to these tips, be sure to check out BT's Learn to Knit Well resources on their website. Also, they offer free pattern support for their patterns, so if you get stuck, ask for help.
After chatting about our crafts for a while, it was time to leave this super fun knitting space and return to our sewing headquarters. But, we had to know—if everyone on the Brooklyn Tweed team knits, do they ever get a little competitive? Korina answered, "I'm not so sure about competition. Enabling, however…"
Join the Conversation
Sign in or become a Seamwork member to comment on this article.