How to Fit With Confidence
12 Lessons
taught by Haley
2,122 Seamwork members have watched this class.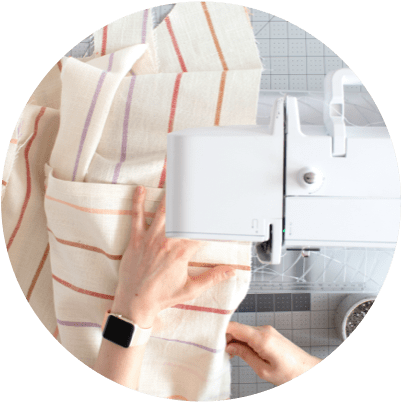 Work alongside other sewists by participating in the Seamwork community. Ask and answer questions, share your progress, get inspired by real-life sewists, and post your finished projects.
Join Seamwork
Welcome!
Get comfortable fitting your me-made clothes with this fun, helpful video class.
When you sew clothes that fit your body, you feel empowered. And when something fits well, you feel good in it. This Seamwork Fitting Series will teach you how to fit with confidence.
There are so many fitting methods out there. When you are first learning, it can feel overwhelming.
Fitting is an Adventure
Fitting is not a linear journey and it's not one-size-fits-all. The goal of this class is to guide you through your fitting adventure, help you maintain a curious mindset, and give you the problem-solving skills to sew clothes that you love to wear.
Here's what you'll learn in this introduction to fitting class:



How to keep a curious mindset so you can get the best fit without the stress


We'll help you gather your tools and resources, with a list of supplies and fitting books that we trust


You'll learn how to ask the right questions—and diagnose fitting problems on a muslin


How to pin and transfer markings from your muslin to your paper pattern pieces


How to shorten and lengthen pattern pieces between different points of measure


How to slash and pivot to add or decrease volume


How to increase or decrease fullness in a certain place on your pattern


How to shorten, lengthen, and move darts to get them to the right point of fullness


How to use the Seamwork Fitting Journal


In this introductory class, you'll learn how to find a fitting method that works for you. This means we won't be focused on the nitty gritty fit adjustments in this class. Instead, we will teach you the broader concepts that will help you understand fitting as a whole.
As this fitting series grows and grows, we'll start getting into the nitty gritty parts of fitting—all of the individual adjustments you can make to help your patterns fit better.
As part of this class, you can also download the Seamwork Fitting Journal, a really clever eBook that has blank measurement charts, a wrinkle cheat sheet, a muslin checklist, and a place to journal all your projects. Keep this journal nearby as you watch this class, and we'll help you fill it out.
While you learn these fitting fundamentals, you'll have access to a supportive worldwide community of makers—and the Seamwork team—who can help you troubleshoot your muslin and perfect your flat pattern adjustments. So be sure to join the Community discussion, post pictures of your muslins, and get advice from your fellow Seamworkers—no question is too big or too small!
Transcript
The overview contains all text from the video (plus more details!). Turn on CC for video subtitles.
How to Fit With Confidence
In addition to your regular sewing kit, here's what you'll need for this class:



Rulers: A clear ruler and curved rulers of your choice


Flexible tape measure


Pattern paper (a roll or large sheets)


A sharp pencil and an eraser


Clear tape


A fitting book for reference (see lesson 3 for suggestions)


The free Seamwork Fitting Journal (click on the "Downloads" tab to download it)


Links
Here are some additional resources to help you make the most of this class.