Sweet Orange Exfoliating Powder
This simple facial scrub comes together in minutes. It's gentle enough to use twice a week and, because it's stored dry, it has a long shelf life.
Ground almonds and powdered oats are perfect for smoothing away grime and dead skin. Both ingredients have natural skin-soothing properties that leave skin moisturized and nourished, as well as cleansed and polished. French green clay helps bind the almond and oat powders, absorbing any excess oil.
Sweet orange and neroli essential oil (distilled from the flowers of the bitter orange tree) give this powder an intoxicating but natural floral scent. Neroli oil blended jojoba shouldn't be hard to find — expensive essential oils like neroli or jasmine are often diluted in a carrier oil to make them more affordable.
This powder is stored dry, then activated with water just before use.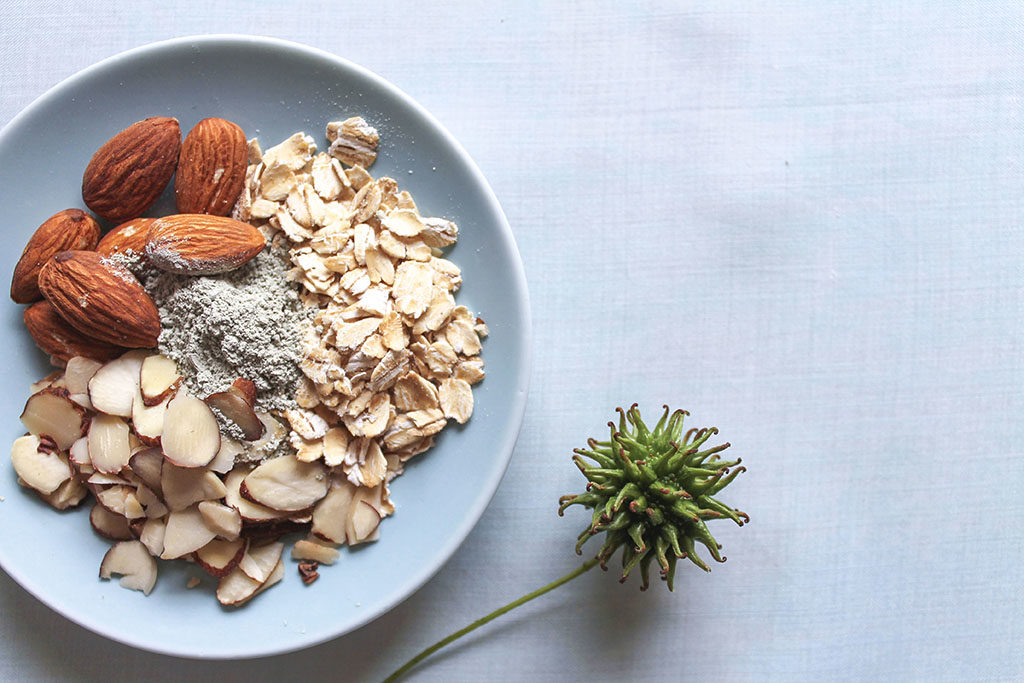 You'll Need:
2 tbsp. oats or pre-ground oat flour
2 tbsp. almond meal or ground almonds
1 tsp. green French clay powder  
Small, pretty jar (optional)
5 drops neroli essential oil blended in jojoba oil (optional)
2 drops sweet orange oil (Citrus sinensis, optional) 
Plastic spoon (optional)
Toothpick or chopstick (optional)
How to:
If you aren't using oat flour, you'll need to grind a small handful of oats in small blender, miniature food processor, or coffee grinder (make sure the coffee grinder is very clean, or your scrub will smell like coffee!) You can use any kind of unflavored oats, as long as they aren't steel cut, which will be too hard to grind. Grind enough oats to produce two tablespoons of fine oat flour. Set aside.
If you aren't using almond meal, grind a small handful of almonds in the same machine. Grind enough almonds to produce two tablespoons of fine almond meal.
If you're using essential oils, combine the neroli and sweet orange oil in a plastic spoon. Mix with a toothpick or the tip of a chopstick. Add the essential oils to the oat flour. Allow the oils to sink into the oats, then stir until oils are equally distributed.
Combine the oat flour, almond meal, and green French clay powder in a clean, pretty jar.
To use, pour 1–2 teaspoons of powder into your palm. Add water by the drop until the scrub reaches your desired consistency. Rub the mixture gently over your dry or wet face, then rinse well.
You can modify this scrub by substituting other liquids for water:
adding green tea will make it more astringent
adding milk will boost the scrub's exfoliating and moisturizing powers
adding liquid honey will make a luxurious, moisturizing scrub that leaves your skin fresh and glowing.