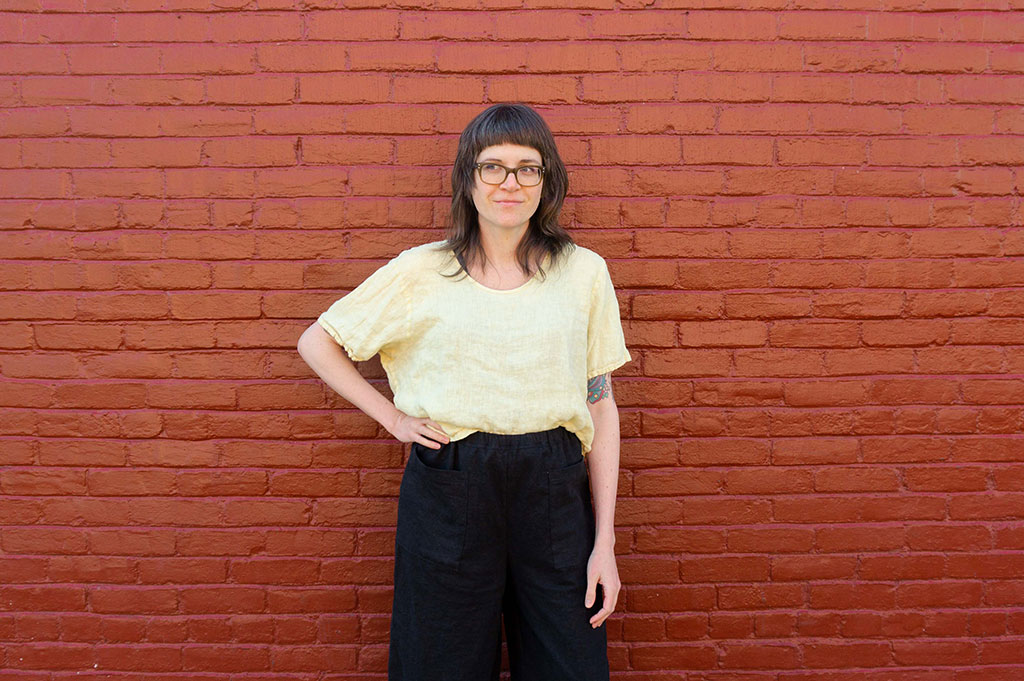 When the new Joss pants pattern was ready to go, a few of us were working in the sewing studio, and we started talking about elastic-waisted pants. As I tried on a muslin and mused, "Can I pull off elastic pants?" Our sample sewer, Areta, turned to me and asked—with a wry smile—"Do elastic pants look flattering on anyone?" and then went back to sewing. Her question immediately sparked an interesting discussion about elastic-waisted pants.
Elastic waists are comfortable. They might not be "flattering," but we're just going to put that idea aside for the rest of this article. If you like elastic-waisted pants and you want to make a pair that you love, keep reading. If you aren't into elastic-waisted pants, that's fair, and I suggest checking out our other pants pattern in this month's issue, Nolan! Taylor shares her Nolan pants here.
The fun question is, what kind of elastic-waisted pants do you love? I believe there is an elastic-waisted pants pattern out there for everyone. I'll explain why, as I show you how I made my Joss pants.
It's not one-size-fits-all
The thing about elastic-waisted pants is that all of our waists are different. Mine is short and not that much smaller than my bust measurement. Yours might be narrow, or you might have a really long torso, but however your body is shaped, I think you can make elastic feel good for you. An important thing to keep in mind is that what works for someone else might not work for you.
And that's ok because we know how to sew!
We can adjust crotch depth, elastic width, add pockets, remove pockets, slim the legs, widen the legs, crop the pants, make them full-length, or chop them into shorts.
To throw out some positive qualities of elastic-waisted pants: they're comfortable, adjustable if you lose or gain a little weight, and they're easy to sew.
The trick is to find a style that fits your comfort and your body. Here are the steps that I took to sew my new favorite pair of elastic pants!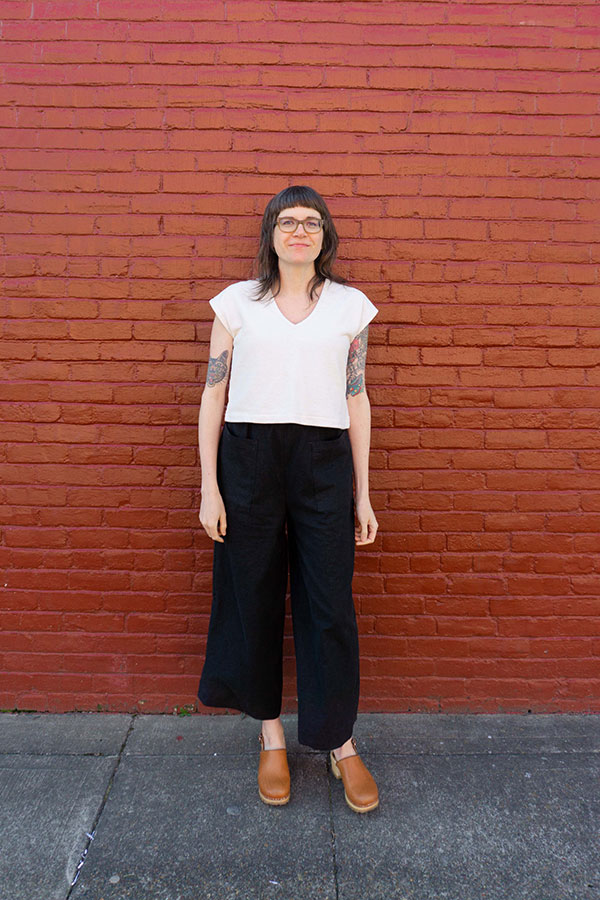 Step 1: Be real about your silhouette
It would be cool if we all looked just like the models that are wearing elastic pants, but we probably don't. A peg-legged pair of pants with darts and cargo pockets might feel awesome for one person and not-so-awesome for someone else. Wide-legged elastic pants might totally be your jam, and they might make someone else cringe. That's the beauty of fashion—it exists for the individual.
When you are seeking the right fit for elastic pants, much of it comes down to your preference. What makes you feel confident? What makes you feel empowered to reject the idea of "flattering?" What pairs well with the clothes you already own? This is what you want to look for when picking a pattern, and this is going to look different for everyone.
Step 2: Find your dream elastic
I've learned a lot about my elastic preferences as I've sewn more and more elastic waists. I went through a phase of only sewing 2-3" elastic waistbands for skirts because they smoothed my waistline and made me feel comfortable and secure. Then I bought a used pair of threadbare linen Eileen Fischer pants, and I realized that 1/2" elastic also felt really nice. I'm not as comfortable with 1 1/2" elastic. The Joss pants called for 1" elastic, and right away, I knew I wanted to slim that down. For some reason, 1" elastic rolls and doesn't sit as nicely on my waist.
In addition to the elastic width, please note that there are so many different types of elastic. We have an article here and a video here to help you navigate this notion. Read that article and watch the video. I promise you will learn something.
I tend to use knit elastic for pants because it doesn't narrow when you stretch it, and it's more stretchy than woven elastic. The Joss pants call for braided elastic, which is ideal for casings, and it does become more narrow as you sew. You can use what you prefer!
Step 3: Describe your ideal pants
I'm a big advocate of using ready-to-wear clothing to help your sewing. You've likely tried on a pair of elastic-waisted pants. Did you like them? What did you like about them? What didn't you like? Write it down.
Before you pick your pants pattern or sketch out your adjustments, think about how you will wear your pants. This will help you identify the fabric and tops you own that will pair with elastic pants.
Here's what I discovered about my relationship with elastic-waisted pants.
Silhouette: I like both wide-legged and straight-leg pants, but I do not like it when elastic pants are fitted at my waist and hips. I prefer a loose fit there. I dig a cuffed, pegged fit at the leg when possible. I prefer a high-waisted fit, so the pants stay put at or above my natural waist.
Elastic: I'm most comfortable in 3/4" elastic for pants, and I like elastic that is very stretchy. I do not like it when the elastic fits very tight at the waist. I prefer knit elastic.
Fabric: Since I am using thinner elastic, I want lightweight fabrics like linen.
Color: Black is a safe choice for me because it pairs well with everything I wear.
I'll wear the pants with: Loose T-shirts and blouses with a French tuck, cropped shirts, form-fitting tanks or tees that are tucked in.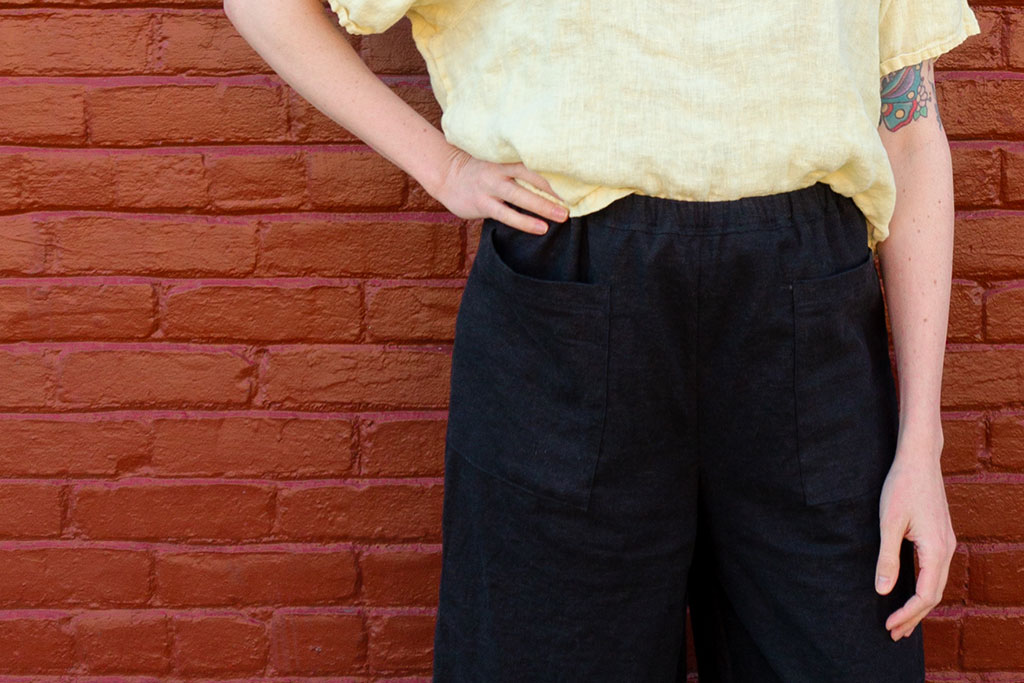 Step 4: Find a pattern and sew a muslin!
When you've identified your preferred silhouette, fabric, and elastic, it's easier to find a pattern. Then you have to sew a muslin. Yes, you have to because you are making pants! If you don't believe me, watch our new You Can Sew Pants class in the Classroom and our patternmaker, Robin, will explain why you need to make a muslin.
Out of all the Seamwork pants patterns with an elastic waist, I chose the new Joss pants and made them fit all of my qualifications above.
My Joss Muslin
I started with a size 8 because we had a sample sewn up in the studio. I know that's cheating, so you can just start with the size that matches your measurements on the size chart. Keep an eye on the finished garment measurements for ease—we have a video tutorial here that explains everything you need to know about ease.
Since the Joss pattern has generous ease, I decided to size down for my first muslin for a slimmer fit. I made a size 6 and tried them on. The crotch was too long, so I rolled my elastic waistband down a few times until the pants looked and felt nice. I measured how much I had rolled down (it was 1 1/2") and subtracted that from my pattern pieces.
To do this, I cut along the lengthen/shorten line at the crotch and removed 1 1/2" total from the front and back pieces. We have a video for doing this on our YouTube channel. (Tip: Rather than cutting at the lengthen/shorten line, you can fold out what you'd like to remove to temporarily alter your pattern piece.)
Since I took length out of the crotch, I had to adjust the pocket placement. However, the top markings for my pocket placement didn't change, so I just used those and disregarded the bottom pocket markings.
I liked the way the pants fit otherwise, so that was the only major adjustment I made.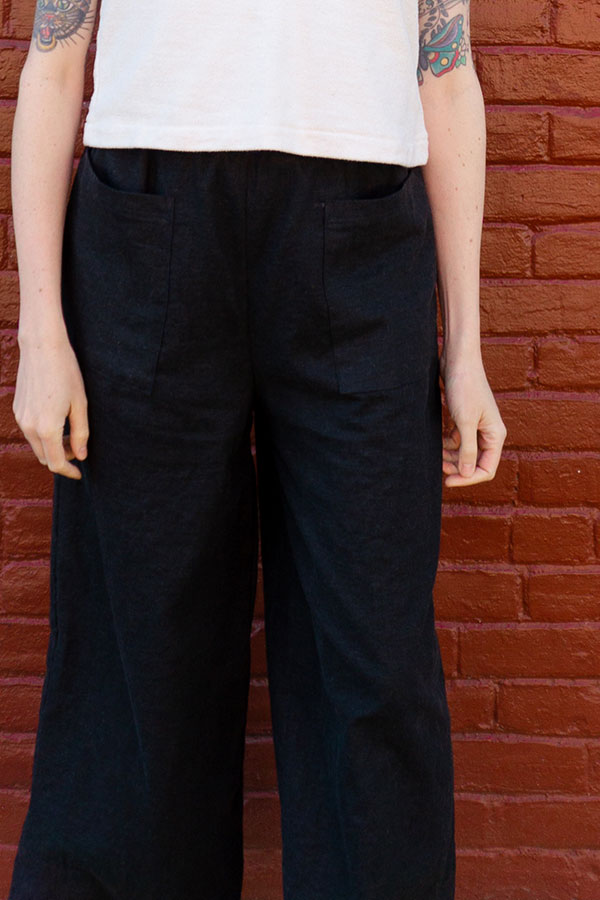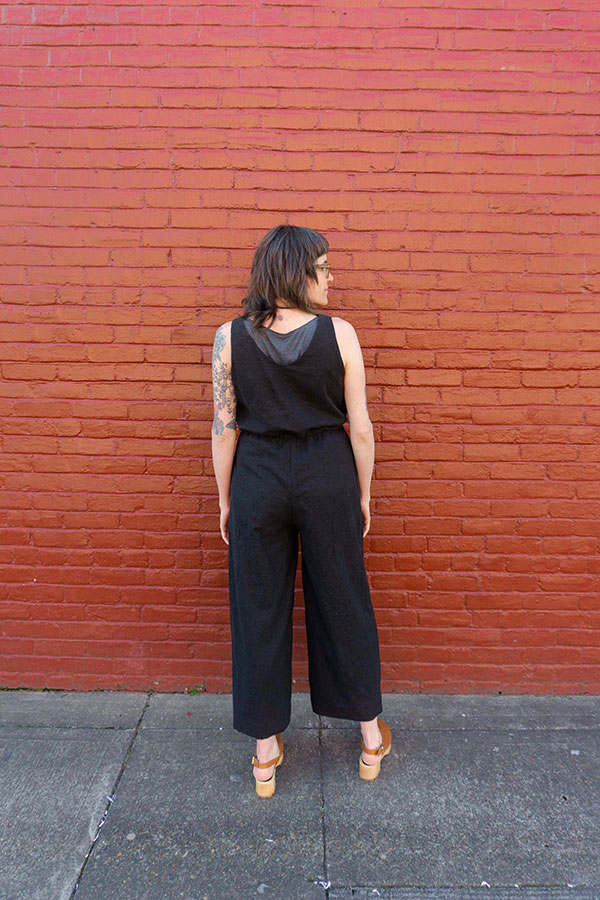 My Joss Pants
For my final pair, I sewed them up in a black linen blend. I sewed the elastic waistband according to the original pattern, but I inserted 3/4" elastic. The pattern calls for 1" elastic, which is pretty close to 3/4", so I didn't change the waistband pattern pieces. I just added an extra row of topstitching to keep it secure and stitched in the ditch at the side seams. If you use wider elastic, be sure to adjust your waistband piece accordingly.
Elastic hacks
If you are still skeptical about elastic pants, here are some additional ways to customize your fit.
Reject what flatters
I understand the concept of flattering, but it's not a huge requirement for me when I sew my own clothes. The word flattering often felt restrictive, probably because my mom used to say it about my school uniforms (Love you mom, and thanks for raising me to love my body). I found that the things some people thought were flattering on me didn't match my style at all. I enjoy oversized, high-waisted fitting pants, and some people might find them unflattering. That's ok with me, because confidence beats flattery.
So if you've been hesitant to give elastic-waisted pants a try, I say go for it. Remember, fashion (and sewing) is empowering for the individual, so wear what you want to wear!