Welcome to the July issue of Seamwork. The theme this month is Expression and this is a call for writers.
Here at Seamwork, we believe that sewing is an adventure. Sewing your own clothing means more than just having a finished garment. It's a deeply personal craft, but it's one we share. In this magazine, we tell the stories behind our finished garments—we explore how creativity feels, what it looks like, and what it means to be a maker.
Making your own wardrobe is empowering. Sewing is fun! It's also an everyday act of self-expression, and we want to celebrate that. What stories do your clothes tell? How does sewing let you express yourself to the world? What does creativity mean to you, and how is that different than what it means to another maker? How can you practice sustainability? How has the sewing industry changed over the years? Whose stories are being told, and whose aren't?
This magazine will take time each month to reflect on a question that is important to all of us: why do we sew?
---
What is Seamwork Magazine?
Seamwork Magazine is a digital publication for telling stories, sharing projects, and having conversations about creativity and sewing.
We love sewing! This magazine is a platform for sewists, textile artists, historians, writers, illustrators, fiber artists, and creative-minded people.
We want all of the writing and work in each issue to be a reflection of the making community and it's part of a conversation here at Seamwork that continues in our patterns, video classes, social media, and podcast (that's right, Seamwork Radio is coming back; read this article here to learn more).
---
What is Changing?
You'll notice that Seamwork looks a little different this month.
Our sewing tutorials won't decrease—they're just shifting venues! We created the Classroom for new sewing videos that come out every month. You can continue to grow your sewing skills with our video classes in both the Classroom and weekly on our YouTube channel. You can also search over five years of magazine archives for sewing techniques and tutorials, and members can download PDF copies of every issue.
With the new direction of the magazine, we want to hold space for social justice, especially as it intersects with craft. Sewing doesn't end when you step away from your machine. Sewing is political; it's ritual, expression, social, a rejection of ready-to-wear, of ideal body standards, and of conformity.
We welcome submissions from everyone, and underrepresented voices will be prioritized in this magazine. We aim to amplify voices from Black makers, Indigenous makers, makers of color, LGBTQ+ makers, makers with disabilities, and other marginalized voices within the making community. If you haven't seen your story in the pages of Seamwork yet, we want to work with you.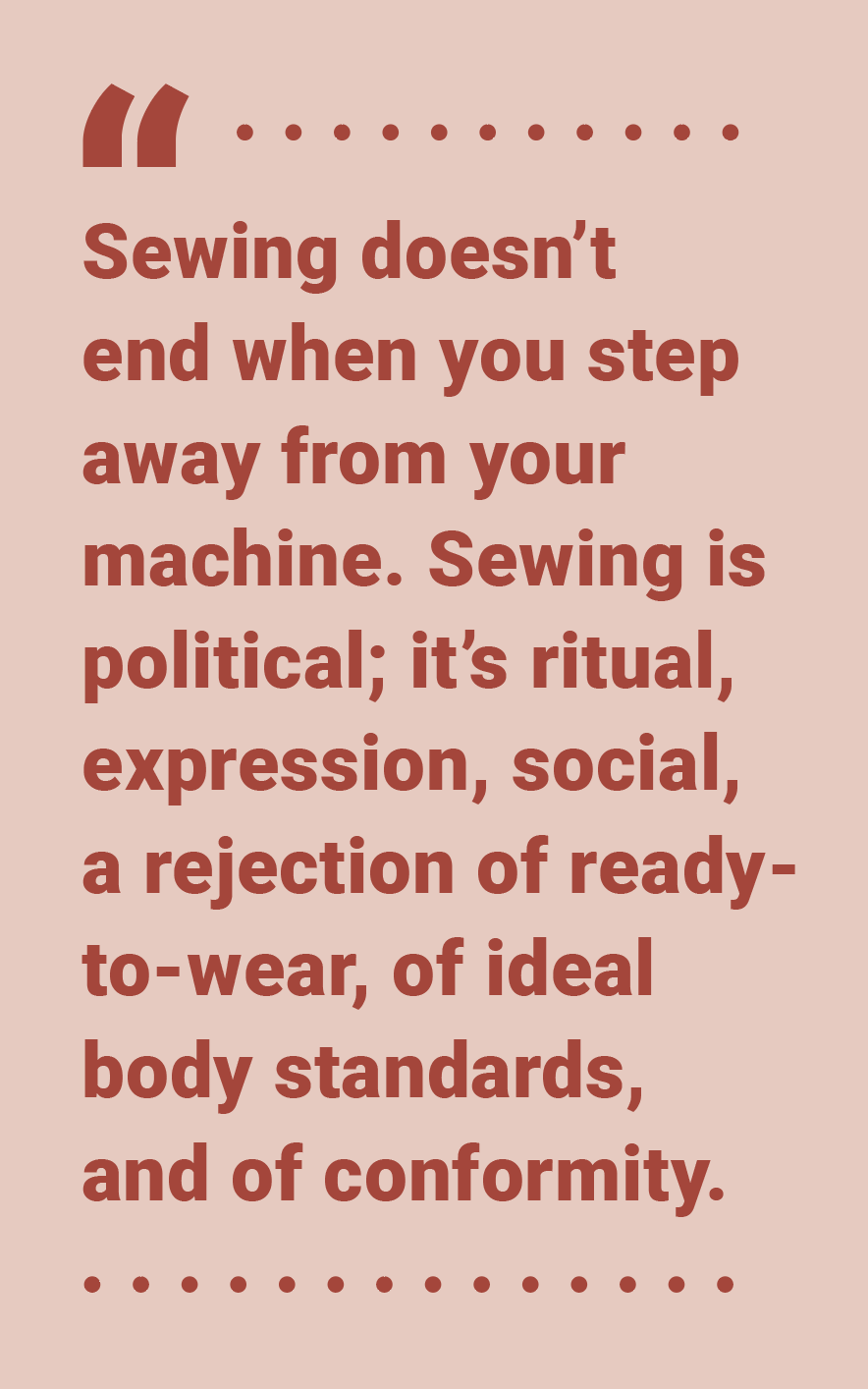 ---
Why Should You Write for Seamwork?
You're creating this magazine along with us. It's a space for you to express yourself as a maker, which is probably a big reason why you decided to start sewing your own clothes.
We'll continue to work with experts in their field and commission writing directly, but by opening up the call for writers to our worldwide Seamwork community, this magazine can become what you want it to be.
We value all of our contributors and we pay them. When you write or contribute your work to this publication, we also commit to using our digital platform, social media, and community to share your story and your work with Seamworkers worldwide.
If you want to write for Seamwork, the call is outlined below.


Meg
Managing Editor