I live in Maine, where winter seems to last for half the year. I try to enjoy the cold weather, but the truth is I start dreaming about summer pretty much as soon as the first autumn leaves begin to fall. About 90% of my Pinterest and saved Instagram inspiration images are made up of breezy linen clothing, and on the coldest and most blustery days, I love to look through them to remind myself that the heat of the sun will one day return.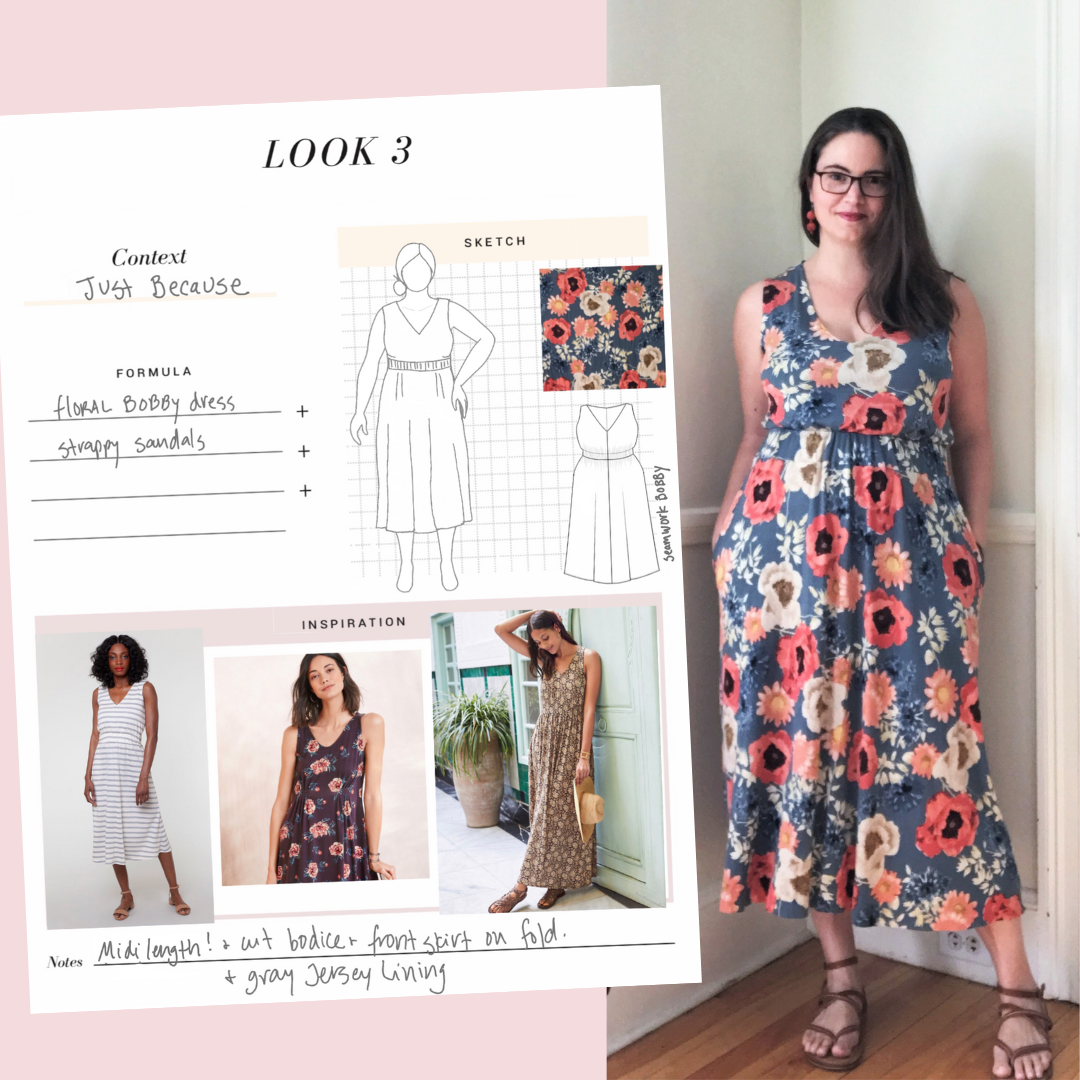 "What about spring?" you may be asking. In Maine, spring is mud season, and while there are a few heavenly days when the tulips are blooming, and the sun is shining, the unglamorous truth is that most days, my outfit will be covered by a rain jacket.
This is why, in February, when it's time for another round of Seamwork's Design Your Wardrobe (DYW), a wardrobe-building party that helps you plan a collection of clothes to sew and wear, I jump straight to summer for my "plan, sketch, sew" process.
Plan
My favorite part of DYW is planning my looks—entire outfits made from patterns added to my sewing queue mixed with clothing I already own—using the worksheets included in the DYW workbook and sewing planner. I find it super useful to think in terms of outfits rather than individual garments.
Last winter, I looked through my inspiration images to identify any trends in the outfit formulas, style concepts, and color palettes that I saved. I discovered that I'd saved many versions of the same four outfits, so these four outfits would be at the core of my collection.
Flowy white peasant-style top + denim + leather sandals
Breezy orangey-brown wide-leg linen pants + white linen top + leather sandals (or barefoot!)
Drapey black cami-style top + denim + sandals
Sleeveless, V-neck, maxi or midi length floral dress + leather sandals
Clearly, I craved simple outfits in garments that are flowy, breezy, and drapey, in a mostly neutral palette of white, black, denim, and warm browns. The maxi floral dress was more of a wildcard—but DYW lets you have room for wildcards in your plans, so there's always room to sew something fun.
Next, I created a collage of inspiration images for each outfit formula, using the downloadable sewing planner. This helped me to figure out what fabrics and sewing patterns would be the best match to create each look, ideally choosing from what I already have on hand.
I was happy to discover that I already had almost all the fabric I needed, even the wildcard—a floral rayon knit, a rare impulse buy that I'd purchased over a year before with no specific project in mind. I also already owned the perfect strappy leather sandals of my dreams—along with my favorite thrifted high-waisted jeans and a pair of well-worn thrifted jeans that I planned to cut into Bermuda-length cutoffs. So, I could happily omit those from my to-sew list.
As for choosing sewing patterns, that part was easy. I picked the Seamwork Emmie for the peasant top, Seamwork Bobby for the dress, and my beloved elastic-waist hack of the Seamwork Callahan (from before Joss was released!) for the pants. My cami-top was a hack of the Closet Core Amy Jumpsuit.
Sketch
Once I selected fabrics and patterns, I was ready to sketch each outfit on my personal croquis from MyBodyModel. I love that the DYW worksheet templates have a place for a sketch! Inspiration images are great… for inspiration. But to visualize what a garment will look like on my body, I need to see it on my body. And by visualizing the results in a sketch, I'm able to make all those design decisions that would otherwise leave me stuck in a brain loop of indecision.
In this particular DYW plan, my biggest design decision for each garment was hem length. It sounds like such a simple thing, but hem length is one of those nagging questions that can keep me up at night—and I have a feeling I'm not the only one!
My sketches helped me decide to lengthen my Emmie top, keep a midi-length for my Bobby dress, crop my linen pants to ankle length, and my bravest decision: crop the black tank to barely cover a high waistband!
I opted to keep each sketch as a plain line drawing rather than coloring it in. This helps me to assess the silhouette and design details of each garment. I also love the way it keeps the overall worksheet page looking minimal and not too busy.
Sew!
Even though I love wearing neutrals, I admit that sewing neutrals isn't the most fun for me. (Seriously, is there anything more boring to sew than a plain white or black top?) Having a visual helped keep me motivated to stick with my plan and get it done. Looking through my sketches and inspiration images, I could easily imagine how often I'd reach for these garments and how breezy and effortless I'd feel while wearing them in hot weather. The visual motivation also helped push me past my comfort zone, sewing crinkle gauze fabric for the first time.
I am happy to report that I completed my entire DYW plan in time to enjoy all summer long.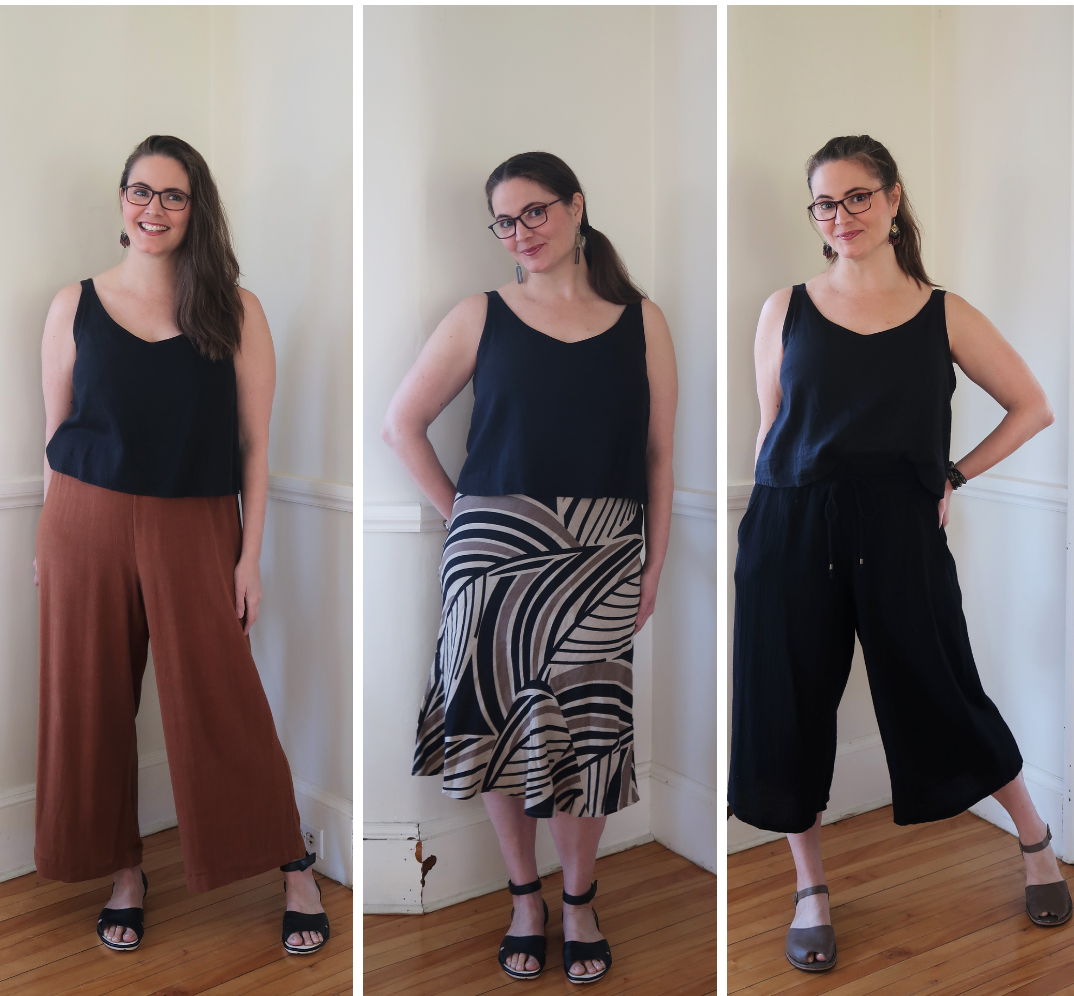 I love to compare my finished makes to my original planned vision—and it is so satisfying when the results are even better than I imagined! To make sure photo documentation actually happens, I take a few phone selfies immediately after completing a garment, quickly posing in the corner of my sewing room (a.k.a. dining room) when nobody's looking.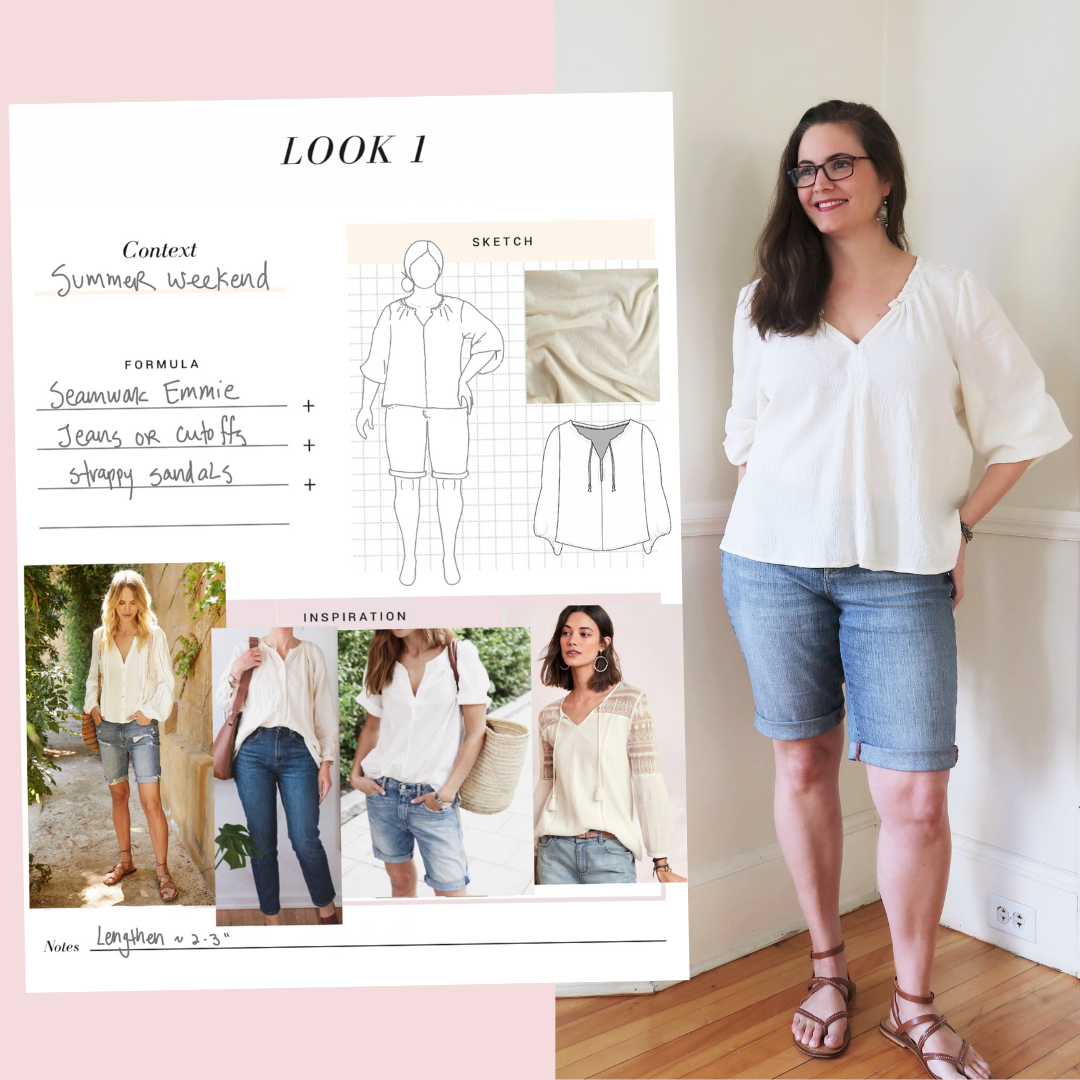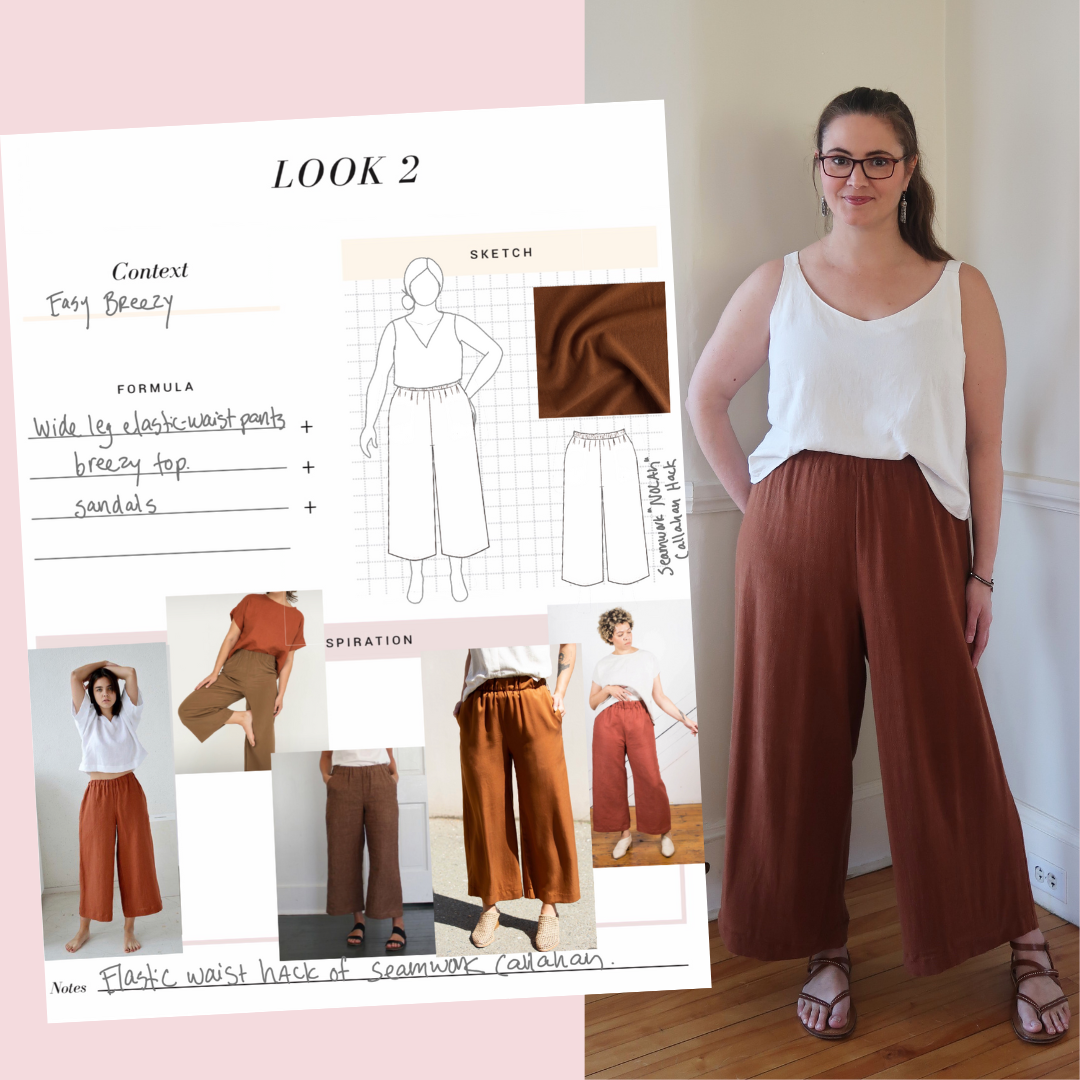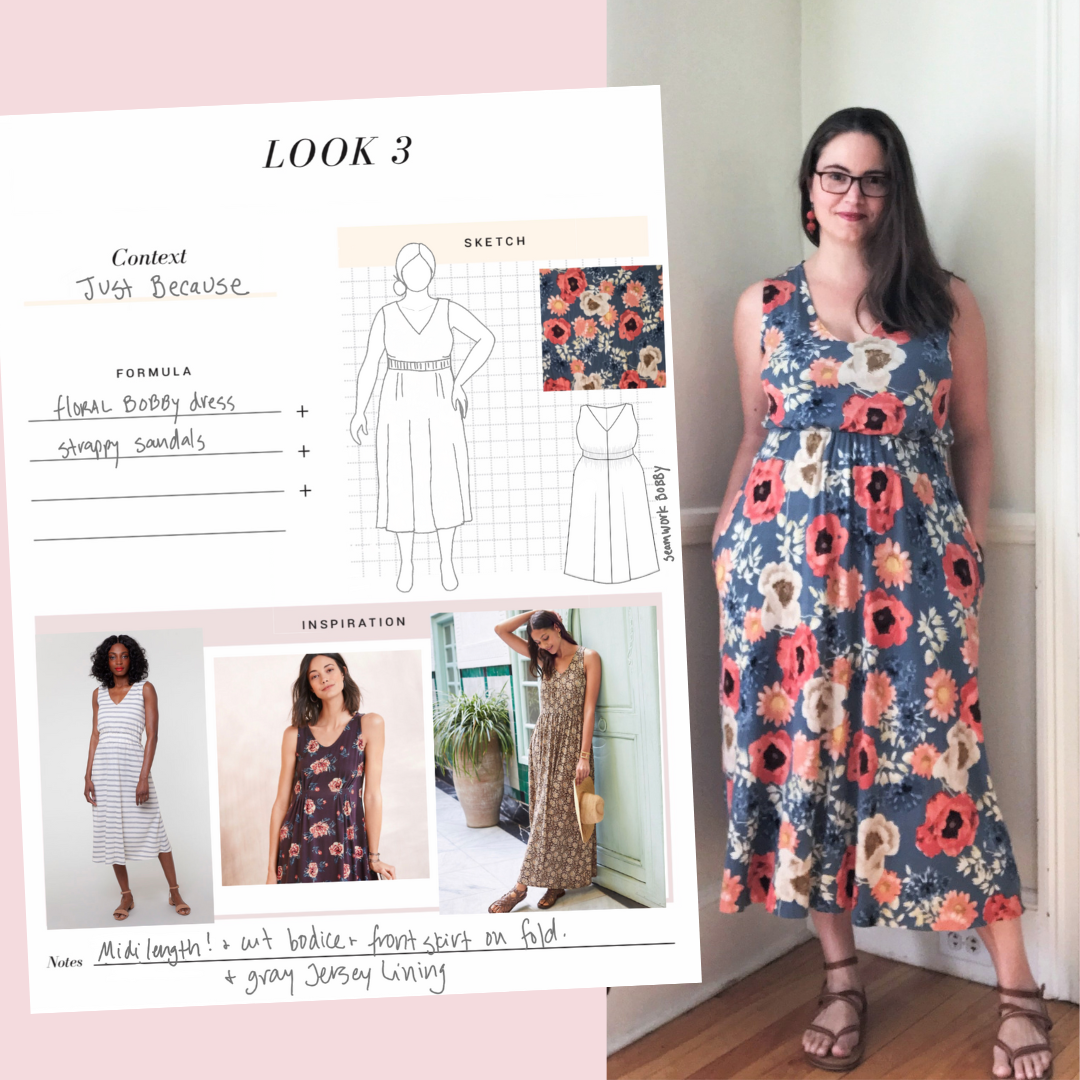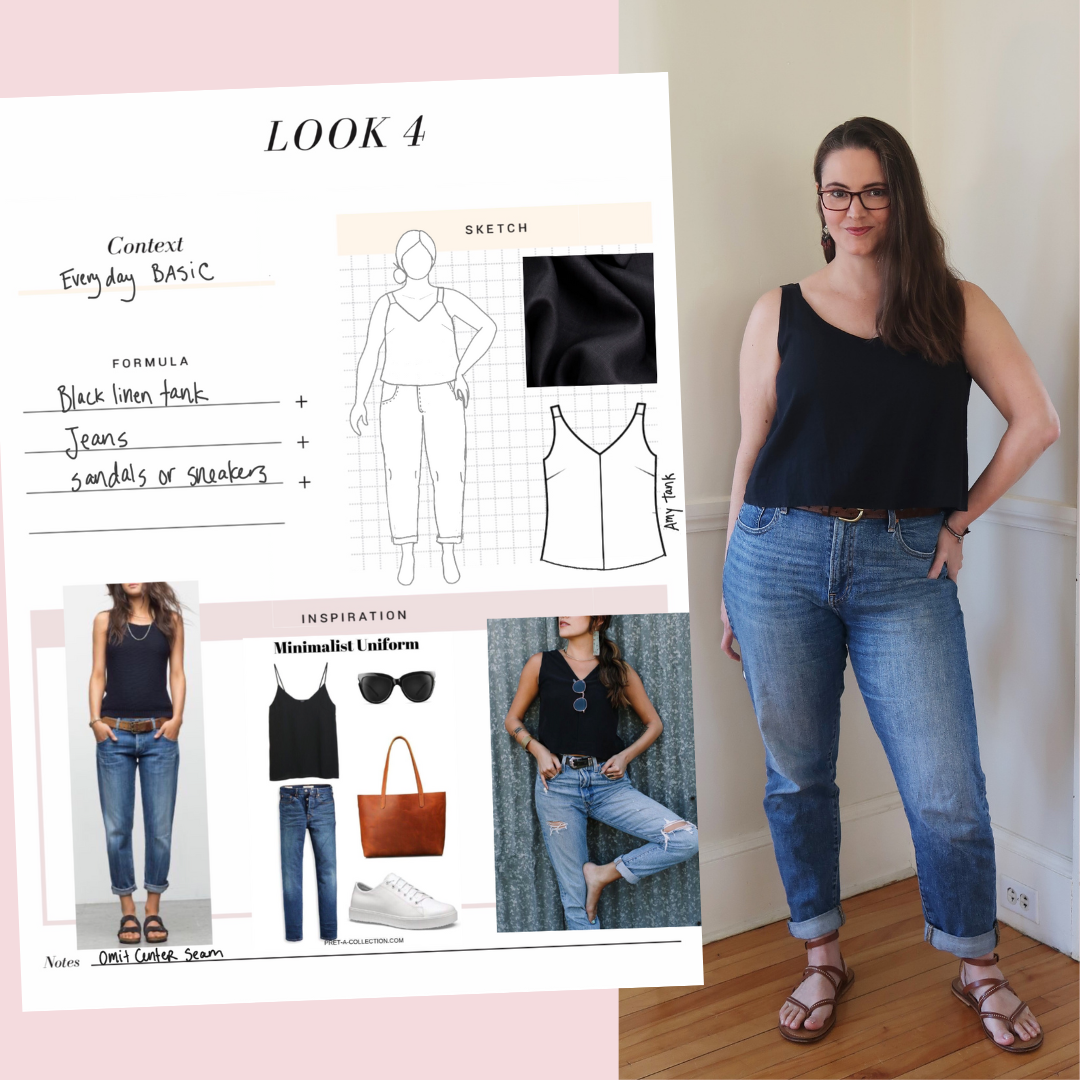 I am so pleased with how well everything turned out! Even though I only made a few garments, they went a long way to make my summer wardrobe dreams come true. The wildcard dress I wore only a few times but felt amazing every time I did. The neutral basics ended up getting worn once a week or more and worked beautifully with lots of other garments in my closet—including some that were rarely worn.
This winter, while the snow falls and the wind blows, I'm excited to "plan, sketch, sew" my summer dreams once again. Mug of cocoa in hand, I'll be using the DYW Looks worksheets to plan my favorite warm-weather outfit formulas. And as I sketch the outfits on my croquis, I'll dream of the freedom of bare toes, the ease of longer days, and the delicious feel of sunshine on my skin, just a few sewing sessions away.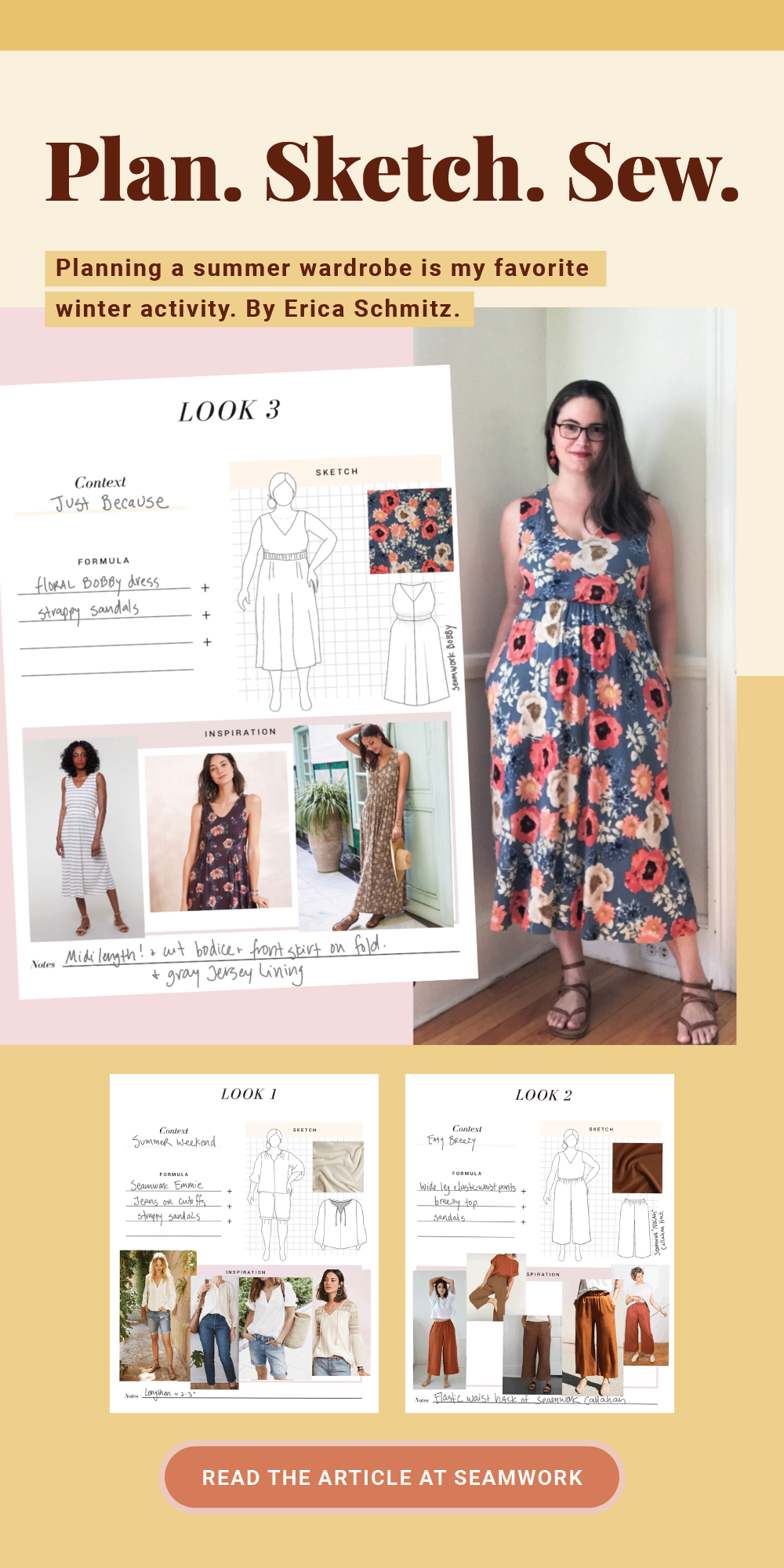 Download new patterns each month starting at $5.83
Use the techniques and ideas featured in each month's issue to create these and other quick & lovely projects.
Get Started