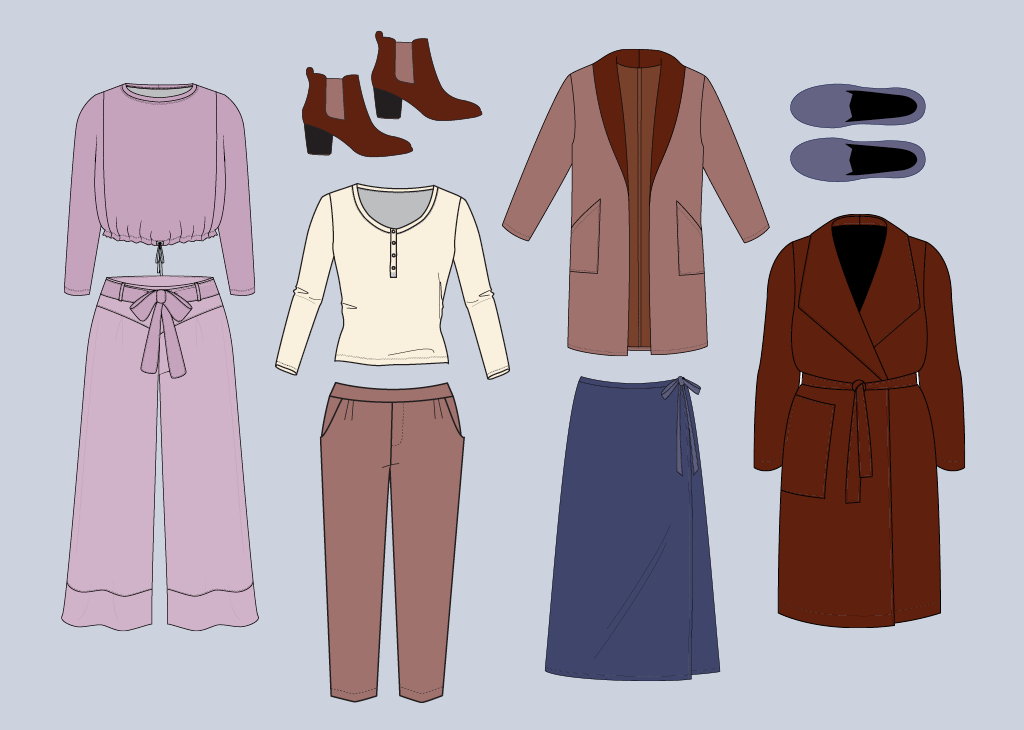 Sweater weather has officially arrived here in the Northern Hemisphere and I am here for it. This time of year, there is nothing I crave more than bundling up in cute, comfy clothes, making a warm beverage and taking a few moments for myself to simply be present and enjoy this festive fall season.
This month, I am rounding up my favorite comfy Seamwork patterns to mix and match with the new Rooney sweater to make a super cozy capsule wardrobe. The Rooney sweater features a unique paneled construction, drawstring waist, dolman sleeves, and an oversized fit throughout. Designed for knits, this sweater is sure to be super soft and the perfect base for this cozy fall capsule!
Follow along with me as I pair the Rooney sweater with some of my favorite Seamwork patterns you'll want to wear over and over.
Outfit 01
Rooney, Channing, Baz, Loafers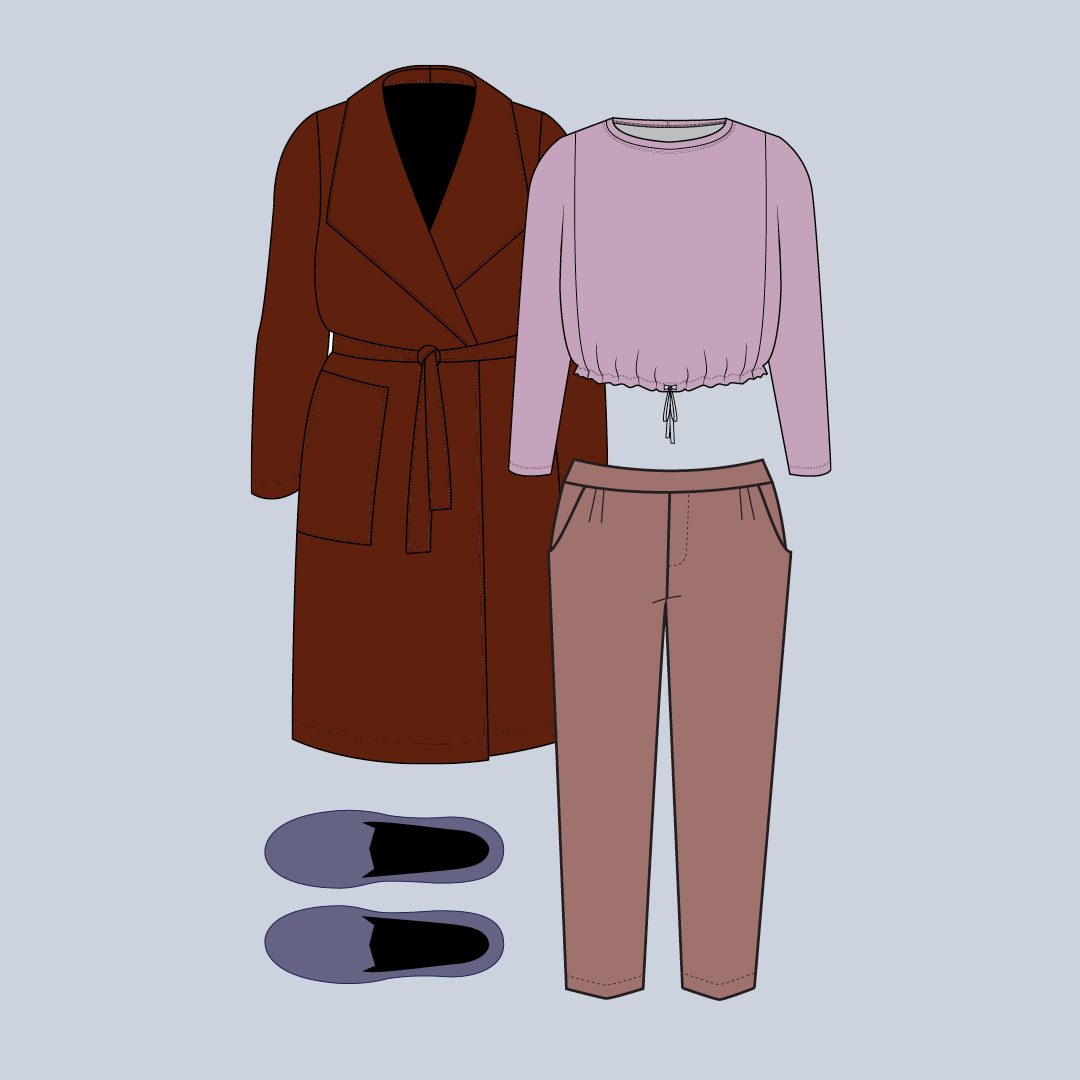 The oversized fit of the Rooney sweater will work lovely with a pair of relaxed, mid-rise pants like Channing. These pants are perfect for woven fabrics and feature front pleats, a faux fly, slash pockets, and a fitted waistband with elastic at the back. Finish off the look with the Baz wrap coat and loafers.
Outfit 02
Rooney, Monroe, Loafers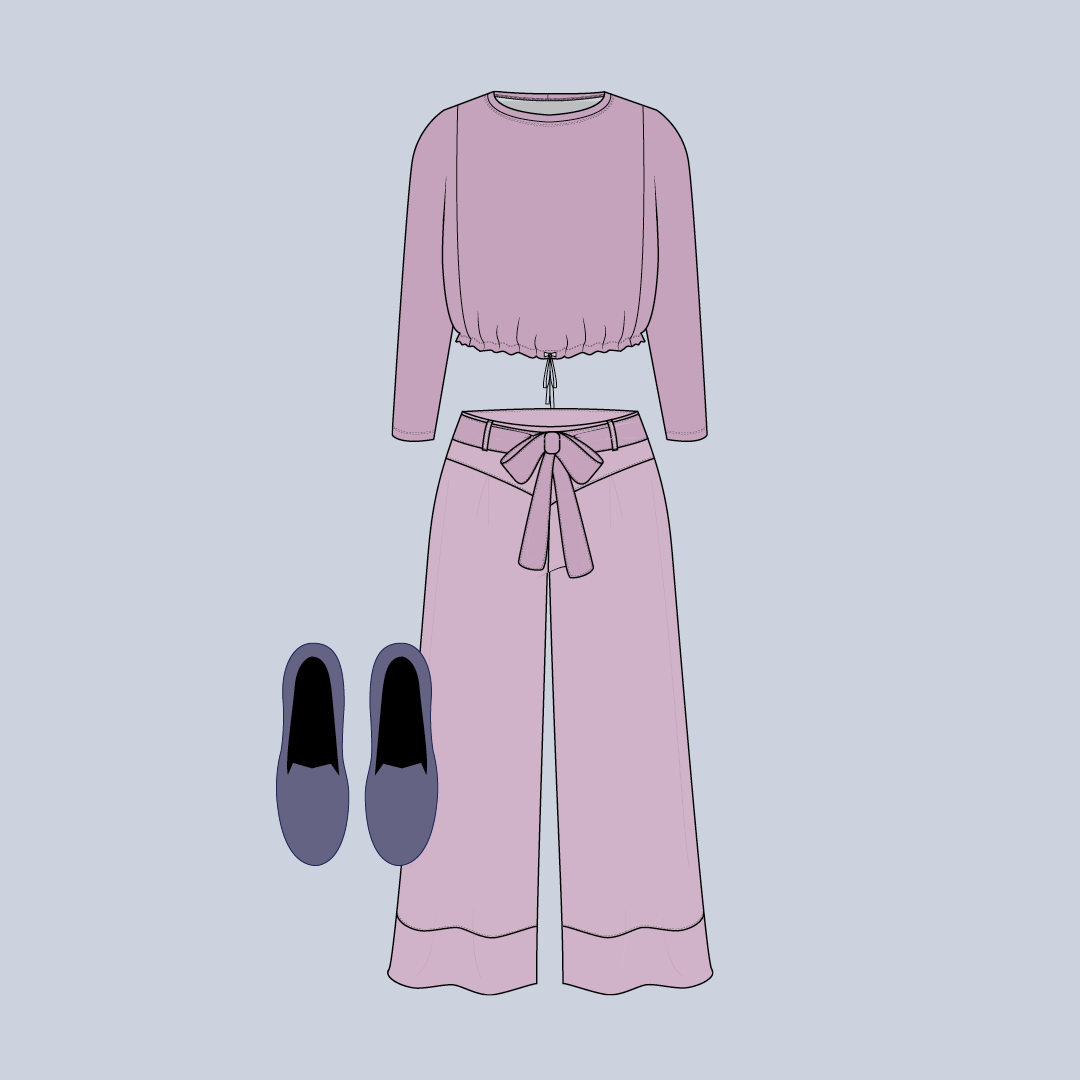 For an elevated loungewear look perfect for cozying up by a warm fire, pair the Rooney sweater with the Monroe pants. A shaped yoke, cuffs, and a belt add detail to this glamorous silhouette, closed with a side snap.
Outfit 03
Rooney, Laura, Baz, Boots
Midi skirts are an unexpected fall wardrobe staple. The long length will keep you warm in the chilly weather, and they are perfect for wearing with boots. The Laura skirt offers a subtle A-line shape and an ultra-flattering, bias-cut fit, which looks great peaking out the bottom of the Baz coat.
Outfit 04
Rooney, Channing, Jill, Loafers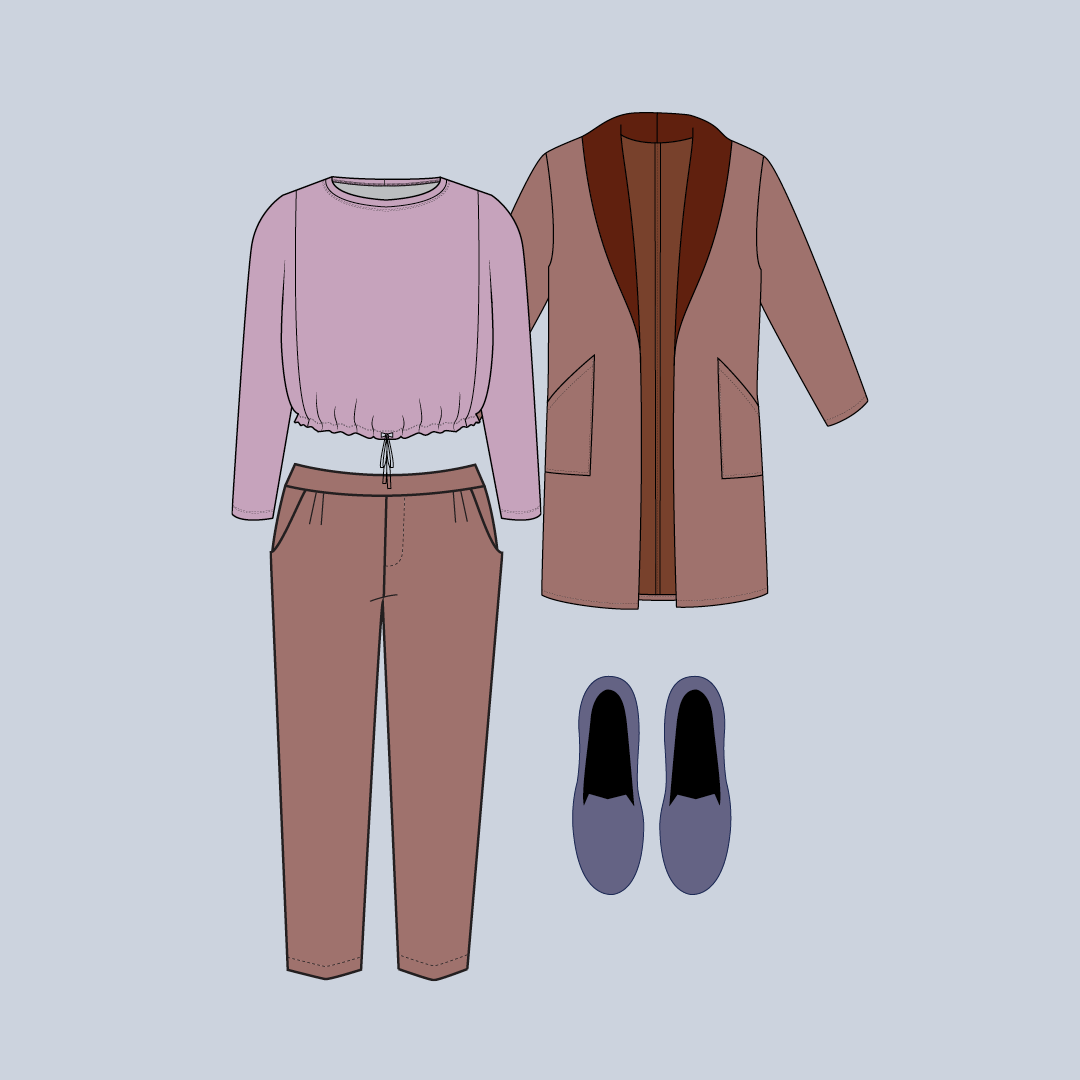 For another chic and cozy look, try laying Rooney and Channing under the Jill coatigan. This pattern can be made in chunky sweater knits or thick wool coatings and is perfect if you want to try sewing your own outerwear. Don't forget to pop on your loafers to keep your feet warm and snug.
Outfit 05
Rooney, Monroe, Baz, Boots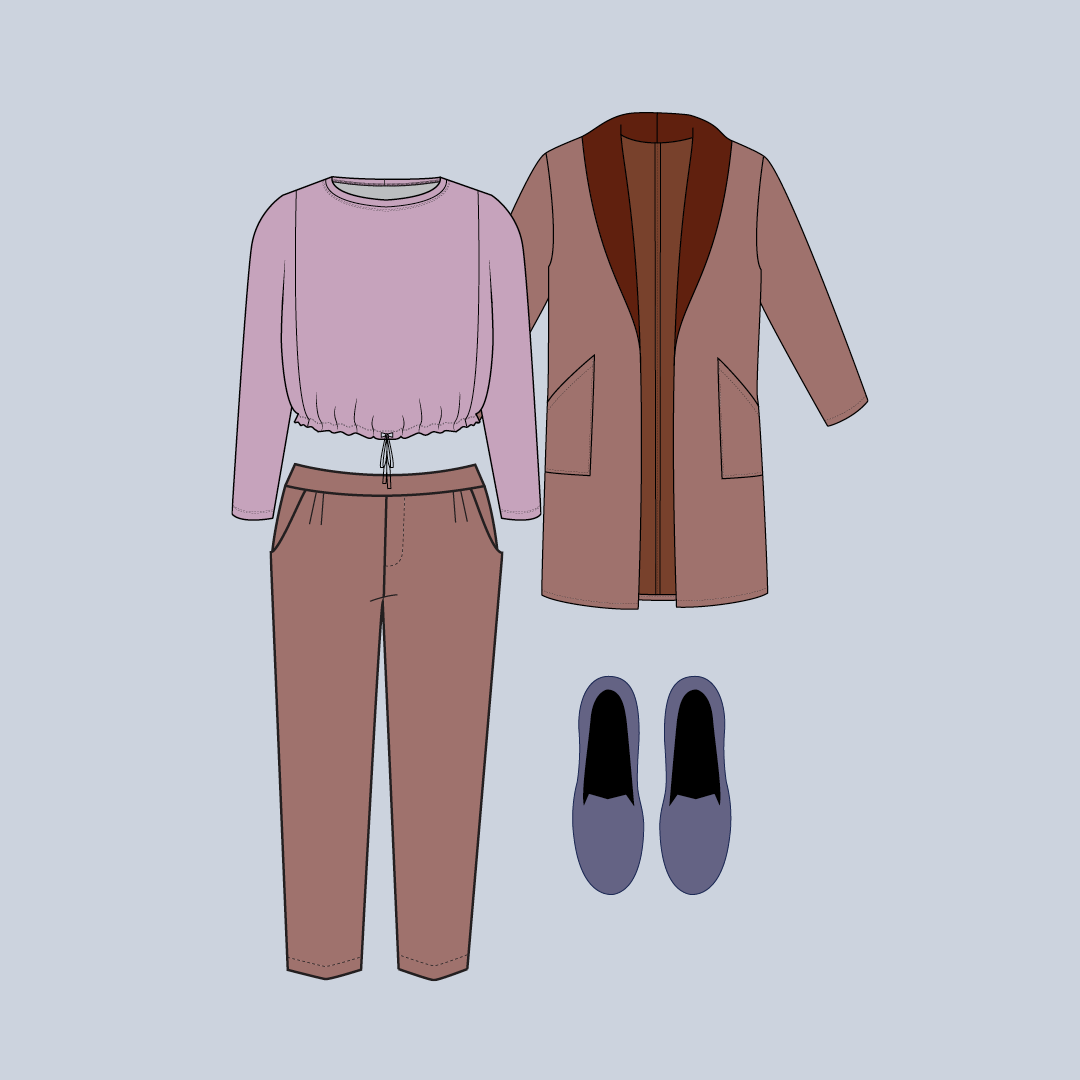 Rooney, Monroe, and Baz are all perfect blends of comfort and sophistication. Pair these three show-stoppers together, and you'll be ready to take on the day in effortless style that you will feel your best in.
Outfit 06
Rooney, Laura, Jill, Boots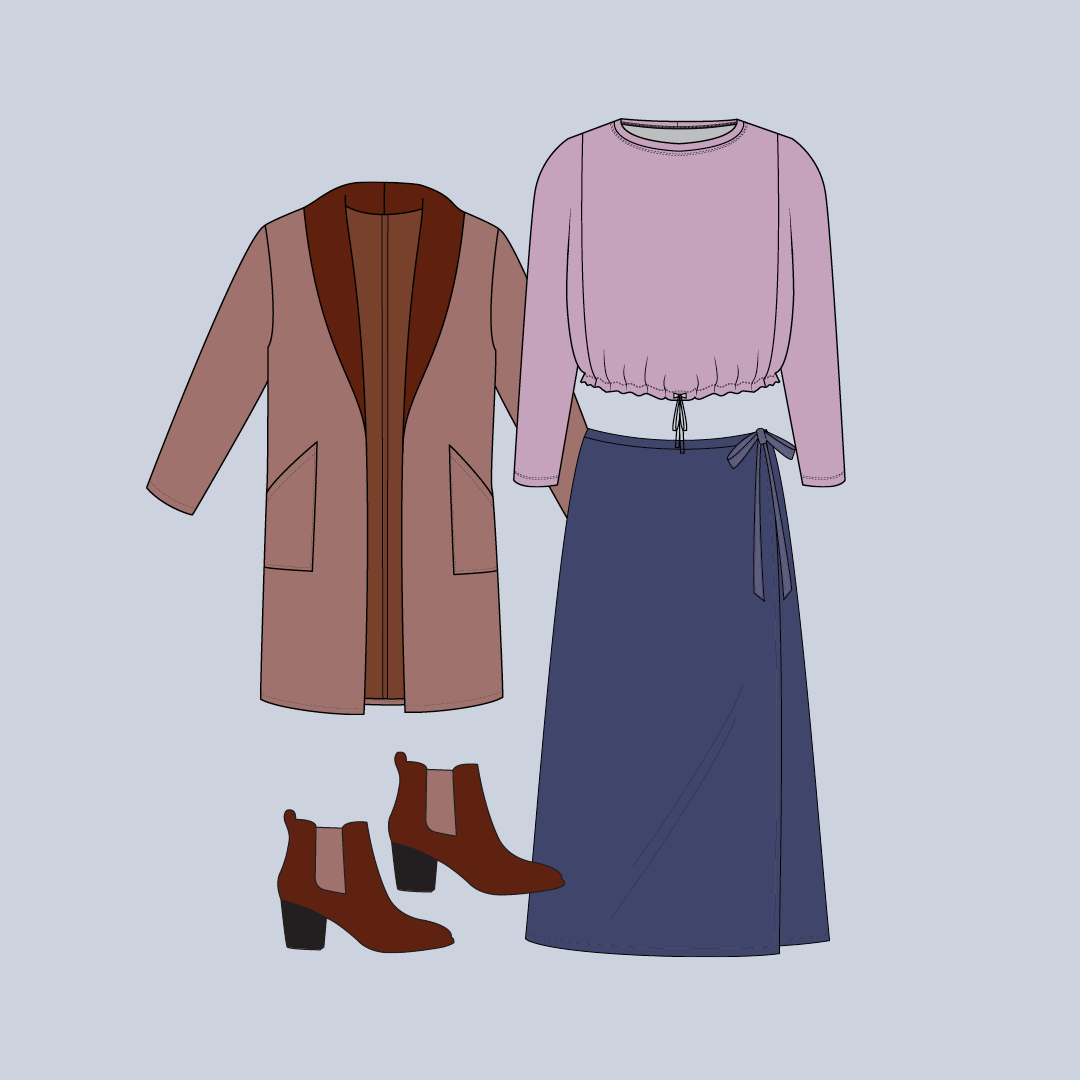 Another great accompaniment to a classic sweater and skirt combo is the Jill coatigan. Did I mention this coatigan is super hackable? Learn how to create an asymmetrical front with an oversized lapel, sleeve cuffs, and a back yoke with a center back pleat in this article.
Outfit 07
Elli, Channing, Loafers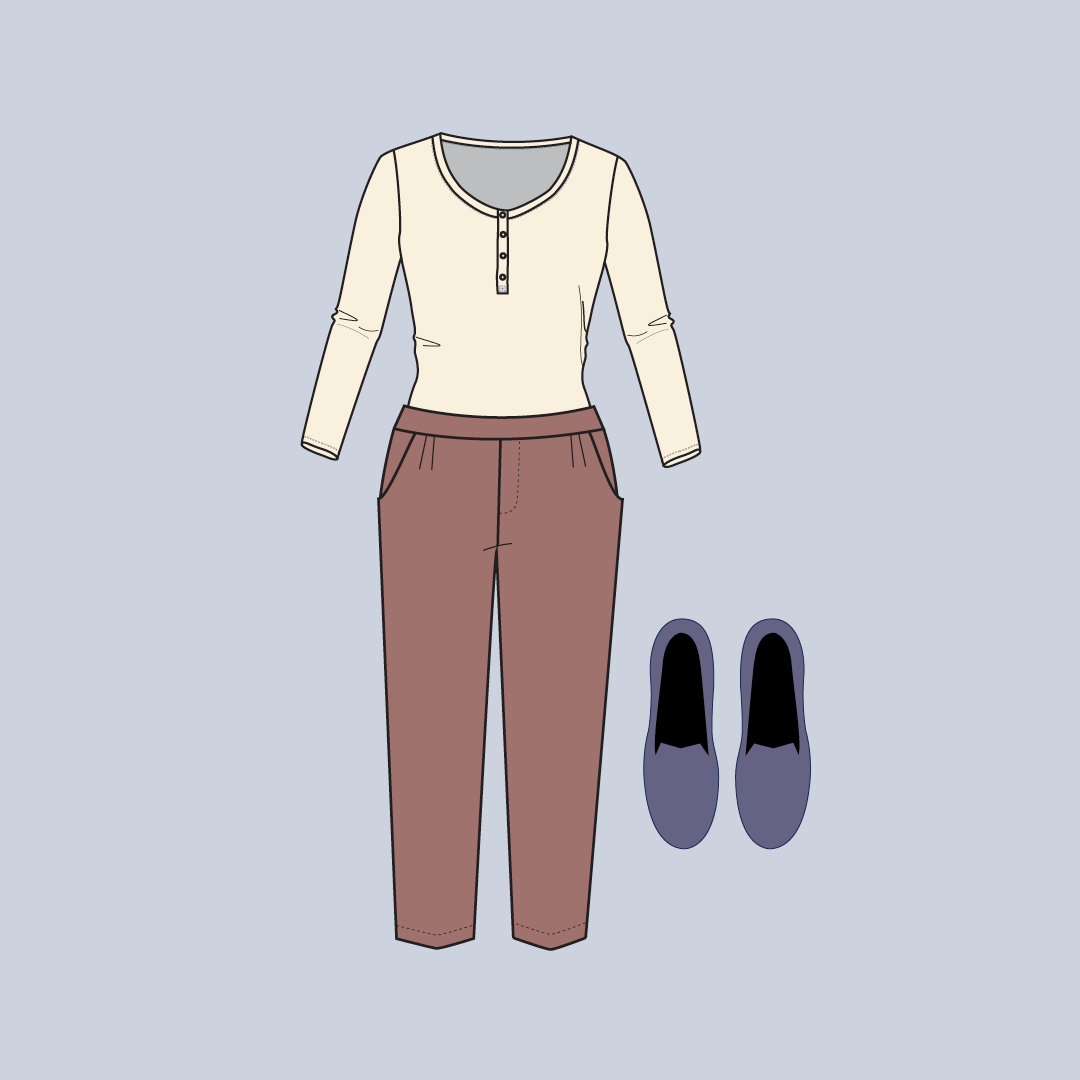 When Rooney is in the laundry, swap it out for the Elli top. This knit top adds a stylish layer to your fall wardrobe. Elli features a scoop neckline, a henley placket with buttons, and full-length sleeves. This form-fitted silhouette will look super streamlined tucked into the Channing pants.
Outfit 08
Elli, Monroe, Baz, Loafers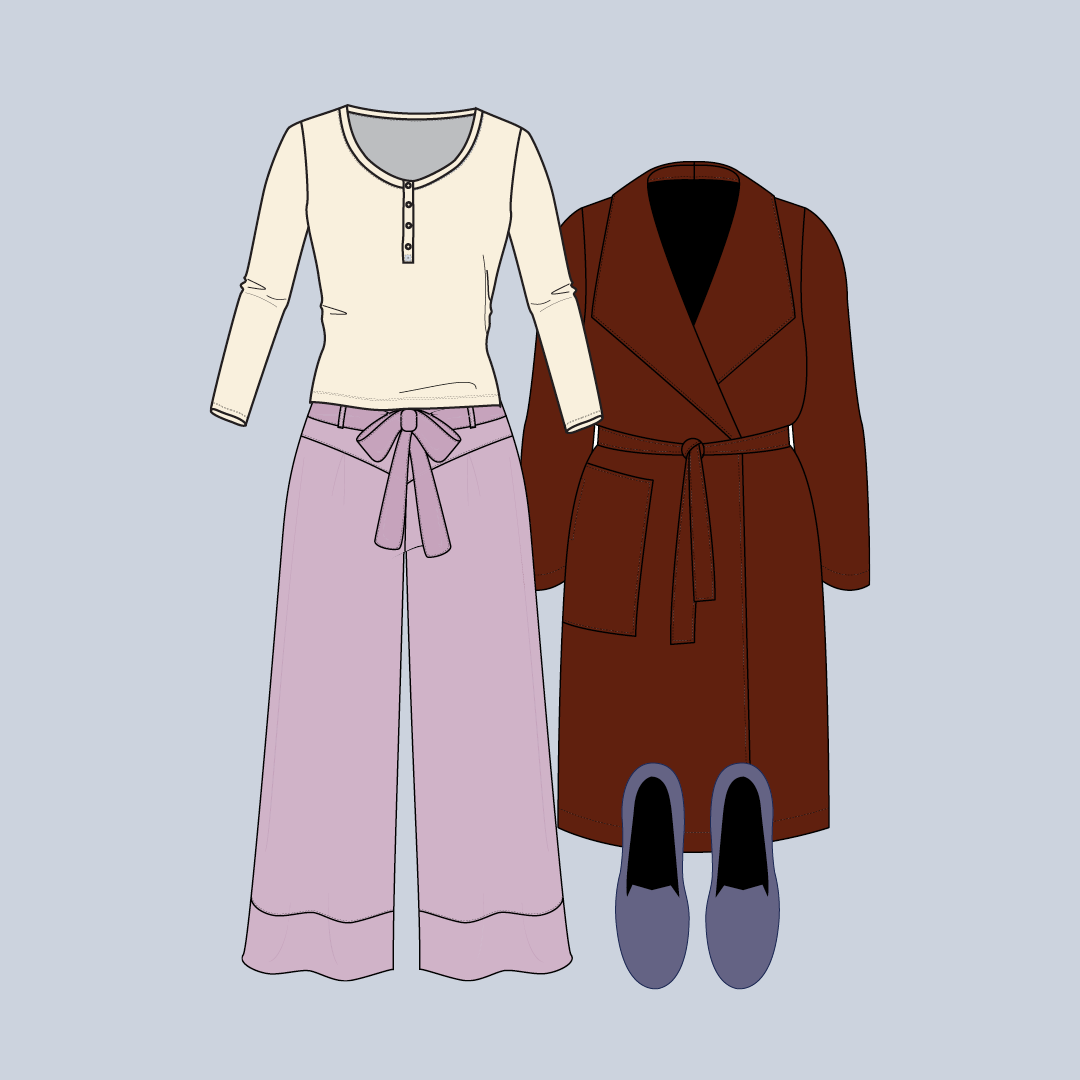 Try dressing up the Elli top by pairing it with the Monroe pants, Baz coat and loafers. Did I mention that the Baz Coat is a great beginner outerwear project? The shaped shawl collar is finished with a facing, and there's a single patch pocket with a clever side opening, so you can pick up some fun new sewing skills as you make this coat.
Join the Conversation
Sign in or become a Seamwork member to comment on this article.