Are you taking Design Your Wardrobe right now? Stop and listen to this special episode of the podcast!
Sarai and Haley are doing DYW right now, too, and they're sharing their experiences (and tons of tips) with each module in the course.
This week, they're sharing tips for telling a story with your clothes, editing it, and creating a mood board. Below are the show notes and some helpful tips from the episode, followed by the full transcript.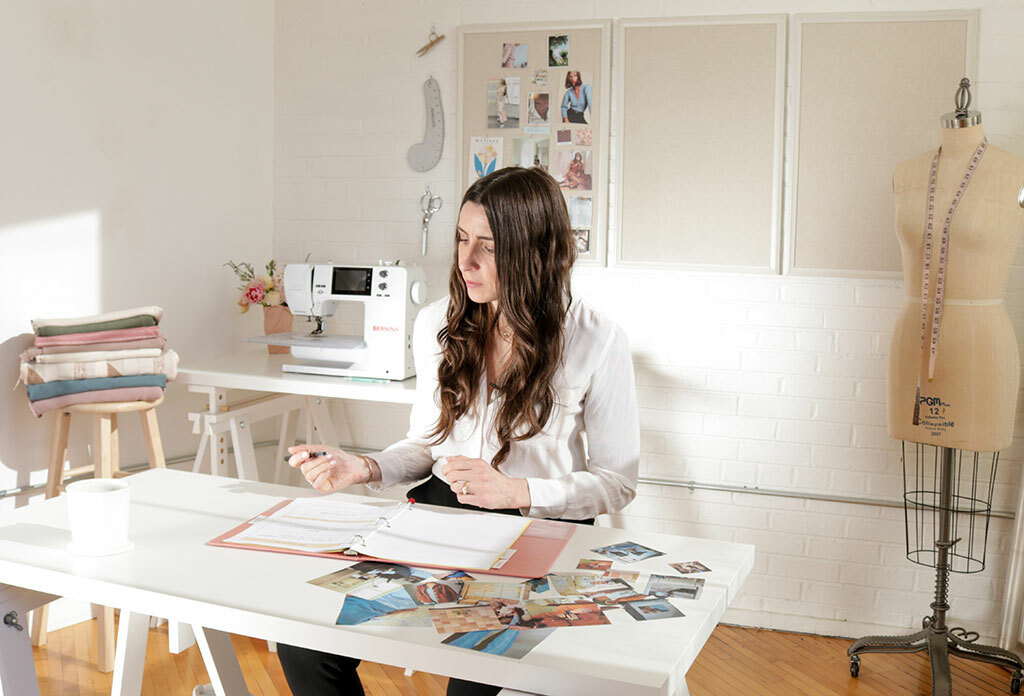 Tips for Design Your Wardrobe Week Two


If you notice similarities in all the mood boards you make throughout the seasons, you likely have a strong sense of personal style!


If your mood boards feel really different from season to season, your style is changing. Embrace those changes and work with what feels right to you right now.


Sarai is planning clothing for everyday wearability, while Haley wants to add some special garments to her closet. These are both great approaches to the process.


Sarai's style words are Romantic, Simple, and Country.


Haley's style words are Ease, Playful, and French.


Your style words only have to make sense to you, so don't worry about how other people might interpret them.


Defining the lifestyle contexts you want to sew for is one of the most important parts of Design Your Wardrobe. Constraints help you edit. By limiting yourself to certain contexts, it's easier to make decisions and sew clothes you'll actually wear. Some of the contexts Haley and Sarai are designing for this fall are working from home, weekend fun, and being outdoors.


When it's time to make a mood board, Sarai and Haley like to move from digital to analog. Making an analog mood board gives you even more constraints, and you can hang it in your sewing space or closet to help you stay true to your personal style.


Don't worry about getting it "wrong" at this point because nothing is set in stone!


Podcast Transcript
Sarai
I'm Sarai.
Haley
And I'm Haley.
Sarai
And this is Seamwork Radio.
Sarai
Welcome back to Seamwork Radio, where we share practical ideas for building a creative process so you can sew with intention and joy. So it's August, and that means it's time for the fall session of Design Your Wardrobe.
So over the next four weeks, Haley and I are going to be taking you along as we do the entire Design Your Wardrobe program so that you get a peek inside our personal processes. And today we're talking about week two of Design Your Wardrobe as we set goals and make our mood board.
All right, so we'll start with our icebreaker for today. So, Haley, my question for you today is, do you feel like your vision for your wardrobe this fall has changed very much from your vision from last fall? Do you see a lot of change there?
Haley
My answer would have to be yes and no. There are a lot of through lines. There's even a handful of images that are exactly the same as some of those that I included last fall, and I would say that those aspects are kind of the coziness, classic, almost kind of French inspiration. I think what feels different is there's a lot more, like, playfulness and a little bit more of a sense of fun in the mood board that I've been working on for this collection.
What about you?
Sarai
I think for me, looking back at last year versus this year, I think if you were to look at them side by side, you'd think they're very similar. Aesthetically, there's a lot that they have in common, and some of the same pieces that I was really drawn to last fall are back on my mood board for this fall. So I think in a lot of ways, they're really similar. And to me, that's pretty comforting because I think I have a pretty solid style that I stick with, and I like that because it means I can own less stuff and still feel like myself.
I think aesthetically, they're very similar. I think where I see some change is that my ideas and my vision and my mood board for this fall is maybe a little bit more focused on practicality now that I've lived where I live right now for a couple of years and have lived in this environment, in this climate. I feel like I have a better idea of what I'll actually wear and what will be practical for me. So there are things on there that I think are both beautiful, but also really wearable day to day.
So I don't know that you would notice that from an outside perspective, but I notice it. I can see that there's a little bit of a shift there. So it's interesting to kind of look back at what you've done before and compare it to where you are right now and see, has it changed, has it not changed? I think that's another really cool benefit of Design Your Wardrobes, just to watch your style evolve over time.
So if you have an icebreaker for a future episode and you're a Seamwork member, you can leave it at seamwork.com/go/icebreakers. We have a thread there on the community for everybody to share their icebreaker ideas, so if you have one, just leave it there, and we'll probably use it on a future episode.
All right, so let's get into week two of Design Your Wardrobe. So, if you're not already familiar with Design Your Wardrobe, we mentioned this last week. But Design Your Wardrobe is a four-week program that we run twice a year, and it helps you to design your wardrobe for the upcoming season and then create a sewing queue from that. So it's a really fun and really comprehensive program, and a big part of that fun is doing it along with other folks twice a year and experiencing all of that collective excitement as a community.
So we wanted to bring a taste of that to the podcast this month by sharing our own process for Design Your Wardrobe. So, Haley and I have done the program many, many times, so we're going to be talking about our own plans, but you'll also get some great tips along the way.
So, week two, which is where we are now, is all about building the story of our collection, which includes setting our goals, refining our stories, defining our life contexts, and, of course, building out our final mood boards. So in this stage, we really start to refine our vision, which means figuring out how our fashion fantasies sort of fit into our real lives.
All right, so let's start with goals. Haley, what's your goal for this season, and did you have any trouble coming up with it?
Haley
So, I think that my goal actually speaks to what we were talking about on the icebreaker, which is that I noticed last season there was a lot more, and this is something I've been doing for the last couple of years, emphasizing. I felt for a while, I was feeling like my basics, I had kind of, like, outgrown them. And so the last couple of years, I've been focused on building that part of my wardrobe, and I'm actually really happy with where that's at, but now I feel like I need the frosting back.
So that is what I made. My goal is to just add more dimension and playfulness to my wardrobe, and it was a pretty easy goal to come up with when I saw my mood boards or my inspiration coming together. I could really pick up on that theme pretty easily. So the goal isn't always easy for me, but this time it was, which was great.
What about you? What's your goal?
Sarai
My goal for this season is it's kind of a twofold goal. It's to create a mini wardrobe that works with my existing clothing because I really want to make sure that I'm wearing the stuff that I already own and also is comfortable enough for day to day. So it's sort of a twofold goal.
I'm very focused on practicality right now, and I want to make sure that I'm making things that I'll actually wear and get a lot of use out of, because I find that that's a big joy for me in sewing, is to feel like I'm actually using the things that I make.
So it's almost the opposite of yours in that you're going for more frosting. And I feel like not that I necessarily want more basics, but I want things that I'll be able to wear every day and enjoy every day. So just things that are useful. So that's kind of where my goal is coming from.
Haley
Totally. What words did you end up choosing for your story?
Sarai
So I think I mentioned this on an episode we did recently. After I did the Style Workshop recently again, I came up with some keywords from that. So I'm going to be using those for my collection for the fall. And those are romantic, simple, and country. Those are the words that I'm going with.
And so for me, I mentioned last week I'm very inspired by Scandinavian style. So I really like that balance that you see in Scandinavian fashion of clean colors, clean lines with a little bit of country frill to it, a white blouse that has really interesting, like, lacey detail on it paired with a very simple black dress, that sort of thing. So that's kind of what I'm going for.
And then the country part is that's where I live. And I'm really inspired by that kind of, like, romantic country look, but I want it to have a certain spareness to it at the same time. There's a lot out there that's trending right now that's very over the top and cottage core, fluffy, which I love. I think it looks beautiful. But for my own personal style, I like a little bit more of a pared down version of that.
So simple colors, but beautiful details. So that's my three words. What are your words?
Haley
I also did Style Workshop, and I derived my three words from that, but I did a little bit of a spin. My first two are directly lifted, ease and playful. Straight from Style Workshop. And then my third word in Style Workshop was classic.
And when I was reviewing my mood board, I was just thinking about, like I was thinking about the word classic and how that has so many different meanings to different people. I think classic to some can mean kind of preppy. I think to some it can be kind of Americana. And to me, when I was looking at what I would identify as classic elements in my mood board, it was really more of this, French as much as I kind of bristle against the idea, like, kind of cool, girl French vibe. There's lots of classic clothing items like denim and button ups and overcoats. So I ended up getting rid of the word classic and just, like, sticking to French, I felt like it felt a little more specific of what for what I was going for.
Sarai
Yeah, I think there are a lot of cliches around French style and how amazing it is and all of that, but I think there's a lot of truth to it in that. I think the pieces that we associate with French style are very durable. They stand the test of time.
Haley
I think that's what I was looking at, I wasn't so much like, it wasn't like a boat neck tea or something like that. Nothing against that. I think that's really cute, too. It's just those staple pieces, and that kind of is what represents what I have in my wardrobe already. And I want there to still be an element of that to whatever I create, because I do want there to be a lot of utility. But there's that utility aspect of French style that I think is really cute and fun, the way that it's done.
Sarai
Yeah, utility is one of the words that I struggled with, not struggled with. But I thought about putting into my collection this year just because, as I mentioned, practicality is important to me. And I do a lot of stuff outdoors, a lot of gardening and things like that, and need to be able to move around, but also get a little bit dirty. And I love workwear, but I'm trying to incorporate that into the mood board and to the overall look without going too far in that direction.
Haley
Yeah. I think some of the challenge sometimes when you're thinking of these concept words is you want them to be specific enough that they mean something and they need to mean something to everybody, but they mean something to you, but also broad enough that they can serve as an umbrella that encompasses you as a person who contains multitudes.
Sarai
Yeah. And I think that's why one reason I chose the word country, which can have a lot of different meanings to people or different connotations to people. But there's something about that that feels very practical to me versus I don't know. I don't know what another word would be that's like cottage or whatever, but it evokes that. I think that that's part of the reason why I chose that word is I feel like that country living connotation to it.
Haley
Yeah, totally.
Sarai
The lifestyle part of it, I guess.
Haley
And what matters most is what it means to you. If someone else interprets it as diamonds and denim, then that's their interpretation.
Sarai
Cool too.
Haley
That's also very cool. My next question is, what common themes are you seeing in the inspiration that you've gathered so far?
Sarai
I see a lot of neutrals again, so a lot of black I do like to wear black, a lot of white and cream. I am starting to see more browns in there, like light browns and light grays. I usually shy away from gray.
Haley
I was going to say…
Sarai
Like a light gray, like a pale gray. So a little bit of that in there, actually, which I like. So color wise, I'm definitely seeing some trends there. And by trends, I mean just patterns that I see in my own stuff.
I also see a lot of mix of volume and kind of more of a loose fit mixed with some things that have more of a sleeker fit. So I really like that contrast between the two, and I think that works really well when the weather cools down as well. I feel like in summer, I tend to show more skin. I tend to wear things that are a little bit more form fitting, and then as winter or fall and winter roll around, obviously we're covering up more, but I also feel like the silhouettes get a little bit less fitted for me. So that's another thing that I've noticed, for sure.
And then, like I said, this kind of Scandinavian style I'm inspired by. I feel like that's a theme in Scandinavian style is that high volume and then also things like sweater vests. I want to make a sweater vest, which is something I never have considered making before, but I'll probably knit it, not sew it.
But that's something that I kind of want to try out and incorporate because I think it just looks really cute over, like a romantic dress. Kind of gives it that little bit of a more masculine look. So those are some of the things that I've kind of noticed.
What about you? What themes have you seen?
Haley
I think that ease and a sense of imperfection is a theme that I've seen really woven throughout all of the inspiration that I've gathered. I like things that are kind of tidy and polished, but I do know for myself that when they lean too far into that realm, for me. It feels like a costume when I dress in that manner. T
he other thing is I definitely see a defined color palette emerging. I love black ivories, shades of blue and denims, and then also some earthy tones and some chartreuse and rusty reds mixed in there. There's definitely a color palette coming through. That's what I'm seeing so far.
Sarai
Those are some great fall colors. I love, like, a rust and a chartreuse in fall makes me excited about fall coming.
Haley
And, of course, pink. I always include a shade of pink in every color palette I create because it's my favorite color.
Sarai
Yeah, same here. Pink and blue are kind of my go-to colors. I have noticed there's definitely a lot of denim in mine as well because I wear a ton of denim, but also navy blue.
I think that's another interesting thing, is seeing how colors that you're drawn to kind of transform with the seasons and over time. So I wear a lot of blue in the fall and the winter. It tends to be more of the darker shades and navy blue, that sort of thing, maybe with like a pale grayish blue or something like that.
Whereas in the summer, I might be wearing all different shades of blue, brighter blue, sky blue, French blue, all those colors. So it's interesting to see how things kind of transform.
Haley
Yeah, there's definitely some of my standbys that are always in a color palette. Like, I always have kind of like a dusty blue. I always have an ivory. I always have a blush pink, and then everything kind of, like, cycles around those guys. Always a shade of green. I can't help it.
All right, let's dig into context. Tell me about your three contexts that you picked, or I think we max out at three. Tell me about your contexts.
Sarai
I think these are pretty similar to last year, so context just means basically the situations that you're designing your clothes for, so kind of the lifestyle considerations.
So for me, I just thought about what I tend to do the most in the fall, and I was thinking about, okay, how can I use this to create the right constraints for my wardrobe? So the things that I do or want to make sure that I continue to do—so one thing is going for walks. I try to go for a walk outdoors every day at least once, and as it starts getting cooler and a little bit rainier, I want to make sure I still do that. I want to have clothes that will hold up to that without getting wet and really dirty. So that's one of them.
Working from home. That's obvious. That's how I spend most of my time. So that's a big one for me. And then also going to the office, we film a lot of videos, so I want to have things that will work well on video as well, which is more of a minor consideration for me. My regular clothes work fine for that, but there are a few little things that just makes it easier. And it's nice to have some me-madesto show in our YouTube videos, but there are some practical considerations, like, where re you putting the mic?
Haley
Where are you putting the mic? I often will wear things and have nowhere to clip my mic, so that's one of them. Again, that's a more minor consideration for me. What about you? What are the ones you chose?
Haley
I have three contacts. Number one is work from home. WFH. Do that every day.
And for me, this is like the kind of stuff I wear out and about. I just want to put soft pants on, but like, cute soft pants. Not just like plain old leggings every day in Office, which involves YouTube videos, but it also includes going in for fittings and photo shoots. I tend to be moving around a lot more on those days, but also, like, I want to look cute and professional.
And then a category I call "weekend fun."
Sarai
Party time.
Haley
It's party time, which I think is like a place where I have a little bit more fun in my wardrobe choices. I have a three and a half year old, so I also need to be able to be moving and grooving and chasing her around. We spend a lot more time outside, so this is, like, a little bit more practical context in my life that I still like to look cute and have fun with.
Sarai
Yeah, those sound great. And very, like you said, very practical.
Haley
Yeah. I wanted to focus on the three areas I spend the most time in my life because I want to be able to get the most wear out of all of these things. I considered adding, like, oh, like date night and parties.
And I'm like, Haley, you count on your fingers how many dates and parties you're going to go to in the next six months. I needed two hands, but still, I'm like, I have enough of that kind of stuff.
Sarai
Yeah. I think that stuff is so fun to make, though, so it's nice to have a place for it.
Haley
That's why we have wild cards.
Sarai
Yeah, I feel like that's something for me. That's something that I just sew up when I feel like doing it. And it doesn't really have to fit into my wardrobe because it's sort of a standalone garment.
Haley
I totally agree. Although I do look forward to making a holiday dress this year. It's been a minute.
All right, so how did you find the editing process? Was it challenging? Was it easy? Do you have any tips for it? Because I feel like in this process, you really have to edit a lot.
Sarai
Yeah, I found it challenging. I always find it challenging because it's hard to go from all of this huge pile of inspiration and feeling really jazzed about it and then having to make decisions about what you're not going to do or what really fits what you're going for.
It's challenging, but I think that's a really important part of the creative process is just learning how to make those editing decisions and whittle things down, and that's where your voice really comes through.
Haley
Yeah.
Sarai
So I do find it challenging, but I think there are some things that really help, and I think some of the exercises you go through in Design Your Wardrobe are very helpful for that and for kind of contextualizing what you're trying to accomplish and why.
I think for me, it's really helpful to go from digital to analog at this point because, as we mentioned in the last episode, I think building a mood board in an analog way really forces you to make decisions just because of constraints. So you have probably some space constraints. You don't want to print out a million different things. For me, it's easier to make choices when I'm physically handling things, that's I think the most important thing for me in creating a mood board is making that transition. I don't think it's ever really easy, but I think that's what makes it valuable, if that makes sense.
What about you? Do you have any tips for people going through that editing process?
Haley
I think I should preface this by saying that I'm a very decisive person, so I find this quite easy. But my tips would be definitely to look back at what your goal is, what the story that you've created in your worksheets up to this point, and also look at your contexts because those elements are going to be really your North Star when you're editing. That's why you do all of this before you start editing all of this down, get real with yourself.
Is that fur coat as fabulous as it is going to make sense for working from home? And I don't know. I don't know you. Maybe it does. And if it does, then we should probably be friends because that sounds really cool.
But I think just getting really real with yourselves and revisiting your goals and your context is ultimately the most helpful thing you can do at this stage.
Sarai
Yeah, I totally agree. And I think another thing is don't be afraid to get it wrong at this point because nothing is set in stone. And I think this works especially well if you're doing an analog mood board. So I have one on my wall here, and you can add to it. You can take things off of it. It doesn't have to be perfect right off the bat. Maybe you'll discover something as you go through the rest of the process and you'll find something missing or you'll find that one thing you put on there doesn't really fit with the other things and just kind of giving yourself some time to step back, look at it, and make those considerations can help. And I think also recognizing that that's part of the process will help you to not get too hung up on your decisions up front because you can always change them.
Haley
Yeah, that actually led me right into my next question, which is digital versus analog. Which do you like and why? I know that you love analog. Tell me more about that.
Sarai
So this is the point at which I like to go from digital to analog. I think, again, it just helps me to make those decisions and I really like seeing everything laid out and I also really like having it in front of me.
As I go through the rest of the season, being able to refer back to it, which of course you can do with a digital mood board, I'm just less likely to look at it every day, whereas if it's on the wall in my office, I'm going to see it all the time. And in a way, it does become kind of wallpaper and you forget about it. But every once in a while as you're passing by that wall, you'll take a look and say, oh yeah, I remember when I was dreaming of making this thing and I remember the overall look I was going for. And for me, it really reinvigorates my passion and my interest in the stuff I was planning to sew.
I think it's real easy to lose interest to do this whole design process and then get distracted by new shiny objects or whatever, just not feel like you have enough time or whatever. So I like to have some kind of a visual tool like that that helps to motivate me and inspire me as time goes on. And for me, something physical does that because it's in my face.
Haley
Yeah, I too, really enjoy an analog mood board just because I do find them visually just a little bit more inspiring. You have more opportunity to add texture and like three-dimensional elements, which is always really great. And I agree with everything that you said.
Another thing that I like about having a physical mood board in my space is that you are going to have wild card projects that come up. And I think that having a representation of what you are trying to create there in front of you is a good reminder of the overall effect you're going for and whether or not that project you're dreaming of is just like the new shiny thing that you're going to make, wear once, and then shove into the back of your closet. Or if it's something that really fits into the rest of your plans.
Sarai
Yeah, that's a really good point. Even clothes you already own, your clothes you already have, like, you have it in front of you. You can kind of see how other things might fit in there. Or for me, I like to put up images that have things that are similar to what I already own, like a pair of jeans that's similar to what I own so that I can see how to style it. And I think that's really helpful too.
And like you said, I love putting up fabric swatches and more textural, things like that. And for me, that's really inspiring. And also as you go through the next phases and start creating your fabric palette, you can pull out fabric you already have in your stash and add it to your mood board. And I think that just really enhances it.
Haley
Yeah. So my final question is how are you feeling about your mood board? Are you feeling like, focused, accomplished? What's the vibe?
Sarai
Yeah, I'm feeling really jazzed. I'm really excited to make some of the things that I think are going to come out of this. I'm really excited about fall now, whereas it's only August, so I don't know about all of you listening out there. If you feel like you're ready for fall or you feel like you're still in the summer mood. I was definitely in the summer mood when I started this process and not really thinking about fall yet. But this has got me really excited for the next season and thinking about not just the clothes I'm going to make, but what life is going to be like in the fall. I really love fall. It's one of my favorite seasons. Summer and fall are probably my favorite seasons. So that has been really, I think, invigorating for me so far. And I am excited to do all this sewing. I think it's going to be a lot of fun.
What about you? How are you feeling?
Haley
I'm feeling good. I feel excited for the plans that are emerging from this session of Design Your Wardrobe. I feel like it's really a reflection of where I am in my life right now, which always feels really good because you want it to feel true.
Sarai
Yeah.
Haley
You don't want it to feel like you're planning somebody else's closet. You want it to feel true to you. And there's like a real, sometimes you just have that gut feeling of like, yeah, this is the good stuff.
Sarai
Yeah, definitely. And I like that feeling of knowing that you're investing time in designing things that you're actually going to use and wear. It just feels really good be able to do that and use the fabric that I have, which is another goal of mine.
Haley
It's always nice.
Sarai
It's nice because I don't have the biggest stash in the world, but I've got a fair amount that I would like to use. So that's another real benefit, I think.
All right, well, I will just recap real quick what we talked about today. We talked about creating a story and the words that we chose for our story for this season. We talked about some themes that we're seeing and the context that we chose for this collection, meaning kind of the lifestyle context. We gave you some tips for the editing process and for really trusting in the process and being kind of free and open with it and recognizing that you can always change your mind. You can always do more later, take things away later.
We talked about analog versus digital mood boards and why we both like to transition to an analog mood board at this point. And we talked about going into fall and how excited we are about that.
So my big takeaway from this episode is really, to me, the importance of physicality in creating a mood board. I think that's something that I already knew about myself, but I think it's good to just recognize that and to articulate what the benefits are for me. I think that was really helpful for me today.
What about you? What's your big takeaway?
Haley
I think my big takeaway is really the importance of really spending time being thoughtful about your contexts and the criteria that you're setting for each one of those contexts. Because I think that that is what's going to make the decision-making process so much easier. And also it's going to make the choices that you make more exciting because it's going to be things that you're really going to be able to wear and use and incorporate into your wardrobe on a daily basis.
Sarai
Yeah, I think that's a really good point, and I think this has come up in this episode in various ways, but I think just the investment of time that you put into designing your wardrobe makes it feel more special.
This is something I noticed years and years ago with buying clothes rather than making them, is that if I saved up for something that was really special and spent a little bit more from, like an independent designer or something. I just felt a very different feeling when I put on that piece than something that came off the rack from a big box store and that I was more satisfied with having fewer things that way.
And I think it's the same with time investment as well. That if I spend a lot of time and kind of saving up my time towards a project and really putting a lot of thought and care into it, then it feels a lot more meaningful to me than something that I just whip up in an afternoon, which is also awesome. It's great to be able to do those quick projects, too, but to me, that is one of the big values of doing a process like Design Your Wardrobe.
Haley
Absolutely.
Sarai
All right, well, if you didn't have a chance to join Design Your Wardrobe this season, so it's already started and sign ups are closed for the group program. But if you're interested in doing the self guided program, you can still do that. That's available year round to Seamwork members, and it's free for Seamwork members, and you can find that at seamwork.com/go/DYW. And if you like this episode, we would love it if you would leave us a five star review. We absolutely love reading your reviews and hearing from you all in the comments in the review. It really, really means a lot to us and it helps other people to find the show.
And that's it for us this week. We'll be back next week with week three of Design Your Wardrobe. I'm Sarai.
Haley
And I'm Haley.
Sarai
And this is Seamwork Radio.
Join the Conversation
Sign in or become a Seamwork member to comment on this article.