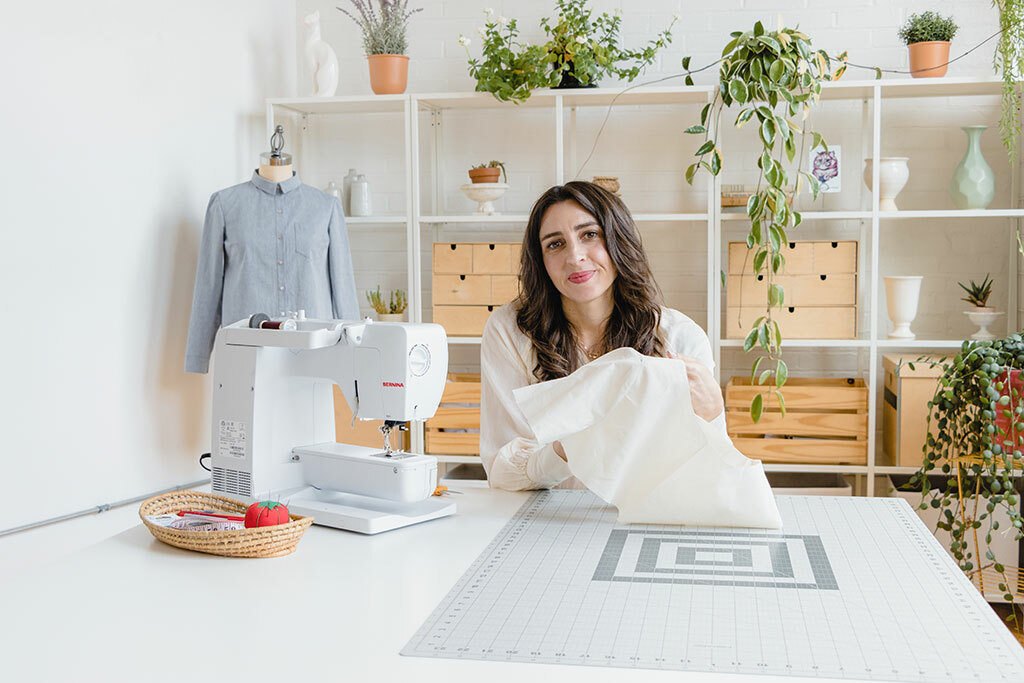 Sewing can change your life in so many unexpected ways. It can change your perspective on the world, your body, and the things you buy—and it can be a real gift, one you might want to share with a friend or someone in your family. But, on the other hand, it's a complex skill to learn, let alone teach. So if you're not a sewing teacher, how exactly can you teach someone else how to sew?
This topic was inspired by our new course, taught by Sarai and Haley, called Learn to Sew Clothing for Absolute Beginners. And this course is different than anything else out there. It gives you a framework for learning how to sew. So, it doesn't only teach you the technical skills you need to sew but helps you discover the joy, creativity, and self-expression you need in your life right now.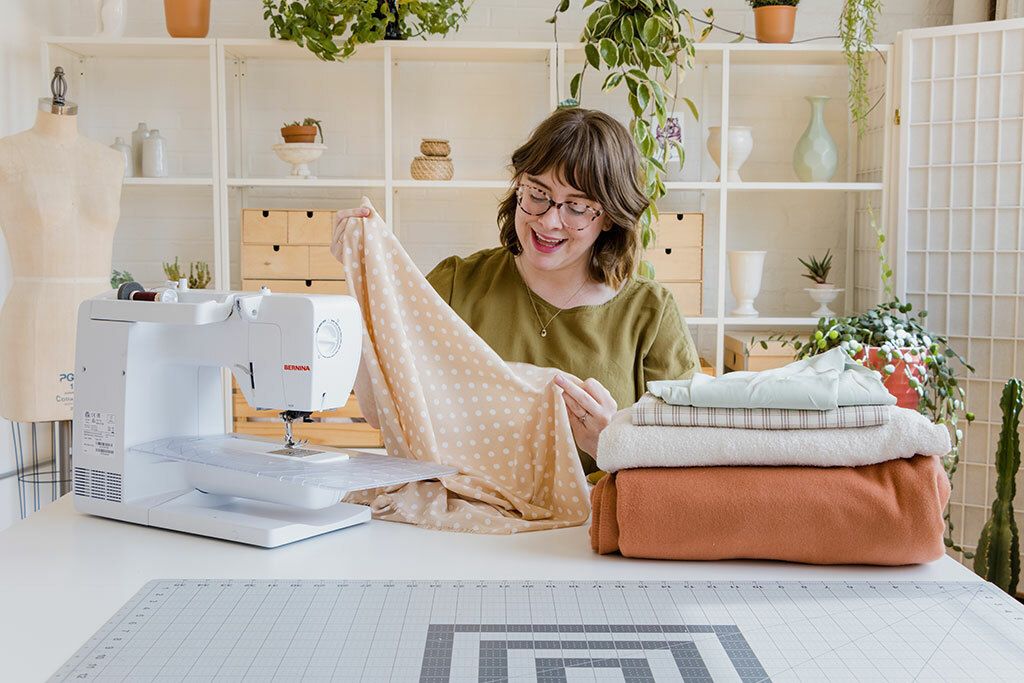 We worked on this course for nearly two years and discovered many things about teaching other people how to sew.
So here is a 7-step approach to teaching someone else how to sew, including helping them with their first project, helping them choose fabric for the first time, and supporting them as they continue their sewing journey.
7 Steps to Teach Someone How to Sew
Step 1: Sew a rectangle. Make a pillow or a tote bag (we have an Ollie tote bag sewalong here) to help them get some immediate pride by finishing an approachable project. Why start with a rectangle? It's a great project for identifying component skills, those little skills you use every day that form the foundation of your entire sewing practice.
Step 2: Sew a woven, pull-on garment. Avoid closures and bias tape until you develop a little more precision. When someone is learning how to sew, you want to set them up for success and help them avoid pitfalls for the first few projects. Examples from the Seamwork catalog include Hansie, which is a pull-over woven tee, and Madhu, which is a cropped peasant top that closes with elastic.
Step 3: Pick a few challenging component skills to cover (and then make muslins). For example, if the pattern has a facing, cut some samples of curved seams for them to practice, so they know what it feels like to sew on a curve. Or, if the pattern has an elastic casing, cut a few sample casings to practice working with elastic.
Step 4: Go fabric shopping together. In the beginning, fabric stores can feel very overwhelming. It can be much easier if you go with someone who knows how to pick out fabric and get it cut.
Step 5: Sew the project together (and then have them sew it alone). When you sew the garment together, offer guidance and show them how to problem solve when they get stuck. Then, when you finish, have them sew the project again on their own. Repetition is the key to developing muscle memory.
Step 6: Help them identify more component skills to learn and suggest different patterns to try. Help them find new skills they want to learn, like topstitching, pockets, or bias tape. Connect them to resources like YouTube, your sewing circle, or Seamwork. And don't forget to encourage them to get a sewing book. A sewing book geared towards beginners will help them practice all the necessary component skills to keep growing their sewing. Here are some of our favorite sewing books for beginners.
Step 7: Invite them to sew with you! Sewing can be a little bit isolating. It is a very solitary activity most of the time, but we can make it more of a community activity, which makes it even more fun.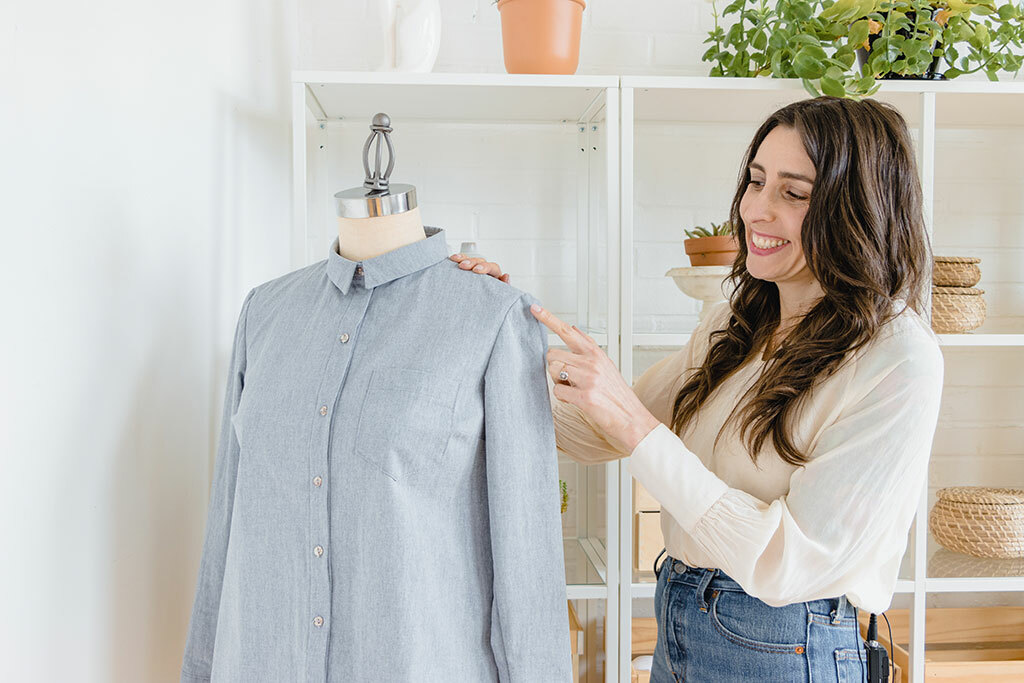 If you're a total beginner and this sounds like a fun approach to learning how to sew, be sure to check out Learn to Sew Clothing: For Absolute Beginners. And if you're not a beginner but think a friend might enjoy the course, tell them about it! Before long, you'll have an active sewing circle of friends, and you'll all be able to wear clothes that fit your unique style.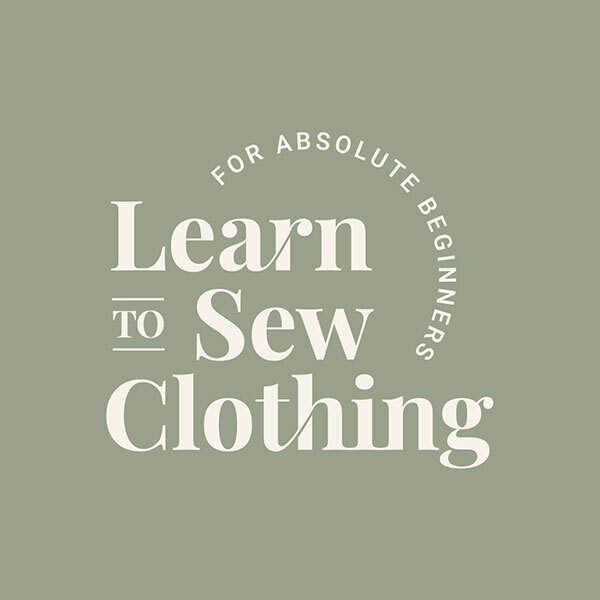 Love the article? Pin it for later.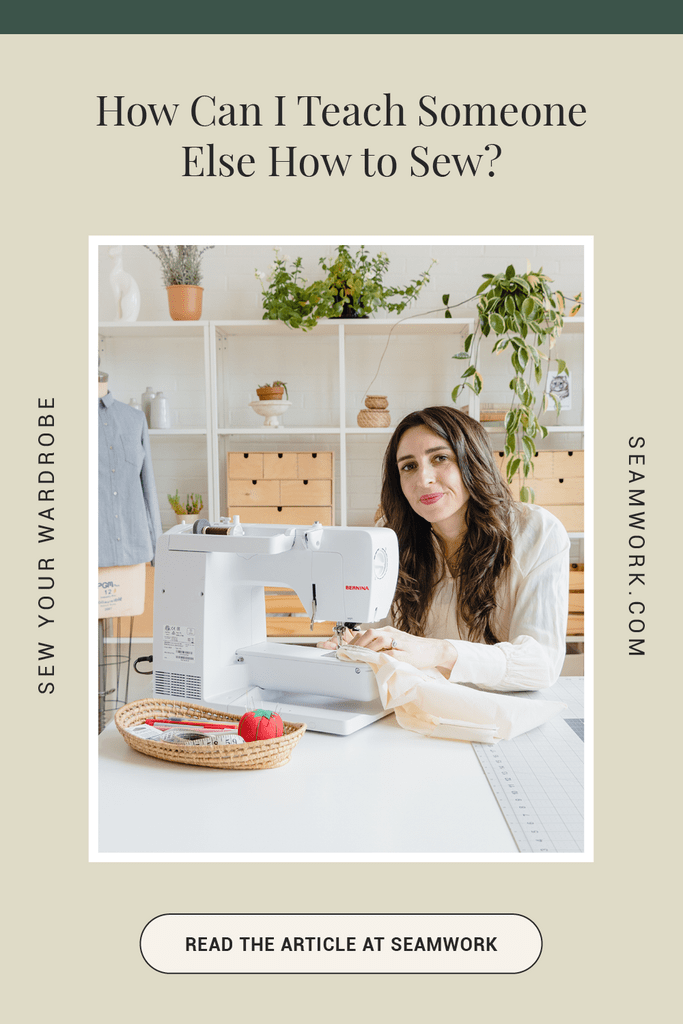 Join the Conversation
Sign in or become a Seamwork member to comment on this article.