In this episode, Sarai and Haley chat about trends. They show you how you can incorporate trends into your wardrobe while still feeling like yourself and making clothesyou can wear for a long time.
They use designers and the design world as a lens so you can create a more focused wardrobe that really feels like you.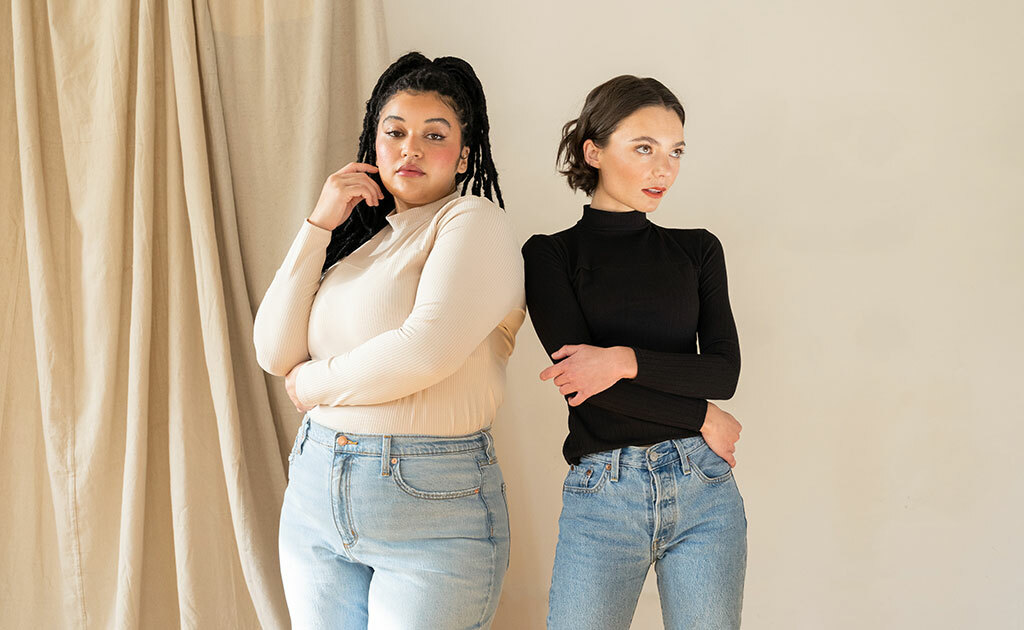 Your style identity can be expressed in a few broad words that describe your overall style. Think words like classic, earthy, or romantic.
Your brand icons are the things, the elements, the themes that show up in your personal style over and over again. So that could be colors, details, silhouettes.
Read the notes below to see real examples from some famous fashion designers.
This is part 1 of a 2-part series. Next week, Sarai and Haley will share specific trends from fall and winter 2023.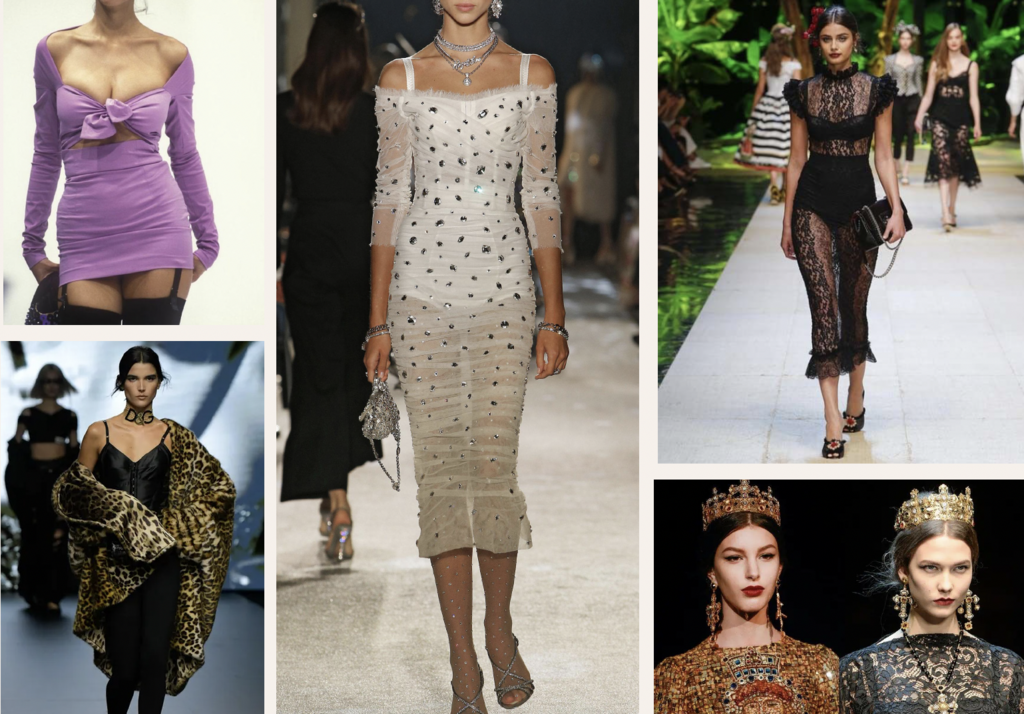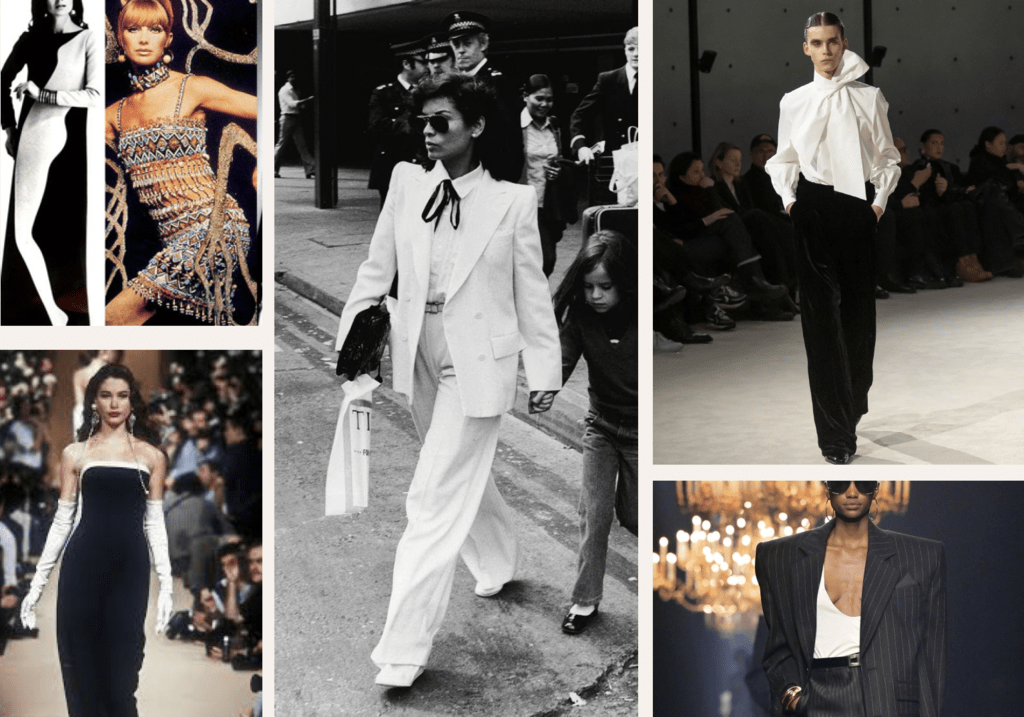 Podcast Transcript
Sarai
I'm Sarai.
Haley
And I'm Haley.
Sarai
And this is Seamwork Radio. Welcome back to Seamwork Radio, where we share practical ideas for building a creative process so you can sew with intention and joy.
Today we're talking about trends through the lens of personal style, and this is actually a two-part episode episode. So in this episode, we're going to cover our method for authentically using trends. And in the next one, we'll go over some fall and winter 2023 trends, and they're going to be some accompanying slides on the show notes on the Seamwork website. So definitely check out the show notes if you want to see the slides that go with our discussion today.
I think it'll be really fun for you to go through those as we talk, or maybe afterwards. I also want to mention that we are now recording in my new backyard studio, so hopefully the sound is okay. We don't have curtains or a rug in here yet, so it might be a little bit echoey for the next few episodes. Until we get that all sorted. We're actually going to be filming a video or maybe a few videos about kind of outfitting this new sewing studio.
So if you're interested in that, you can check that out on YouTube. We also have special guest Lucy today, my new puppy, and she's hanging out with us, so if you hear any squeak toys or nails or barking or anything like that…
Haley
Heavy breathing.
Sarai
Heavy breathing. She's a panter. It's not Haley. It's Lucy. So hopefully she'll be good throughout this episode.
All right, so let's get started. We have an icebreaker today, which is: what's the silliest trend that you ever subscribed to at any point in your life, Haley?
Haley
You know, I've subscribed to lots of silly trends because I've been interested in fashion for a long time. I went to fashion school. I mean, if you want to see silly trends…
Sarai
Yeah, you're exposed to them all the time.
Haley
Walk through the halls of any fashion program, and that's what you will see. Two are kind of, like, coming to mind. The first one is that I was, like, really obsessed. Well, there was a period, I don't know, ten years ago, maybe a little bit longer ago, where 1960s fashion was like, having a moment as it does once in a while. And during that time, I was really obsessed with the miniest mini dresses and opaque tights.
Sarai
That's a good look.
Haley
It's, like, really cute. But it was so impractical because I was working like I was like a shop girl, which requires lots of bending.
Sarai
And reaching.
Haley
So I was always having to do my bending in the most just like, the saddest, most awkward curtsy imaginable. So that's silly in that it was so impractical for my life. I do not reach for impractical trends like that anymore.
And then another thing I think of is I went through this phase. I don't know if this is a trend where I was just obsessed with the most random T-shirts I could find at the thrift store. Just, like, bizarre.
Sarai
Like, what?
Haley
The one I am thinking of right now is I had this shirt, which I only wore once because it was mortifying. I don't know why I bought it, but it was like, "Ask me about my explosive diarrhea."
I'm like, Why do I need this shirt? But that's, like, an example of the level of shirt that I was searching for.
Sarai
Wow.
Haley
Just like I don't know, I was, like, 16.
Sarai
Did anybody ask you?
Haley
I don't know. I don't think so. I was, like, 16. It was like the era of, like, I don't know, being very provocative. Jackass was on MTV.
Sarai
Yeah, I had some provocative T shirts when I was a teenager. Nothing like that.
Haley
But it was like, the more random, the better.
Sarai
Yeah.
Haley
What about you?
Sarai
Well, when I was a teenager, I went through a very long goth phase. So I think there were a lot of trends encompassed in that, because that was also there was, like, a brief period in maybe the mid, late ninety s. I guess it was more late nineties, you know, when Dracula came out. The one with Winona Ryder and the Bram Stoker's Dracula with Winona Ryder and Gosh Gary Oldman, which is not a good movie, by the way. We watched that again recently. It's really not good. Doesn't hold up.
But anyway, goth stuff became really trendy for a while, too, and so you could find it at the mall, like lace shirts and all this. I think Interview with a Vampire came out probably around the same time.
Haley
Iconic. Yeah.
Sarai
But the thing I remember when I was maybe, like, late teens, this was also kind of like a trend at the time, which was unnatural color lipstick. I'm sure it's coming back now because everything from the 90s is back now. But I had this, like, metallic blue lipstick, and I wore it with my parents to go see a movie in the movie theater one time. And I remember there was a girl working behind the counter, and she told me my lipstick was tight, and I was so proud.
Haley
High praise.
Sarai
So that's the one that, for some reason, that sticks in my mind just as something, like, totally crazy. That did not look good. But I was into it at the time. I was learning what my style was and trying out different things. So no shame in that.
Haley
Yeah. I don't know. I feel a little shame. I feel, like, bright red right now. But you know what? I agree that that is all part of kind of figuring out your style and beyond that, even just your identity.
Sarai
Yeah. And I think that's why a lot of the things that you're probably thinking of at home that were trends that you indulged in are probably when you were younger, because that's your experimental phase. But I think we can keep experimenting in other ways throughout life. We just learn more and more about who we are and what we like and what our style really is.
Haley
Yeah.
Sarai
Which is kind of what we're talking about today.
Before we get to that. If you have an Icebreaker for us and you want to leave it for a future episode, if you're a Seamwork member, you can go to seamwork.com/go/Icebreakers, and that'll take you to a thread on our community where you can leave your idea for a future Icebreaker. And we'll probably use it in an episode in the future.
Okay, so let's talk about trends. I think a lot of us have probably a sort of complicated relationship with trends because, on the one hand, they can be really fun to play with and really enticing. And if you're into fashion or you're just into clothes or you're into sewing, you enjoy expressing yourself through what you wear, then trends are usually a part of that, and it just makes things a little bit fun, brings in new ideas.
But on the other hand, we also usually don't want to have a closet that's just full of trendy things that don't really feel like us, and they don't have any real longevity to them. So a lot of times, if you indulge too much in trends, you find yourself with a bunch of stuff in your closet that just seems out of date or it just doesn't feel like you.
You don't remember why you bought it, why you thought it was cool in the first place, like that blue lipstick. No idea what I saw in that.
So it's kind of a balancing act. So the question is, why bother with trends? What's so great about trends? So, first of all, it's a fun way to shop for inspiration and just look for inspiration. It keeps your wardrobe feeling fresh. It incorporates new ideas. It helps you to participate in the kind of the social dialogue that clothing can be, and you can continue to explore yourself and what you like through experimentation with trends. So kind of bringing in all these new ideas, filtering them through your own lens, and then seeing what works for you and what doesn't work for you.
But of course, we want to do this without wasting a lot of time and money on stuff that doesn't feel like us. So how do we do that? So that's what we're going to be talking about a bit today.
So, Haley, where do you look for trend inspiration yourself?
Haley
Well, as a designer, the place that I look for trend inspiration is usually like runway fashion, like high fashion, because you're looking at more of the source. And when we're looking at trends in the context of runway, it's very grand. It's very big and bold. It's kind of, like, hard to miss. Whereas if you go to if you're shopping online and looking at inspiration there for trends, it gets kind of watered down because it's gone through the filter of many different designers at that point. And I feel that there's a lot of richness and complexities that we can learn by looking at the source of the inspiration itself.
Sarai
Yeah, that's a good point. I think when it comes to ready to wear, by the time it gets into these kind of larger chain stores, it's become more palatable, which is good in a way, because it's more wearable. But at the same time, the original idea is often much more tame. And so I feel like there's a balance there if you're looking for yourself, for your own wardrobe.
Haley
Yeah. And if you as a sewer, you don't have to leave it up to the ready to wear designers to interpret the idea for you. You can create your own interpretation of it, which I find so much more fun and exciting.
Sarai
Definitely. I agree with that. You can bring things together that you might not be able to find in a store, which I think is a real reason why a lot of us sew in the first place.
I like the Vogue app. If people are looking for where to actually find inspiration from the runway, try downloading the Vogue app. I have it on my iPad. The Vogue website also has all the runway shows on it. But it's really cool because you can just browse through by season, by designer, see the entire runway, every look a designer has presented for future seasons. It's really a pretty cool app.
Haley
Yeah. And lots of times, if you do not have the time to pore over every single runway show, which, who really has time for that? Lots of the publications like vogue will do roundups of things that they thought were really significant of that particular fashion week. They'll sort and then they'll cite their sources, and you can kind of click through and explore from there what is deemed relevant by the powers that be.
Sarai
Yeah. You can also just look at designers that you personally know resonate with you. That's usually what I do. I know that some of the more, I don't know, romantic looks are going to have really interesting details to look at. So I'll go with those designers that I know kind of embody that. So that's another thing that you can do if you don't want to spend a lot of time on it. I should mention, I think it's 100% free too. It's a free app.
Haley
I think that you bring up a really good point that the more you start looking to those sources for inspiration, you'll find the designers you really resonate with the most.
Sarai
Yeah. And even designers that you didn't think you'd resonate with. I think you can kind of start gathering ideas that maybe are a little bit more on the fringes of your own personal style, which is a great way to start incorporating some new looks.
Haley
Totally. So, Sari, what is the last trend that you sewed? Or do you have one in your current sewing queue?
Sarai
That's a good question. I think it depends on how you define trend, I guess. Recently I did a video on YouTube about this Laura Ashley dress that I made that has sort of a it's from I think it's from the early two thousand s, the pattern, but it has a very 90s look to it. Sort of baby dollish look. It's definitely 90s inspired. The fabric I used is vintage, so it has that kind of 40s meets 90s look to it. And of course, all things 90s I think are pretty trendy right now. And that very feminine silhouette is also very trendy, the Laura Ashley look, but it really fits my personal style, and it's something that I've loved since the 90s, since I myself was a teenager. So I know it really fits who I am at the same time.
But I would say that's the last sort of trendy looking thing that I sewed. What about you?
Haley
Let's see. I mean, this is kind of like trend light. I've sewn some stuff with rib knit recently, which is kind of trendy right now, but on my sewing queue right now is the Chantelle dress. And it's like a very 90s little mini shirt dress. Kind of like Monica from Friends vibes.
Sarai
Great reference.
Haley
So that's definitely, I would say, the trendiest thing on my sewing queue currently.
Sarai
Yeah, I have a whole basket behind you of rib knit.
Haley
I love rib knit also, kind of it.
Sarai
Is a little bit 90s. Last fall, I sewed I think I did a video on this, too, a rib knit striped dress that was very, very 90s inspired. I guess a little bit trendy. And I love that thing. It's so cute and wearable, and I know I'll wear it for years to come as well.
Haley
So what is your favorite way to incorporate trends?
Sarai
I think those examples that I just gave are really good examples because they're things that have relevance to me, even though they are things kind of going on in the outside world that are very big right now. So that's my favorite way to incorporate trends is kind of through the lens of my own personal style.
And the way that I do that is making sure that I have a really good handle on what my own style preferences are, and making sure that I have a way to articulate that to myself. Be that visually with mood boards and things with words. And that's kind of what our Style Workshop is all about. If you're interested in that we'll talk a little bit about that at the end, but that really, really helps me to filter out the trends that look cute on other people but don't really feel like me versus the things that do.
I think the one thing that I have trouble with when it comes to incorporating trends is I feel like I'm a pretty multifaceted person, and I have a lot of interests and things that I do, like activities. And so, for example, I love to hike and backpack, and the clothing that I like to wear in my day to day life is very different from the clothing I would wear backpacking.
But I still want to look like myself even then.
Haley
Yeah.
Sarai
Which is maybe kind of silly. So that's the only thing that I find a little bit difficult because there are trends in outdoor gear, too, and that's very different from my day to day wear. So that's where I think things get a little bit tricky. But generally, just having a vibe that I know is me really helps. What about you?
Haley
Yeah, I definitely agree with everything that you said. Whenever I am incorporating a trend, I try to find a way to anchor it in my identity. So, for instance, when I was looking around for fabric for my Chantelle dress, my first thought was, like, oh, I should find, like, a Ditzy floral print. Like, that would be so cute for something like this. And I was like, Well, I feel like that might be, like, a little direct copy paste.
So instead, I'm sewing it in a linen, because linen is a fabric that I have loved wearing for over a decade. I think I will continue to like wearing for a decade in a color that I know is really aligned with my personal style. So then that way it feels kind of, like, rooted in me.
Sarai
Actually, I was just thinking about this this morning as I was looking at the House and Garden website, the magazine, the UK magazine House and Garden, and they had some pictures of this really beautiful living room, but it looked very lived in. I realized that's really what I'm drawn to when it comes to interiors, I like interiors that look real, that look lived in, that look personal.
And a lot of the interiors you see on Pinterest, for example, they just look very cold to me. Like, very perfect. And that doesn't appeal to me at all, even if they look good. There are a lot of interior designers who post, like, really beautiful images of beautifully styled rooms, but it doesn't feel like a home to me.
I think it's the same with clothing. There's something I think very appealing about having an imperfect look that's really you versus something that just looks like you said, like a copy and paste of what's cool out there. So I don't know. That's just kind of a different lens on it. How can you make your clothing feel like you, but also feel like I don't know. I don't know what the word is, like, lived in?
Haley
Authentic.
Sarai
Authentic. Yeah. Real.
Haley
Yeah. I think this is, like, a really good lead in to the method that we want to share today about how to make interpret trends in a way that's really authentic to you. And so the method that I want to offer up is what a lot of ready to wear designers and what I, as a designer, was taught to do as someone who was being trained to go work for brands.
So a lot of times when you're a designer, sometimes you have the luxury of designing for your own brand, which is all, like, really lovely. You get to start from the ground up. But lots of times, you're going into a company that already has a set identity, and it's your job as the designer to stay within that identity while still staying relevant, having fun, continuing to bring in customers, really. And I think that there is a lot that we can learn when it comes to our personal interpretation of trends when it comes to this method.
All designers really start with this firm understanding of the brand that they design for. So what I'm asking you to do is to kind of think of yourself as the designer, and your personal style is the brand that you're building.
So every brand has their style identity, and in addition to this, they have their style icons or their brand icons. Style identity is, like, the core style of the brand. It can be really helpful to distill your core style down to three words. That's what we usually recommend at Seamwork.
And if you don't have those three words for yourself already, I would definitely recommend checking out the Style Workshop, which is a workshop that Sarai just wrote and created, and it's really awesome, and it can help you with that.
In addition to those three style words, what I'd like to encourage you to add onto that is your brand icons, and these are the elements and themes that show up in your personal style time and time again. So they could be color, they could be design details. They could be silhouettes, kind of things of that nature.
The difference, really, between style identity and brand icons is style identity is, like, big picture words. Brand icons are, like, a little bit more zoomed in, and they're not present throughout everything. Your style identity is present throughout. Brand icons are present often.
Sarai
So can you give me some examples, like, from your own style, how you would define your style identity and what your icons might be that go with that, just to give the listeners a little bit more of a taste?
Haley
Yeah. So, personally, for me, some of my style identity words are playful. That is a word that I use often. Another word that I like to use is classic. And then the third word I like to use is French. So some of my brand icons would be stripes, which kind of feeds into classic. It also feeds into French. I like to play with stripes a bit. It's one of my tried and true prints. Denim.
And then playful. I like things to feel kind of lived in. I want little unexpected things. So I would say that a relaxed fit is a brand icon for me because that kind of gives a playfulness, also unexpected details is kind of, I would say, a brand icon for me. So it really can be as simple as that. You don't have to overthink it too much.
Sarai
Yeah, cool. Well, let's give some other examples, maybe from some designers that people are familiar with, so they get a taste of what this might look like for different designers, different identities and what that might be. So I'll throw out a few, and maybe you can kind of riff on what you think their identity and what their signatures might be. So what about, like, Dolce and Gabbana, for example?
Haley
I think this is a great example because they've been around for a few decades now, and so you can really see their identity and signatures come into play. What's interesting is they've had the same creative directors throughout the entirety of the brand. So style, identity, I would say Mediterranean. They really lean into the Italian origin of their brand quite successfully. Another ID word I would give them is sultry. Very sexy. And then opulent. Everything's super luxe.
Sarai
And what about their icons or their signatures?
Haley
The color black is very heavily present throughout most of their work. Lingerie, that would probably be, like, one of the top icons they use most often. So this can be a signature of theirs, is, like visible bra straps, but they also bring that in other ways, like kind of like corsetry and bustier, things like that, that kind of thing. Crystals or just like, bedazzling in general. They're also known for their jewelry, so that's an element that they get to play with there as well.
And then lastly, I would say lush prints. They kind of play around with prints, sometimes brocade, sometimes floral. Animal prints are something they use often, so they use, like, a range of prints. But the thing they have in common is that they're all really lush feeling.
Sarai
Yeah, definitely. I think that's a really good example because they have such a well-defined, long-term style that kind of carries through so many seasons.
So let's do another one going kind of a different direction. What about Yves Saint Laurent?
Haley
This is an interesting one because they have had multiple creative directors and designers over the years, but I think they also are very successful at being really recognizable. So, style identity wise, I would say that it's very bold. Lots of times they're utilizing a lot of contrast in their designs. Their lines, their silhouettes of their garments tend to be quite bold. And whether they're using tailoring or it's like a little bit more rock and roll, it has this very bold feel to it.
Also sexy, but in a very different way than Dolce and Gabbana. It's like this subdued, sexiness.
Sarai
A real mix of masculinity and femininity in it as well. And kind of playing with gender.
Haley
Yeah, definitely. And then the third word I would give them is elegant because there is just this real sophistication to so much of their work.
Brand signatures would include tailored. They're really known for their amazing tailoring. I mean, they popularized the smoking suit and that is something that they have continued to play with that concept as a brand time and time again.
High contrast, which is kind of one of the ways that that bold style identity comes up time and time again. They use black and white often throughout their work and then graphic elements, which is also another manifestation of that bold. If you think of even their famous Mondrian dress is very graphic and they continue to use more graphic use of pattern, but also graphic use of color throughout their design.
Sarai
Yeah, I think it's really interesting to explore how these brands do it and then how you personally could apply that to your own wardrobe or the way you look at your own wardrobe to kind of narrow down your choices. Because I think that's a struggle for a lot of us, is there's just so many choices out there. What filter do we use to narrow it down to the things that really feel like who we are and make sure that we have longevity in our wardrobes as well?
Haley
And these are things that can shift and change over time. These examples are businesses. You are not a business and you don't have to worry about making customers happy. You just have to worry about making you happy. So that's kind of where this analogy falls a little bit flat, I suppose.
Sarai
Well, it's more of a tool. It's not really thinking of yourself as a brand or as a business so much as here's a different lens, tools that you can use from the world of design to inform the way you design for yourself.
Haley
Totally. So how can we kind of use all of this?
I think that when you are thinking about building your wardrobe, sewing garments for yourself, you can think of your style identity and your brand signatures as really the constants in your style from season to season and year to year.
And then you can think about the trends and the components of those trends as a way to enhance what you've already have going on. So your identity and your signatures, those are kind of like those are the main course, the trends, those are the desserts.
You know, Dolce Gabbana and Yves Saint Laurent, they play with trends all the time. They set trends all the time, but they still manage to stay really true to their brand identities through all of that.
Sarai
Yeah, absolutely. Well, I think this was a really nice discussion that kind of leads into our discussion for next week, where we're going to be talking about actual trends for fall and winter of 2023, which I'm super looking forward to. I think it'll be really interesting to discuss what's going on in the world of fashion, how we might be able to use those trends and incorporate them into our wardrobes or not, depending.
So now that you have some tools, hopefully that'll be really fun for you to hear and start thinking about. And again, if you want to see some slides that go with today's podcast, be sure to go to Seamwork.com and click on podcast, and you'll find our show notes there.
Let me just recap what we talked about very quickly for you all. So we talked about trends, and the main thing we wanted to talk about today is how you can use trends and incorporate them into your wardrobe while still feeling like yourself and having longevity in your wardrobe. So we talked about some ways to do that, and we used designers and the design world as a lens so you can kind of get a sense of what tools designers use and how you might use those in order to create a more focused wardrobe that really feels like you.
So we talked about your style identity, which is the few kind of words that you can use to describe the overall look that you have, and then the icons, which are the things, the elements, the themes that show up in your personal style over and over again. So that could be colors, details, silhouettes. That could be a lot of things. So those are the specifics of your wardrobe that you use over and over again. And then we gave you some examples of that. So hopefully this was helpful for you.
What's your big takeaway from the episode today, Haley?
Haley
I think my big takeaway is, I always find such creative joy in constraints and designing under constraints, and I think that designing for our own personal style and our own taste is like the most delightful constraint that you can possibly have. And instead of feeling boxed in by it, we can choose to feel really excited by it.
Sarai
Yeah, I love that. I think for me, I'm really attracted to this idea of the brand icons or signatures, the ideas, the specifics that you can use over and over again, because I think that's what really creates personal style or just having those things.
You think about somebody like Jenna Lyons, who always wore red lipstick and glasses, and she has a very specific look. And I think when you have those few things that you put on repeat over and over again. It just makes you feel like you. Yeah, and I think that's such a great feeling to just feel like no matter what you wear, what trends you incorporate or add in, there's something that feels like you. So I love that idea.
All right, well, be sure to tune in next week, and we're going to dive into some of the fall winter trends and we will discuss those and we'd probably have a lot to say, but also would love to hear what you think about them and which ones might be relevant for you. So I think it'll be a really good discussion next week.
And if you're interested in doing more around what your own personal style is and really diving into that, you should check out our Style Workshop.
It's a hands-on workshop that walks you through ten exercises to help you identify your core style. So if you're struggling a little bit with what your style identity is, or maybe you're not struggling, maybe you just feel like it could use a little polishing, or you feel like it's changed recently, or you just kind of want to do a little refresh before you start designing for fall and winter. That's a really good little workshop to go through.
It was recorded live, and you can get the recording when you purchase the Style Workshop, and it is $10. Or if you're a Seamwork member, it is totally free. So if you are a Seamwork member, you can go and get that for free. And if you're not, it's only $10.
And if you want to join Seamwork, remember that podcast listeners get 50% off the annual membership at seamwork.com Go podcast 50. And you can check out the Style Workshop at seamwork.com/go style-workshop and we'll put those links in the show notes.
If you like this episode, please leave us a review on your podcast platform of choice. We love hearing from you and what you liked about the episode.
Really helps other people find the episodes and the podcast as a whole and really keeps us going too. So we have one today from CassMcKay23, who says, "Love it. This podcast is my favorite listen while walking in the woods or sewing in my studio. It makes me nostalgic for walk and talks with my crafty bestie who moved away, great production, interesting topics, and inclusive values. I love Seamwork."
Oh, thank you so much, Cass. That's really kind of you. And we absolutely love hearing from you guys. So please do leave us a review if you have a moment. And if you don't have time to leave a review, you can also just leave a star rating for us. Five stars would be awesome. Really, really helps the show. So thank you so much.
You can also follow us on YouTube at Seamwork video. We mentioned a couple videos that we've put out recently that you might like, including my Laura Ashley dress that I made a month or two ago. So you can check that out. It came out really well. I love that dress.
And you can also find us on Instagram at Seamwork. And if you'd like to join Seamwork and become part of our private community, plus get access to hundreds of sewing patterns and dozens of sew along classes, podcast listeners get a 50% off lifetime discount when you join at seamwork.com/go/podcast 50. All right, that does it for us this week. Lucy, you were a very good girl. Very quiet guest. I'm Sarai.
Haley
And I'm Haley.
Sarai
And this is Seamwork Radio.
Join the Conversation
Sign in or become a Seamwork member to comment on this article.