A Busy Bee, thank you so much for sending us this letter because I know many sewists—myself included—are in the exact same situation.
First, I want to celebrate that you're already prioritizing time to do something you love—sewing. I know 15 minutes might not sound like a lot, but let's think about it this way. If you work on your project for 15 minutes, 4 times a week, that's an hour. So an hour a week for a month is 4 hours, and 4 hours a month for a year is 48 hours of sewing time—plenty of time to complete a large project or two.
OK, so assuming you only have little chunks of time for your hobbies, here are 4 practical things you can do to help start and complete larger projects and grow your sewing skills.
1. Get organized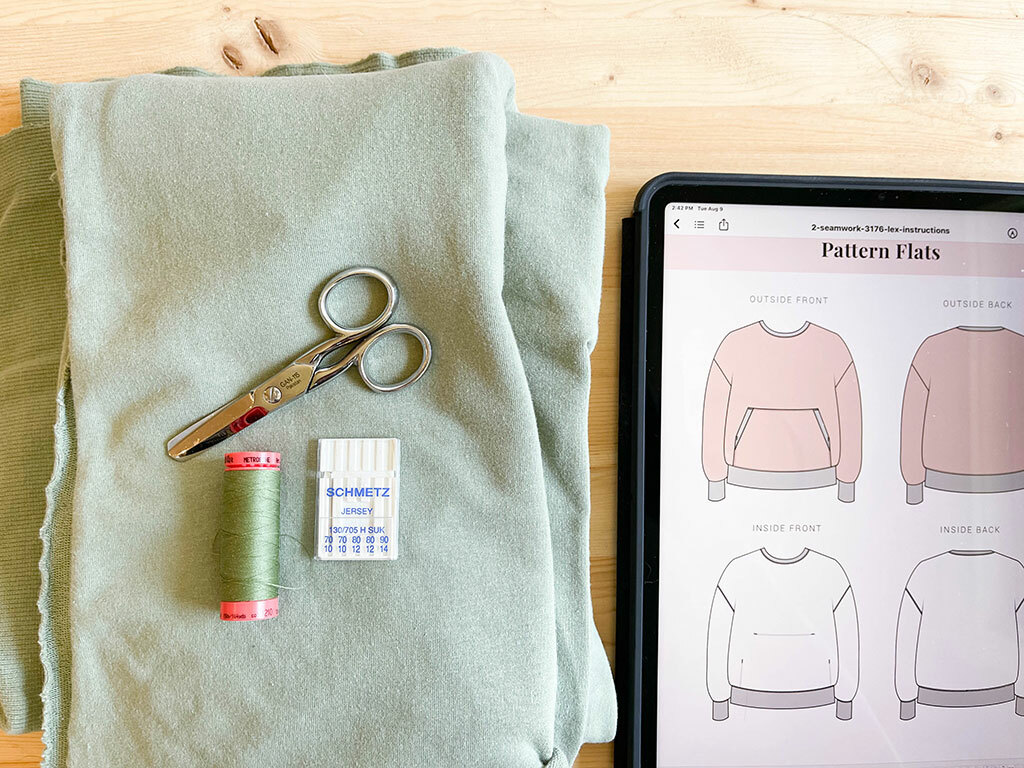 Before you start your project, gather all the materials you'll need, and figure out a way and a place to store them. Having everything you need all in one place will help you jump in and out of your project quickly and easily. You won't have to spend time looking for tools or materials, and you won't get stuck halfway through your project because you're missing buttons or a zipper. Creating a system for storing your work-in-progress will also help save time on cleanup at the end of each sewing session.

2. Make an action plan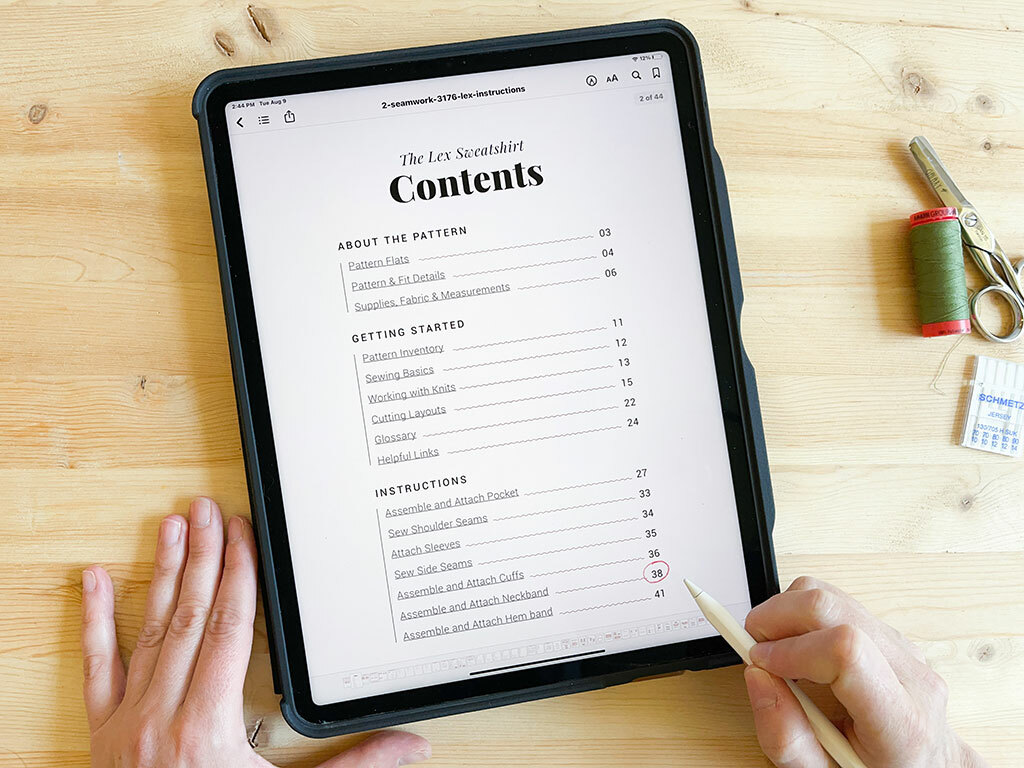 Grab your sewing pattern instructions and make a plan! Making an action plan can help keep large sewing projects organized as you work on them little by little.
You can sit down and handwrite a checklist of things to do or type out the construction order of your garment on your phone or computer. Seamwork instructions even have a table of contents page you can use to outline your plan.
Sitting down to make a plan can help you better understand all the steps and processes needed to complete your projects. In addition, you can look up any unfamiliar techniques ahead of sewing, which is an important part of improving your skills.
Understanding the project as a whole before you start ensures that once you get to actually sewing, you'll have a clear road map of each step you need to take to make your garment.


3. Keep accurate records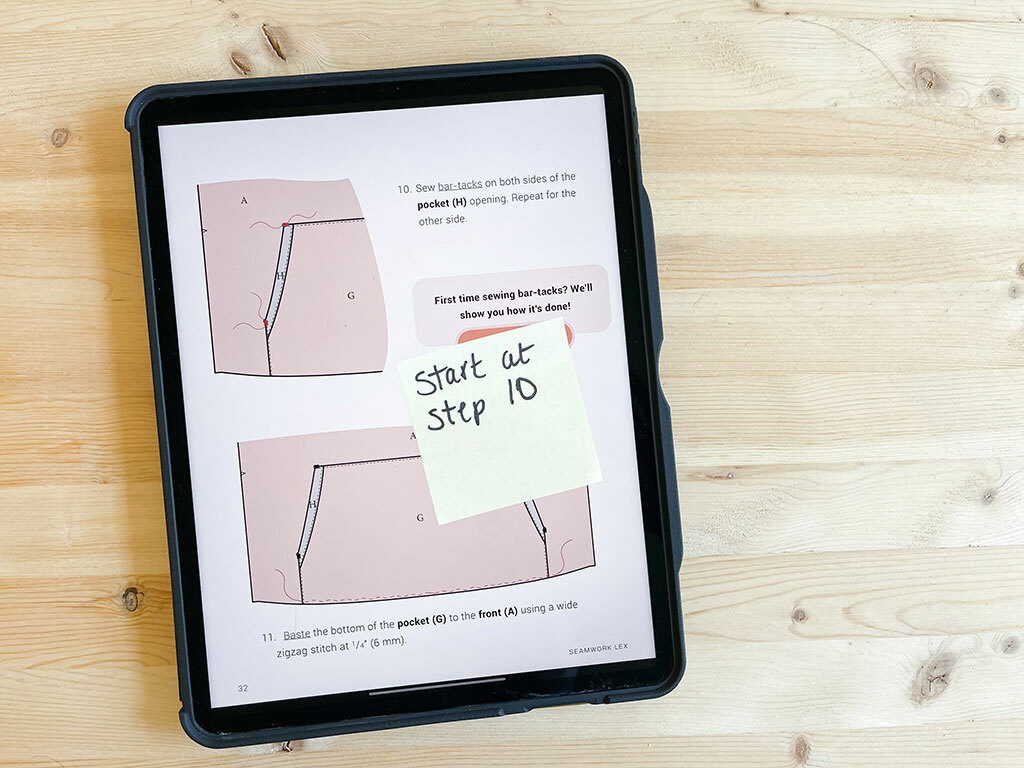 As you start your project and follow your action plan, it's super helpful to keep records of the things you've completed as you complete them. Since you're busy and working in short time chunks, keeping accurate records of the last status of your project will help save you time and brain power when we come back to your project for the next short sewing session. It's no fun, and it's time-consuming to constantly try to remember where you left off and what you need to do next.
Leave a gift for your future self by keeping accurate notes about your project. Circle the step you need to do next on your instructions, or write it down on a post-it and stick it to the top of your project. You can even include little words of encouragement for the next time you sew, like, "you can totally sew this collar next!"
4. Stay consistent
You've probably heard the adage, "slow and steady wins the race." I'd like to
reframe that saying a little bit to "slow and steady finishes the race," because finishing your project is the goal. You don't need to finish it fast. If you prioritize a little bit of sewing, as A Busy Bee does, you'll definitely finish whatever projects you start. In my opinion, it doesn't matter when you finish them. As long as you're sewing, you're practicing and improving your skills, and that's something to feel good about!
Love the article? Pin it for later.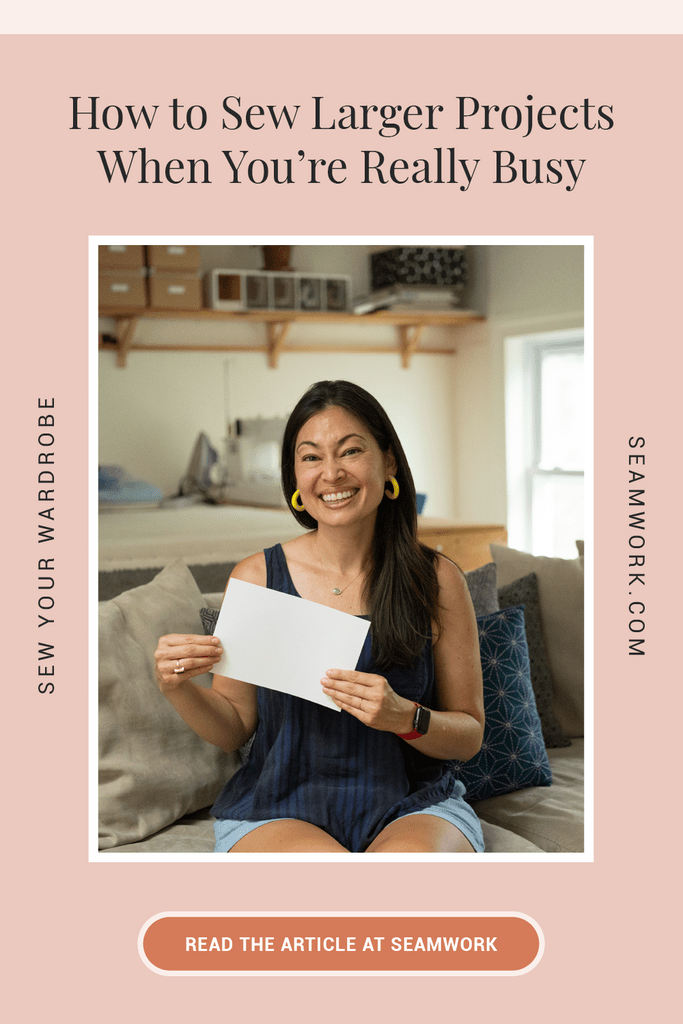 Join the Conversation
Sign in or become a Seamwork member to comment on this article.