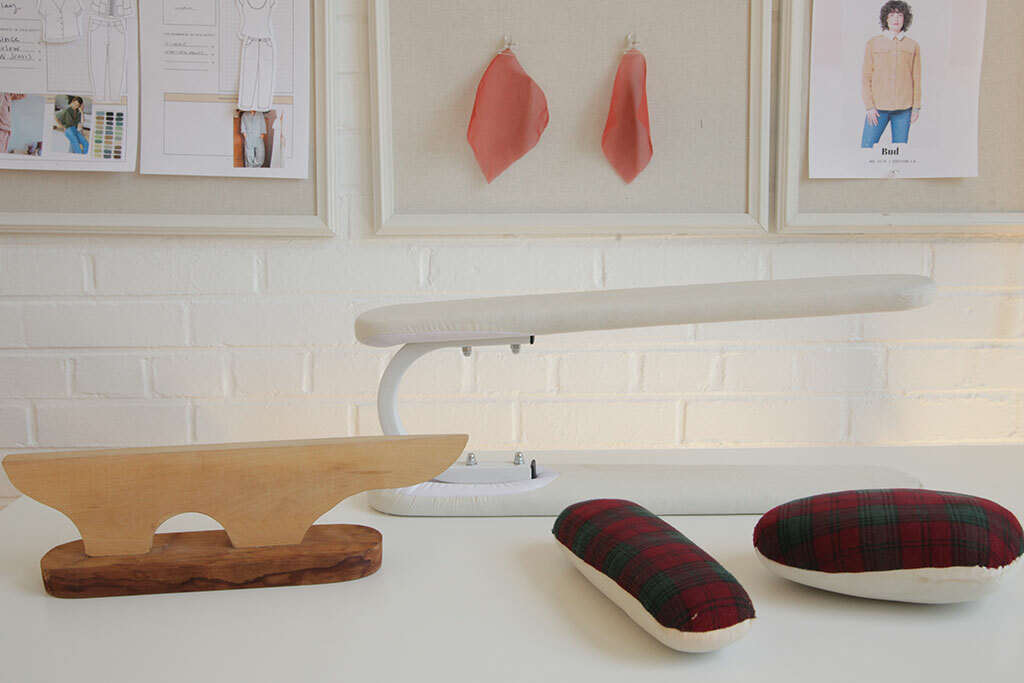 If you watched our video on cheap sewing tools under $20, we showed you some really helpful pressing tools, and we got a bunch of questions asking about how to use them.
So, we made a video about how to use all of our favorite pressing tools. Now, all of your seams and corners will be crisp and perfect!
Press Cloth
Let's start with one of the most important pressing tools—a press cloth.
What is it? It's a cloth you use between your fabric and your iron when you're pressing. You can also use a press cloth between your project and your ironing board.
What does it do? A press cloth protects your fabric from being burned, stretched, or stained from your iron. It returns the favorite and keeps your iron from getting all sticky from interfacing or spray starch.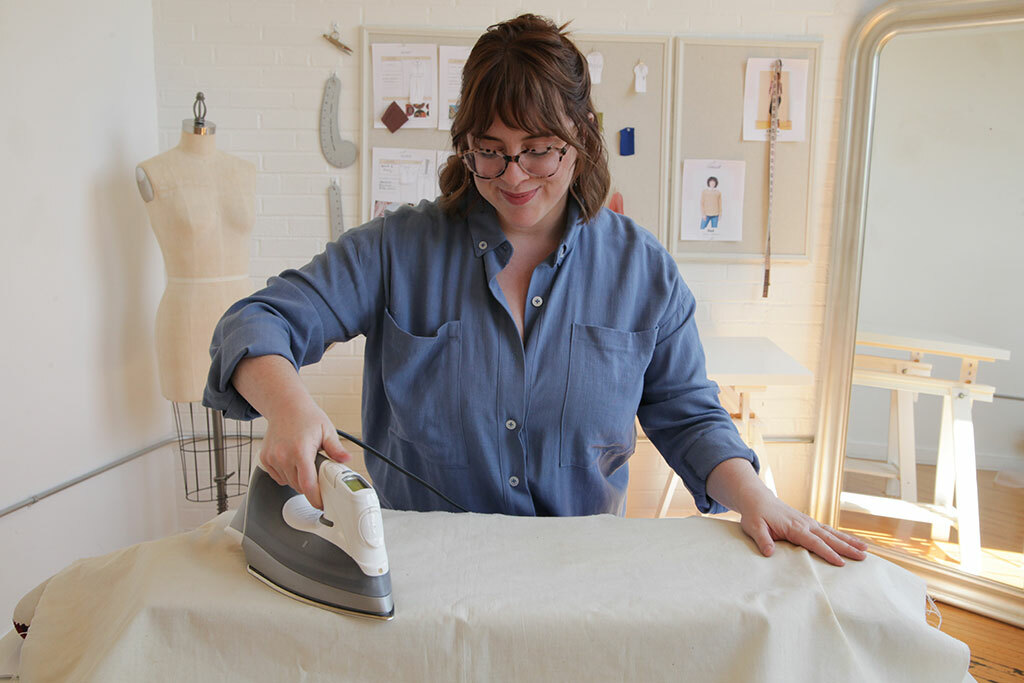 What can you use for a press cloth? Use any undyed fabric without a nap or decorative weaving, such as wool, cotton, or muslin. You can even use silk organza if you want a transparent press cloth, which can be handy for spotting wrinkles as you press.
How do you use a press cloth? Press your seams with a press cloth between your iron and your project. You can also place another press cloth between your project and your ironing board.
Tailor's Ham
What is it? A tailor's ham is a tightly stuffed pillow that helps you press curved seams like darts or hip curves. It's usually stuffed with sawdust, but you can find tutorials for making your own using fabric scraps or wool batting. The sawdust maintains a consistent, strong shape.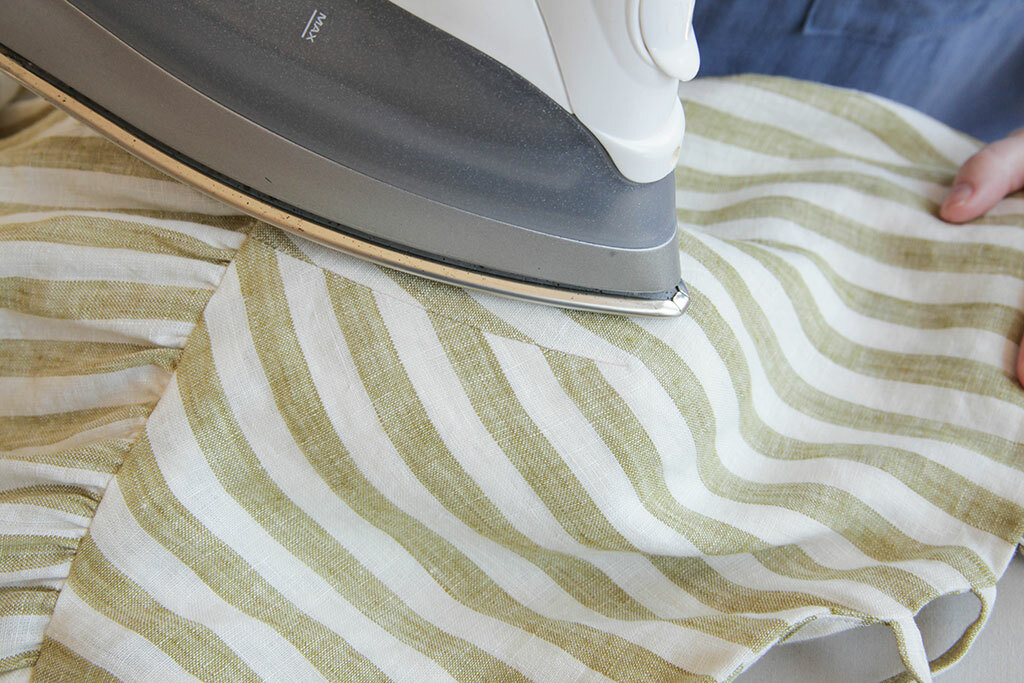 What does it do? It mimics the soft curves of your body so your seams can be pressed flat. It also helps you avoid sharp creases in your seams.
How do you use it? Lay your garment on the ham and press gently from both sides. You can even insert the ham into tighter areas, like sleeve heads, to get a nice, curved press.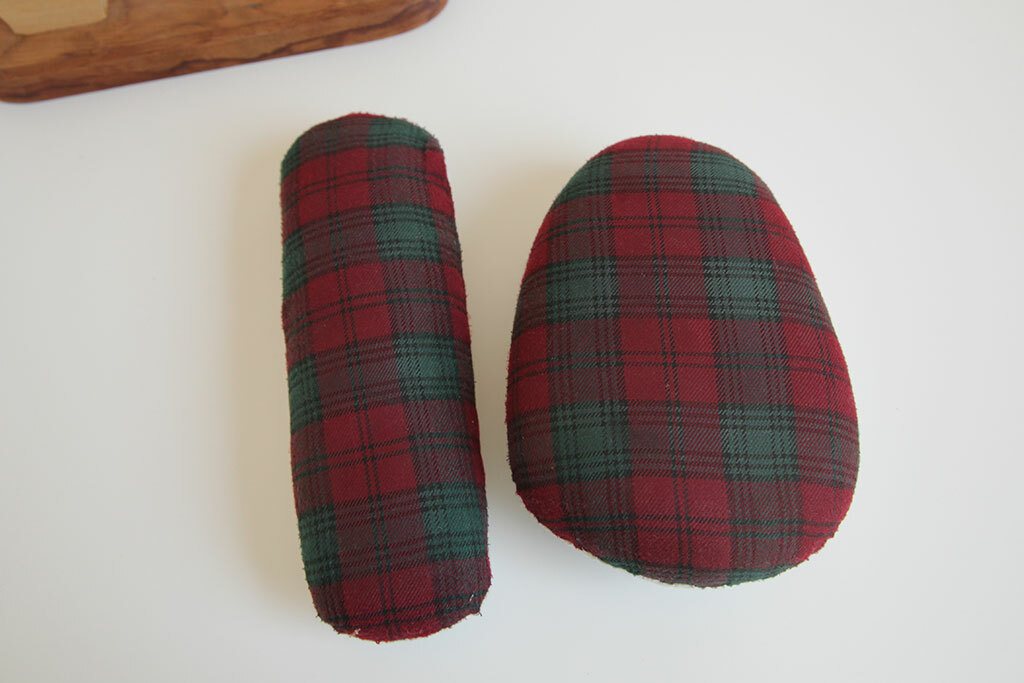 Fun ham fact! You'll often find there are two sides to your ham. One is wool, and the other is cotton, sometimes canvas. You use the wool side to press wool seams or delicate fabrics that need lower temperatures. On the cotton side, you can press at higher temperatures.
Seam Roll
What is it? A seam roll is basically a tailor's ham without a ham-like shape.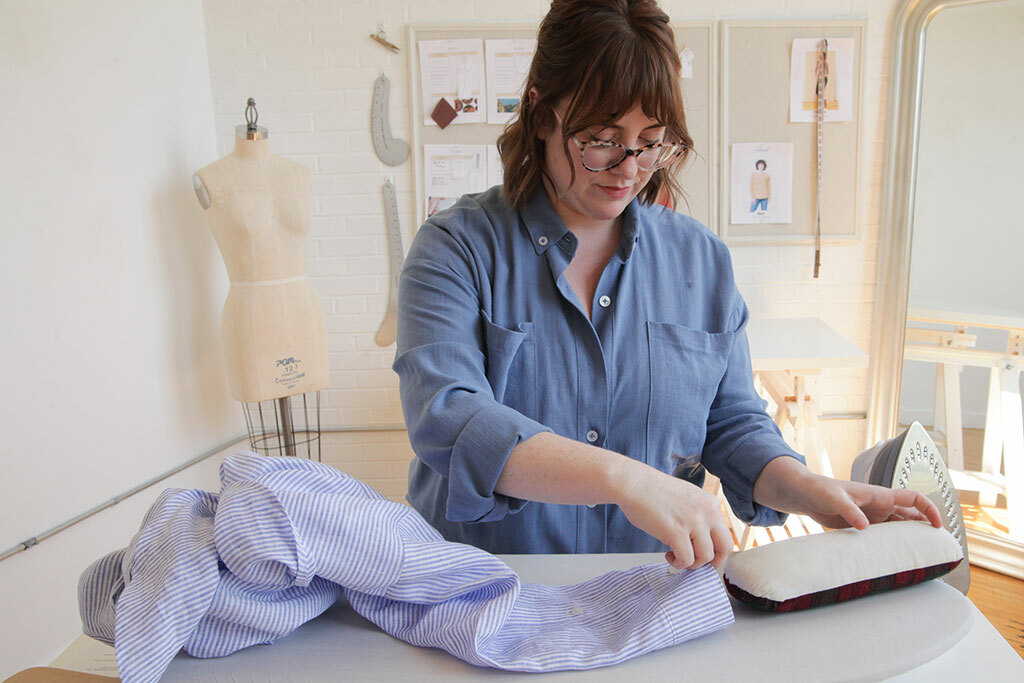 What does it do? It helps you press smaller curves or those hard-to-reach places, like cuffs and sleeves.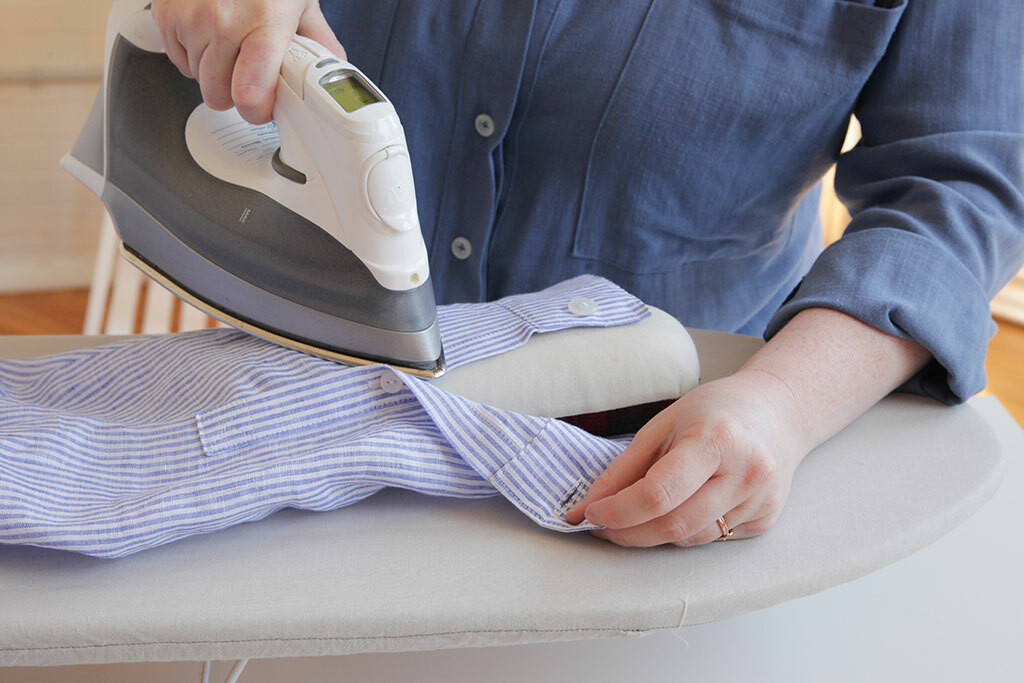 How do you use it? Use it just as you would a ham. Stick it into a sleeve or even all along the side seam of your pants to get a nice press.
Clapper
What is it? A flat wooden tool you use to "clap" your seams for an extra firm press.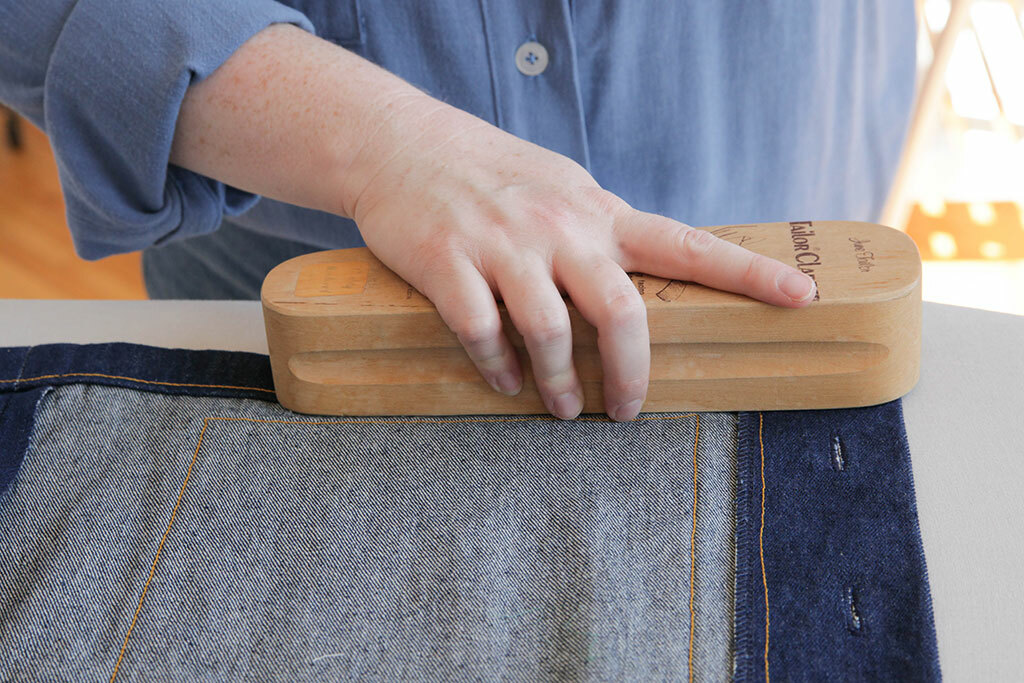 What does it do? It helps you create an even flatter seam or a very hard crease. You can also easily press seams on thick fabric like wool or denim.
How do you use it? Press your seam as usual, with plenty of steam, if your fabric allows. Place the clapper on the seam and hold it there for about 5-10 seconds. The wood from the clapper will trap the steam to really press your fabric and hold the crease.
Sleeve Board
What is it? It looks like a long, skinny, miniature ironing board to press seams on sleeves or pant legs.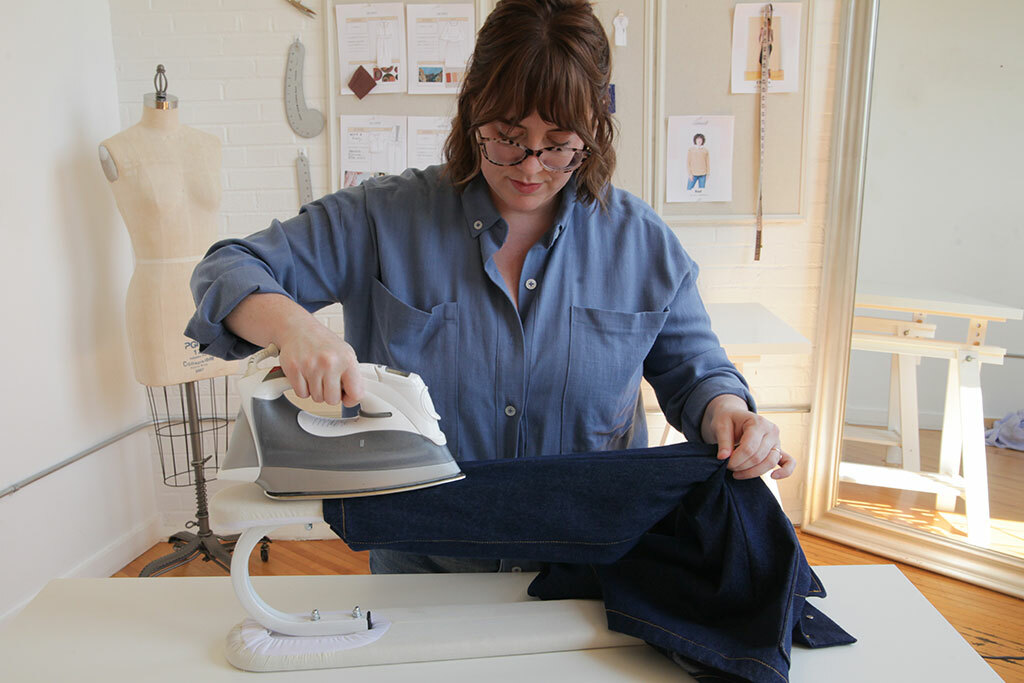 How do you use it? Slide it into sleeves or pant legs to press the seams, kind of like you would with the seam roll. It's also great for kid's clothes since they are so tiny!
Point Presser & Clapper
What is it? This tool looks intimidating, but that's because it serves a few purposes. It's a wooden tool with a pointed press on top and a clapper on the bottom.
What does it do? You can use the pointed edges at the top to press hard-to-reach areas like collars. You'll get a nice, crisp point. You can use the bottom as a tailor's clapper! It's kind of a two-for-one.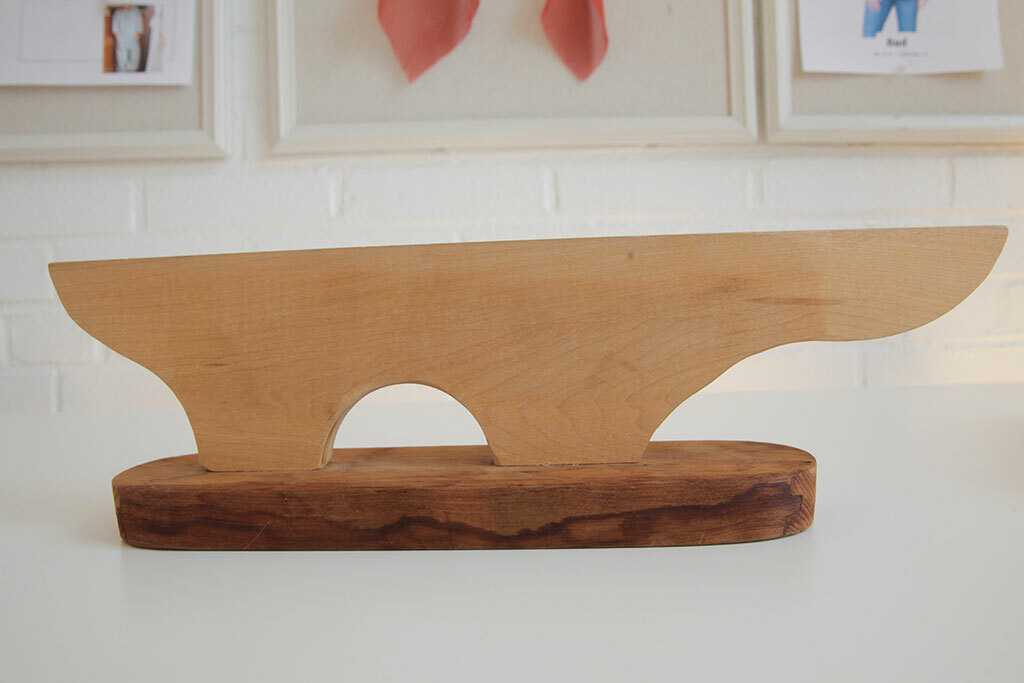 How do you use it? To use the pointed edges, just slide your project over the point and press the tip of your collar with your iron. To use the clapper at the bottom, treat it just like a tailor's clapper. Press and steam your seam and place the clapper on top for 5-10 seconds.
Seam Roller
What is it? This is a handheld tool you can use when you're pressing—and you might see similar tools used for installing wallpaper.
What does it do? It presses seams quickly and simply, without an iron.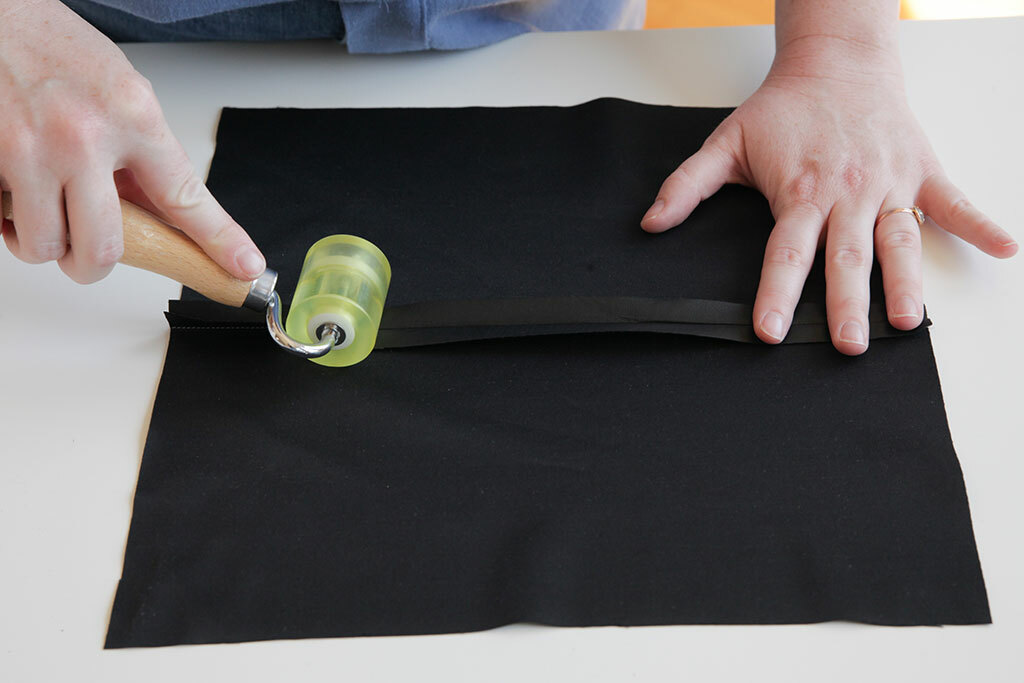 How do you use it? Roll it along your seams with your raw edges open or together, just like an iron. This is great if you use vinyl, leather, or fabric that won't tolerate your iron. It's also helpful for areas where your iron can't fit. You can also use it to flatten seams for applique or to piece quilts if you don't want to bring out your iron.
And here are two final tools that you might use for many other things, but they're also helpful to keep at your pressing station.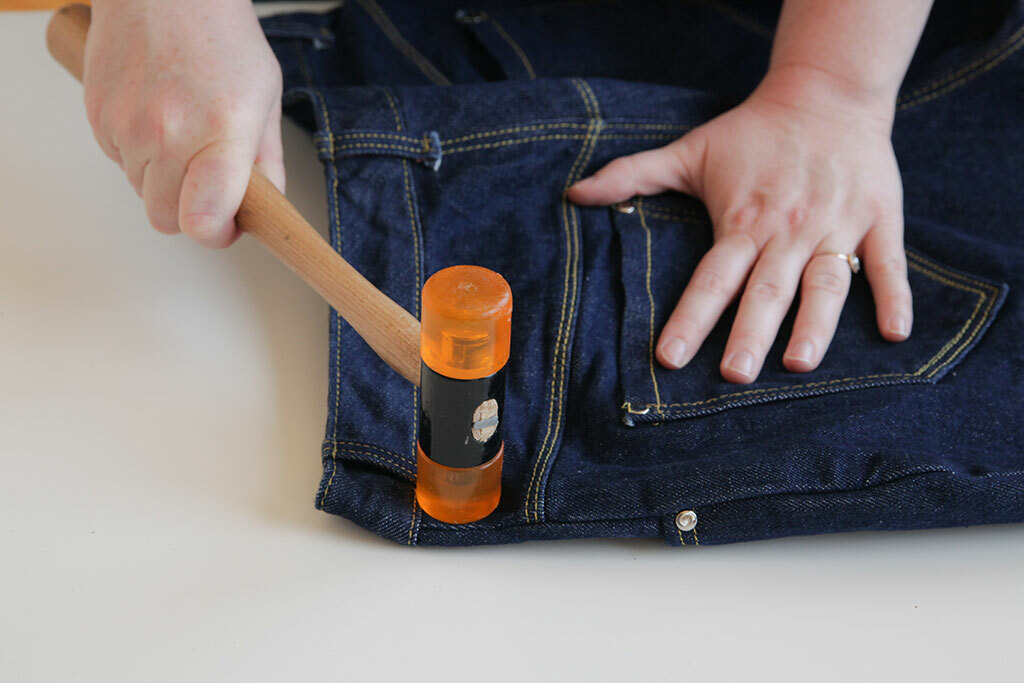 Use a mallet to apply even more pressure to thick fabrics or stubborn corners that won't lay flat.


Use cardboard or heavy paper to make your own pressing template! You can create a hem press by marking different seam allowances along the cardboard and pressing your hem to your desired width. Or you can use a cardboard template to press the edges of a patch pocket.


Do you have all these pressing tools in your sewing space? Have any pressing tips to share? Comment and let us know!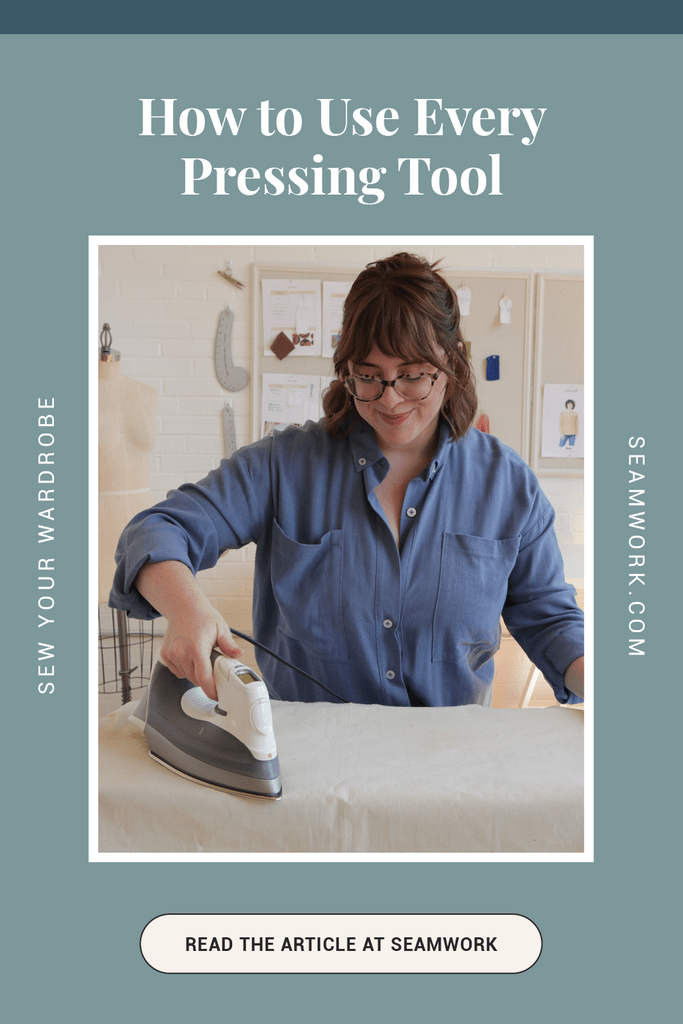 Join the Conversation
Sign in or become a Seamwork member to comment on this article.