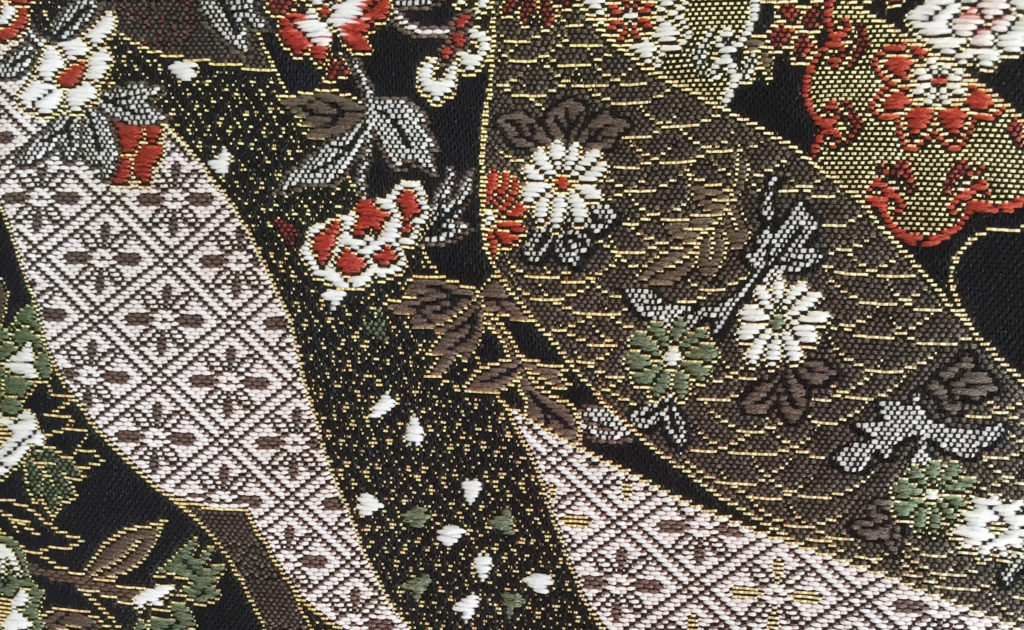 Whenever I travel, I try to bring back some fabric that is unique to the place I am visiting. Two years ago, I was in Tokyo on a work trip that included long meetings about the intricacies of corporate accounting, and I decided to unwind by petting some fabric at a local fabric store. This being Tokyo, the local fabric store was an immaculately organized, five-story affair filled with perfectly rolled, sumptuous fabric of every variety. My guide—a blonde, Ukrainian-born, French-educated sewing blogger who also happens to be an enthusiastic student of the ancient art of kimono-wearing—directed me to a shelf bearing an array of lustrous silk kimono fabrics emblazoned with cranes, fish, and chrysanthemum flowers.
Deciding between all the tempting bolts on offer (and fighting the temptation to buy the entire shelf) nearly paralyzed me. Which fabric was really me? My internet research informed me that brocades and other complex designs were worn by the upper class and courtesans, whereas surface-decorated fabrics were worn by commoners (who were prevented from wearing brocades by the sumptuary laws). Thankfully, in twenty-first century Japan sumptuary laws no longer constrained my access to the most luxurious brocade I could afford, so the choice was easy—in my mind, I was an upper class diva anyway. But what pattern to choose? Was this fabric destined for my spring/summer wardrobe (in which case, butterflies, cherry blossoms, and watery motifs were all appropriate) or instead for my fall/winter wardrobe (maple leaves, bamboo, pine trees, and plum blossoms)?
After two hours of indecisiveness, I decided to stop overthinking it and just choose the prettiest fabric. I triumphantly emerged from the store clutching a small white plastic bag containing a precious 1.5 meters of black silk that had been embroidered with gold marvelousness, my eyes still adjusting to the natural sunlight after hours spent in the fluorescent lighting of the store. My guide informed me that I had chosen well. I confidently agreed.
It wasn't until I was back in London, 6,000 miles away, that my confidence evaporated. Examining the fabric laid out on my sewing table, I still thought it was gorgeous, but it didn't quite fit into the drab grey uniform of Londoners or into my own corporate wardrobe of classic, tailored neutrals. Where in the world would I wear anything I made from this fabric? To my next tea tasting? Kabuki performance? Client meeting?

The universe, however, had other plans for this kimono fabric that went beyond my own limited imagination.

One day, while bargain-hunting on Goldhawk Road (a decidedly unglamorous street in West London lined with fabric stores selling everything from £100/m beaded lace to £2/m polyester prints), I spotted a geometric print vaguely reminiscent of a bamboo basket-weave. With tones of grey and gold, it was an unexpected but perfect complement to the gold embroidery in my ornate kimono fabric. Sublime! Of course, since I was on Goldhawk Road, I attempted to overcome my usual aversion to bargaining and tried to convince the surly South Asian shopkeeper to reduce the price of two meters of this polyester brocade from 20 pounds down to 18. The shopkeeper gave me a withering look that said, "You know that I know that your attempt at bargaining is pathetic." I quickly gave in, not willing to sell my pride to save two pounds.
Now that I had my fabrics, my next challenge was finding the right pattern for my print-mixed wonder. Much like dating, there were a lot of criteria on my list.
First, I wanted a pattern with clean, minimal style lines, so that I could showcase the two prints without the design becoming too busy.

Second, I needed a style that didn't require too much of the kimono fabric, as I didn't have very much to work with (kimono fabric is typically woven on narrow looms, which means that 1.5 meters doesn't actually result in very much fabric).

Finally, I also wanted to use the kimono fabric in a more unexpected way than the clichéd hippie/boho/vaguely-ethnic-looking tops that were all the rage in the 90s, when I was a teenager.
I eventually settled on a raglan sleeve, princess-seamed jacket pattern, which allowed me to place the geometric print on the sleeves and in the side panels, showcasing the ornate kimono panels front and center. The initial muslin of the jacket (made in a soft cotton calico) looked great–the boxy silhouette rendered in a soft, drapey fabric resulted in a slouchy fit that was flattering to the body in a casual kind of way. However, when I made up the jacket in the actual fashion fabrics, the stiff structure of my kimono fabric combined with the boxy silhouette of the jacket instead made me look like a diminutive linebacker with no waist:
In addition to the fit problems, my geometric print fabric was much less structured than the kimono fabric, and the juxtaposition of those two different fabric weights caused the jacket to hang oddly, creating unsightly wrinkles in the side panels.
I clearly needed to re-think my design. After throwing the jacket on my dress form and pinning haphazardly for a few hours, I decided to make several design changes. I placed the style lines so that they came in at the waist, and then curved out to the hip, creating an hourglass illusion. I also removed a lot of the excess ease, so the jacket now had a more form-fitting silhouette, which I thought was more flattering in this stiff fabric. Now that the jacket was more form-fitting, it made more sense for it to close with a zipper rather than letting it hang open, so I added one in. And finally, as a nice final touch, I added some in-seam pockets that are just large enough to hold lipstick and cash/credit cards.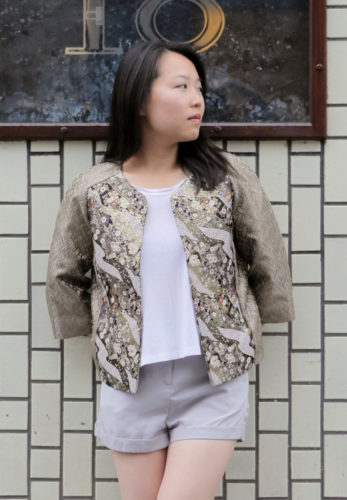 In addition to these design changes, I made some other construction changes that were equally, if not more, important to the success of the garment. To avoid the sagging effect that was evident in the original, I interfaced the geometric print fabric to add body, which brought it closer to the stiffness of my kimono fabric. I also changed the facing pieces in the inside front of the jacket–they were originally cut in the thick kimono fabric, but having two layers of the kimono fabric (both the outside and facing pieces) proved to be too bulky, so I re-cut the facing in a thinner black wool fabric from my stash.
The final result? A much more flattering, streamlined jacket:
All told, the journey from initial fabric purchase to final garment took almost three years, so let it never be said that I lack patience or follow through. Now that the garment is finally completed, it gets more wear than I initially anticipated, though that may be because I am changing my life to suit the garment, rather than the garment fitting my life. But what better way to add vibrancy to one's life and to spur much-needed life changes than to sew up a custom-fitted, custom-designed creation? It's surely better than reading another tedious self-help book or spewing your guts out to your therapist.
If you too would like to use those gorgeous kimono panels you have in your stash (or that you are stalking on Etsy) and mix them with modern prints, here are a few tips and tricks to consider.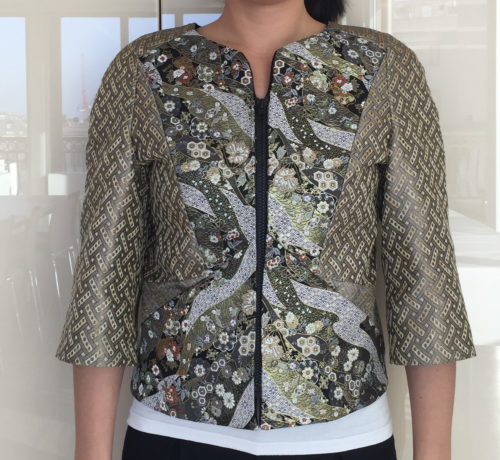 Choosing Your Prints
There are no hard and fast rules when it comes to print mixing, which is largely a matter of personal taste and how bold you want to go. Having said that, here are a few ideas to consider:
Find a geometric or abstract print that echoes the kimono print in some way.
For example, in my jacket, the bamboo-like nature of the geometric print tied in with the Japanese kimono fabric without being too on-point. The pairing of the modern print with the traditional Japanese print is unexpected and makes the garment less costume-y and easier to wear in everyday life.
Alternatively, play with scale and find another print that has a similar motif to your kimono fabric, but on a larger or smaller scale.
For example, if your kimono print features lots of large flowers, find another floral print that has much smaller flowers. Mix up cultures by pairing a Western floral print (for example, a luscious Liberty floral) with your Asian floral print. For example, for my next project, I plan to pair a gold kimono brocade fabric that has small-scale flowers with a forest green brocade fabric that has large-scale flowers.
Find a print in a similar color palette to your kimono print.
For example, my geometric print had the same gold and grey tones that were in my kimono fabric. Alternatively, find a print in a color that picks out one of the less prominent colors in your kimono print. In my next project (mentioned above), the forest green brocade matches the small dark green flowers in the kimono print.
Choosing Your Design
As I learned the hard way, there are a number of considerations to keep in mind when choosing a design. Some helpful tips to consider:
Choose a simple design with minimal seam lines.
A design with too many seam lines will interrupt the flow of the prints and/or make print placement a challenge. A design with fewer seam lines, by contrast, will allow the prints to shine. For example, the Seamwork Magazine Osaka skirt is a simple streamlined design with two panels that would be an excellent showcase for two prints.
Choose a design suitable for your fabrics.
If your fabrics are more structured, go for a design with more shaping and/or one that includes some sculptural elements. For example, in the case of my jacket, I had two fairly stiff fabrics, so I should have picked a fitted silhouette rather than a boxier shape. If you have chosen to pair your stiff kimono fabric with a softer, drapier fabric, choose a design that is suitable for that pairing – for example, a dress with a fitted bodice and a flowing skirt, such as the Colette Patterns Éclair. The structured bodice of the dress would work well in the stiff kimono fabric, while the flowing skirt would look great in a drapey crepe or chiffon.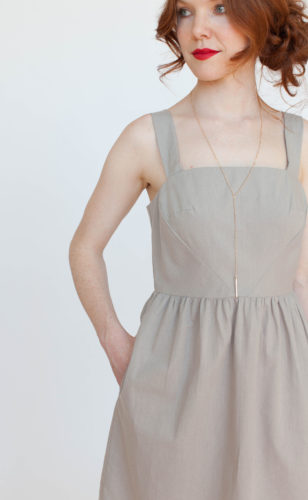 The Hazel dress by Colette features a paneled bodice that works well with narrow kimono panels.
Avoid choosing a design with an Asian silhouette.
This is a matter of personal taste, but I prefer to incorporate the traditional Japanese fabric into a modern, Western silhouette, which is more unexpected so that the finished garment does not look too costumey. Otherwise, it may cross that fine line between paying homage to other cultures and into full-on cultural appropriation. Unless, of course, you are Japanese, in which case carry on carrying on!
Fabric Considerations
In addition to thinking about the prints, keep a few practical considerations in mind when fabric shopping:
Use interfacing to change the hand of your fabric if necessary.
As I learned the hard way, pairing a very stiff kimono fabric with a less stiff brocade fabric resulted in some strange wrinkles because some of the panels sagged. If you're planning to make a structured garment, either choose a fabric with a similar level of stiffness as your kimono fabric or interface your fabric to add stiffness.
Add a lining.
Kimono fabrics are often stiff and scratchy, and can be itchy if worn against the skin. They are also typically fairly thick, so you will want to use a lightweight fabric (such as silk crepe de chine or habotai) to avoid adding bulk.
Additional Flourishes
Warning—those wishing to stay safely within the boundaries of good taste are advised to stop here.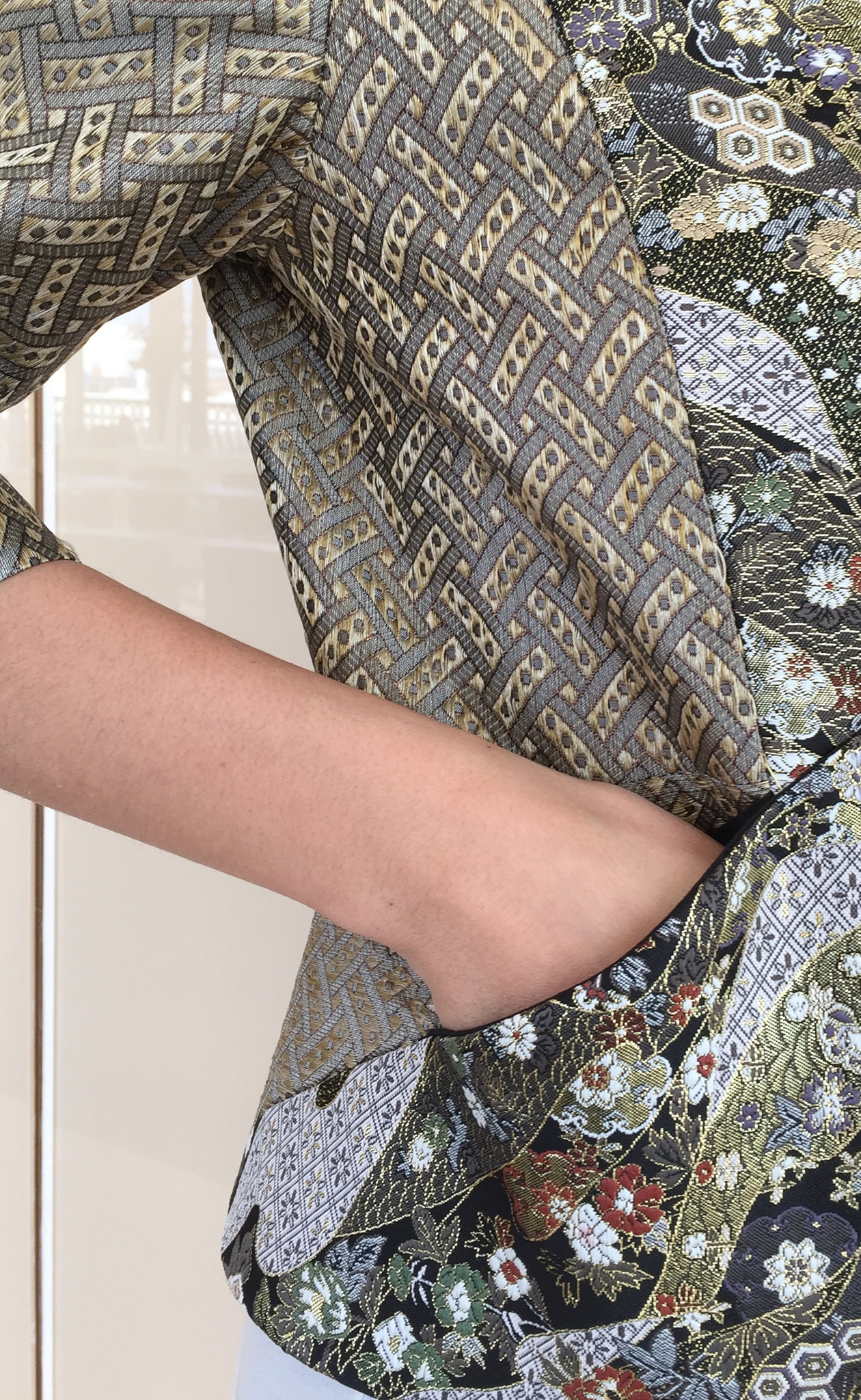 Draw attention to thoughtful details like seamlines and pockets by using trim.
If you are a true Maximalist at heart, channel your inner Iris Apfel and use trim to make your project even more eye-boggling. Consider adding piping to emphasize the seam lines of your garment, or using beading to add color and textual interest. This creates a chaotic mix of prints and trims that can be tricky to pull off, but it is incredibly eye-catching and fashion forward if you find the right mix.
Whether you feel the need to moderate the boldness of the kimono print to match your personal style, or are looking for a brash, opulent way to showcase your fabric, print mixing can be a fun way to create a wearable garment that lets the beauty of the kimono print shine through.
Join the Conversation
Sign in or become a Seamwork member to comment on this article.