Starting today, Sarai and Haley are hosting a quick-tip series on the podcast. For the next few weeks, they're sharing quick episodes full of tips to answer your most burning sewing questions.
And today they're talking about scrap busting, with five ideas to help you bust your scraps.
This episode is inspired by our new 8 Weeks of Mindful Making series over on YouTube. Subscribe to see all the other ideas, projects, and patterns!
Below are the show notes for this podcast episode and a brief summary of what's covered, followed by a full transcript.
You can shop for all the patterns in this series with our new accessories bundles!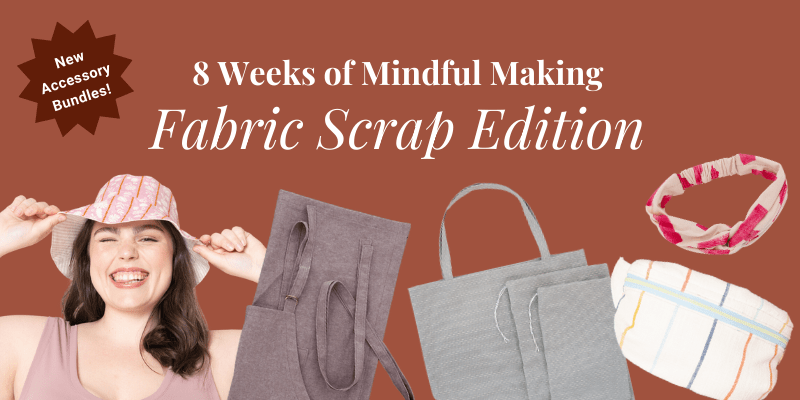 ---
5 Tips for Busting Your Scraps
1. To stay on top of your scrap game, start with good organization.



Keep your yardage scraps that are 1/2 yard or more separate from your smaller scraps.




Then organize by size, color, or fabric type.



2. Be realistic about what you'll use and what you won't.



If it's really small, reserve it for filler for ottomans or pet pillows.




Create a bag or box labeled "filler" or "stuffing" scraps.




Look into textile recycling in your area.



3. Understand what makes a good scrap-busting project. Here are some:



Accessories, like headbands, scarves, scrunchies, hats and bags.




Patterns that have a lot of seam lines. You can add your own color-blocking lines to any pattern. Check out the first video in our scrap busting series to learn how to do that.




Undergarments, both knit and woven.




Quilts and home goods.



4. Create a scrap busting catalog.



Use Pinterest to save scrappy ideas.




Think big or small. It could be full garments or little home goods projects.



5. Flag some of your scraps for specific projects.



This is where your scrap-busting catalog is really helpful. Cross-reference it when you need ideas.




Set aside a pile of long scraps for bias tape. Make a pile for smaller pattern pieces like pockets, facings, collars, plackets.




For fabrics that look great together, set them aside for patchwork garments.




You can keep these assigned scrap projects in a bag or box and label it.




After you've gone through your scraps and flagged them, don't be afraid to add more scraps to your "filler" or "stuffing" bag.



Podcast Transcript
Sarai
I'm Sarai.
Haley
And I'm Haley.
Sarai
And this is Seamwork Radio.
Sarai
Welcome back to Seamwork Radio, where we share practical ideas for building a creative process so you can sew with intention and joy. So starting today and for the next few weeks, we're sharing quick episodes full of tips to answer your most burning sewing questions.
And today we're talking about scrap busting, which is one of my favorite topics. So we're going to cover five ideas to help you bust your scraps.
All right, let's get into our icebreaker for today. Haley. So tell me about the ugliest fabric in your stash.
Haley
Okay. I have to say, I've owned lots of ugly fabrics over the years. My current ugliest fabric is this green tweed. It's kind of like a Kelly green with, like, gold and brown in it. Doesn't sound very bad, but it's kind of weird.
Sarai
Sounds very 70s.
Haley
Yeah, it is. It's vintage, for sure. Probably from about that decade. And it's not, like, blatantly ugly. It's just, like, a little bit ugly.
Sarai
Yeah.
Haley
But I feel like it could be, like, very fashion, very cool, sewn into a jacket or something. So I've held onto it for a long time, but the raw fabric itself is just not super inspiring. I hold onto it for its potential.
Sarai
Yeah. Maybe inspiration will strike.
Haley
It will. I know. Probably someday, right?
Sarai
Yeah. Well, there's something special about turning something that's really, really ugly into something you actually want to wear.
Haley
And it's either something that someone gave to me because their relative passed away who sewed, and no one sewed or I don't think I thrifted it. I think someone gave it to me, which comes up, like, a surprisingly often amount in my life.
Sarai
When you sew, people are always giving you stuff.
Haley
They're like, I don't know what to do with it, you know how to sew.
Sarai
So you have it.
Haley
You're, like, Cool, now I have to figure it out.
Sarai
More. Clutter. Thanks. No, I always appreciate it. I've gotten some really good stuff that way.
Haley
Yes, totally. I mean, I've held onto this for, like, ten years, so there has to be some kind of magic in it, right?
Sarai
Yeah. I mean, it can be inspiring because it's something that you wouldn't have picked out for yourself. It's even more creative possibilities that way, I think, sometimes.
Haley
Yeah. Tell me about your ugly fabric.
Sarai
Well, I saw this question on our script, so I pulled it out of my stash, so it's not that ugly, really. I really like the print on it, so I bought this on Etsy. I was looking for an antique fabric to make a pillow out of, and I really like the floral print on it, so I'm holding this up for our camera. If you're watching this on video, and it's really not that ugly, but it feels like you said, it sounds like a windbreaker. Yeah, I'm holding it to the mic, so you guys can hear it.
Haley
I'm thinking of wearing those pants that were so embarrassing squeak when you walk.
Sarai
Like parachute pants.
Sarai
Yeah.
Sarai
It looks kind of like a polished Chintz, so it's got, like, that coating on it. So it's sort of satiny but feels real cheap and just kind of gross. It's not at all what I expected when I bought it.
Haley
Yeah.
Sarai
I also thought it was going to have a black background, and it has a navy blue background, which is fine.
Haley
It's cute.
Sarai
Yeah, it's kind of pretty. I just don't know if I made a pillow out of it, if I would get annoyed every time I lean against it and it sounds like a parachute.
Haley
Maybe if you back it with batting or something. Yeah, it's not weird until I touch it. Then it's a little weird.
Sarai
Yeah. I wouldn't say my ugliest, but it's my redheaded stepchild, I guess. No offense to redheads.
All right, well, if you have an icebreaker for us for a future episode, if you're a Seamwork member, you can leave it for us at seamwork.com/go/icebreakers. And that'll bring you to a thread on our community where you can add your own ideas for a future icebreaker. And we'll probably use it on an episode in the future.
All right, so onto our topic for today. So today's episode is part of our scrap busting series that we just launched on YouTube, and it's called 8 Weeks of Mindful Making.
And we're going to show you all kinds of ways to use leftover scraps of fabric to make projects that are both beautiful and useful. So if this episode inspires you, definitely go over to YouTube and follow along with the whole series because there's lots and lots of good ideas there. All right, so Haley, tell me about your process for dealing with scraps.
Haley
Okay. I mean, it's really not a very advanced process. I have two separate boxes, one for big scraps, one for smaller scraps. The small scraps is like a free for all. It's just like confetti a box full of things. No organization at all. I would like, love to organize it at some point, maybe like in little folders by color or something, but it's not so big that it doesn't function at this point.
And then my larger scraps, which are like, I don't know, half yard or larger between half yard and maybe yard pieces, I have folded in a box on their side, like Marie Kondo style, so I can file through them and that's it. I try to be pretty mindful about my scraps and cull them once in a while and use them for filler and projects and stuff.
But yeah, that's my process. What about yours?
Sarai
I would not keep scraps at all unless they were over a certain size, and I used to just never keep them because I thought it was just too much clutter, and I would never use them. But then when I started doing a little bit of quilting here and there, I realized how many cool things you can make even with really tiny scraps.
Haley
Yeah.
Sarai
So if I like the color and I like the print, and it would be good in a patchwork type context, I'll keep it now. So with my larger scraps, so anything over, say, half a yard to a yard, I actually just put them back with my regular fabric because I can usually use those for a larger project.
And then for the smaller scraps, I sort them by color, and I have different bins for color, and we'll get into that a little bit and how different ways that you can sort your scraps in a minute. But that's what I do right now. So I have a few bins. They're about shoebox size, and each one is a different little color family, I would say.
Haley
Yeah. What is your go-to scrap busting project?
Sarai
Oh, that's a good question. Well, like I just said, anything patchwork. So if it's a larger piece, maybe like a tote bag, if it's smaller, then I like to patchwork things together. I think that's a really fun way to use up smaller scraps. And again, that's something that I didn't used to do, but now that I'm kind of into that, that's what I'll do. So I'll make bags usually. Sometimes a pillow, I actually need to make some pillows. So that's something I've been meaning to do. So kind of like smaller quilting type projects. What about you?
Haley
Scrunchies. That's my favorite. I love gifting people scrunchies. My friends might be tired of getting them from me at this point. My other go-to is like, little zipper pouches, little lined zipper pouches. Because I can patchwork them together and make—I save my batting scraps, too. So patchwork them and quilt them and make cute little bags. I feel like that's one of those things you can never have enough of. I have them in all of my bags, a dozen of them in my bathroom.
Sarai
Yeah.
Haley
Charley takes them and puts rocks in them.
Sarai
You have to have a place to put your rocks.
Haley
You have to.
Sarai
They can't just float around in your purse.
Haley
They do.
Sarai
But it helps to have a pouch.
Sarai
Yeah.
Haley
And that's also, like, a really good gift item. I love using my scraps for anything that I can gift people because it just feels, like really real budget friendly.
Sarai
Yeah, well, that's always nice when you feel like doing just a little bit of sewing someday you don't want to start a big project. I think it's really fun to make a little scrap project like that and set it aside for later when it's somebody's birthday or the holidays or whatever.
Haley
Yeah, totally. What would you say is your biggest pain point when it comes to your scraps or managing them?
Sarai
I think those larger scraps that I talked about, they're too small sometimes for a garment project. But I don't keep them with my other scraps, so I feel like they can get forgotten about, because when I'm going through my fabric looking for something for a project, it's not enough for most projects. So I don't know, maybe it's something just about the way I organize them. That's probably my biggest pain point right now.
Haley
I could not agree more. Took the words right out of my mouth. It's like those mid-size scraps that I struggle with the most because I kind of like I don't know, I forget about them. When I remember them. It's when I want to make a tote bag, which comes up, I don't know, maybe a couple of times a year. Yeah, but outside of that, I just feel like it doesn't come up as often. And it's always those sizes where you're like, I can't make a camisole out of it.
Sarai
Or if it's a regularly shaped, like, I made this skirt yesterday from three and a half yards of fabric, and I basically just cut the bottom off the fabric and use the rest of the fabric. So it's this long, skinny piece that's three and a half yards long and very narrow, like maybe ten inches wide. So those are the kinds of things.
Haley
You kind of have to design project around it. You're like, okay, I need this as a ruffle on something. And sometimes that can feel like such a detour from your sewing plans.
Sarai
Yeah, if it's not something you actually want or something you're actually going to use.
Haley
Right, and then am I going to go buy a fabric that coordinates with it so that I can—it's definitely, I don't know, like a weird limbo place.
Sarai
Yeah, that's probably one of my biggest challenges with scraps, for sure.
Haley
All right, so we have five tips for everyone today to help everyone manage their scraps. Maybe we can take some of our own advice and start using our own larger scraps.
I'm going to start us off with number one, which is to stay on top of your scrap game.
I think that having a good process for your scraps, it obviously just starts with having really good organization. So, I feel like I'm fairly organized with my scraps, but I still have some pain points. So kind of pivoting and reorganizing around those pain points. Or if you're someone who doesn't have a really great organizational system around your scraps, a great first step is just like going through it, seeing what you have, and figuring out how you want to manage all of that.
I like to make sure, like I said before, I keep my yardage scraps that are a half yard or greater separate, and then my smaller ones in a different place just because they tend to serve different purposes in my sewing. And then from there, it can be helpful to continue to organize by size or color or maybe even fabric type or weight, just so that it's not just like two separate boxes. There you go.
Sarai
Yeah.
Haley
It might give a little anxiety when it comes to going through it.
Sarai
Yeah, I like to keep mine in boxes that I can see into so I know what's what.
So I used to use some clear shoebox size boxes, storage boxes for that. Now I have these milk crate type boxes which are stackable, and you can see into them. So I find that really helpful. That's why I know what I have.
The next tip is to be realistic about what you'll use and what you won't use. And that's something that I really try to take to heart. So if it's something that's really small, or if it's maybe a fabric, even, that doesn't lend itself well to patchwork, for example, and you don't really know how you would use it. So let's say it's like a really fluffy fabric or something that you just don't see yourself using for a small project. You can reserve it for filler, for things like ottomans or pet pillows or things like that that need a filling in them. So you can create a bag or a box just for filler or stuffing scraps, you could use them for toys. There's all different kinds of ways that you can use them and still get some use out of them without throwing them away.
And if there's absolutely no way you're going to use them, then you can also look into textile recycling in your area. That's always an option. Not always an option. It's sometimes an option if you have a textile recycling service in the area that you live in. So that's another option. But I think for me, making little toys, dog toys, human kid toys, that's a really fun way to use up some scraps.
Haley
Okay, so moving on to number three is understand what makes a good scrap busting project. Now, there's like a lot of different projects that are great for using your scraps out there. So understanding what's good for the scraps and also kind of recognizing what you like and what you would use of those options. So you have accessories, things like headbands.
We have the Drew headband, which is really great for scraps, scarves, scrunchies. You can check out our video on YouTube. It's super awesome. Hats, bags, and we also cover a lot of these things in our Mindful Making series on YouTube. So definitely check that out if you're interested in learning more about those.
Another great option if accessories are just not something that interests you, is you could also make garments with them. Look for garments that have a lot of seam lines. And also keep in mind that you can add your own seam lines. Again, this is something that we cover in our Mindful Making series. I like using something that's a beautiful blank canvas, like the Hansie top, which is a woven tee and then just adding in my own style lines or kind of freestyle patchworking to create my own yardage.
Some other projects that are great for scrap busting—undergarments, I love doing making underwear out of my knit scraps. I suppose you can do that with your woven scraps too, if you're a woven underwear person. And then of course, quilts and home goods. Sarai's favorite for using up all of those scraps as well.
Sarai
Yeah. Another idea I just thought of while we were talking, I mentioned the stuffing idea for toys, but you can also use your scraps to make toys.
Haley
Oh, yeah, definitely.
Sarai
I think a really easy thing to do, either you can make a little cat toy, fill it with catnip, or I knitted some stuffed animals for my niece a couple of years ago and I made little clothes for them. I knitted little clothes for them. But you could do doll clothes if you have a kid in your life. I think it's just so fun to make little mini clothes what it is, it's just so fun.
The next tip is to create a scrap busting catalog. So by that I mean a place where you keep ideas for scraps. This is something that I do in Pinterest. So that's a great tool if you want to use Pinterest for this. I have some different boards for things like, well, actually I have a sewing ideas board and then I have a bunch of sub boards.
But I have things like bags and accessories and other small projects, small home goods, things like that, that I keep there. So I always have kind of a catalog of ideas to go back to for little scrap pieces that I have.
So you could think big or you could think small. It can be full garments, it can be bags, or it could be just the tiniest little home goods projects. It could be decorations for Christmas or another holiday. It could be all kinds of things. Once you start pinning them on Pinterest, they'll start coming up in your feed there too, so you'll find more and more. So I think this is a really great way to use up those scraps and keep yourself inspired around them.
Haley
Yeah. And our final tip is to go ahead and flag some of your scraps for specific projects. This is a really helpful step to do once you have made your little scrap busting catalog. You can cross reference it there, but go ahead and look through your scraps, see what is inspiring you and add it to your sewing queue. However, it is that you manage your sewing queue, so that you can get into the habit of actually using up those scraps and making them.
Another thing that you can do at this point is now that you've gotten a little bit of perspective looking at your scraps is you can flag things for not just bigger projects, you can also flag it for things like bias tape, smaller pattern pieces like pockets or facings or collars plackets, things like that. You can start to separate those into kind of a separate spot in your stash and then fabrics that are looking great together. You can do a little fabric collaging and see what looks good, what's really harmonious together, and group those and set them aside for maybe some patchwork projects that you want to work on in the future.
Sarai
I think that's a really good idea if you see fabrics in your stash that will work together to put them together immediately, and then it'll just be more inspiring when you come across them later.
All right, so I'm going to recap our tips for you really quick. So tip number one is to start with good organization and keeping your yardage in two separate piles, one for a half yard or greater and one for smaller.
Tip number two is to be realistic about what you'll use and what you won't use.
Tip number three is to understand what makes a good scrap busting project.
Tip number four is to create a scrap busting catalog of ideas. This is probably my favorite tip.
And tip number five is to flag some of your scraps for specific projects.
So those are our tips for today. And if you want to learn more about busting your scraps, definitely go to our YouTube channel because we're running a special scrap busting series right now, which we mentioned. And we're going to show you all kinds of ways to use leftover scraps of fabric to make projects that are both useful and beautiful.All right, so be sure to subscribe. You really don't want to miss these videos. I think they're a lot of fun.
And if you are really inspired by making things from scraps like I am, you're going to enjoy them a lot. So you can find that at Seamwork Video, or you can just search for Seamwork Video on YouTube.
And if you liked this episode today, I would love to ask you a favor. Can you forward this episode to one of your sewing pals who you think would find it helpful? It really helps our podcast grow—the whole way our podcast grows is really word of mouth. That's the number one thing that helps us grow the podcast. So if you can recommend this episode to somebody who you think would enjoy it, then that's the best way for us to continue to produce episodes. We really appreciate it every time you guys make a recommendation like that, we see them on social media all the time, and it's awesome.
And that does it for us this week. I'm Sarai.
Haley
And I'm Haley.
Sarai
And this is Seamwork Radio.
Join the Conversation
Sign in or become a Seamwork member to comment on this article.