When you are starting to sew an entire wardrobe, making some pants is likely inevitable. This might cause you anxiety, or it might sound like a really fun adventure, but don't worry, we have pants patterns that will fit your skill level and your mood!
Here are our current most popular pants patterns in the Seamwork catalog. Which one matches your style?
---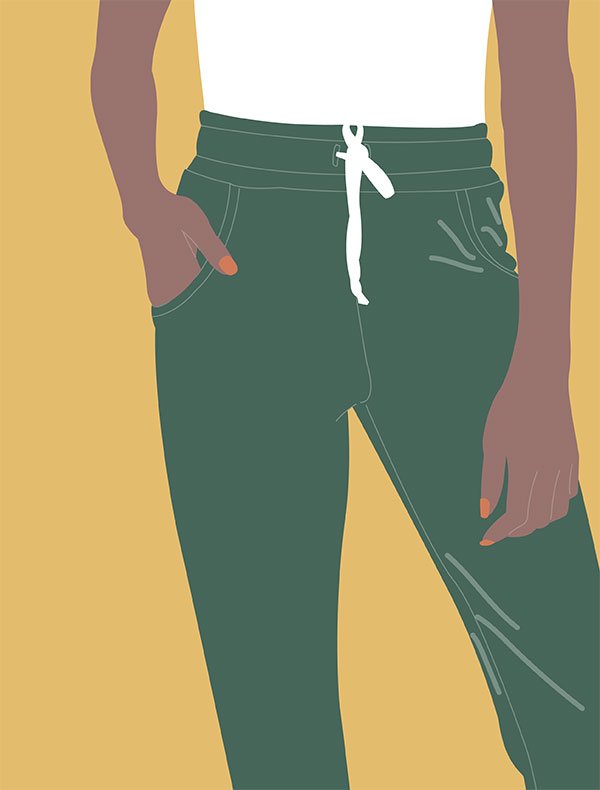 The Mel Joggers
These joggers are such a great wardrobe staple. They could be a little casual, a little sporty, or a fun pop of color, depending on your fabric choice and how you style them.
Fabric: Mel is designed for knits, like sweatshirt fleece, French terry, jersey, and double knits.
Fit: Mel has a relaxed, mid-rise fit with an elastic waistband and cuffs at the ankles.
Skills learned: This pattern will teach you how to install a unique elasticized waistband with a drawstring. You'll also practice sewing with knits!
Pattern hacks: The Mel joggers are featured in Pattern Hackers in issue 62 of Seamwork. Learn how to taper the legs, turn them into shorts, and add knit patch pockets.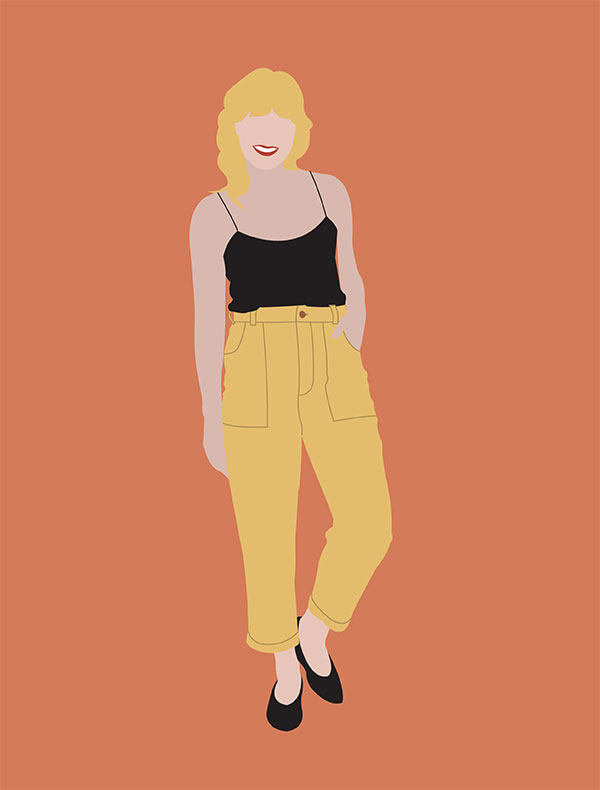 The Nolan Pants
When you finish sewing the Nolan pants, you will get a hearty boost in confidence. With loads of utilitarian details, these pants will help you practice some essential sewing skills that make a really exciting project. Remember, we have a video class that walks you through each step, so there is no need to fear pants-making!
Fabric: Nolan sews best in medium or heavyweight wovens, such as denim, canvas, twill, or linen.
Fit: These pants have a high-rise and are fitted in all the right placed. The overall fit is relaxed, but they are more fitted at the waist, and the legs are slightly pegged.
Skills learned: You will learn how to install a zip fly, sew belt loops, pockets, and a waistband. If you make the member bonus version, you will learn how to sew an exposed button fly. Remember to watch the You Can Sew Pants video class in the Classroom to watch how to make these pants, step by step.
Bonus pattern: The member-exclusive bonus version of the Nolan pants adds an exposed button fly.
---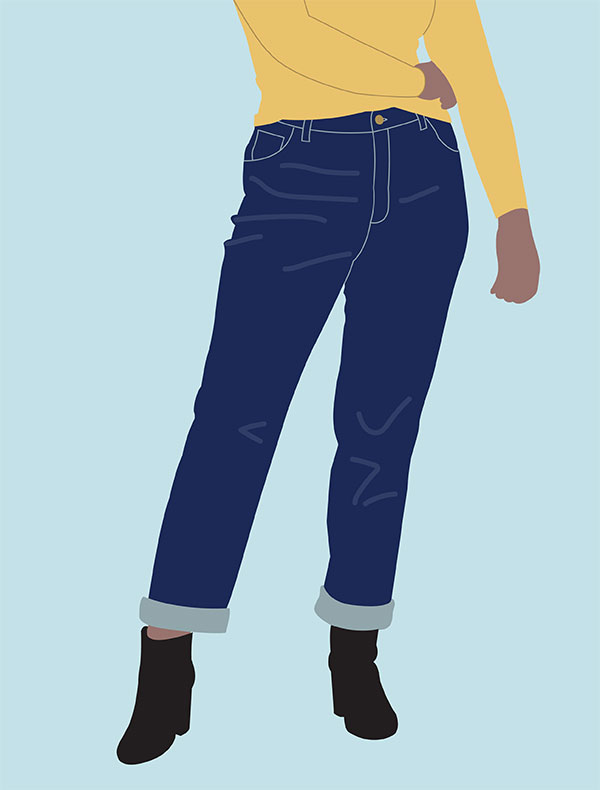 The Tessa Jeans
Jeans might be the ultimate sewing challenge to conquer, but all the work is worth it. If you sew your own jeans, you can pretty much sew anything! Tessa is a traditional pair of jeans with a classic fit, and our instructions will take you through each step.
Fabric: You aren't limited to denim for these jeans. You can also use twill, canvas, chambray, corduroy, or a linen and canvas blend.
Fit: Some people might describe these as "mom jeans," but that just means that they have the classic fit that came before skinny jeans were trendy. They have a high rise that hits at your natural waist and are fitted at the waist and through the hips, with a bit of room in the legs. The member bonus version of the pattern has a tailored fit at the legs.
Skills learned: You'll learn how to install a zip fly and denim rivets, sew a waistband, a coin pocket, back yoke, and belt loops. You'll also be able to practice topstitching and flat-felled seams.
Bonus pattern: The member-exclusive bonus variation for the Tessa jeans tapers the legs.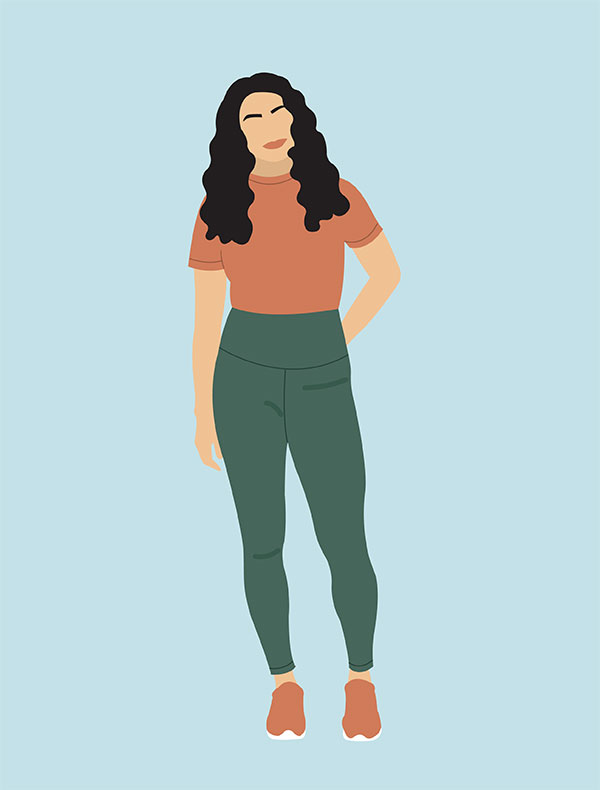 The Shelly Leggings
Depending on your style, wearing leggings as pants might be a no-go, but leggings are great to wear under dresses and tunics, so we're considering them to be a wardrobe staple. The Shelly leggings are your perfect, everyday legging. They feature a simple construction, and the wide waistband and crotch gusset add comfort and strength if you make them for exercise.
Fabric: Look for knits that have at least 25% stretch, and make sure that the fabric stretches in all directions. These leggings are pretty much a second skin, so they have to move with you!
Fit: The Shelly leggings sit comfortably at your natural waist and are designed with plenty of negative ease to make sure they hug your body and stay put.
Skills learned: You'll practice sewing with knits and learn how to install a knit waistband and crotch gusset.
---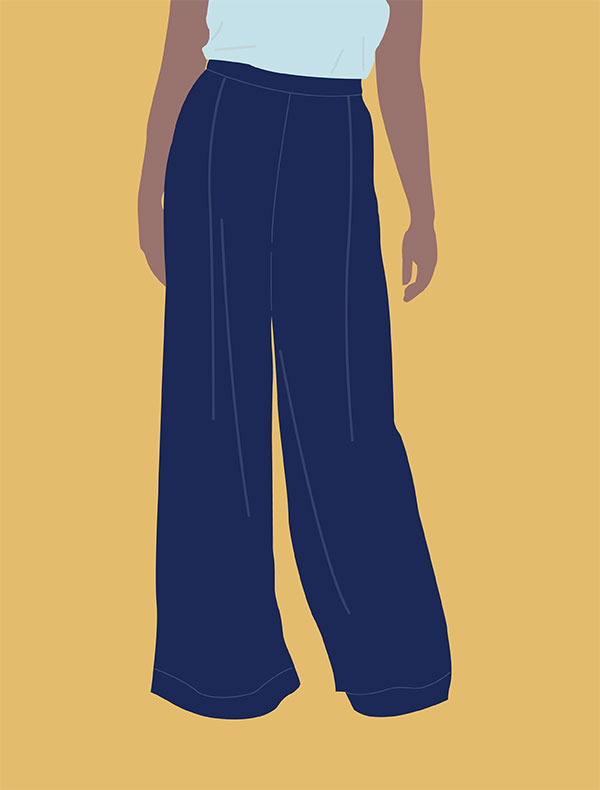 The Marett Pants
Palazzo pants are a dream to wear, and so much fun to sew. They're breezy, easy to fit, and they pair well with bodysuits, camisoles, and tucked-in blouses. The Marett pants bring a little 70s glam into your everyday wardrobe with a dramatic silhouette and a comfortable fit. This pattern is friendly for beginners because it requires less fitting—just make sure that waistband fits right.
Fabric: These pants require drapey woven fabrics, like rayon, crepe, linen, or a lightweight chambray.
Fit: The Marett pants hit at the natural waist with a relaxed fit at the hip and generous ease through the legs.
Skills learned: You'll experiment with sewing pleats--but these deep pleats are no-pressure--and you'll learn how to install an invisible zip. You have the option to sew the waistband or try one of these pattern hacks to add elastic.
Pattern hacks: The Marett pants are featured in Pattern Hackers in issue 52. Learn how to create a belt and belt loops, how to create elastic-back pants, and how to crop the Marett pants.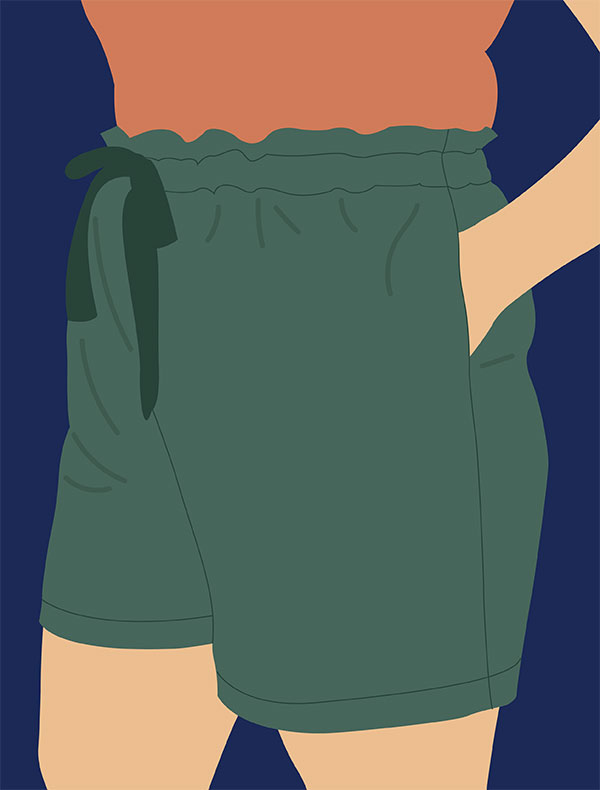 The Miller Shorts
You might live in a climate that isn't pants-friendly, so we wanted to include a pair of shorts on this list. Plus, the Miller shorts are one of our favorite designs!
Fabric: These shorts are fabric chameleons—they can be made in wovens or knits. While it is more common for pants to be flexible from woven to knit, these shorts were designed with both in mind. Look for medium-weight wovens or knits, such as chambray, linen, denim, and ponte or French terry.
Fit: These shorts are very easy to fit, as they are designed with a paper-bag waist and wide leg openings, for a relaxed, comfortable silhouette.
Skills learned: The clever waistband construction is a fun skill to learn, especially with the tie at the front. Along with inserted pockets, this pattern will teach you some impressive techniques. These shorts are beginner-friendly, and our instructions will walk you through each step.
---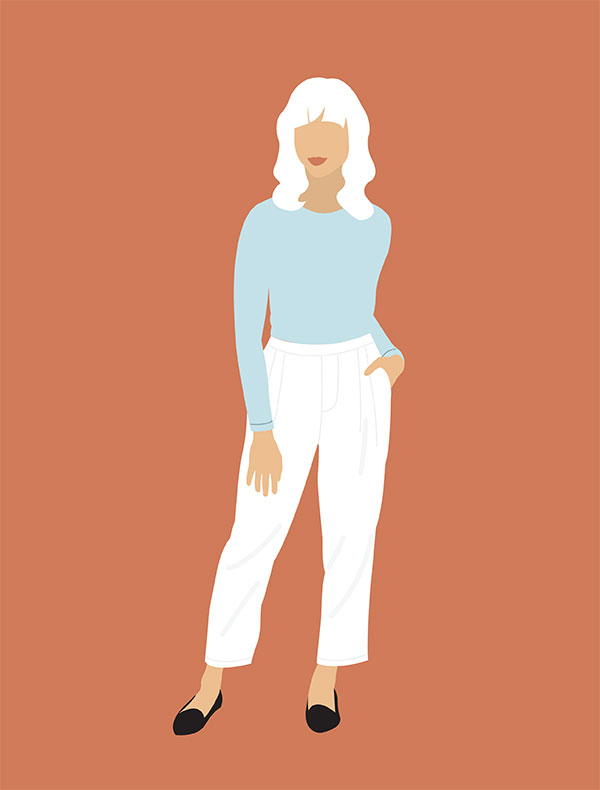 The Channing Pants
Striking a balance between comfort and workwear is tough, but the Channing pants are an easy solution. These pants feature an elastic back waistband, so they read more formal, making them appropriate for the office and the weekend.
Fabric: Perfect for your favorite woven fabrics, from chino or linen to wool.
Fit: The Channing pants are a modern, relaxed wardrobe staple. Mid-rise with a tapered leg, the hem sits right above the ankle.
Skills learned: Practice some skills by sewing front pleats, a faux fly, slash pockets, and a fitted waistband with elastic at the back.
Join the Conversation
Sign in or become a Seamwork member to comment on this article.