If you've ever spent time in an antique store, you've likely come across a section devoted to sewing materials, everything from lace to thimbles and half-finished or unbound quilts. These antiques don't look that much different than the materials you use today; maybe the technology has improved, but at the end of each generation who sews, you'll always find a needle and some thread.
Growing up, my mom loathed sewing—mostly because of home economics classes in school—but she was just so good at it. She could sew almost anything. She eventually made it into a career that put my sister and I through college—but she had no interest in teaching me how to sew. For her, sewing was tedious, annoying, and how could I stand all that ironing? But again, she's so good at it, that she always finds her way back to her machine.
Now that I'm a mother, I wonder if my daughter will grow up indifferent to my sewing machine, or if she'll be sitting at my side, learning these skills.
Is sewing a part of your family history? Are you helping to raise the next generation by teaching kids how to sew? Or is sewing your solitary adventure so far? No matter what, you're in good company of generations and generations of seamstresses, tailors, designers, weavers, factory workers, costumers, and makers in every niche of this wonderful craft.
This issue of Seamwork is really special because it contains stories from your fellow Seamworkers about how this craft reached them through the generations. Keep reading to meet some inspiring contributing writers.
---
Meet the Writers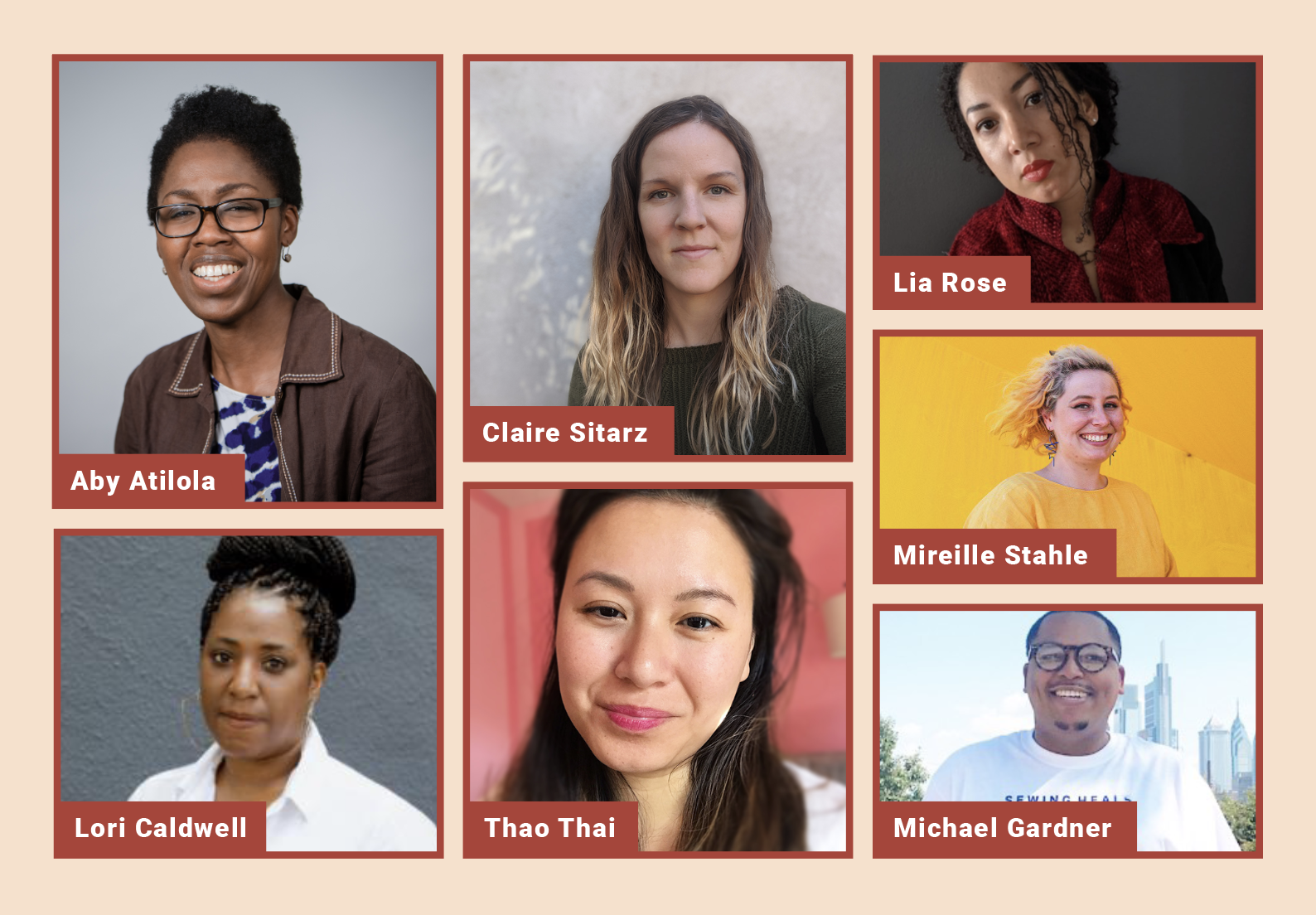 Aby Atilola shares a history of Aso-ebi and how the coordinating clothing you'll find at many Nigerian celebrations has changed over time. What is the future of this "family cloth?"
Claire Sitarz's grandmother immigrated from Poland to Pennsylvania as a teenager and got a job working for Lord and Taylor. To celebrate the return of the Seamwork City Guides, Claire takes you on a tour of the creative present—and past—of Philadelphia, Pennsylvania.
Lia Rose's daily life is steeped in making. She sews, bakes, knits, weaves, and embroiders, and she learned all of her crafts from strangers. As she reflects on those who taught her these crafts, they were all white women on YouTube, in magazines, in fashion museums. The history of American craft excludes Black makers. When she does not see her ancestors in her crafts, she seeks to reclaim their legacy as she teaches her daughters these skills.
Lori Caldwell usually interviews other makers for Seamwork, but this month, she shares the story of her grandma Ruby's quilts. Her grandma's quilts weren't made to be photographed or set the trend. They were made to keep vulnerable bodies warm, make the most of available materials, and they all featured little hand-sewn fabric bows.
Michael Gardner returns with some wisdom for those of us who are teaching the next generation to be creative—reflecting on how his daughter, Ava practices creativity. He shares what he learned from their "A Craft a Day" endeavor this summer.
Mireille Stahle learned how to sew from a few important men in her life. In Patrilineal Sewing, she shares the story of her dad's sewing box and the priceless gifts of Aboriginal creative knowledge from her friend, Tiriki Onus.
Thao Thai grew up in a household of seamstresses. After moving from Vietnam to America, the land of ready-to-wear, she reflects on her shifting attitudes as a fashion-concerned teenager who wanted to fit in, to a mom who lovingly sews clothes for her daughter. How is her family all connected through this craft?
---
Listen to the Podcast
Folkwear is an iconic pattern company that has created patterns based on folk and historical garments for nearly 50 years. Despite four changes in ownership and two recessions, this women-owned business is still churning out patterns today.
The mission of Folkwear has always been clear—to share beautiful clothing of importance with a global community of sewists. How has that worked over the generations, and how will it adapt to the future?
---
Watch the Video
Join Sienna in this month's video class and learn how to sew a cozy knit dress. She'll walk you through each step to sew the new Devon dress, including how to sew the bonus sleeves. Pick up a bunch of new techniques in the Classroom this month.
Happy sewing!