The first garment I made in my adult life was what most people would consider to be a mess, but I had no idea.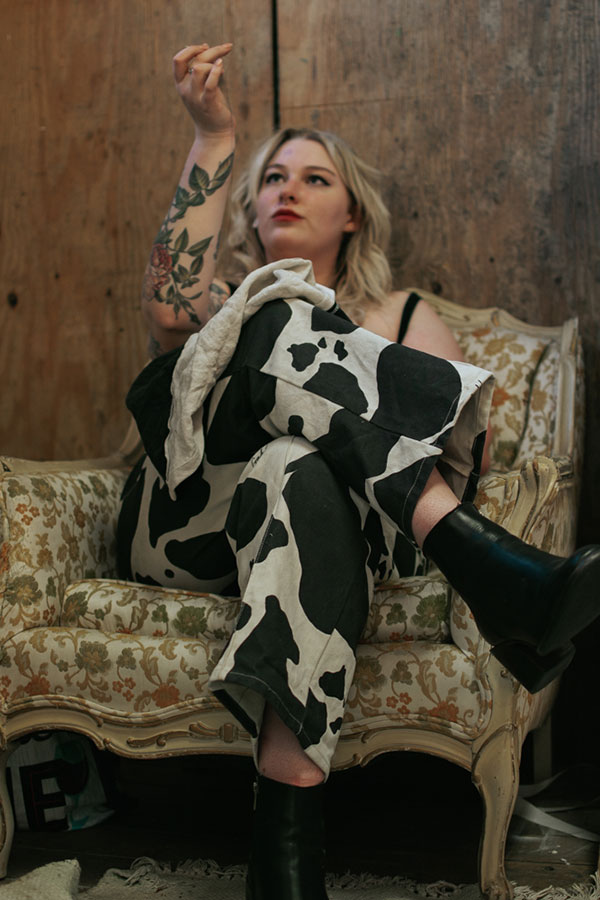 "I… like the detail you added to the sleeve…" My coworker said when I wore the dress to work for the first time. The year was 2015. We worked at Purl Soho, the world-renowned yarn and fabric store. My fellow coworkers were all incredible craftspeople—experienced knitters or sewists who knew their way around almost all kinds of garment construction.
"Thanks! The sleeves were too big for the sleeve holes, so I just sort of folded them over up here at the top."
By the look on her face, I knew that this was not the answer she was expecting. I look back now and viscerally cringe at the idea of butchering some of the most expensive fabric in the industry into that mess of a dress. Working at Purl, I was flushed with luxury fabric which has permanently spoiled me as a seamstress. You'd think I would know that dropping a good chunk of change on high-quality supplies would lead me to take my time to construct garments that last, but that lesson took a long time to sink in.
---
Sewing with No Parameters
My grandma taught me the sewing basics when I was very young. I wouldn't say she "taught me how to sew" as much as she taught me how to use a sewing machine. She didn't relay any rules at first; the machine was a tool, a creative medium that I could do whatever I wanted with. I didn't even know that seams were supposed to be hidden on the inside of a project until much later. Those first few years of sewing were spent learning to love the capability of needle, thread, and fabric with no parameters.
I ran with that fast-and-loose sewing attitude for a long time. My grandma only figured out what a monster she had made when we began working on quilting projects together, and she had to rip out my wonky seams and push me to follow the pattern. I had formed a habit of cutting corners, making my own rules, and rushing to see the final form of my makes. Who cares if the inside looks like a mess? You can't tell, I didn't care, and I got a cool new outfit out of it.
I still shudder when I think of all the absolutely beautiful fabric I got when working at Purl that I massacred, making clothes that didn't fit and fell apart after a short time of wearing. At the time, I was too high on the thrill of making my own clothes that I didn't have second thoughts about the sustainability of the garments in my closet.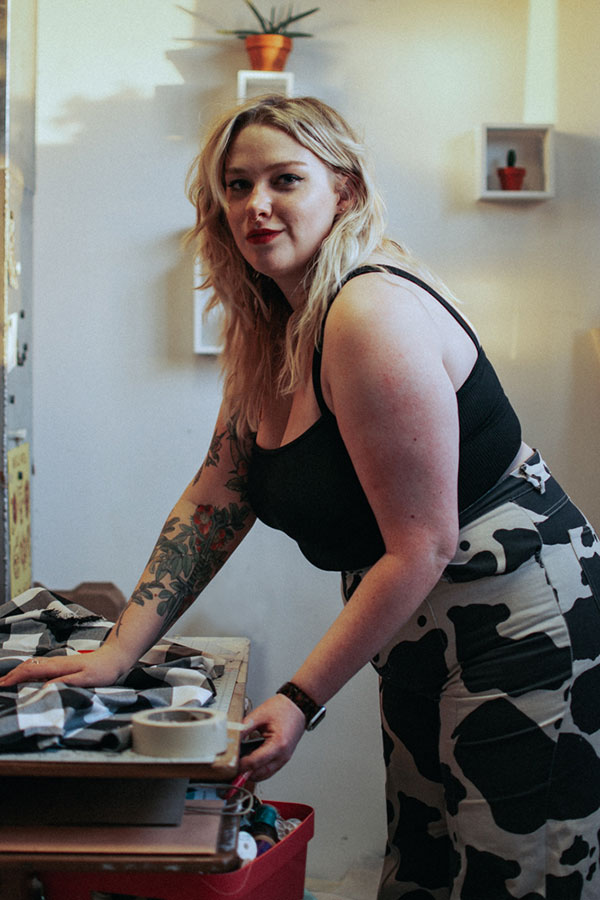 ---
My List of Bad Habits
For your entertainment, I will now list the bad habits I kept for way too long that now bring me deep shame:


I never finished a seam until I got a serger for Christmas in 2018.


I never applied interfacing. I just never did it. I know it was in the instructions. I… just chose chaos.


I never made a muslin. I hardly ever do this now to be fair, but that's because I know my adjustments by heart and can usually tell by the style of the garment what needs to be changed right out of the gate. Back in the day, I would mostly wing it. Ease? Who needs it. I didn't even read about it.


While not reading about ease, I would also actively ignore the assigned seam allowance. I made it up every time. I'm so sorry to pattern companies of whomst I have offended.


Edgestitching? Never heard of her.


No pressing fabric before cutting the pattern. And while we're on the subject, I never pre-washed my fabric either.



I could go on, but I'll spare you. The reckoning came when people started to be interested in my makes online. I wanted to sew more and more so that I could spend more time in the sewing community on Instagram, but I found myself stumbling over the roadblocks I had set up for myself.

I never applied interfacing. I just never did it. I know it was in the instructions. I… just chose chaos.

Clothes were too tight in the bust and too big everywhere else. The size was inaccurate because I was using whatever seam allowance I wanted. Unfinished facings were always flipping out and dissolving at the seams. The worst part was when I actually did love a garment I made, it wasn't lasting very long at all.
Then my big-girl state of mind started to set in. Sewing used to be gluttonous, making as many clothes as I could just to satiate the thrill of newness. Now I wanted to make precious things. Things that fit and would last. Things that perhaps I could pass along to future generations like my grandma had been starting to do.
---
Learning to Love the Process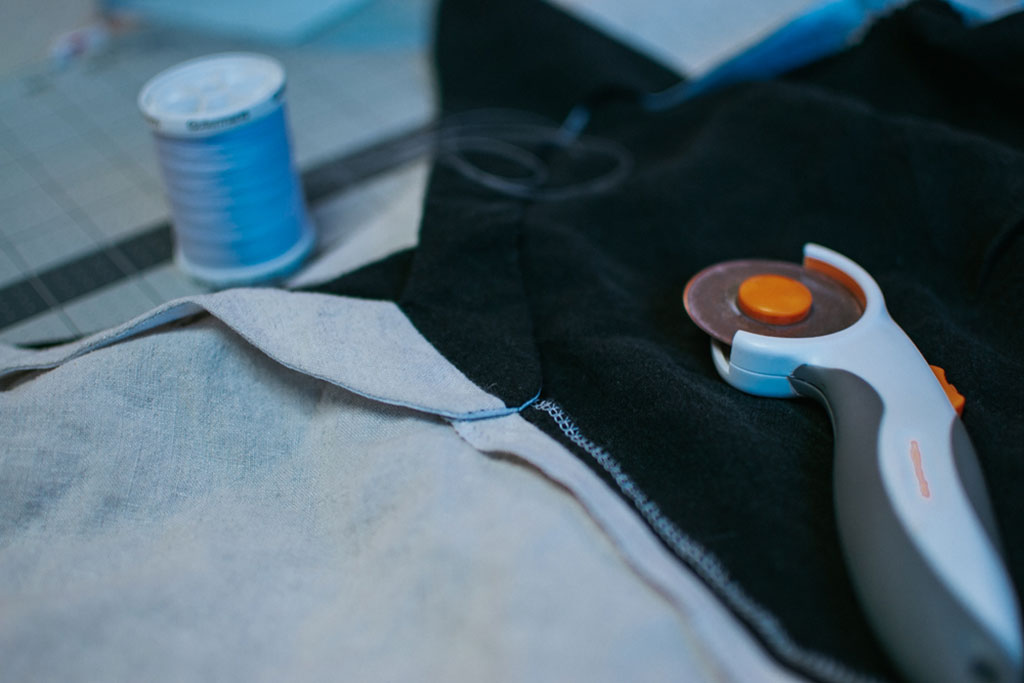 It began with teaching myself how to do a good full bust adjustment. Not just passable, but a really good one that fits my body. Then, inspired by the accuracy, I thought I could probably rectify a persistent issue I had with my narrow shoulders. I soon got my hands on some beautiful linen fabric, and I couldn't bear to serge it on the inside; it was too precious. It deserved something better than the same thing you could find inside of a dress at Forever 21. I deserved something better. I taught myself flat-felled seams, and then I tried French seams, and I was hooked.
Finding the most polished way to finish the inside of a garment became a new piece of the puzzle I could fixate on. Now, I desired to make a high-quality heirloom garment, and I also found myself enjoying taking my time. I found comfort in hand stitching facings, making matching bias tape, and meticulously pressing until perfect. I added a big comfy vintage chair to my sewing studio so I could sit comfortably and fixate on these little details.

Sewing used to be gluttonous, making as many clothes as I could just to satiate the thrill of newness. Now I wanted to make precious things. Things that fit and would last.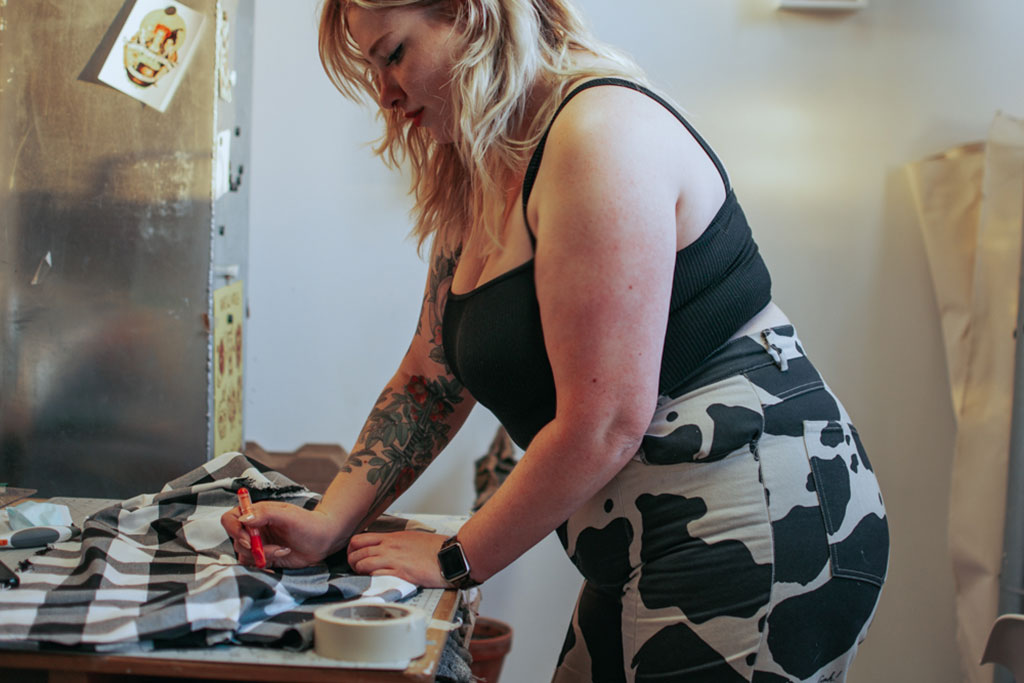 I've noticed this shift in other parts of my life as well. I taught myself to cook in my late 20s, and I realized that cooking on the highest heat in an attempt to cook faster only gave you a charred outside and a raw inside. I've never been a perfectionist, but I found that the more love I poured into my practice, the happier I was with the finished product. The meditative element to these fastidious little details that only I would know about felt like a secret only for me—like a love letter in invisible ink. It would love me back, too, building a home in my closet and staying with me as long as I required.