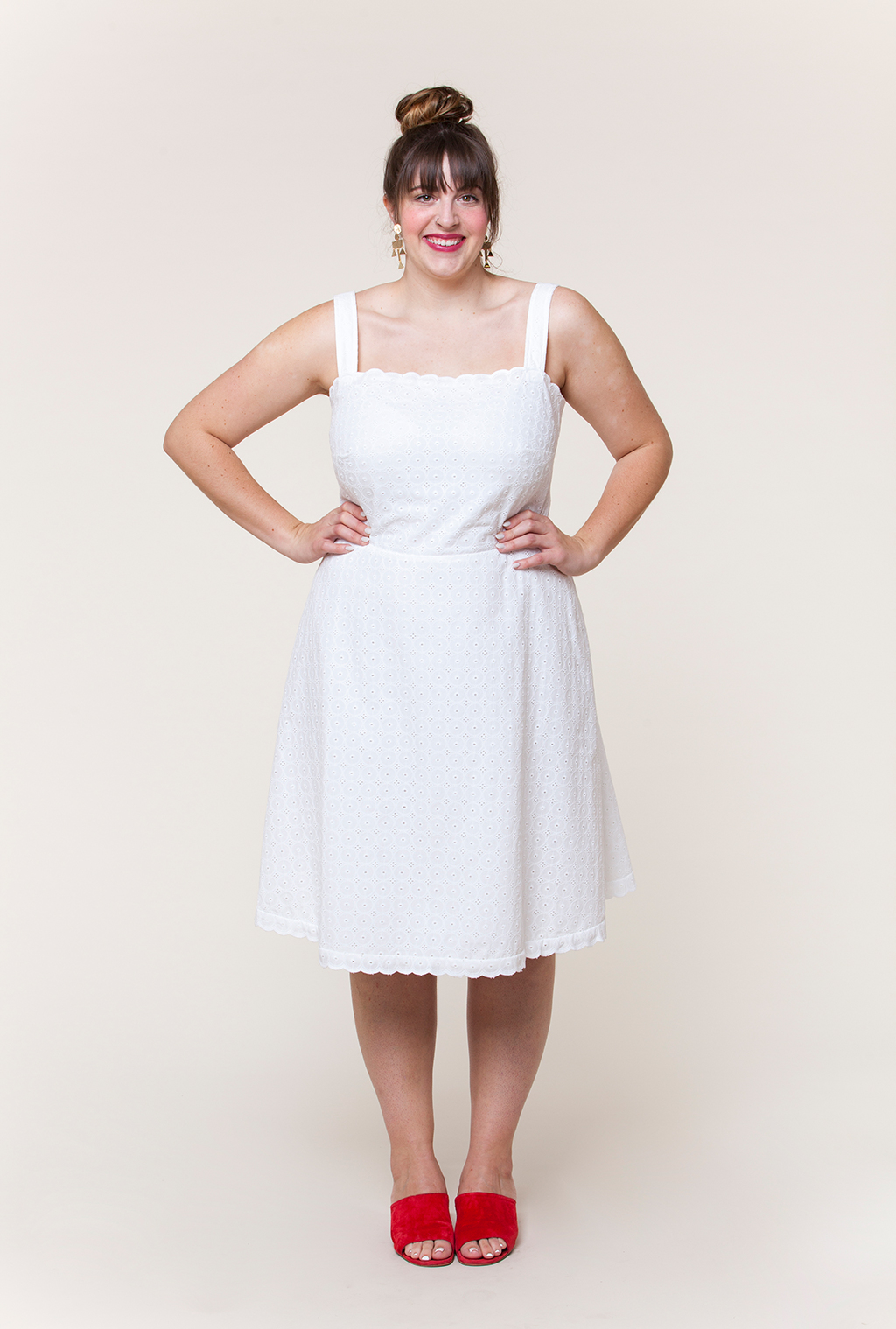 It's hard to talk about sundresses without mentioning eyelet fabric. This classic spring and summer fabric is both breezy and romantic. Eyelet fabric is characterized by small patterned cut-outs that are typically finished with embroidered stitches throughout the body of the fabric. Eyelet yardage often features a lacey decorative selvage, making it perfect for creating cute hems, sleeves, and necklines.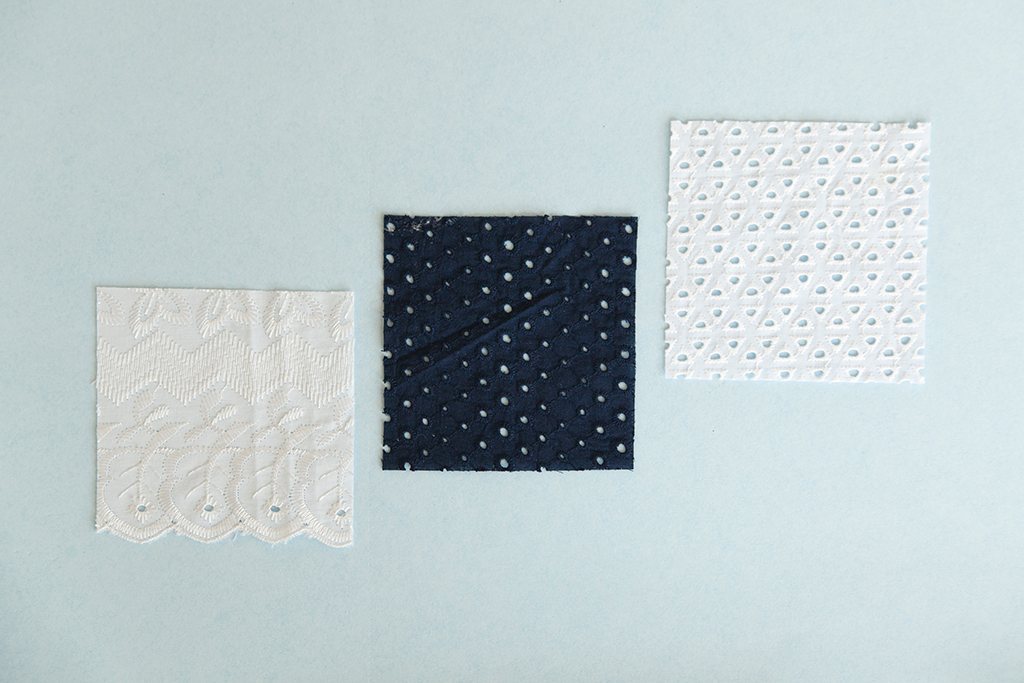 Eyelet describes the design of the fabric rather than its fiber content or weave. Traditionally, eyelet is made from a plain weave fabric, often composed of cotton or a cotton blend. This fabric is usually found in classic colors such as black and white, but pastel shades are also popular. Like most fabrics, modern iterations of eyelet fabric are available, including but not limited to, jersey, silk, even leather.
Even though there is an abundance of eyelet fabric out there, we will concentrate on the most common type of eyelet—traditional lightweight cotton eyelet.
Sewing with Eyelet
If you have eyelet fabric in your stash, use these tips to create the perfect frock.
Prewashing
Like any fabric, prewashing is key to creating a long-lasting garment. Treat your eyelet fabric how you plan to treat the finished garment. I recommend machine washing in warm water with like colors on a regular cycle. Tumble or hang dry. If you are planning on lining or underlining the project, pretreat your lining fabric using the same method.
Cutting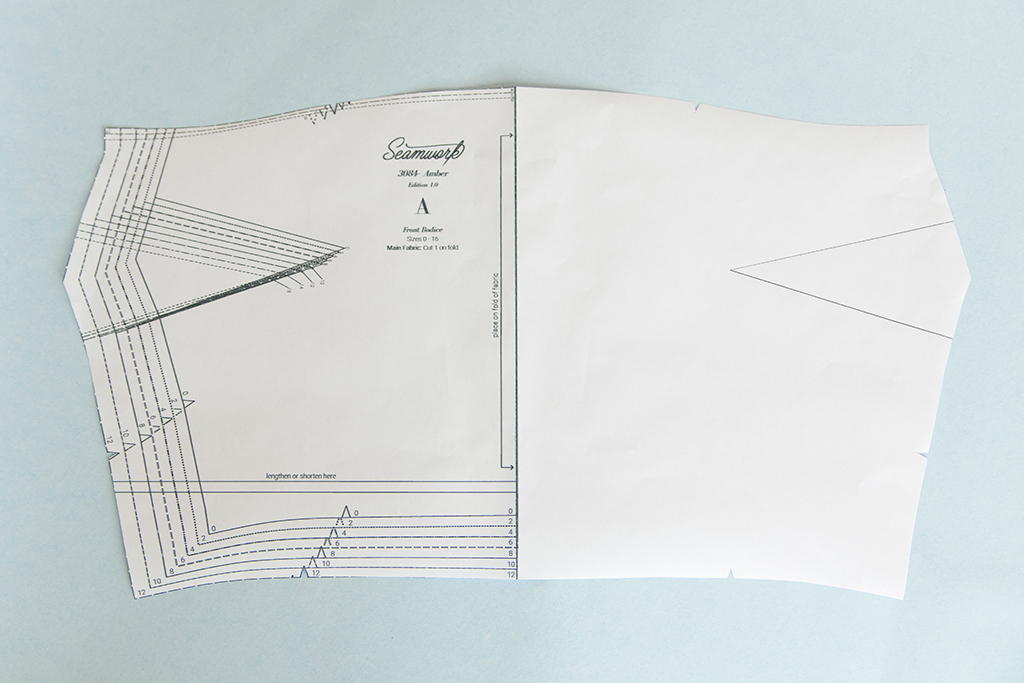 Trace your pattern onto tissue or Swedish tracing paper. Using transparent paper allows you to see the fabric and avoid ill-placed design motifs. Depending on the eyelet design, the selvage may have a lovely lace border that can be incorporated into your garment design. You may also find it helpful to trace all pattern pieces labeled "Cut on fold" mirrored. This will help you to take advantage of lace borders and cut your fabric more economically.
Utilizing Eyelet Borders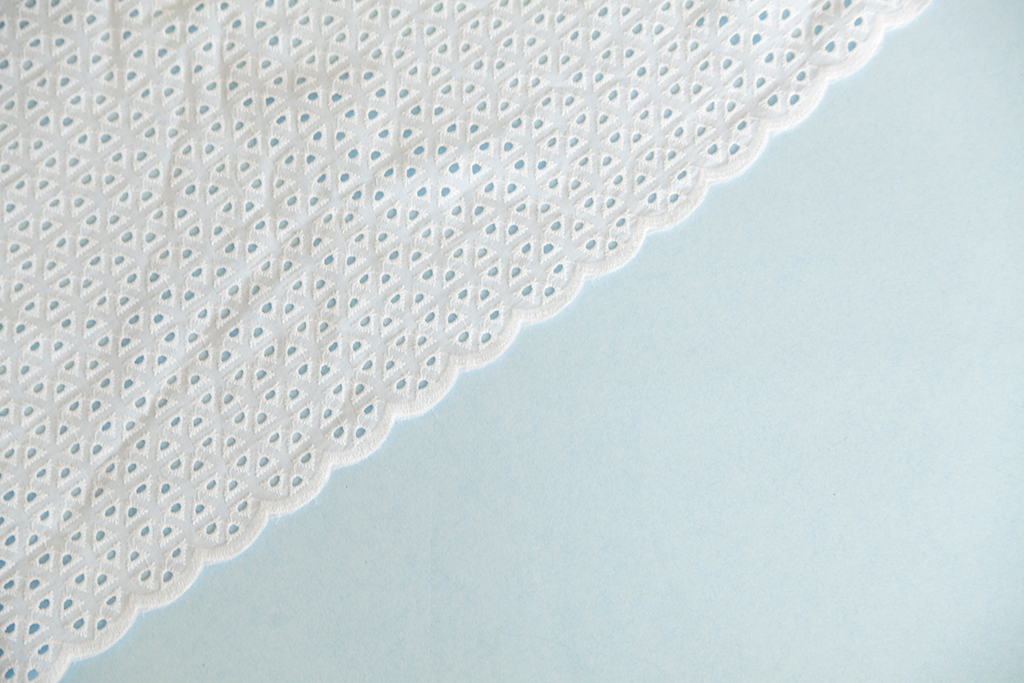 Some eyelet fabrics have beautiful lace borders. Using these decorative selvages is a great way to add detail to your eyelet garments.
Plan: Decide where you would like to include the decorative selvage. Keep in mind that fabric selvage is a straight line. This means that you will need to strategically choose straight or nearly straight edges. For example, while a circle skirt would be a poor candidate for a lace border, a gathered or straight skirt would work great.
Match the design: As a rule, when cutting, work from the center front out. This will allow you to strategically center the design on the front piece, and then you can match the scallops at the side seam. Don't worry about perfectly mimicking the scallop ratio at the side seams. Just aim to create a smooth line with no abrupt edges.
Stabilize the border: If your decorative edge tends to become floppy or rumpled, try using a strip of lightweight interfacing to stabilize this edge. Simply fuse a 2-3" wide piece of interfacing to the wrong side of the fabric, then trim.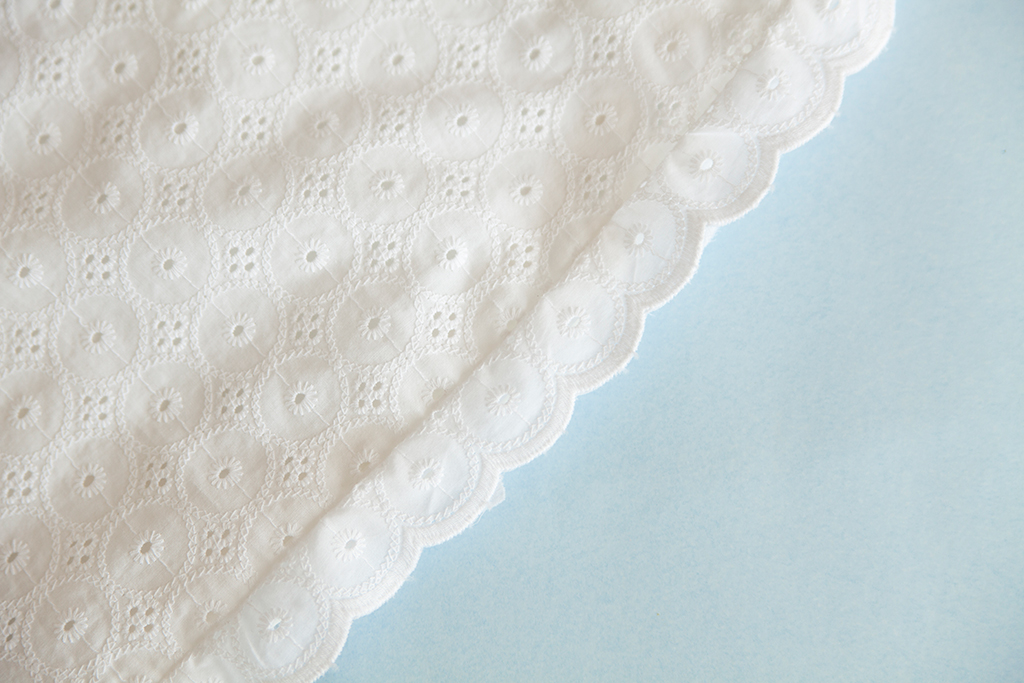 Use the selvage as trim: Want to use the decorative border on a curved edge? Use the selvage as a trim. Cut a 1-2" strip of the selvage and treat it as a decorative trim.
Marking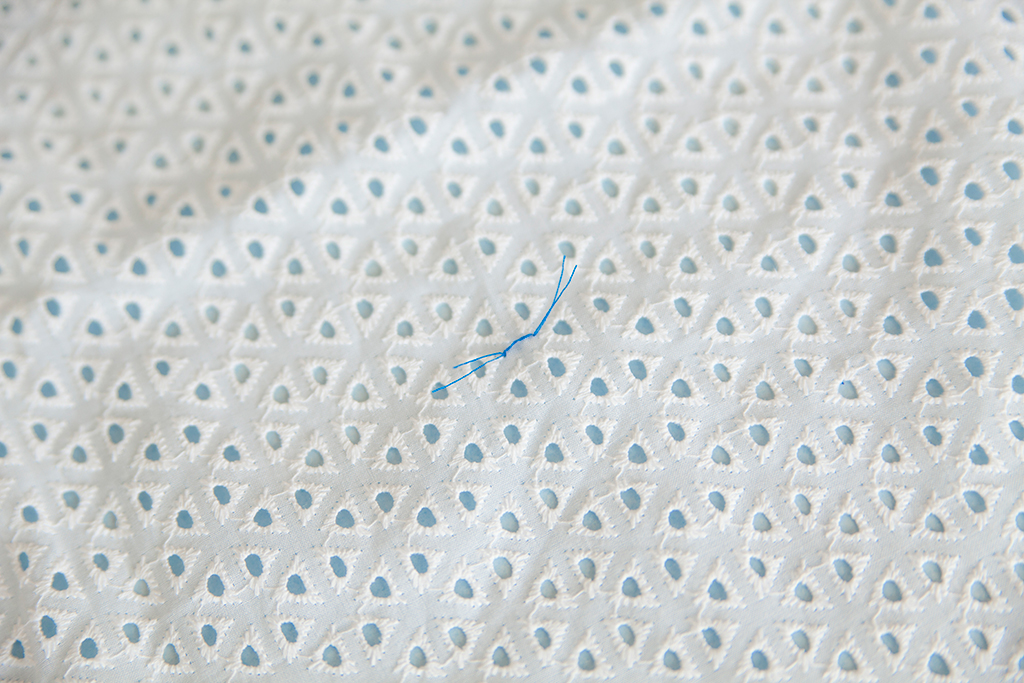 Due to the texture of eyelet, chalk can become embedded in the embroidery. When transferring your pattern markings to eyelet, tailor's tacks are a better option.
Pressing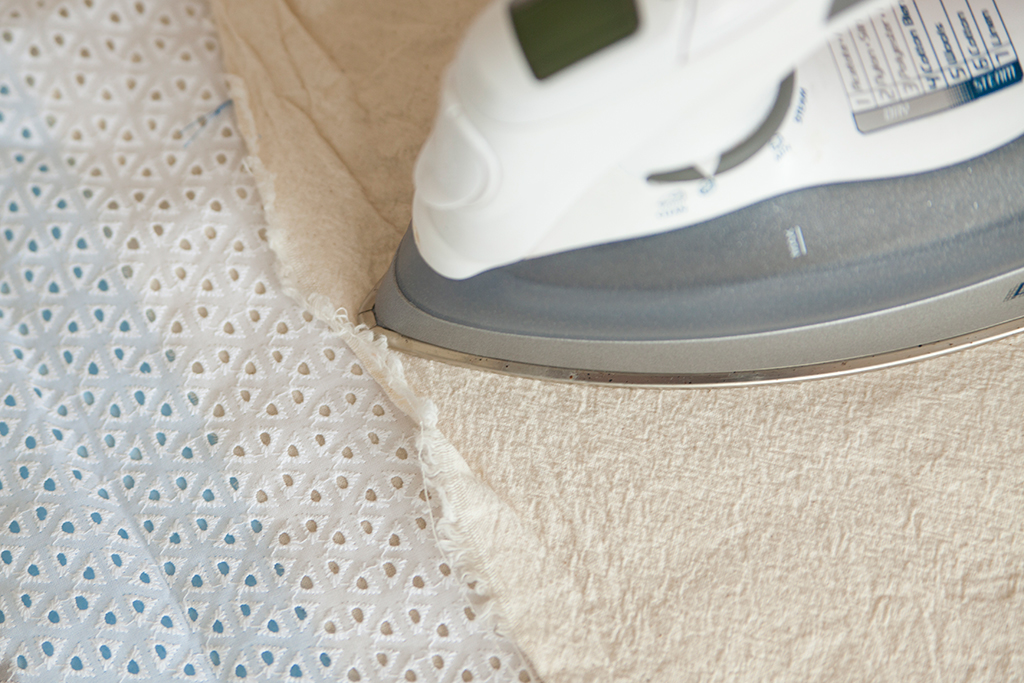 To avoid flattening any embroidery, press on the wrong side of eyelet whenever possible. Typically, the thread used to embroider the eyelets is synthetic, so test your fabric before pressing and use a press cloth if the embroidery is indeed synthetic.
Underlinings and linings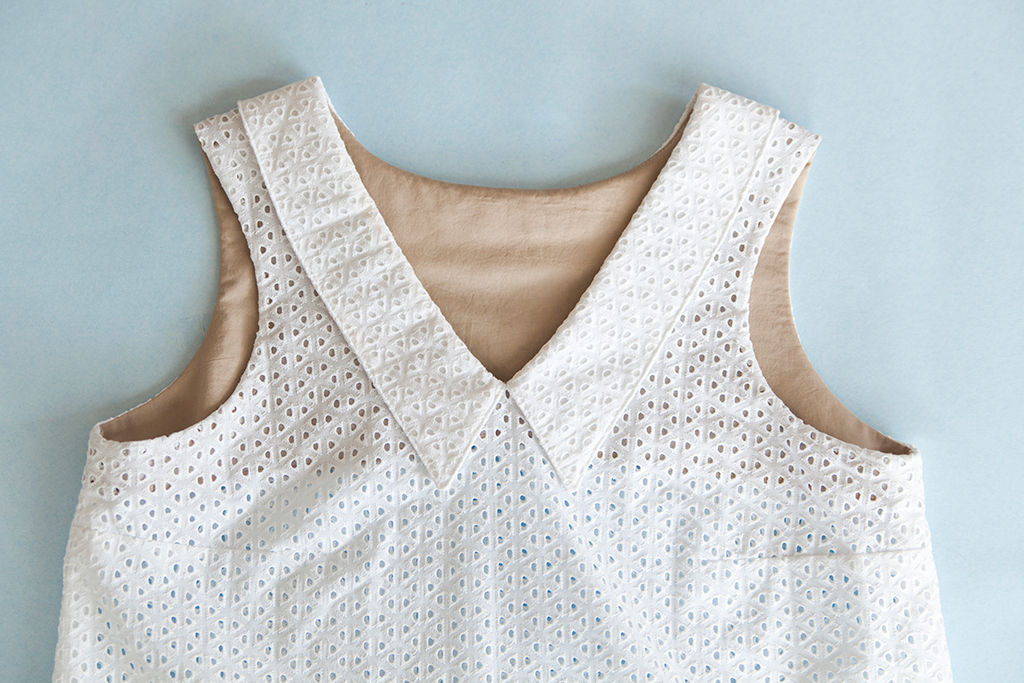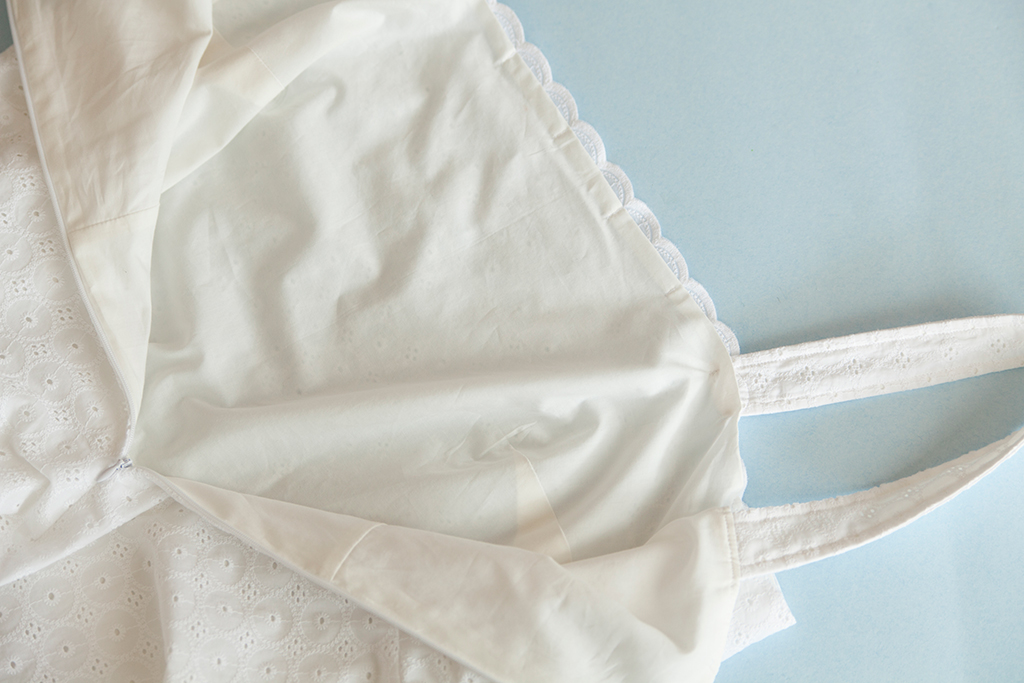 Nude or white lining fabric can be used for a more subtle look.
Underlining works best for eyelet fabrics. The peek-a-boo of the eyelets give you a great opportunity to add a little pop of contrast. If modesty is what you're after, underline your eyelet in a fabric that is close to your skin tone. For tips on underlining, check out Brooks Ann Camper's Under Construction article.
Stabilizing
When possible, fuse interfacing to the underlining of your garment rather than the eyelet itself. Alternately, fusible interfacing can be used sparingly to stabilize hems or reinforce a stitch line.
Finishings and Hems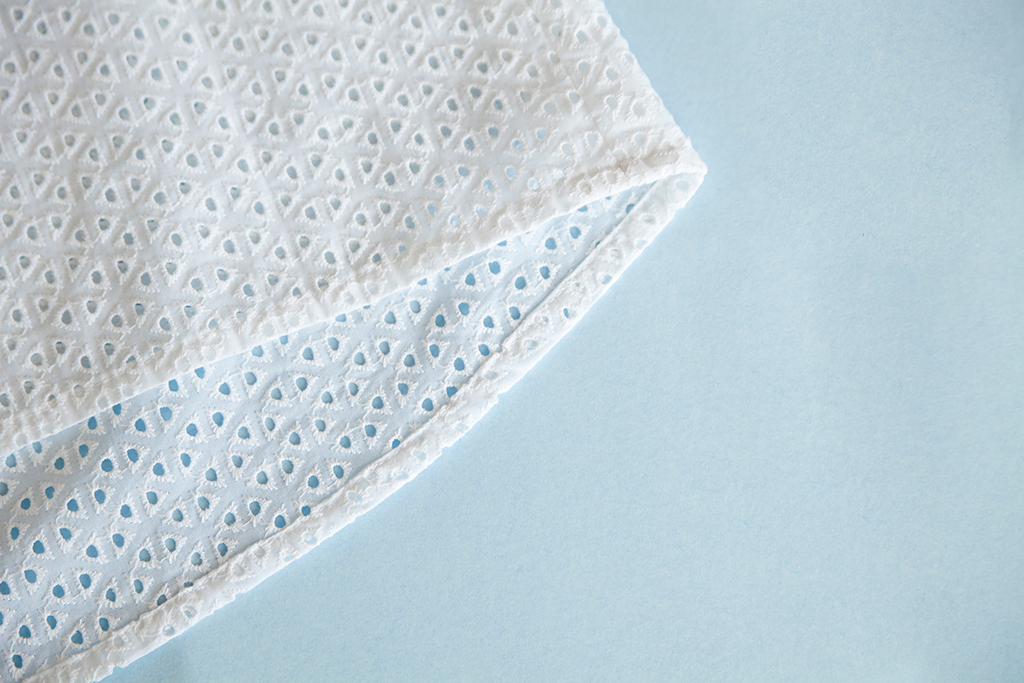 Due to the little windows all over your fabric, your seams will be visible on your garment. Tidy seam finishes, such as French seams, a Hong-Kong finish, or serged edges will look best.
When hemming, use a simple turned hem for lightweight eyelet and a single-fold hem for heavily embroidered eyelet.
Join the Conversation
Sign in or become a Seamwork member to comment on this article.