The new Style Workshop is here! You can take the workshop at any time here. It's free for Seamwork members or just $10 without a membership.
And it's the second part of Style Camp! Last week on the podcast, Sarai and Haley introduced you to the new Style Workshop, and today, they will explore the first of three tools that the workshop gives you.
In today's episode, Haley and Sarai will share exercises from the workshop and talk about why this course is so powerful for helping you with one of the hardest parts of sewing your own clothes — knowing what to make!
Part 1: Introduction. Last week, Sarai and Haley introduced you to the framework of the Style Workshop and chatted about its creation.
Part 2: Investigate. In this episode, you'll investigate your identity in 4 key areas: history, values, culture, and body.
Part 3: Examine. Next, you'll examine the clothes you wear the most, and the ones you love to wear the most.
Part 4: Define. Finally, you'll define your core style words so you can walk away with a firm understanding of what you want to express with the clothes you wear.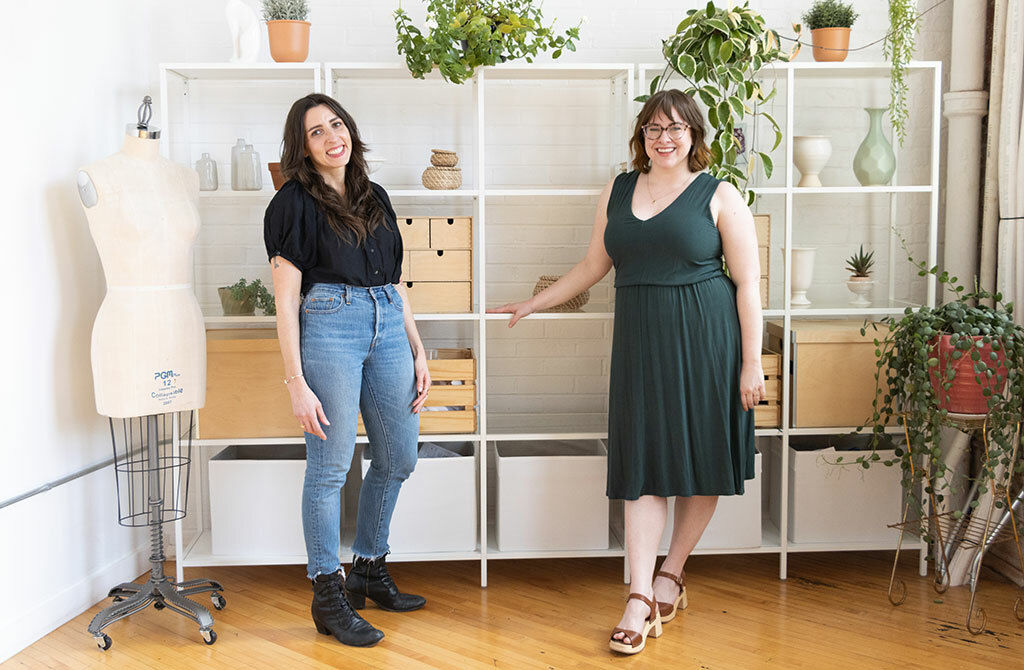 Have you gotten your Camp freebie yet? Click here to register and download the FREE Summer Camp Toolkit full of ideas, worksheets, and exercises for this entire series. It also has templates for sewing really cute felt camp badges.
Podcast Transcript
Sarai
I'm Sarai.
Haley
And I'm Haley.
Sarai
And this is Seamwork radio.
Sarai
Welcome back to Seamwork Radio, where we share practical ideas for building a creative process so you can sew with intention and joy. And welcome to the second half of Seamwork Radio Summer Sewing Camp 2023.
So over the next four weeks, or the next three weeks, I guess, because we're on week two, but for these four weeks, we're going to be embarking on a journey together to examine our personal style.
And in today's episode, we're going to dig into the first tool of the Style Workshop, which is our new workshop that you can take. And the first tool that we're going to be looking at is called Investigate. And in this tool, we're going to be investigating ourselves and our wardrobe.
So if that sounds like fun to you or you just want to learn some great ideas for honing your personal style, then stay tuned for this episode.
All right, so let's talk about personal style. I think that discovering your personal style and really figuring that out and what it is can be challenging and intimidating for a lot of people. And that's why we developed our new Style Workshop, which launches on July 12. So I just want to tell you guys a little bit about it so you know about it. It's a 90 minutes style workshop that's going to help you to pinpoint your style so you can fully express yourself through the clothing you make.
And this 90 minutes workshop is available to Seamwork members for free. There's a live version, which we're doing on August 4, or you can get a pre-recorded one. It's a recording of a live version that we've done, so it's still very interactive, and that's going to be available July 12.
So you can either do that one on your own, or you can join us on August 4 if you're able to make it. And if you're not a Seamwork member, you can still purchase the recorded workshop, and it's very affordable. It's only $10, so we'll put a link to that in the show notes if that's something that you're interested in.
But for this podcast, as part of Seamwork Summer Camp during the month of July, we're going to be doing a condensed version of this class together. You can get a few of the Style Workshop exercises by downloading the Seamwork Summer Camp toolkit, which has a lot of other cool things in it. But be sure to check out the complete Style Workshop so you get the full workshop because it's really, really fun, and it's especially fun to do with other people.
So let's dig into the first part of it, which is Investigate, and that's what we're going to be talking about today. So your personal history, your values, your culture, and your body all ground your style in what is true to you. And when we ignore those elements of ourself in the context of our personal style, we can end up with something that is flat and sort of impersonal, doesn't truly reflect who you are as a person. So the first thing you'll do in the Style Workshop is to investigate your own identity and how it might be reflected through what you wear. So we're going to look both inward and outward here today.
Haley
So the first exercise that you have everyone do in this tool is to investigate these four areas. So again, that's personal history, values, culture, and body. I love some of the questions that you have in these exercises.
Do you mind if we dig into them a little bit?
Sarai
Yeah, let's do it. Let's talk about it.
Haley
All right, so I'm just going to go over some of these questions, and then we can both give our answers. I just think this stuff is so fun to talk about. So my first question, or I guess it's your question that I'm now asking back to you, is, in what ways has your personal history informed the way that you dress?
Sarai
Oh, gosh, there are so many ways. It's a big question.
Haley
It is a big question.
Sarai
In the workshop, we'll break it down for you into smaller questions so you can really think about this in smaller chunks. But for me, after going through it, I would say a big part of it, I think, is actually my teenage years. I feel like have a big influence on me and how I dress today. I think for a lot of us, that's kind of the time of our lives where we're really discovering who we are and experimenting a lot with clothing. And I think that experimental part of my life really helped me to figure out what I like and what I don't like, what makes me feel good, what doesn't make me feel good. I wore a lot of black in high school. Like, a lot of kids in the '90s. I still wear a lot of black. I still feel like it makes me feel sophisticated, and I always feel good when I'm wearing that color. So I feel like some of those choices that I made when I was younger really still influence the way I dress.
What about you? How do you feel like your history informs your style today?
Haley
I definitely kind of agree with what you're saying. I feel like my teen years and my young adult years, it was so important to me, and I think that that is something that has remained true to me now, is that I really have always placed a lot of value in not appearance, but more in expression. And I think that's an important distinction to make.
I would say the other part of my personal history, though, that informs the way I dress, is I'm just like a clothing nerd. I love learning about clothing and the history of clothing and all of the little details and the weird names for all of those things and where they originated, all of that kind of stuff. So I think that that obsession with details is something that's really informed a lot of my choices in clothing.
So we talked a little bit about our history here, but at what point do you feel like your taste crystallized, and have they changed in the time since then?
Sarai
For me, I feel like there's sort of a process of evolution through young adulthood, and then I feel like a point probably in my mid-20s where I felt like my taste not fully formed, but it kind of came a lot closer to where it is today. I kind of had all of these influences from earlier, some of the things I already mentioned. I also always really liked vintage from the time when I was young and those influences started to come in. And I think when I got into my mid-twenties and I had a career, I was starting a career. So my lifestyle I —wasn't a student anymore. I was now in a job in a professional setting, and I think that influenced me. And I feel like when I was in my 20s, those things all kind of coalesced. I developed a style that I think has evolved since then, but it's a lot closer to where I am now than any time before that. So I think it has a lot to do with growing up and coming into adulthood.
Haley
Yeah, I totally feel like mine was in my mid-twenties as well. I think prior to that point, I was, in lots of ways, my interest in the things like vintage or like, you know, my musical interests, which informed my clothing choices, were genuine. But I was dressing as almost a character of those things.
And I feel like when I entered my mid-twenties, I learned how to show that influence in a way that felt more genuine to me and not like, I don't know, a caricature.
I definitely dress different than I did when I was, like, 25, but there's a lot of really common threads. It feels like more of an evolution from that point on and less of just kind of like, I don't know, bouncing around.
Sarai
I think that's interesting because I think as you get older, you become more comfortable with sticking with what works and what you found to be either useful or helpful or true to yourself over time. Whereas I think when you're younger, there's just a lot more natural experimentation, and you want to try different things and find the best thing. And you'll buy, like, 20 different red lipsticks or whatever when you want a red lipstick. Whereas when I think you're an older person, I think it's more true as you get older and older. But I think as you get into your 30s, your 40s, your 50s, you've already found that red lipstick, and that's the one you buy and you don't have to think about it, and then.
Haley
You're devastated when it's discontinued.
Sarai
That's a frivolous example, but I think that's true for a lot of different things.
Haley
Yeah, you're just comfortable leaning into it. I definitely find that to be true.
What values that you hold, do you like to see reflected back to you each day in your clothing?
Sarai
I think for me, one of the values that I think really comes through in what I choose to wear would be like a sense of romance. And when I say romance, I don't mean like in the Valentine's Day sense of romance. I mean a romantic view of life and seeing the beauty in life. And I think that is something that I like to express through my clothing and just that sense of, I don't know, dreaminess, romance.
I feel like different people could interpret that in different ways and express it in different ways, but that's something that I like to try to express through what I wear.
I think also a practicality is really important to me because, as I said in our last episode, I like to feel competent and capable, and I think that's important to me in my clothing too. And it's interesting because those two things can be in conflict sometimes. But it's one of the reasons why I like to wear, like, really pretty frilly things. But I also like to wear workwear, and I like to wear overalls all the time, and I like to wear denim and things that I can get dirty, and that also has to do with my lifestyle.
But I feel like that pairing is really a part of my personal style. What about you?
Haley
This is a tough one. I think that something that I really value is being able to be really present in each moment that I'm in and clothing that allows me to do that. So things that I guess that are practical don't impede me from being able to do those things.
I would say that another value that I hold dearly is just like a sense of joy and fun and light heartedness, and I like my clothing to reflect that. I don't like feeling too stuffy.
Sarai
Yeah, that makes sense. I think that's interesting because I feel like that sense of joy—I think it's so interesting to think about your values and how they're reflected in your clothing. Because as people are listening to this, they might have one idea of how somebody who finds joy to be a really strong value might dress. And it might be totally different from how somebody else might interpret that. So I think it's really interesting because it's so personal. And I think that's one of the reasons why it's helpful to go through these exercises and then translate it into something that makes sense for you, because those things can be interpreted in so many different ways.
Haley
Yeah. And for me, joy doesn't show up in bright colors or loud patterns. I think it shows up in more of a playfulness in the way that things are put together and how I create an outfit more.
Sarai
Yeah, I can totally see that. But somebody else might express joy through wearing really loud prints or bright colors or so specific to the person.
Haley
It's kind of like, how do those values speak? Do they whisper? Do they scream?
Sarai
Yeah.
Haley
I always think that's interesting to look at. So my last question for this section is what clothes make you feel good about inhabiting your body?
Sarai
This is such a great question because I think there's so much focus on, at least in the general world of clothing and fashion, to think about what's flattering on you, what's going to make you look a certain way. And I like this question because it brings it back to what's really important, which is how you feel.
I think for me, what feels good is, first of all, what I've already mentioned comfort and mobility. Just feeling at ease, like, I can move around. I can do things. I can do all the things that I need to do on a day to day basis is really important to me. Being appropriately dressed for the temperature and things like that is important for just for physical comfort.
Haley
Yeah.
Sarai
I think in terms of what makes me feel good about my body, I value strength a lot in my body that's, like, a lot of what I do with my body is centered around strength. I work out as a hobby. I really enjoy working out. And that's one of the things that's important to me. And so anything that makes me feel strong, I like that. I like it. It makes me feel good, whether that's because it shows the muscles in my legs, which I like, or if it's because, like I said, I'm able to do things in it that make me feel strong. There are various ways that can come about, but the kind of clothing always makes me feel good.
What about you?
Haley
I really feel good when I feel like I have, like I'm very mobile. I have freedom of movement and what I'm wearing, I think from a practical standpoint, I have a toddler. That's, like a necessity in my clothing. But then visually, the things that make me feel good, I think come down to fabrics a lot of the times. And just like, my very strong preferences and the fabrics that I dress my body in.
Sarai
I think a lot of us have those strong preferences.
Haley
It's how it feels on my body, but just also the way that it complements my body. I'm not afraid of things that are oversized and large. I'm short and I'm curvy, and I think that people—who I like to lovingly call the flattering police—the flattering police would tell me not to wear those types of things, but I really think it's all the way you put things together. And I like that kind of tension between something being, I don't know, like a little bit, like unexpected, but maybe a little bit sexy, a little like body conscious, a little bit not. I like there to be contrast in everything. And when that contrast is present, I feel like my body is represented. The balance that my unique anatomy has of softness and strength, I feel like it's reflected in that.
Sarai
Yeah, I think balance has come up a lot as we're talking about this, which I think is really cool.
Haley
Yeah.
Sarai
I think another thing you can think about in terms of your body, when we think about body, we think of the shape of our body, our height, things like that. Body type, maybe. But you could also think about things like color, like your hair color, your eye color, your skin, things like that. And I feel like what makes you feel great about those things is important as well. Maybe there are certain textures or colors you wear or anything. It might be a certain neckline that brings attention to your eyes or something like that. There are a lot of different ways you could interpret this, and it's not just necessarily about the overall shape of your body.
Haley
Yeah, I think another thing, too, that is more body focused is considering what parts of your body you enjoy celebrating the most. You mentioned your legs earlier. I think this will be obviously different for everyone, but if thinking about, I don't know, the whole big picture is a little intimidating for you or not something you feel, like, ready to emotionally dive into, you could just pick one thing.
Sarai
Yeah, for me, like, my shoulders and my legs. I like showing how my shoulders we did a video about some of my favorite things that I've had in my closet for five years or more, or something like five years, was it? Or eight years. I can't remember what it was. Things I've had a long time and that was like a theme that came up for me was that things that showed my shoulders were things that I really loved over time. And I think my legs also, even though it's not because I think I have such great legs, it's just like I work out my legs a lot and I love them. I love what they do for me. I'm able to do hiking and all kinds of cool stuff with them. And I just feel like that's a part of my body that I am grateful for. Yeah. I don't really care if they have cellulite. I'll show them off.
Haley
Yeah, screw that. So in the next exercise, you have people investigate their ideal selves and then kind of contrast that to their real selves. Why do you think this is important for people to explore when it comes to their personal style?
Sarai
Well, I think it's very easy. I know I've done this when I was young, especially, to have it's kind of like what you mentioned about feeling like you're kind of in a costume where you have this sort of idealized picture of what you like, but it doesn't really mesh with what your actual real life is like. And so that you can kind of feel out of sorts or feel like you're putting on an identity that's not true to you, or your clothes just aren't practical, which is a whole nother dimension.
So I think meshing those two things is a big challenge for a lot of people. I know it has been for me and as I've gone through life changes it comes up over and over again where well, now my life is different. I'm sure this is true for people who become parents or have another really dramatic lifestyle change. You just need to kind of reevaluate those things and make sure that the things you like and the things that you can wear and feel good in day to day have some kind of overlap and you can find what that overlap is.
It probably exists. You just need to dig into it to find it.
Haley
Yeah. I think that sometimes we get so hung up on these idealized kind of style archetypes that we forget that the context in this case, which is ourselves, is what makes the style beautiful and interesting. And sometimes that tension between the romanticized version of something in real life is what creates the beauty.
Sarai
Yeah. And I think that's also what brings interest into a particular outfit too, what you choose to wear. It's that unique presentation that's unique to you and not to anybody else.
Haley
I absolutely agree.
So the last exercise, it kind of seems to ground everything back to reality and you see this come up and Design Your wardrobe, that program as well. You have people investigate the context in their life, like their climate, their occupation, their lifestyle. Why do you round off this section with this question in particular?
Sarai
Well, I think when you dig into those things, that really gets at the heart of what is going to be reasonable for you day to day. And I think that's really important because this workshop, but also with Design Your Wardrobe, we really want to help people to create things that they will actually wear.
I think it's all too easy to create ideas in your mind and to even sew clothing that is very pretty or is expressive, but you never actually get a chance to wear. And I think when you don't wear the things you make, it makes you lose motivation.
I mean, every once in a while it's fun to make something that's like special occasion or whatever. But I think if you're not actually creating things that you get use out of, it's easy to lose interest. Whereas if you can create stuff that you get to use day to day, there's just so much joy in that. Thinking about these very practical things, like the climate you live in, what you do for a living, what you do day to day, the chores that you have. All of these things that don't seem too fun or romantic maybe will help you to create stuff that you're actually going to find useful in your life.
Haley
Yeah.
Sarai
So I think that's why it's so important.
Haley
I think these were all really exciting and cool things to investigate. See what I did there?
And if you download the Seamwork summer camp workbook, then you can answer these questions for yourself and dig into that a little bit more, or just take the whole dang Style Workshop. That's cool too.
In the next episode, we're going to talk about examining your current wardrobe. And we do this because rather than sorting through your entire wardrobe, we get to the heart of it by looking at what you actually wear most frequently and what you actually love wearing.
Sarai
Yeah. And it's going to be really fun.
All right, well, thanks for going through this journey today with us, and I hope that you get a lot out of it. And you also join us for the Style Workshop, which launches on July 12, and that's available for you at seamwork.com/go/styleworkshop.
And again, that's free for all of our Seamwork members. If you're not a seamer member, you can either become a Seamwork member and we'll have a discount for you that I'll mention in a minute, or you can purchase a style workshop for just $10. So it's very, very affordable.
And you can watch the live version of the style workshop that way. And then we also have another live one coming up on August 4, and that's going to be in the lead up to our next Design Your Wardrobe session, which is in the fall, or at least it's for the fall. So it's going to start a little bit for that. So if you're interested in doing Design your wardrobe this season, which I hope you are, this is a great way to kick it off and get excited about it and start your planning.
So if you're interested in that, again, that's August 4. I'm going to be teaching that live. It's going to be really fun, so I hope you can join us for that. And just to give you a sense of what you're going to get, it's very hands-on. We're going to dig deep into some of these exercises that we talked about today and a lot more, and there's worksheets that go with it to really help you explore who you are and what you want to say through the clothing you make.
At the end of it, you'll get your core style words to take away. You'll have all of these tools that you can take with you and do again and again in the future if you want to. And you'll have a firm direction for creating a core Style Mood Board, which is a great kickoff for Design Your Wardrobe, which is all about designing a seasonal wardrobe for the next few months so members can download the Style Workshop toolkit right now so you can get that at seamwork.com/downloads. So that's the toolkit that goes with the workshop, and it has all the exercises and worksheets.
And during the months of June and July, you can visit the Sewing Camp website, and you can download the PDF and get a few of the worksheets as a teaser there, as well.
If you'd like to join Seamwork and become part of our private community, plus get access to hundreds of sewing patterns and dozens of sew along classes, and get access to the Style Workshop for free, our podcast listeners get a 50% off lifetime discount when you join seamwork.com/go/podcast50.
And that's it for us this week. I hope you'll join us next week for the next session. I'm Sarai.
Haley
And I'm Haley.
Sarai
And this is Seamwork Radio.
Join the Conversation
Sign in or become a Seamwork member to comment on this article.