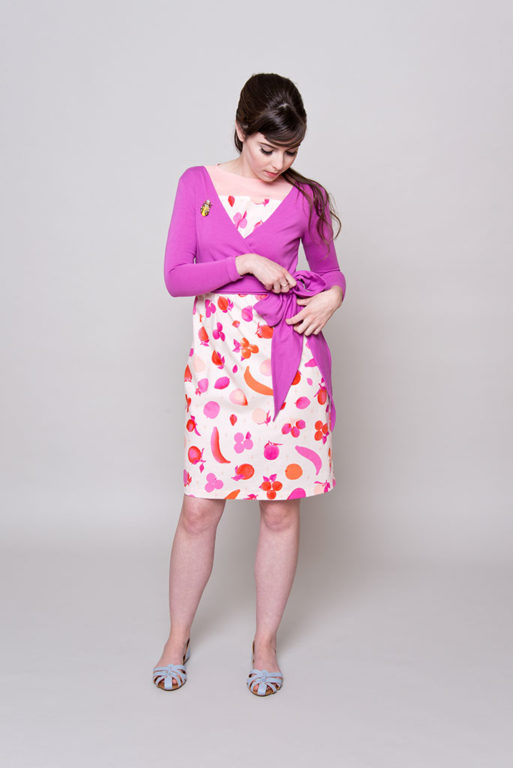 This article will teach you everything you need to know about the best fabrics to use for this month's patterns and explain why they're the best choices, so you can become a fabric expert.
Elmira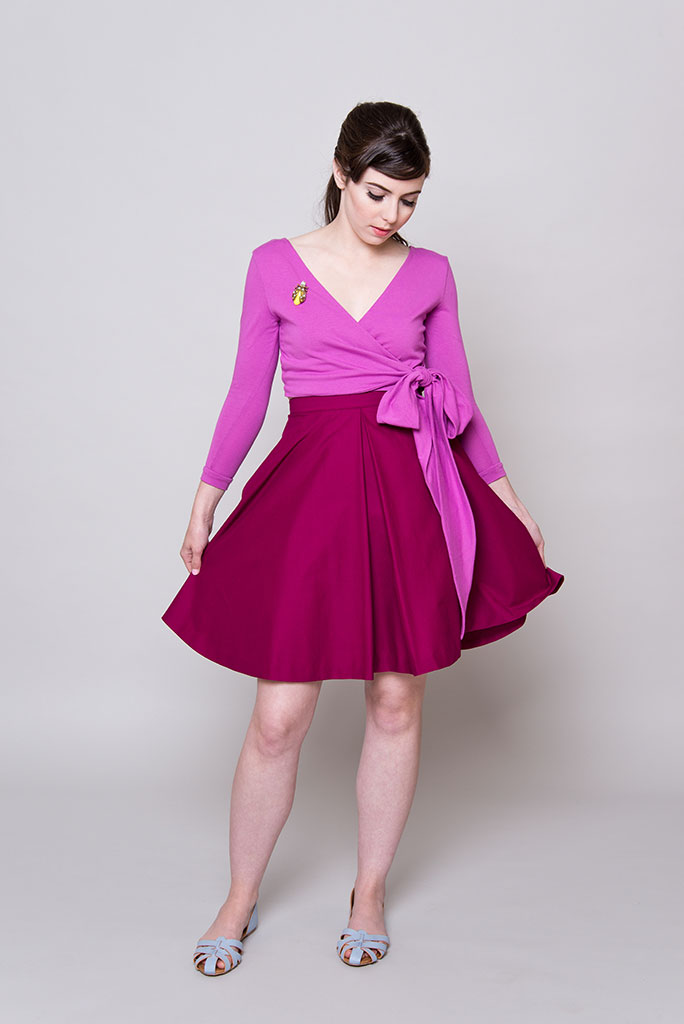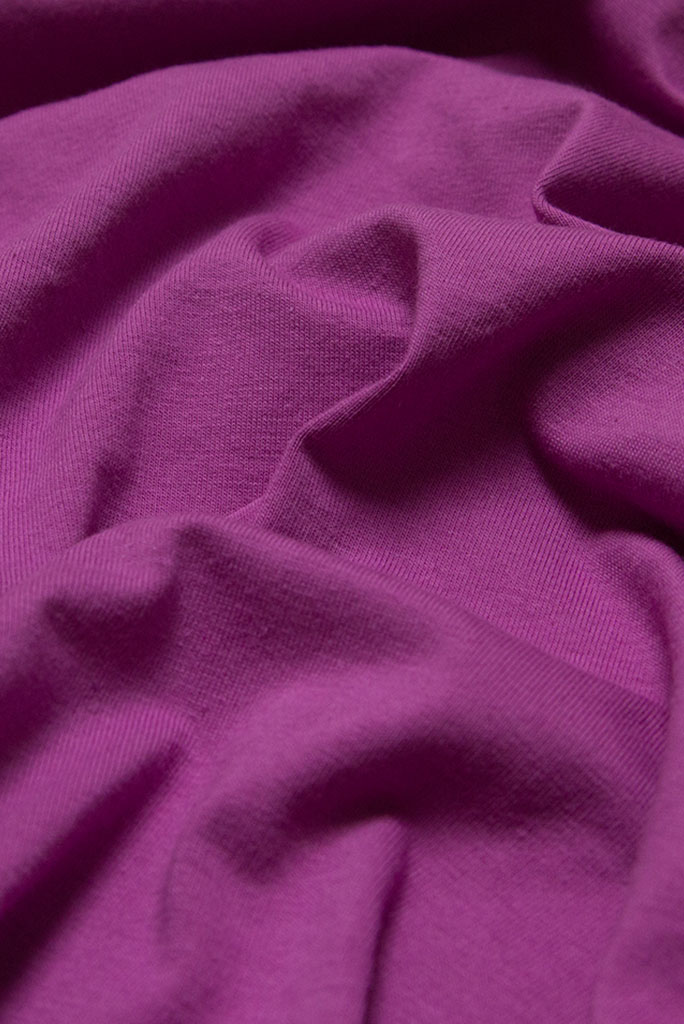 This version of Elmira was sewn in Kaufman Laguna Stretch Cotton in Orchid.
Light- to medium-weight knits are ideal for this ballet wrap cardigan. Here's everything you need to know to pick the best fabric for Elmira.
The Best Fabric for Elmira:
Cotton spandex knits: With their flexibility and stretchy nature, cotton spandex knits have great recovery. They come in various weights, so you can choose a more fitted or drapey look. A medium weight knit with at least 25% stretch will work best for this project.
Jersey knits: While they have less stretch than cotton spandex knits, a polyester or rayon blend yields a softer drape.
Sweater knits: If you feel up for an adventure, try a sweater knit! With its loose weave, sweater knits make lovely cardigans, especially for fall. Look for lightweight sweater knits, like Hacci. You could also line the cardigan with a jersey. We've got all the tricks you need to sew with sweater knits here.
Fabrics to Avoid:
Double knits: Most double knits, such as ponte, will be too heavy for Elmira. Since this wrap is self-lined, you want to avoid thick fabrics. They will add too much bulk.
Tips for Sewing:
More Swatches

Speckle Print Jersey from Stylemaker Fabrics is a great rayon jersey with a fun, speckled print, $10.99/yard.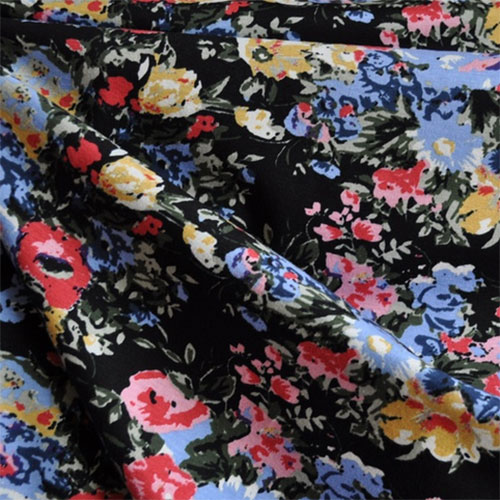 Floral Cotton Jersey from Stylemaker Fabrics is a cotton/lycra blend with an eye-catching floral print, $12.99/yard.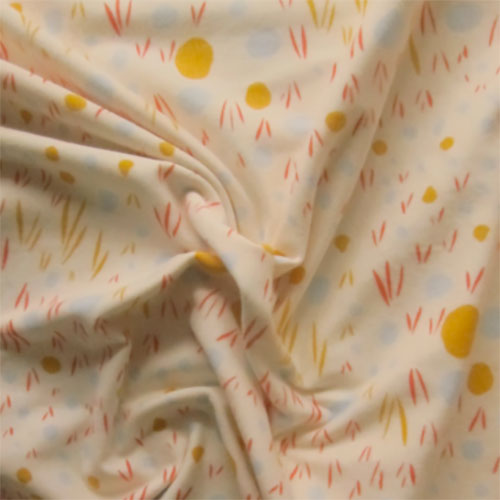 Windswept Iota Sun Cotton Jersey from Guthrie & Ghani is a great Art Gallery knit with a blue and red geometric pattern, £18.80/meter.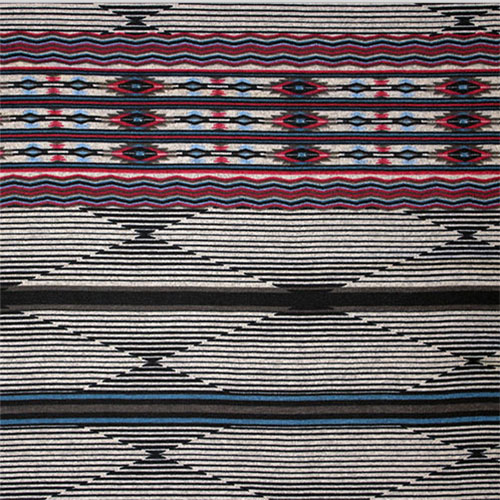 Blue Fuchsia Heather Gray Navajo Hacci from Girl Charlee is a loose-weave sweater knit in a dynamic print, $7.00/yard.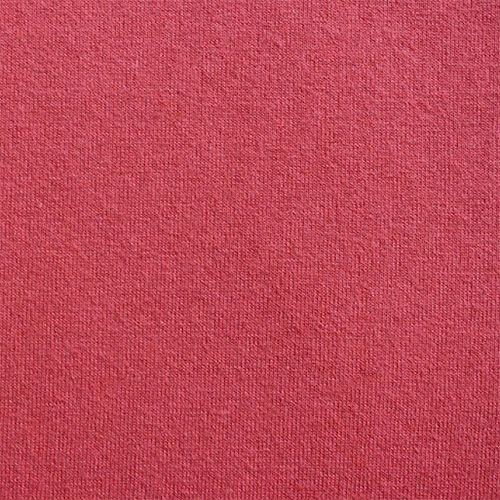 Andover Jersey Knit in Coral from the Village Haberdashery is one of many solid colors from Alison Glass's new collection. Quite a treat to sew! £18.00/meter.
Lynn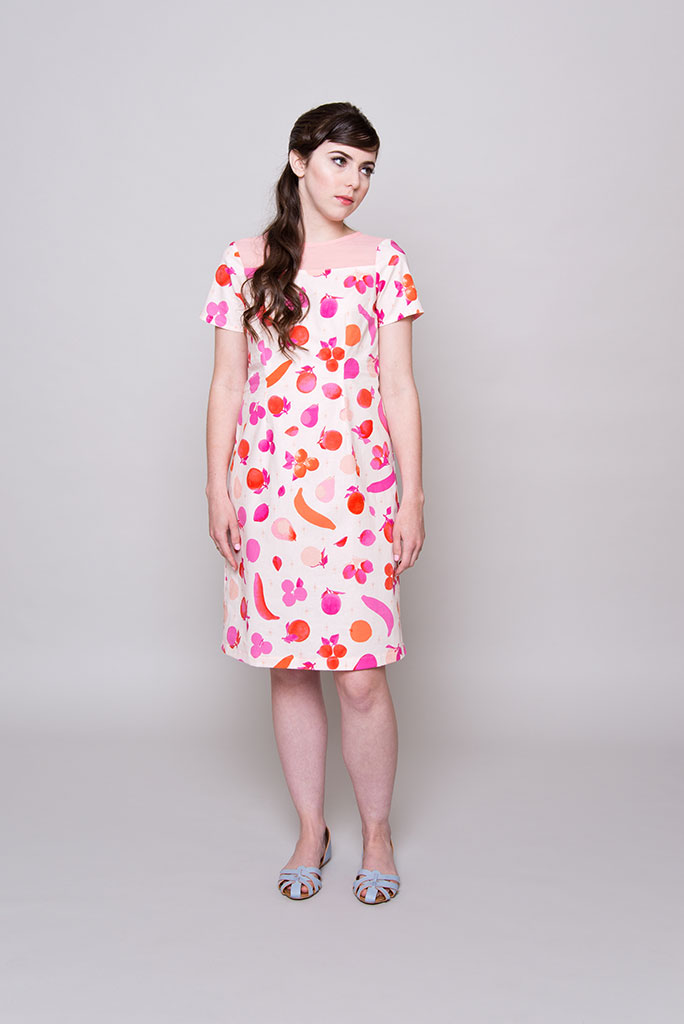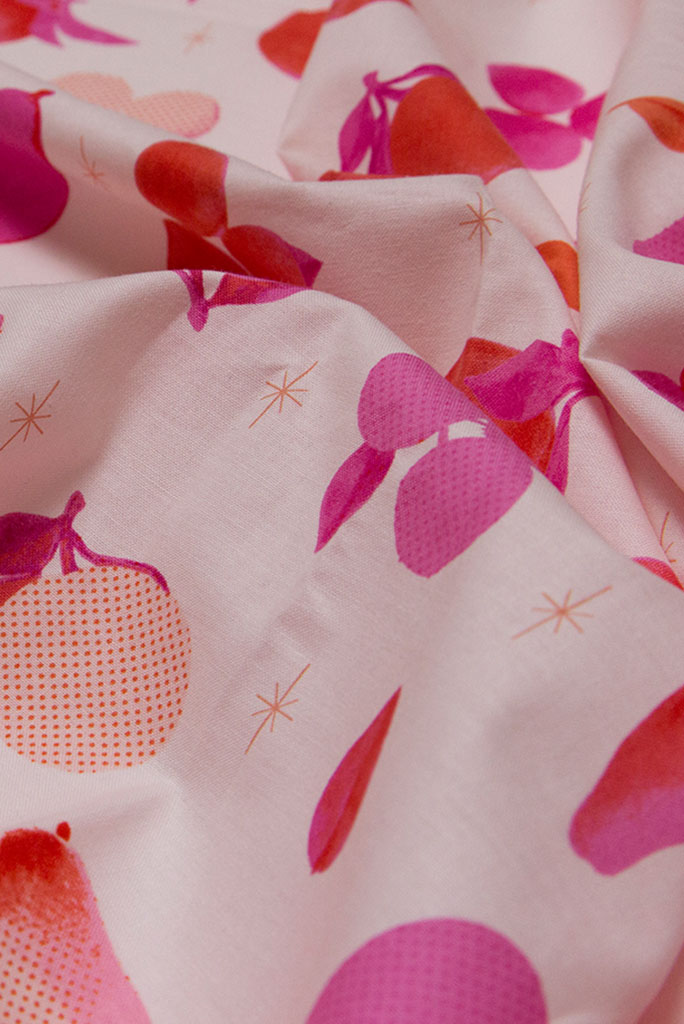 This version of Lynn was sewn in Fruit Stand Pink and uses Candy Pink Silk Double Georgette for the yoke.
Get ready to raid your fabric stash for that cotton you've been saving for years, or head to the store to pick up the latest and greatest quilting cotton! Lynn looks best in medium-weight wovens, like chambray, linen, twill, quilting cotton, and lightweight suiting. You can add sheer fabric at the front and back yoke for a fun contrast, but make sure the yoke is similar in weight to your main fabric.
Here's everything you need to pick the perfect woven for Lynn.
The Best Fabric for Lynn:
Chambray: This beloved fabric comes in many colors and is the perfect weight for Lynn. It presses well, is easy to sew, and will maintain the shape of the dress.
Quilting cotton: If you can't resist those quirky quilting cotton prints, go for it! Both of this month's samples were made with quilting cotton. If you're new to sewing, quilting cotton is very beginner-friendly and accessible.
Ikat: Hop on this trend! Ikat is a dyeing technique that creates beautiful designs in the weave of the fabric. It's not printed, so the pattern appears on both sides of the fabric. You can make a statement using ikat for your main fabric and a matching solid at the yoke—or vice versa! Just look for a medium weight.
For the yoke: Look for light- to medium-weight fabrics, and make sure the weight of the yoke fabric is similar to the weight of the main fabric. To add a sweet little pop at the yoke, you can use a sheer fabric. Swiss dot or voile are more subtle, or pick a fun burnout fabric for a dramatic accent that shows a little bit of skin. For some texture, you can't go wrong with chiffon or lace.
Fabrics to Avoid:
Wool: While lightweight wool suiting can work for Lynn, don't pick anything too heavy. Heavy-weight fabrics will make the dress look bulky.
Satin or silk charmeuse: It might be tempting to sew up a luxurious satin version, but these fabrics are too slippery and don't have enough structure for Lynn's shape.
More Swatches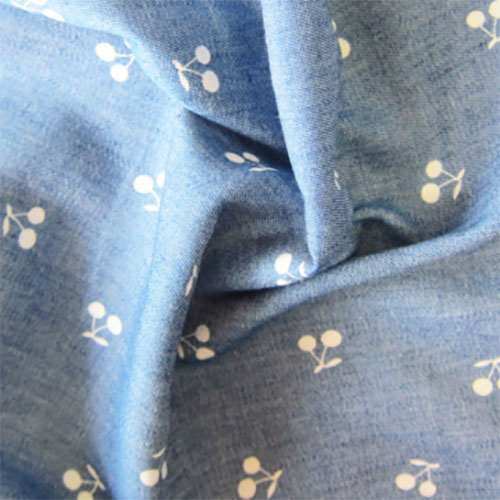 Cherries on Denim Style Cotton from Guthrie & Ghani is a soft denim-style cotton with classic cream-colored cherries for that retro look, £9.50/meter.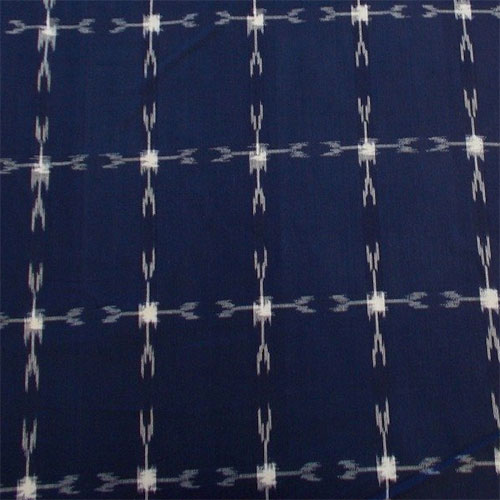 Dakota Arrows Ikat from Stonemountain & Daughter Fabrics is a classic medium-weight ikat, $17.00/yard.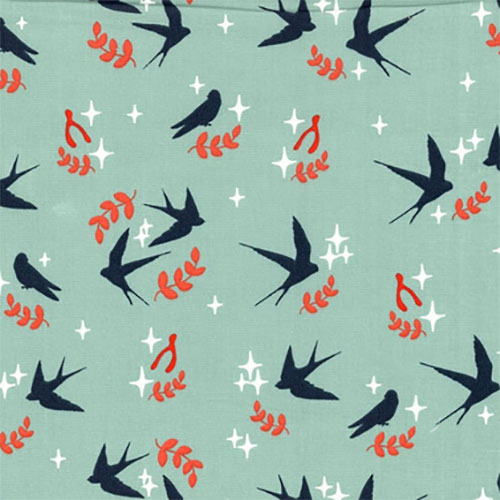 Tall Tales Swallows from Harts Fabrics is a great retro quilting cotton that will make people stop and ask you where you got your dress, $16.99/yard.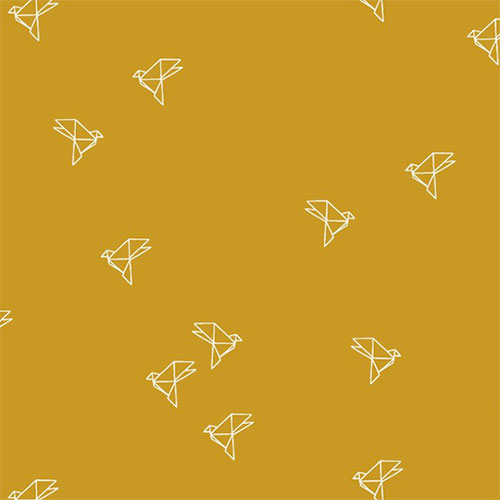 Bye Bye Birdie from M is for Make is a lovely design from Atelier Brunette in a soft cotton that is perfect for dresses, £14.40/meter.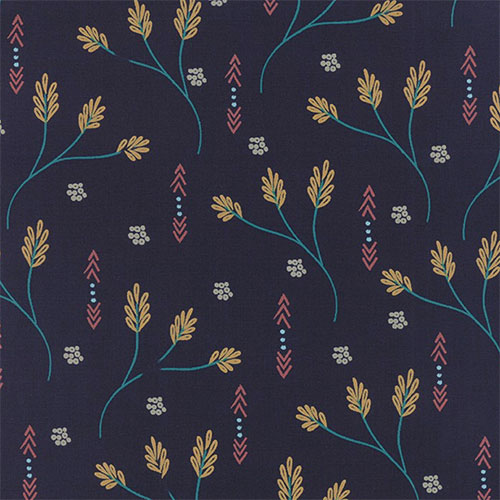 Sherri & Chelsi's Valley in Creosote Navy from Ray Stitch features geometric prints in gem tones, £14.00/meter.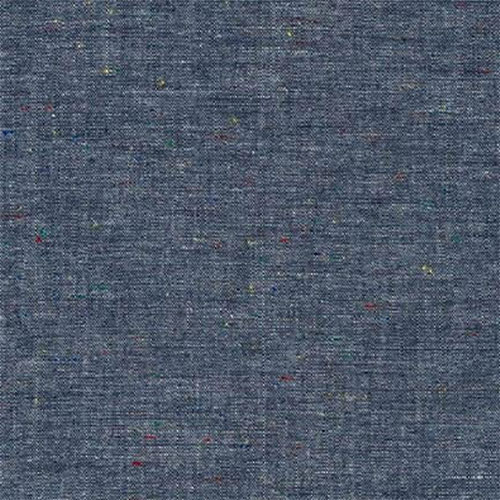 Chambray Union from Gather Here is arguably one of the best chambrays out there, $7.90/yard.
Join the Conversation
Sign in or become a Seamwork member to comment on this article.